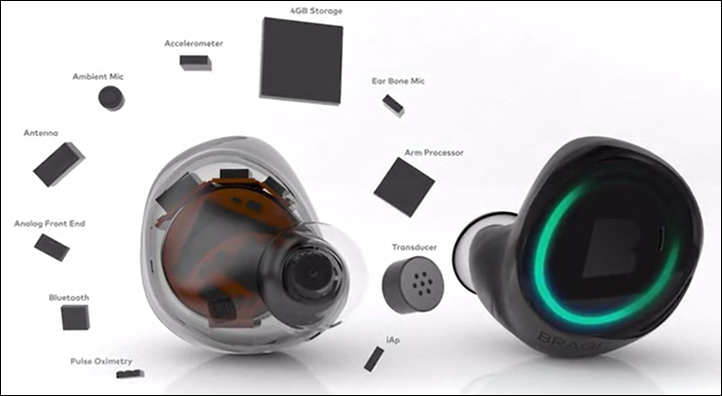 It's funny, as a general rule, I don't like writing about Kickstarter projects where I haven't seen or touched the product hands-on.  I think that introduces too much risk where people assume that because I write about it, it's a good product (even when I clearly don't like the product).
Nonetheless, I've received so many e-mails, tweets and messenger pigeons over the last few days around one Kickstarter project in particular, that despite some tweets from me about it, the questions keep on coming.  The project is The Dash, which are tiny waterproofed headphones that not only play music via Bluetooth (and 4GB of internal storage), but also measures your heart rate as well as even pace and cadence while running – all without a mobile phone being present.  Boiled down, the core features advertised are as follows:
– Tracking of heart rate data via optical sensor in your ear
– Tracking/recording of fitness data (pace, cadence, steps)
– Music storage and playback
My skepticism is of course not tied to the music portion – that's relatively straight forward (well, mostly).  Obviously, how well you can hear traffic around you and areas such as passive noise reduction will need attention in a review – but those are largely well charted territory for companies today.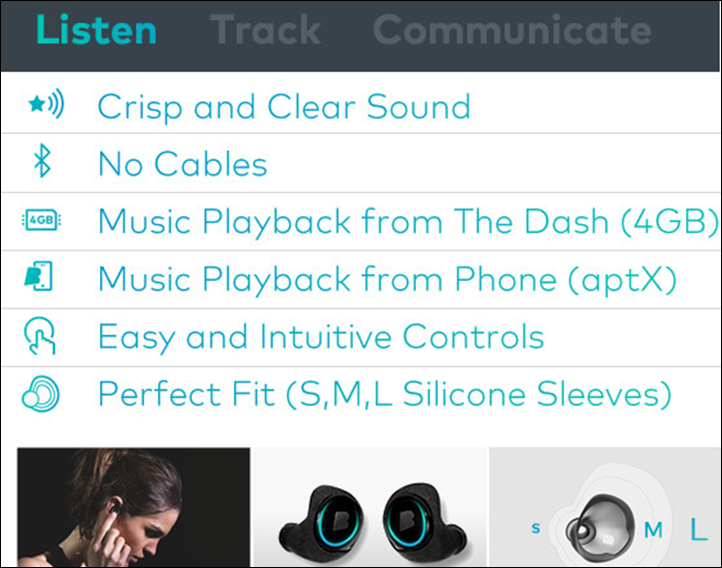 Rather, it's tied to the heart rate and activity monitoring portions.  That's the piece that's a bit messier.  And, the piece that's completely un-charted.  Many big-name companies in the past have attempted to measure heart rate via ears (such as Motorola), but have come up short. There's been renewed focus on it in the past few months (as I previewed at CES), but none have put together a product (actually on the market) as diverse and complex as this.
Looking at the fitness side, we've got the following pieces (from their site):
You'll notice that a few of them require the smart phone to operate, but the vast majority are in the unit itself and self-sustaining.
Looking at the left side, we've got the heart rate component – and this is the piece that I believe introduces the most risk.  I spent the better part of 30 minutes talking with the founder and owner – Nikolaj Hviid – about where the components stood as of today.
The Dash will be using optical sensors to measure heart rate within your ears. It's sorta like the Mio Alpha and Mio Link, and the Adidas Smart Run GPS.  The Dash will leverage red LED's that are currently used in medical systems, and measure the light being emitted about 55-65 times per second.
Once that's done, like other systems, they have to remove the noise through what's called a low-pass filter.  Basically optical systems have historically been designed for a medical environment where you're sitting still in front of a doctor/nurse.  Introducing running/swimming/jumping and all sorts of other crazy random movements and impacts causes an immense amount of 'noise' into the readings.  Thus, it has to be removed.
The team plans to use the accelerometer located in the unit to correlate impact against the optical sensor noise to attempt to clean up the data.  Finally, when it comes to HRV, in talking with them it's officially more of an estimation.  Like other units on the market, optical can't actually accurately get HRV information by itself.  The folks behind Dash believe they have a way to bridge that gap.  Whether or not said way is accurate remains to be seen.
All of this is also transmitted via both Bluetooth Smart and concurrently legacy Bluetooth as the standard heart rate device profiles – so it'll pair up with devices that support that.  It won't support ANT+, as the company said it would draw too much power.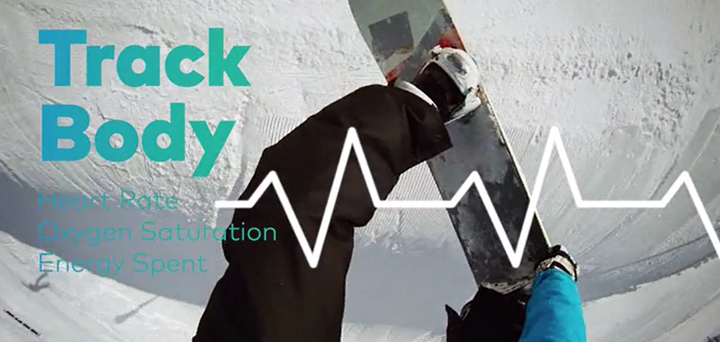 Next, the activity monitoring portions.  Within the unit itself they're going to track cadence, steps and pace (running), as well as areas for others spots such as airtime and G-Force.  Cadence is fairly straight forward – it's kinda the easy one.  You hit the ground and an impact is sustained and then measured.  Straight forward stuff.  Steps is the same (you simply count cadence).  Pace is where things get tricky.
In talking with with them, they'll be initially calibrating the pace portion via the GPS on your phone.  So you'll go out for a run with the phone and the unit and the two will talk and correlate the data, ultimately combining the vertical bounce with the cadence and cross-referencing it with different pace ranges.  Generally speaking it's similar to what other companies are working on, such as the Wahoo TICKR straps.  Once you've calibrated it, it'll then allow you to run without the phone and still get pace.
It'll be interesting to see how the accuracy shakes out on both of those efforts.  From my testing of pace calculations with watches without GPS (and without a footpod), things are still pretty rough in this area.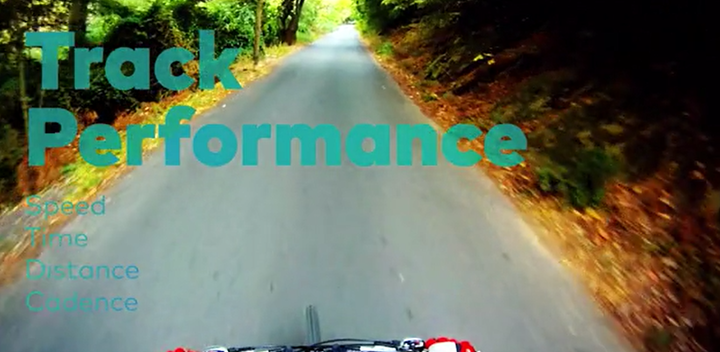 So – with all that, why am I a bit skeptical on the project as a whole?  Well, the timelines in my opinion aren't realistic.  As it stands today, they have two different hardware prototypes.
The first is one prototype with a full software stack running on it, but with 'oversized' development hardware.  Basically, larger hardware that most definitely won't fit in your ear (seen below on the development board connected with wires).  The second prototype they have is of the physical hardware, with all the things that fit in your ear – but with no software on it yet.  The combination of the two doesn't come for a bit longer until some new chips arrive later this spring, allowing them to load the software on the hardware.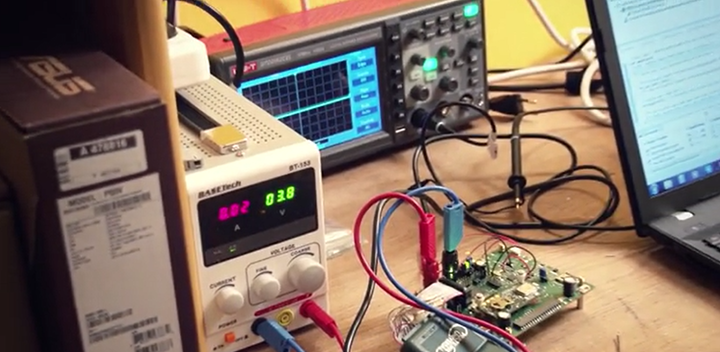 Right now, they're targeting to get the first alpha prototypes in June – which will be the first opportunity they're able to test everything on a human in all the environmental conditions from sunny days to snowy days to 1-meter underwater.  It's also the same time they'll be doing testing of the heart rate algorithms (again, on a human) in a sports environment.  And that assumes there's no delays between now and then.
Immediately thereafter in July, they plan to do the beta prototypes and first trial runs of the units.  That's effectively only a month after receiving their alpha prototypes.  The logistics alone involved in testing those units will take more time than I believe they've allocated, let alone the process of getting the feedback incorporated back into them.  Given they aren't at the point of having these algorithms working on a human with the units (today), it means there is going to be a ton of ground to cover in a very short timeframe.
Then, there's the white elephant in the room that nobody wants to talk about: It's summer….and more importantly, summer vacations in Europe.  Almost their entire team is based in Europe – and having lived in Europe now one quickly realizes how much of the business world shuts down for July and August.  We've seen the impact of that on other Kickstarter technology projects.  While the team may promise to work through it, I just don't see that being realistic for all staff members – it's going to have some tangible impact on a schedule that's already very tight.
Remember, there still is work to be done on the tracking pieces for fitness and sport, as well as whatever is there on the music side.  And they've got two apps to develop – iOS and Android.
Finally, we get to September for another trial run and then the first units of 1,000 pieces in October (that's production).
Having seen many products – both from crowd-funded startups as well major corporations, these timelines are just not realistic.  Keep in mind that Bragi (the company behind The Dash) hasn't taken on any external investment funds/partners, which means its ability to go to Mom/Dad and ask for an extra million dollars to add more resources (human or otherwise) is highly limited.  Many people don't realize that most Kickstarter-like technology projects have a vast amount of 3rd party funding beyond what Kickstarter is raising.  As one company recently told me: "The Kickstarter funds are just a drop in the bucket."
Looking at the timelines, I think that a Spring 2015 timeframe (March-May 2015) is probably the most realistic guess of actual delivery – assuming no major issues.  I don't see any major single issue for Dash, but rather a lot of little issues that will take more time to sort out than they realize.  Project schedule death by a thousand cuts essentially.
That said – I am excited about the potential for the product.  I'm excited about any sports/fitness and health product that bridges into new product areas and brings consumers cool new functionality.  I have 'backed' the project – merely because I'm curious how it will turn out.  But I definitely don't expect to see it before the end of the year.
With that – thanks for reading, and have a great weekend!