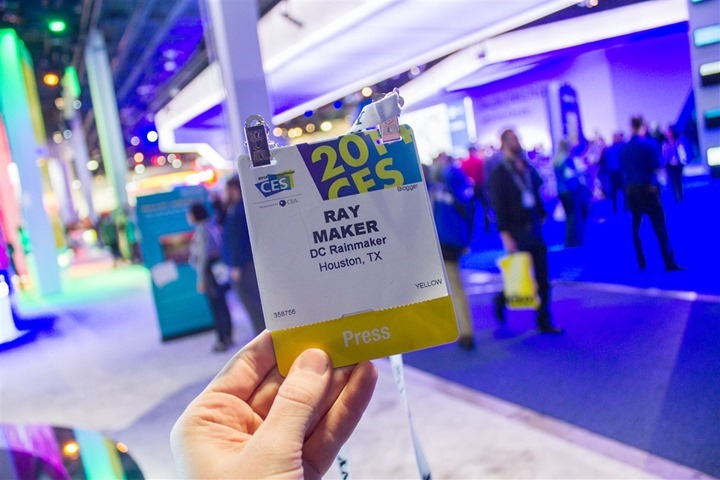 We left off yesterday with Part 1 of my CES Roundup, which covered new products and notables from the following companies: Sony, Geonaute, Contour, VOXX, Jaybird, Kreyos, Aftershokz, Reebok, Magellan, and Moxy.
Today, we dive into the second half of my tidbit-style coverage of sports and wellness technology from CES.  Like yesterday, I'm going with shorter tidbits this time in order to cover as much ground as possible from what is an ever growing segment.  There's easily 2-3 times as many companies in this market at CES as last year.  Clearly, next year I'll have to re-think how I (and perhaps some 'assistants') can provide greater coverage of the various products.
As with yesterday, if you've got questions about any given tidbit, feel free to drop them below.  For most of these companies I had 10-20 minute conversations.
Thanks!
(PS: For those who are curious why it says Houston, TX above, it's simply my US forwarding address.  I talk about that in depth a bit more here. Basically, I'm lazy, and it's easier putting that address into web forms.)
Company Updates: Garmin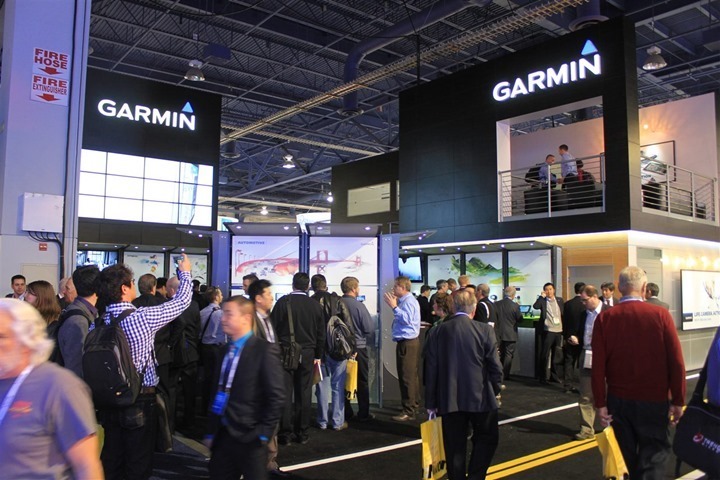 As always, I spent a bit of time talking to Garmin folks.  Because they had already made announcements earlier in the week around Vivofit and Vivoki, most of my conversation was focused on catch-up type items, the vast majority of which stem from your questions.
Here's two items of note:
– A cycling mode will be coming to the Garmin FR620, to match how it was in the FR610.  The timeline for this is "spring".
– Configurable Lap banners will be coming to both the FR220 and the FR620, similar to what was shown early on upon release in some of the beta builds back around the Interbike timeframe.  The timeframe for this also matches the FR620 cycling mode, for "spring".
While there may be other new features coming to the FR220/FR620, those were the only two that were absolutely confirmed on the list of potential candidates.
For those looking for a bit of guidance on a few common issues people are seeing with the FR220/FR620, expect to see much sooner software updates on footpod calibration.  Further, for the small number of folks seeing significant oddities with GPS tracks, I continue to recommend you open a support case.  Garmin is actively working on it – the randomness around when and if people see it continues to be painfully baffling for them.  There was a GPS chipset firmware update that was released three days ago that may help some cases, but they are still actively pretty engaged in trying to figure out the issue.  Note that a GPS chipset update is different from a watch firmware update.
Company Updates: ANT+ Trainer Profile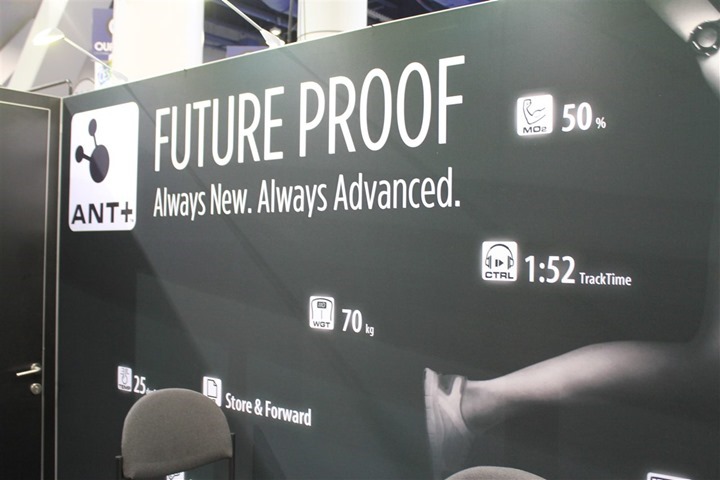 ANT+ has been chugging away on a number of device profile updates, some of which I'll detail more later this month as they get announced.
For today, I'll focus on the ANT+ Trainer Control profile.  This allows trainers to standardize on a single profile such that any software app can talk to any trainer and control the trainer easily.  Today, the market is highly fragmented (though, getting better), but this will make it just as easy to connect a given app to a trainer, as it is today to connect a device to a heart rate strap.  This will enable a number of scenarios from individual control to group control (i.e. cycling studios).
All of the major players have signed onboard with supporting it (CycleOps, Wahoo, BKOOL, Tacx).  There is also another major company that appears poised to support it on their non-trainer devices.  But I'll leave that tidbit sitting there for now until they're ready to announce that.
The profile is nearing completion and they plan to release it in the coming weeks.  Once that's done it'll be up to the various trainer companies to implement it.  The timeframes will vary based on how different each company's current control profiles are from the ANT+ trainer profile.  For example, Wahoo likely has the easiest job – since much of the profile was ported from their existing work.  While on the opposite site, Tacx probably has the most work to do since it sounds like there's much less overlap there.
And finally, for good measure – below, one level of the ANT+ display case for cycling computers.  You can play the game of seeing if you know all the units.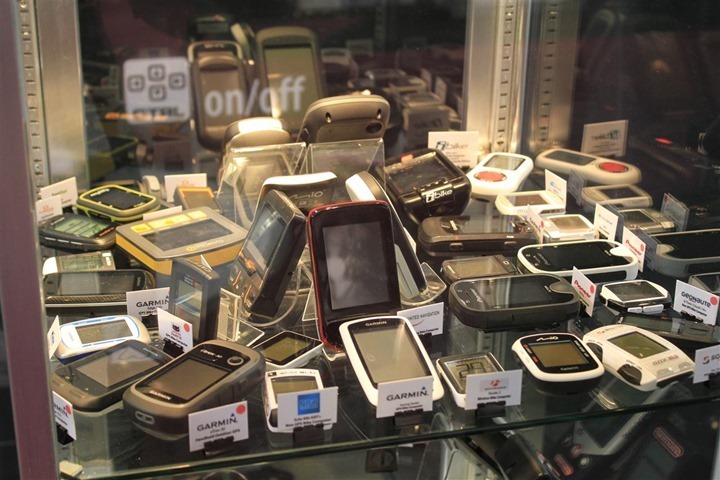 Sport Devices: BKOOL Trainer Updates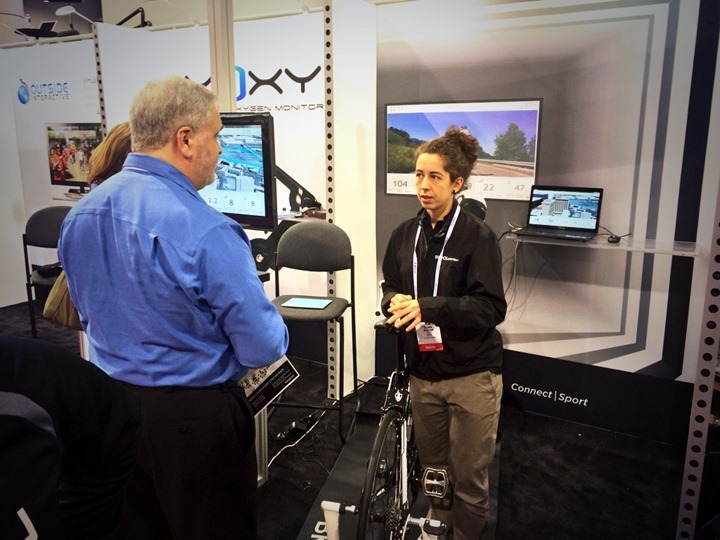 BKOOL was at the show and demonstrating their computer-controlled trainer platform that I've reviewed in the past.  BKOOL positions itself as a bit more budget friendly variant of a resistance controlled trainer (that's now available globally, including in the US).  They've also been working a fair bit on a revamp of their trainer software platform.
First, the video uploader that I demo'd back at Interbike is nearly complete, and should be released by early February at the latest.  Of note is that initial testing looks like they're able to do seamless Garmin VIRB integration such that you just plug the VIRB in and it figures out everything automatically so that you can re-ride your rides without any additional intervention.
Next, looking at their apps, they continue to chug along on new and much improved user interfaces and functionality (also in that Interbike preview post).  This includes versions for Android/iOS/PC/Mac, all of which they plan to have by summer, though, it's possible it could come out sooner.
Finally, they remain very committed to the ANT+ Trainer profile, which would in turn allow apps to easily control the platform.  For example, Trainer Road recently noted they plan to support BKOOL once it's supported in the ANT+ Trainer Control profile.  At present, they (BKOOL) are awaiting the updated release of the profile from ANT+.  Once that's done, they'll begin work on integration.  Though, it sounds like the timeline may be a bit longer than just a few weeks (more like months).  It just depends on what they see once they get the final version.
Sport Devices: O-Synce Dual ANT+/Bluetooth Smart Remote (that can control Garmin VIRB)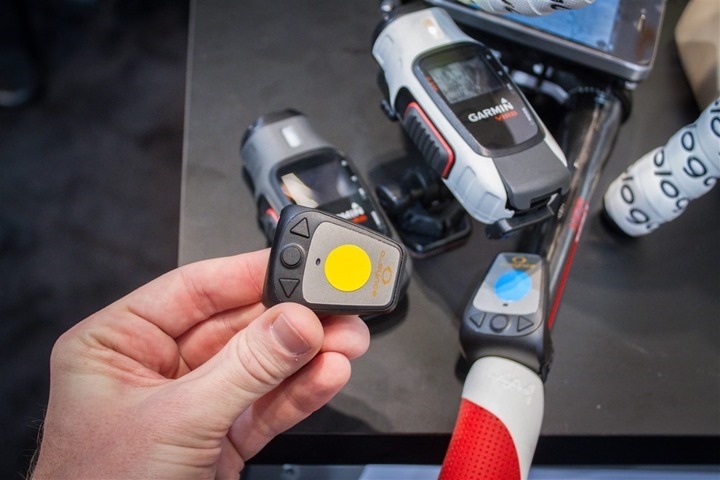 O-Synce has announced a new dual ANT+/Bluetooth Smart remote control, that will succeed the previous unit they have that controls their Navi2Coach unit (amongst other units/devices).  The remote enables you to control actions such as setting a lap from your handlebars, or in the case of Bluetooth Smart, controlling music.
Most interesting however, is that the new remote has also been updated to control the Garmin VIRB action camera.  So now you can trigger it via a tiny little button on your handlebars – which is pretty sweet.  The new remote will be available in early spring for $49. You can see them above, one in my hand, and another mounted to a handlebar near the VIRB's.
I really keep hoping trainer-focused companies like TrainerRoad, PerfPRO, VirtualTraining and others will add support for the remote (existing or new), as it provides for a great way to interact with software for simple trainer commands such as increase/decrease of wattage or pausing a workout.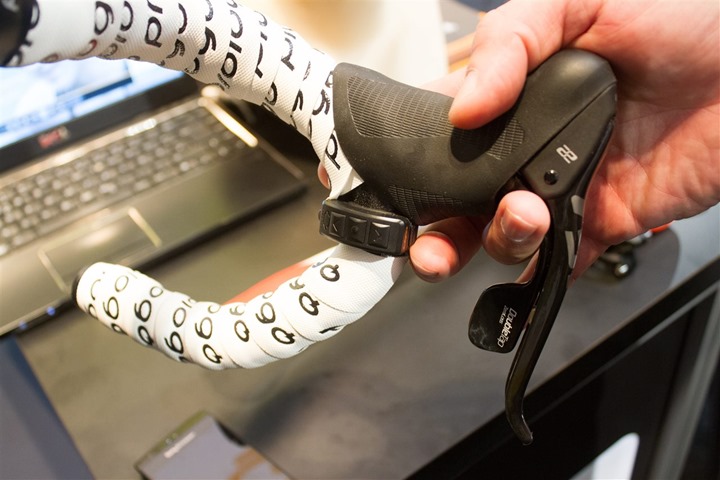 Above, their wired remote for their Urban free, but they also have a wireless variant as well.
Sport App: Outside Interactive Virtual Runner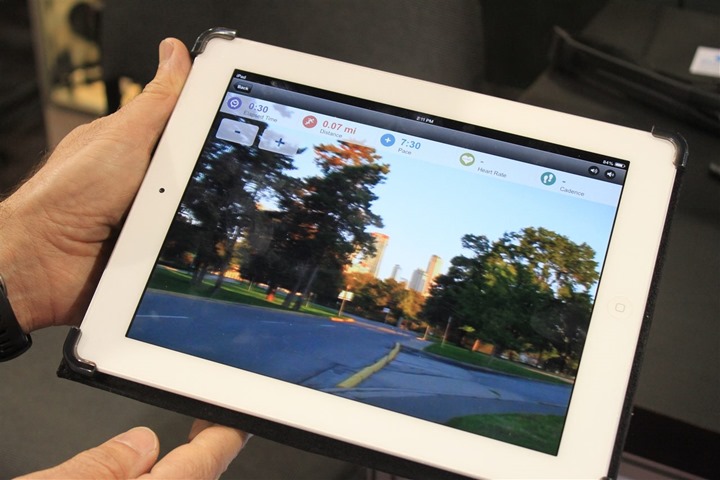 It's been a couple of years since I last posted on Outside Interactive's Virtual Runner, and I'm happy to see the significant progress they've made – especially since I most recently met with them at the ANT+ Symposium in October.
At the time, I commented to them that their user interface needed a bit of a Hollywood Nip & Tuck.  And – they came through with a much cleaner interface – seen above.
The software is designed to allow you to run against real race courses that are typically filmed the same day as the race.  You can 'buy' a course just like you might buy any other in-app purchase.  The software runs on tablets and PC's, and can connect via an ANT+ adapter to an ANT+ footpod so that the video is controlled based on how fast you run.  It's setup such that if you ran a 41 minute 10K, then the 10K race course they filmed would take you exactly 41 minutes to reach the end of it.  Pretty cool.
In addition, they can connect to ANT+ heart rate straps too, which you can see above in the user interface screen.  Bluetooth Smart support is coming along soon as well.
For those that don't want to deal with a footpod, they also support the ability to simply set a pace in the app using the big "+/-" buttons in the upper left.  So you simply match what your treadmill says and everything will work out perfectly.
It's actually a software suite that I've been meaning to do a short review on, and now that they've sorted out the user interface pieces I'm looking forward to digging into it again.  They stated that the new user interface version is being submitted to the Apple app store this week, and thus should be out probably in the next week or so.  They've also noted they've added a bunch of new races.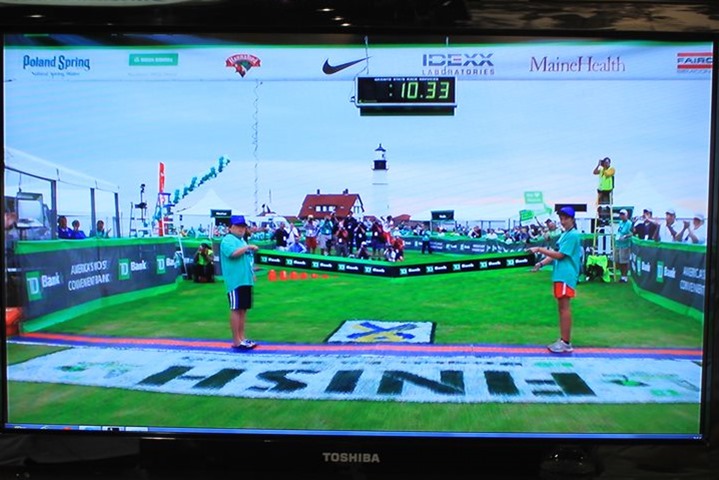 Finally, for those curious on how exactly they film all the videos, you can see the rig below.  They've got a broadcast quality video camera combined with a Steadicam and a Segway.  On the front of the Segway is a sign asking folks to cheer – which is how they end up getting all the crowds cheering and even the photographers in the above photo all ready to take a photo of them.  Pretty cool stuff.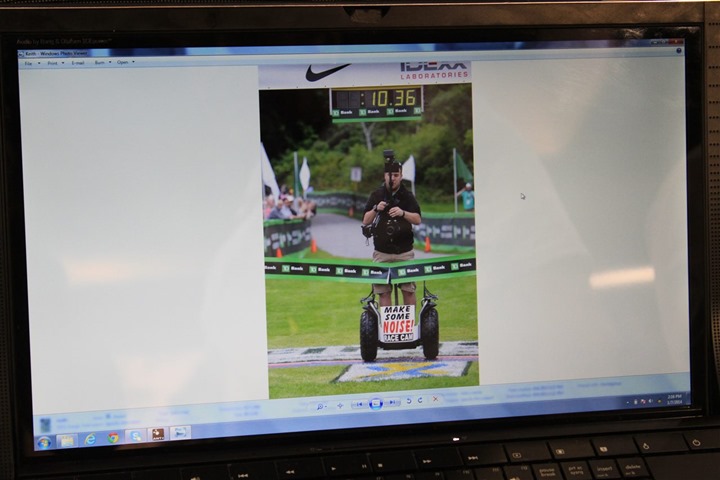 Health Device: Withings Aura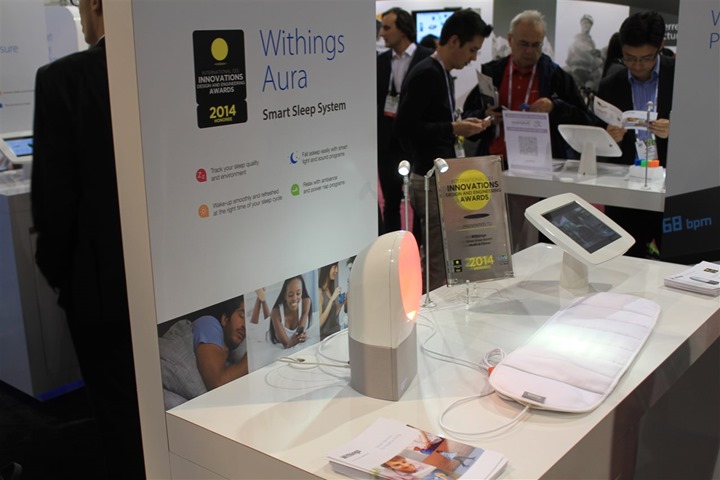 Withings announced their newest product – the Aura, which is a sleep tracking product that slides under your sheets and on top of the mattress.
In the photo above you can see the sensor pad, a few feet long, that connects to the large glowing thing.  The glowing thing emits light which is designed to "induce melatonin in the brain" and thus put you to sleep.  The light shuts off after you've fallen asleep.
At the same time the unit collects sleep metrics including your heart rate, breathing, and sleep quality.  This information is then transmitted via WiFi to the Withings site and accessible via the phone app – showing your various trends for each night.
The unit also contains a clock with an alarm that tracks your sleep to understand the most optimal time to wake you up based on the specified alarm time.  For example, if you set it for 7AM, it may find that it's going to be less disruptive based on current sleep state to actually wake you up at 6:53AM.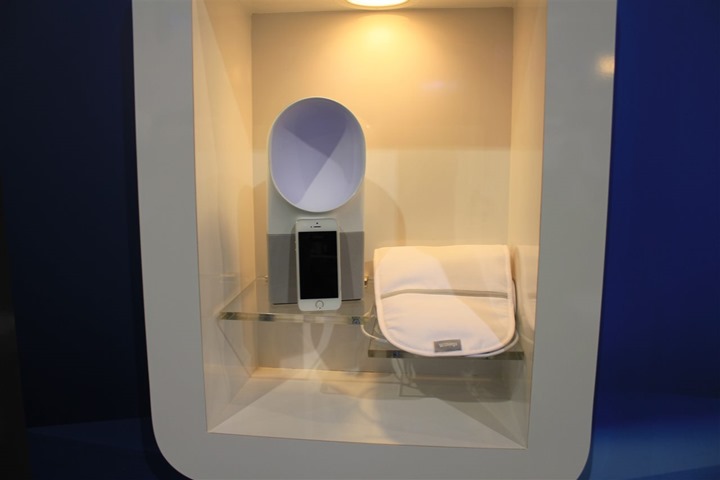 I was somewhat surprised at how darn big the bedside system is.  For comparison, I put my phone next to it above.  As you can see, it's pretty high up.
The bedside unit can track multiple people using separate pads.  As you can see below, you can plug in multiple pads into the same unit.  And, if you don't need the extra pad USB ports, you can simply plug in your phone.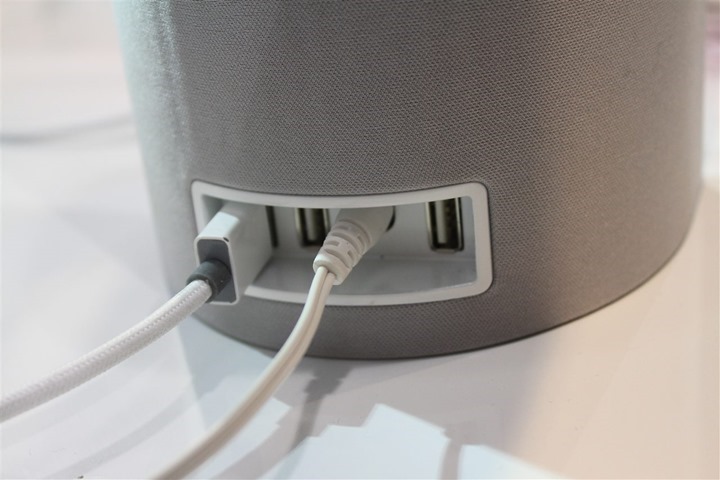 The unit will be available in Q2 (thus April-June) for a cost of $299. Additional pads will be $129 each.  The unit does track which pad belongs to which person, and uploads the data into the appropriate account.
Sport Devices: Casio STB-1000 Smart Watch built on Wahoo Fitness API (so it works with major fitness apps today)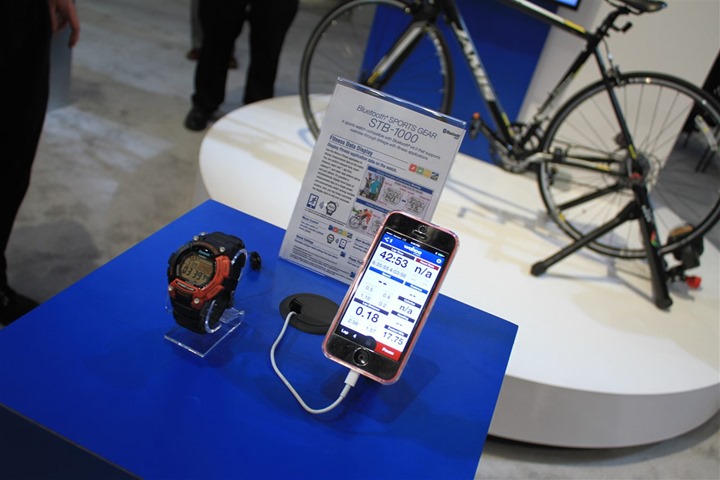 I've been waiting a while to see this watch make it to market, and it's cool to see it finally here.  This is Casio's STB-1000, which is a smart watch that's sport focused and leverages the Wahoo Fitness API for the software side.  This means that it's very similar to the Magellan Echo, except in a different form factor.  You can see how they've blended together the traditional Casio-style wrist-watch, with the data streaming from the Wahoo Fitness app.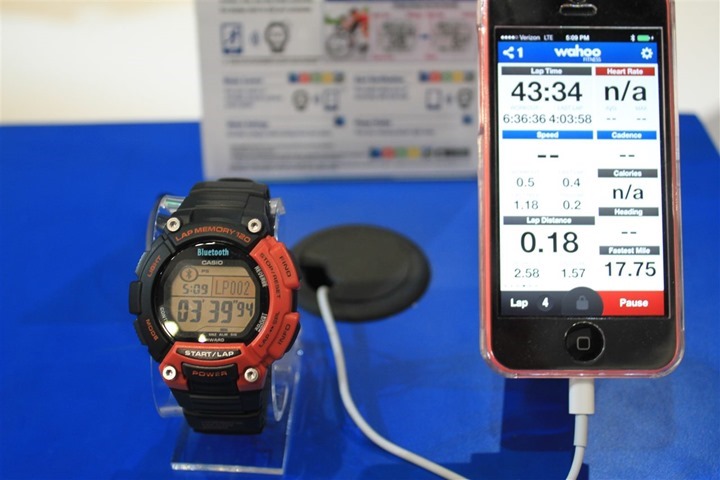 The unit connects via Bluetooth Smart to your phone, so your phone will have to be in range for it to work (just like the Echo or RFLKT).
From the unit you can pair it to numerous apps, like RunMeter or CycleMeter, as well as the default Wahoo Fitness app.  You can control music as well as get notifications of incoming calls and messages (depending on the app).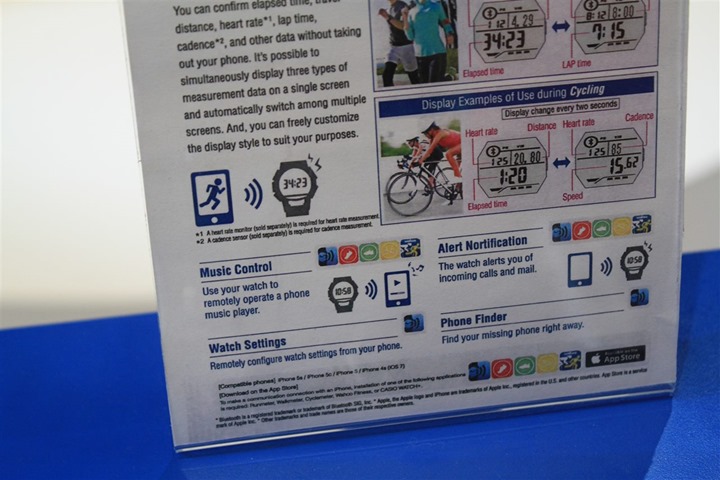 Casio hasn't yet set a price, but availability is planned for sometime this spring.
Sport Devices: 4iiii's new GPS, Optical HR, Notification pods – all with ANT+ to Bluetooth Smart pass-through/bridge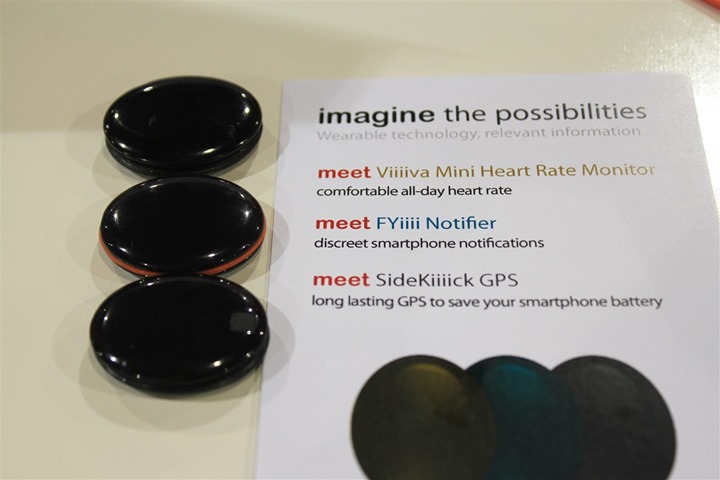 4iiii's announced three new products for the sport and fitness community, all three of which are pretty impressive – at least starting with the size of them.   All of them are about ~3.5g in weight. They are as follows:
Viiiiva Optical HR Monitor: It's a dual ANT+/Bluetooth Smart Optical HR monitor that's worn on your wrist (though, they said it can be worn elsewhere).  The unit gets 13 hours of juice out of its battery at 1-second recording rate.  Exact price TBD, but in the $80-$90US range.  The unit includes the same recharge connector as the Pebble Smart watch (the two companies are collaborating a bit here).
FYiiii Notifier: This is a ANT+/Bluetooth Smart notification pod, designed to be worn and used to quietly notify you of an event – for example an incoming text message.  It features vibration support, though doesn't have a screen.  The pod connects to the standard iOS notification center (and has Android support too).  4iiii's though has added a separate application that allows you to create a filter on top of the iOS notification center, so that the pod will only alert you to actions that you've configured (for example, text messages, but not Facebook notifications).  The pod will be $60.
SideKiiiick GPS: This ANT+/Bluetooth Smart GPS pod gets 10 hours of battery life, and is designed to offload GPS work from your phone to the pod, thus saving battery on your phone (for example, for longer hikes).   The GPS pod will be $129US. This unit also includes the same Pebble-based recharge connect (which ultimately goes to USB).
Below, are the same pods as above, just flipped over.  I've placed each pod next to their respective model name on the sheet of paper.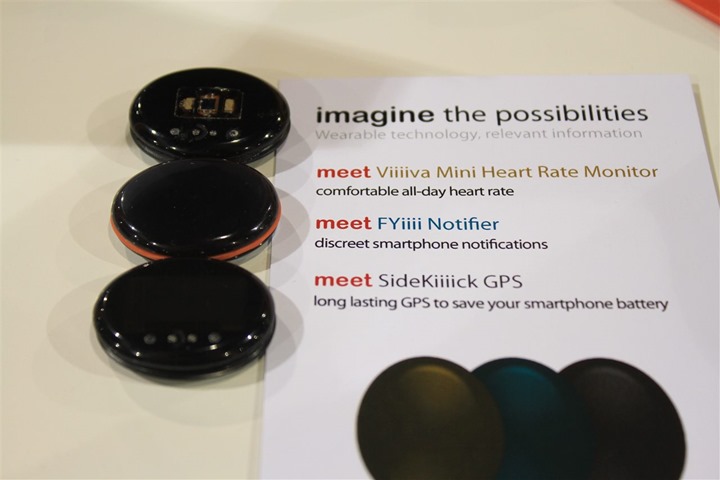 Now, a few interesting notes of commonality on all three pods:
Accelerometer: All three pods have an accelerometer within them that can be leveraged for a variety of future opportunities (think footpods, activity monitors, etc…).
ANT+ to Bluetooth Smart Bridging: All thee pods contain the same Liiiink technology that's within the 4iiii's Viiiiva strap that bridges between ANT+ and Bluetooth Smart.  Further, as part of a recent update to that technology (via firmware), the technology no longer does rotation across multiple data stream (i.e. if you had an ANT+ cadence sensor, HR sensor and power meter it would rotate through each one during the bridging).  Now, it sends all of them concurrently all the time.  4iiii's has said that Wahoo Fitness will be supporting that in their upcoming app update, if they haven't yet already.  I have not yet confirmed that with Wahoo, but will be doing so shortly. (Update: Wahoo has confirmed this will occur in February in time for their own TICKR related releases.)
New Android Open Source API: In addition, 4iiii's has developed an Android based open source API that can connect to all of the devices for further integration/leveraging opportunities.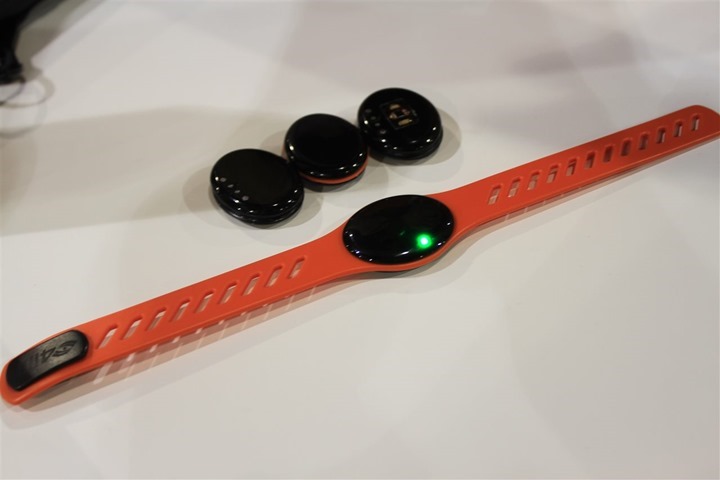 Now, one area that I think could be a really interesting opportunity is to take the cheapest of the pods (the notification one at $60), and offer it purely as a ANT+ to Bluetooth Smart power meter pass through for folks looking to move to the Polar V800 Bluetooth Smart-only triathlon watch.  In talking with 4iiii's, in theory, everything would work as-is assuming all parties followed the Bluetooth Smart spec correctly.  If so (and you can be sure I'll be testing it), it would be a huge barrier removed for existing ANT+ power meter users looking to move platforms.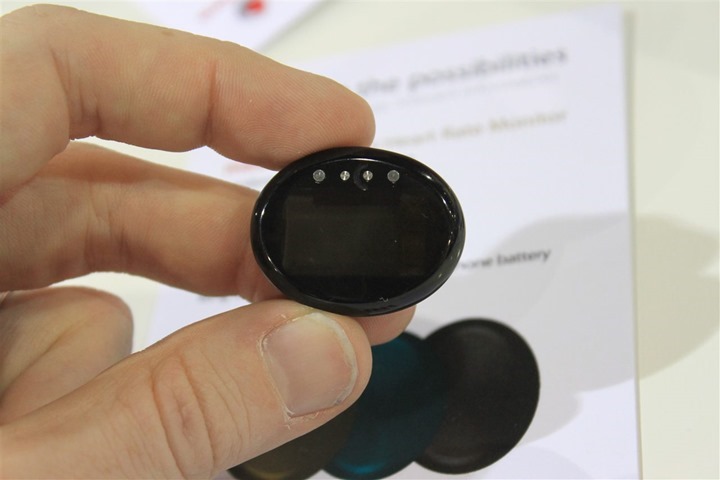 All of the pods will be available by the end of the first quarter (March).
Health/Wellness: Opryx with ANT+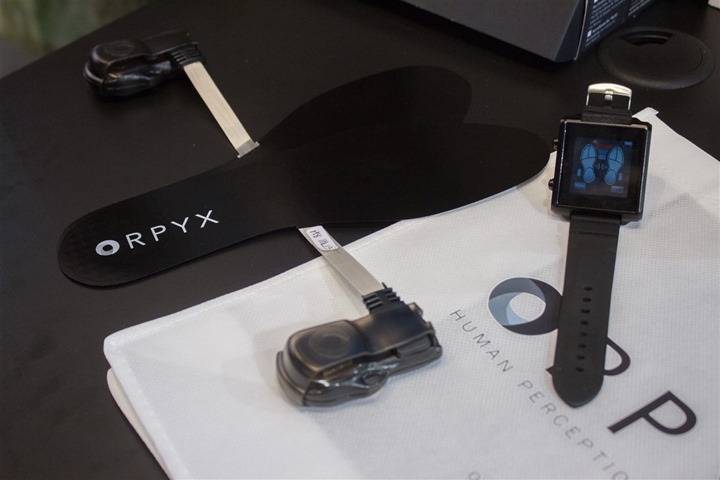 I had a chance to chat with the folks from Orpyx, who make an ANT+ sensor insert that's designed to assist those with diabetes that may suffer from peripheral neuropathy.  The condition occurs with peripheral nerves don't send signals to the brain regarding pain (or heat/cold).  As such, it can result in foot injuries because the person cannot feel pain in their feet (such as a blister or or pebble), which can ultimately lead to ulceration.
The Orpyx system includes a pressure sensitive pad/insert that sits in your shoe and transmits pressure data via ANT+ to a watch that alerts you if any pressure pad exceeds thresholds.  Below, you can actually see the little pressure sensors across the the insert.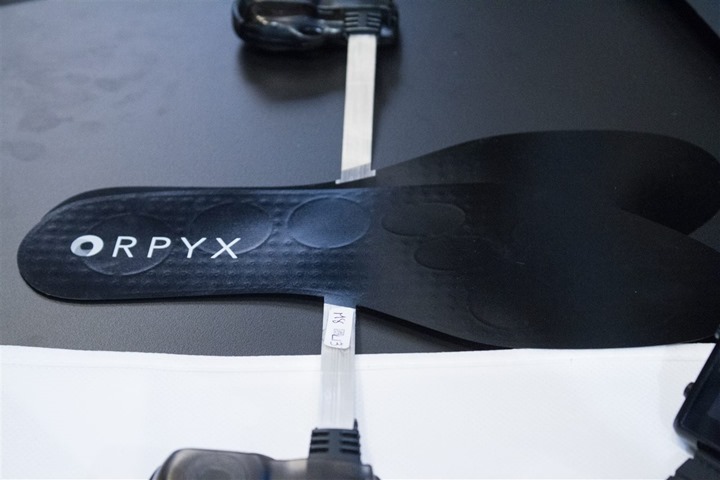 Then, you see the 'cables' coming out of the inserts, which connect to a footpod style system that sits atop your shoe.  In many ways, this is actually sorta a similar schematic model to the Brim Brothers power meter.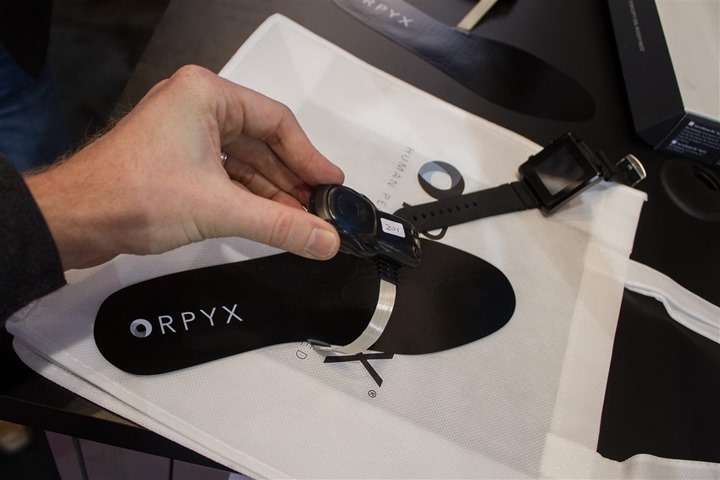 As noted, all of that is transmitted to a specific custom watch via ANT+ that displays various zones and then thresholds of pressure within those zones.  It can then alert the user to potential issues (again, because the person may not feel the pain otherwise).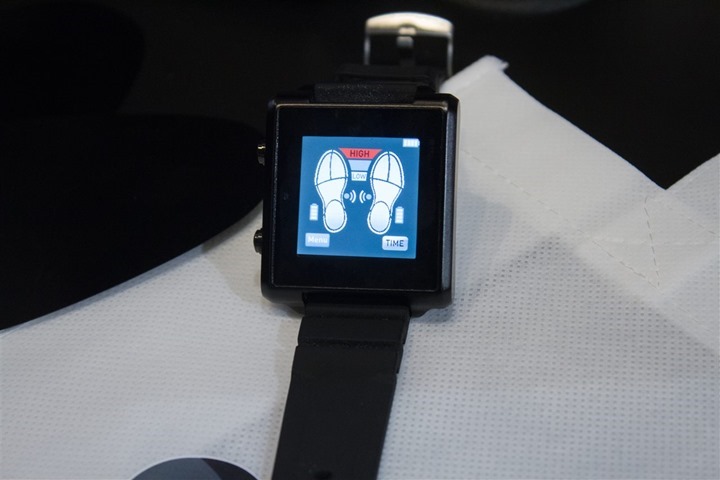 I mention this first and foremost simply because it's interesting health technology using open standards – a merging of a lot of different devices together.  Secondly though, I think it shows some of the potential of technology like this down the road in sport uses.  For example, there's long been talk about how one could someday develop some sort of running power meter, measuring forces and establishing a baseline universal standard of effort – like a cycling power meter.  Obviously, there's lots of unanswered questions in that realm, but I figured readers would find the technology interesting.
Health/Wellness: Glucovation with ANT+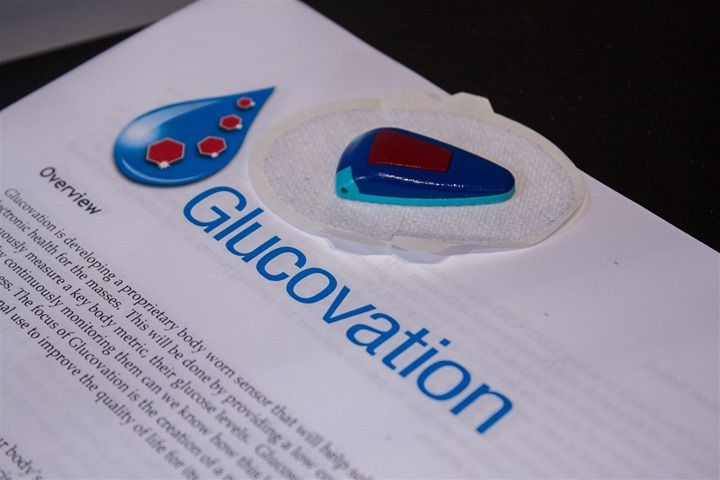 Next, another health-focused sensor – this one from Glucovation.  They're developing a continuous glucose monitor that works in sport and fitness and transmits via ANT+, potentially down the road to units like Garmin watches.
Above, you can see the small pod that's worn on the persons body, slightly above the waist line on your side.  It has a tiny needle that continually measures your blood glucose levels, and then transmits that via ANT+ to a waiting device.
In doing so, it can help a person with diabetes to better manage low blood sugar situations – which ultimately limit performance in an athletic event.  Companies like Garmin, Suunto and others could relatively easily add support for the ANT+ data stream (it's a standard device profile) – just like a heart rate monitor or cadence sensor.  Within that, one could establish alerts based on a given value, just like you setup pace or HR alerts today.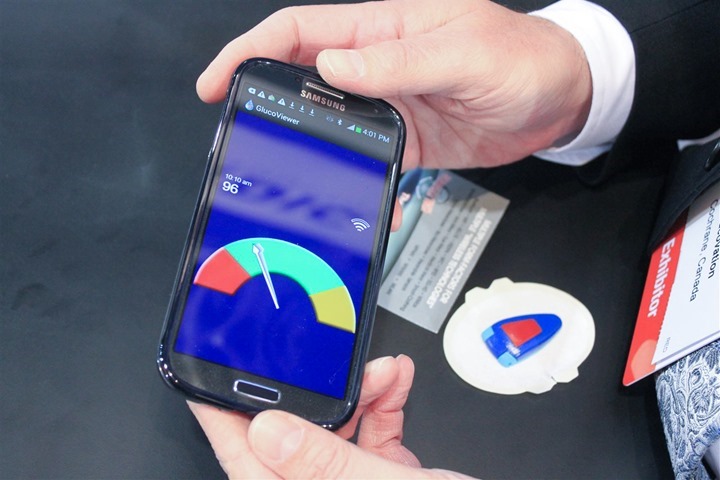 Now, continuous glucose monitors have been talked about for some time – and in this case, it's going to be some time until it's ready as well.  In talking with them, they're still talking at least 1-2 years away before they hit public availability, largely due to the numerous regulations around medical devices.
Activity Trackers: LG Lifeband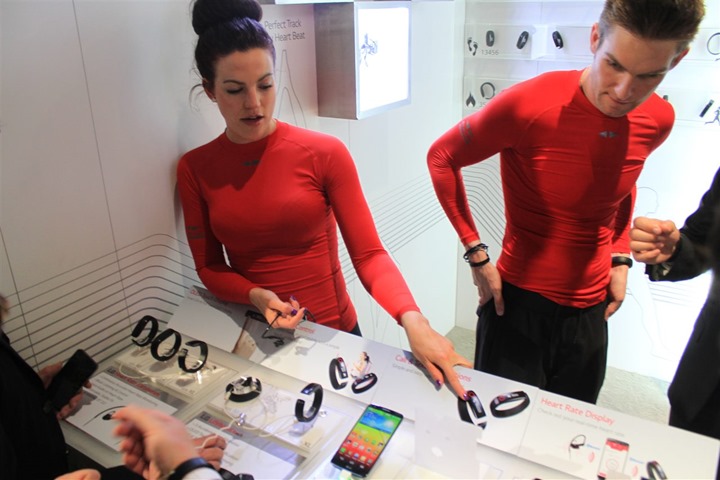 LG has joined the fray on the activity tracker scene as well.  They announced their Lifeband Touch wrist-based unit, which not only tracks steps and calories (and other movements), but also supports call and text message notifications, as well as music control.  Further, the unit actually contains a barometric altimeter in it for accurate elevation gain measurement.
In addition to the Lifeband, they announced a set of headphones that continuously measures heart rate (as well as plays music).  The headphones also enable control over music as well.  Interestingly however, they are not Bluetooth Smart for the heart rate piece, but rather standard Bluetooth 3.0 – likely driven by the audio requirement side.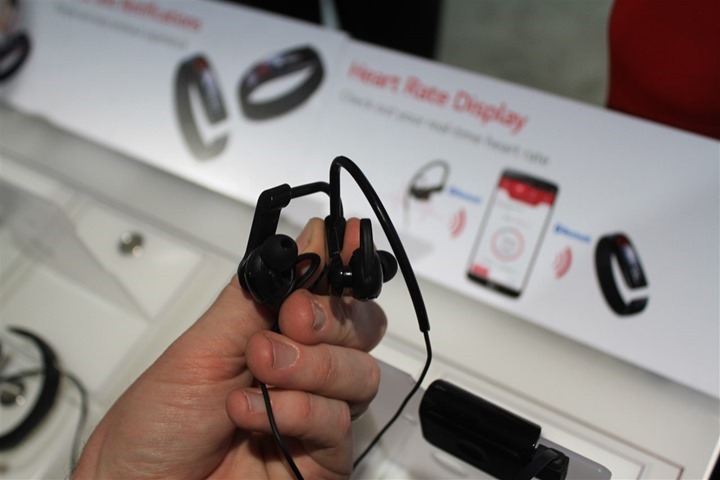 I remain highly skeptical however of the heart rate reading side of things until I see it happen.  Some might remember two years ago Motorola announced a similar product, however ultimately cancelled the project (prior to getting bought out).  Many in the industry heard that accuracy of the units was too questionable to be successful.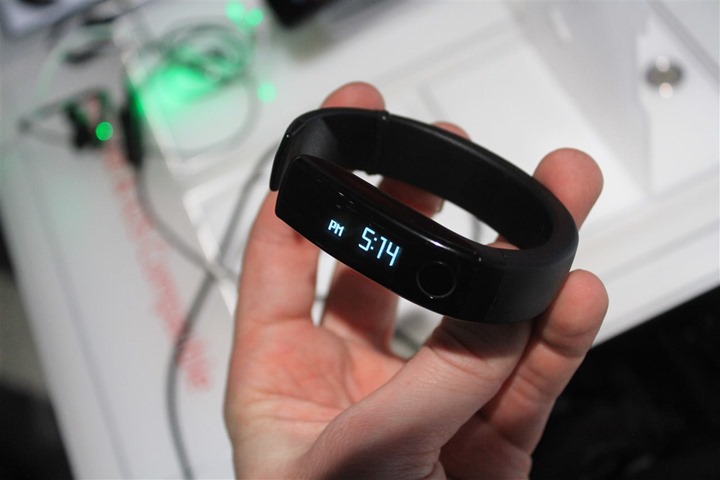 At this point, there are no prices announced for either product, nor release dates.  Update: Pricing was just published at $179 for the Lifeband, and $179 for the headphones.
Smart Watch/Activity Tracker: Pebble Steel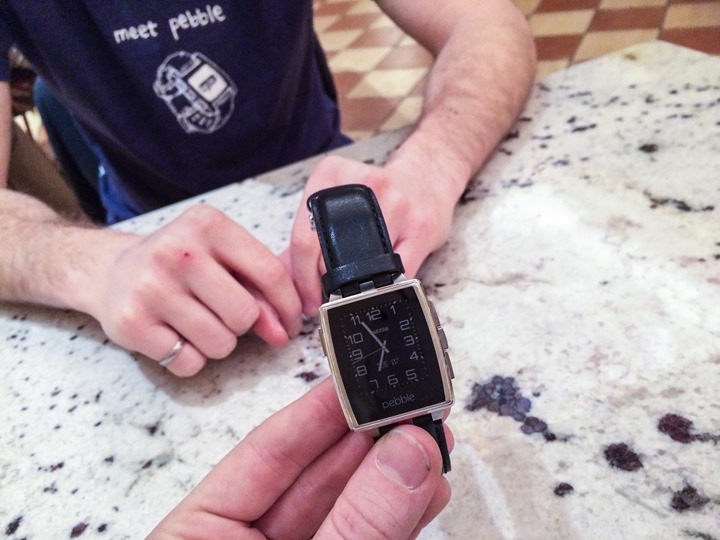 I wrapped up the day meeting up with the CEO of Pebble, Eric Migicovsky, at a hotel food court of all places.  It's just the way it works sometimes.
We spent the majority of the time talking about the industry and where they would like to go – and my thoughts on where smart watches fit into things.  It was interesting in hearing him talk about how they feel that Pebble is in some ways more than just a physical watch, but also the platform around that.  For example, while they make their own unit (which has activity tracker capabilities) – they're also interested in seeing how they can assist other companies that may want to leverage the activity tracking pieces and other API components for their own hardware products.
This 'model' is actually very similar to what Wahoo Fitness has done (as seen above with the Casio unit, as well as Magellan units).  Wahoo makes their own products (such as RFLKT), but also subs out that software layer to other companies that want to leverage it for their hardware products – even when those products ultimately seem competitive.
As we were chatting though, I got a chance to check out the just announced Pebble Steel edition.  This new unit has a steel case that makes it feel and look much more like a regular watch.  In fact, you completely forget in the case of the below photo that this is a digital canvas that's merely painted on.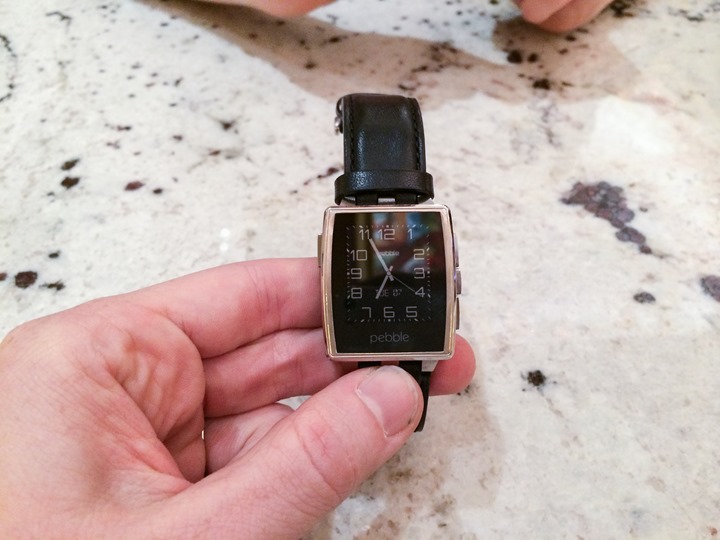 Having been a backer of the original Pebble unit on Kickstarter, I'm pretty amazed at how this one feels.  The first unit always felt a bit plasticky to me, whereas this feels legit.  It's worth noting that they've made some antenna placement changes in this unit, which leads to a bit stronger reception than the original pebble.
Wrap-Up
With that, that's just about all the tidbits I've got!  Tomorrow though, you'll get a sneak peek at the new Bia watch, which I've had a chance to dig into a bit after a secret meet-up with the founder on the University of Las Vegas Track while at CES.  Hang tight!
Thanks for reading!