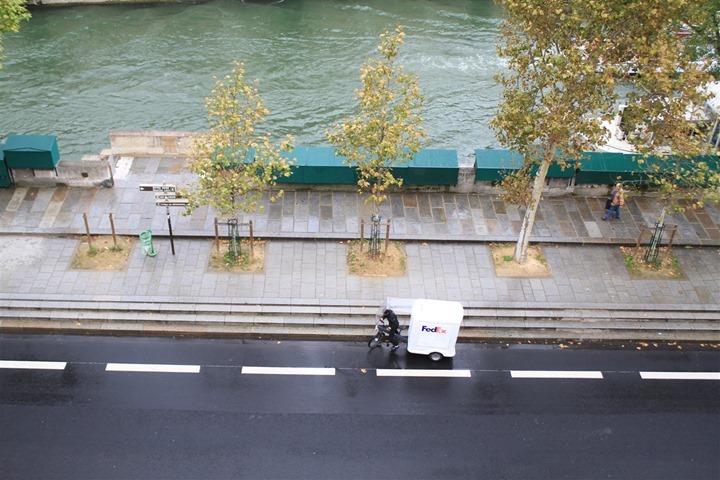 (Quick FYI: By popular request, I've pulled the Paris Blog posts back into the main RSS feed – thanks for the feedback everyone!)
When we moved over to France, one of my biggest concerns was actually how to deal with incoming mail and packages.  Both personal (like cookies from relatives) as well as those from work and related to the blog.  For me, the packages coming in for review for the blog was my main worry.  How would it work?  Would it deter companies from sending units? And do people even understand how to ship internationally?
Given how many products pass through my doors for review, you may be curious how I handle it.  So here's a bit of a tour.
When we first knew we were going to move, back in April, I started researching options for mail forwarding companies.  Turns out mail forwarders are a HUGE business in the US.  But not for the reason you probably think.  It's not a bunch of expats moving abroad that fuels their business.  Instead, it's actually non-US folks that want to buy goods at cheaper prices in the US and ship them over, which are still cheaper after paying import taxes and shipping fees.  Further, some companies even offer 'personal shopper' services to alleviate issues with non-US credit cards being used on US sites.
For us, our interest was more simple: We just wanted our mail held and forwarded, and our packages held and then forwarded.  But, finding the right company turned out to be tricky.  In general, most of these companies have sucky web sites, with misleading or confusing information.  For us, I had a few simple requirements:
1) Must scan the front of every piece of mail or package (and not charge a fee)
2) Must offer a web-based console for sorting mail
3) Must allow for paid full-scanning of mail items
4) Must not charge for arrivals by the piece (I can't control what comes in)
5) Must allow specification of customs duties
With all that in mind I narrowed it down to a few places.  I ended up choosing a company in Florida – since they seemed like they fit the bill.  Once that was done, we setup our US Postal free forwarding (you can do it online) for general mail, to our new Florida address in Sarasota. That worked well…at first.  Mail took about 10-15 days from when it was supposed to arrive in DC, until it got rerouted to Florida.  That itself wasn't really a problem – since very little that comes in envelopes is time-sensitive these days.
But we found a few issues.  First, USPS forwarding will only forward certain types of mail.  For example, no-go on magazines, nor on your typical personal letters (cards from family friends, etc…) – because those aren't likely sent at a higher postage rate.  So,we found that it really wasn't forwarding much that we cared about, except bills (which are automatically paid anyway).
However the bigger issue was that the Florida company would only scan the front of packages – and NOT envelopes.  Making them…well…useless for general mail.  Additionally, I couldn't specify values for packages after all.
So back on the search I went.
This time, I went to our #2 choice, a Houston based company (US Global).  I spoke to a person and validated that they scan the front of every package and piece of mail.  Further, it doesn't cost us anything to hold mail there upwards of a month or so (after that it's a trivially small charge), and I can control everything via web console.  Additionally – and this is the big part – I can specify customs declarations values.  We'll get to the last one in a moment, and why it's probably the most critical aspect.
Now, here's how it all works.
First, mail comes into my Houston address (a real address, not a PO box –very important).  In general, within about an hour of it arriving off the FedEx/UPS/etc. truck, I'll get an e-mail notification that something has come in.  From there, I log into their little web console to see what it is:
In this case, two pieces of mail.  First, an envelope from AT&T.  Oh AT&T, how I can't get away from you.  No matter how many times I specify online bill pay, they can't seem to get it right (as to why I still use AT&T, that's a story for another day).  You'll notice it has a little yellow tag on it.  This tells me that it's a forwarded item.  Meaning it went to my DC address first, and then got forwarded on.  Odd since I changed AT&T long ago to my Houston address – but again, not surprised.
Then we've got a package.  In this case, it's actually a watch for review.
Next up for me is declaring a customs value.  This is probably THE most critical thing for me.  Arrivals of any sort into France have a set import tax that must be paid.  19.6% of the value specified on the box – regardless of how much I paid for the item (or didn't pay).  In fact, our delivery folks will actually stand there at the door and wait for us to either pay them in cash or check.  Without that, no box.  Like the Soup Nazi of boxes.  No money, no box.
As you know, all of the units I test end up going back to the company that sent it to me.  In the case of these units I'm not keeping them, and thus they actually shouldn't have any import taxes paid – since they are being sent back.  In a perfect world, companies would understand how to declare this correctly on their customers declarations forms.
But the reality is, most don't.  And for those that aren't companies but rather personal shipments – they are just trying to be good-intentioned.  Most folks think that putting that declared value means that if something happens to the box, I'd get that amount.  In reality, that's just telling them how much to charge me.  A very famous Paris blogger – David Lebovitz – goes into quite a bit more detail on this.
As I mentioned, most companies don't do this correctly.  So when (for example) Garmin sends me not one, but TWO Garmin Fenix units for review (to test unit to unit connectivity features), do you know how much I pay?  Well, each one had a listed value of $399 on the invoice sheets, thus, $798 in total.  Therefor I paid $156 out of pocket to receive them.  Of course, you never get that back (and since the watches go back to Garmin, I don't get the units either).  Technically there's a way to get the money back, but even the French don't bother trying as it's never ending bureaucracy.
So instead, I now route almost everything via the US forwarder.  I can tag the customs values correctly and declare them as 'SAMPLES', which is the appropriate designator, and then life is grand.  Obviously, I pay for shipping, but, it's not too bad compared to a 20% I'd otherwise pay – especially when you're talking a typical review box of $1,000-2,000 in gear from assorted companies.  Obviously, for non-returned personal items (i.e. Christmas presents), the customs declarations are set appropriately.
Now, I specify a tax value on the site.  I usually just use a standard value here for review/sample items.  I've found putting $0 causes more issues than just paying a couple dollars – even if $0 is technically the appropriate value.

Ok, the next step is bundling up a shipment for shipping.  In this case, I can decide what's going and when, and via what method.  For us, we typically have two types of shipments- the first is stuff that we need immediately.  Sometimes a watch on a tight deadline or something needed for the CupCakery.  The second, is stuff that we just don't care when it arrives.
At this point, I go through the little web console and simply select which items I want to put in the box.  It's like shopping.  Once that's done, it'll show me all the items in the proposed package.
Next comes the painful part – deciding on my shipping method.  The forwarding company will automatically remove all outer boxing (the brown box part and packaging), and repack everything.  Unless I request them to, they won't remove the inner box (i.e. the default watch box like you'd see it on a store shelf).  Usually, we'll pay whatever is in the first column below.  Sometimes a touch less, as they often save some weight during the unboxing.
The below estimates are for the inclusion of about six boxes worth of stuff coming over (watch-sized boxes), plus random mail.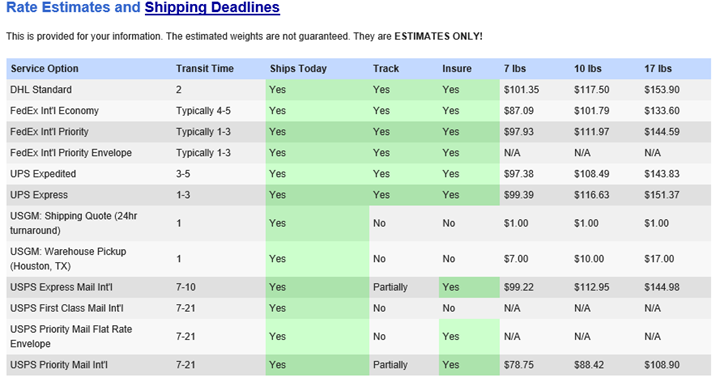 Normally, we choose FedEx Intl Priority or DHL Standard.  Both are almost always two days for us, and we have a good relationship with both.  We avoid USPS because it's a bit of a black hole once things hit the French side with La Poste.  And UPS here is really tough to deal with if things don't get delivered on the first attempt.
And lastly, choosing which address to send to.  As some of you saw in one of my Facebook posts when I picked up my trainer via bike, we have a bit of a hate/hate relationship with the folks that deliver to our apartment.  They hate dragging trainers up the steps, and I hate that they don't even bother anymore (and just simply mark it as attempted delivery and give up).
So instead, we deliver everything to the CupCakery.  It's open all-day, and the FedEx/UPS guys that deliver there are much nicer for some reason.  Perhaps because we always give them free cupcakes.  Just perhaps…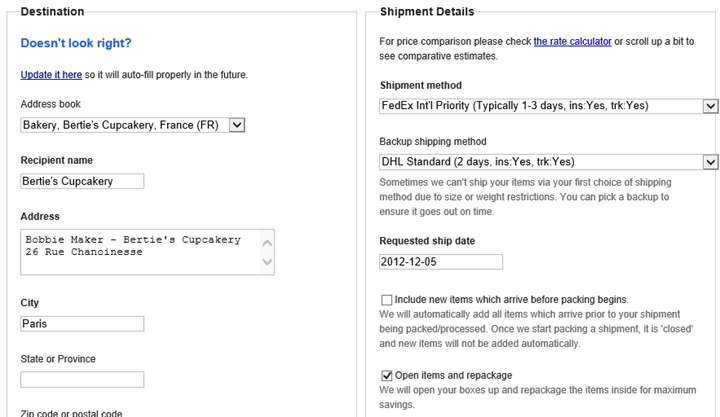 Typically, our packages arrive in two days.  But if there's a tangle up (such as customs), then it can take a number of days longer as they have to untangle that with us.  Thankfully, some companies like FedEx actually have a full English speaking help desk in France to sort out issues – and quite frankly, they're really darn good at it.  But others we just have to wait for it to work its way out of the system.  Like a bad piece of fish.
Eventually though, it does show up!
Now, we have give solid props to the forwarding company.  They are lean, mean, packing machines.  Never in my life have I seen so much stuff crammed so perfectly into a box.  And nothing has ever arrived broken.  Ever.
Recently we had a bit of a funny occurrence.  We had ordered some Lipton soup (look, when you're done running a dozen miles in the cold rain sometimes you just want something warm from home).  On Amazon it's super-cheap, and it's incredibly lightweight as small packets, so it wasn't a big deal.  We might have ordered a bit of it.  We had ordered a simple multi-pack off of Amazon, and assumed it just came in one box of like 20 or little packets, no extra individual boxes.  Like a Costco pack or something.  Made sense, right?
Except one little problem. Well, two little problems.
One: While sold as a bundle, it wasn't.
Two: Thus, a LOT of little boxes.  A lot.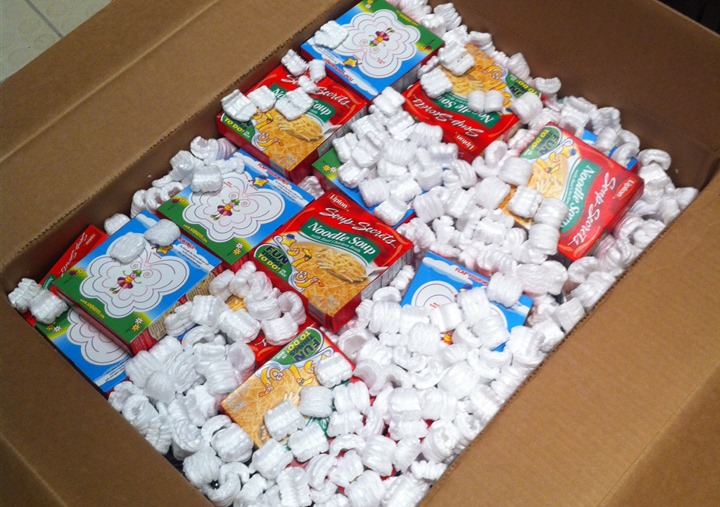 Ya win some, you lose some.  Fear not, the entire box was not noodle soup – it's just the space they filled on top.  I think the bottom was KitchenAid bowls from the US (again, far cheaper to import and pay taxes/duties than buy locally).
There are some exceptions in the overall forwarding process however.  Products that come straight off the factory floor from Asia (for companies otherwise in the US), usually go straight to Paris.  Most Asian manufacturers are really good at correctly specifying them as SAMPLE.  For example, Mio sent me a Alpha Bluetooth Smart unit last week, and direct shipped from the factory floor to Paris.  And of course, European mail goes straight to our Paris address.  Since it's within the EU, there's usually no import issues or complexities.  And for personal mail (like Christmas cards from family), we give our Paris address, since that's more fun.
So there you have it, how we get our goods to Paris, and how products end up on their first journey for review.  Next stop after the box above – is usually The Queue.
Hope you found this intriguing.  Thanks for reading!