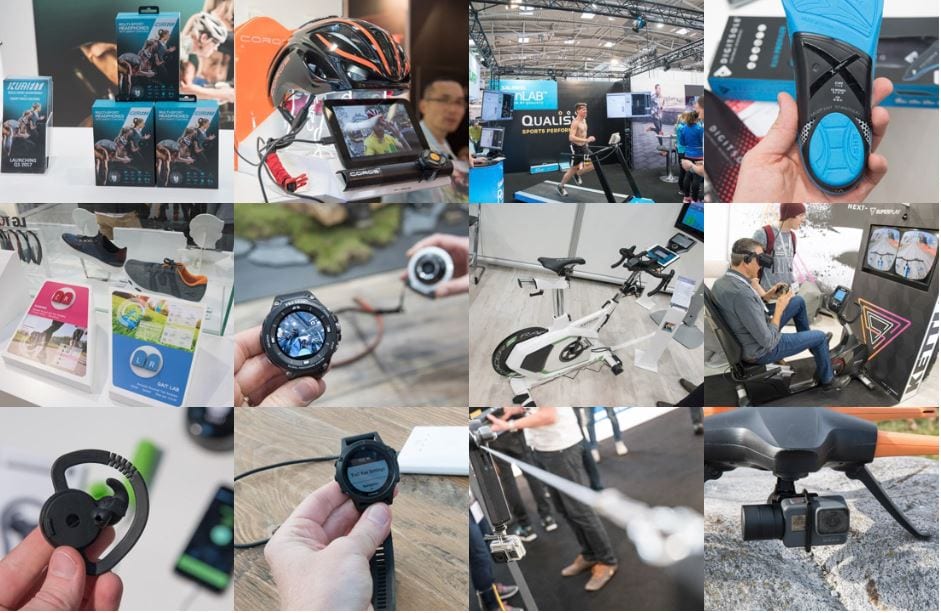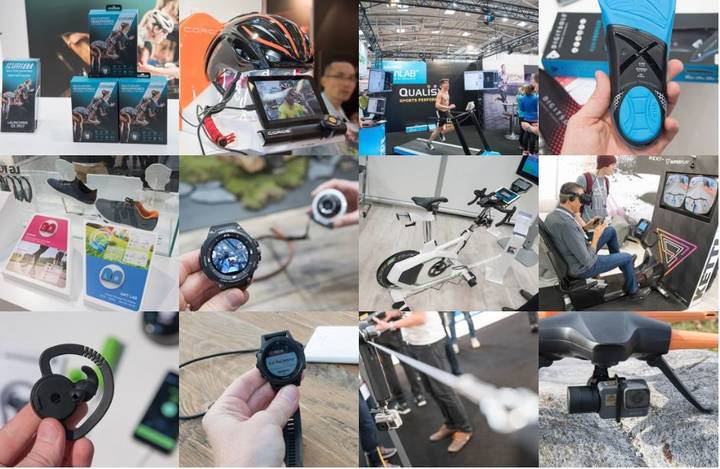 Sunday was a whirlwind day for me.  As I noted previously, the annual pilgrimage to the largest sporting show on earth occurs in early February (this year anyway).  And in my case, I make it a one-day trip.  I leave Paris early in the morning on the roughly 1-hour flight to Munich and then return later that same night.  All of which allows me to pack in a day at ISPO.
This year they've continued consolidating the sports tech/wearables vendors into a single hall – making my life much easier.  Many of the other halls are focused on things like clothing or ski equipment.  And while there are the odd ducks in those halls I still visit, I'm mostly able to cruise through them.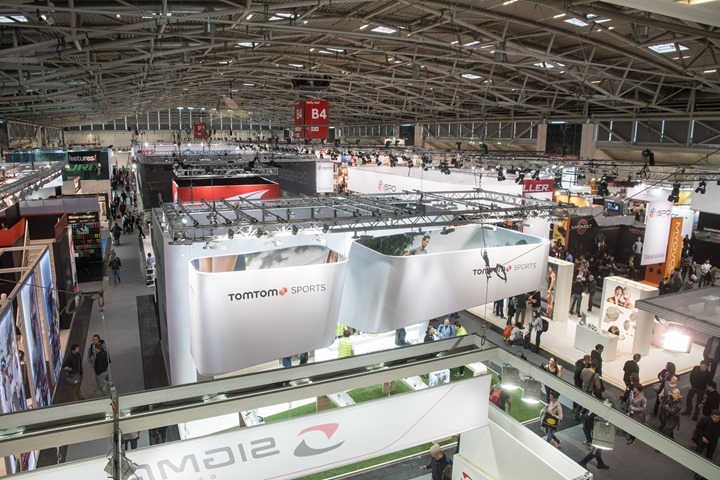 As I noted last week, ISPO doesn't tend to see too many major announcements from this sector (i.e. new Garmin or GoPro devices).  Instead, we see more startup activity, as well as minor updates.  While Garmin, Polar, and TomTom all had major booths – notably absent was Suunto. Neither present as a standalone booth or in the Salomon booth.  Also, Fitbit canceled in the days leading up to it, and GoPro didn't return either.  Both companies that have had substantial layoffs recently.
KuaiFit Sport Headphones: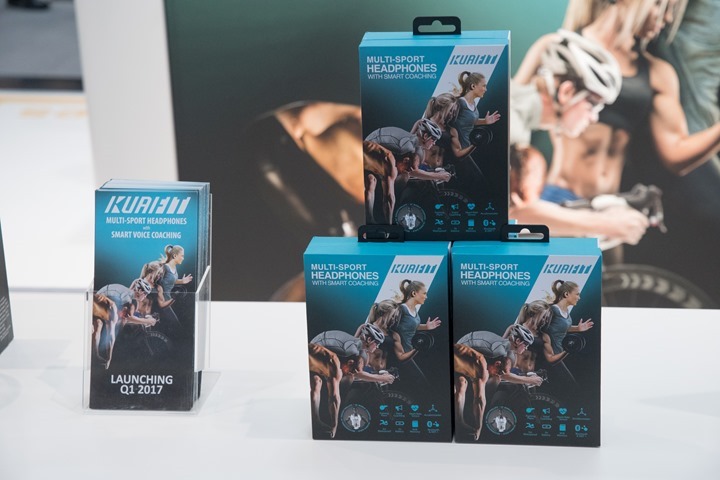 We'll start off with a quickie of an update.  I've discussed Kuai previously, last year at ISPO in fact.  The company makes headphones that can measure everything from heart rate to pace, all while storing fitness data as well as music. Here's the bulleted list of features:
– In-ear heart rate (HR) sensor made by Valencell
– Works in swim/bike/run
– Ability to broadcast your HR over both ANT+ & Bluetooth Smart
– Ability to broadcast your running pace/cadence over both ANT+ & Bluetooth Smart
– Can connect to ANT+ Power, ANT+ Speed/Cadence sensors during cycling
– 3-meter deep waterproofing (though, it's also internally nano-coated just in case the outer shell has issues)
– 5-meter deep waterproofing on the internally waterproofed micro-USB charging port
– Saves activity files as standard .FIT (standard format everyone uses, for swim/bike/run)
– 8GB of music storage internally
Effectively, they're what every athlete wants in a pair of headphones, or close to it anyway.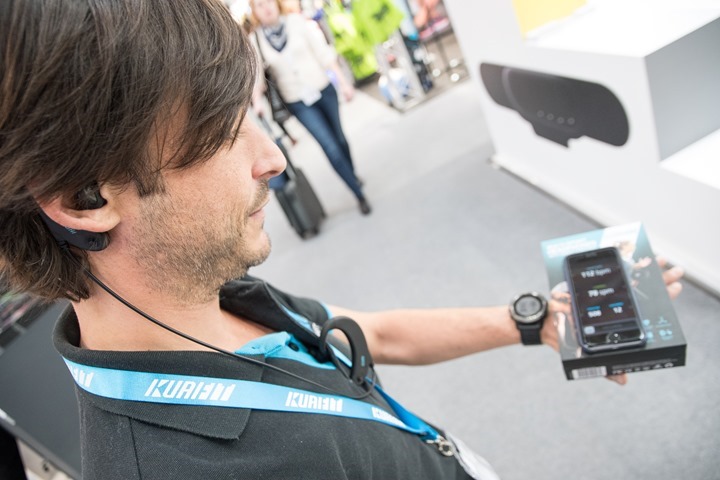 They transmit out your stats as standard ANT+ & Bluetooth Smart, and in fact, I was given a demo of that exact scenario – where I was shown the unit transmitting to both a Garmin watch and an iPhone concurrently.  This means you can use it as a footpod or heart rate strap, as well as recording the data internally.  But again, I covered all those details previously.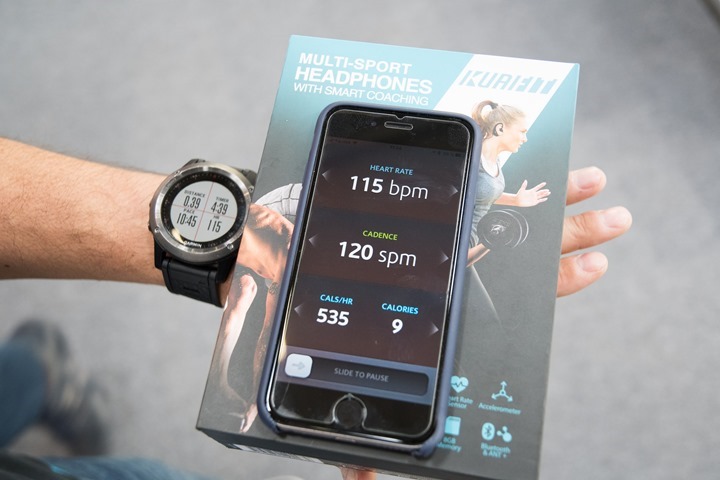 So in the interest of keeping the tempo quick on this post, the update is that they're planning to start manufacturing in a few weeks, with them essentially waiting on the Chinese New Year closures to wrap up so they can move forward.  In turn, that has them shipping in the March timeframe.
Obviously, this is a wee bit behind numerous other past timeframes they've listed – so hopefully this one will stick.  If the product is as good as they've been talking, it could gain some serious traction with the endurance sports realm.  I'll likely circle back later this spring once I have a unit to see how it handles.
Coros Smart Helmet: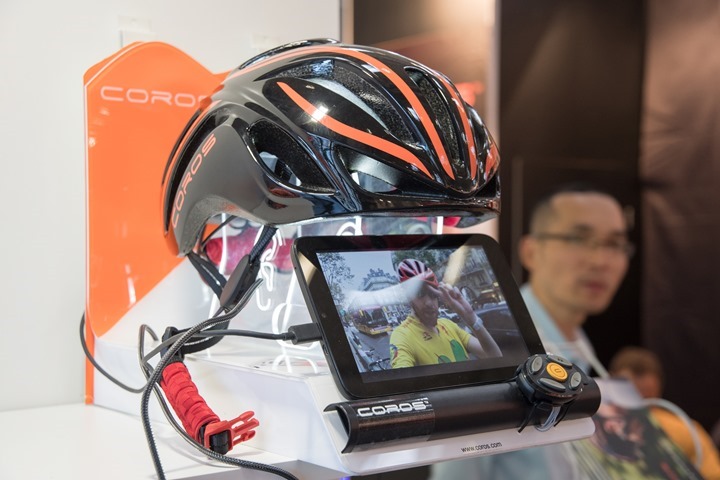 Many of you may remember my in-depth review of the Coros helmet back this past fall.  It's what appears to be a regular helmet from the outside, but actually uses jawbone induction to play music from your phone (without blocking the sounds of traffic), and even allow you to take telephone calls.  It works surprisingly well.
Interestingly enough, I noticed they were playing my YouTube video about it in the booth (see pic above).  This video below:
In any event, the update here is that they're going into retail.  I met them at CES, and they noted the same, but now there's a bit more clarity on it.  Since the campaign wrapped up this past fall, they've shipped out all units to all backers.  They say that the only ones that haven't received units are those that haven't completed their shipping surveys (a standard part of the Kickstarter process), or did so late.  That seems to roughly jibe with the comments section of my review.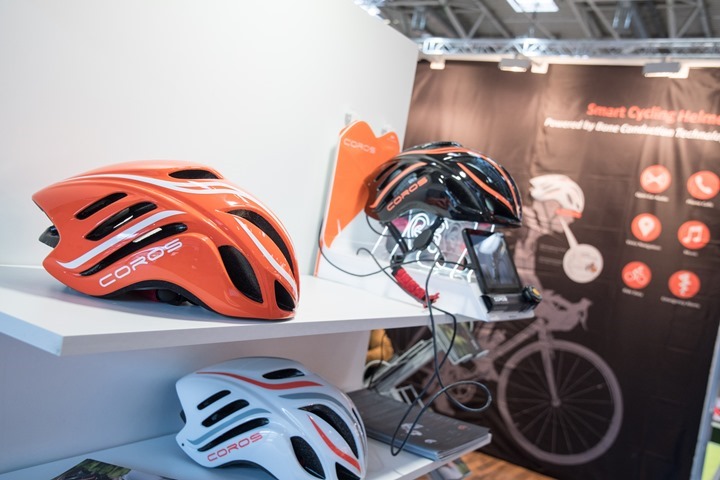 On the retail side, they're working to get onboard with both US and European retailers, and have recently launched their own site for purchasing.  Interestingly, I didn't know previously that Coros is actually a subsidiary/brand of electronics giant YF Tech, which is the largest GPS manufacturer in China.  However, Coros is run entirely out of the US – with its US headquarters now located in Woodbridge, VA (an area most notable to many Washington DC area folks as one of their nearest Ikea store locales).
Finally – some of you have asked recently about my Coros helmet.  Indeed, it's a project/product I paid for on Kickstarter, and thus it's become my main helmet.  I don't actually tend to use the music bit that much, but rather just find it's a nice enough helmet.  My previous helmet was getting a bit rough looking, so this fit the bill nicely.
Salming RunLAB: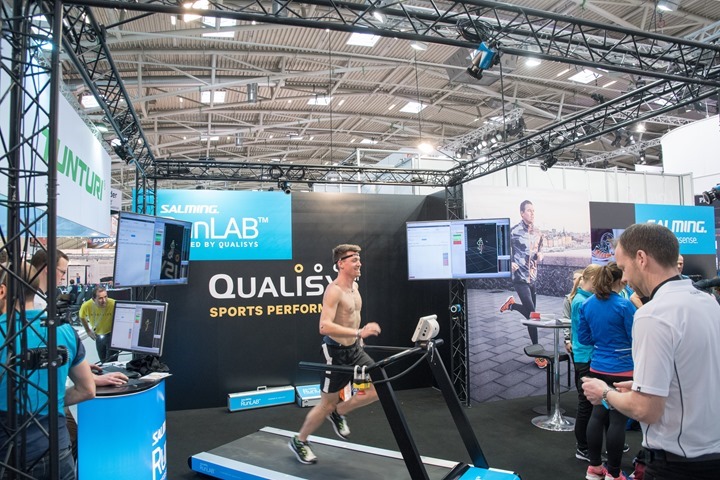 While there's plenty of products out there lately doing running efficiency analysis – none seem to go as deep or expensive as this booth's wares.  The Qualisys/Salming platform will set you back about 50,000 EUR (about $53,500 USD), or roughly the cost of three Ironman race entries these days.
The platform is actually a partnership between Qualisys and Salming, and is designed to capture and analyze running form.  The target market here is coaches and pro athlete centers (like Olympic training facilities), more so than the average consumer.  They even see some running stores being a potential customer.
The system works by using 9 cameras to monitor 35 markers that are placed on your body.  These markers are the small silver balls you see.
In addition to the 9 sensing cameras, there's also one additional camera for recording regular video.  The platform in turn measures step length, movement of trunk and pelvis, and numerous other metrics around running form.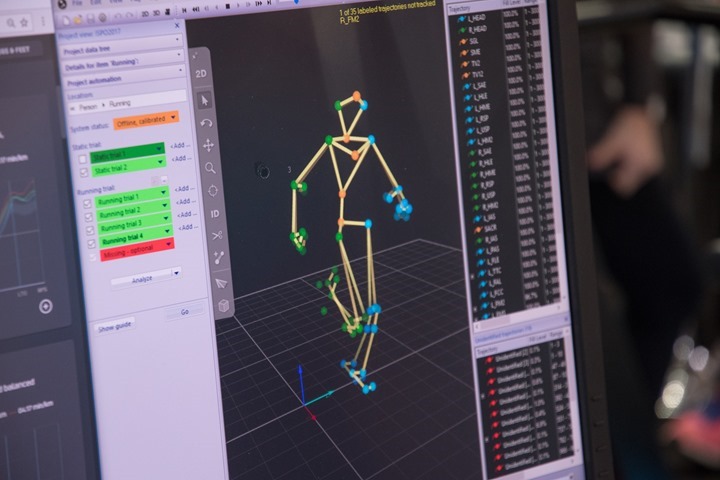 From there the platform allows a coach to study any of the markers in more depth (or slow-mo), or to simply spit out a full report to the customer/client.  That report then compares the results against elite runners, showing where things differ.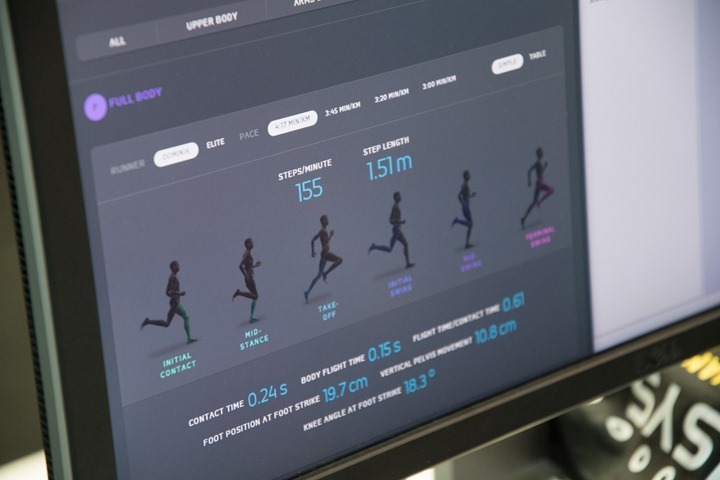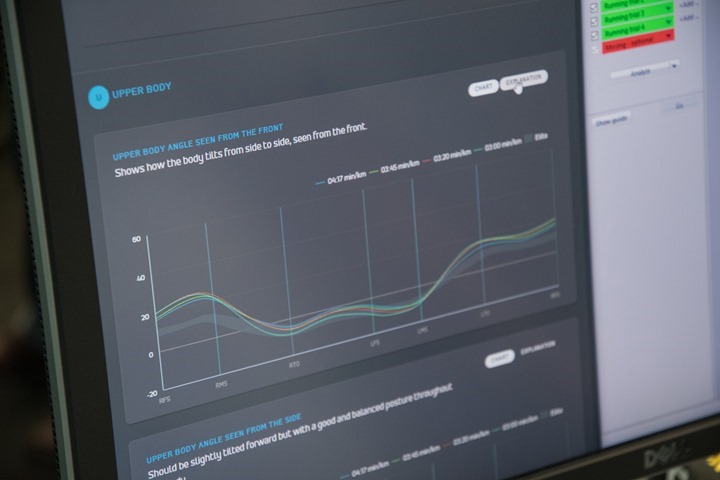 As noted above, the whole kit costs about 50K if purchased, though it can also be bought/rented in three different models.  The first choice is a leasing plan (thus not the full 50K cost), the second being an upfront purchase, and the third being a three-year payment plan for the full cost.  Somehow, I don't quite think you'll find one in the DCR Cave anytime soon.  Still, it's interesting stuff for sure.
Digitsole Run Profiler: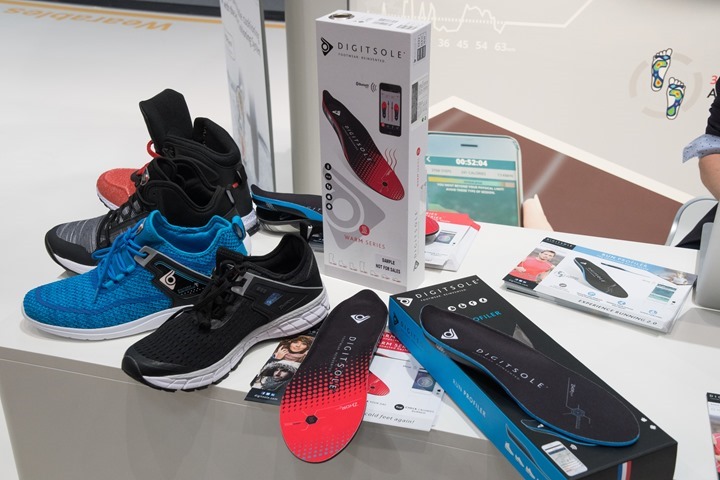 Continuing the running metrics trend, we've got Digitsole.  This company makes two different connected insoles.  In Matrix style, there's the red one…and the blue one.  No really, I'm not kidding.
The blue one (Run Profiler) starts off at 99EUR (for one side) and provides relatively straightforward stats like cadence and pace.  But it also gets into displaying how much pressure is being applied to different parts of the insole.  All of this data is transmitted via Bluetooth Smart to their smartphone app (Android/iOS).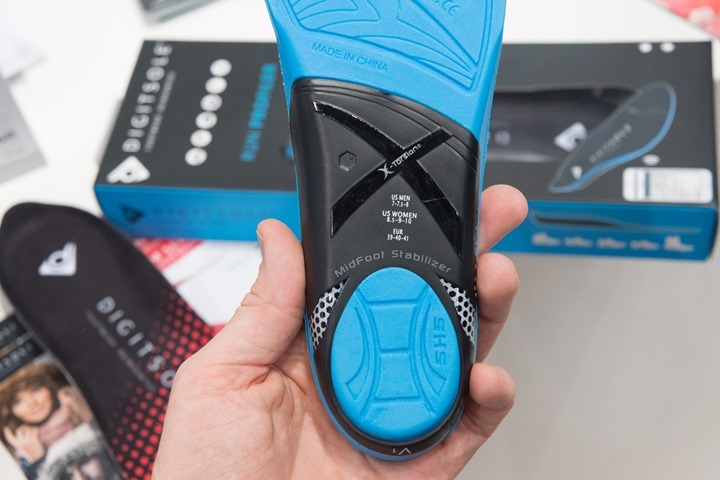 The unit charges via micro-USB on the side of the insole and gets about 5 hours of active-on battery life.  The company said the goal was to be able to cover a marathon for the majority of runners.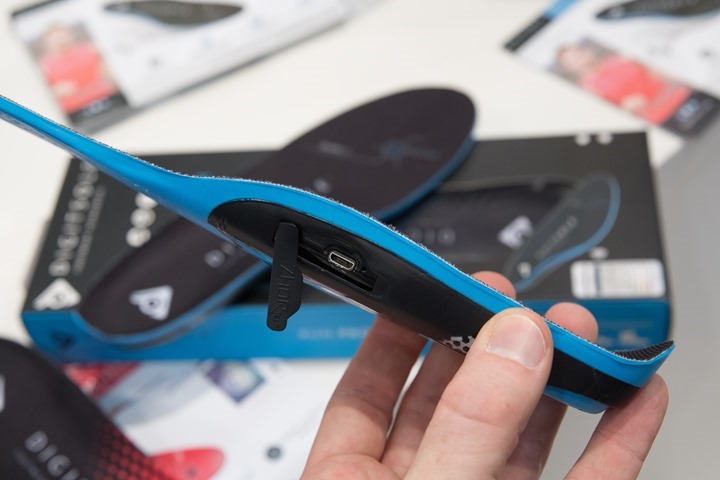 Now as mentioned, they also have the red pill insole, which costs 199EUR and is called the 'Warm Series.'  That one is super nifty though in that it actually provides heat. Yes, it'll actually heat your shoe.  It can do so to a temperature range of 30 to 45 °C (86 to 113°F).  Not too shabby!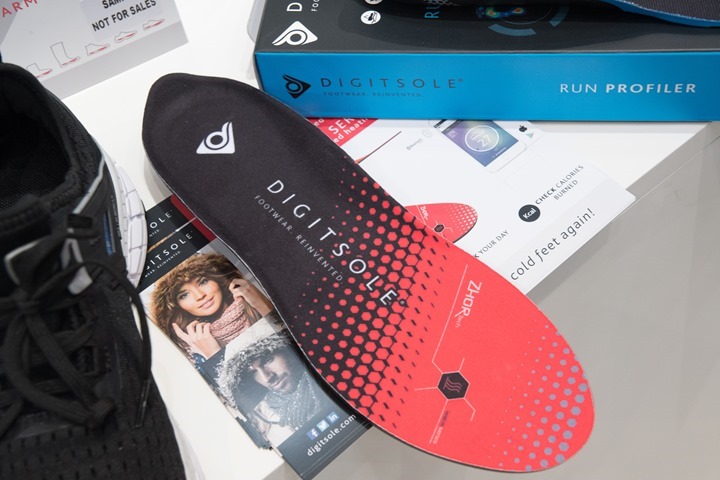 The heating version lasts about 3-9 hours, depending on whether it's turned on full blast or not.  Oh, and last but not least – they're working on a shoe that can actually adjust the density of the insole material in real-time, which they plan to sell for about 249EUR.  Though, that one will lack the heater option.  But it effectively allows you to get a more or less cushioned shoe on the fly.  No timeframe for that yet though.
LG's Smart Shoe Sensor: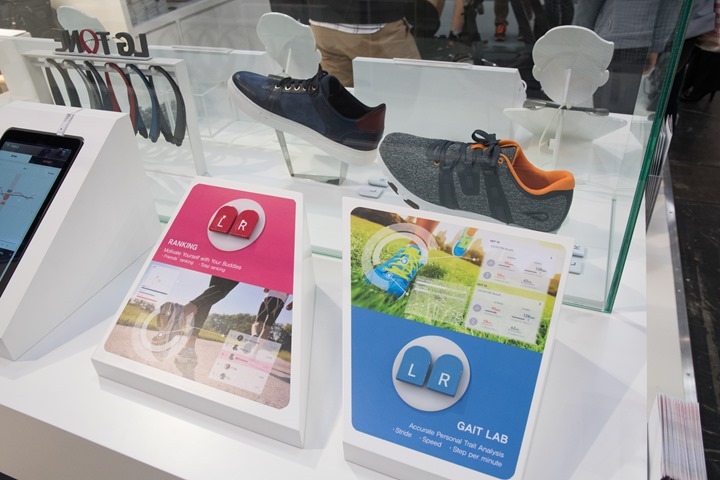 Not to be outdone in this post, LG also had a smart insole on the show floor.  Their unit is targeted more at general fitness, but does capture information like balance, stride length, angle, and balance.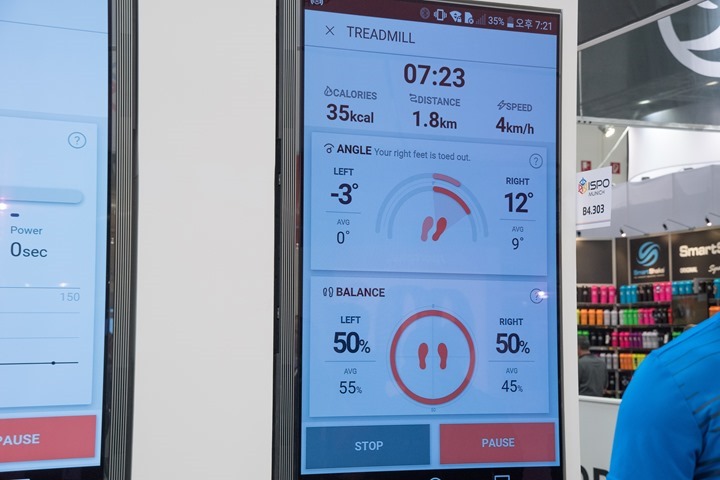 The system works in a pod-like design, which fits into the bottom of a shoe.  All of which is powered by a coin cell battery that apparently gets about 6 months of battery life.  The company also says it's been tested at 100kg of weight, and through 500,000 repetitions.  Oh, and they've got an API available for developers to tap into.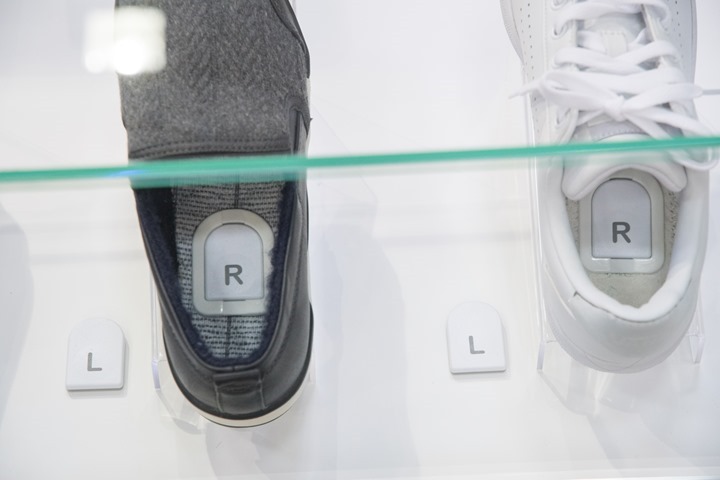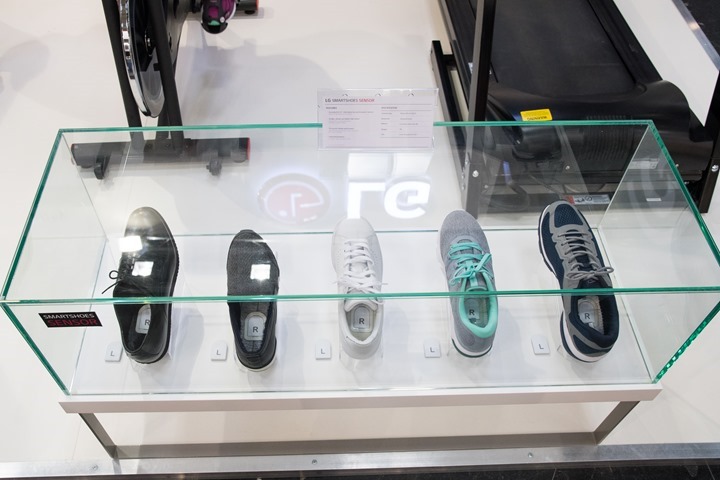 Now unlike the others, this product isn't actually a product.  Rather, it's a business-to-business offering that they're hoping someone else will license and use within their platform.  That's probably a good thing though – because quite frankly some of the terminology is a bit cringe-worthy.  For example, they've included 'power' on some running screens that were actually showing running cadence.
And that ignores the use of 'Athleisure Lady' and 'Soccer Mom' terms.  I'm serious: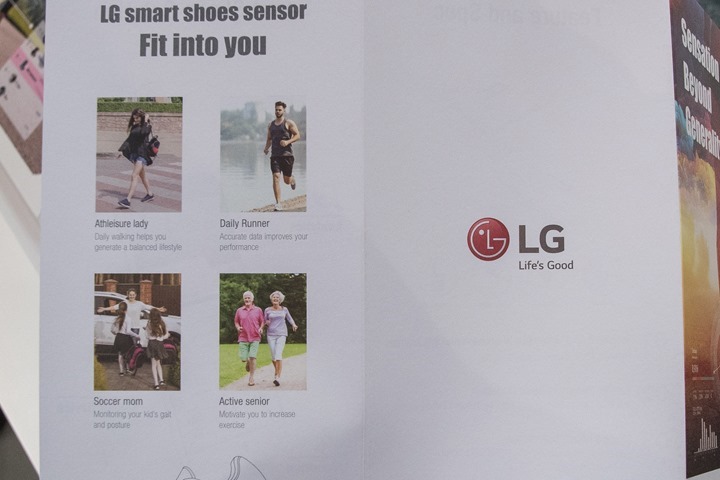 Or the headline of 'Sensation Beyond Generality'.  Which basically sounds like the tag line for a condom brand.
Now my bet here is that the underlying tech is probably pretty interesting.  It's just that somewhere on the flight between South Korea and Germany, the marketing team got a hold of things and applied a healthy dose of crazy-pants.  Or, crazy shoes.  Either way, we'll have to wait for another company to pick it up to see how it fares in real life.
Casio's Smartwatch Action Cam Linkup: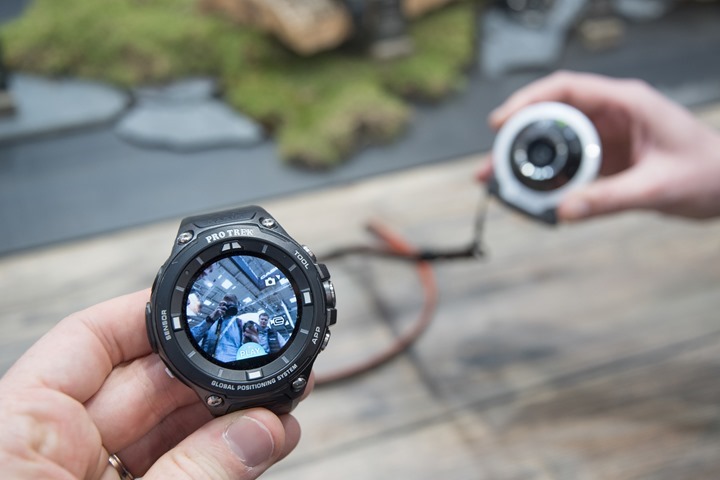 Back at CES last month I showed you the new Casio hiking-focused Android Wear GPS watch, the WSD-F20.  It builds on last year's model that was focused at a similar hiking/backcountry crowd.  You'll want to check out all the details from last month's post for the specs on the watch.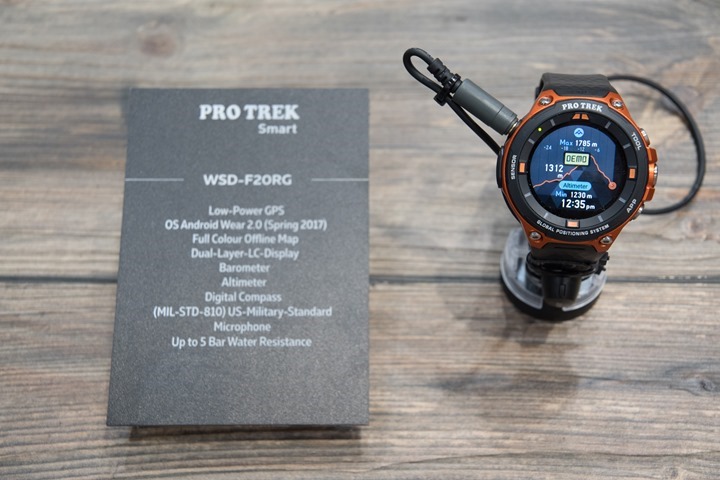 What I was interested in here at ISPO was the action cam integration.  Casio sells an action cam (EX-FR10/FR100CA) that can integrate with the watch.  Sure, companies like Garmin allow you to control your VIRB action cam from a Garmin watch, as does GoPro with the Apple Watch.  But Casio takes it a (ginormous) step further: You can preview the video on the watch.
They talked about this at CES, but only had paper displays to show how it'd work.  And I never trust marketing, especially paper marketing.  But here at ISPO, I managed to con convince one of the folks to demonstrate it for me, and even allow me to film a video on it.
So, here's that video.  It's short and sweet, and works mind-bogglingly well.
The connection is actually over legacy Bluetooth (not Bluetooth Smart), which gives a bit more bandwidth than Bluetooth Smart.  It's not WiFi like most action cam previews would be. I'll be honest, I didn't expect it to work nearly as well as it did.  The lag was virtually non-existent, and the clarity was far better than I was expecting.  Heck, the ability to check recorded photos and videos is pretty sweet.
The only downside? The Casio action cam itself has pretty limited specs compared to anything else on the market (and seemingly tough to even find a place to buy it).  Still, the connectivity piece shown above is crazy cool.  And it's ideal for previewing the position of the camera on a helmet in winter, where a cell phone touchscreen can be messy with heavy gloves in the snow.
Kettler's Smart Trainer App & VR Demo:
Indoor gym and indoor bike equipment Kettler was there to show off their new training app platform that integrates with their indoor cycling bikes.  Additionally, they demoed a new VR platform as well.  But first up is their new app: Kett Maps.
This platform includes 6,000 outside course videos, and is powered by Kinomap (the popular cycling training app).  It allows you to ride outdoor routes while indoors on the bike, which will change the resistance automatically to match the grade/incline on the recorded video.  Note that a typical indoor bike of theirs will run about 2,000EUR.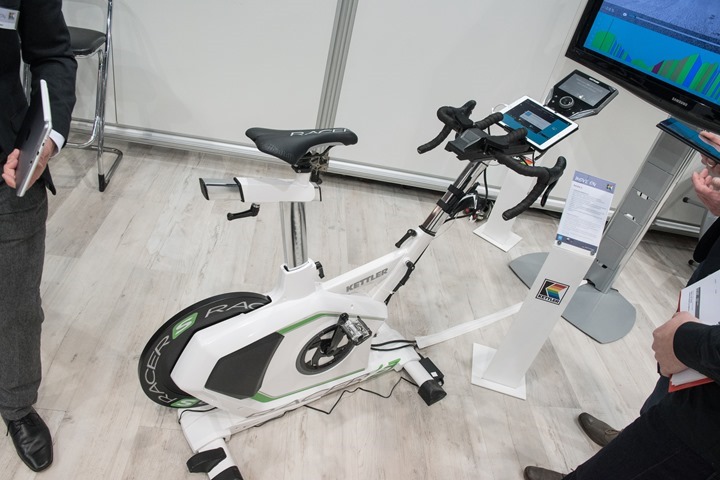 The app itself will cost you 5EUR a month, which is pretty reasonable.  However, they're also offering a free version which has a rotating set of free videos each month.  They're partnering with pro cyclist Thibaut Pinot who will be riding some Paris-Nice course stages and filming them for their platform, allowing you to effectively ride with him.
Next, we've got their VR platform, which they partnered with Gymcraft on.  This platform drops you into a 3D world, not unlike Zwift.  It's cycling focused, and you'll don an Oculus headset to get that 3D VR feelin'.  The app then connects with any of the Kettler indoor bikes (including recumbent ones), along with an XBox controller for changing the direction of where you go and controlling shifting.  It works surprisingly well.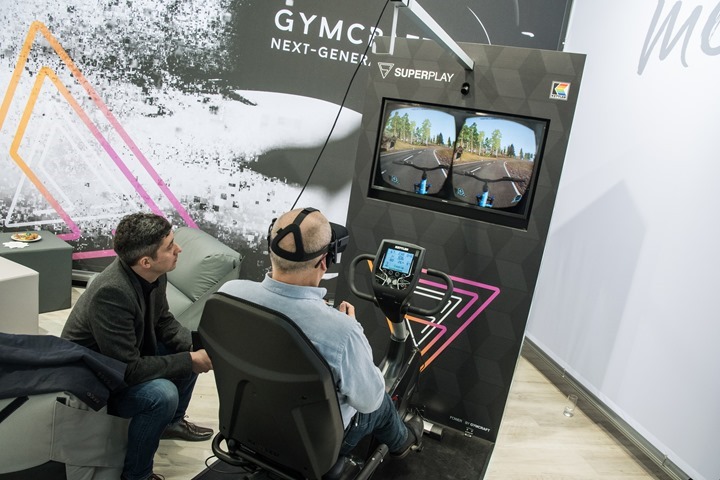 In fact, I'd say it works too well.
See, it took approximately 35 seconds for me to want to barf on a route that took me flying off jumps and rolling down hills.  I'm not one who easily gets motion sickness (even in rough seas or the most severe mountain roads), but this was over the top.  For example, when I tried Zwift VR with the same headset, I had no issues riding for quite some time with it from a sickness standpoint.  But with the jumps and such in the Kettler system, not only myself but others around me that tried it had the same feeling.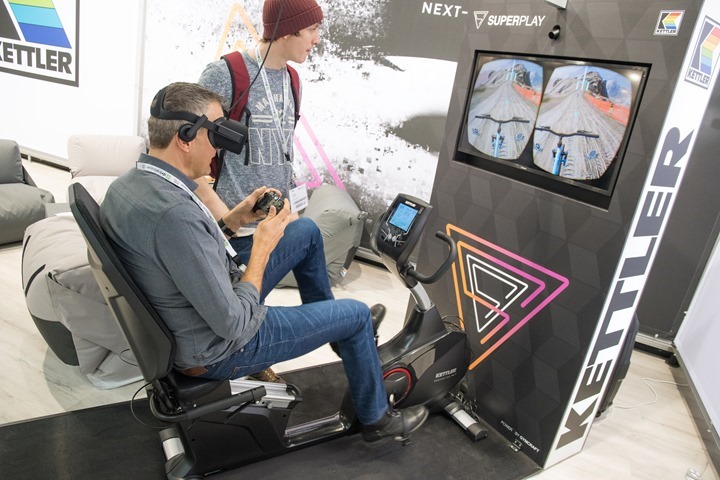 In some ways, it's good that they aren't targeting the home user directly here.  Sure, if you want to try it out at home and have the hardware to do so, it'll only set you back 5-10EUR a month (still finalizing that).  But their real aim is actually the corporate setting.  They want companies to place the setup in break rooms, and then have people jump on the bike for a few minutes rather than a smoke break.  That setup, including the bike and everything you see, will run about 10,000EUR.
While I have no doubt VR will be the future of indoor cycling, I'm not entirely sure this particular software implementation is that future.  Still, it's great to see companies experimenting with it and pushing the boundaries of what's possible.
Bonx Grip Wireless Group Chat System: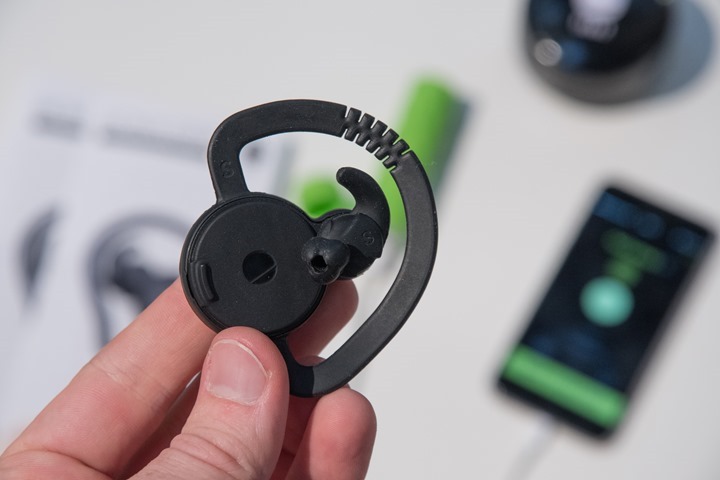 Next, we've got a pretty cool wireless chat system for group rides, or any sort of group activity, from Bonx.  It looks like a simple Bluetooth wireless headset, and in many ways it is.  However, the real key is the app behind it.  That app acts somewhat like Skype and creates a real-time group audio conversation for your friends – all without hitting your voice plan minutes.  Instead, it's using your data in an optimized manner (or, so they say anyway).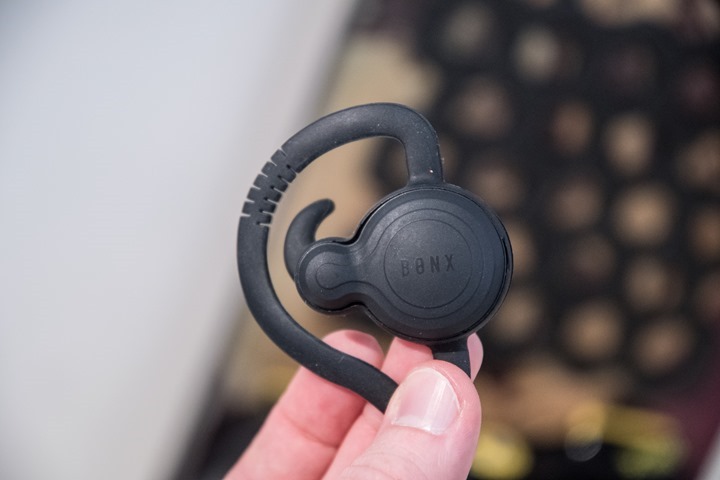 The unit has two modes: One mode instantly transmits all conversation from you to your group, just like if you had left your phone connected during a call.  And the other mode requires a press on the earpiece to transmit (like a walkie-talkie).  This is perfect in that for some situations you just want hands-free conversation, yet for others you may want to talk behind their back.  Or something less sinister.
What's most impressive on the hardware side is the battery life.  It gets 7 hours of talk time, but gets 400 hours of idle time.  The talk time is only when it's actively transmitting speech.  So that's pretty damn solid.  That easily lasts a weekend or more of skiing all day for example.  Oh – and the unit also can be used to play back music as well, though that cuts into the battery life.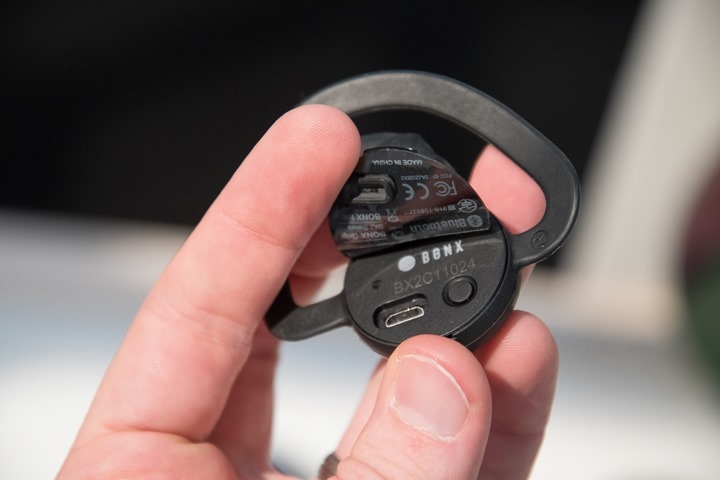 The unit has wind reduction, which they say can handle up to 40MPH of wind noise (something that IMHO would require a bit of testing to believe).  Still, even if it did half of that speed, that'd cover most scenarios.
Now the only downside is the price. The project initially launched on Kickstarter a long while back, but now they've moved into retail and its coming in at $139USD and 139EUR.  For me, that's a pretty steep price to pay.  I get that some of that cost is likely going to funding the online platform and data costs they incur in running that platform (since there is no service fee).  But if I were looking at convincing friends for a ski trip to buy one, that'd be a near impossible pitch, even more so if each couple needed two of them.  Whereas if it was priced in the $50-$70 range, with a low monthly fee, that'd be a much easier pitch for a week-long ski trip.  Just my two cents.
Garmin Fenix 5 Charging Cable: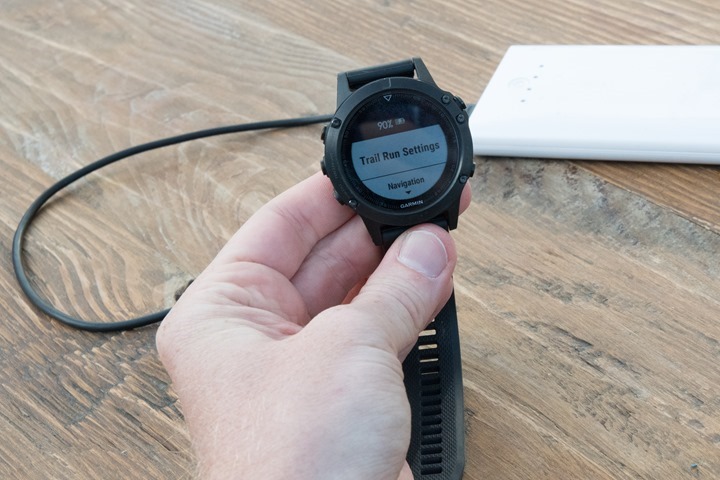 There's been a bunch of chatter and questions about the Garmin Fenix 5 and the charging cable.  Specifically around charging while recording, and notably about doing so while attached to your wrist (or not).  So I grabbed a Fenix 5 unit from the booth along with a charger and slapped together this quick video explaining it all and even using the darn thing as a lasso to demonstrate how well (or not) the charging cable might hold.
As I said, just a super quick demo – nothing fancy.  But a demo I've been wanting to film for quite some time.
Wiral Action Cable Cam System: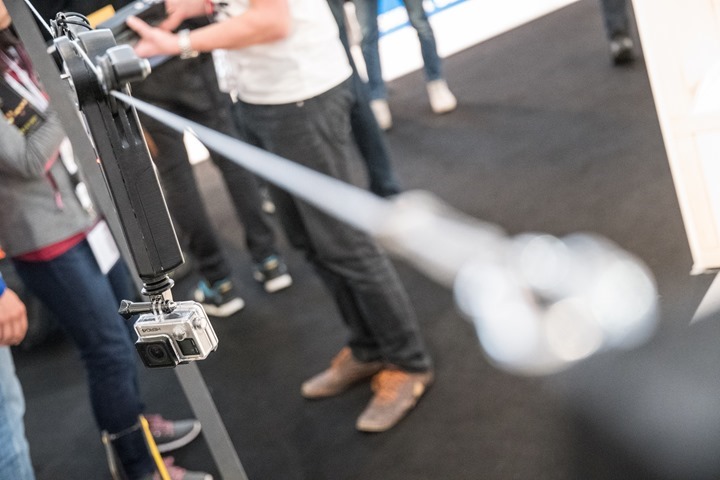 Last but not least for this post I've got this new cable cam system from a startup called Wiral.  For those unfamiliar, a cable cam means that you've got a camera on a cable.  That camera is usually controlled by you remotely, and usually costs a crap-ton.  This, however, doesn't cost a crap-ton.  At least compared to professional rigs.
The system includes a piece of rope (currently 100m long, but they may go for a longer piece), a motorized moving tripod, and a controller.  The controller tells the moving portion the speed to go, as well as which direction to travel along the rope.  The idea being that you'd set it up between two trees in the woods, filming jumps or mountain bike runs through the woods.  These would typically be used where drone shots couldn't go, either for safety or maneuverability reasons.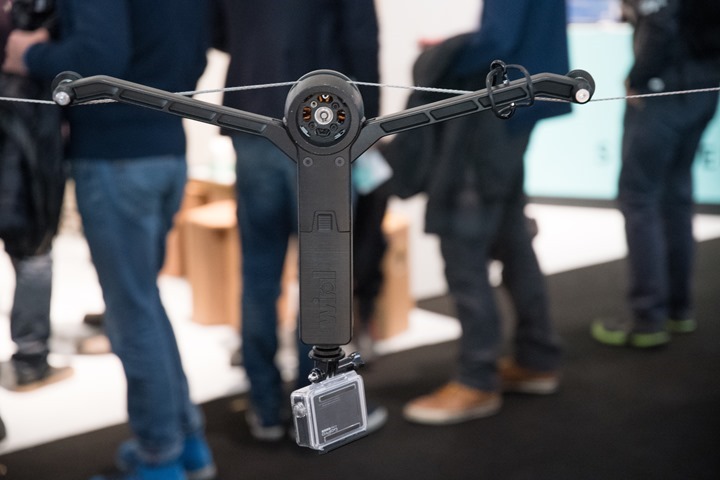 In fact, many shots you'll see in winter sports along shorter-course ski/snowboard events are done via cable cam setups to minimize risk to spectators and athletes.
The action camera is then connected to the bottom of the rolling unit.  The unit can hold a weight of between 1-2kg (still being finalized), which is more than enough for a GoPro.  It actually gets into the range of small cameras, like a Sony mirrorless camera.  And that's where the potential gets even cooler.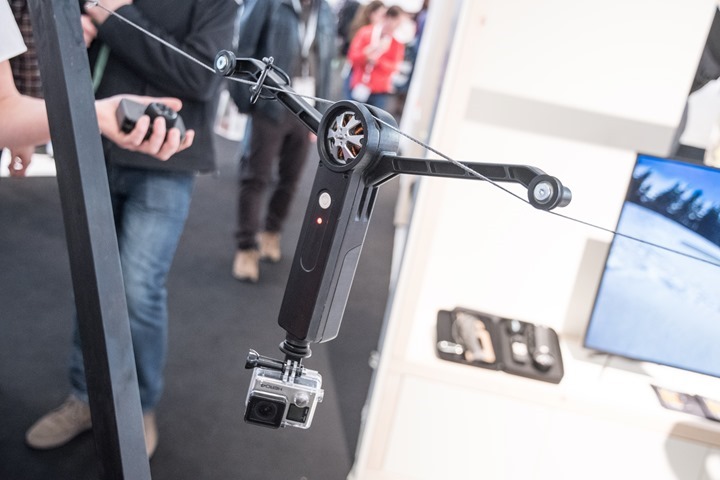 The mount includes both a 1/4" standard tripod adapter, as well as a GoPro adapter.  The battery life will run about 1-4 hours of active use, depending on whether it's on flat terrain or steeper inclines. Also, it's fully collapsible, and folds up, for easy transports (in total it weighs less than 500g).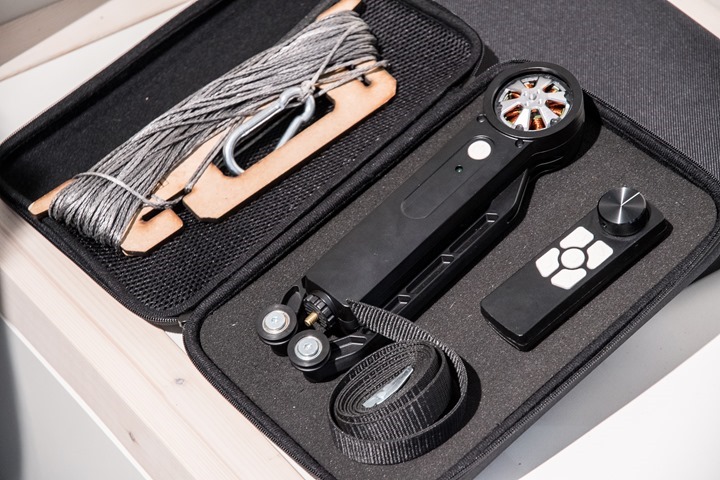 What's interesting on the remote though is that you can record the speed/control of the movement of the camera mount.  So let's say you were filming skiers going off a jump in the woods, you could control the camera on the first go, and then repeat that automatically for every subsequent attempt.  Further, with the weight limit being 1-2KG, that's more than enough to add in a gimbal for most action cameras.
The unit will launch on Kickstarter in April, with availability in August.  The launch price on Kickstarter is planned to be about $200, whereas the retail price afterwards will be $400.  I think $200 is quite fair, but I think they'll find very few buyers at $400 unless the weight limit is enough for both a gimbal and a mirrorless DSLR with lens (so it'd appeal to the prosumer crowd).  There's a big difference there between 1KG and 2KG.
In any case – super cool.
Staaker: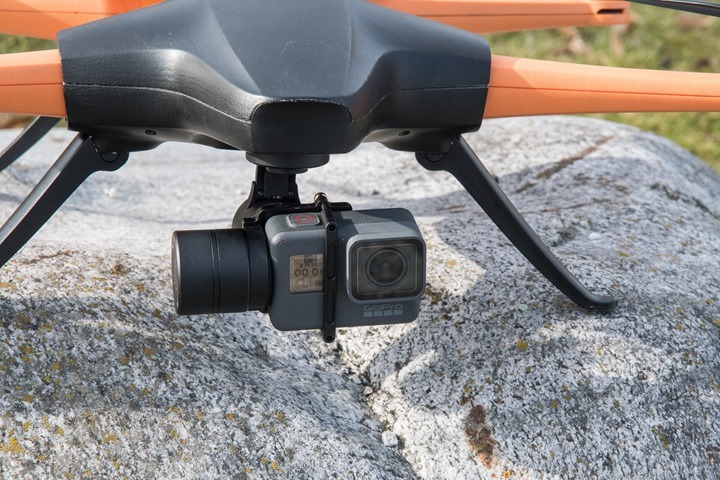 Finally, tomorrow I've got a separate post coming up on the Staaker action sports drone that I got a hands-on demo of.  That's requiring a bit more video editing to pull together the multiple cameras and mics I was using for the demo.  Even more so since my GoPro Hero5 Black had an SD card error about 2/3rds the way through the flight (first time ever), resulting in the remainder of that footage being lost.  That sucks not only for lost footage, but because when we went to re-shoot those segments, the drone then stopped working.  Basically, I was killing everything.  All of which means even more editing to make the video semi-functional.  So hang tight for that tomorrow!
Thanks for reading!