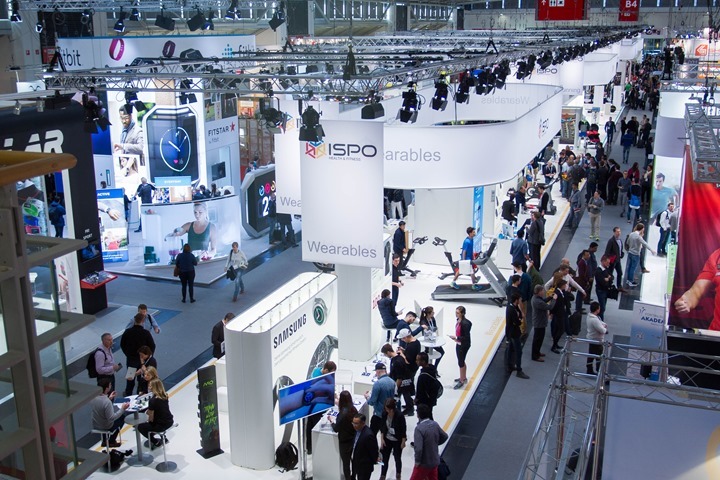 Yesterday I grabbed an early morning flight to ISPO, in Munich, to check out the massive sports-focused show.  Anything and everything to do with sports was there, spread out over a convention floor area that would make Eurobike look like your average inner city grocery store.
As I noted on Monday, you typically don't see any sports tech announcements here from major companies like Garmin, Suunto, Polar, Fitbit, etc…  Instead, we've got some of the smaller players showing off cool and new stuff.
FINIS Optical HR Swim Watch:
You know what's always fun about going to trade shows? Finding the things that probably weren't supposed to be found.  This being a perfect example.  Or perhaps maybe it was supposed to be found.  Either way – I found it.
The FINIS ELEMENT optical HR capable swim tracker, and also FINIS LIVE Bluetooth Smart connected swim watch.  First, the LIVE: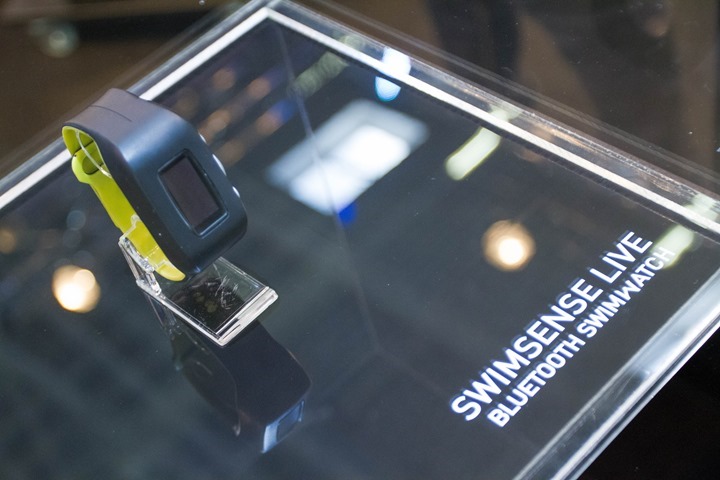 Then, the optical HR capable ELEMENT: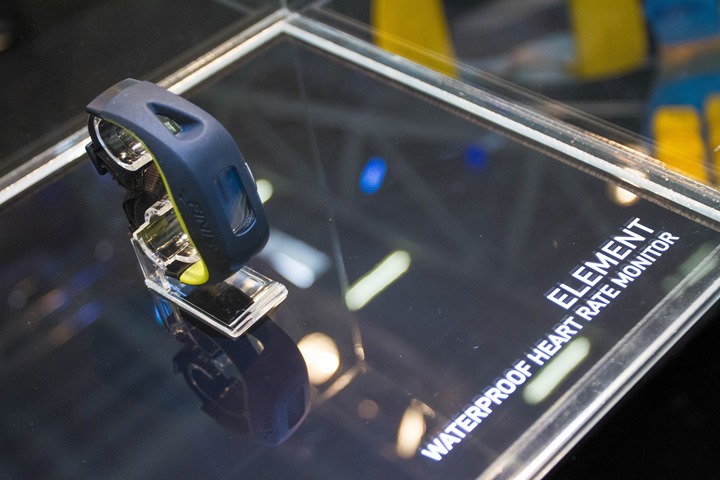 These were just chilling in the entry-way to their booth, encased in glass coverings like fine art at a museum.  Details on both were slim (either in English or German), though the plan is to launch the units in March.  Both units can then transmit this data to a FINIS phone app via Bluetooth Smart, which allows you to view data from your swim (presumably sets, strokes, etc…).  Here's the two-page paper brochure on them (in German, no English version available).  To save paper, I just snapped a photo of it:
Now I'd say both units were a bit bulkier than most other swim trackers, but it's also possible given these sounded like prototypes, that things might slim down some.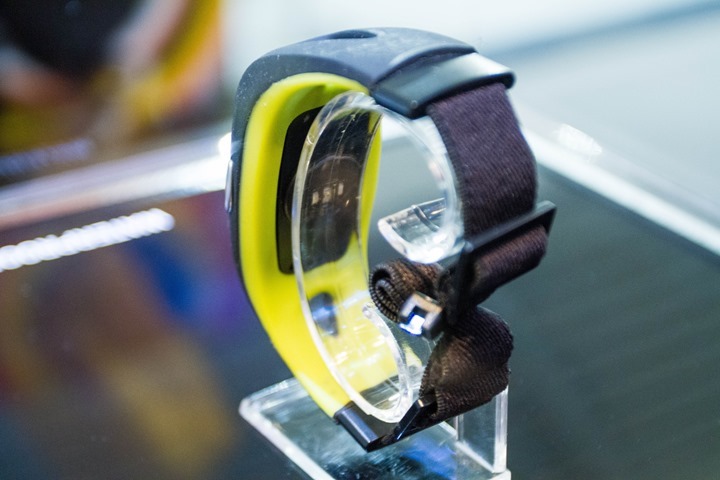 No details on pricing yet, though I'd have to imagine pricing would be no more than Garmin's Swim (an oldie these days) for the non-optical unit, and probably more inline with the Vivoactive price range for the optical HR version.  Well, that's my hope anyway.
XMetrics Swim Tracker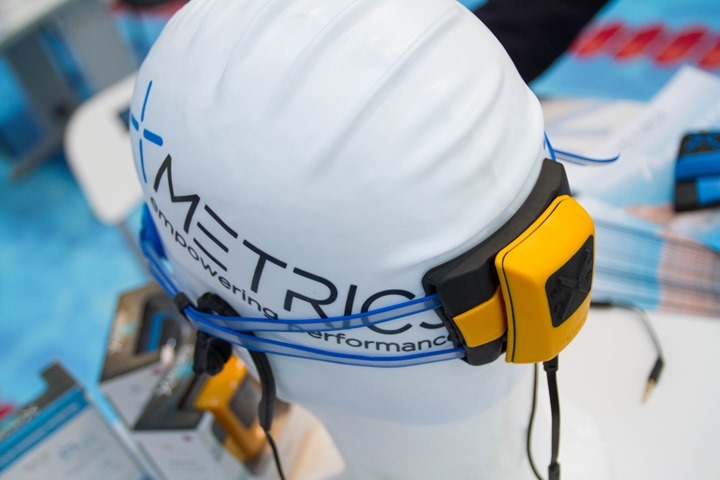 FINIS was not the only swim device at ISPO.  There was also the XMetrics swim tracker.  I toyed with this for a little bit in the booth.  Unlike most other watch-based swim trackers, this is mounted to your swim goggles behind your head.  It features a quarter-turn style mount to remove it from the mounting plate.  So the rubber plate can basically stay attached to your swim goggles full time, and you just remove the pod to charge/sync.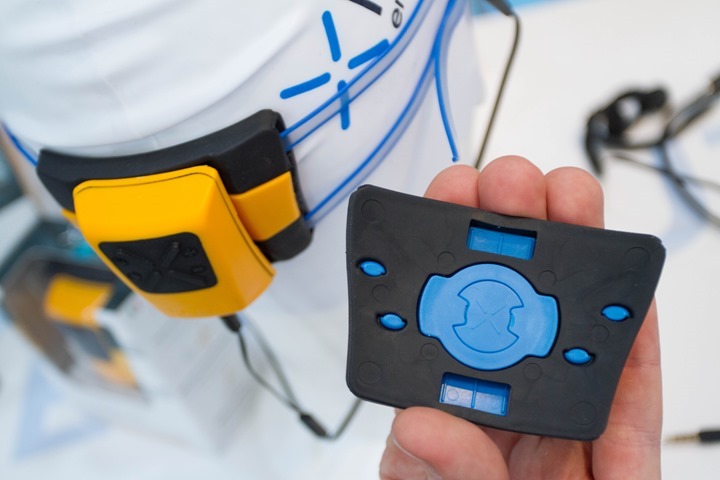 There are two versions, a 'PRO' version, and then the not-so-pro variant, called the FIT.  The core of both versions is to track your swims including aspects like lap times and paces, and give you calorie information.  However, the PRO will also get you Bluetooth Smart connectivity to the app and further details on stroke frequency (e.g. SWOLF), as well as the ability to share a workout with a coach.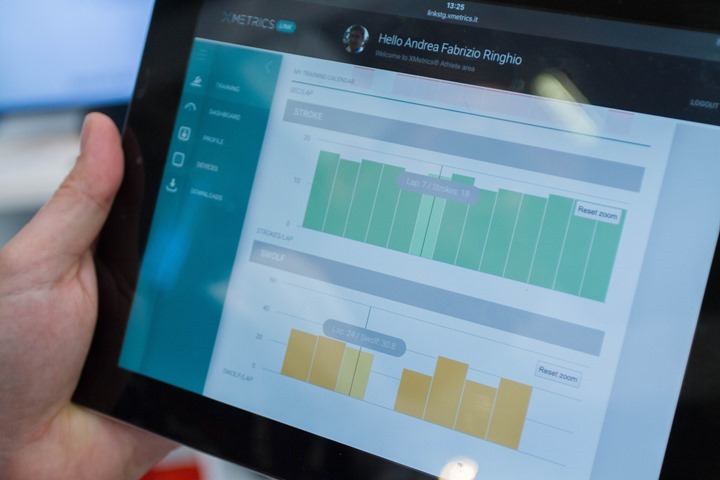 You'll notice on the side there are headphones, which allow you to get audible details about your workout at each turn (giving you length/lap splits).  However, there is no support for music storage or playback. It's just the audio prompts of your laps.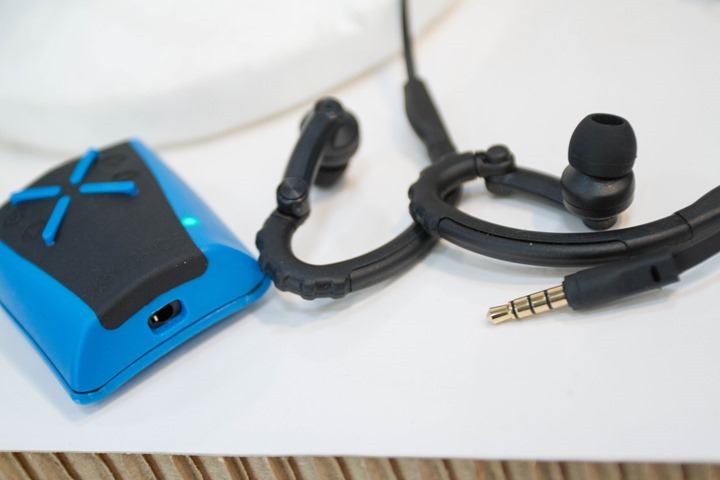 Both units can use their web platform, called XMetrics LINK, which allows you to view your splits and workouts.  For the PRO, you can use the app to sync to it wirelessly via Bluetooth Smart.  Whereas the FIT you'll have to plug-in via USB.
Now unfortunately, things are a wee bit pricey here.  The cheaper FIT version (which doesn't have BT support or ability to share with coaches), is $199.  While the PRO version is $299.  Both prices are going to be pretty tough sells in light of…well…pretty much everything else on the market for the last 3 years.  Especially since they don't have an export capability to sites like Training Peaks or Sport Tracks.  Still, the audio splits per lap is cool.
Kuai Biometric Headphones:
I got a more detailed look and chat with the Kuai folks regarding their multisport biometric headphones, at the show.  And I came away quite a bit more impressed on specs than I expected.
The unit is clearly targeted directly at the triathlete (yet, still spot-on for single sport runners, swimmers, or cyclists).  It's able to essentially be a Garmin watch replacement for all three sports (or, very handily complement it too).  It can do everything from tracking run pace/distance/cadence, to pairing with cycling sensors to do the same there, and also even log your swim details.  All while also serving as a music player.
However, it's some of the internals that have me more impressed.  Here's my bulleted list of what I thought were the highlights:
– In-ear heart rate (HR) sensor made by Valencell
– Works in swim/bike/run
– Ability to broadcast your HR over both ANT+ & Bluetooth Smart
– Ability to broadcast your running pace/cadence over both ANT+ & Bluetooth Smart
– Can connect to ANT+ Power, ANT+ Speed/Cadence sensors during cycling
– 3-meter deep waterproofing (though, it's also internally nano-coated just in case the outer shell has issues)
– 5-meter deep waterproofing on the internally waterproofed micro-USB charging port
– Saves activity files as standard .FIT (standard format everyone uses, for swim/bike/run)
Of course, this unit is definitely bigger than the Dash by Bragi.  A lot bigger.  You can see it in my hand below, and you figure the Dash isn't much bigger than each individual ear bud.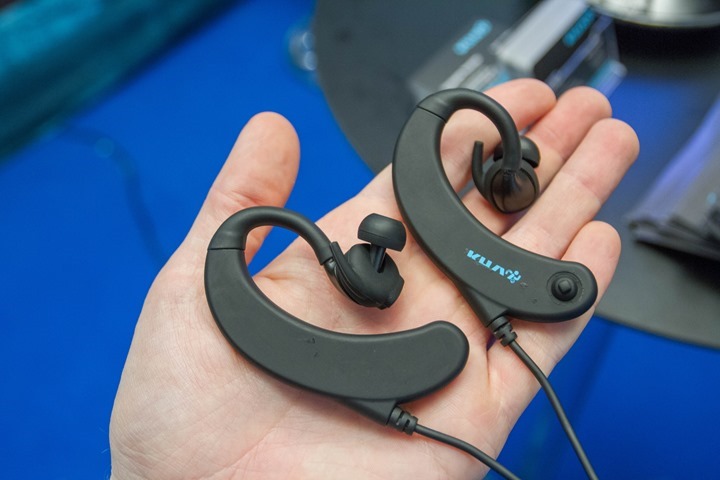 However, there are the numerous sport-specific features that the Dash lacks that Kuai has (mostly in my bulleted section above).  I don't think the Bragi folks would disagree that right now their unit is focused on the mainstream audience, whereas the Kuai unit is directly targeting the endurance athlete.  Kuai has got a far longer battery time (now up to 7hrs), and has more music capacity (8GB).  Plus, they've likely got much better HR sensing capability (since Bragi seems hesitant about theirs right now, whereas Kuai's is from the well established Valencell).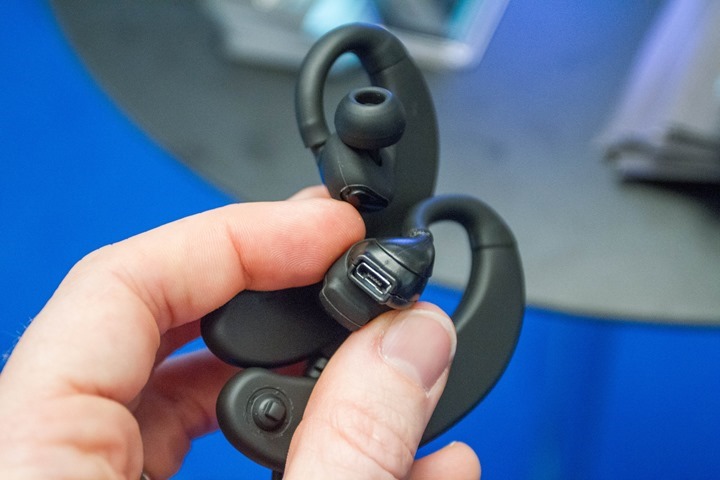 I talked with them a little bit about the size, and they noted that the larger size of their unit was in part driven by the size of the storage and battery components.  Both sides have their own batteries, but they use a cable between them to ensure audio playback underwater.  There's a very small 'joystick' to work your way through the menus.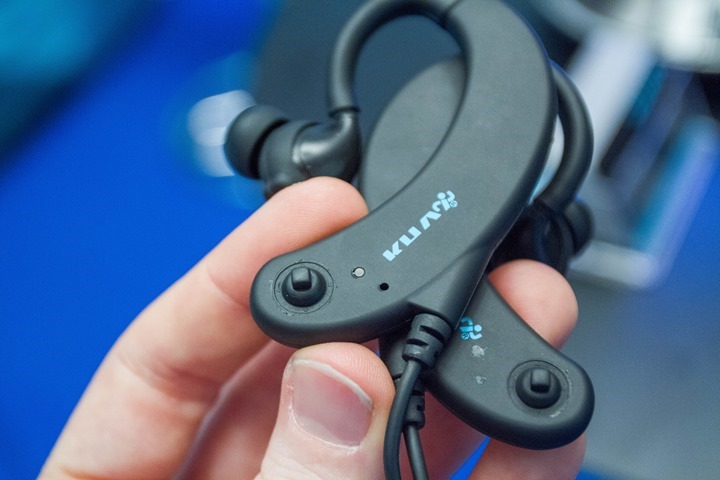 And with the .FIT activity export, they'll get to virtually any training platform.  The unit will sync via the Bluetooth Smart connection to your mobile phone, which in turn syncs the workout to their cloud platform where you can view stats. Additionally it'll automatically sync to other 3rd party partnerships they're working to setup.  Right now that's slated to be MapMyFitness, Strava, and Garmin Connect.  But they seemed open to doing more based on user demand.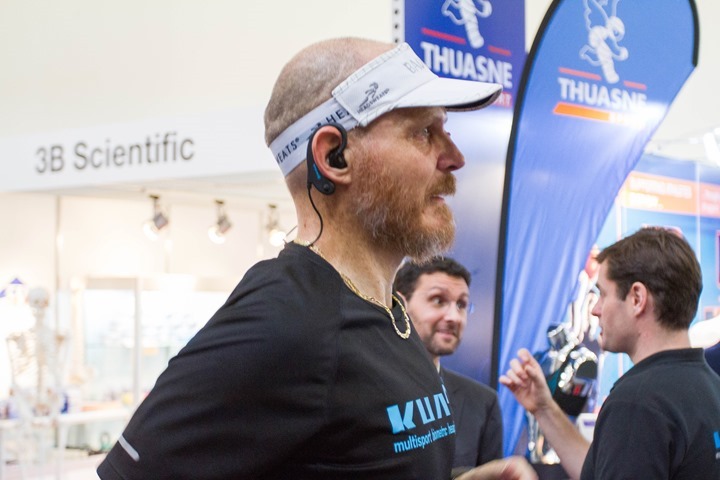 Of course, the unit isn't shipping yet.  So it's a bit hard to know how well it'll perform.  I've seen them running with it at both CES and now ISPO.  And they've had ultra running guys at both shows running pretty much non-stop (one guy doing one marathon a day, for each day of the show).  Every time I passed by the HR's they were showing on the screen seemed valid, and appeared to match what I'd expect.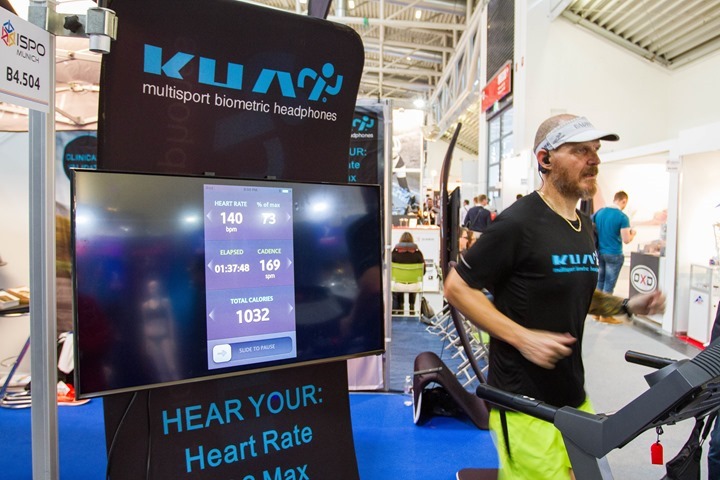 But the devil is often in the details – both from a manufacturing standpoint as well as a software standpoint.  They've given a pretty sweet list of specs (hardware and software), so it'll be interesting to see if they can deliver on that by the time they hit their April delivery time-frames.  Looking forward to it – especially given the price right now is only $149 – a steal for the features they're promising.
Evalu Run: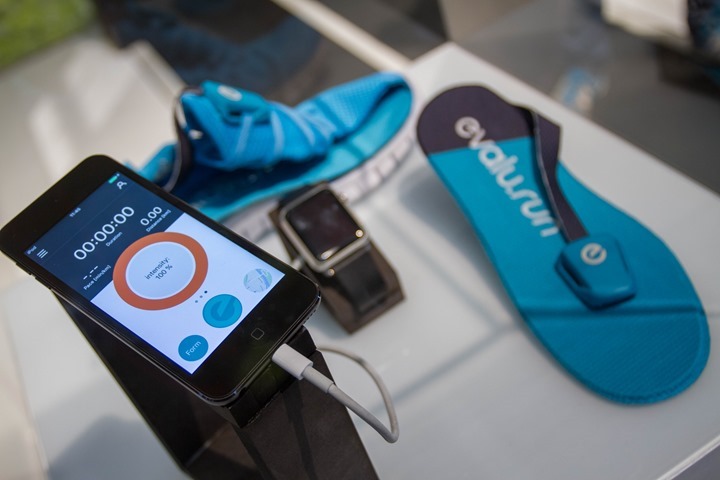 Hanging out in the startup area was Evalu, which is a sensor & app system that aims to help folks run better.  Or rather, run in a more optimized way.  Of course, this particular field has become incredibly crowded in the last 6-12 months, with numerous companies getting into the running form and metrics realm.
Those companies can typically be divided up into two sensor categories: Those using accelerometers (e.g. Stryd, Scribe Labs, Lumo, numerous Kickstarter projects), and those using sensors in the shoes or foot beds (e.g. Altra, RPM, Evalu, and a few others).
Evalu has two components, first is the foot bed piece, which is in turn connected to a pod that sits atop your shoe laces.  Out of the gate, they'll be going with a single-shoe configuration.  But the goal is to ship dual-shoe options as well.  Unlike some of their competitors, the Evalu uses a full sensor mat, so it can detect pressure across the entire surface of the footpad, which is thin enough to be slid directly into a shoe.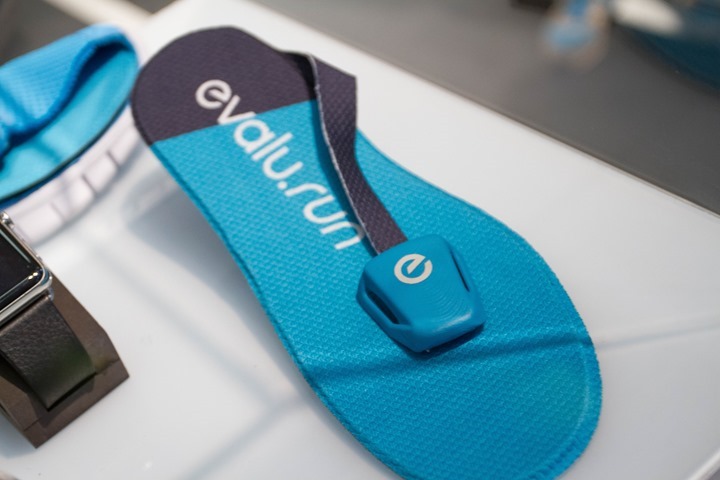 This pod then communicates with an app, which then provides you feedback during the run using audio prompts.  Those audio prompts can also be played through headphones (Bluetooth or wired).  It'll give you specific recommendations on how you can tweak your form.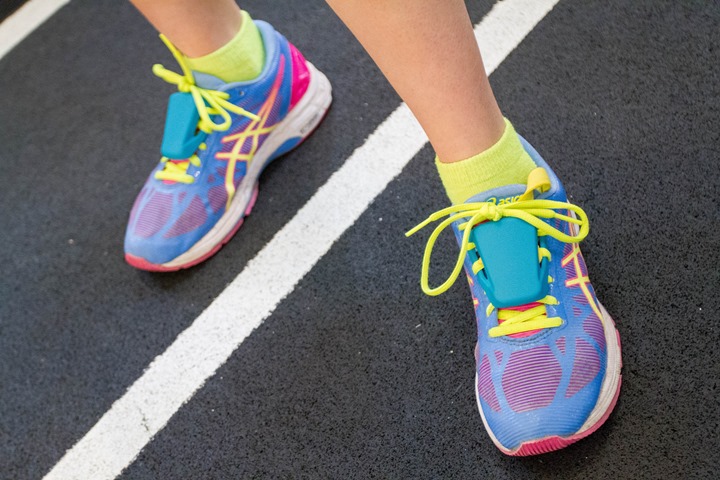 In addition to mid-run guidance, after the run you can check out the data via the app, focused on both form related metrics, as well as basics like a GPS map of where you ran (using the phone's GPS).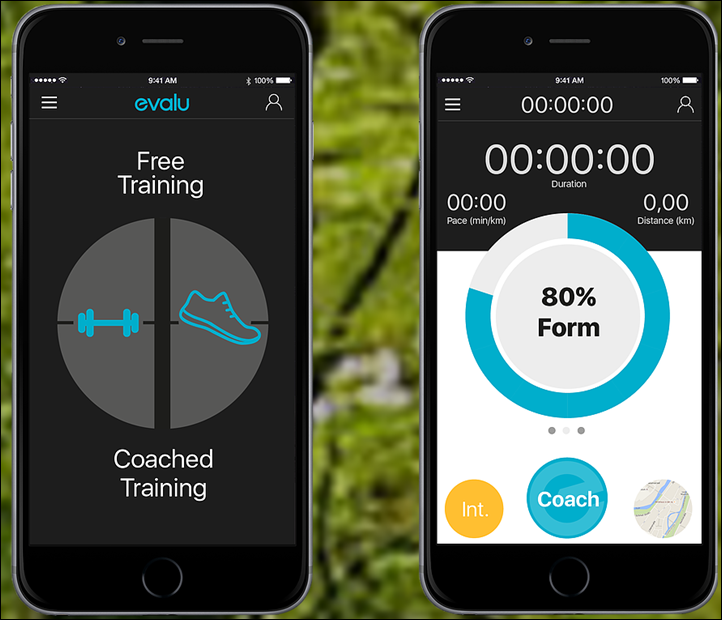 Right now their target audience is kinda in the middle ground of where others have focused.  If you look at something like Scribe or Stryd, they're clearly at the upper-end of the running realm.  Meaning, focused on non-casual runners that are looking to optimize their running with lots of data.  They needn't run fast, but they're definitely very much into running and data.
Whereas with Evalu, they're focused a bit more on simplicity and the 'enjoyment of running', rather than that last little bit of performance edge.
Still, as I noted to them, they need a bit more clarity on how folks can link up their data with other platforms.  For example, many casual runners are using sites like RunKeeper, Nike, MapMyRun, among others.  So having ties to be able to send your data to those platforms is important.  And if they want to target the 'higher end' crowd, then doing the same for Training Peaks, Strava, and Sport Tracks is also important. But they seemed pretty open to that feedback, which is good.
The unit will start shipping May (2016), and is available for 199EUR.
WatTeam Power Beat Update: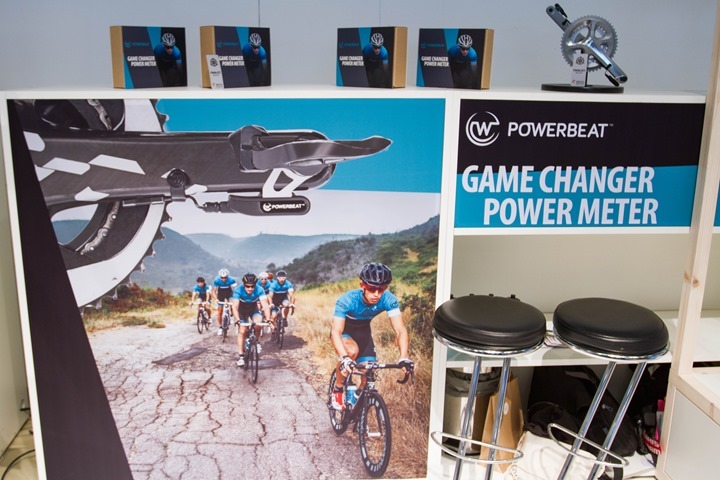 Finally, a super-brief update from the WatTeam folks on their power meter.  You'll remember the latest update had it shipping back in the November/December time-frame. However, at the last minute they halted deliveries to troubleshoot a battery issue.
From talking to them, the battery issue has been resolved. It was due to a change in the battery model they were using when they went to do their final production run.  The battery supplied for the production run was prematurely cutting off power to the unit, kinda like a toddler playing with a light switch.  They've resolved the issue, and have a different battery that they've tested.
Since all the production units had completed manufacturing and are sitting in a warehouse on pallets ready to ship, the team will be flying to LA over the next week (where the units are).  From there they'll be creating a Mountain Dew & Starbucks driven assembly line to swap out the part and get the units shipped out.  Their target sounds about mid-February for folks to see units start appearing on their doorsteps (so about 2-3 weeks).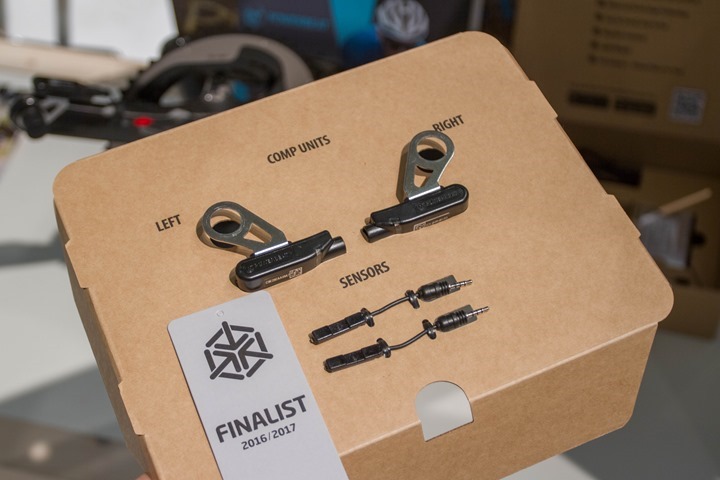 For those curious, above/below is a final production unit.  I found the build quality is far better than the prototypes (normal), and feels quite solid.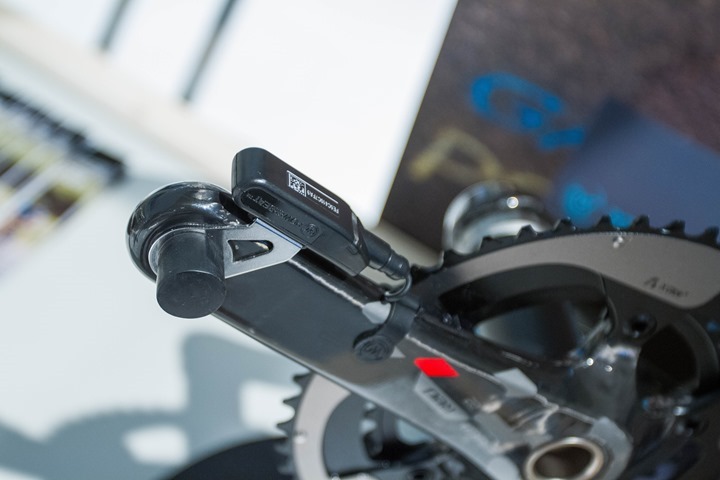 I'm looking forward to giving it a whirl, especially since it did fairly well in my testing of a prototype unit this past summer.
—
With that – thanks for reading!  If you didn't check out my Twitter timeline yesterday, swing over to see some of the more 'unique' things I found on the show-floor.  Which can mostly be summarized by me being sarcastic.