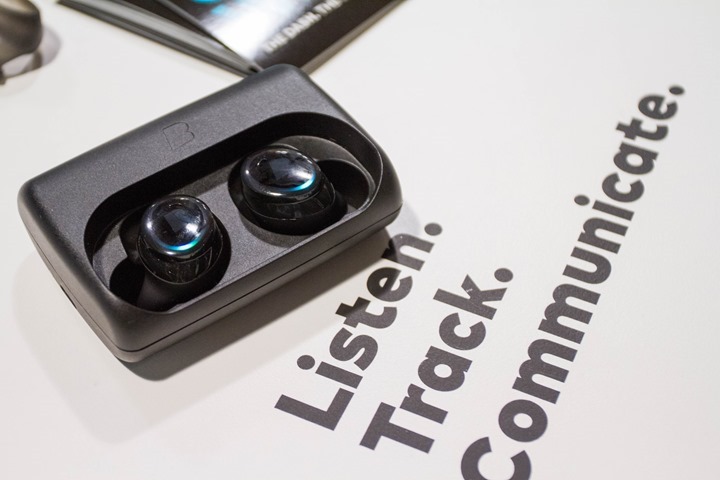 This week at CES, folks got their first look at the now final production units of the long-awaited Bragi Dash.  The company began shipping development kits a bit ago, but only just now is working to get the first few thousand (of tens of thousands) of final production units shipped.
I got a chance to talk to founder Nikolaj Hviid for a while about the entire evolution from their beginnings about 2 years ago, to finally seeing the end of the tunnel now with shipping underway.  And of course, I got to spend a bit of time trying out one of the units.
Now, for those of you who haven't heard of the Dash headphones before, I'll just give the bulleted version of why it's been such a highly tracked product since its announcement:
Totally wireless pods (both of them)
Internal storage for music playback
Heart rate sensor built into them
Ability to act as a phone's Bluetooth headset
3hr battery life
Waterproof and able to swim with it
Able to determine steps, pace, and distance
Plus a crapton of other really cool stuff
I'll cover all the details in a follow-up post, as this is more of a first impressions thing.  Plus, I'll also cover up those items that were promised at Kickstarter launch, versus what's actually there today.
Initial Impressions:
Now to be clear, my time with the Dash this go-around was pretty limited.  I got an overview of how it works, got to listen to some music, and got to pretend I was running.  Expect quite a bit more detail and a full review when my (I'm a Kickstarter backer) device arrives in the next few weeks.
Still, since I get more requests than I can count on a daily basis for my thoughts on the product, I figured I'd get you started with these for now.
First up is the case.  Silly as this may seem, the case is quite frankly the coolest charging thingamajig I've ever seen for a sports tech device.  Essentially, it's a charging case and battery pack combo dish.  Yup, it'll give your Dash five (Yes, 5!) full charges before you need to re-charge the battery pack.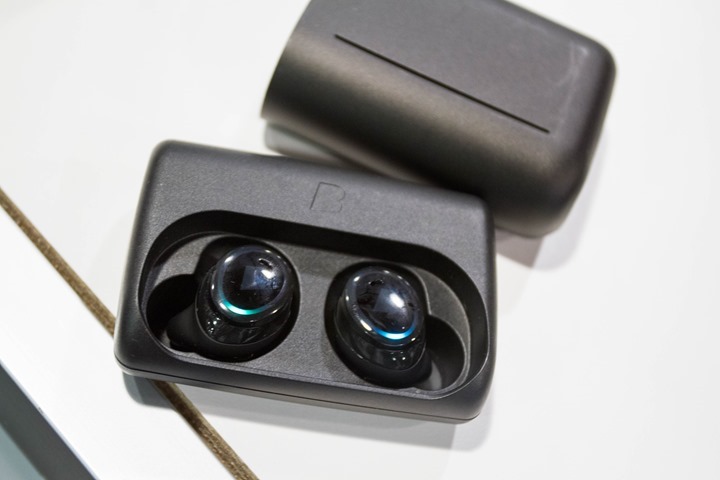 On top of that, the case has bits of magnet in it, so your Dash ear buds simply snap into the charging ports without much effort.  I love that it also protects the product, yet still is actually useful.  Compare that to most wireless earphone cases (usually round jewelry pouch like things) that honestly just take up extra space without any practical purpose.  Whereas this would pass the Alton Brown test of not being a uni-tasker.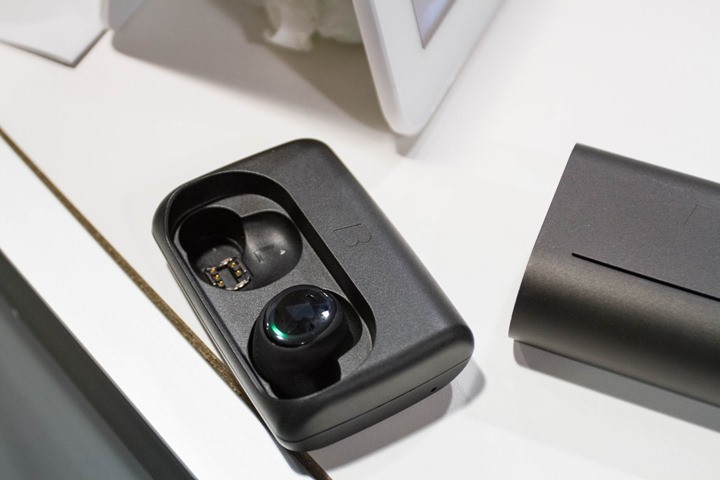 Once we've removed the device from the pod, we'll plop it on our ears.  Now the big claim to fame with the Dash (among other things) is that there's no wire between the pods.  Thus each pod has their own battery and wireless systems.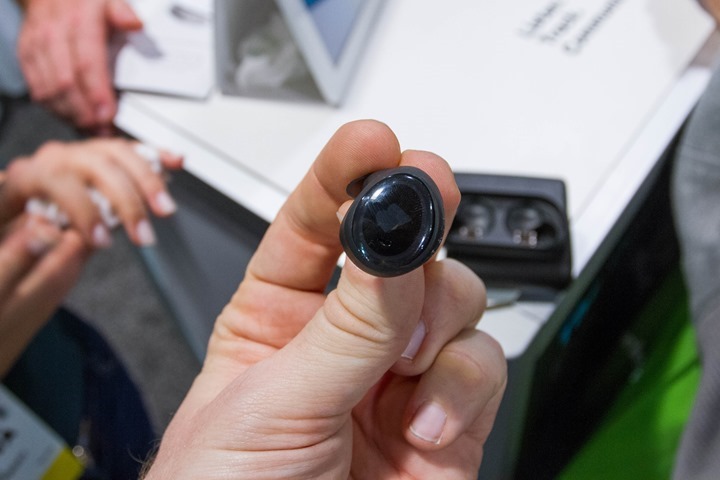 In my case, the pods fit fairly well, snug and seemingly comfortable.  Though, I know full well that something that may be comfortable for a few minutes might not be comfortable for hours on end.  So it'll take more testing there.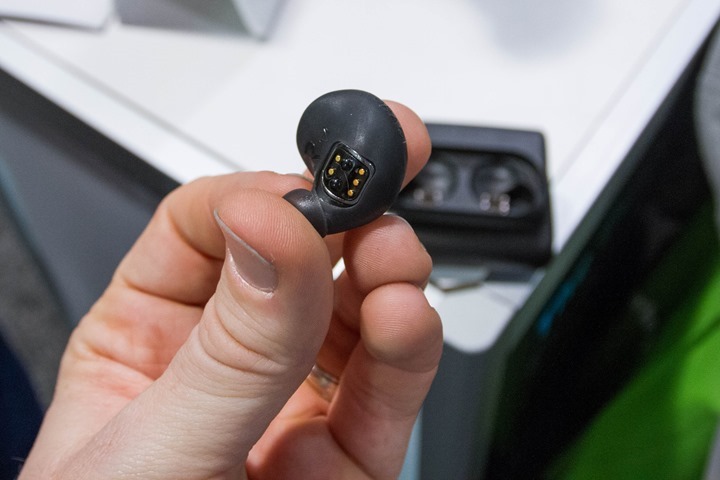 You control the pod via touches and swipes.  It can be a bit confusing as first, since the touches and swipes are generally along the bottom portion of the pod.  So it's sorta like a continual DUI test in whether or not you can touch the correct portion of the pod straight away.  Still, like anything new it'll just take a few times to get used to.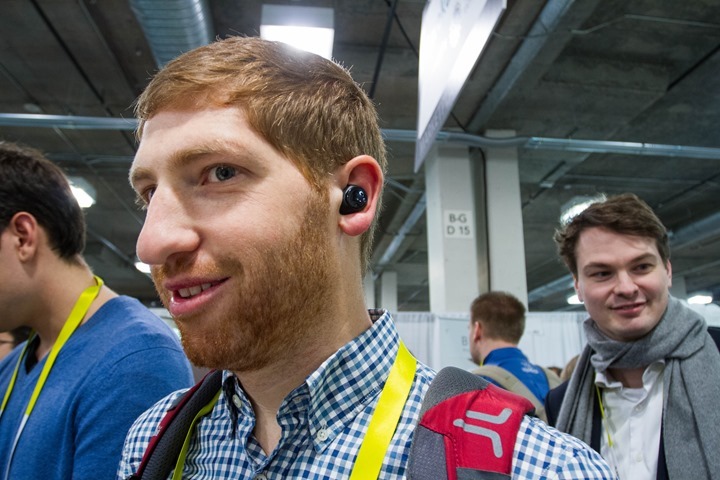 The pods contain 3GB of storage on them, so we got straight away to listening to music.  You can control and select playlists through a series of swipes and touches.  They gave me instructions for how to get through the menu system, which made it straight forward then.  Though I'm pretty sure I'll screw it up by myself.
Once the music started virtually all exterior noises evaporated.  They were very good at noise cancelling.  In fact, too good.  I was then unable to continue holding my conversation with them.
That's where they instructed me on how to turn on a mode (Audio Pass-through) that lets me hear those voices while still listening to the music (it'd also let through a car horn for example).  That worked great.  I could then continue our conversation while still hearing the music, and still having the rest of the background noise a bit more muted.
Now the main attraction to the fitness crowd is some of the sport modes.  For example the ability to measure and communicate your heart rate, as well as your pace and distance.  In talking with Bragi's Marijo Sarac, they are particularly proud of pro triathlete Helle Frederiksen being an avid user of the device.  And Bragi themselves has a number of athletes among their product team.
Given the show-floor constraints I wasn't able to do much of a test of the running mode, other than turning it on and running in place to get it to trigger some stats (which it did).  Ultimately, it's a key function I'll be testing later this month.  However, Nikolaj did note that while the HR mode works fairly well at rest, he said it still struggles a bit in sport.  An area he says they're working to address (and that he does expect me to test thoroughly).
The Road Ahead: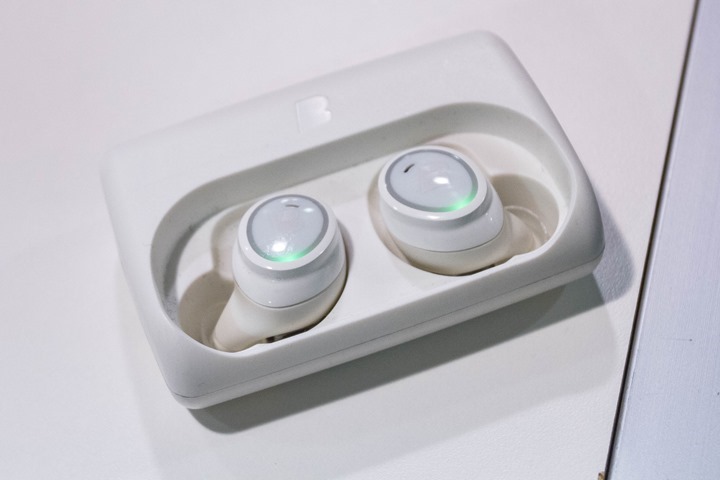 In order to look ahead, you actually have to look back.  If you turn on the way-back machine to when The Dash was first announced, I was pretty critical about it and their timelines.  I noted that what they set out to do was going to take quite a bit longer than they said it would.  And sure enough, it did (about 18 months longer).
But you know what?  Despite that early criticism founder Nikolaj Hviid has kept a rather friendly rapport with me* (unlike some companies that don't like a reality check), and he seems genuinely eager to talk with me about how far they've come and what they've learned along the way.  He's open and honest that it was definitely harder than they anticipated.  And he's also open that they still have work to do in the fitness realm, and that I may find it a bit rough still based on my standards (speaking to the HR pieces primarily).  But he's justifiably proud of where the company and the product has come.
(*He actually grabbed me out of the busy hallway elsewhere in the convention center as I was on a phone call walking at pace and didn't see him coming.  He easily could have just let me float on by.  We ended up chatting about 20-25 mins about everything from giving his employees the holidays off, to the struggles of early production runs.)
At this point, the company is largely past the main initial hurdles of production manufacturing.  They're still working to optimize the yield on the production lines, a process that all-in he feels will take a bit longer.  They expect to wrap-up shipping to Kickstarter backers at some point in February, and then will transition into pre-orders for regular folks.  Obviously, it's in their interest to get there as fast as possible.
But with manufacturing soon to be somewhat self-sufficient, much of the attention now in the company is turning to rounding out the software experience.  Nikolaj was clear there's numerous features to be rolled out still, based on the initial Kickstarter promises.  Hopefully by time I have a review ready, I'll also have a bit more clarity on what that roadmap looks like.
Lastly, do keep in mind that this product really appeals to two factions: Those that just want wireless headphones and don't much care about the fitness features. And those that want the fitness functions.  Even within the fitness crowd, there will be different portions of the product that some people do and don't care about (i.e. some may not care about HR, but just want good sport headphones).
Like I said earlier – I'm definitely looking forward to using these soon and getting a better handle on how well they work.  Plus, perhaps they'll just convert me into a running with music kinda person.  Just maybe…
With that – thanks for reading!
–
Don't forget to check out all of the DCR CES 2016 coverage, as well as a slew of updates that were only seen on Twitter.  It was a crazy busy week!