One tiny step at a time Wahoo is slowly increasing their fitness related turf.  This week at CES, they announced the GymConnect System, which allows you to control your treadmill and get it talking over ANT+ & Bluetooth Smart to apps of your choice.
The Equipment:
Now, to be super-clear: Wahoo is not selling a treadmill.  Instead, they're selling a treadmill add-on.  This add-on comes in two flavors, one designed to be built into new treadmills, and another designed to retrofit that existing treadmill floating around your garage.
The product is called the GEM (Gym Equipment Module), and is designed for more than just treadmills, but any piece of cardio equipment out there in a gym from spin bikes to rowing machines to treadmills.
Now they technically have two products on the market:
GEM Retrofit Module: This is designed to retrofit existing treadmills with a compatible port, to provide data broadcasting and control (more on what specifically that means in a second).

GEM OEM Module: This meanwhile is sold to treadmill makers that can integrate this straight inside new treadmills, so no extra retrofit necessary.
Let's first talk about the retrofit one, since that's likely most interesting to folks here.  The way this works is that Wahoo has created a small pod, roughly the size of 2-3 gel packets, that you attach to your treadmill.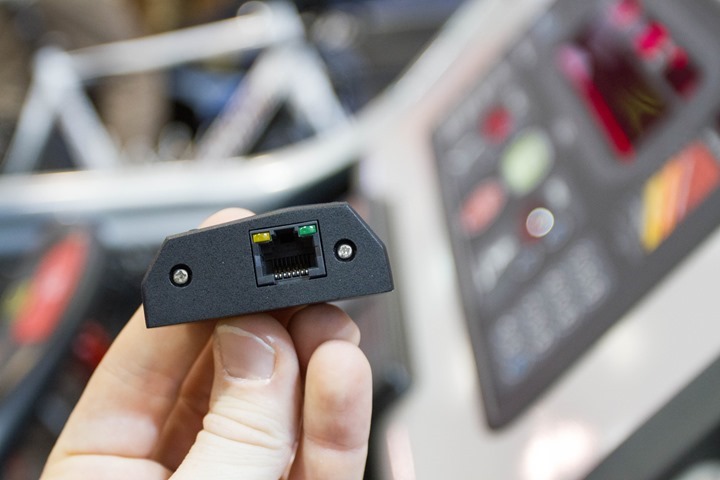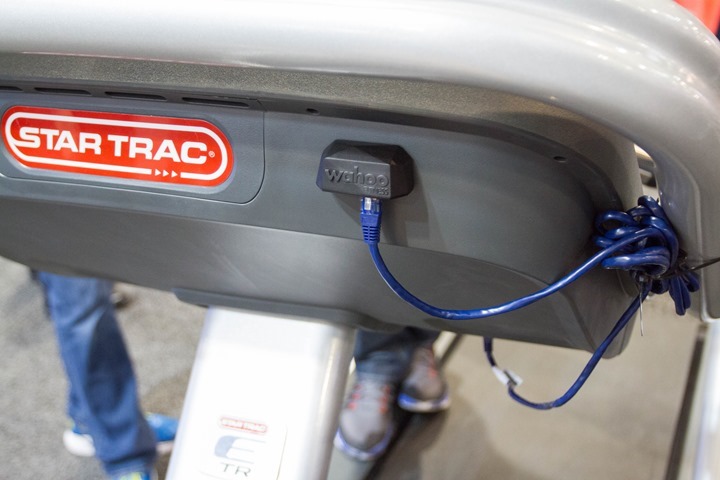 This pod in turn connects to the innards of your old-school treadmill using what's known as a CSAFE port.  These ports are universal on almost all commercial treadmills, but also found on some residential treadmills ("some" being the catch here).   It doesn't much matter how old the treadmill is, these ports have been around since dinosaurs ruled the earth.  The port is just an RJ-45 port, so it's basically an Ethernet port: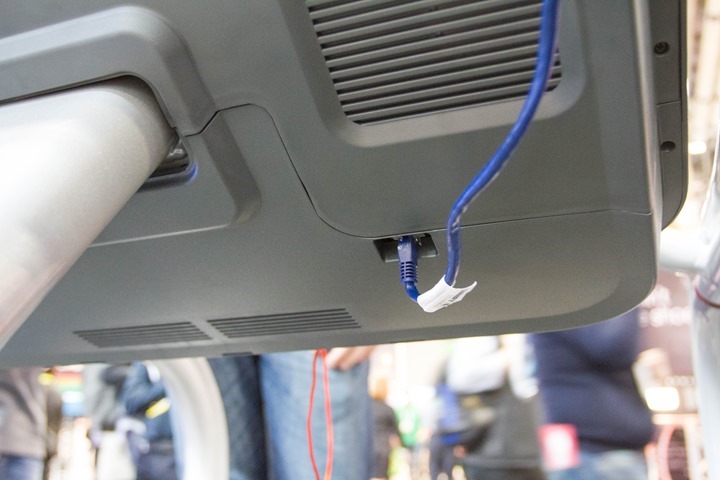 On some treadmills this will be found on the exterior shell (like seen above), whereas other treadmills may require a bit of 'creativity' to get at the port inside the unit.  If you can't find the port on the outside of the treadmill, do some Google Stalking and see if your treadmill has it somewhere else.  Or, get out that screwdriver.
Meanwhile, the secondary target is really new treadmills for Wahoo as part of selling the OEM module to various companies.  For example, major treadmill manufacture Star Trac has been shipping units with the OEM version since November.  Thus far, they've shipped about 10,000 modules to various customers.
Additionally, Wahoo has other major treadmill brands that haven't yet announced their agreements with the Wahoo (beyond Star Trac).
Finally, Wahoo noted that for regular consumers in the market for a treadmill, that many times you'll find clubs/gyms selling used treadmills for great deals (Craig's List, eBay, direct, etc…).  These are all commercial units and virtually guaranteed to have the CSAFE interface port (and easily accessible), versus a residential treadmill that might not.
What It Transmits & Controls:
So, what does this little doohickey do?  Basically, it makes your treadmill like a Wahoo KICKR, but for running.  More technically though, it does the following:
Transmits treadmill data over ANT+ via ANT+ FE-C standards: This includes anything that the treadmill and the FE-C standard supports.  Examples include your pace, distance, incline, and heart rate (if it has a HR sensor on the treadmill).  It does not transmit as a standard ANT+ footpod unfortunately.
Transmits treadmill data over Bluetooth Smart API: This includes anything that the treadmill does, but using a Wahoo Fitness Bluetooth Smart API they've developed.  Examples include your pace, distance, incline, and heart rate (if it has a HR sensor on the treadmill).  It does not transmit as a standard Bluetooth Smart footpod unfortunately.
Can control incline of treadmill: The module can tell the treadmill to increase or decrease the incline automatically.
Can send programs to the treadmill: For treadmills that support it, the unit can send them pre-programmed routes/efforts that change the resistance or provide guidance.
One thing it can't do – change speed in realtime*: This is done for safety/legal reasons, and in talking to Wahoo, this sounds like treadmill manufacturers view this line as a 'over our dead bodies' type of thing.  Which is fair, I'm not sure I'd trust all 3rd party apps to not have a bug that changes a treadmill speed from 6MPH to 15MPH in 1 second and throws me against a wall, like these awesome YouTube videos. *(Update: Wahoo has clarified there's an exception to this.  An app can send to the treadmill a pre-defined workout with pre-defined paces, and the treadmill will follow those over the course of the workout.  Whereas it won't allow you to adjust the pace in real-time from the app.)
Ok, so a bunch of specs are all fine and dandy, but what do you do with them?  Well just like when the KICKR came out, Wahoo provided that software API layer for apps to take advantage of.  Now, they're doing the same thing here.  And just like then, Wahoo has a basic app available to demonstrate components, but they also expect 3rd parties will start supporting it into their apps in creative ways (just like Trainer Road, Kinomap, Zwift, and many others have on the cycling side for the KICKR).
To get folks started, Wahoo has two apps available right now: One for the end user, and one for training studios.
The first one for the end user, allows you to pair the app to a treadmill you find in a gym.  On the treadmill you'll find a QR code, so you simply use your phone to scan that QR code and it'll pair the app to the treadmill.  Alternatively, you can connect to saved treadmills/equipment.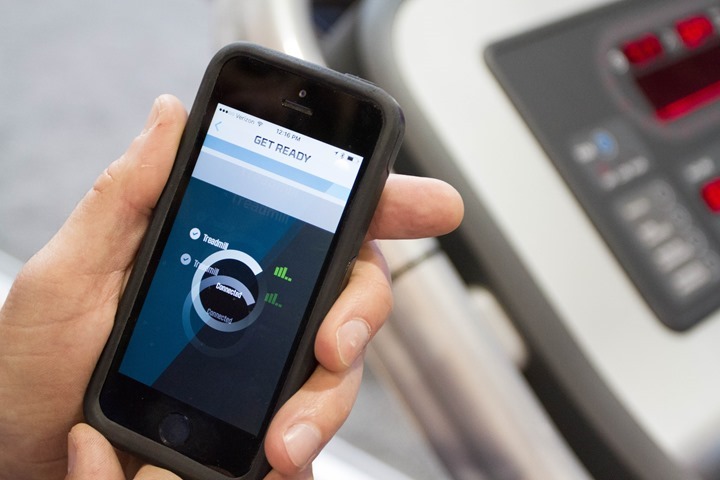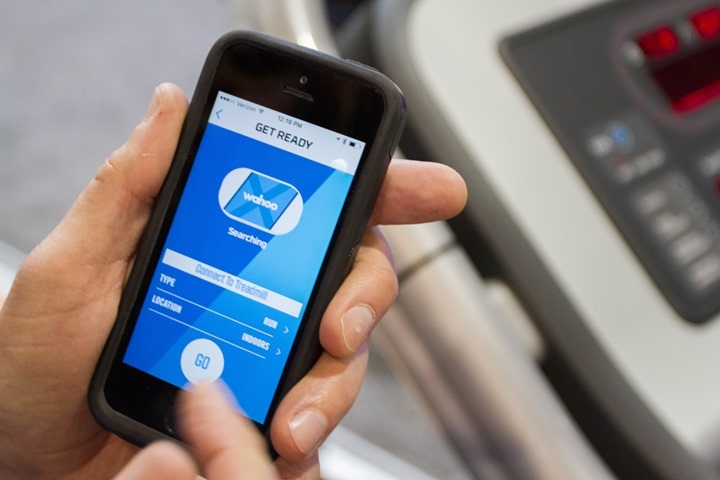 Then, the app will record any data streamed from the treadmill, such as your pace, distance, and incline.  You can also add in sensors like a Bluetooth Smart heart rate strap.
You'll notice below the inclines match (2.5%), as does the pace (a stellar 2.2MPH).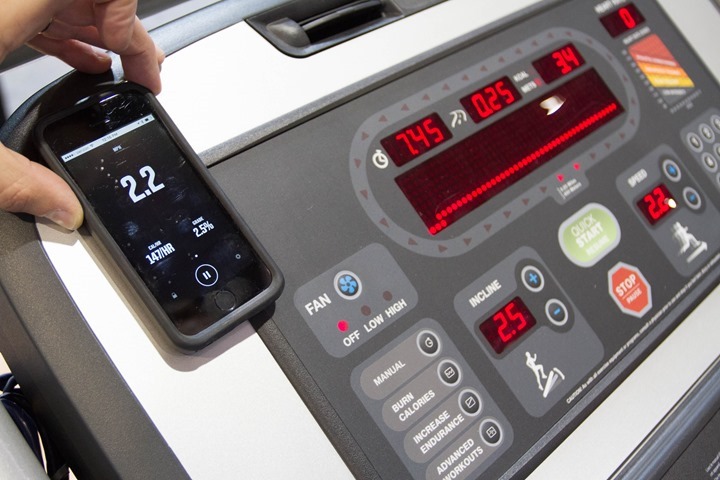 Once all that's done, you'll be able to save the workout data just like any other Wahoo app does.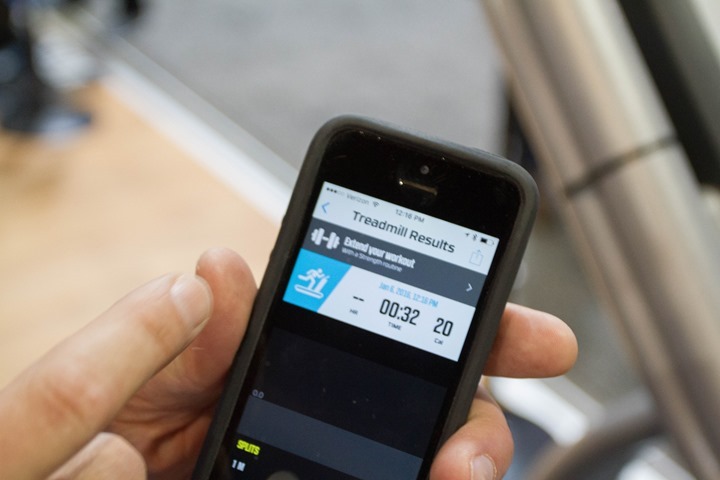 Afterwards you can export or upload it to a slew of sites, like Training Peaks, Strava, and many more: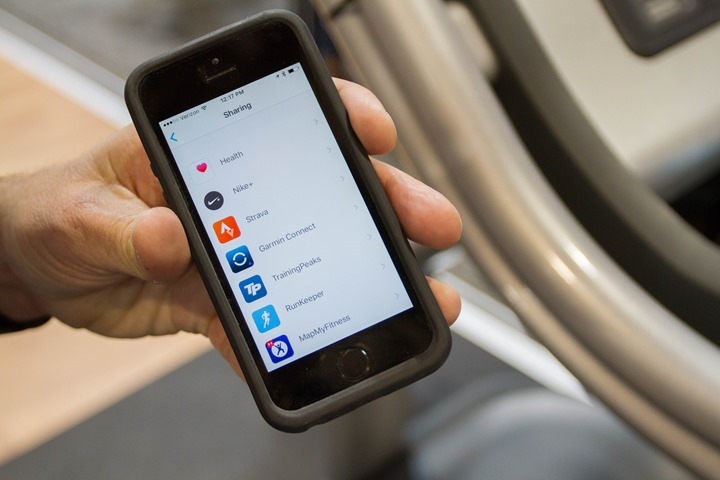 In addition to the end-user app, they also have one for studios called 'Studio Connect'.  This app allows you to use hardware such as the North Pole Engineering (NPE) WASP to consolidate data back over WiFi, enabling you to see data from multiple pieces of equipment at once (even different types, as seen here: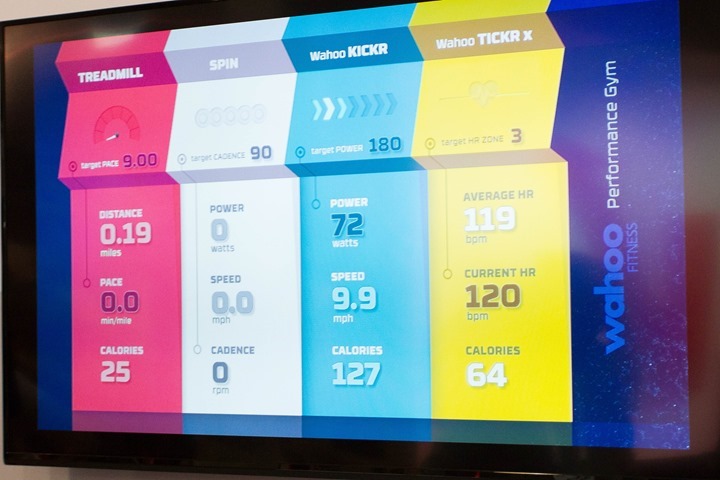 Of course, since the system uses FE-C over ANT+, as well as a developer API for Bluetooth Smart, apps can be created to show and do whatever they want.  This allows gyms (think major chains) to create applications around everything from stationary bikes to rowing equipment, without having to buy new pieces of gym equipment – just a simple retrofit module.
Wrap-up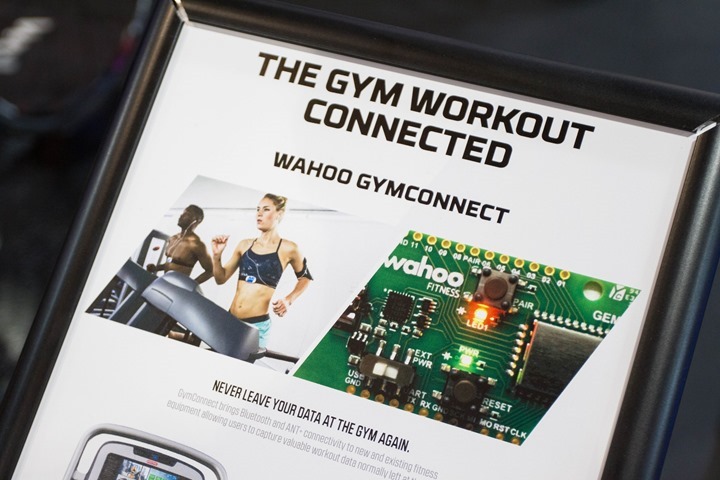 For those lucky folks with the right type of treadmill this could be really cool, especially when it comes to being able to do outdoor course route videos (software app maker Outside Interactive comes to mind).  Alternatively, just to be able to get all of the pace and elevation/incline data up to your Training Peaks or similar accounts (since a footpod wouldn't get the elevation/incline profiles).
The pricing for the unit will be $199 for the GEM retrofit unit (though, Wahoo noted that there are discounts for bulk purchases for gyms and such).  Shipping is planned by the end of this month.  For OEM's (treadmill makers), they're already shipping those units out today and the treadmills are already available.  Of course, it's just a matter of actually finding one in the wild.
A cursory look at the interwebs for my treadmill that I have in the DCR Cave (a ProForm Performance 1250) doesn't seem to reveal whether or not it has a CSAFE port, so I'll have to do some more digging when I return from CES this weekend to see if it's something I'm able to personally use.  One thing is for sure though, I'm sure as hell not dragging another treadmill down into the cave.  Once was enough for that.
With that – thanks for reading!
–
Don't forget to check out all of the DCR CES 2016 coverage, as well as a slew of updates that were only seen on Twitter.  It was a crazy busy week!