Update! My Fenix3 HR In-Depth Review has now been published (click here)! You can swing over to that post to read all the details!
Today at CES Garmin has introduced three new fitness devices, first up is the new Fenix3 with optical HR (called the Fenix3 HR), along with many new variants thereof.  Then there's the Tactix Bravo, which is a Fenix3 sibling of sorts.  In addition, they also introduced a heads up display – the Varia Vision, which I discuss in this separate post.
Within that Fenix3 HR and greater Fenix3 family, they've added a small flotilla of other new Fenix3 band variations – roughly on par with the numbers required for a complete Brady Bunch re-union special.
Finally, for all existing Fenix3 folks, you're about to get a slew of software updates adding in a bunch of new features, which I'll discuss a few sections from now.
The Fenix3 HR: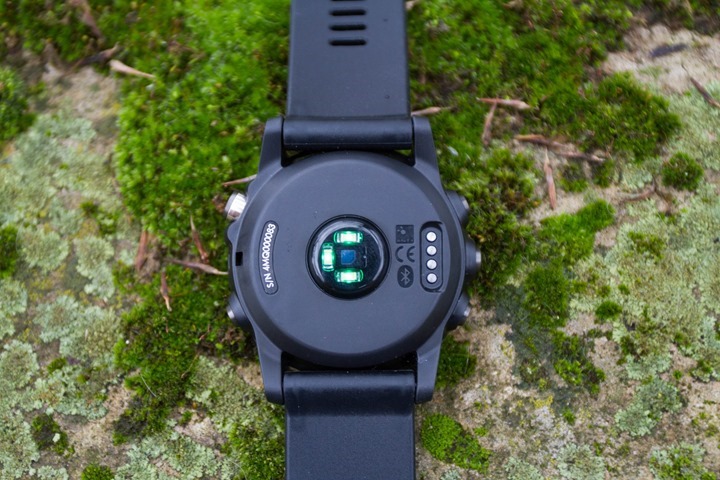 (Note: Non-final units shown in my pics, might be some slight cosmetic differences in final production units)
When Garmin introduced their in-house 'Elevate' optical HR sensor this past fall, it was only a matter of time until the sensor found its way into higher end units.  While I thought that'd probably be more like spring rather than CES, it's nonetheless here now starting with the Fenix3 HR.
The sensor is identical to that of the Garmin FR235, which was introduced this past fall.  It's just simply now plopped into the back of the Fenix3 instead.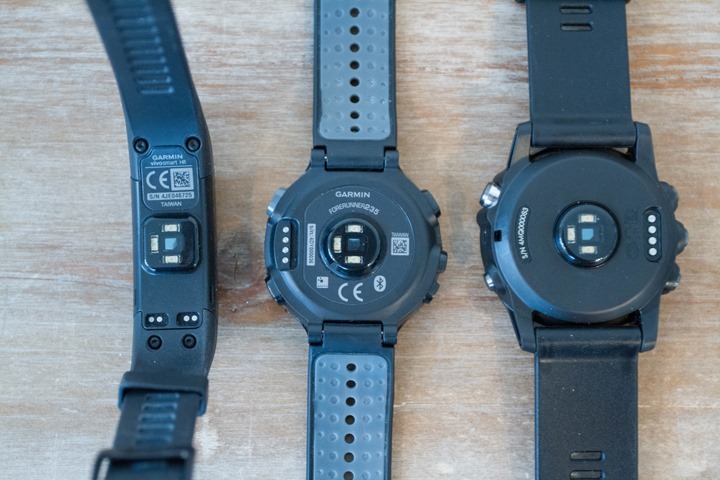 This means that it not only tracks HR data during most workout types, it also does it 24×7 as part of continual HR monitoring and recording.  You can see below the first portion of my day was relatively calm, and then I went for a run, where it spikes up.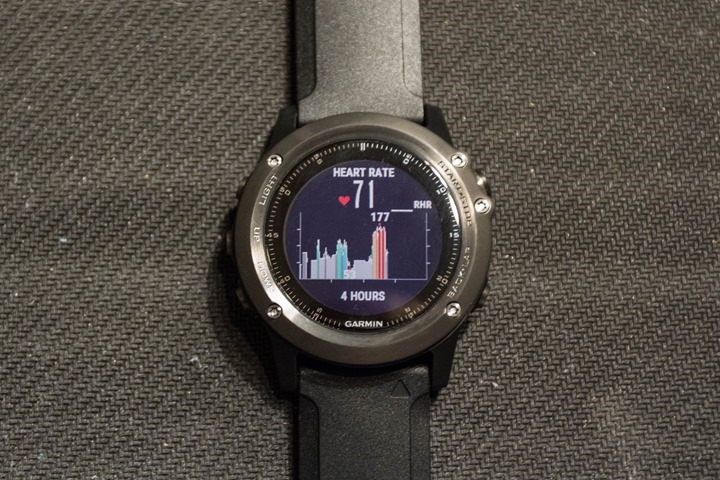 That in turn allows Garmin to add the 'Intensity Minutes' widget to the Fenix3, since it's able to monitor your HR and when it spikes into the realm of 'intense'.
You'll remember that intensity minutes are tracked over the course of the week with the aim of getting you to 150 minutes of intense exercise, per various health organizations guidelines that recommend 30 minutes of exercise 5 times a week.
So what's the battery and weight penalty on this?  Well, here's a side by side of the two non-metal/non-Titanium variants for size. You'll see they don't get any chubbier in width.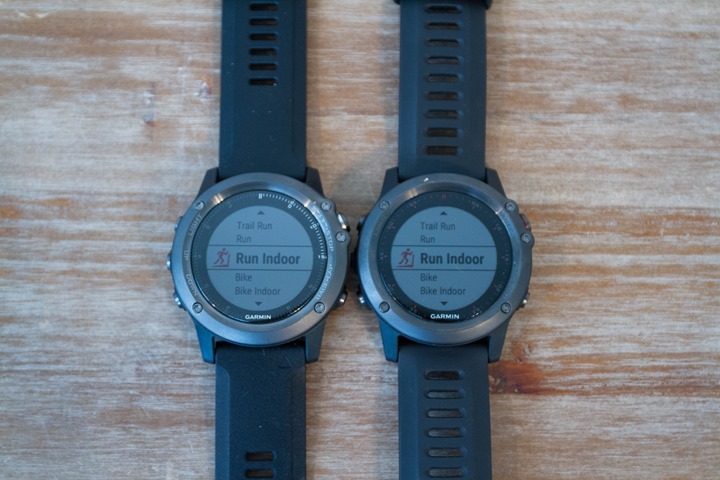 Meanwhile, it does get a bit heavier, about 6g.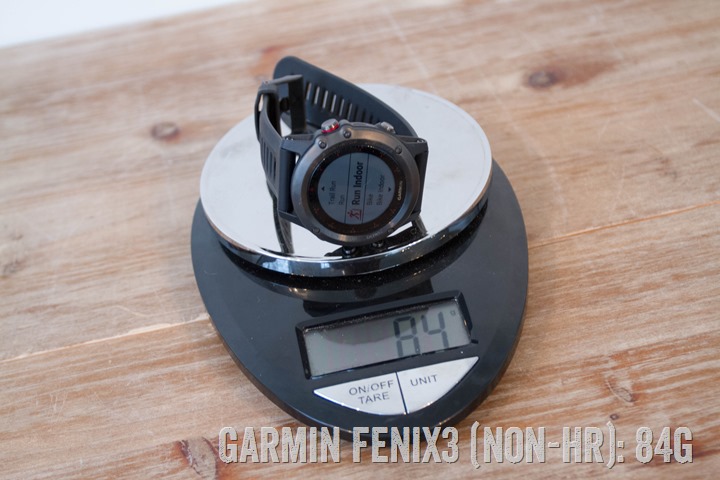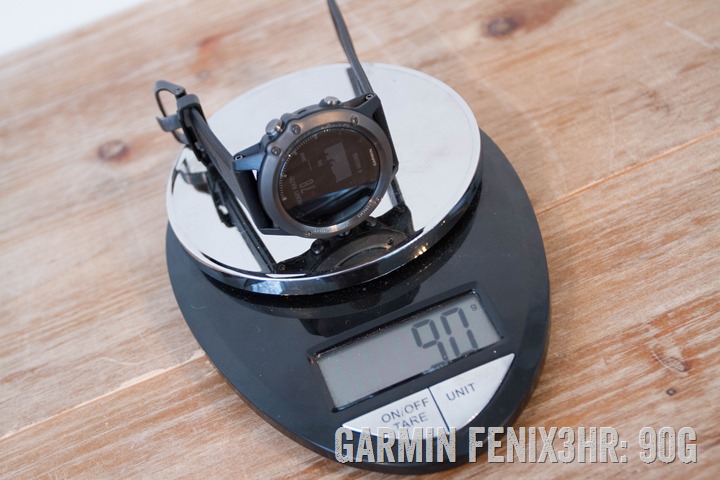 The battery comes in slightly lower than the existing Fenix3.  So the regular GPS-on mode goes from 20hrs to 16hrs, the UltraTrac GPS mode goes from 50hrs to 40hrs, and the 24/7 non-GPS watch mode goes from 6 weeks to 3 weeks.
There's currently only one color (grey) of the Fenix3 HR.  You can however also get it in a 'bundle' version, which includes the HRM-RUN HR strap.
Why would you need the HR strap you ask?  Well, that's because certain capabilities require the higher level of detail currently only available via HR straps, specifically around heart rate variability (HRV), or HRM-RUN/TRI metrics.  Those features would be:
Specific Running Dynamics Metrics:  Stride Length, Ground Contact Time Balance and Vertical Ratio
Lactate Threshold, Performance Condition, and Stress Score (Note: VO2Max is fine with the optical sensor)
Without a HR strap, those features will not work.
In addition, while in swimming mode, you may need a separate strap (such as the HRM-SWIM or HRM-TRI).  Right now Garmin hasn't fully determined/decided if the optical sensor will give accurate enough data in the water (something most other companies are also on the fence about).  So they're saying they'll likely go out with it turned off by default, but again, are still working through tests on the accuracy front there.
Before we get into a first run, here's a quick overview of the Fenix3 I put together:
Ok, let's dive into the first run.
Initial Use Impressions: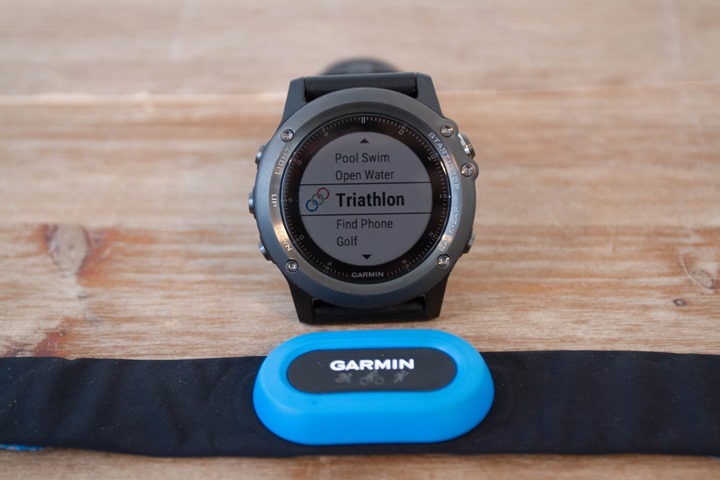 So how well does the optical HR sensor work in general?  Well, we know from the FR235 that Garmin's Elevate optical sensor in the FR235 is generally good, but still has some quirks.  However, in order to figure out if those quirks have been resolved, that's going to take some time in terms of weeks of testing across lots of different conditions (colder weather, intervals, downhill's etc…).  And unfortunately, I just haven't had weeks with the watch.  But rather, just one run.
For that roughly 5K run I simply did a fairly normal loop I use within the city.  I started off with about a mile-long warm-up, followed by a handful of short but hard intervals and slightly varying intensities.  The goal with these intervals is to see how quickly a device tracks the HR aspect.  For these comparisons, I was simply using a Garmin HRM-TRI.
Note again, this was a BETA device with BETA firmware, some period of time away from release.  Thus, stuff could get better or worse.
Overall it tracked steady-state fairly well.  On intervals, I see about a 7-9 second lag before it catches up and tracks.  There's one moment after the 3rd interval that it seems to be flustered for a moment before catching back up.

All in, this is roughly consistent with what I saw with the FR235 optical HR sensor.  Since this is a shorter run than most of my runs, the lag due to the scale looks larger than it would on a 60-90 minute long run.
As for the GPS track, it looked mostly good.  It didn't have time to do a full 15-20 minute GPS soak prior to start, so you might get a tiny bit more improvement there.  But the track is within a few meters of everywhere I ran, even correctly getting some of the bump-outs as I burned time at stop-lights and such.  One section though for a few hundred meters it went a bit across the road.

If you'd like to look at the Garmin Connect activity from that 5K run, you can do so here.
Again, it's too soon to know how accurate the Fenix3HR optical HR sensor is across a wide range of activities or environmental conditions.  Once I've had a final production unit for a while, I'll be in a better position to say.  Further, at this time Garmin states there's been no additional physical hardware changes to the unit compared to existing Fenix3 watches.  This means no changes to either GPS or other performance aspects.
(Note: All of the accuracy related charts were created using the DCR Analyzer tool.  It allows you to compare power meters/trainers, heart rate, cadence, speed/pace, GPS tracks and plenty more. You can use it as well for your own gadget comparisons, more details here.)
New Fenix3 Bands & Editions
: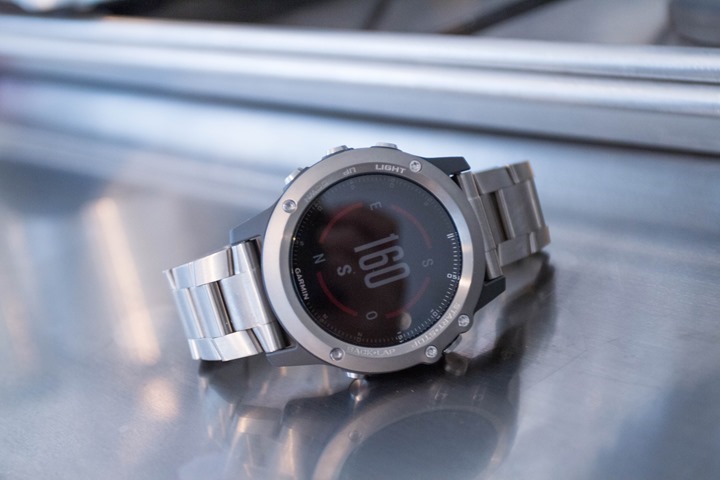 In addition to the Fenix3 HR, Garmin has put out a few new editions of the Fenix3 at CES (adding to the already sizable stable of Fenix3 variants).  However, before we do that, we need a brief primer on decoding the Fenix3 names.  In reality, it's super simple and is kinda like building a sandwich:
Prefix: Fenix3 (all of them have this)
Optical HR? Yes or no, if so, add 'HR'
Sapphire Glass? Yes or no, if so, add 'Sapphire'
Body Trim Type: Add Rose Gold, Gray, Silver
Band Type: Applicable to Titanium, Metal, Leather, and Nylon/Fabric.
First up is the new Fenix3 Titanium.  Now some of you may be wondering how this is different than the pre-existing Fenix3 Sapphire with metal band.  Well, this one uses a lighter Titanium band versus the heavier metal band.  If you've picked up the existing Sapphire edition, you'll know it's beastly heavy.  Whereas this is super light-weight, and honestly feels like plastic (but it's Titanium):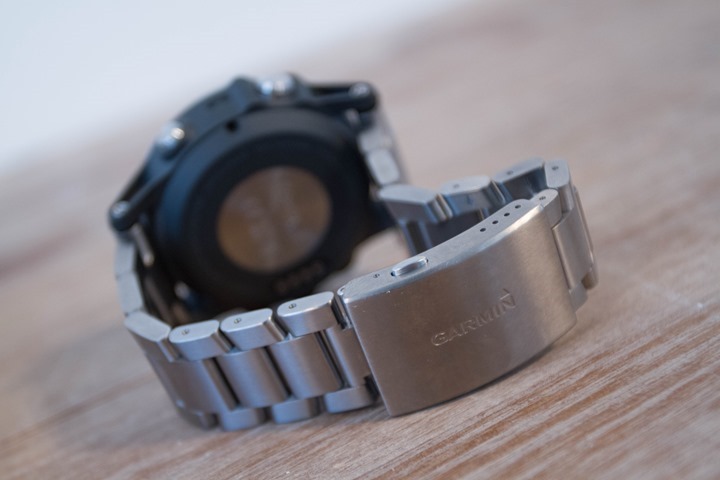 Here's two shots comparing them side by side.  The lighter silver colored one is Titanium, whereas the darker one is the Sapphire with metal band unit.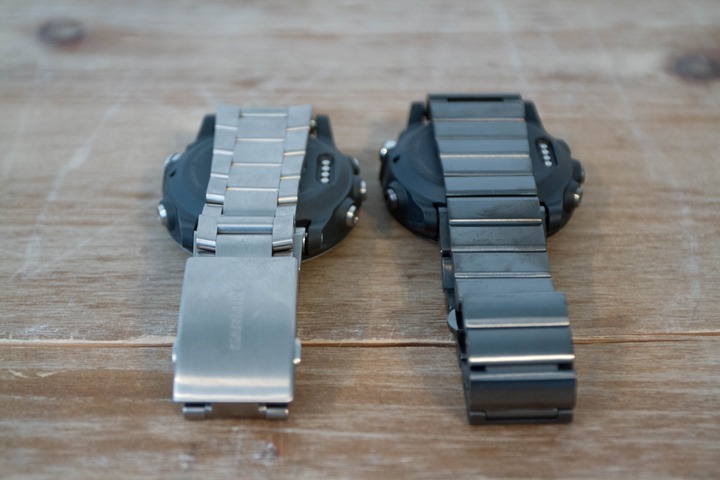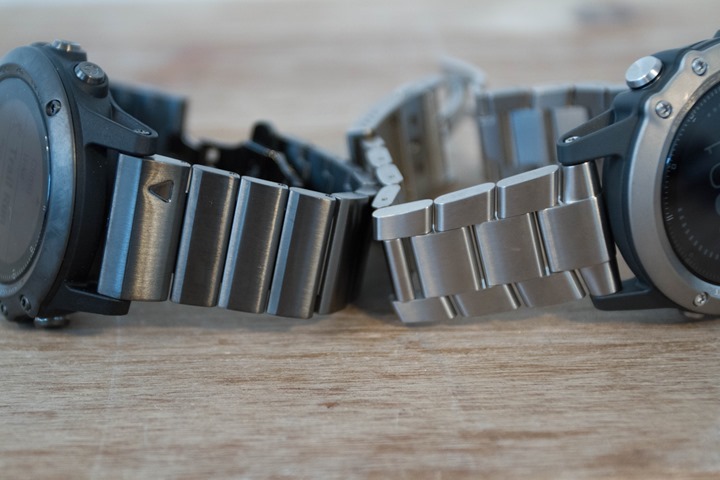 Like the existing metal band, it has a clasp closing mechanism: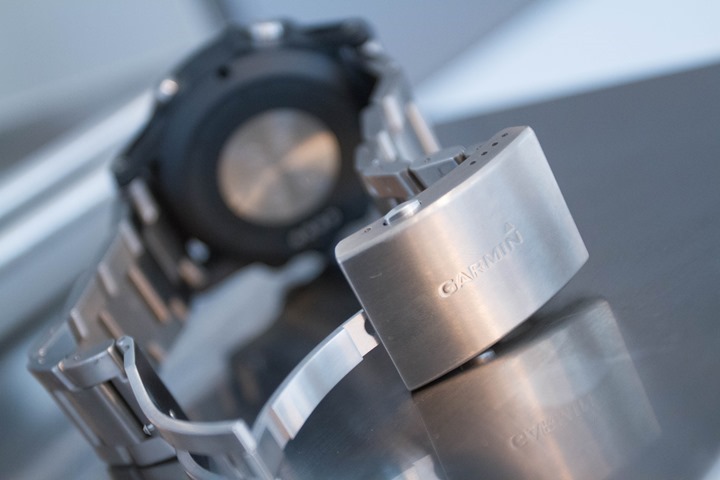 The band requires a typical standard watch link remover tool in the event you want to change the band size (just like the existing metal one, and really all metal watch bands today).
Finally note that the bezel is indeed silver-colored Titanium, however the watch body is grey-colored.  Also note that the unit does come with an additional black silicone strap (identical to the black silicone strap seen above in the HR version).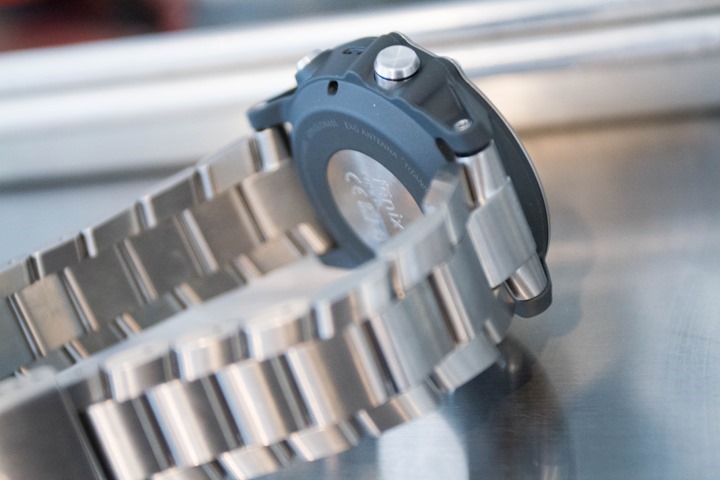 Next, we've got the new leather and nylon straps (though Garmin calls them 'fabric' straps).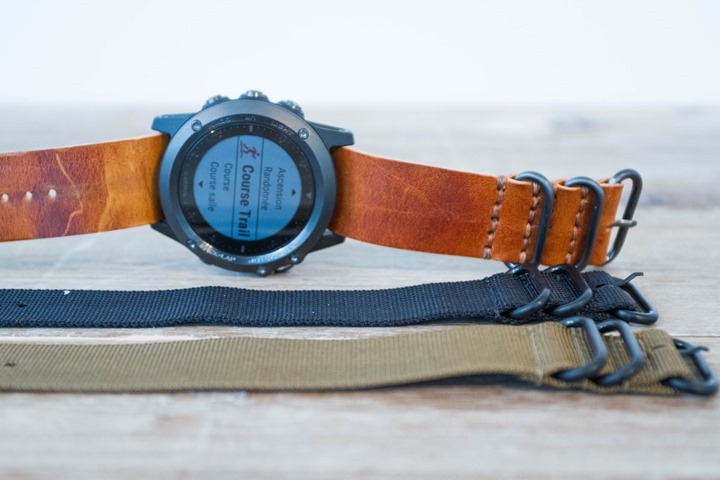 Note these are technically not NATO straps, because NATO straps are 20mm wide, and these are about 25mm wide.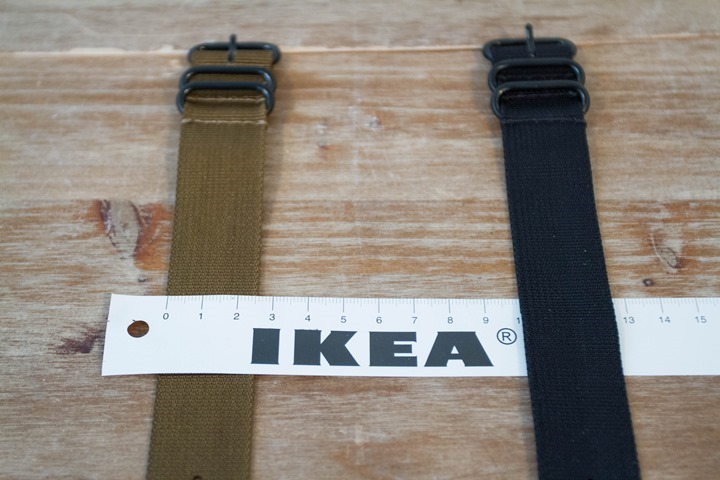 These use a slip-through system where you install these new poles on the watch, allowing you to quickly slide different straps in or out in a few seconds without any tools: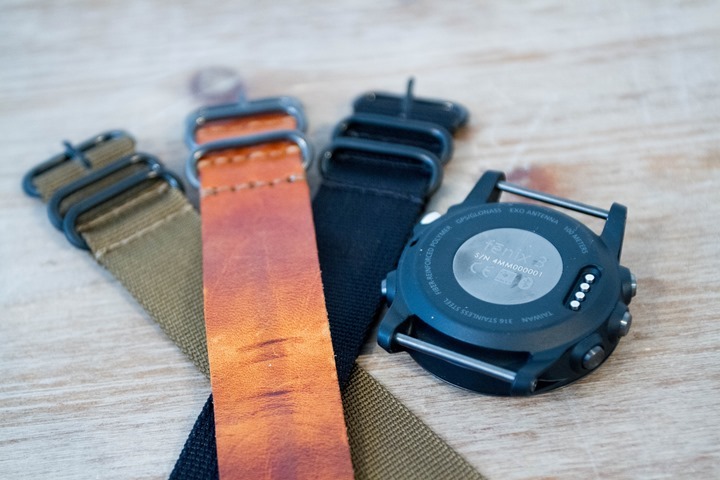 Here's the various straps:
Officially these are:
Brown Leather strap ($59)
Black nylon strap ($24)
Olive nylon strap ($24)
Finally, there are two additional new straps that I don't have photos of:
Lime green silicone strap ($39)
Blue silicone strap ($39)
All of which add to the existing Fenix3 variants:
Fenix3 Gray
Fenix3 Gray with HRM-RUN Strap
Fenix3 Silver/Red
Fenix3 Silver/Red with HRM-RUN Strap
Fenix3 Sapphire Glass with HRM-RUN Strap
Fenix3 Sapphire Glass with Metal Band
Fenix3 Sapphire Glass with Leather Band
Fenix3 Rose Gold with Sapphire Glass
Fenix3 HR Gray with Sapphire Glass
Fenix3 HR Gray with Sapphire Glass with HRM-RUN Strap
Fenix3 Sapphire Glass Grey with Leather Strap
Fenix3 Sapphire Glass with Titanium Band
Got all that?  Don't worry, I can't keep track either.  Here's a video I put together that attempts to explain it further.
What I am able to track is the steep price for the HR models of the new Fenix3.  The cheapest Fenix3 HR version costs $599 (does include Sapphire glass though).  $100 more than the existing Fenix3.  Oh, what's that – you wanted the Titanium band with the Sapphire glass instead?  That'll set you back $799!  Save your pennies folks, cause flashiness doesn't come cheap these days.  At least you're not Canadian (well, sorry if you are), because the list price for that version is $1,199.99.  You could have purchased almost an entire township for less than that, and still had money leftover to go to Tim Horton's.
New Fenix3 Software For Everyone: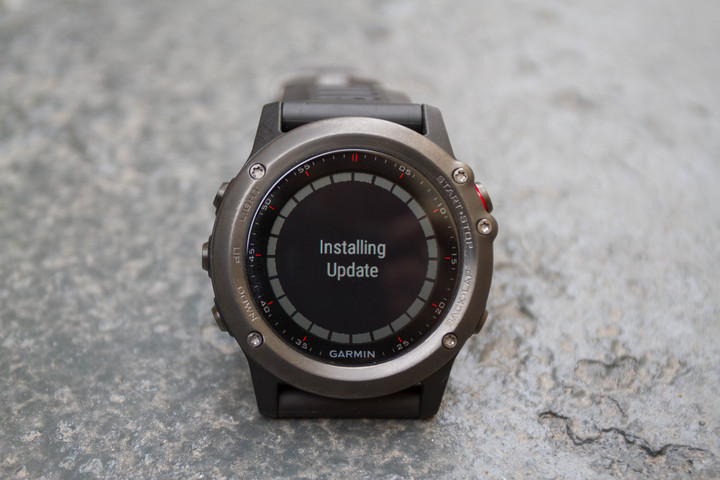 Next, Garmin is rolling out a software update that will add a number of new sports profiles and new features to the Fenix3 units.  While much of this was quietly released to the Fenix3 beta channel over the past few weeks, there are a few new items here.  Rather than belabor each point individually, here's a complete list of all of the new functions.
New Sport Mode – Stand Up Paddleboarding (SUP) This can also measure/record stroke related metrics as well.
New Sport Mode – Golf: Including ability to download some 40,000 golf courses
New Sport Mode – Rowing: Can measure stroke relate metrics as well.
Gen2 Running Dynamics: This adds the new Vertical Ratio & Ground Contact Time Balance metrics that were found on the recently released FR630
Lactate Threshold Testing: This is for runners, allowing you to determine your lactate threshold heart rate & pace (also introduced on FR630)
Stress Score: Determines overall level of stress (also introduced on FR630)
Performance Condition: Gives you a "performance readiness" indicator towards the beginning of each workout (also introduced on FR630)
Music Control: This allows you to control the music on your phone.  It does not store music on the Fenix 3 device itself (also introduced on FR230/235/630).
Audio Lap Alerts: This allows you to get audio alert readouts of lap splits from your phone, or Bluetooth headphones if connected to phone (also introduced on FR230/235/630).
Last Swim/Bike/Run Widget: This new widget makes it easy to glance at your most recent workout for each category with out diving into the history sections.
'My Day' Widget: Sorta a compilation of your schedule for the day.
Do Not Disturb Feature: Allows you to separately mute your watch for things like smartphone notifications and such.
New Tactical & Jumpmaster Apps: These are items previously found on the Tactix series of watches. (Note: Previously at launch Garmin stated these would only be available on the Tactix Bravo once they hit production, however they have changed their mind and will also be available on the Fenix3/Fenix3 HR.)
All of these should be available immediately, or, if you've been using the Fenix3 beta builds over the past few weeks, they've mostly been there too.
Tactix Bravo:
I'm going to keep this short and sweet, because later today I'll have a deeper post on it.  But for now the key thing to know is that Garmin has also released a new version of their Tactix watch, now called the Tactix Bravo.
This unit replaced the older Fenix1-based Tactix watch, which was focused on the military & law enforcement crowd.  The key attributes of that watch was a night vision goggle (NVG) friendly display, as well as being non-reflective for light.  Additionally, it has more software options such as a Jumpmaster mode and a Tactical mode.
Otherwise, it's more or less your normal Fenix3 watch.  It shares almost all the same firmware options.  Which, is ironically why I don't have a post here at the moment – since all the Tactix Bravo units I've had hands-on time with were running Fenix3 firmware, versus Bravo firmware.  Later today I'll get more hands-on with the right units and be able to get ya proper photos.  So hang tight!
(Don't worry, there's plenty of other goodness going on today)
Summary: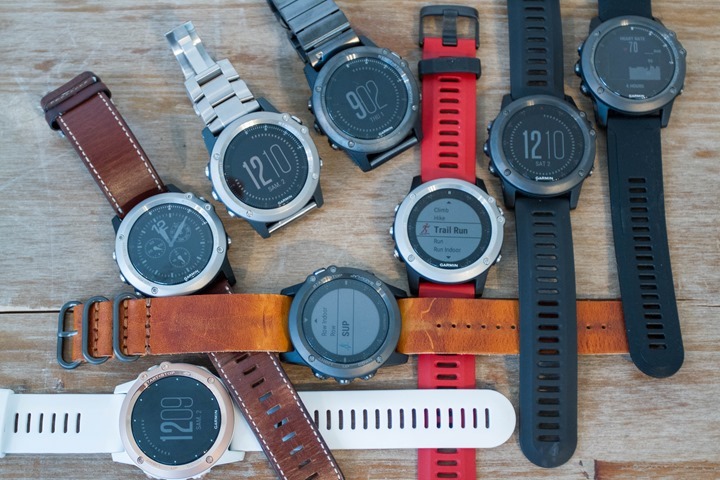 It's clear that Garmin has thrown everything into making the Fenix3 line as expansive as possible, appealing to as many people as possible.  We see that manifesting itself in the numerous designs for not only the watches themselves, but the straps too.
The addition of the Garmin Elevate optical HR sensor into the Fenix3 is a logical next step for the company, and hardly one that wasn't expected.  However, I figured the company might spend a bit more time to smooth out some of the wrinkles in their technology first.  It's possible that given the Fenix3 HR release time-frame is officially "Q1" (meaning, anytime between now and March 31st, 2016), that this added time will allow them to sort through those items.  It's also important to note that if you've been using the Vivosmart HR, that the Fenix3 seems to behave closer to the FR235 than the Vivosmart HR, since it has more watch surface area to cover light coming in than the Vivosmart HR does.
Still, it'll definitely be an interesting product to watch going forward and to see the technology mature.  I'd also expect this will force both Polar and Suunto into putting optical HR in their higher end units going forward as well.  Competition is always good for the industry, innovation, and most importantly, for consumers.
FYI: You can now pre-order the new Fenix3 HR, Fenix3 Titanium (and the new straps) or Tactix Bravo units from Clever Training.  In doing so you support the site here, I appreciate it!
With that – thanks for reading!
–
Don't forget to check out all of the DCR CES 2016 coverage, as well as a slew of updates that were only seen on Twitter.  It was a crazy busy week!