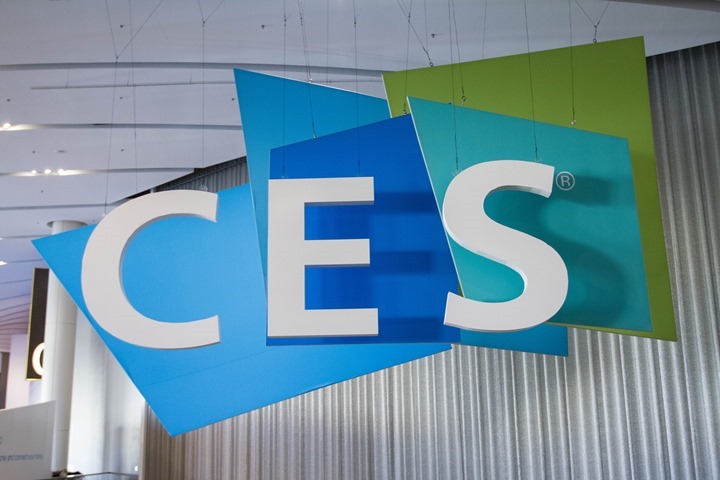 My week at CES is structured around an extensive amount of walking, talking, and photographing.  Which might lead you to believe there's also an extensive amount of writing, but that tends not to be the case.  Instead, I pick and choose which items are 'worth' writing up a dedicated post.  Be it either because I think there's just not enough interest to justify a dedicated post, or because I didn't get the information I wanted from the company to be able to accurately write about it.  Or, sometimes, just because I have a longer or more detailed post planned shortly.
As such, I end up taking a crapton of photos that have no particular purpose without a full standalone post.  Rather than let them die a slow death on my hard drive, I'm going to try something new this year.  I'm just going to do (roughly) a photo of note from each item/topic/etc, and then a few lines of text on my thoughts.  Sorta like you'd get if you saw me on the show-floor and asked me a question.
Let's give it a whirl!
(Please note: These aren't meant to be detailed 'reviews' of products, nor some elaborate analysis of specs.  It's just my super-quick thoughts, akin to a long-form Twitter post.)
Solos Heads Up Display: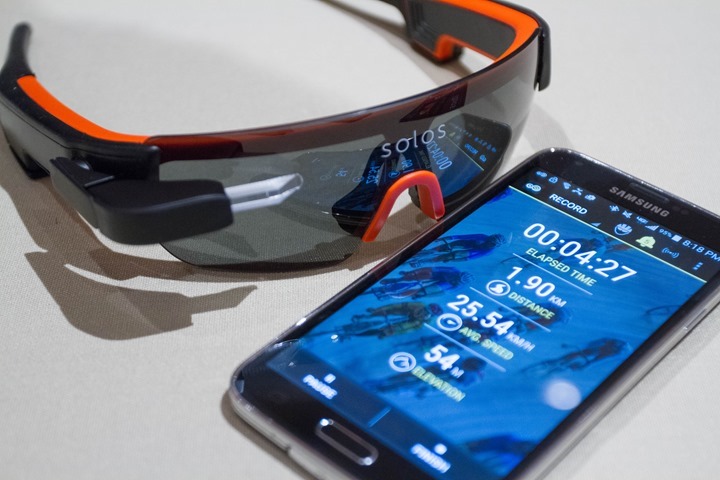 The Solos heads up display is kinda like Garmin's Varia Vision (in that it lacks GPS itself), but without the restriction of Garmin's device needing an Edge 520 or Edge 1000.  Instead, it connects to iOS & Android phones to provide that data stream.  It can also connect directly to ANT+ & Bluetooth Smart sensors.
While I've gotten plenty of hands-on booth time with these sport focused heads up display glasses, it's not yet riding time.  We were planning to go for a ride Friday morning, but rescheduled at the last second and they're going to come to Paris in the next few weeks and do a ride here instead.  So rather than have two posts back to back, I'll save up all that goodness for then.  It's definitely an interesting option in the heating up category of HUD's.
Connected insoles and shoes: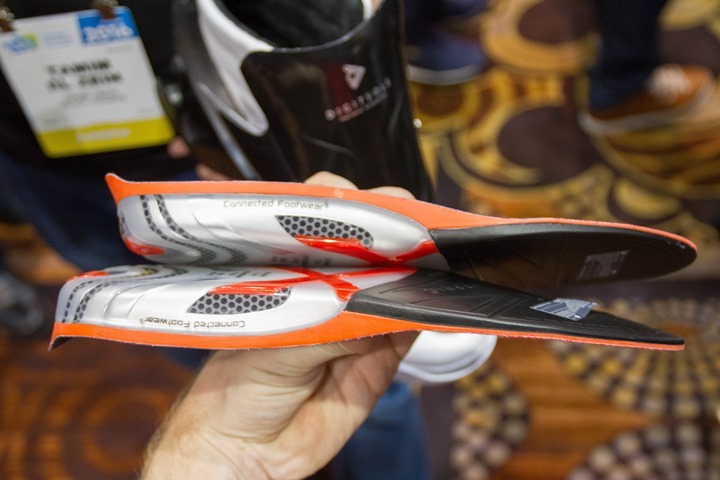 I've started to lose track of how many connected footwear products there were at CES this year, with numerous companies getting into the biz.  We're seeing this really going into two categories: connected shoes, and connected insoles.  With shoes, you're having the sensors baked into the shoe itself, and thus becomes more limited once the shoe dies. Whereas with insoles you can move them from shoe to shoe.
In general the dividing line seems to be big shoe companies going with sensors in shoes, whereas smaller startups going with sensors in insoles.  I'm not sure that a smaller startup would really be in a position to compete well on the shoe front, so I think insoles is probably a better approach for those companies.
The Best Smell of Waking Up: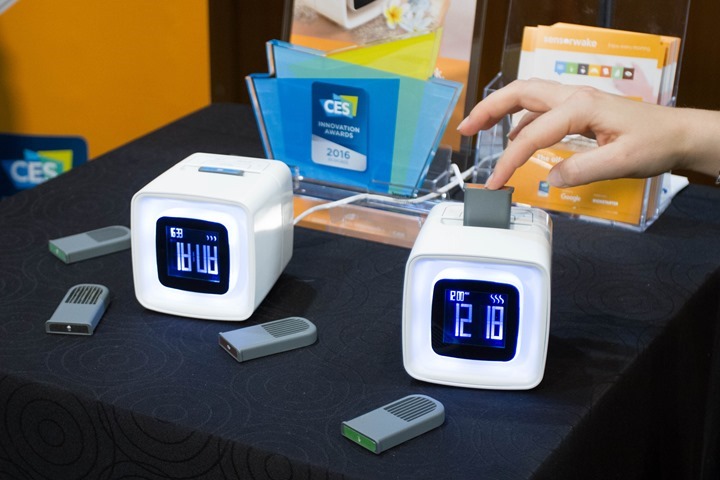 While sleep related gadgets are on the rise, this particular one from Sensorwake was actually all about waking up, rather than falling asleep or the act of sleeping.  This alarm clock creates various smells that are designed to wake you up.  Such as fresh croissants (it's a French company), coffee, and chocolate.
I'll give them credit, the smells were astoundingly spot-on.  Yup, even the toast smelling one.
Lily Drone Up to $34 Million in Pre-Sales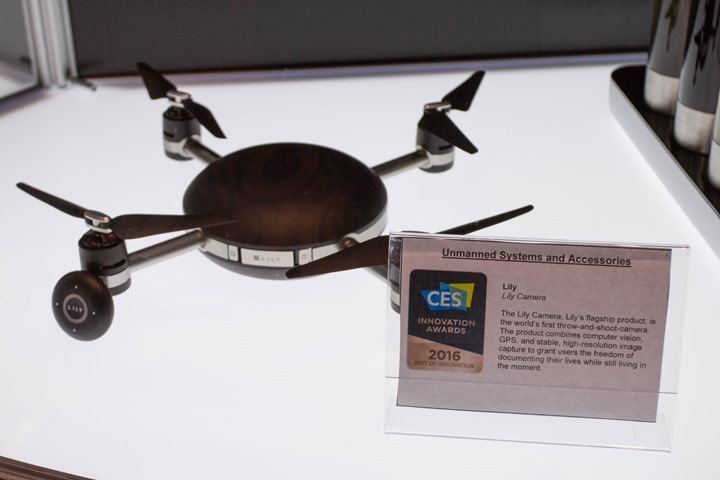 Go figure, for a company that made the mother of all faked simulated drone promo videos, they've managed to do extremely well in sales.  And that's all with recently sliding their initial deliveries some 6+ months into the future (without anything more than showing a very generic take-off video to their name).
Still, I do appreciate that they somehow managed to win CES 'Best in Show' awards for a product that doesn't exist.  No, I've never quite understood the logic of presenting awards to products that don't yet exist.
Casio Outdoor Watch: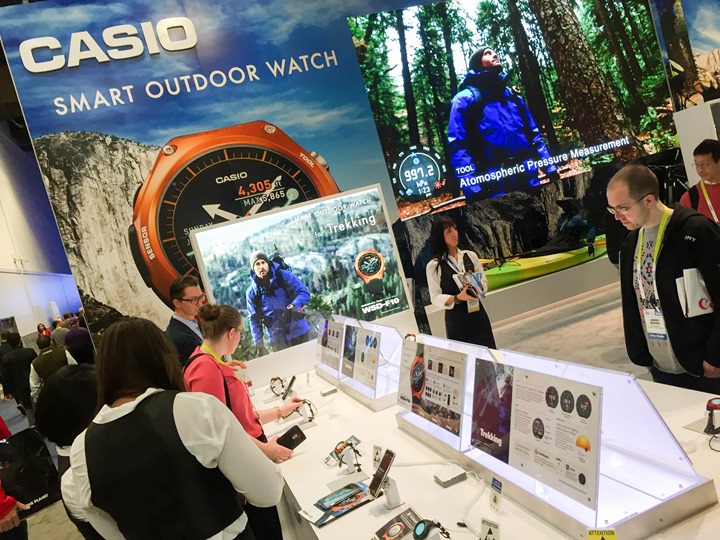 Casio was out on the show floor with a massive display setup dedicated to their new WSD-F10 hiking watch. This $500 Android Wear powered unit did away with the typical Casio look and instead ushered in a bit cleaner lines & looks.  Its aim is to attract outdoor folks with a barometric altimeter.
However, at $500 for a hiking watch lacking GPS that basically only gets a day's worth of battery life with sensors on, that's going to be a really tough sell in the face of the Suunto Ambit3 and Traverse families, as well as Garmin's Fenix3 family.  And by 'tough sell', I mean impossible.
Human Capable Drone: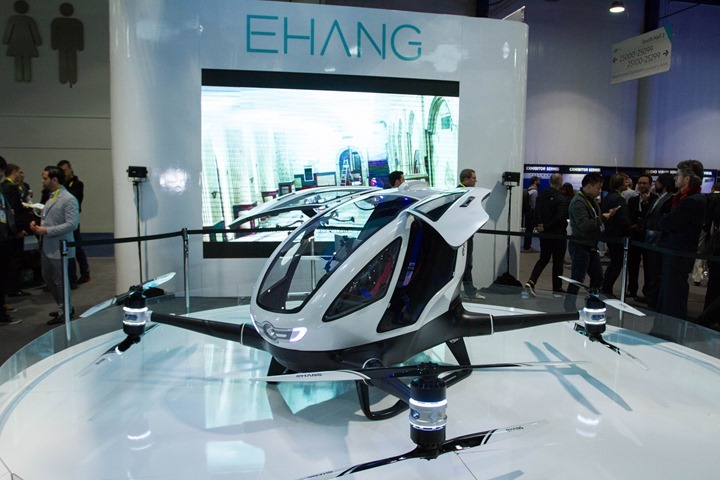 Of course, while there were numerous smaller drones on the show floor, there was only one drone capable of carrying a human passenger, from Ehang.  It definitely stole quite a bit of the drone-related aspects of the show.  There's actually a pretty interesting video the company behind it put together, which you can watch here.
Obviously I wouldn't be jumping in this thing anytime soon – but every technological innovation has to start somewhere.  Might as well be there.  Iterations and failure are a natural part of moving forward.
Hexoskin: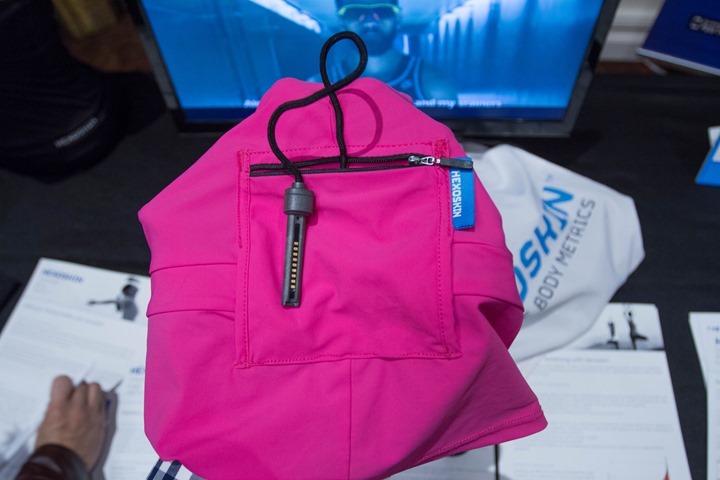 There's a ton of companies at CES focusing on clothing that now has sensors embedded in it, primarily health/fitness related sensors like heart rate and activity tracking.  Hexoskin was one of those who are focusing heavily on the HR & HRV related metrics, but do also account for steps.
In many ways I feel like most of these garments in this industry have a long way to go.  They're essentially building in what used to be the HR straps into tops, but the pods are still present in various ways.  In the case of Hexoskin you can store about 14 hours worth of data before needing to download it – so it's better than some clothing that requires a constant connection.
GizmoGadget: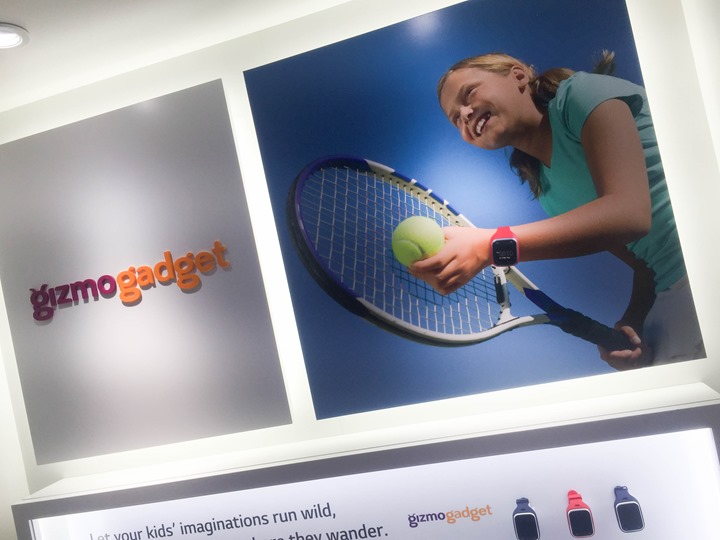 I'm merely including this because it takes the prize on the best device name ever. Period.
The device by LG is actually a kid's tracker, aimed at providing the real-time location of your child via a cellular SIM card.  It can also measure activity too, but that's really just an ancillary benefit.  You'll often see these connected location watches aimed at both the children's age ranges, as well as the elderly.
KUAI Headphones: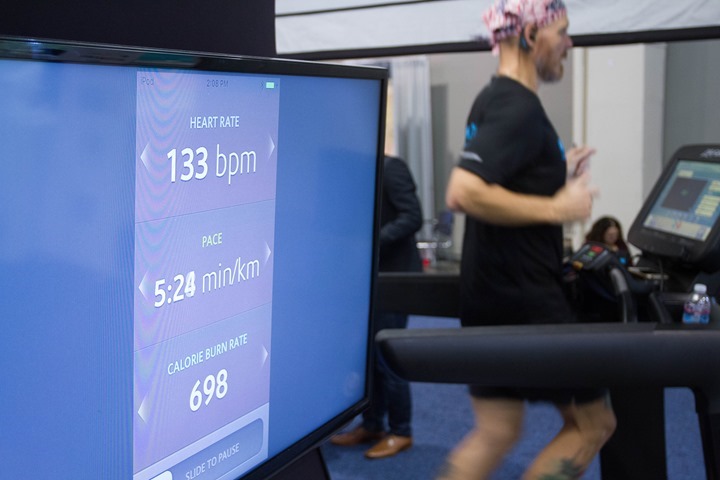 These headphones are very similar to the Bragi Dash, except with more of a sport focus.  For example, they have ANT+ and Bluetooth Smart broadcasting and reception capabilities.  They've also got heart rate via the headphones, so they'll measure and broadcast that as well.
At CES they had ultra marathoner David Clark running marathons (one per day, 4 total) on the treadmill (yes, really) with them on, and the metrics seemed viable.  At the same time, the units they had in the booth appeared 3D printed and/or hand-made, so I suspect they're still a ways from shipping final units.  Still, cool to see more options in the market.
Pioneer Power Meters: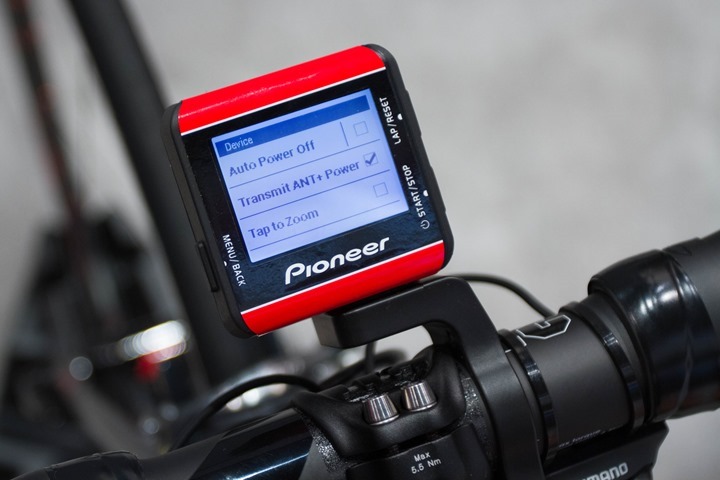 While Pioneer was off located in the automotive section (more than a mile away from the health section), they did have a respectable little cycling focused booth setup.
In it they were showing off their power meters, but also made note of their most recent head unit firmware update that now allows re-transmission over ANT+.  You'll remember that Pioneer power meters can transmit either private-ANT (with a bunch of advanced/high speed metrics), or transmit more open ANT+.  But not both.  This essentially allows private-ANT to the head unit, and then the head-unit re-broadcasts public-ANT to other devices.
The main appeal of this update/addition is actually for training apps like Zwift, TrainerRoad and others.  Though, it'd also allow capturing data on a Garmin concurrently with their head unit.
Scosche: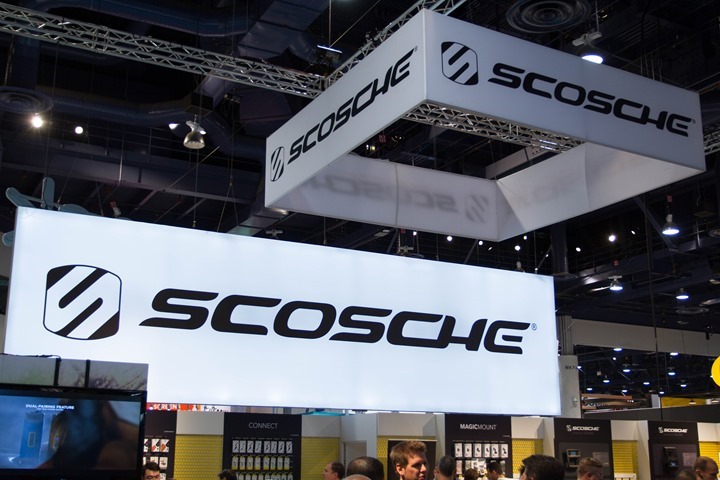 Since many of you often ask about Scosche and whether a new variant of the Rhythm+ is coming, I checked with the company and nothing new was announced, nor does it sound like anything else is imminent.
It still remains the optical HR sensor I use and trust the most, both in my day to day training as well as to use in concert with traditional chest straps when doing optical HR sensor comparisons.
Valencell Optical HRV Video:
I briefly stopped in to check with Valencell and see what was new there.  You'll remember that Valencell makes the optical sensors found in Scosche's Rhythm+, as well as far more products than I realized now (about 10 in the market now).
However, I was really there to get the low-down on their plans for introducing optical HR HRV/RR into products.  I shot the above video as a demo of how that works.  Note that it's still for HRV/RR at rest today, and not yet for HRV/RR during workouts.  It sounds like that's quite a bit down the road still.
Baron Biosystems Demo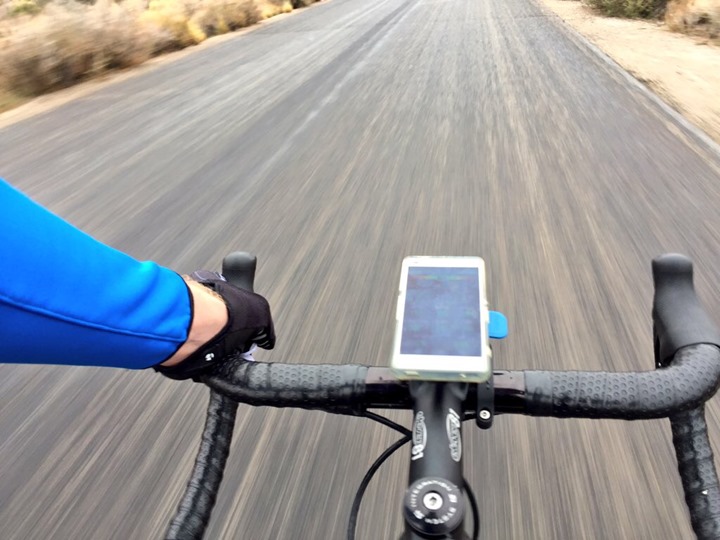 On Tuesday I headed out of the city and into the wet and very foggy desert to get the latest demos from Baron Biosystems.  You'll remember I've touched on them a bit in the past related to automated Di2 shifting, which they were showing me the latest updates for (now wireless!).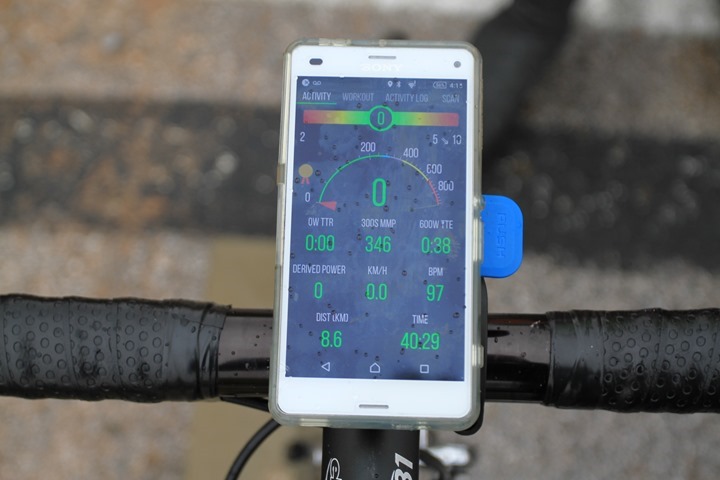 However, of additional interest is their training platform which enables them to 'predict' your performance in real-time.  It's sorta like playing a video game.  They can tell me down to the second during a sprint when I'll fade, or even just any sustained effort (for example, above it believes that at that very moment I could sustain 600w for 38 seconds).  It was pretty fascinating to watch and try out on our ride. More on that a bit later though…
Garmin VIRB XE OBD2 Video:
You know what the hardest Garmin product is to get right now?  No, not some fitness watch.  But rather, a tiny little part called the OBD2 Data Relay connector that enables you to get metrics from your car onto Garmin VIRB X/XE videos.  It's sorta the automotive equivalent of ANT+ sensors like power, cadence, and heart rate.
I've had a unit on order for months without success, so I could try it out and see how it works (since plenty of car folks swing by my action cam reviews).  Over the last few weeks I managed to con one of the VIRB team members into borrowing his adapter for a few days at CES to put together a quick overview video, seen above.  It also gave me another excuse to get far away from the Vegas show floors and out into the desert.
iFit Altra IQ Smart Shoes: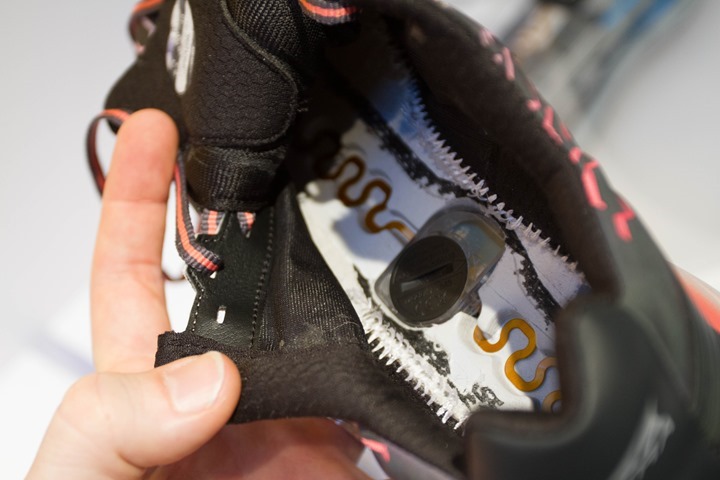 Under Armour wasn't the only one with connected shoes at CES.  iFit's brand Altra was there with their connected Altra IQ.  However unlike UA, the Altra IQ goes quite a bit further with the sensors.  Whereas UA is measuring steps/distance/pace, Altra is measuring where within the shoe you're placing pressure – such as pronation.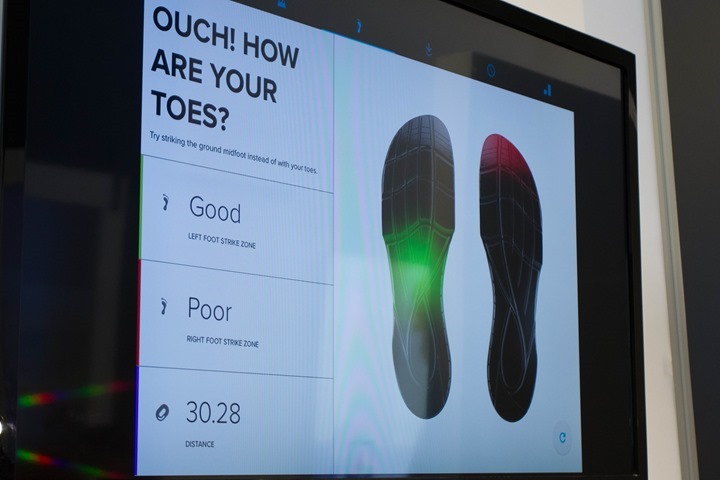 They're sending me out a pair this week, so I'll be giving them a whirl over the next little while and seeing how they handle.
iFit Optical HR Watch System:
So this one is a bit challenging to explain, thus, stick with me here.  Essentially, iFit has developed a watch band that includes an optical HR sensor in it (or, will include one).  Within that, the band is designed to swap into any of their watches.  The thinking being that you could then add optical HR to whichever watch style you prefer.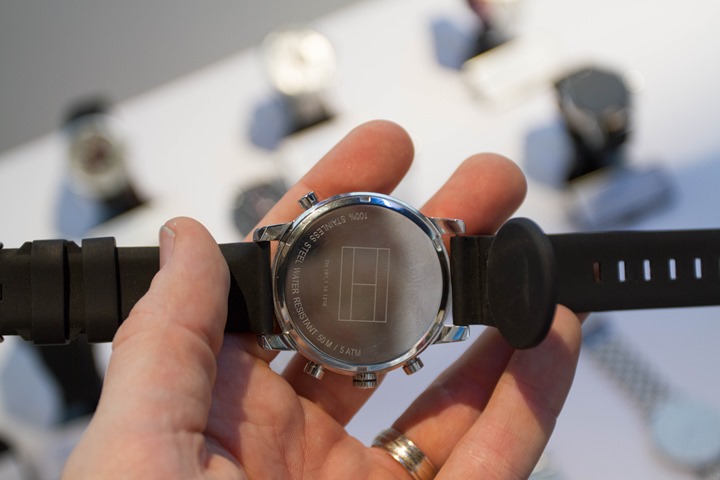 The way it works is the rubber piece holds the sensor (right now it has a hole, lacking a sensor).  Then it would rotate flat against the back of the watch, and the sensor side facing your skin/wrist.  Kinda brilliant.  The system isn't available yet, and is more of a proof of concept.
Pebble Time Round: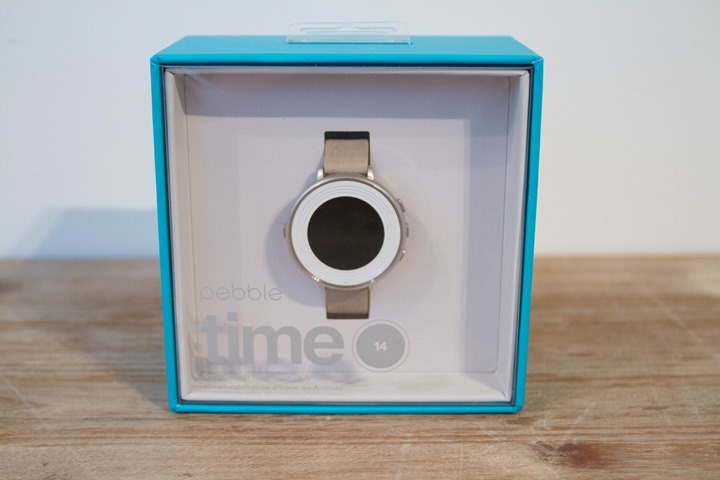 While Pebble wasn't on the show floor, I did spend a fair bit of time talking with them about a slew of things.  They also sent me back with a new Pebble Time Round to try out.  And by for 'me', I mean, for The Girl.  Who has quickly taken to it as her favorite smart watch (she rarely wears them).
She specifically likes the more stylish look of the watch, and the 'fun' watch faces.  She says she might even write up a post on some of the more stylish fitness tracker options (she's upset I didn't come back with a new Misfit Ray).
Emfit: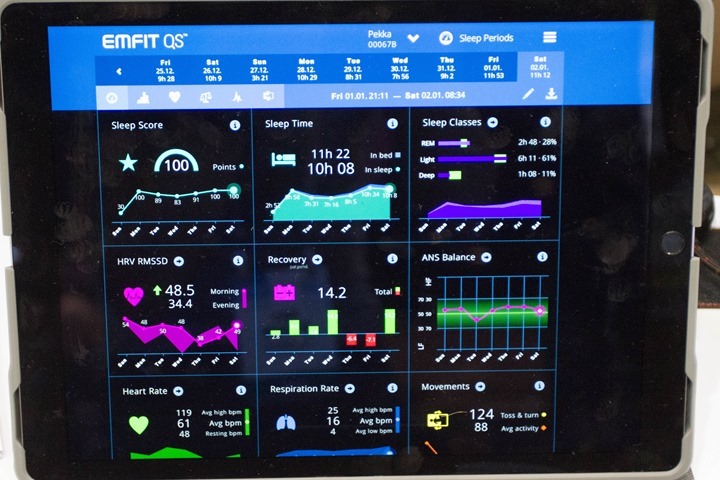 I stumbled upon Emfit, which makes a sleep sensor that does HRV (Heart Rate Variability) through your mattress.  So it's sorta like what Withings Aura does with their under-mattress sensor, except at a much deeper level.
They've got a pretty impressive app that monitors a slew of metrics and allows you to plot them a number of ways.  HRV data can be used to detect overtraining or fatigue, and is what many companies are basing new features like stress scores and related on.
Oh – and yes, like almost every HRV company in the space, they too are from Finland.  It's a small world…
—
With that – thanks for reading, hope you enjoyed CES coverage over the past 7-10 days!
Don't forget to check out all of the DCR CES 2016 coverage, as well as a slew of updates that were only seen on Twitter.  It was a crazy busy week!