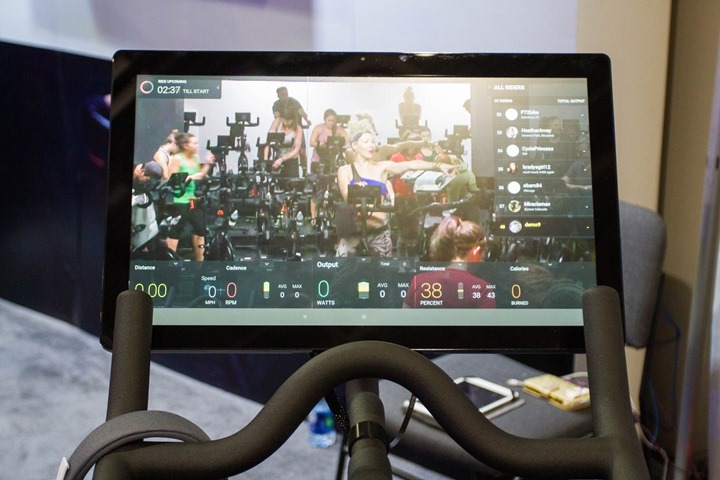 By some stroke of complete and total coincidence, a friend of mine called me last Wednesday morning and asked about the Peloton bike system.  You may remember the company from about 2.5 years ago when they first launched into the market via Kickstarter, ultimately shipping last winter.  At the time, it seemed like a bit of a variant of the super-expensive and well-connected indoor bikes from ProForm (you know, the one that people wear helmets on indoors).  Anyway, my friend was asking me how to compare that against something like an electronic trainer from Tacx or Wahoo.  He's not a huge cyclist, but more into spin classes.
No more than about 6 minutes later did I randomly stumble past the Peloton booth at CES.  So, I figured I'd get a bit of a demo into what their whole system is.  And surprisingly, I came away impressed.  I say surprisingly because I'm not really into expensive stationary bikes, nor equally expensive paid services.  However, for a very narrow audience, I think this is a spot-on platform.  But first, let's start at the beginning.
The Peloton Platform:
The first thing you need to know about the Peloton platform is that you'll need one of their super swanky indoor cycling bikes (technically it's not called a 'Spinning bike', since that term is trademarked, thus, the industry uses 'indoor cycling' instead of the less exciting 'stationary bikes').  But yes, all of us call them spin bikes, even if they don't.
In any case, this beast of a bike will set you back $2,000USD.  Or roughly, the price of a mid-range road bike.  Or about 1.5x-2.0x that of a high-end computerized trainer, depending on model.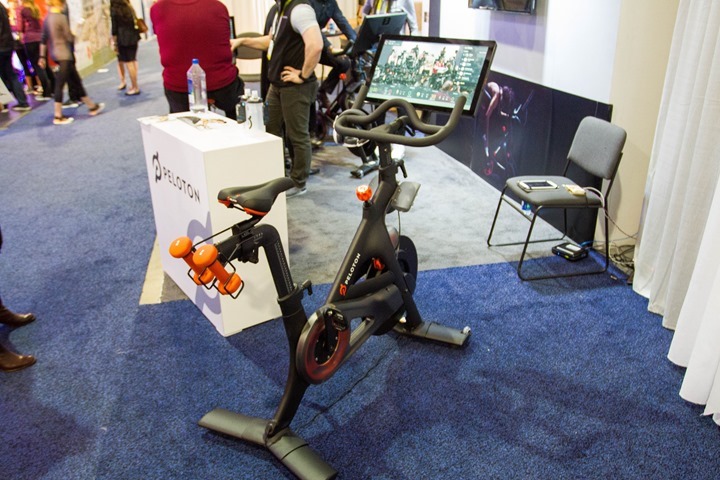 Now, the specs on the 125lbs bike are impressive.  First up, it includes a 21" 1080p display up there, which seemed pretty beefy.  It's also WiFi connected, as well as supports Bluetooth (for audio) and ANT+ (for HR straps).  Oh, and both water bottle and dedicated dumbbell holders: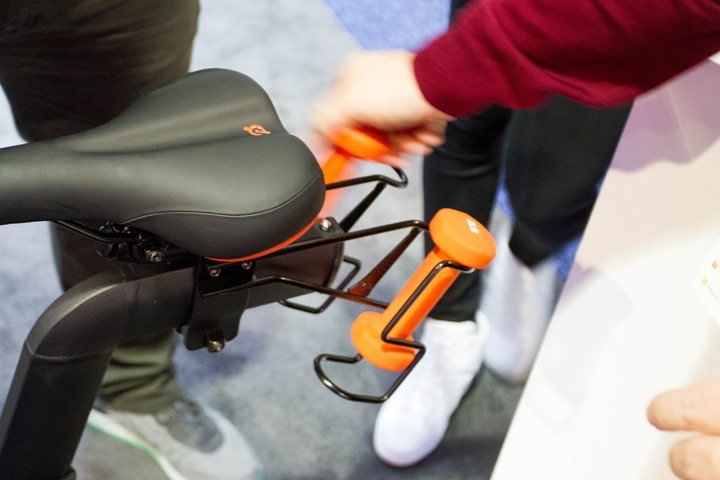 That screen includes speakers, as well as a microphone and camera (but more on that in a moment).
Now the primary draw of this bike is the connected platform, a platform which is both required and pricey at $39/month.  Essentially, everything about this product is pricey, but as I'll explain in the next section – I think the monthly fee is justifiable.
The platform is all about video content, but not just recorded content – rather, live too.  You'll sign-in with your profile and see a slew of options on how to get a workout in.  These include viewing any existing recorded spin classes, as well as videos from scenic spots: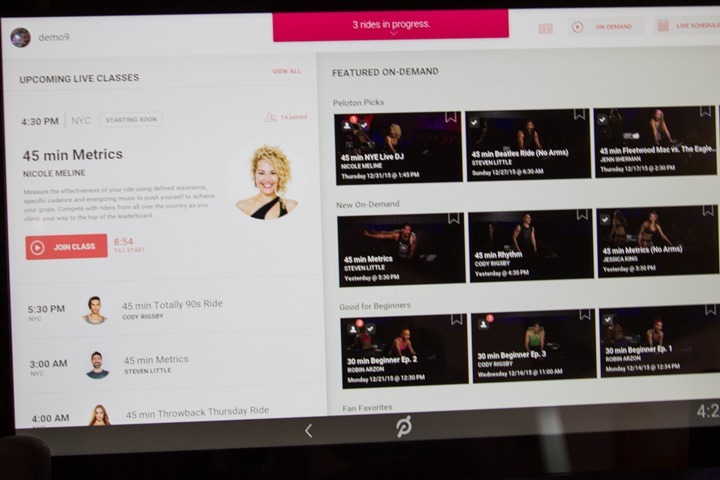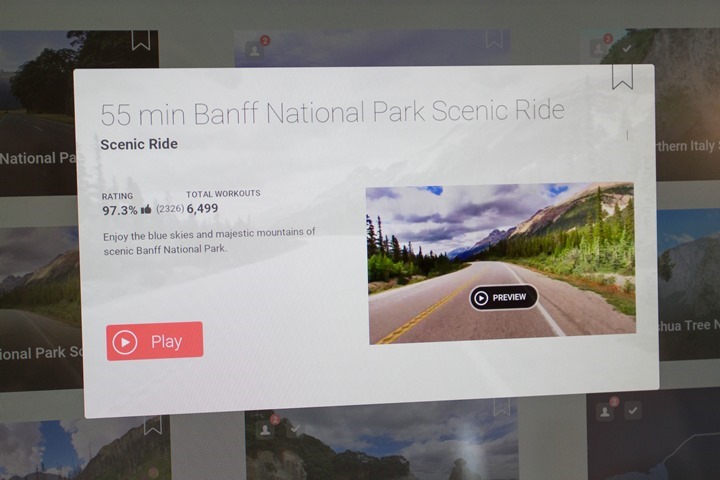 They've also got random rides, like this celebrity one too.  You could have done this live, as well as now recorded.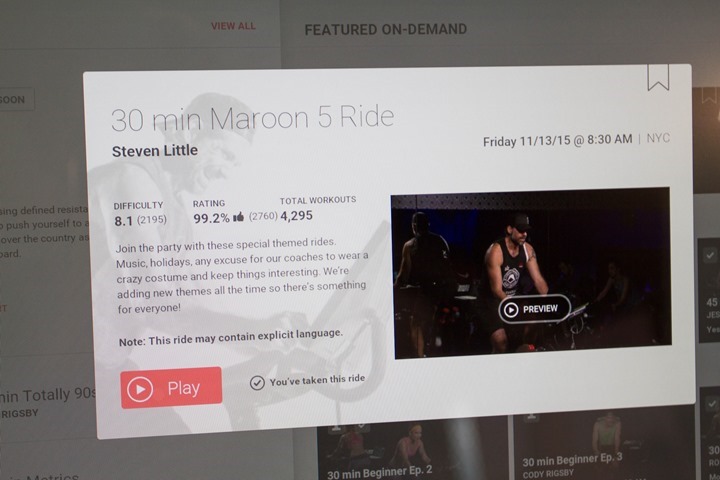 But the most interesting piece is the ability to join a spin class live.  For this, there are multiple sessions per day.  I actually waited around in the booth until the next one came on, which at roughly 12 live classes per day, most heavily grouped at fairly logical workout times during the day.  For example, here's the schedule for today and tomorrow (note that it's not showing the 6AM Monday class, since it was prior to my screenshot):
And, here's how it appears on the screen:
Once you launch a class, you'll see the instructor live.  You'll also see the other members of the class listed on the right, sorta like a chat window.  You can communicate with them, and even open up a video stream to them if they agree (remember, the camera is in your TV screen).  The quality is HD, and seemed pretty good – though, there were certainly some drops in the connectivity/quality due to the poor WiFi at the convention center.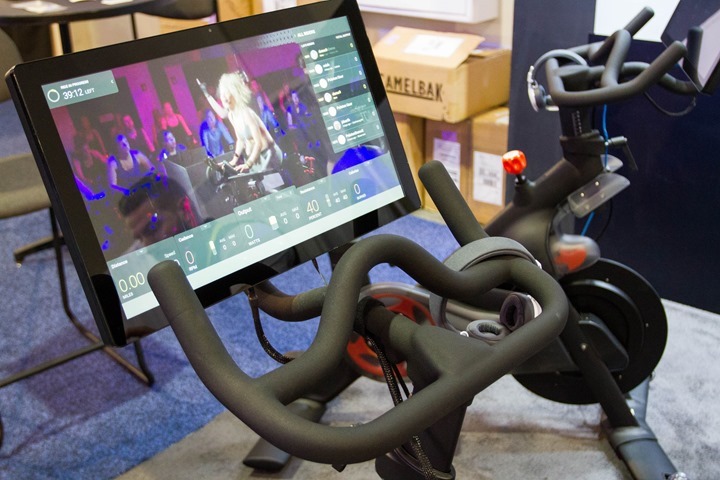 During the class you'll hear the instructor's instructions as well as see various camera shots live of the instructor and others in the class.  And I think that this gets to the main interest point here for me – it's a live class with real people in it.  When you're watching the screen, you're seeing actual humans in a live class in NYC, not just some recorded thing somewhere without others.  When I picked some random 4:30PM live class on a Wednesday, it was showing nearly 130 others logged in at the time into that specific class.  Pretty impressive.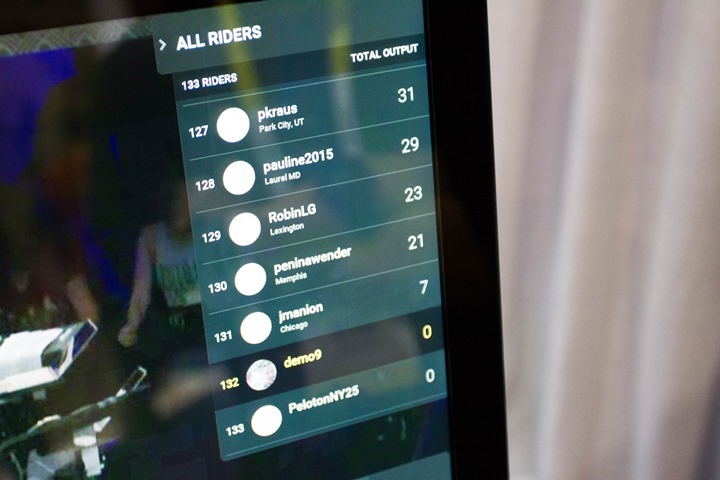 You could tap on anyone (it's a touchscreen running Android), to see their current metrics.  So here's some random person that afternoon that I tapped on: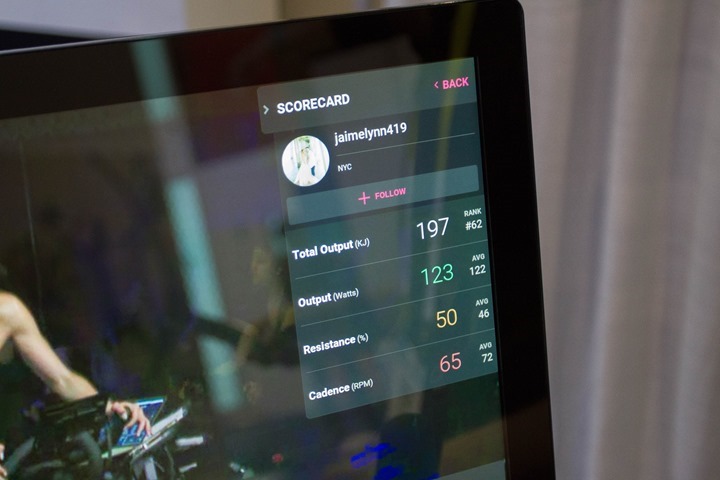 If I tapped to 'Follow' her, and then she accepted, I could have also begun a video session with her using the small camera at the top of the screen: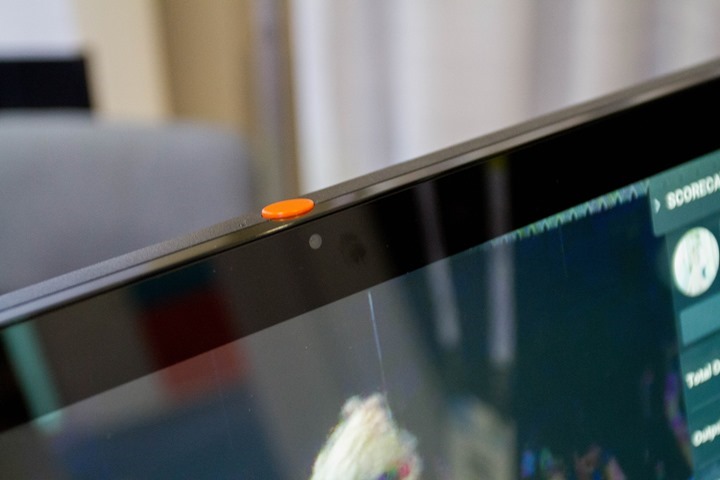 Also note that you can pair a set of Bluetooth headphones to the console as well as just used plugged in ones.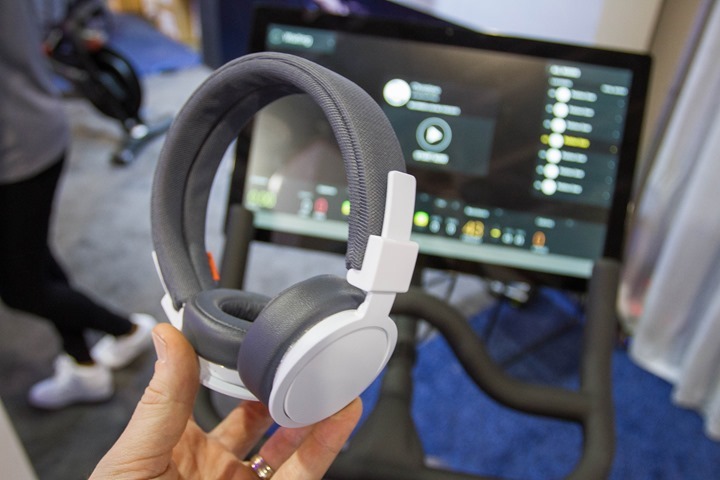 On the unit itself, you'll see power, pace, speed, distance and other metrics you'd commonly find: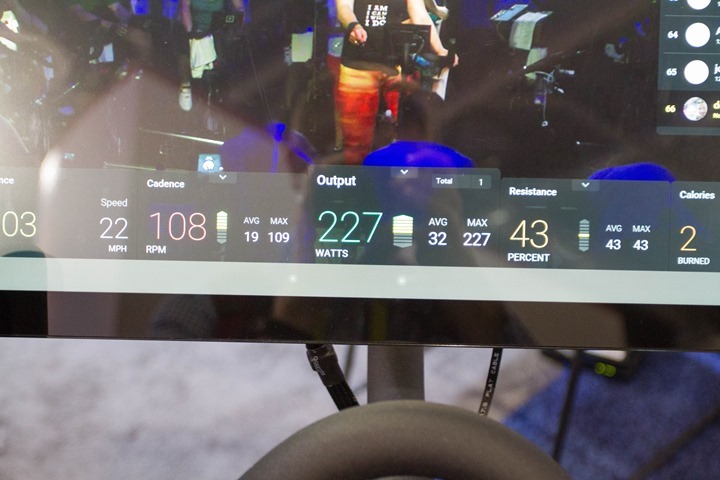 The heart rate field would come from any ANT+ connected HR strap.
These are all then saved to your profile later.  The same profile that's accessible from the main screen within the class.  So it's sorta like Strava meets Facebook (there are privacy settings of course), with the ability to video chat while you're pouring sweat.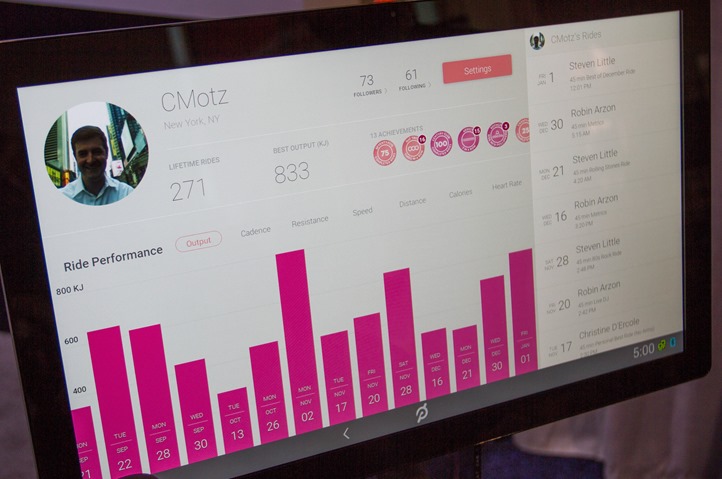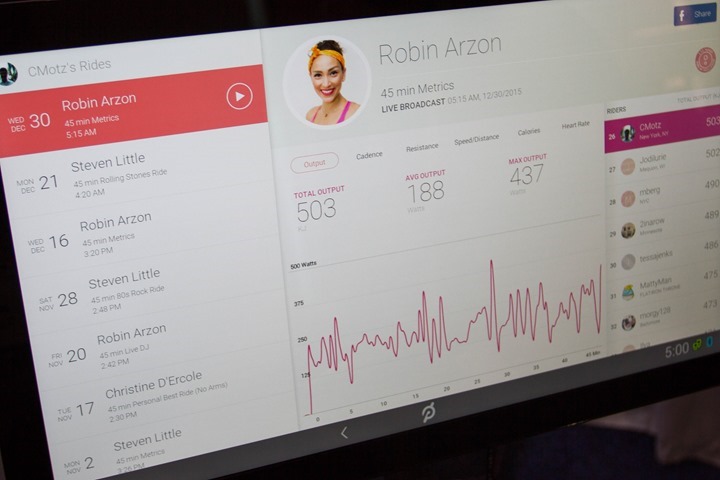 The only downside here is that there's no way yet to actually export/connect any of this data to Strava, or other platforms.  The company says that kind of integration is something they're looking at – but I didn't get the impression they had a timeline for that.  Just sorta a 'Oh, this answer will appease him'.
A Few Final Thoughts

:

Now, regular readers know that I'm hardly a fan of stationary bikes or islanded platforms.  Nor of expensive gadgets just for the sake of it.  And in fact, this manages to nail all of those.  With just one exception here: It's executed very well, and in this case it might be cheaper or easier for a certain segment of the population.

That segment being those that actively go to spin classes.  At $39/month for unlimited virtual classes/videos, it's undoubtedly cheaper than going to an actual studio numerous times a week.  And in many ways you're getting a fairly similar experience due to the live connectivity.

Of course, you have to be the type of person that's really into spinning (or, officially 'indoor cycling').  For me, not so much.  But for my friend I mentioned – it actually makes sense.  That's because he's unlikely to find much interest in the TrainerRoad or Zwift platforms used on indoor trainers, compared to a structured spin class like this.  Just the way his personality is – and that's great.  Of course, it is more expensive.  Though less so if you're paying a lot for spin classes each month.

I also think the company is missing out on a huge segment of doing something similar for those with regular trainers though through their subscription service and a laptop/tablet/computer (Update: You can do this on their iPad app for $13/month).  Undoubtedly their main goal is to get thousands upon thousands of people paying $39/month for the service.  The actual hardware probably isn't a huge money-maker for them comparatively.  And the metrics like speed and HR don't really matter to the platform anyway.  Though I believe they should be offering a way for folks to export that data to 3rd parties.

With that – thanks for reading!

–

Don't forget to check out all of the DCR CES 2016 coverage, as well as a slew of updates that were only seen on Twitter.  It was a crazy busy week!