You may remember last fall at Interbike I spent a bit of time getting a tour of all of the ANT+ enabled gym equipment.  These are commercial grade pieces of exercise equipment (Gym equipment) that can connect with certain ANT+ devices, namely some of the Garmin Forerunner series (though, nothing is stopping any others from connecting to them).  The devices in turn offer detail such as speed/pace, distance, and even power output (cycling).
Given I was on a show floor last September, it was a bit difficult to get more than a fleeting glance at some of the offerings.  In such some of this may be similar to what I wrote last fall.  This time though I really wanted to play with it on my own without a bunch of PR people standing around and with regularly used gym bikes – not perfect show-floor samples.
Over the past week I got access to the Equinox Gym just outside of DC as part of the Men's Health gig, and they are one of the few places out there that actually has some of the ANT+ enabled spinning bikes.  Thus naturally, the only logical thing to do was go visit them.  These Gym's have the Schwinn A.C. Performance Stationary Bikes in them, combined with the Schwinn MPower Performance LCD system (ANT+ compatible).  Now, Schwinn very carefully calls these 'stationary bikes', as opposed to 'spin bikes', likely due to various licensing issues.  But, since I'm just a normal guy – I'm going to call a spade a spade and just call it a spin bike.
In this particular gym, the spin bikes aren't used very much – only twice a day for an hour, and even during that hour, it doesn't appear the classes are very full.  Outside of that timeframe though you're welcome to use any of the equipment you see fit.  So I simply picked a time in between classes and got busy.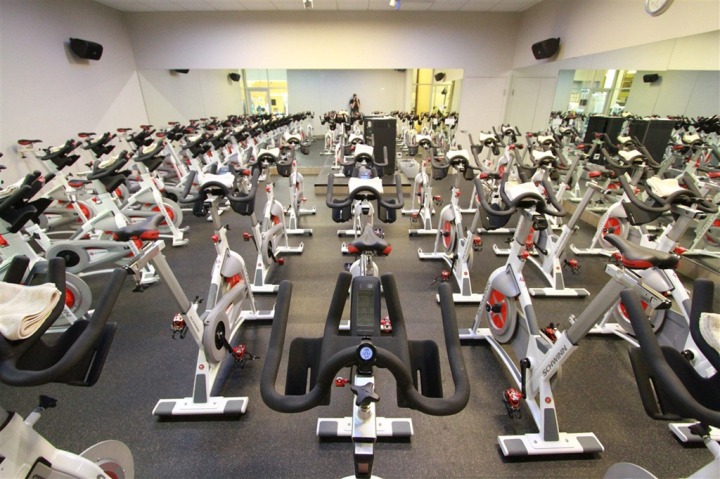 From a basic functional level this spin bike isn't terribly different than any others.  In fact, if you were to remove the LCD console, you'd probably be hard pressed to tell it apart from a regular one.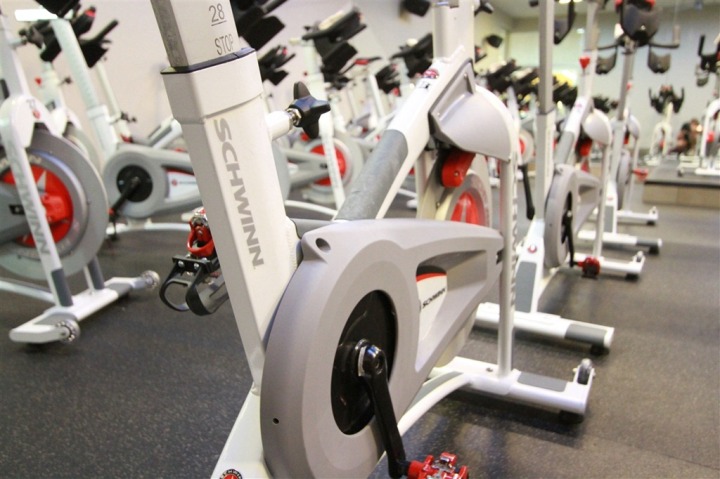 However, the biggest stand-out feature is the ANT+ enabled LCD console, which gives you all the data points you've come to expect from a typical bike computer: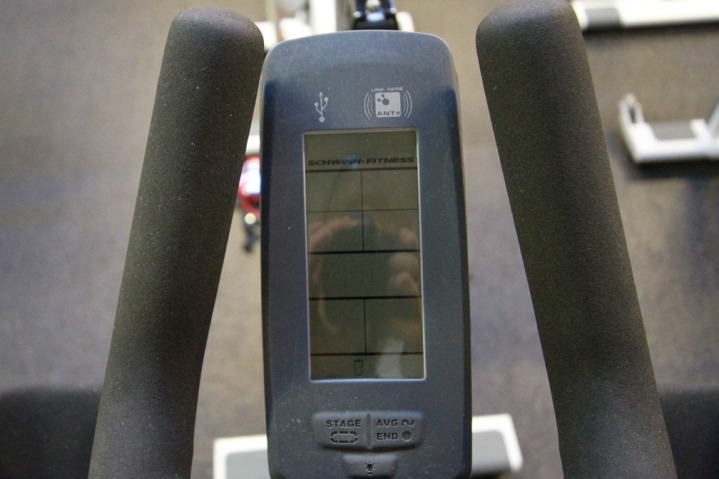 At the top though is the important part, the little ANT+ logo.  Think of this one square inch area as a ANT+ hotspot, and anything ANT+ that you rub up against it will start talking to each other (kinda like on a dance floor).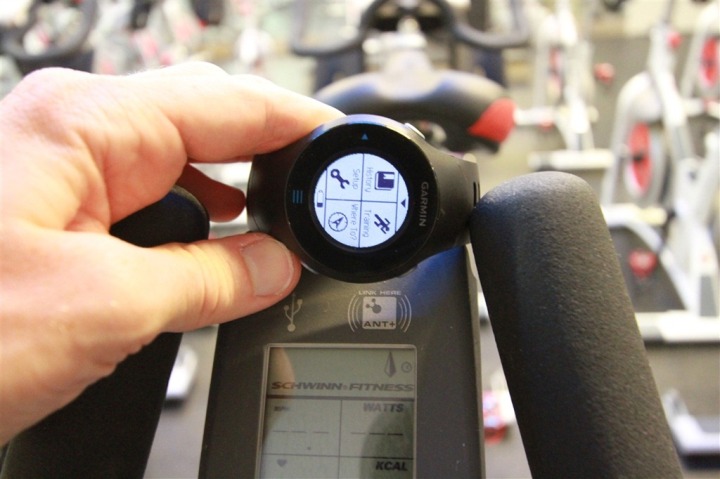 In my case, I was using the Garmin FR610.  Though, there is also support on the Garmin FR60 and FR310XT.  Again though, other vendors could add this functionality if they wished to.  Once you get rubbing, a short moment later the watch will let you know that it has found its friend: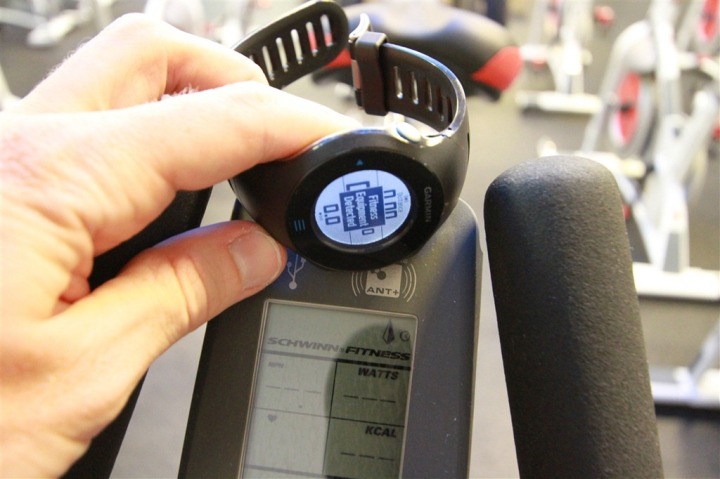 At this point, you're basically ready to go.  What it's done now is create a link between the two units – a tether of sorts.  Though the data flow is largely one way, from the bike to the watch.  But as part of this data flow it's sending over cadence speed, distance, cadence and power.  Here you can see cadence being displayed: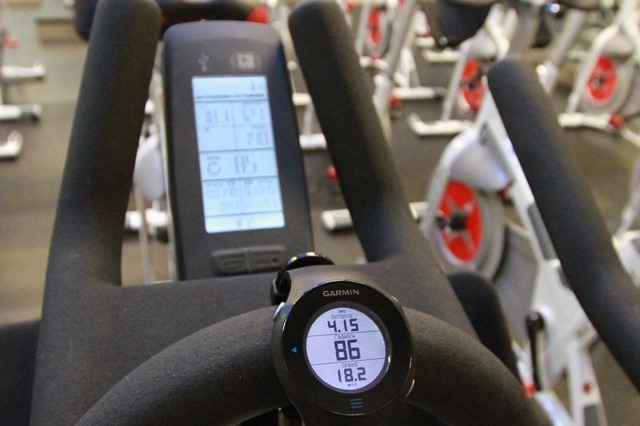 There is a small bit of lag between the bike LCD screen and the watch – perhaps 1-2 seconds.  This is pretty much fine though because realistically you're looking to just record data here more than monitor it (since you can monitor it just fine on the giant LCD screen).  You can see the lag above where the watch shows a cadence of 86 while the unit shows a cadence of 85 (center of LCD).  Of course, all of this cadence information is stored as well: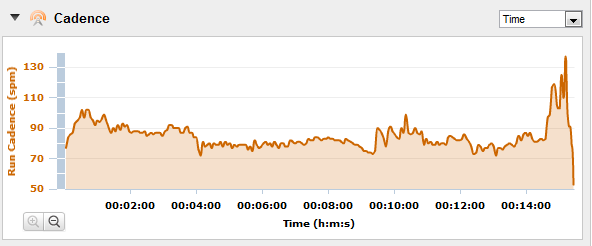 The two devices keep in sync for basic things like laps/splits.  For example, when I press the lap button on the LCD screen, the unit will automatically trigger a lap on the watch as well.  You can see that below in this short video clip:
ANT+ Spinning Bike with Garmin FR610 synchronized
I thought it was interesting however that pressing lap on the watch won't trigger it to lap on the bike console.
Laps/splits are all recorded on your watch just like your normal lap/split function – all later accessible within Garmin Connect (or any other application you use):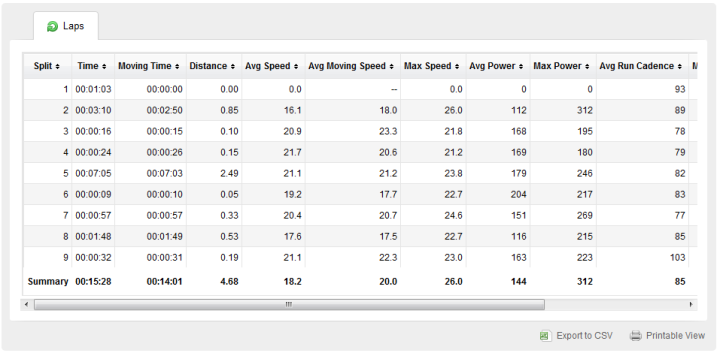 I think for me, I've always said the coolest thing about the ANT+ spin bikes is that it will send out power information.  It does this via measuring the angle of the resistance unit on the bike itself.  Now, the real kicker here is that it will send this to watches that don't otherwise support power (watts) – that's the cool part.  For example, the cheap $90 Garmin FR60 doesn't support power meters…but does support power via the spinning bikes.  Same goes for the running focused FR610, it doesn't support power meters, but does support power data streams from the fitness equipment. Note however that it won't display power on the FR610 itself, but rather just afterwards online. Since power data is on the console in front of you, I can understand that compromise.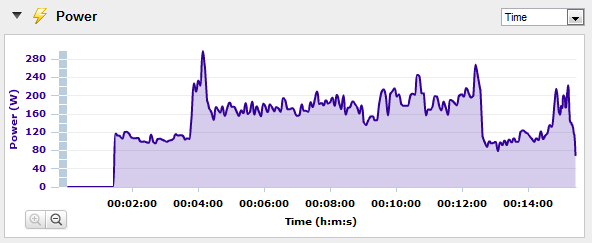 One of the more interesting things I discovered when playing around with the FR610 compared to my previous 2 minute Interbike show floor test with the FR60 is that the FR610 with the increased recording options allows you to record the data at 1-second intervals.  I noticed it initially in Garmin Training Center when looking at the activity moments after it downloaded, but it wasn't until I broke up an XML editor that I was able to validate the data is being streamed and recorded at 1-second intervals (I've highlighted the 1-second increments in yellow):

And to geek-out for a brief second (everyone else can move along), I found it interesting that unlike most .TCX files where the power value (watts) is stored at the same XML level as the distance/cadence, but is instead recorded one level deeper in a subtag called under 'extensions' (along with speed):

Had I been wearing a heart rate strap, that data would have been recorded as well, but alas, I somehow managed to forget it at home.  Thus, perceived effort was my only indicator aside from power – and with the sweat slowly building, it seems like I was at least showing some effort: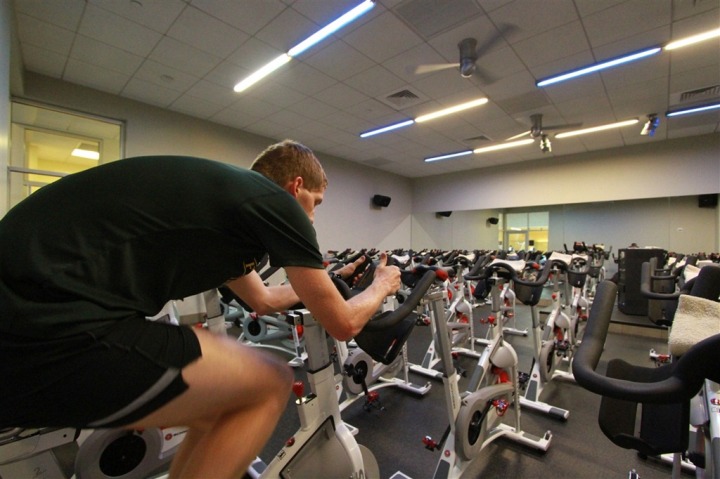 Now, this is all very cool – but the biggest challenge continues to be club availability.  Today, it's largely limited to a few high-end clubs, such as Equinox and Life Time Fitness.  And based on changes in the last 1-2 years – either that hasn't changed…or the official list hasn't changed.  I suspect it's probably a little bit of both.
The issue for most gyms or rec centers would be the justification for increased costs of these machines and the extra LCD dashboards over standard units.  Multiply that times 20-30 units and it starts to add up – especially in the razor thin margin world of gyms.
Unfortunately, the number of folks out there that can take advantage of these bikes is pretty small.  While Polar has great penetration at the low-end of the market with many of their cheaper (sub $120) heart rate monitors (which aren't ANT+), Garmin lags a bit there.  This is likely because Garmin only has one product – the FR60 in that category (about $90).  And their marketing simply isn't there to drive product adoption of that line.  While in the ideal DC Rainmaker gym I'd love to have bikes like this (and anything else that integrates), I can certainly see it being a tough call to make – especially given how few customers could take advantage of it.
Of course, Garmin could drive increased adoption of these through a firmware update to their other Forerunner watches that don't support it today, specifically the FR405/FR410, the FR110/FR210 and then the FR305.  Once you add in these watches (especially the FR305), you start to really get a much larger group of folks that could take advantage of them.  Heck, even an update to the Edge 500/Edge 705/Edge 800 wouldn't hurt, since road cyclists and spin bike folks likely have more crossover than runners and spinners.
Though the blame doesn't fully lie with Garmin either here – there are plenty of other ANT+ watch makers that could fill in and offer support.  Further, one of these could look to create a watch that is price-wise competitive with the FR60 (and most of the popular Polar units) that could work with these units.
With that – I'd love to hear about your experiences with the units out there – do they work well in full class environments (they should, since pairing is unique)?  Are you seeing many people use the functionality if your gym supports it?  Drop a note in the comments with your thoughts!