Continuing the day's trend of posts indoor bike related equipment, I'm going to cover a bit of ANT+ equipment that's been making it's way onto the market.  The primary reason is really that I thought it's actually super cool when you look at the results you get at the end of the day on Garmin Connect.  And the ancillary benefit is that it may already be at a gym near you with you realizing it.
There are actually a handful of indoor fitness equipment manufacturers already working on ANT+ products destined for the gym (aka: commercial use), but there was only one vendor at Interbike that had ANT+ enabled gym products that I could play with in person.  That said, I did get to briefly stop by two other vendors at the show – LeMond Fitness and Octane Fitness and talk with them about the future of exercise equipment, which I'll probably loop back around to in the future when they have more to share.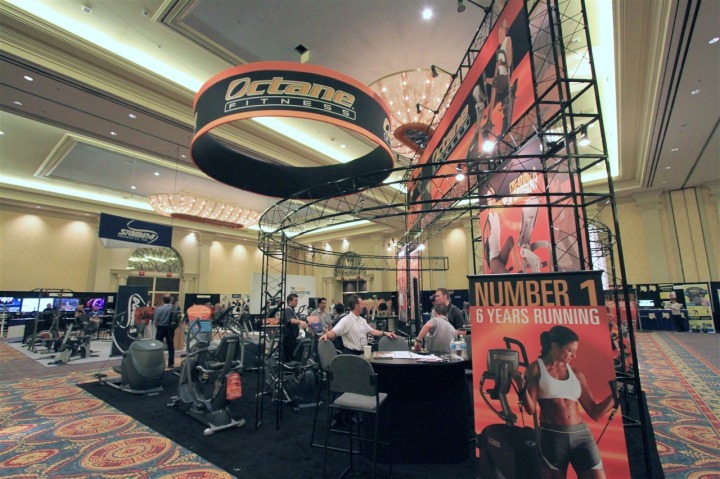 However, the real hands on fun came when I got to try out this stationary bike from Schwinn (no, it's not technically a spinning bike).  At first glance the bike looks like any other bike you might see in a gym…except that that is has two water bottle holders – making it doubly as cool as any other bike.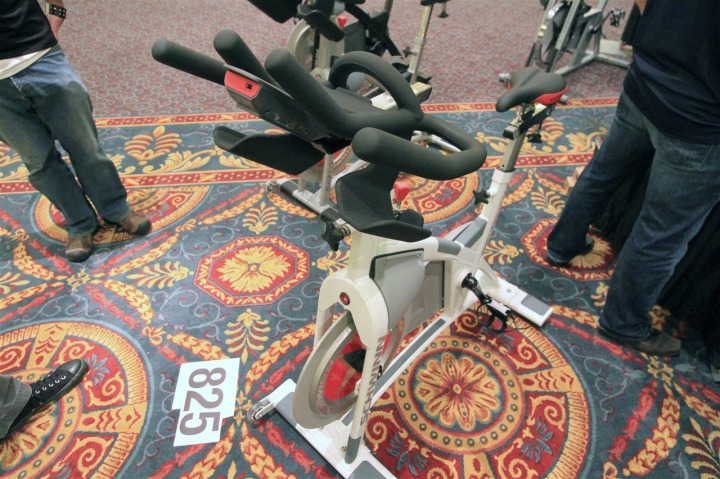 But once you sit on it and get beyond the double-water bottle holders concept you'll notice the fancy LCD console that has the tell-tale ANT+ logo on it.  It also has the USB logo too, but that's sorta like eating your vegetables – expected, but not exciting.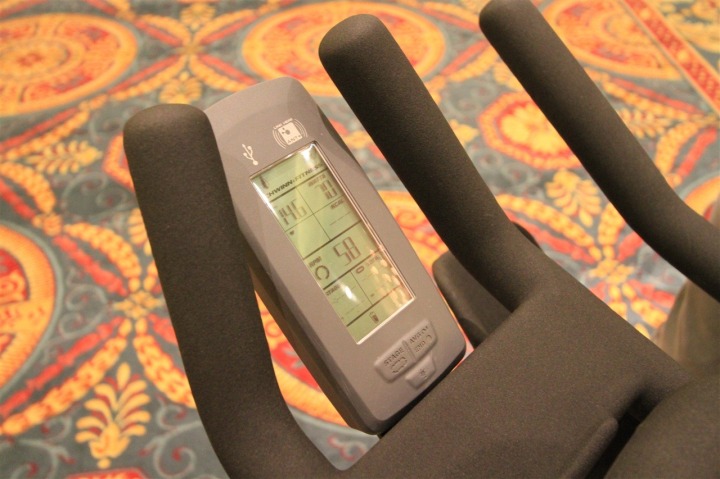 Next, we give the bike a few spins to get the LCD turned on.  From there, the guys in the booth ask me for my watch.  At first I think this might be a mugging…but turns out – they just want the ANT+ enabled Garmin Forerunner 60 I happen to be wearing.  Since I first got this watch last year, it's become my standard watch that I wear day in and day out as a regular wrist watch.  It looks like a regular watch, but also has all the advanced capabilities of a fitness watch, including ANT+ integration.  The only thing it doesn't have is GPS.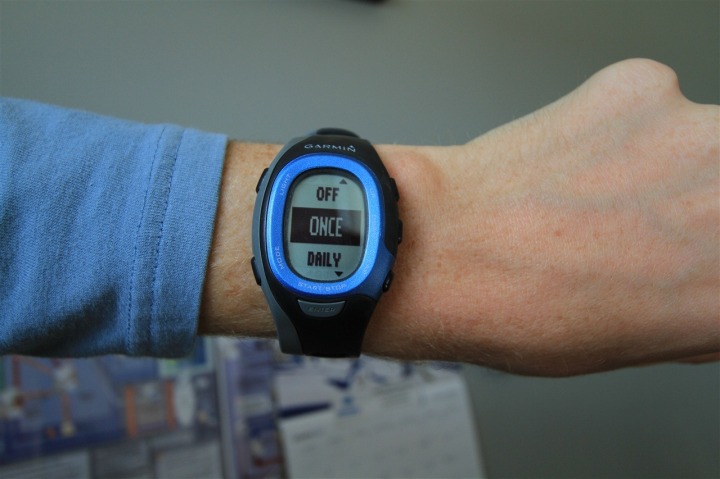 (A handy photo I had of the FR60)
Once they'd successfully stolen my watch, they went ahead and brought it close to the LCD display console near the ANT+ logo: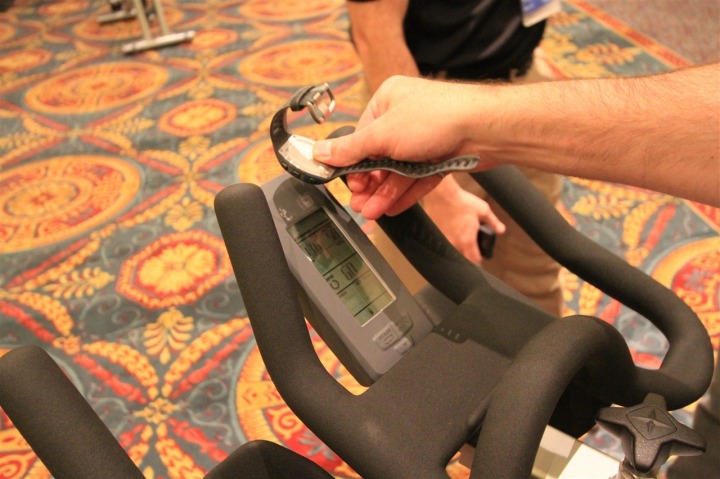 Apparently they thought some sort of magic was going to happen here, like a McDonald's commercial. 
Turns out…after a bit of beeping, it was magical.
From this point forward, everything you'd do on the console would be mirrored on the FR60.  Meaning, it was kinda like having a remote control for you watch.  When you started spinning, the FR60 would automatically start displaying data and recording – and it even knew based on the ANT+ device profile of the bike that you were 'cycling' and changed the mode on the FR60 to a cycling mode.
Device profiles allow ANT+ enabled devices to categorically process data from a given type of device.  For example, a cycling device would have data such as power, speed and cadence.  While a rowing device would have different parameters.  There's even ANT+ device profiles for e-bikes, including data streams for things like exactly how much motorized assistance it is giving you.
In the case of this stationary bike, it can actually transmit power data to the FR60, despite the fact that the FR60 doesn't natively support it.  Power (watts) on this particular unit is measured via determining the angle of the resistive unit within the bike itself.
If you click on the below picture to expand, you'll note that the speed (bottom of FR60) says 17.66MPH, while at the same time – the speed on the bike itself is also 17.7MPH (the FR60 overachieves in giving exact speed).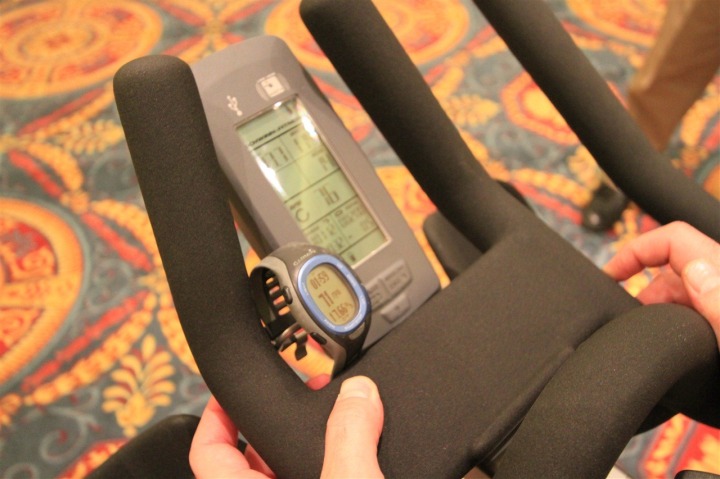 Further, if you press the 'Interval' button on the trainer, which triggers a standard lap – it'll do the same on the FR60.  Once pressed on the console, a split second later the FR60 beeps just as if you had pressed it on the watch itself, and then shows the usual lap summary information.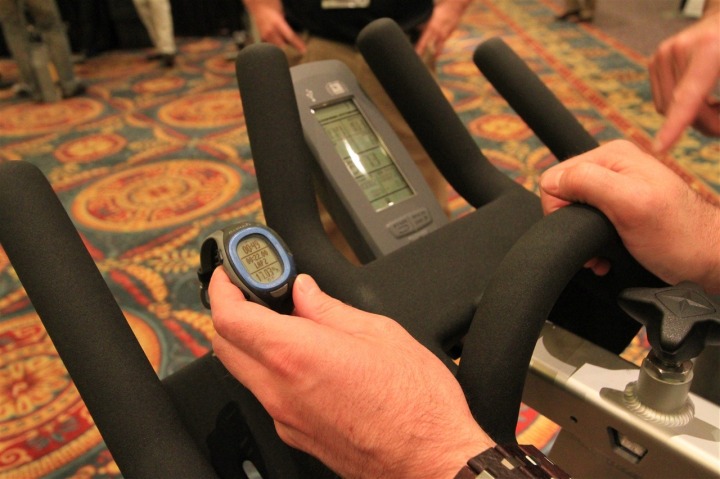 What's cool about this is that you don't even need to pay attention to your watch during the workout – you just simply wear it like normal.  And if you're wearing an ANT+ HR strap, then both devices will pickup and record the data.  Also, if you stop pedaling long enough that the wheel stops – then the console and watch will auto-pause as well.
But if you don't have an FR60, fear not – the device will still record all the data to a USB stick that you can attach on the back of the console.
But the real kicker here is still to come.  See, once you're done with your workout it'll automatically be recorded on your Garmin FR60.  And after coming within range of your computer and its ANT+ USB stick, it'll upload as it normally would to Garmin Connect.
The first thing you might notice once arriving on the Garmin Connect scene is that the activity is automatically tagged as 'Indoor cycling' – based on the ANT+ device profile of the indoor bike:

Then you'll probably notice all the detail you now have on your ride: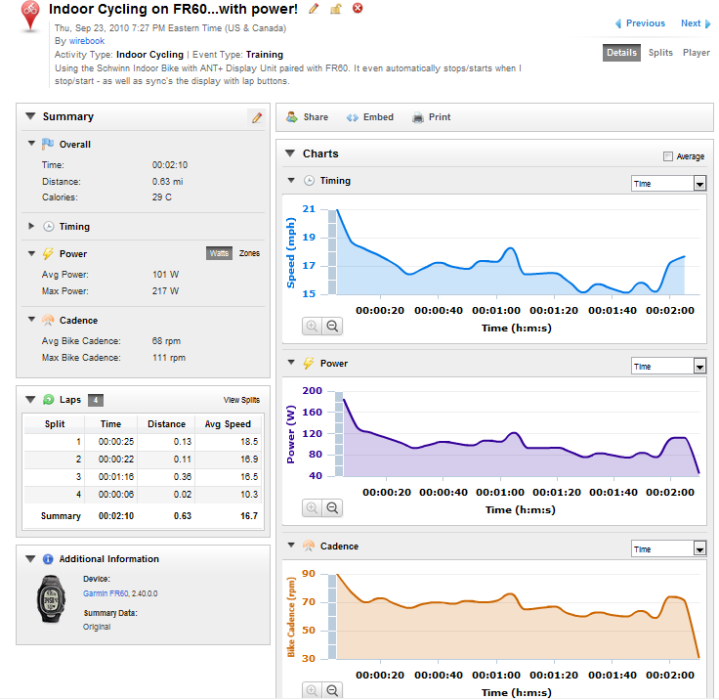 It wasn't a terribly long ride, and I didn't have a heart rate strap with me – so you don't see the HR data.  But if I did have it with me, that data would be there too.
But – what's the one piece I'm really really really excited about?  It'd be the one in purple…as in Purple Power!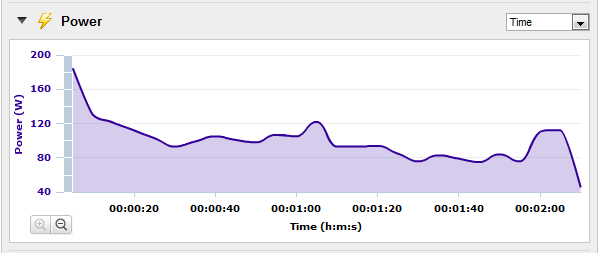 Yes – despite the fact that the FR60 can't actually record power (watts) data normally, in this case…it can.  You now see all the power data from the ride, recorded at 5-second intervals.  Yes, it's not quite as perfect as 1s intervals – but it's also better than smart recording in some cases.  Also, with an indoor stationary bike and no gearing, your power output data is likely going to be a bit more smooth on average than outside or with gearing.
And just like any other activity on Garmin Connect, you get all the lap and split data as well based on the laps you pressed on the console or your watch:

And, you also get the usual activity player to relive your gym glory minutes/hours as if you were an ESPN sports star: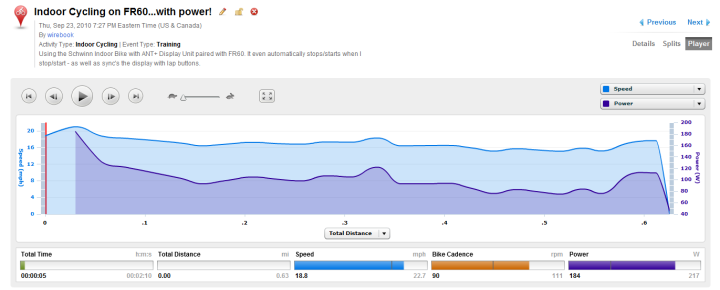 If you want to look at the data more in depth – feel free to check out the raw Garmin Connect activity file/page here.
Now the fun part is that you don't have to wait for anything new to come out to use this stuff today.  It's already there in a handful of Gym's and Rec Centers across the country.  And of course, the FR60 has been out for about a year now, which also integrates with the wireless ANT+ scales such as the Tanita BC-1000.  You may remember when I reviewed both the FR60 and the BC-1000 it this past winter.
You can lookup a listing of all of the places/gym's in the country that are ANT+ compatible via this link here.  Though the list is somewhat small today, there are a few major chains such as Equinox and Life Time Fitness which have them – making them a bit more accessible.  Or, I suppose if you were really dedicated to the cause, you could just plunk down a few grand for a machine of your own.
In the meantime, hope you found this sneak peak a bit interesting.  I think as gym (commercial) machines advance, we'll continue to see more and more integration with devices – be it over ANT+ or other protocols, as well as to both dedicated devices like the FR60, and also to multi-use devices like cell phones.