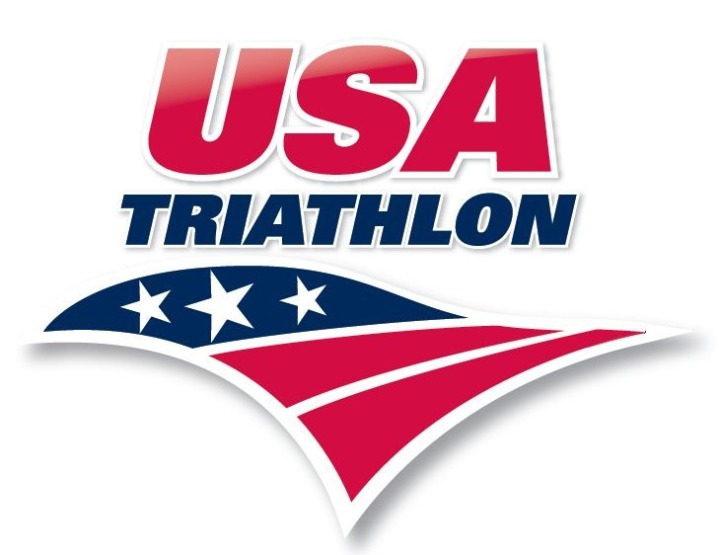 There was an article published back a few weeks ago from EverymanTri with the title 'What has USAT done for me lately?', you can go ahead and read it over there. In short, it highlights some of the structural changes that have occurred at USAT over the past few years, and in particular – the top dog leaving that week as well.
The post essentially notes that for the average age group competitor – USAT does very little.  And with that…I generally agree.
However, I think it's worthwhile talking about what USAT does do.  That's not to say there are TONS of things I agree with them on.  For example – I too dislike how little I (Ray) personally get out of my money, well, besides that cool sticker.  I dislike the fact that they don't truly enforce sport/rule standards across all events that are supposedly 'USAT Sanctioned'.  And I dislike the fact that USAT is very much a clique of a small group folks – with few open doors into the organization.  And I hate the lack of alignment between them and WTC (who runs Ironman/Ironman 70.3 races).  Yes, blame is on both sides…but get a room and figure it out.
But, let's talk about the primary mission statement:
"Our mission is to encourage, support and enhance the multisport experience in the United States"
And, to the degree that's possible – I think they are accomplishing that goal.  There has to be an organization that sets rules, policies and procedures – and USAT is that organization.  Are there more inclusive organizations?  Yes.  Are there less inclusive ones…yup.
But the real question one has to ask itself is: Do we want American's on the podium at the Olympics?  After all – that's fundamentally what all the elite and junior elite programs aim to accomplish.  And if we look at the ability for an organization to foster interest in the sport, at some point that has to happen at a younger level – the same younger level that gets kids engaged for a lifetime of sport, perhaps even at the world class level.  Because the end goal of these development programs is to put an American on the podium with a gold medal around their neck.
(I say American because while I recognize that all you reading out there are from every country imaginable, it's not USAT that's going to help your athletes out.  Though – virtually every country that has a triathlon program faces the same issues.)
In the case of USAT, they have one of their six 'programs' dedicated to this cause – the Sport Performance group, which covers all of the following areas: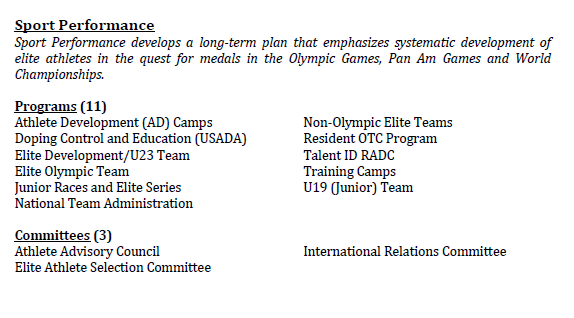 Regardless of what sport federation you're talking about – almost all of them have the goal of getting youth into the sport, and then moving them along through a series of gates, eventually making the cut into a 'World Stage' type competition or team.  In the case of USA Triathlon, that destination is the ITU series (not the Ironman events, btw), which is based on the Olympic Distance (International Distance).  Unlike the races that you and I race, these are draft legal races.  If you're not familiar with that format of races, read up on that post.  Like it or not, the ITU series is the gateway it the sport of triathlon to the Olympics.
Of course, the goal of such youth development programs would be to nudge and follow along the progress of prospects at a young age and ensure that the right steps are taken to end up with a well rounded triathlete.  Not just a swimmer or a runner (let's be honest, nobody ends up as just a cyclist).
The problem is…we suck at this.  No really, we suck at this a lot.
There's no clear path from being an 8-year old that enjoys all three sports, to the podium in 2026.  There are clear paths for all three sports individually that make up the sport triathlon – but not triathlon as a whole, it's a hodge podge of events and a disparate series of gates to try an achieve.  It's no wonder we (the US) only have a single bronze medal in the sport – despite having arguably the largest triathlon base by an exponential factor compared to any other country.
When I was growing up in Seattle I ski raced pretty competitively.  Competitively enough that in high school I as a racer could very clearly identify each step and milestone along the way to making the US Ski Team, and thus eventually the US Olympic Team.  There wasn't a fog around how to get there or what races you had to be at or who your coach had to be.  All of it was (and still is) crystal clear.  It simply became a matter of skill and dedication.
But that's not the case with triathlon.
And USAT even acknowledges this very fact in their annual report:

So – one must ask not – 'Where does your money go?' – but rather, 'Is it enough money to make the process work?'.  Only a sliver of your $40 goes into trying to make the dreams of athletes come true, after years of brutally tough workouts. 
In the past, your only glimpse into world class athletes was the little CBS human interest segment done between events during Olympic coverage every four years.  But now, you can follow along on the blogs of many Olympic hopefuls.  You can read daily as they suffer setbacks in both training and racing, as well as victories in racing and sponsorships.  But the reality is that while triathlon is undoubtedly a 'rich man's sport', it's also an incredibly tough sport for young up and coming athletes to make work financially. 
USAT attempts to bridge that financial gap and offer folks a shot through stipends and financial assistance.  But I don't think today USAT is either funded or organized to do that effectively.
For example – how much money do you think USAT as an organization works with today?  Turns out (after reading their exciting financial report), it's $11 Million Dollars (US).  Of which, only $75,000 goes to 'Stipends'.  Sure, other related money categorized slightly different fills bits of other buckets – such as grants/sponsorships coming in at $137K.  But to put that in perspective, they spend 20K on telephone bills.  The remainder of the expenses is spread across numerous cost centers and initiatives.

So – to wrap up – if I ask: "What has USAT done for me lately?"
The answer is..well..not a lot. 
But if I ask "What has USAT done for people that need it?"
The answer is: Some…but there's always work that can be done.  Lots of work.
What do you think?  Should USAT focus on trying to get folks on the Olympic podium, or should the money continue to be more heavily weighted towards the bulk of the population – Age Groupers?
(Interesting side note: Their business plan document is incredibly fascinating.  Basically a 29-page 'what we learned this past year' divided up by each organizational component.  I've got to do an entire post just on all the nuggets in there.)