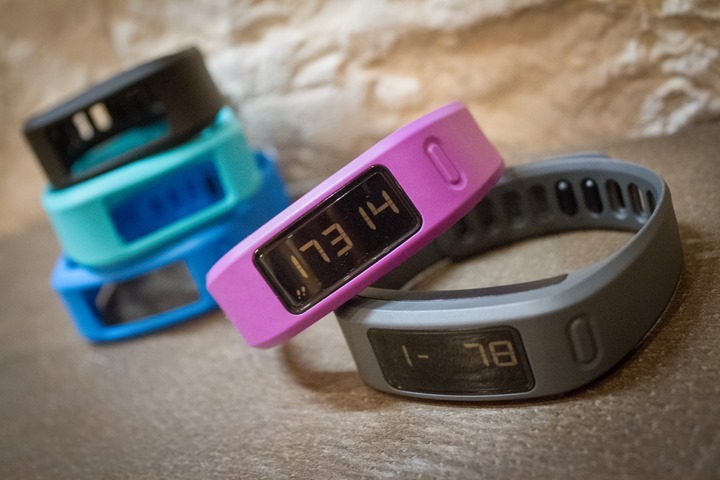 Update March 12th, 2014: I have published my full In-Depth Review of the Vivofit here. Please head over there for full details and the latest.
Today, Garmin announced their latest fitness product, and first entrants into the activity monitor world: The Vivofit and Vivoki.  These two products are designed to compete head to head with more entrenched incumbents like the Nike Fuelband and FitBits, but yet in many ways the product is squarely targeted at Polar, and their recent entrant, the Polar Loop.
See, like the Polar Loop, the Vivofit not only tracks Steps, Calories, Sleep and Distance – but also connects to a heart rate (HR) strap.  In Garmin's case, ANT+ heart rate straps (whereas Polar connects to Bluetooth Smart HR straps).  And, like the Loop, it uploads everything via Bluetooth Smart to your smart phone (iOS or Android).  The Vivofit can also upload via ANT+ to your computer with an included ANT+ USB stick.
But, before we get too far ahead of ourselves, let's start with a few basics.  The unit will come with two wrist straps in every box.  One is a smaller rubber wrist strap, and one a longer wrist strap.  Both straps will be the same color however (whichever color you pick).  Inside one of the straps you'll have the small display pod that can semi-easily be pulled out and popped into the bands.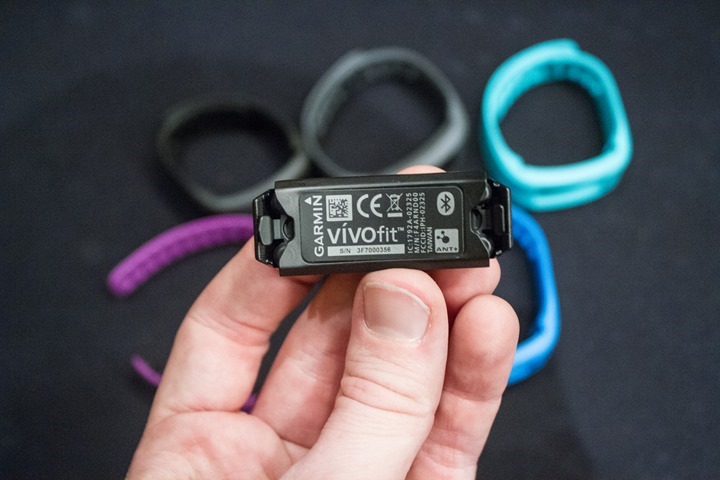 The devices operate for 1-year on two coin cell batteries, of the CR1632 variety.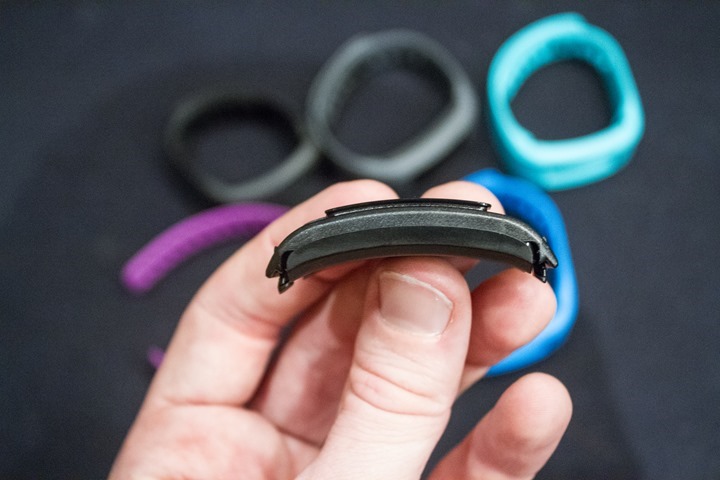 You can see the colors of the bands throughout the post.  But basically it's black, blue, teal, and purple.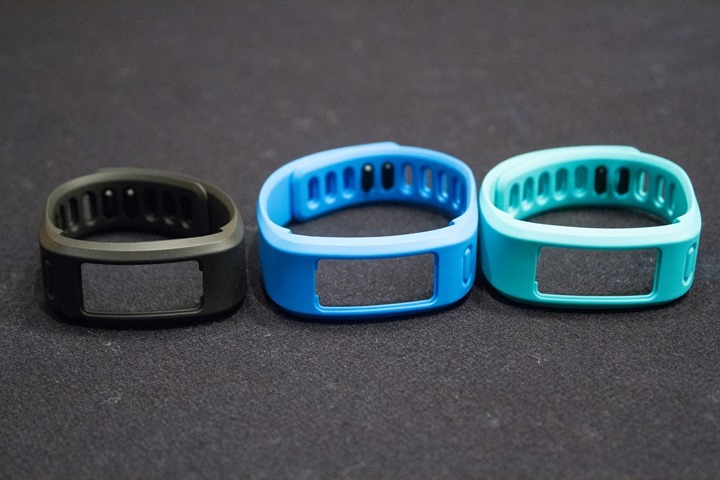 To use the band, you'll simply affix it to your wrist.  Like most activity trackers, the Garmin Vivofit falls into the wrist-based camp.  Typically speaking, activity monitors fall into one of two groups: wrist based or clip based.  Wrist based units are worn on either of your wrists, whereas clip based tend to be worn on your waist (but can be worn on a shirt/bra).  Note that the Garmin Vivoki that I'll talk about later is clip-based.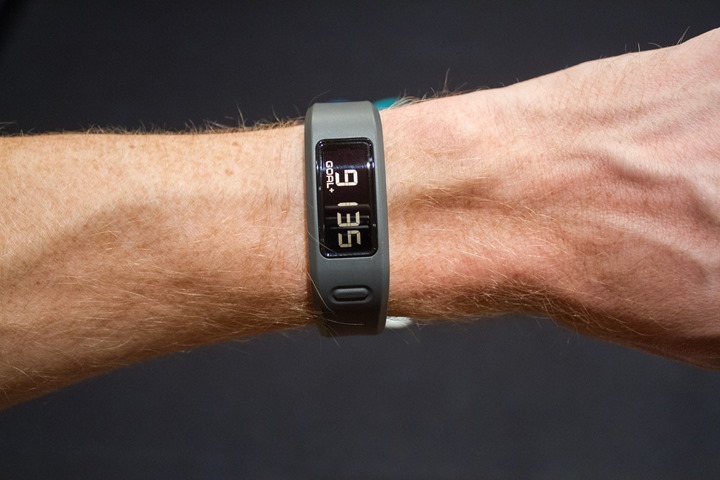 Size wise, I pulled out my FitBit Force to see how it compared.  Most obvious is that the display on the Garmin unit is much larger.  However, at the same time, unlike the Force, the display is not illuminated (no backlight), so it's pretty tough to see in the dark (kinda impossible actually).
Here's the clip system, which is nearly identical (though, I found the Vivofit slightly better/easier to clip in than the Force).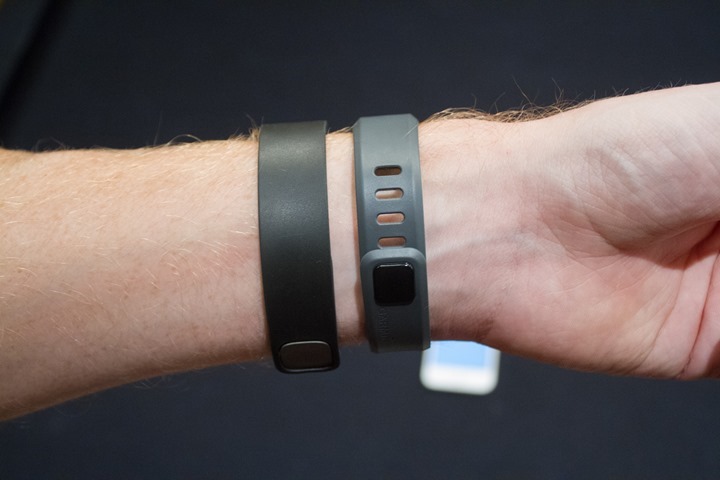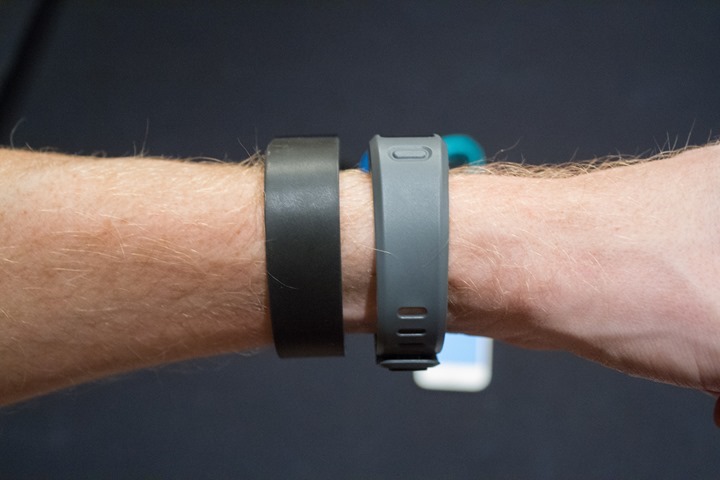 When it comes to using it, you'll notice the single button on the right side, this controls the display.  You'll just tap the button to iterate through the display fields.  They are as follows.  Time: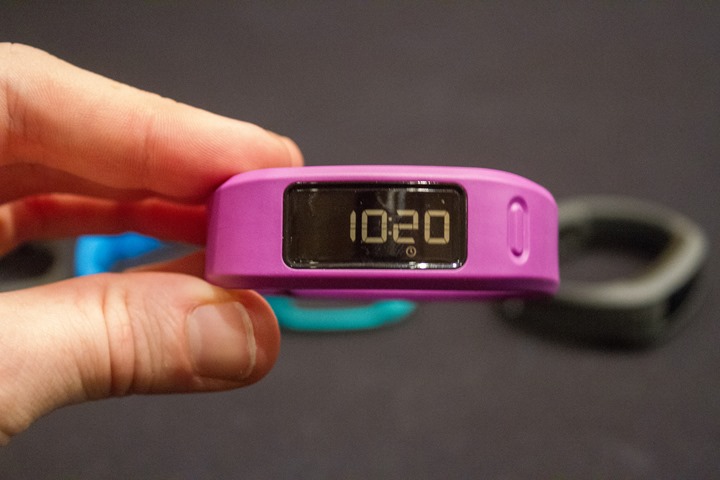 Total steps for the day (below).  Note, the unit does not measure stairs or elevation gains.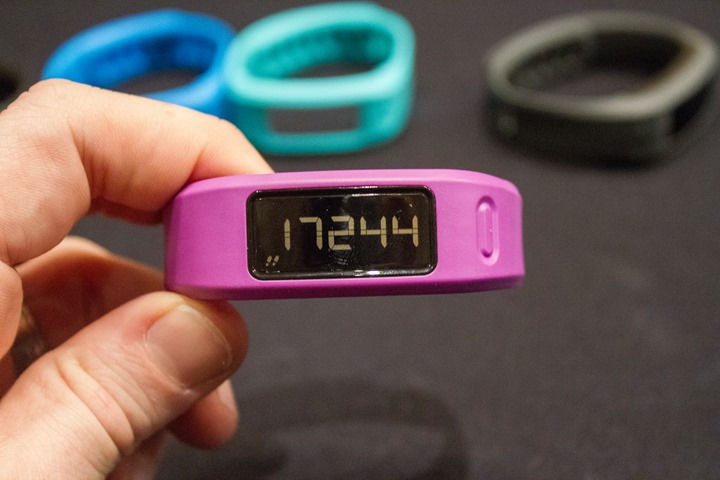 Progress against your goal: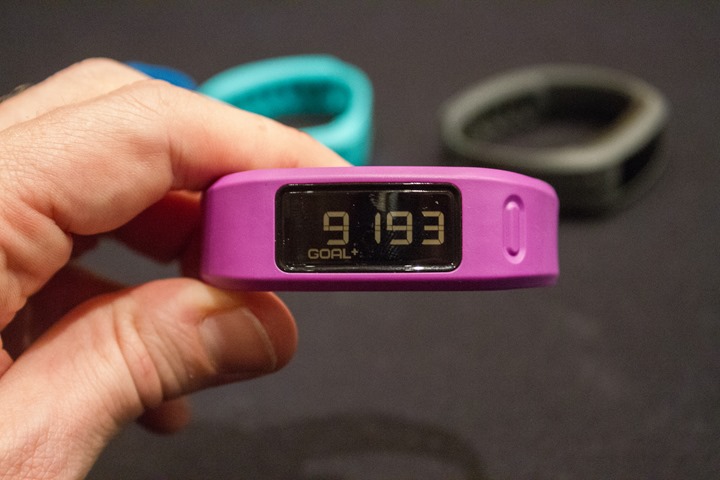 Total distance (in miles or kilometers):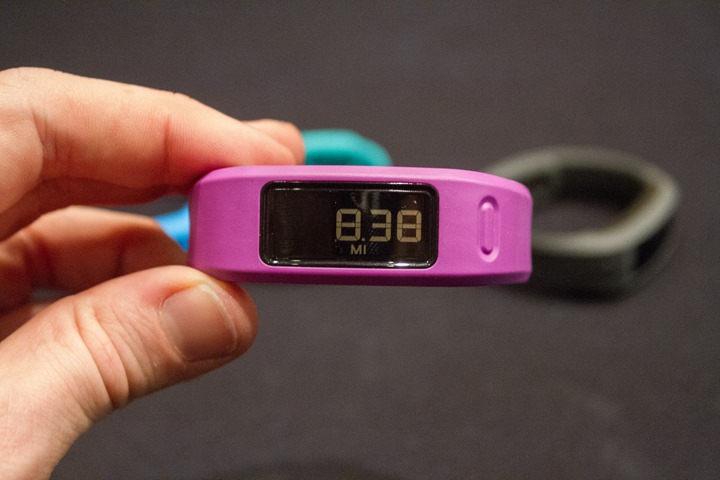 And calories: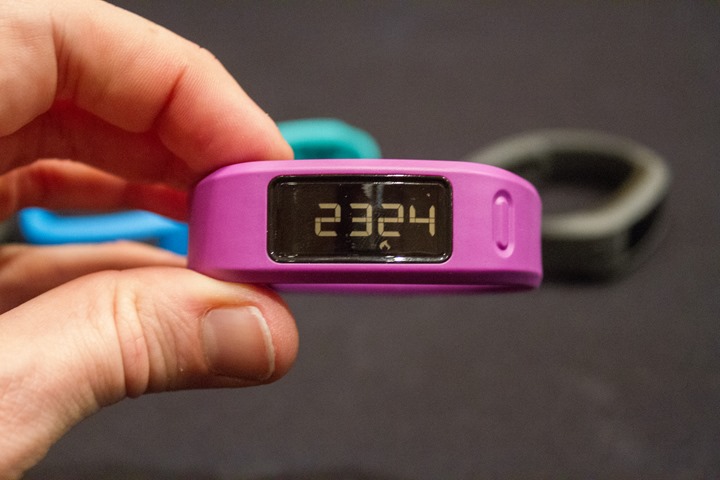 In addition, if you long-hold the button down for about 5-seconds, you can switch the unit into a sleep mode to track your sleep each night.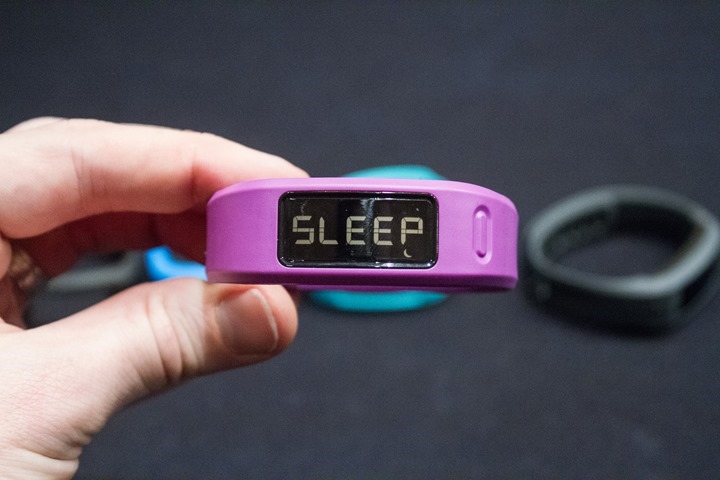 Now typically, most units on the market either require you to press a button to track sleep, or, they simply do it automatically.  In Garmin's case, it's a bit of both.  You can press the button to 'force' it into sleep button.  Or, alternatively, the next day within the phone app you can simply tell it roughly when you went to sleep, and it'll do the rest from there retroactively.
Speaking of the phone, Garmin will be releasing an app at the same time as the device is made available, that will enable you to upload your data wirelessly via Bluetooth Smart.  This will require a phone that's capable – so, iPhone 4s or higher, and Android 4.3 or higher.  Garmin noted that both apps will be made available concurrently (released at the same time).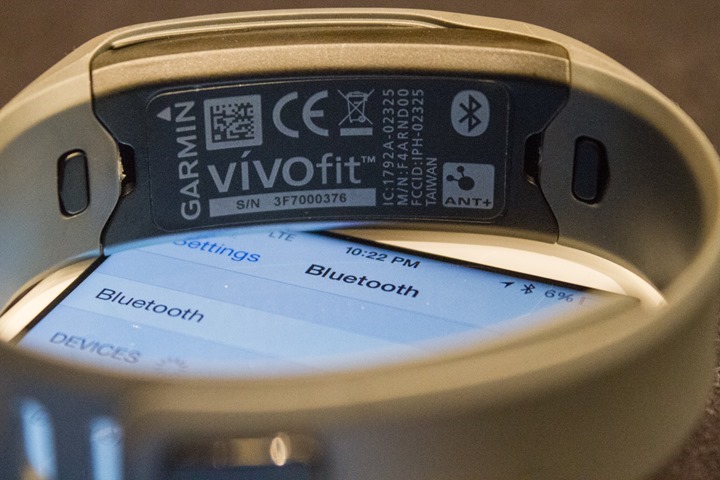 To upload data to the app, you can simply hold the button down for about 2 seconds, and it'll display a sync message: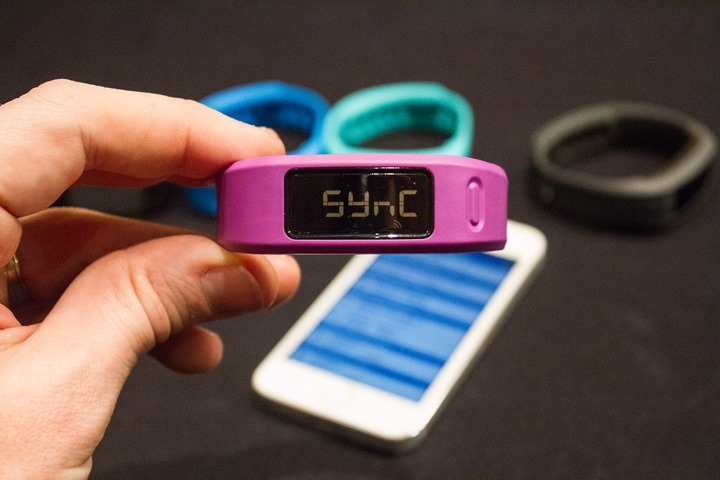 Once uploaded, the data will be found in Garmin Connect.  Below, is an updated version of Garmin Connect that Garmin is also announcing today.  This particular dashboard page below is geared towards the activity monitor side of things.  I'll be doing a more detailed dive into the sports side of things in the next few days.  The Vivofit users will get the updated dashboard ahead of general fitness users, where it will be phased in over the coming months.
You'll note that it has similar functionality as other units on the market, such as challenges, following friends and their activity, and summary information about the metrics from the unit itself.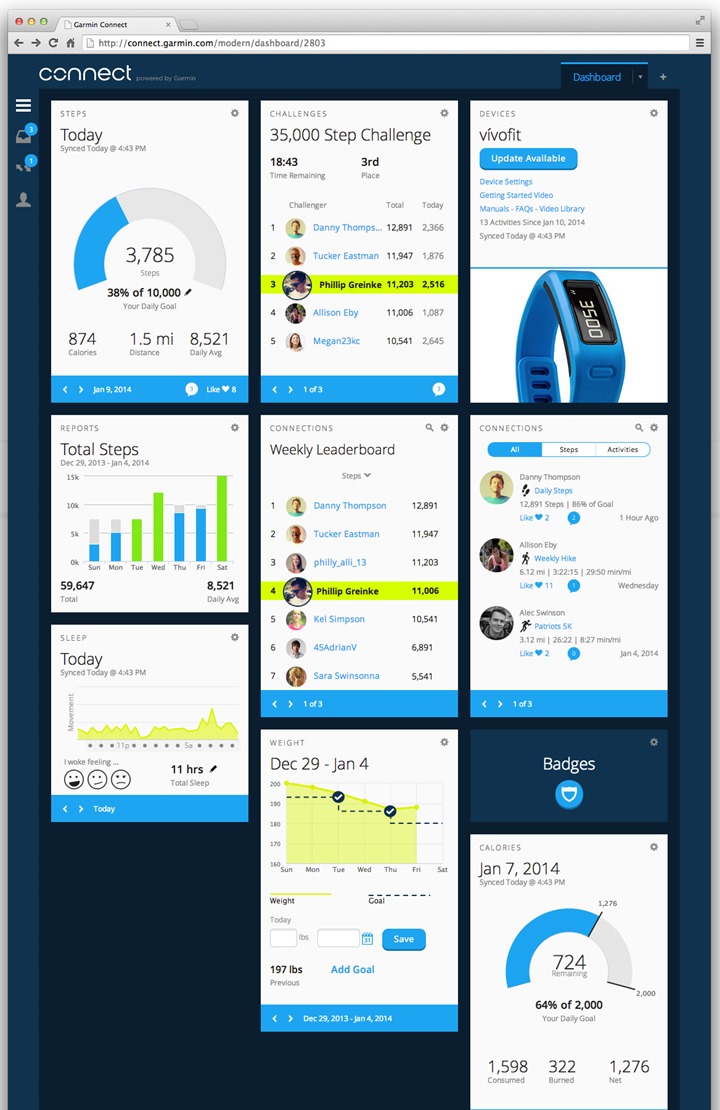 Finally, we get to what is likely the most awaited functionality – the ability to connect to an ANT+ heart rate (HR) strap.  As you iterate through the available pages, if you have an ANT+ HR strap paired to the unit, the unit will display your current heart rate.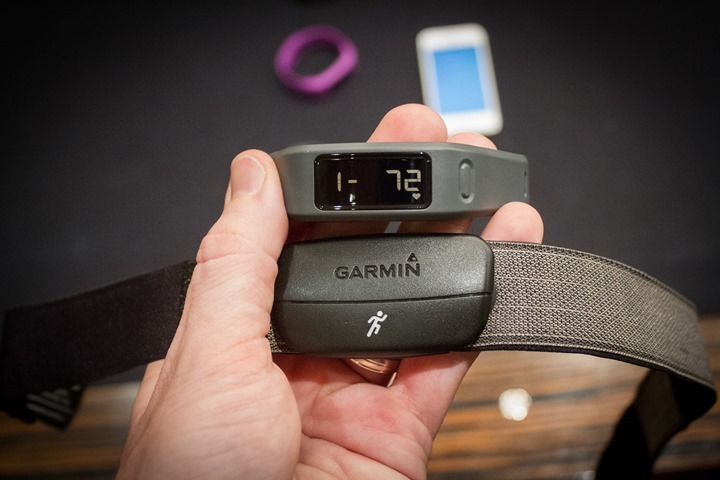 The Vivofit can connect to any ANT+ heart rate strap on the market.  So basically, if it has an ANT+ logo on the back of it, you're good to go.  If you've got an old ANT+ strap from your trusty red Garmin FR305, you're good to go.  If you have an analog HR strap that you found in a box from 10 years ago…probably not good to go.
In my case, the ANT+ strap you see above/below is simply the FR620 HRM-RUN strap that I had in my bag.  It's important to note that the Vivofit HR Bundle does NOT come with the HRM-RUN.  Instead, it comes with the HRM1, which is the old-school plastic-like heart rate strap previously included with the likes of the Garmin FR305.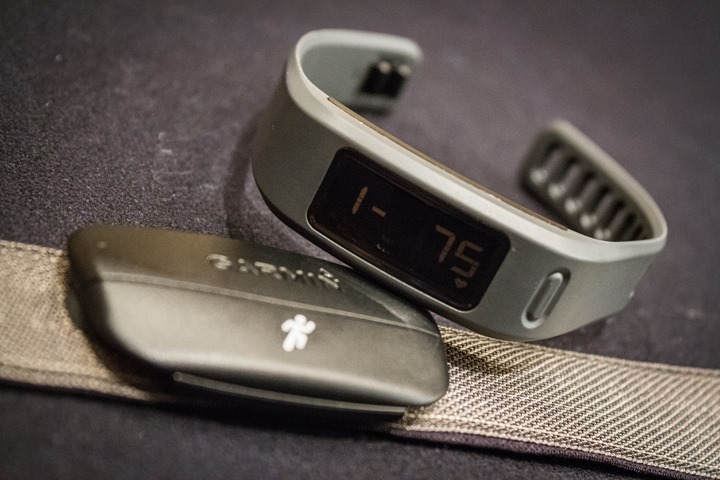 Garmin's decision to include their well-aged plastic strap in the bundles was a bit puzzling, but from discussing it a bit with them, it sounds like it was largely a cost-driven decision.
In any event, once you've connected the strap the unit will begin recording an activity file (just like the Polar Loop, for those wondering).  That activity will record the time, distance, calories and the heart rate data.  The HR data is recorded at ~15-second intervals.
Upon completion of the activity, the workout will be uploaded to Garmin Connect just like any other workout activity.  So it'll look pretty much the same as your existing workout files you have on Garmin Connect.
What's also of note is that the unit will automatically create an activity file for 10-minutes of continuous walking or running (even without a HR strap).
Initial Thoughts on Vivofit: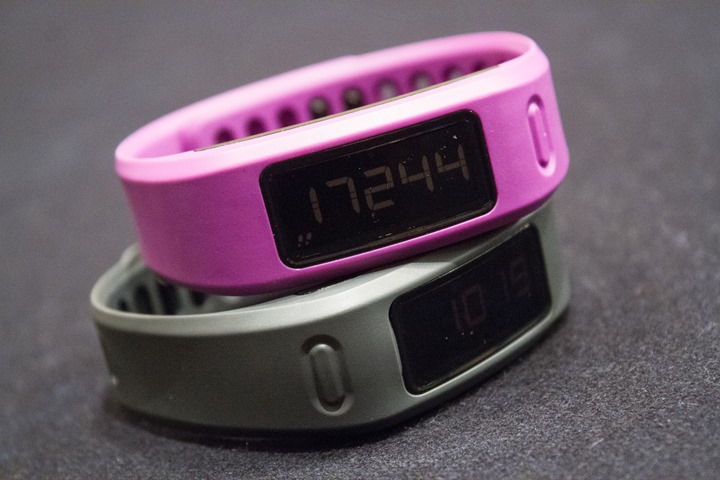 It shouldn't come as too much of a surprise that Garmin has entered into this market.  And, it also shouldn't come as a big surprise that they'd leverage ANT+ for inclusion of heart rate data.  Many of their actions over the past few months seemed to trend that way.
Ignoring price for a moment, the unit is generally on-par with other units in the space from a functionality standpoint.  It includes the main metrics (steps/distance/calories/sleep/time), and the band is in the same range as the FitBit, and a bit smaller than the Polar Loop.
The unit has a competitive advantage in waterproofing, where it as 50m waterproofing – so no problems with water or swimming.  It also had an advantage with battery life, going upwards of a year (actually, the year is the absolute minimum, assuming pretty extensive daily HR strap usage with it).  For athletes around these parts, or endurance crowds where ANT+ straps generally are more common than Bluetooth Smart straps, most will appreciate not having to buy an ANT+ strap since they likely already own one.
On the flipside, there are some downsides with the unit.  First is that it doesn't measure stairs or elevation.  True, I don't find that metric terribly useful, but, I know many do.  More importantly though is that the API/data export side is very iffy right now.  In extensive conference calls I've had with the team they have not committed to providing a data export solution (CSV/etc…) for general activity data (non-workout).  Workout data can be exported through the existing/normal Garmin Connect options.
Further, while they do have an extensive (new) API for this data (see Vivoki section below), that API is mostly only being extended to corporate wellness partners at this time.  It's possible that down the road that could be opened up – but it sounds like that decision is far from happening.  In many ways, that's a big hole in an otherwise fairly good offering.  Every other activity tracker in the market today offers an API (with Polar being the only one not actively having it ready yet, but promising it will go live 'any day now').
Lastly, price-wise it's actually on the higher end of things at $129 (or $169 with the HR strap).  The Polar Loop is $99 (without strap), as is the FitBit Flex and Withings Pulse.  The FitBit Force matches the Vivofit at $129.  While the Nike Fuelband is more expensive, it also has a much stronger community around it.  Ultimately though, I suspect like most things Garmin, people will pay the premium for the brand name – especially if they already have other Garmin devices.
Here's a quick run-down of the major devices that compete in this price range.  You can customize the devices displayed here further within the Product Comparison Tool.
In summary, I'm pretty interested to see where Garmin goes here in this market.  As you can see from the last few months, they continue to expand into numerous new markets (like action cams), and with the fast growing activity monitor market on the table, they jumped on that as well.  From a pure-device standpoint, the device appears to tick off almost all the major feature boxes.  And, from a website standpoint it seems to do the same as well.  It's just the data export and sharing pieces that have me a bit concerned.
Hopefully, by time the unit is available in February or so, those kinks will be worked out.  Speaking of which, once the unit is available in final software/hardware form, I'll do a normal full in-depth review.  My time with the units was mostly cosmetic (and short), so I haven't had the opportunity yet to do step-counter comparisons and the like.
Vivoki…and Corporate Wellness:
Next up, a section that will be quite a bit shorter.  In addition to Vivofit outlined in the previous section, Garmin is also introducing a second activity monitor – Vivoki – that is aimed at the corporate wellness market.  What's the corporate wellness market you ask?
Well, that's when a company (say, Coca Cola) decides it wants to try and get their employees healthier.  One way it does that is through partners that provide activity monitors to employees.  When the employees wear the monitors they are typically rewarded in some fashion based on how much activity they do.  The goal here being to get people more active and ultimately reduce insurance costs (which, is why companies really care).  It's like a hamster wheel, except typically with things like trips, cash, and TV's as rewards.
The challenge with running these programs is that devices like the Nike Fuelband are simply too expensive, so most programs use cheaper units – like the FitBit Zip (which retails for $59 before bulk discounts).  And that's where Garmin is targeting the Vivoki at.  Vivoki cannot be bought at retail, anywhere.  Rather, it's only available through business to business corporate wellness partners (basically, companies you've never heard of).  And, in that, only available as part of a larger package of offerings from that partner (software + services + support + devices).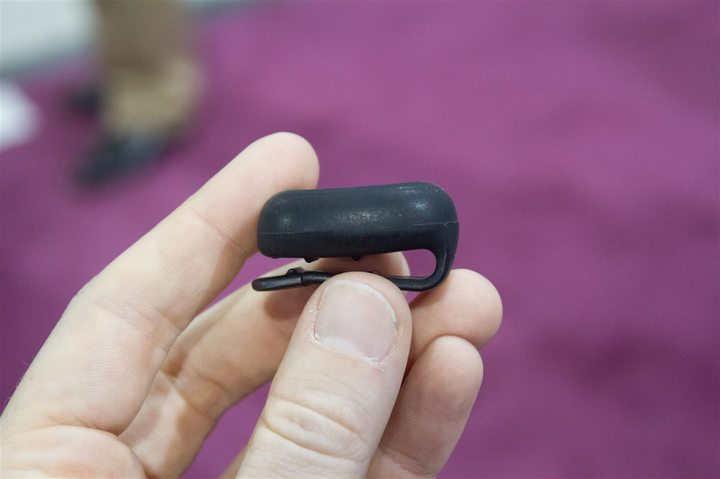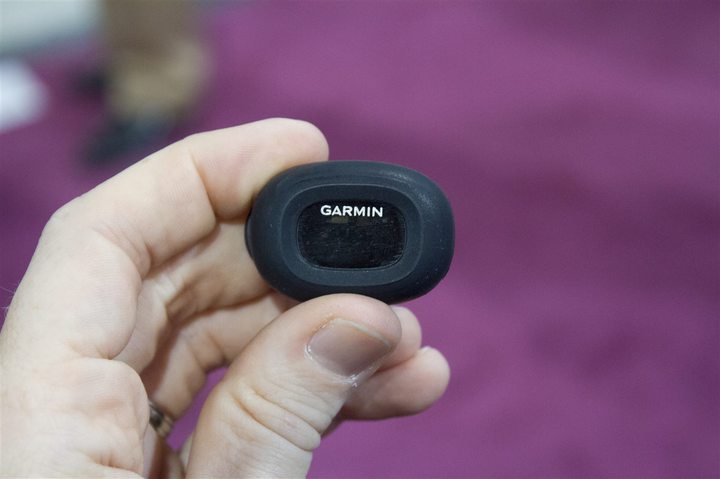 The Vivoki is technologically a slimmed down version of the Vivofit.  It's also in a slightly different form factor.  The Vivoki is clip-based, whereas the Vivofit is wrist-based.  Further, the Vivofit doesn't have a numerical display, but rather a simple 5-LED system.  Also, the Vivoki doesn't do either sleep or HRM tracking.  And finally, the Vivoki is water resistant to 10m, versus the 50m of the Vivofit.  What's interesting here, is that the Vivoki unit after removed from it's rubber casing, is identical in size/shape to a standard Garmin footpod – same plastic outer shell.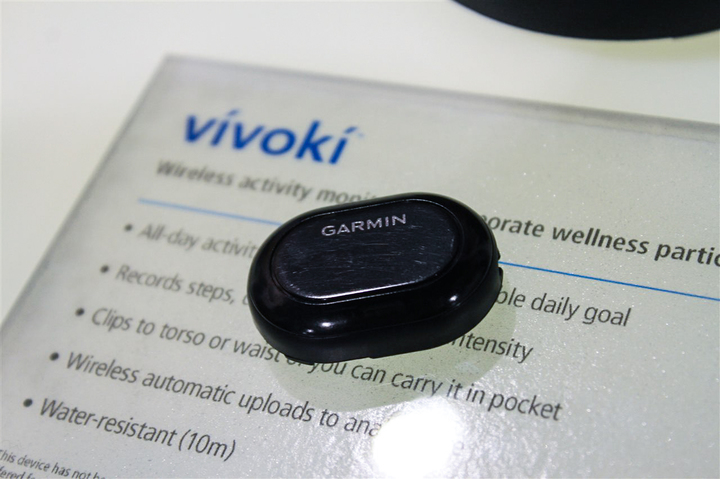 But the device itself is actually not the 'interesting' part of the Vivoki system.  Rather, the backendcomponents that glue everything together is.  See, unlike a standard consumer system where the consumer uploads and tracks things themselves, corporate wellness programs need to validate/check the data  and centralize it.
In order to facilitate that Garmin introduced a new corporate wellness API, which enables these 3rd party companies to integrate data from Garmin Connect.  This new API not only can handle fitness data, but also the new activity data.  Interestingly, Garmin noted to me that there are some 'selected' partners today out there in the space that aren't traditional corporate wellness partners, but are using the new API to access fitness data.
But how does the data get from Vivoki devices to Garmin Connect?  Well, for that, Garmin built another product: Vivohub.
Vivohub is an ANT to WiFi access point.  The goal being that a company installs these access points in common areas and/or entrances/exits to a building.  When the Vivoki (or Vivofit) passes by the Vivohub, it will automatically upload the data via ANT (not ANT+), and then in turn transfer that data to Garmin Connect via WiFi.  In talking with them, Garmin themselves did not build the Vivohub themselves, but rather worked with a partner.  While they declined to name the partner, I suspect it's likely North Pole Engineering, and their WASP devices.  As they are the only ANT to WiFi repeater on the market today and they only work with companies doing OEM/rebranding work (for those curious, it's the same device I use to test numerous concurrent power meters with).  Before I progress, I'd like to point out that their WASP devices are awesome for many scenarios.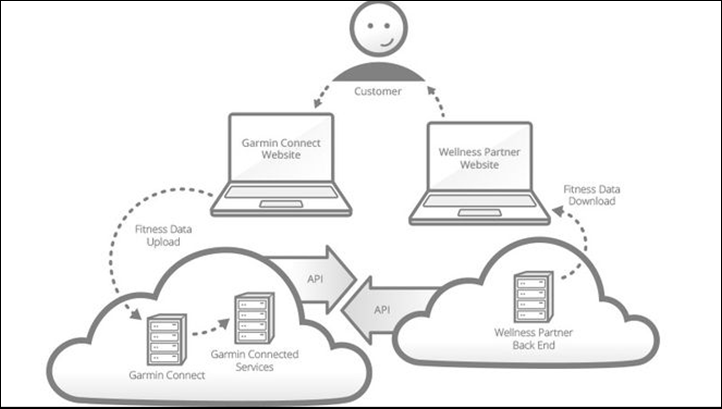 With that said, I need to take a slight diversion here.  As many of you know, my actual day job is in enterprise IT architecture and datacenter infrastructure design.  I fly around the world and work with large organizations on defining IT architecture, on a weekly basis.  Given my experience in this sector, I'm a little skeptical of organizational IT departments wanting to deploy Vivohubs, for a variety of reasons.
First is that any large to enterprise size business is going to have hundreds or thousands of buildings, many with numerous floors and entrances/exists.  Simply providing coverage in a single 3-5 story building is going to be difficult, let alone a company with numerous locations.
Second, no IT person wants to deal with installing small devices that aren't managed in an enterprise manner.  Meaning, they want to have enterprise manageability and integration with toolsets that can control and monitor the devices 24×7.  From my discussions, it doesn't sound like it has this.  Then, we look at the security aspects of introducing what are effectively network access points into the environment.  And finally, while Garmin wouldn't disclose the cost of the Vivohub, there's ultimately a cost involved in procurement of the devices.
No doubt, I think the devices will work great for smaller companies with only a few locations in small buildings.  But I remain skeptical for use in larger organizations.  But it seems like in many ways, WiFi would have really been a much cleaner choice to handle here rather than funneling things through ANT.  Though, the downside to WiFi is that it has a significant penalty on battery life (compared with a device that can go a year or more).
The good news is that Garmin didn't just leave it at ANT only.  The Vivoki does include Bluetooth Smart in it, and the user can connect via their phone instead.  The unit can store about 4 weeks worth of data before transferring, and if the user establishes/connects a Garmin Connect account, it can transmit via Bluetooth Smart instead.  In addition, Garmin offers a set of BLE API libraries to corporate wellness partners that they can develop their own apps and connect to the Garmin Vivoki/Vivofit units with.
Now, the good news here is that Garmin has a bit more time on Vivoki than Vivofit.  They aren't launching the platform fully until Q2 of 2014 (so sometime between April and June), which will hopefully enable them to button up some of the story around the larger IT pieces.
Hopefully – the new API pieces for Vivoki, will carry over into the larger Garmin Connect – enabling more than just corporate wellness customers to access data in expanded ways, but also enabling 3rd parties that want to allow Garmin users to do innovative sharing and use of Garmin data.
And as always, thanks for reading!