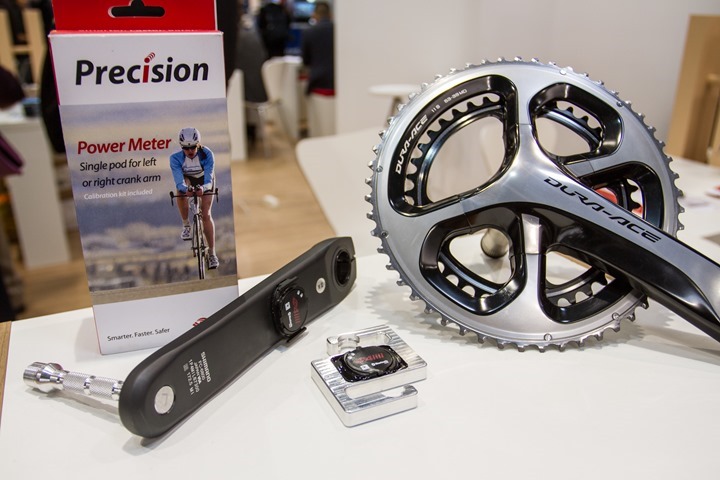 Quick update/note – July 27th, 2015: Many of you have asked when my review of the 4iiii Precision Power Meter will be released.  While I received a number of test units back this spring, I've run into a bug/issue that 4iiii is working to fix.  Said bug impacts my ability to get any accurate data out of the unit.  Not all users have this problem, but rather it appears to be dependent on my specific pedaling style.  As a result, I'm waiting for the bug to be addressed (which 4iiii says they're working on) before spending the time gathering data for the review (since today's data isn't useful).  As a result I've tabled the review until that point and are working on other power meter reviews.  Hopefully they're able to sort it out.
Last week at Mobile World Congress in Barcelona, 4iiii was present at the show as part of a larger Alberta section within the Canadian companies pavilion.  While there, they had their Precision power meter and their pods on display.  I took the chance to catch-up briefly with them, and have the low-down on where things stand.  For those that have been following their weekly updates (primarily via their blog), some of this will be familiar to you.
The Down and Dirty Details: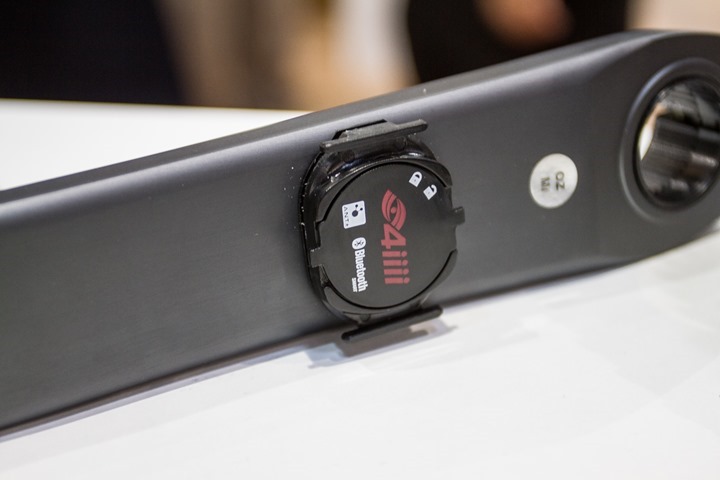 Because I'm rushing to catch a flight, we're going to go with a bulleted paragraph style.
Current Shipping Time Frame: This week.  The left-arm side units will start going out to consumers this week.  As many of you remember, right now they'll be doing the installs on your crank arms that you send in (or buy direct from them).  This is a temporary measure (sending them in), and as has been communicated to all purchasers thus far already, they're sending a box to you with a pre-paid shipping labels for your crank arms – even for folks outside the US/Canada.  The global round-trip timeframe is roughly 7-10 days.
The Reason for the initial delay: Regulatory issues with shipping glue.  Yes really, glue.  No, not Elmer's, but the specialty glue that'll keep the unit attached to your crank arm.  The glue they had developed specifically for this product, and planned to use within the DIY installation kit exceeded the allowable gram shipping limit direct to consumers due to the substances within it (in a pre-applied state).
The Glue Plans: They've been testing new glues, which should get them around the shipping issue.  When attaching a power meter to a crank arm though, the most important thing is that it doesn't budge – even a tiny bit.  Thus, finding the right glue is a significant part of the work effort.  That entails testing said glue to ensure pods don't fall off or physically drift on the crank arm.  They've made it really clear to me that they don't want to be in the long-term business of dealing with round-tripping cranks to people.  Instead, they want that to be back to their earlier plan of self-install, or bike shop install.
The Right-Side Situation (Drive side): As some readers noted in the comments back at CES, there were concerns with the right pod being located basically under the chainring.  The concern wasn't so much for the pod, but actually changing the CR2032 coin cell battery when it need to be replaced.  With being below the chainrings, you'd have to remove them to change the battery – a solid pain in the ass.  To address that, 4iiii has developed a new pod design which shifts out the battery section slightly beyond the chainrings to allow access for replacing the battery.  I've made a crude MSPAINT drawing of this concept below (updated):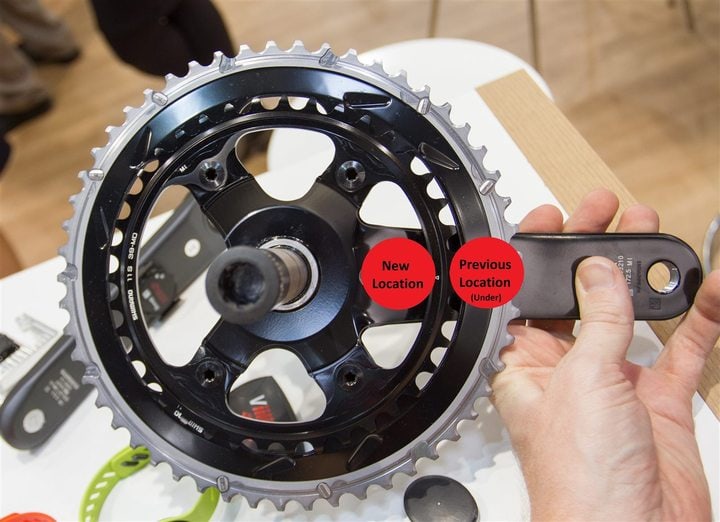 The Drive Side Timelines: They're currently working through production of the mold for the pod components on the drive side.  There's no changes to the actual sensor portion, just the piece that shifts the battery compartment out.  Nonetheless, the mold creation, plus production/etc puts them into May for the drive side to be available.  As with previous, you'll be able to add the drive side later to the existing left-only side, forming a dual-sensing pair.
And what about Carbon cranks? They're still working on that and looking at carbon fatigue and drift there.  The current plan is to start shipping by end of year on carbon cranks. The challenge remains that different carbon cranks fatigue at different rates, even with a single brand/model family. While the calibration kit can account for that, both short and long term, they're focusing on more testing to figure out how best to provide usage guidance on carbon.
My Review Plans: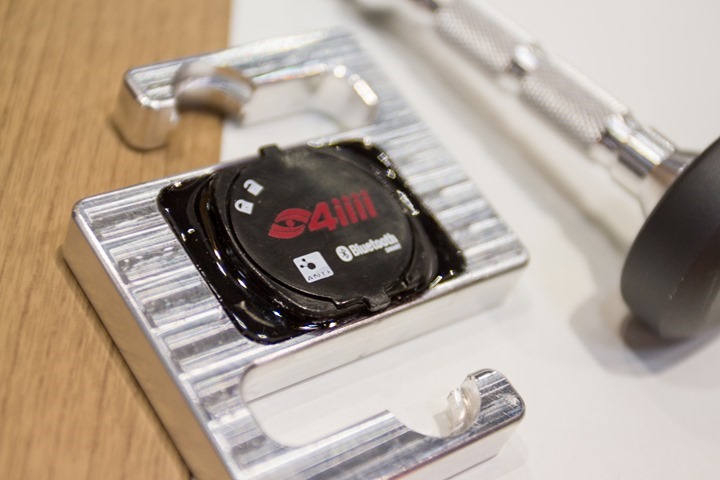 So, where does that put a review?  Here's the current plan as of this moment:
1) They're shipping out a left-side unit to me today or tomorrow.  It'll be pre-attached to the crank, just like the pre-installed cranks they're allowing people to purchase today.
2) I'll use that for the next while, in a left-only configuration.  This means that data will effectively look similar to Stages though, and wouldn't necessarily match dual-sensing data since it'd be left-only.  But, it gives me a chance to see how that works in that configuration and ferret out any issues nonetheless.
3) Once the drive side (right side) becomes available, then I'll add that to the 'system' and form a complete dual-sensing pair.  As doing so, I'll thus have experience with both left-only, and dual left/right, as well as 'upgrading' the system to a dual pair.
Once all those things are done, I'll publish a review.  That is, unless for some reason the right-side timelines drag out too long, in which case I might publish the left-side first and then go back and update with right side.  We'll see.  I'd prefer to only write one review. In any case, I'll likely publish snippets of data along the way for folks to look at, like I usually to.
With that – thanks for reading!
(Oh…and about the various wrist pods they've previously discussed?  In short, you're gonna keep on waiting.  They've focused most efforts right now on the Precision Power Meter.  It sounds like the earliest they'd be out is summer.)