The last 48 hours I've been in Bahrain, a tiny little island country in the Middle East that floats to the east of Saudi Arabia.  So close in fact that when I'm on work trips to Saudi, I often just fly into Bahrain and drive across the 20KM bridge to Saudi Arabia.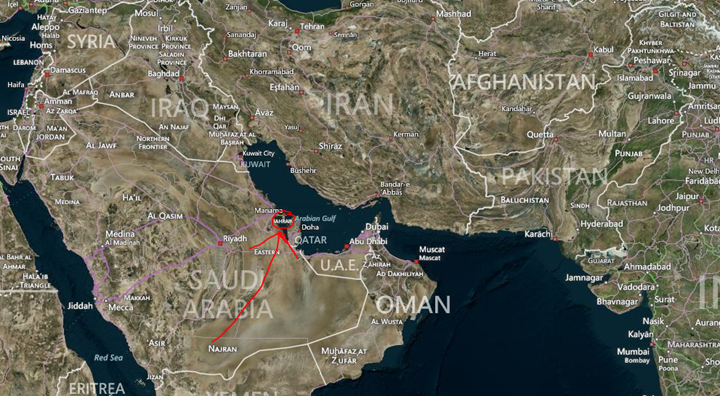 As is usually the case for trips to the region, I was down here for work meetings.  I actually rather enjoy going to Bahrain, it's super easy to get around.  It lacks the horrible traffic or sprawl of some of the other cities, and also lacks the "complexities" associated with time spent in Saudi.  Plus, if things go poorly during your stay, you can drink here.
Next to the conference room that the offices were in, in a nearly 40-story building, there were windows that overlooked what appeared to me to be a prime swimming area.  I was continually gazing out to the turquoise waters, trying to figure out how I could slide in a swim there.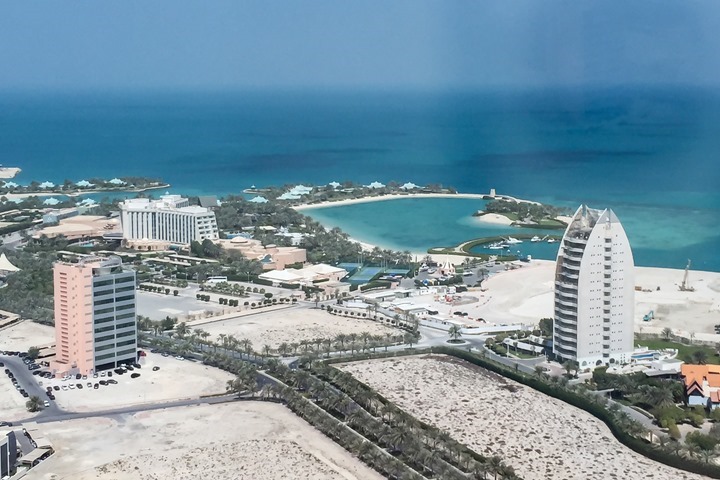 I had meetings all day Wednesday, and then most of the day on Thursday.  With Thursday being the start of the weekend for most Middle Eastern countries, it meant we ended a bit earlier.  Just enough that by around 4:15PM I was able to do a quick change in the lobby bathroom and head on out for a run.
The Point to Point Run:
I decided to do a point to point run from my hotel to the area I wanted to swim out from.  It was about 4 miles one way, which seemed like a nice, roughly 30 minute run.  I figured I'd then do another 30 minutes swimming.  Here's the departure point.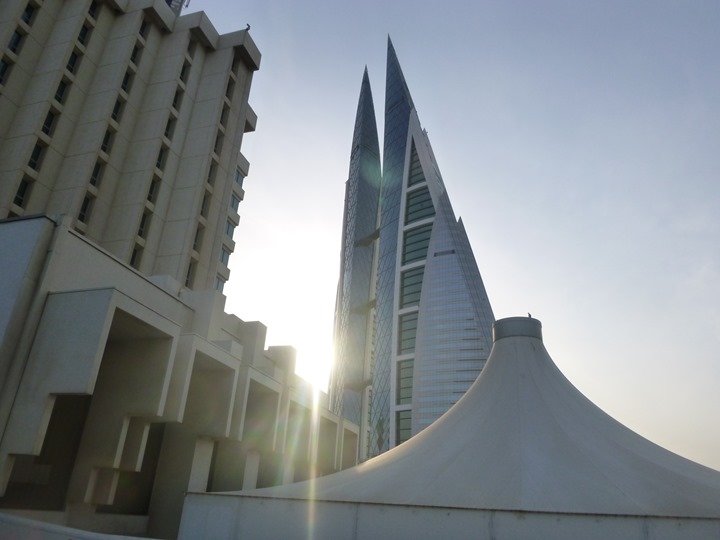 From there, I basically followed one of the main highways that crosses Bahrain.  I can't say it was terribly scenic, but it was relatively simple to run along.  There was a wide sidewalk along the side of much of it.  As is common in many countries in the region, there are numerous posters/paintings of the royal family along the way.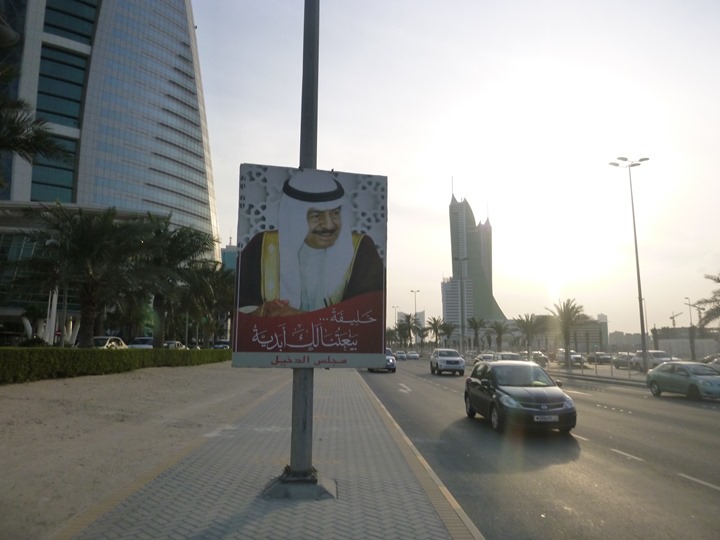 I decided to run with the LifeBEAM optical HR sensor hat.  This unit dual broadcasts both ANT+ and Bluetooth Smart, very much like their existing helmet that I reviewed last spring.  Basically the same sensor technology that worked well there.
And, it seemed to work fairly well here too.  For this run I only had another optical sensor on me at the time to compare against (the Epson Runsense 810 GPS watch), but the two seemed to match well.  You can see the sensor at the front of the hat, and then the tiny little battery at the back.  I completely forgot the battery or sensor was there about 4 seconds after putting it on.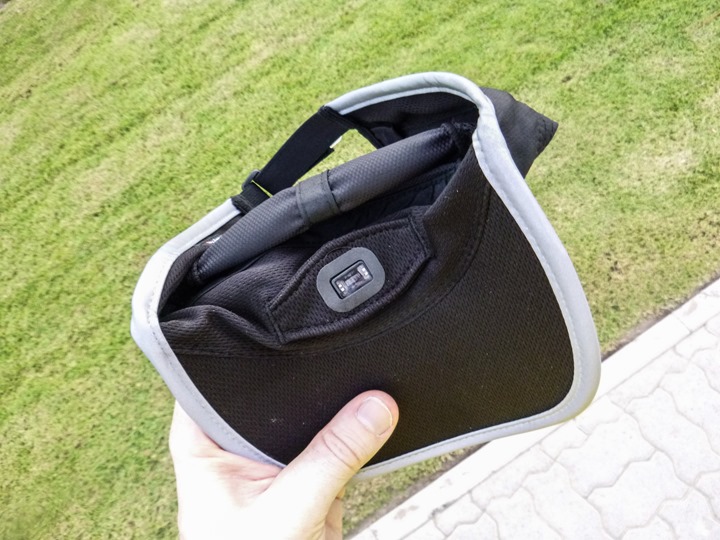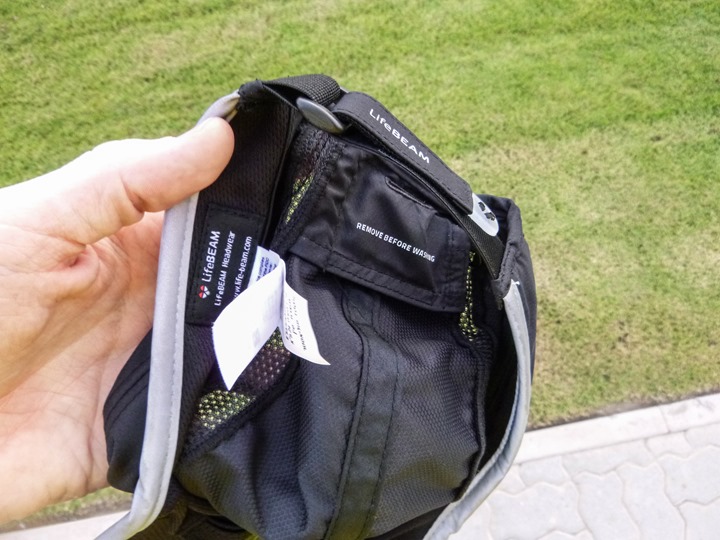 As I kept running I passed a couple of makeshift fields of play, with lively games underway: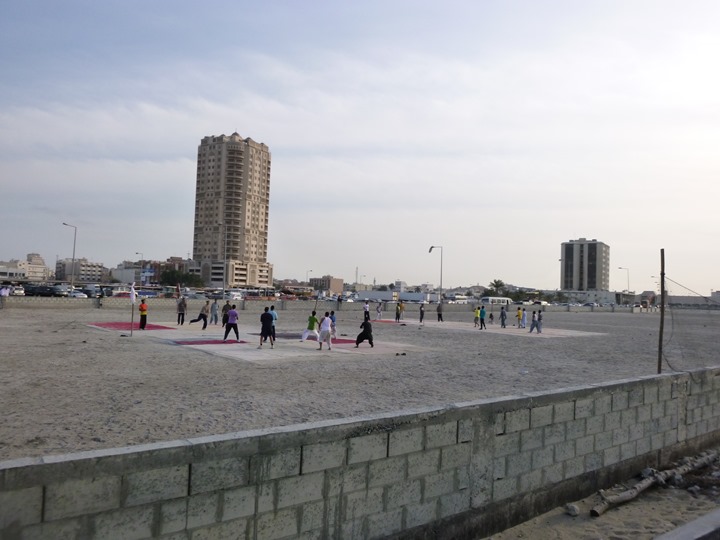 From a route standpoint, it was fairly easy for me to remember.  I basically just followed the highway until I found a point I could cross it.  In this case, a highway on-ramp from the other side of the street.  It's not the most perfect of pedestrian crossings, but I saw a few other people using it…but it worked just fine and even had a very tiny sidewalk.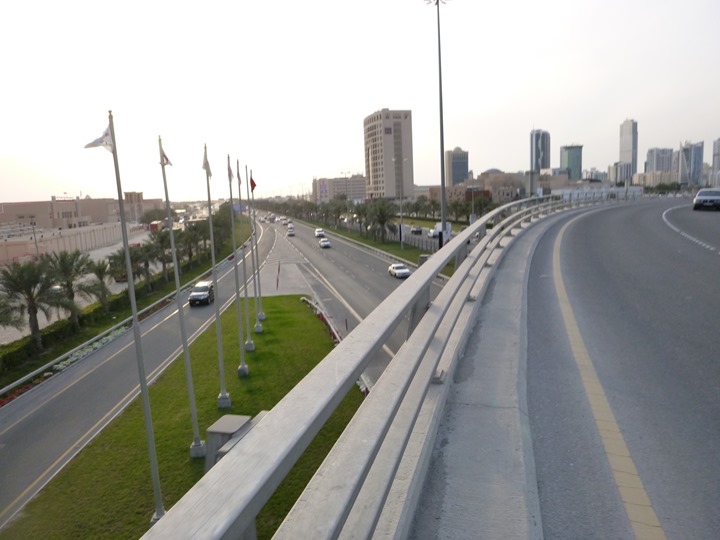 From there it was just about a mile left, as a straight shot down the palm-tree lined route to the resort area I'd be swimming at.  My camera struggled a bit here in the fading/hazy light: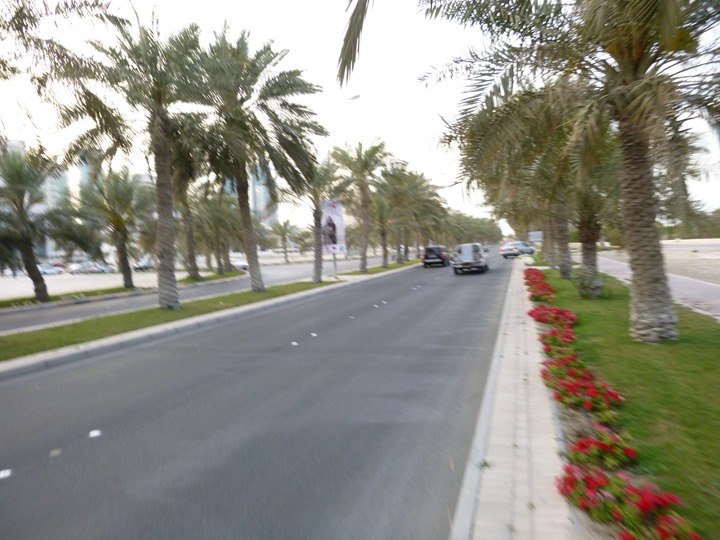 Once inside the grounds, it was all super-green though, as one might expect I suppose.

I ended up tacking on a tiny bit of mileage within the grounds to bring it over 30 minutes, before starting my swim.
A watery lagoon of loops:
For the swim I had worn my swimsuit below my running shorts.  Then, in a very lightweight drawstring bag from the Paris Half-Marathon this past weekend, I stashed my swim goggles and swimcap.  I probably could have found creative ways to attach these to my body and skip the bag – but I also threw a few bucks of cash into the bag and an ID.  This resort offers a day pass for use of the facilities (gym/beach/pools), or…if you happen to know someone there, that solves the problem too.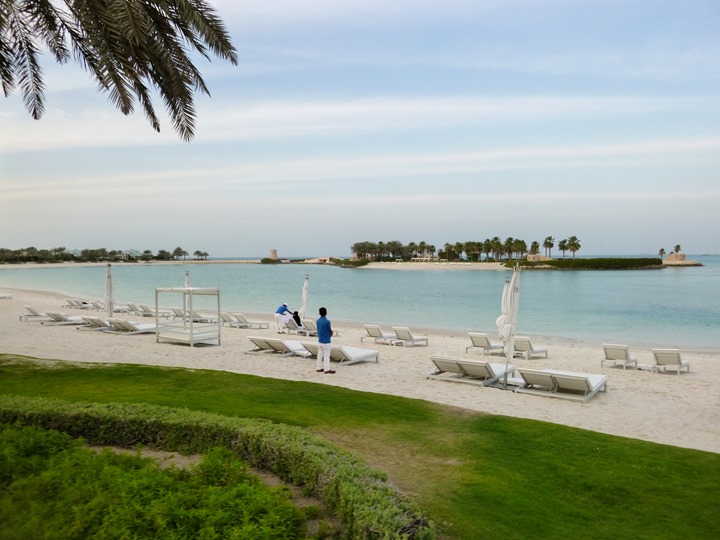 Given the resort is well secured, I wasn't terribly worried about leaving my shoes on the beach.  There were ample beach/pool/resort boys around that seemed to want to help me at every turn.  So I just left my bag with shoes and hat on one of the beach chairs.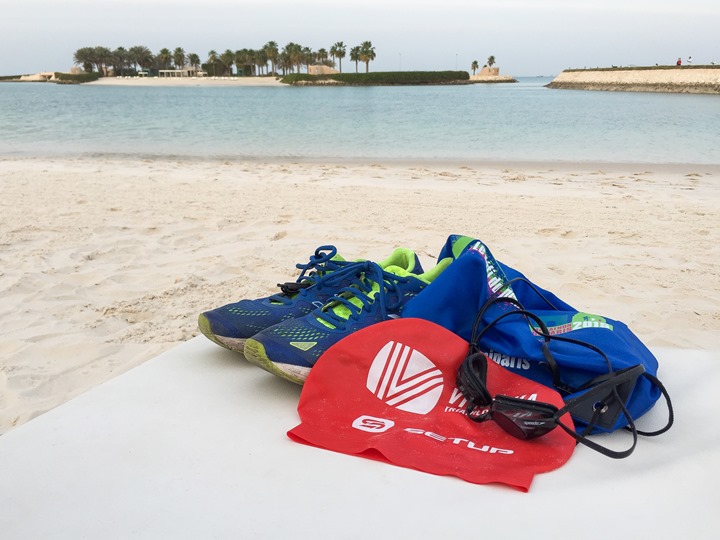 The resort has quite a nice protected lagoon, with only a few entrances.  The deepest part I could find was perhaps 1m (3ft) deep.  So I could have stood up at any point.  It's used by one of the openwater swim clubs here in Bahrain, and as a testament to that there was another man swimming as I arrived.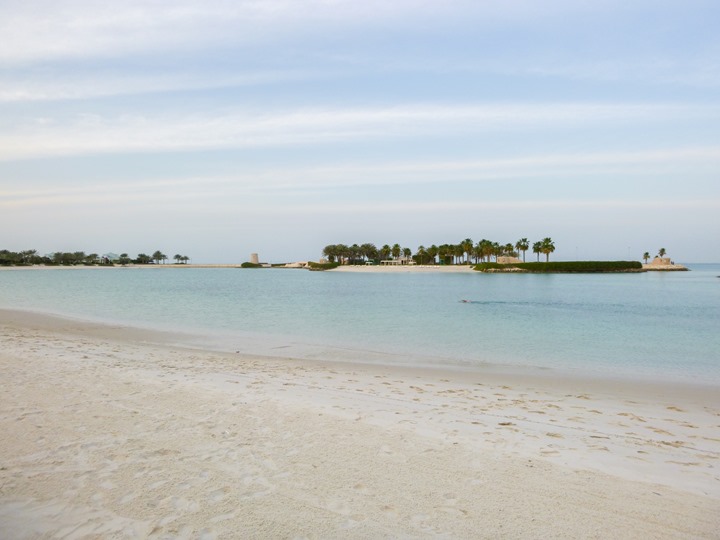 Without much further ado, I simply set off.  I initially had hoped I'd be able to leave the lagoon and do a longer loop of sorts, but it was made very clear by a dense structure of fenced nets that they really didn't want anything going out or into the area.  So, I instead just did loops.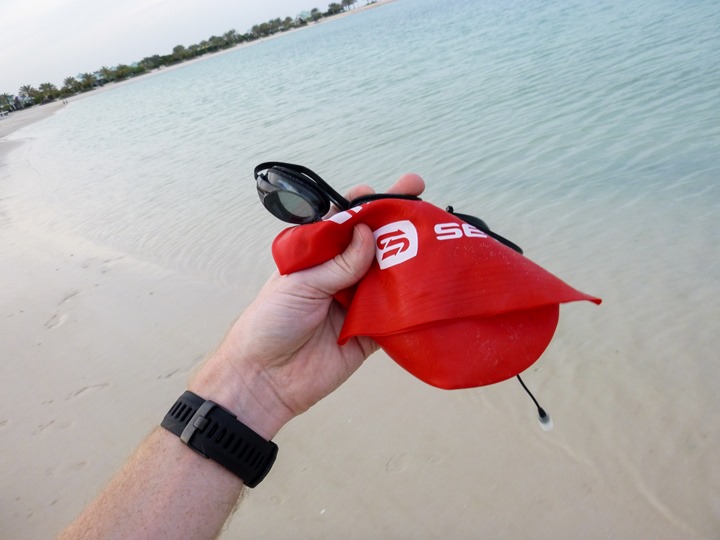 The length of the lagoon was perhaps 350-400m long, and so I made a bit of a triangle out of it, getting it to about 900m per loop.  Not too shabby.  At the far end was a fortress-like tower, you know, just in case Hilton or Hyatt decided to attack the Ritz.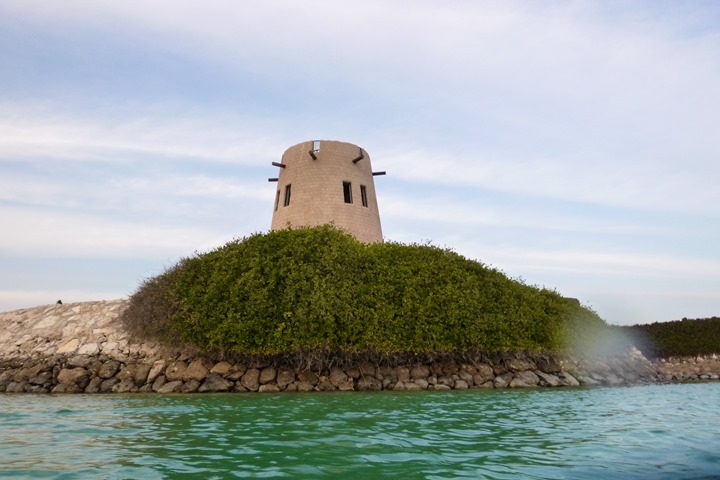 From that end, I'd zip back to the starting point and do it all over.  There were no buoys, so my track lines aren't quite exactly in the same spot – I was mostly just eyeing points on shore.  For the second loop, sunset was just beginning.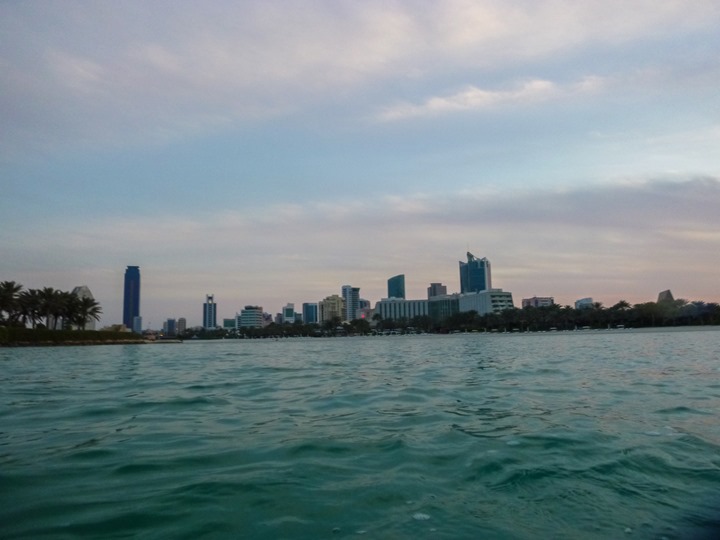 The water was nice and warm throughout, and being clear and shallow (and perfectly flat) made it a really relaxing swim.  Plus, there's virtually no dangerous sea creatures living in this section of the Gulf – so it's like swimming in a gigantic swimming pool.  I saw precisely one fish.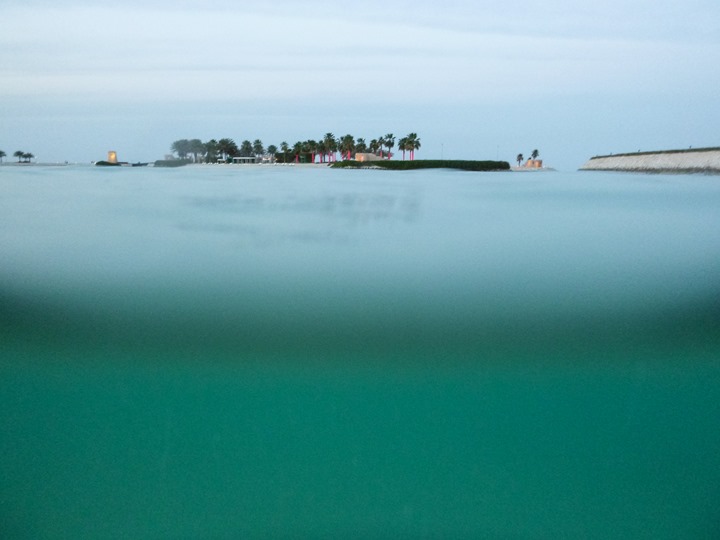 I wrapped my swim up in just over 30 minutes, cruising through about 1,800y.  Obviously not any sort of race pace, but rather out to enjoy swimming before a redeye flight back home.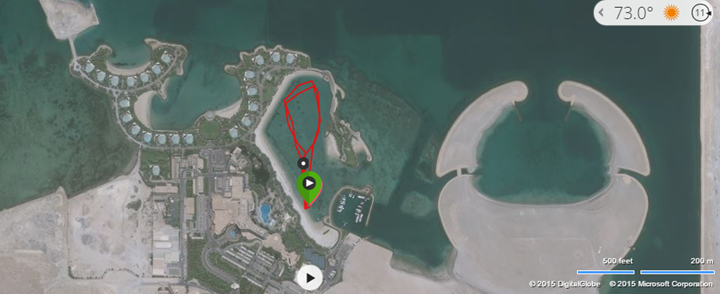 I spent a few minutes relaxing on the beach chairs watching the setting sun color the sky and the city and resort lights come alive.  Oh, by 'relaxing', I mean fixing my flights for the night after British Airways cancelled my flight home.  Still, if I've gotta spend time on a phone with an airline – it'll be sitting on the beach at sunset.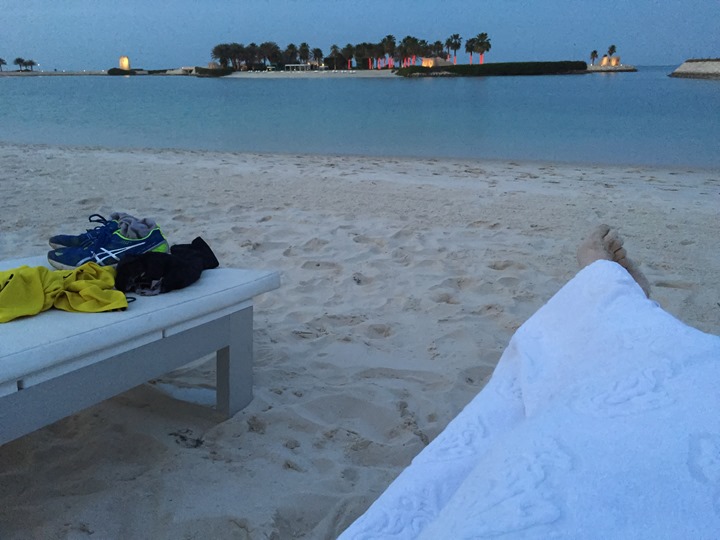 From there I grabbed a quick Uber ride back across the city to my original hotel where I used the fitness club to shower before heading off to the airport.  By around 9PM I was boarding the first of two (replacement) flights back home.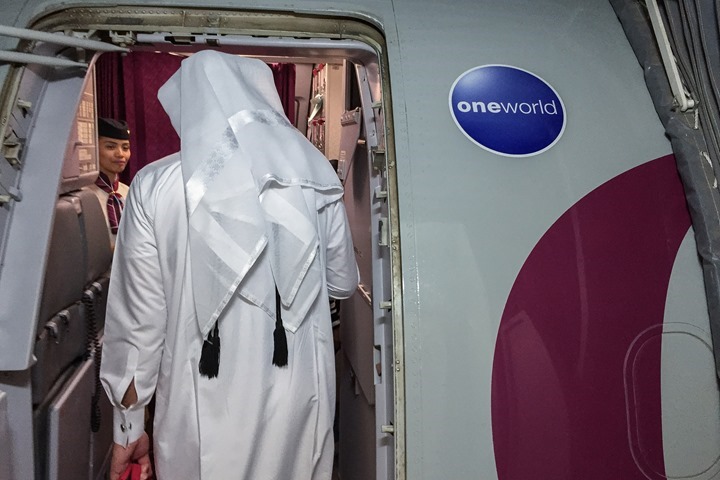 After a relatively short 6-hour flight I'll land back home in the 6AM hour in Paris, ready to start the weekend.  Well, minus the whole working Friday thing.  But it's Friday…it's always a good day!
Have a great weekend all, and thanks for reading!