Ok, so I'm a bit behind on posting this race report.  Which is probably appropriate given it'll match my running of the actual race.  No worries though, unlike Snapchat, the photos here don't expire (though regrettably aren't likely as titillating either, unless you have an orange slice fetish).
As I alluded to earlier in the week, I had signed up for the Paris Half-Marathon back in the fall when pumpkins ruled the scene.  I didn't have a particular plan for running it hard or anything else.  It was mostly just something to force me to run a distance through the winter that wouldn't get me laughed at upon arriving at the starting line.
Going into the last few weeks, I got fairly sick in Turkey related to my stomach, which, unfortunately carried through the last two weeks.  On the bright side, despite attempting to eat and drink everything in sight – I've still managed to sustain a 6+ pound weight loss (all initially lost within in 36 hours).  No worries, what's a little dehydration between friends?  Unfortunately, it meant I hadn't run in over a week – as running definitely didn't make the stomach any happier.
Pre-Race Festivus:
I completed packet pickup the day prior, somewhat near the starting line.
I then began the next day (race day) at the blistering early hour of…8AM.
Ahh yes, my love of French races.  Let there never be a reason to start before double-digit hours.  My wave officially started at 10:04AM, so I left the house around 9AM.  It was a mere 3-4 minute trot over to the Metro station and then a simple (albeit crowded) 12 minute train ride to the starting area.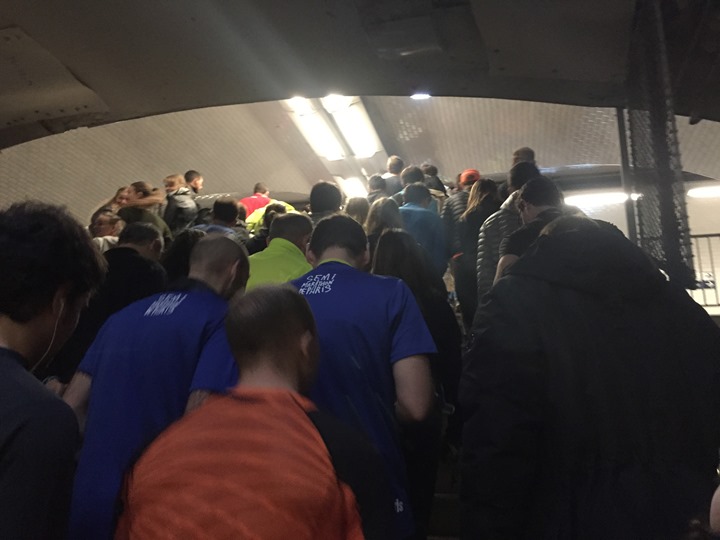 The starting line was located at Château de Vincennes, on the edge of the Bois du Vincennes (bois = forest/woods), which is the massive park in Paris that makes NYC's Central Park look like someone's quant backyard flower garden.  I often run within the park during my longer runs.
They had a wide assortment of tents setup, and a pitifully small number of bathrooms available.  Thankfully, it was only the tents I needed.  In this case, to drop-off my bag.
Now, for all the things that French races do right, the Paris half-marathon seems to try really hard (annually) to totally hose up bag drop.  I suspect the conversation goes something like this:
Coordinator #1: I think bag drop-off went reasonably well last year, participants only waited 15-20 minutes to drop-off their bag.
Coordinate #2: Well, that's unacceptable – it must do more to ensure a more relaxed experience (French for 'longer time') .
Coordinator #1: No problem. I saw a TV show recently where they made contestants do a math puzzle in order to gain access to doors.
Coordinator #2: Great! Can we please ensure that it also involves shapes? I love shapes.
Coordinator #1: No problem, I'll work it out.
Now most races' bag-drop is relatively simple.  Usually just by race number, or perhaps a color coded system.  But here?  Oh no…for this we involved rectangles, circles, and a rotating digit system.  First, you take your race number, seen below: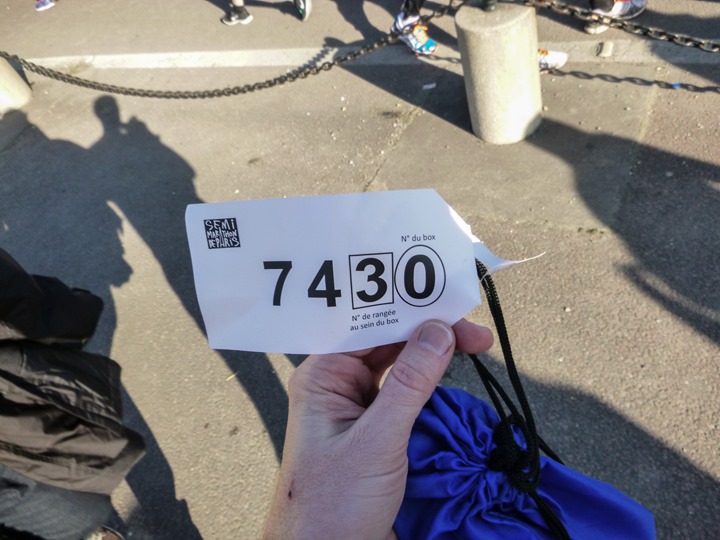 Next, you need to take the 2nd to last digit – the one in the square, and match it to the right tent line.  Never mind the fact that the lines go approximately 100m long, and appear to be mating each other due to lack of space.  The photo below was actually taken in line, the end-goal is the tents.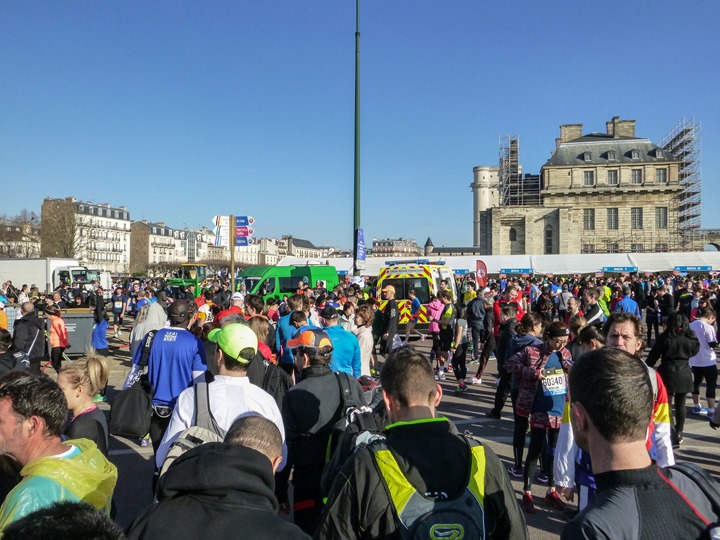 Now be sure you don't get all confused in your not-so-early-morning state, and mix up the last and second to last numbers.  Just match the shapes first.  Then, take your last circle digit and find the secondary tent sign within the umbrella tent area.  It'll be the one with nobody in front of it.
Why nobody?  Well again, because everyone is standing in that 100m long line for 20 minutes trying to get into the tent area.  It's like pre-security at the airport.
But don't worry, you know those announcements you're hearing in the distance about your corral 'closing' in 3 minutes?  Think of them as a free warm-up.  Like bonus miles on the race.
Closing? What do you mean?  Glad you asked.  See, many French races (actually, many European races we've done) have a corral system that 'closes' at a given time.  That time is often not published.  But essentially 15-20 minute before the race starts you have to be within the Fort Knox style fence system for your corral.
In my case, my corral was approximately 800m away (line of sight).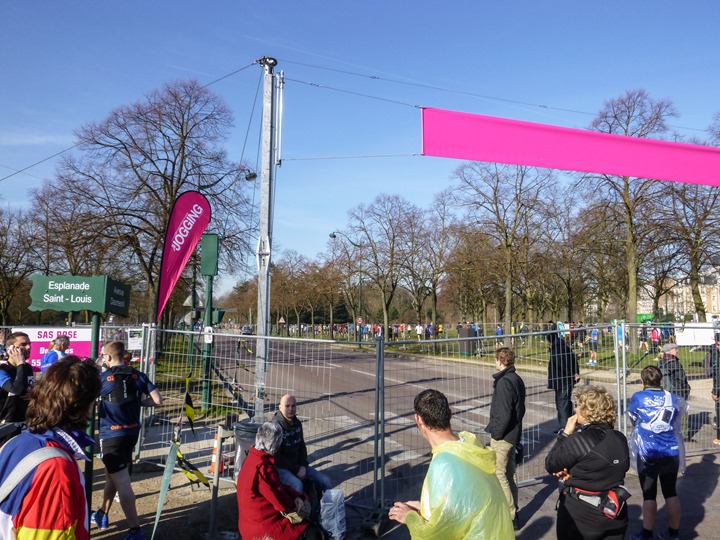 So how do you get there?  Why a trail run of course.  Duh.  Very much not line of sight.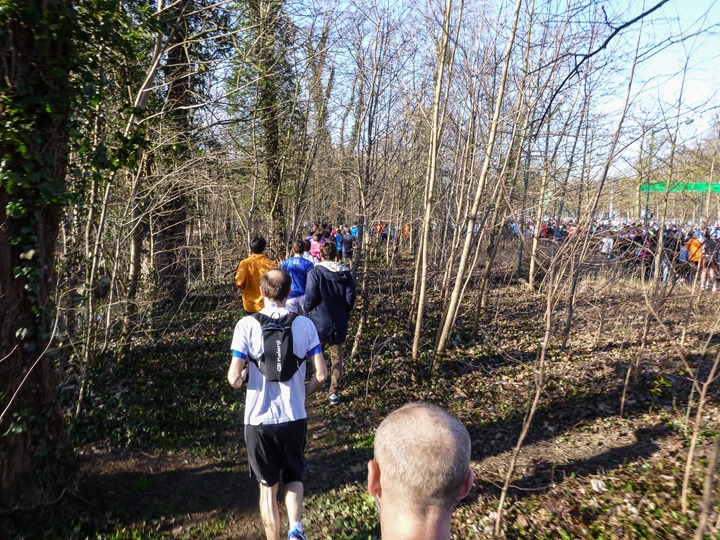 Now, once you arrive – you and the rest of your corral are actually outside the corral.  That's because at this point they've somewhat closed the corral doors.
It's not until a full-on 'Tear down that wall!' occurs that we collectively gain access.  Virtually everyone that you see below is actually in the forest waiting to get into the corral they've been pre-assigned.  The race has already started.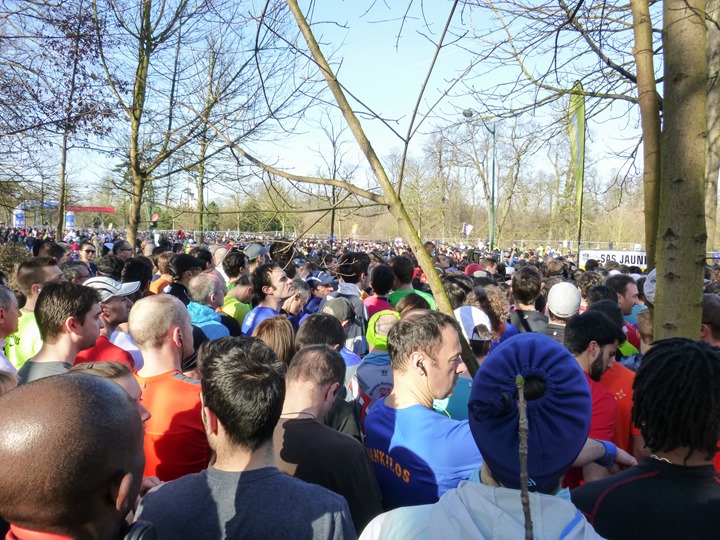 On the bright side, I'm nice and warmed up.  The start of our corral has already passed the starting line, and by time me and the thousand or so folks outside the corral make it through the fence, we just keep on running to and through the starting chute.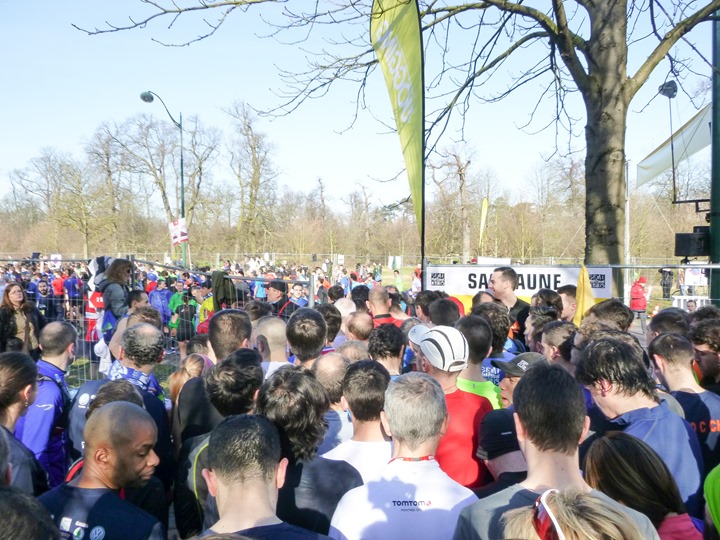 Which, brings the pre-race excitement to an end.  Just to ensure I don't disappoint you, the pre-race festivus is likely the most entertaining part of this post.
Running the Half-Marathon Thing:
In case it wasn't clear above, I've already passed the starting line.  That's it behind me.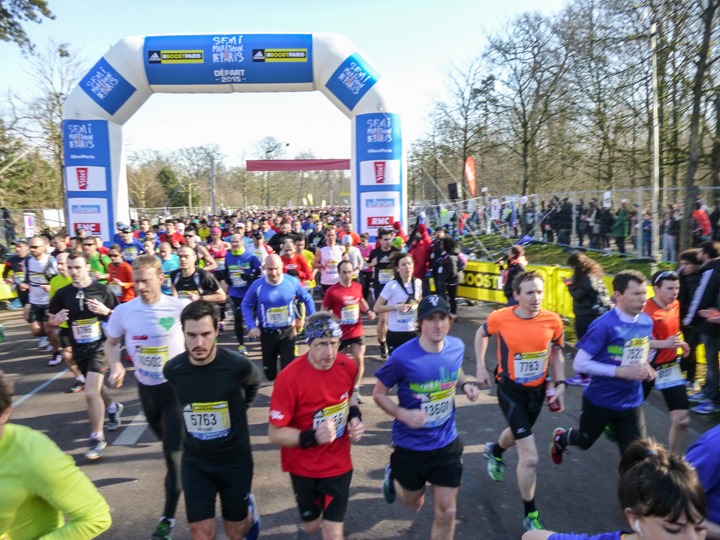 The wave I selected was the 1hr 35min wave.  This was simply because I was too lazy to send in a qualifying race for a faster wave (such as my Barcelona Half-Marathon 1:25 time last year).  And partly because I figured as long as I was at the front of the 1:35 wave, then that's really probably fine.  Obviously, my trail run 'delay of game' threw a baguette into that plan.
No worries, like Dory from Finding Nemo, just keep running!  And run I did.  It was crowded, but not overly crowded.  I was able to do a bit of light swerving and keep things mostly at the pace of my choosing.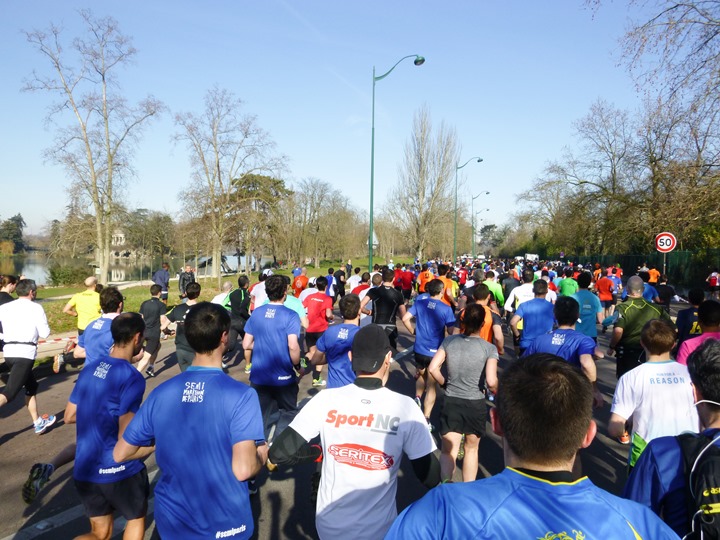 That said however, I continue to be disappointed by folks running way off-course on clearer paths.  I get their desire to have a cleaner run, but part of the point of a race event is to deal with those conditions.  And, since those same people would then cut corners (which really do add up), they're also running a shorter race.  So, a shorter race by virtue of their line, and a shorter course.  Obviously, I don't care whether I get 12,934th or 13,286th, but, it's still the principle of it.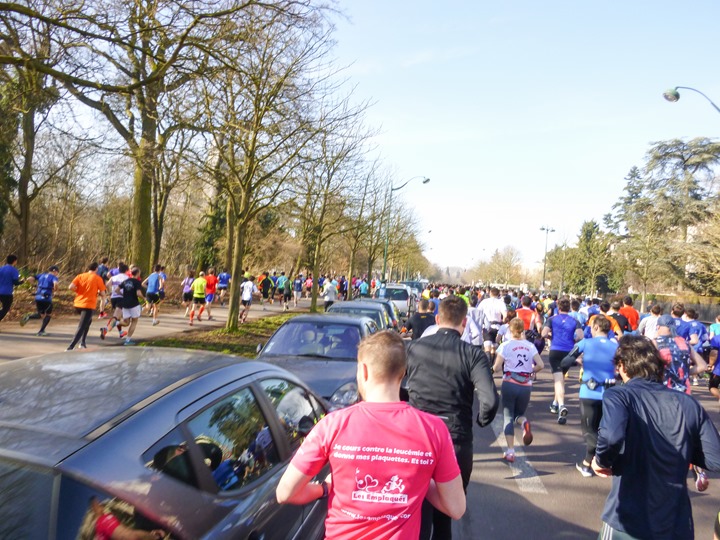 In any event, they switched the direction of the race this year, from when I ran it last.  Same course, opposite direction.  I actually like that idea – makes it a totally different course.  For one, it means that there isn't an uphill section in the final miles of the race.  Which is rather positive.
I do appreciate that the organizers taunt you a bit in their signs, specifically the first aid station sign.  It's like those 'Last Gas Station for 118 miles' type signs.  Except inverted.  This one at the 6KM marker, casually reminds you that you still have 71% of the course remaining.  In other words, the majority of it.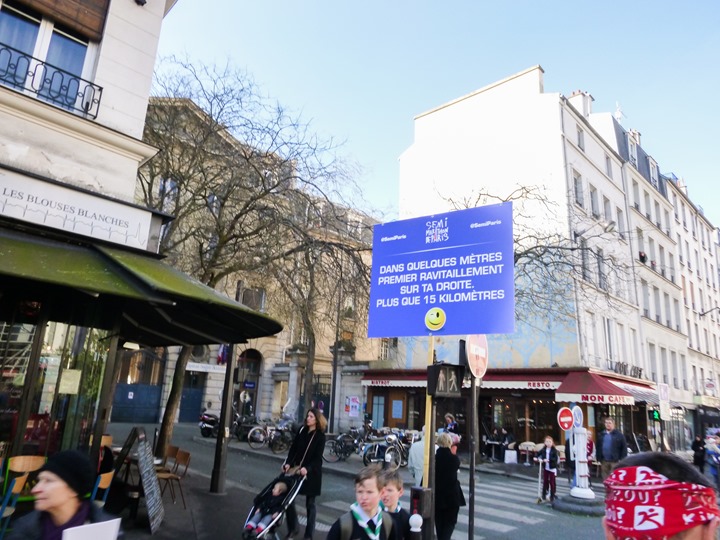 Which there makes it thus an awkward point for me to already start feeling like crap.  The 5K marker?  Really?  Sigh.  Oh well, I'll just keep on running and slightly pull back the pace.  I was doing around 6:45/mile (4:12/KM), so I pulled it back significantly to…6:50/mi.
This of course had zero impact, and was really just my hard-headed brain's inability to actually shift pace – despite the fact that my heart rate was hilariously high (like, 5K race pace high).  It was actually laughable to me at the time.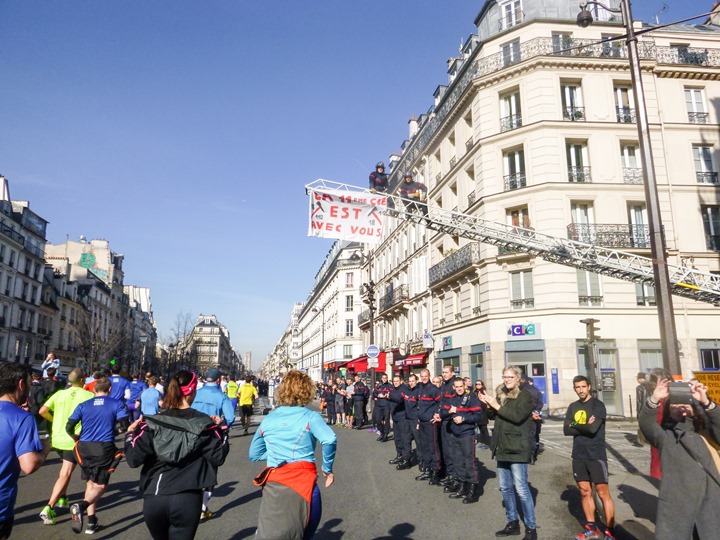 At some point after that we ran through Bastille – another of my common running area grounds.  Also the home to the grilled cheese sandwich place I very much enjoy.  I contemplated stopping, it was only about 50m off course.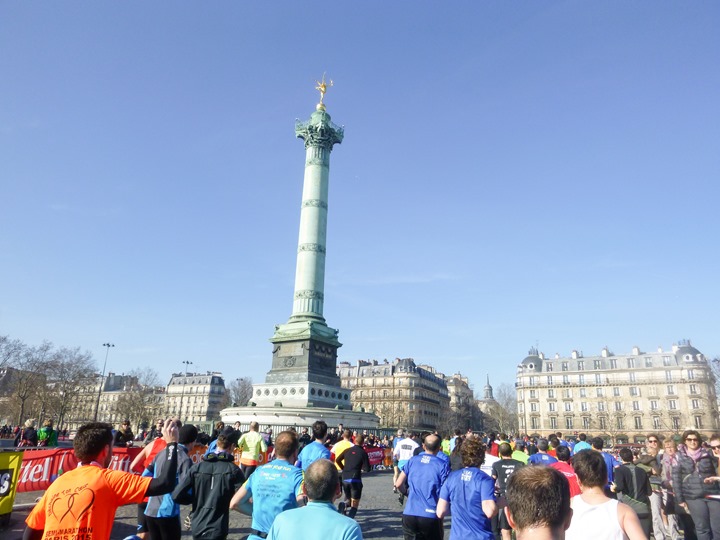 Next we had Hotel du Ville, which was effectively the hairpin turn of the course and where you started working your way back to the start.  Though, it wasn't the halfway point, more around the 9K marker instead.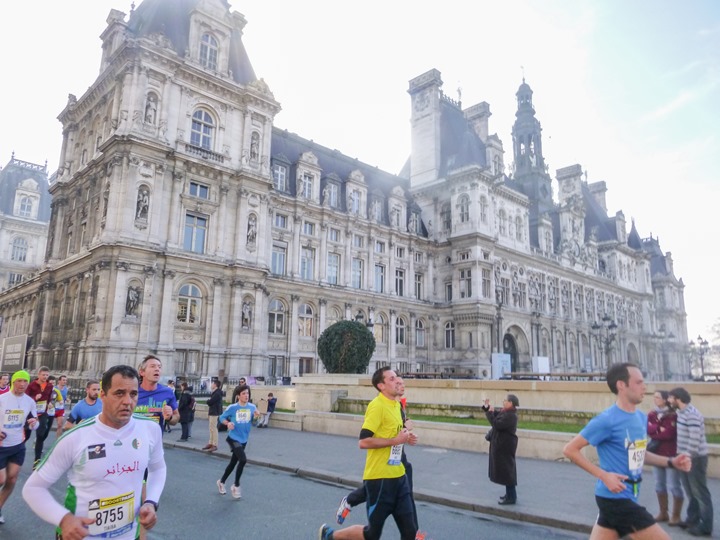 More notably though, it was right across this little bridge from the CupCakery…and thus home.  I seriously considered just calling it done and walking home, face stuffed with a fresh salted caramel cupcake.  But then I realized that I'd still have to go back to the start to pickup my cell phone.  And that made me sad.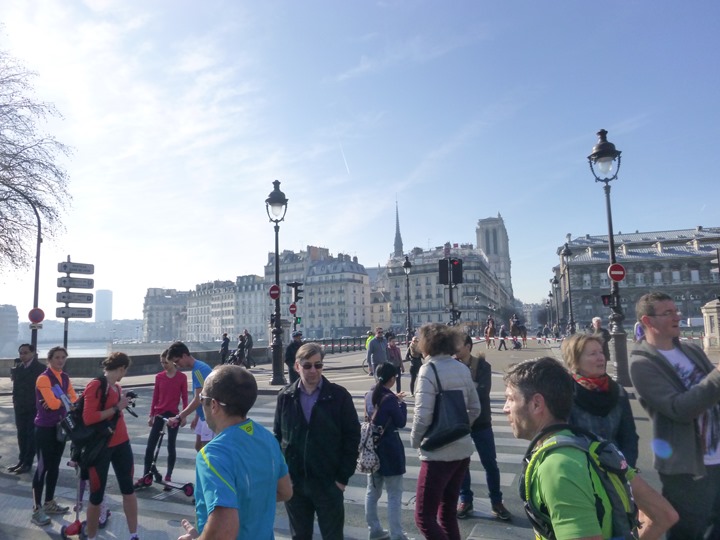 I generally felt like crap still, and my pace displayed it, slowing by a third.  So I had another brilliant plan: I'd stop at Bastille, and catch the Metro (subway) to the start.  Would only take about 10-11 minutes.  Ingenious!  (Side note: I've never actually DNF'd a race to my memory, even when I was hit by the car).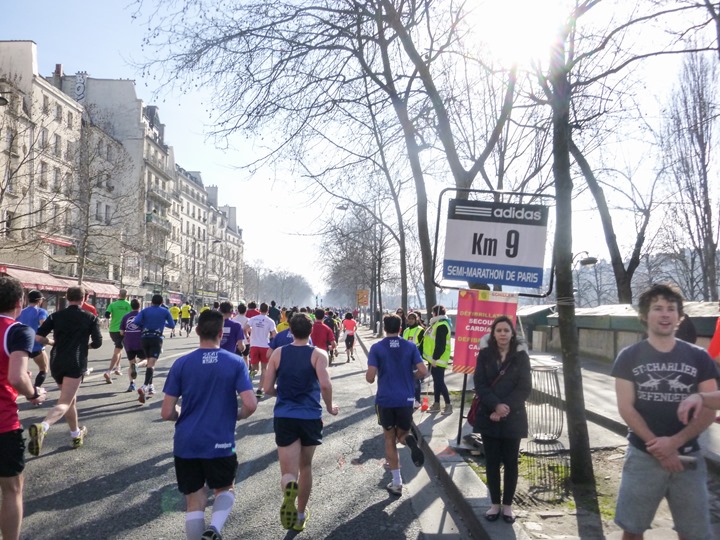 Except as my brain begun to get excited about this Metro assisted completion, I realized one itty bitty problem: I left my money and Metro card in that algebra-laden bag drop-off, some 6 miles ahead.  Sigh.  Soooo, should have executed Le Cupcake Plan instead.
Of note was that I found and ate orange slices along the way.  That actually seemed to help some.  About 3-4 orange slices per aid station, with some water.  Functional.  Also of note:  Like Dory, I just kept on running.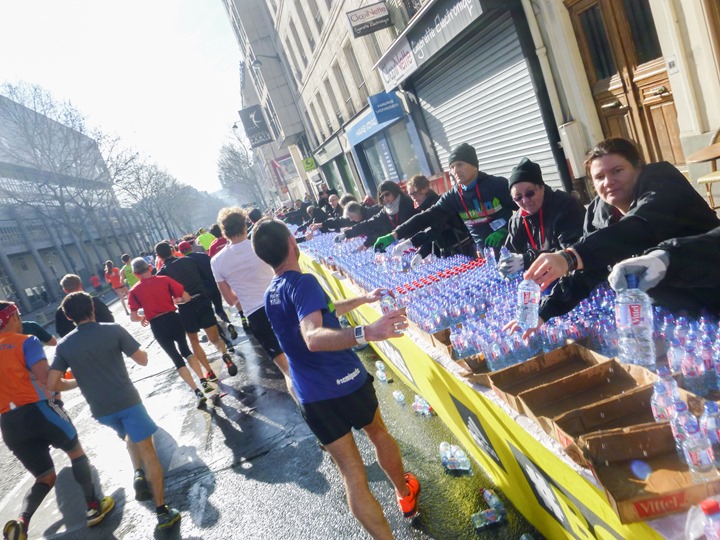 About 45 minutes later I was cruising through the park and towards the 1KM to go finish line: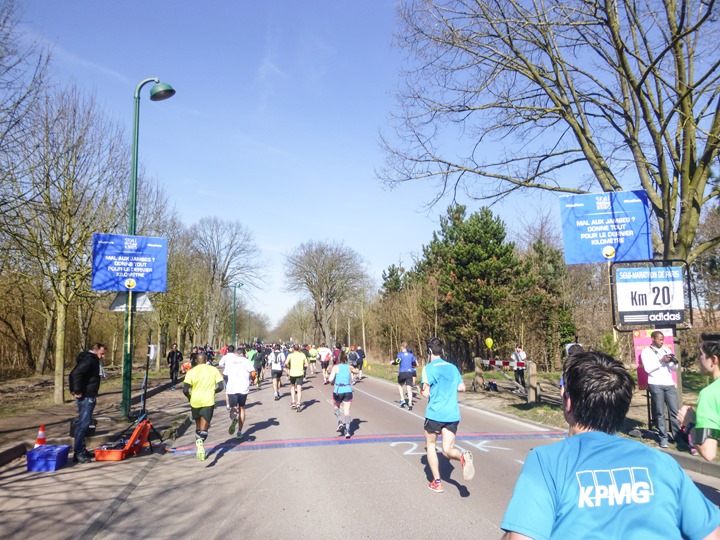 And of course, then the actual finish line in a chip time of 1hr and 35min: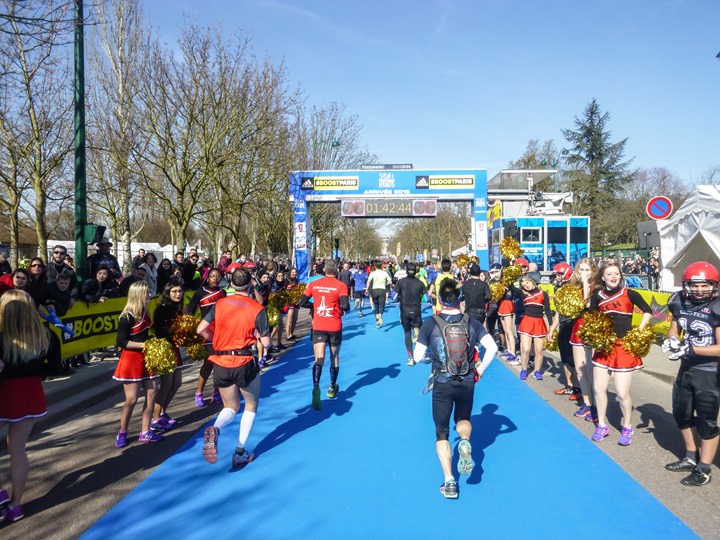 At this juncture, the organizers make you walk to Spain before you exit the finish corrals.  Here's a shot looking back – this is only about half-way through the process: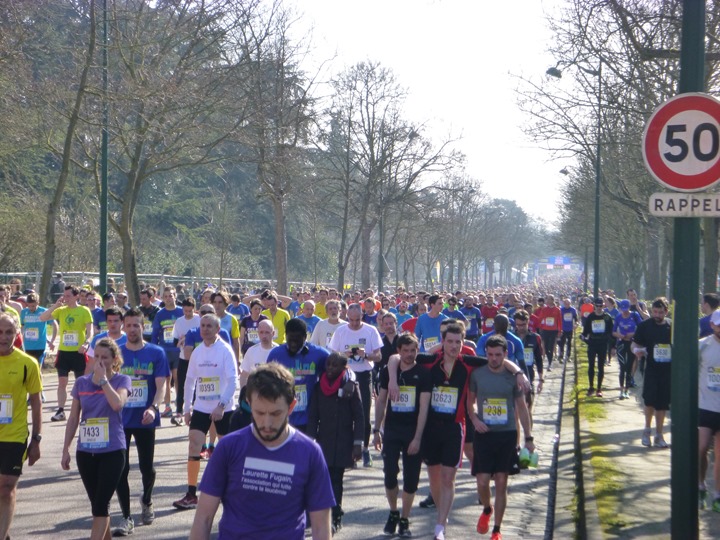 Of course, there's actually a lot of logic in this.  For one, it increased my activity tracker step count for the week – always a worthy goal.  But secondly, it keeps people from sitting down.  The salmon-like stream of athletes doesn't much make sitting easy.  By avoiding that, they assist athletes in recovery (even if said athletes don't realize or like it).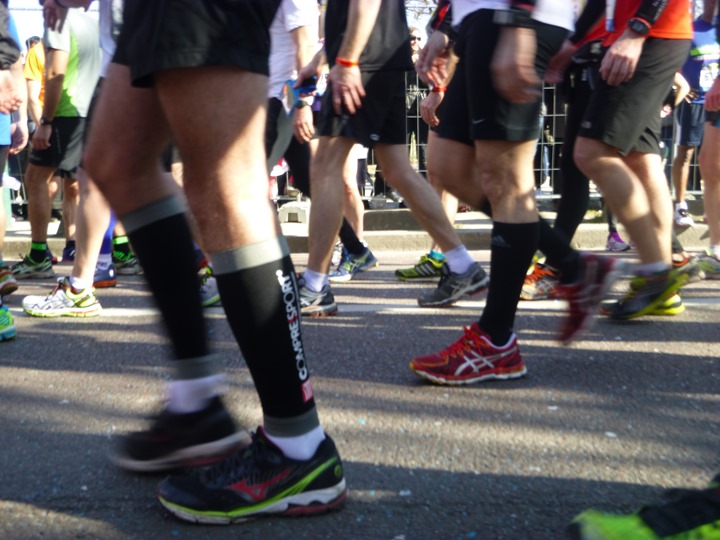 After walking back from Spain, I got to the part where I get free stuff.
Post-race orange slice party:
In this case, that free stuff started with a finisher's medal.  Like almost all race medals I've received in Paris, this was hefty and solid.  No cheapness here.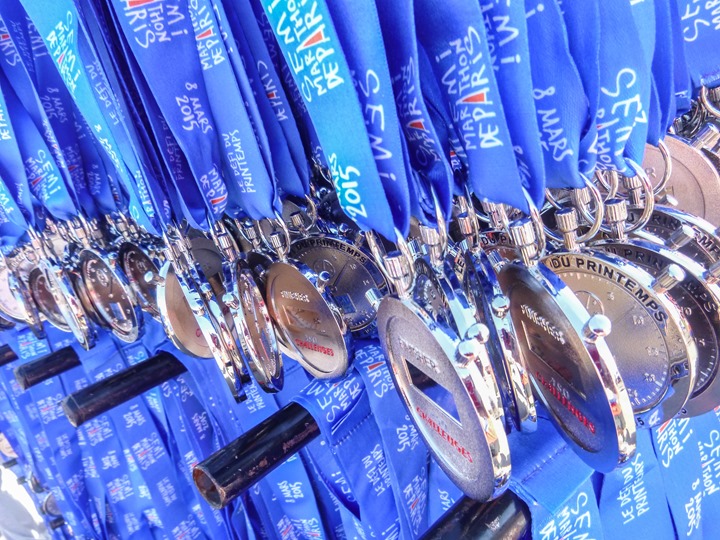 Next comes the biggest finisher's food table setup I've ever seen at an event, which stretches as far as the eye can see.  Granted, with some 60,000 bibs assigned, they'd be expecting something slightly larger than your neighborhood potluck attendance numbers.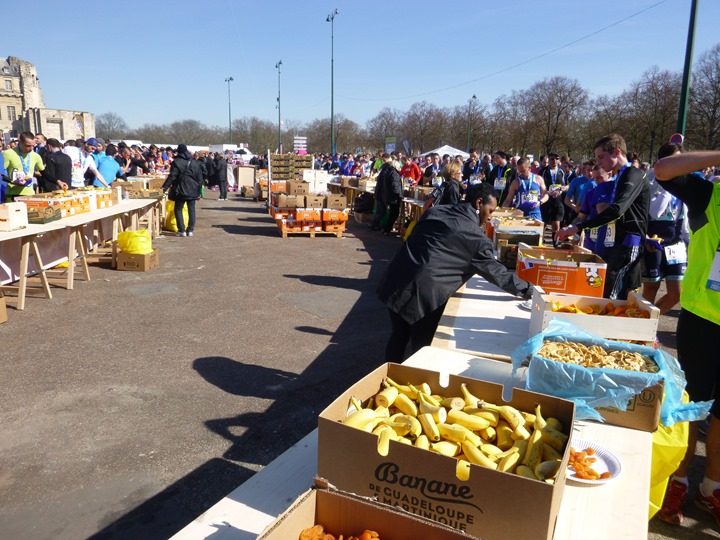 Most importantly, they had an abundance of fruit – notably orange slices.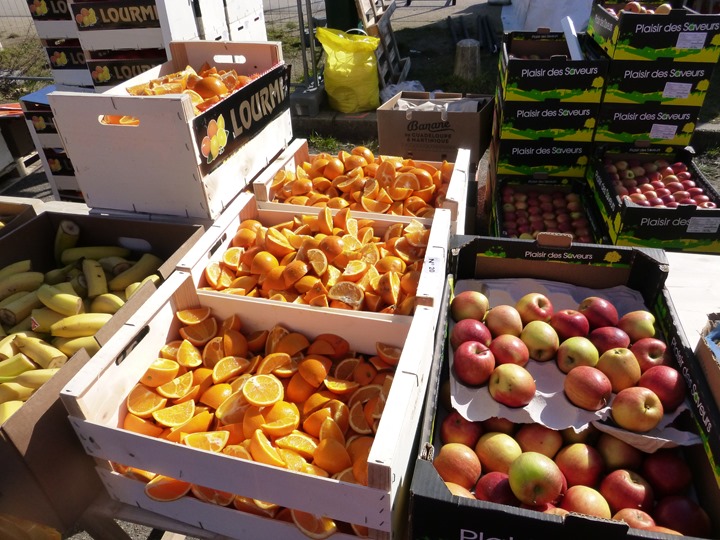 Seriously, semi-truck's worth of crates of them.  An entire grove appeared to be represented here.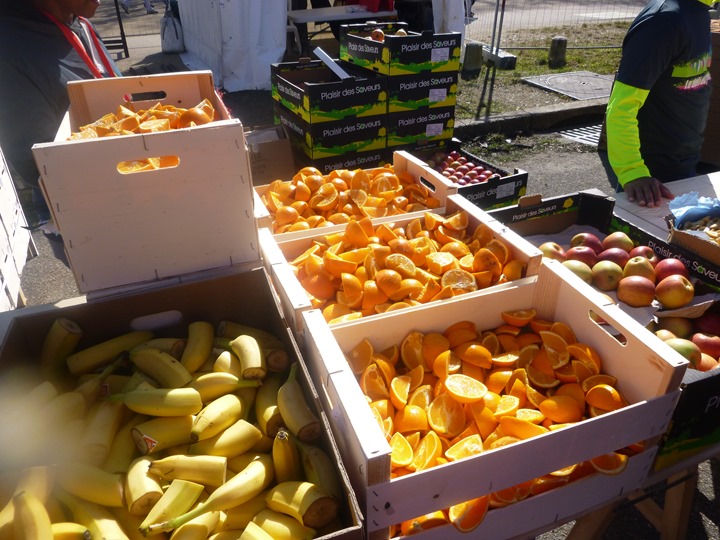 The things were so addicting.  Plus, once you got past the first 50m of tables, it was pretty much wide open and nobody around.  So you could basically just hang out and become a human juicer.
They also had coffee and tea.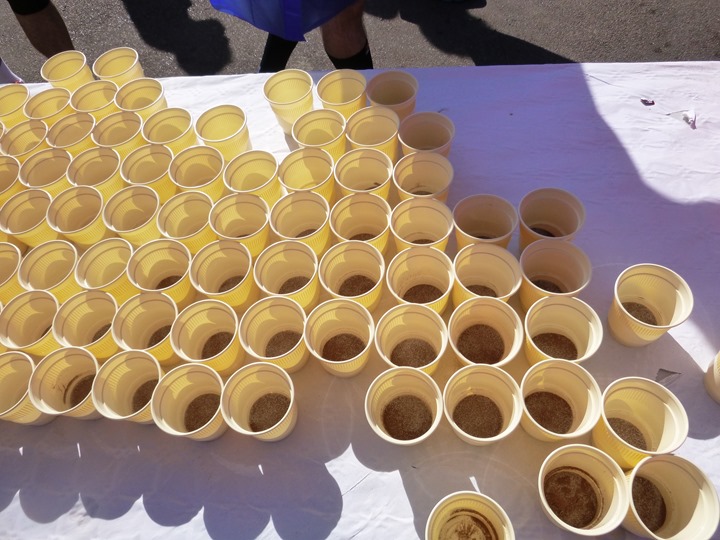 From there though I exited to go spend some quality time with the hieroglyphics of packet pickup.  In this case, it was a bit easier for me since I just had to remember the rough area that I visited some 2 hours prior.
Regrettably, that didn't make it any easier for the poor souls trying to decrypt the secret code of bag placement within each individual tent.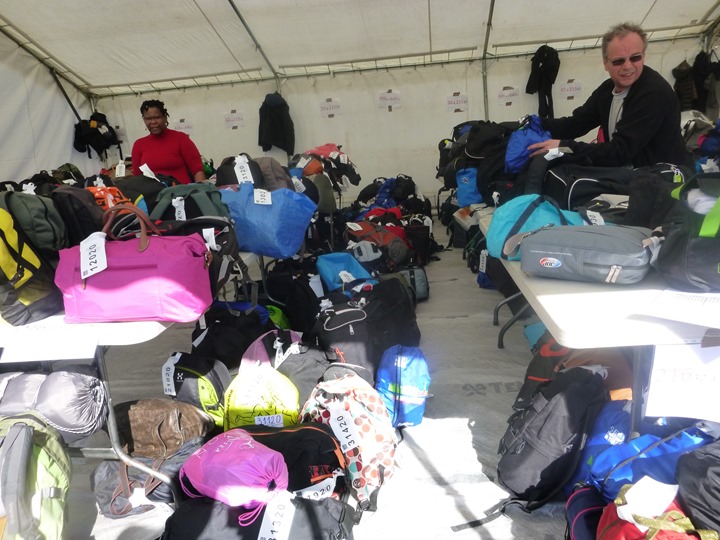 After the volunteer attempted to solve the math location riddle three or four times, they located my bag and I was on my way.
Oh, and in case it wasn't clear – it was a beautifully sunny (and rather warm) day out: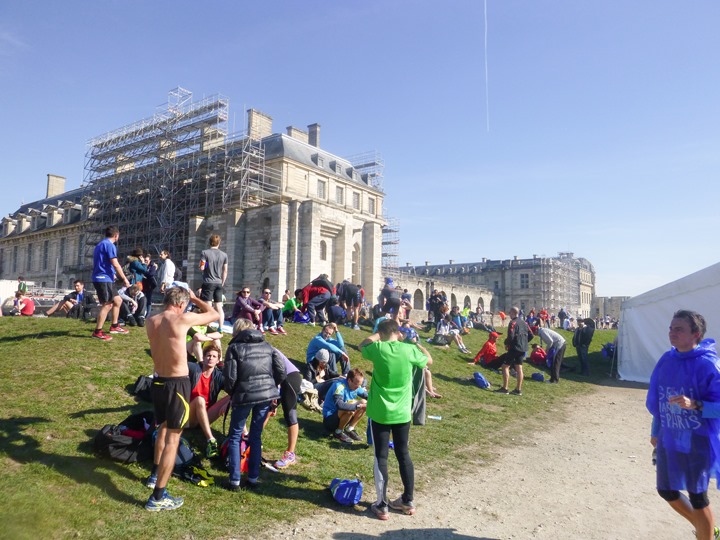 From there I jumped on the train and about 15 minutes later was walking back across Hotel du Ville to the shop.  In doing so, there were a handful of racers making their way through the 8-9K marker.  There were still folks out and about cheering though.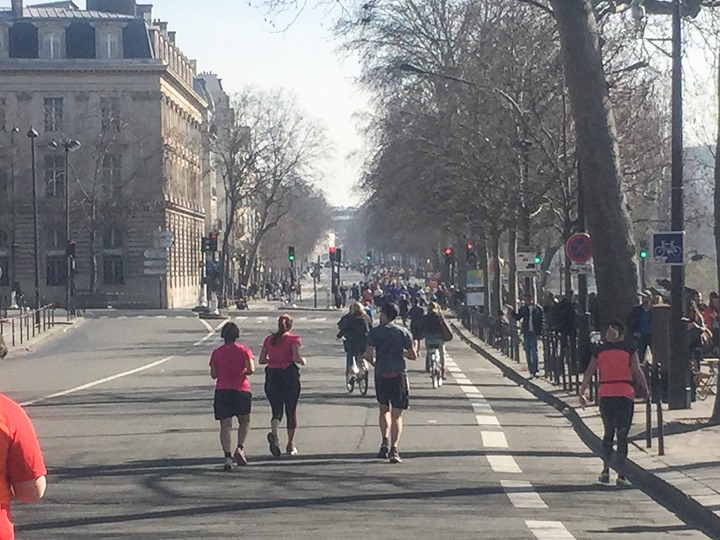 With that – thanks for reading, and enjoy the rest of your weekend!  And, if you're bored on this Sunday – you can always sift through my numerous past race reports.