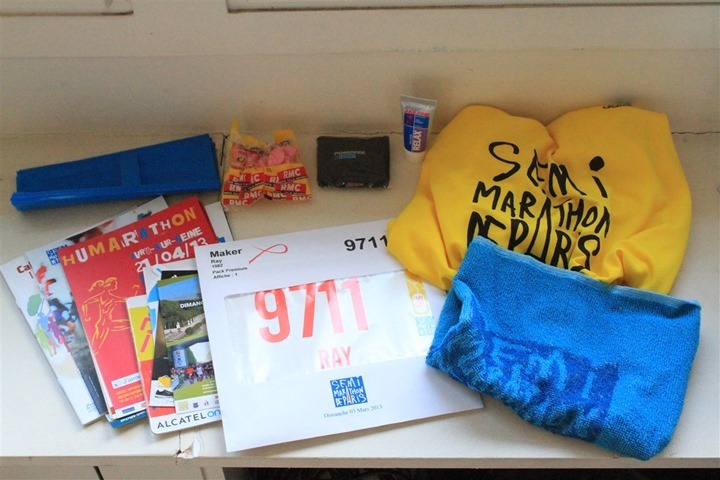 You know what I appreciate about the Paris Half-Marathon?  It started at 10AM.  Yes, 10AM!
That means that we woke up around…ohh…8:15AM, walked a few hundred meters to the Metro, and took a short 11 minute Metro ride to the right stop.  Now, that short little ride was probably the most packed subway I've ever been on.  It would put the Japanese people pushers to shame.  Just when I thought nobody else could fit on…sure enough, more people did.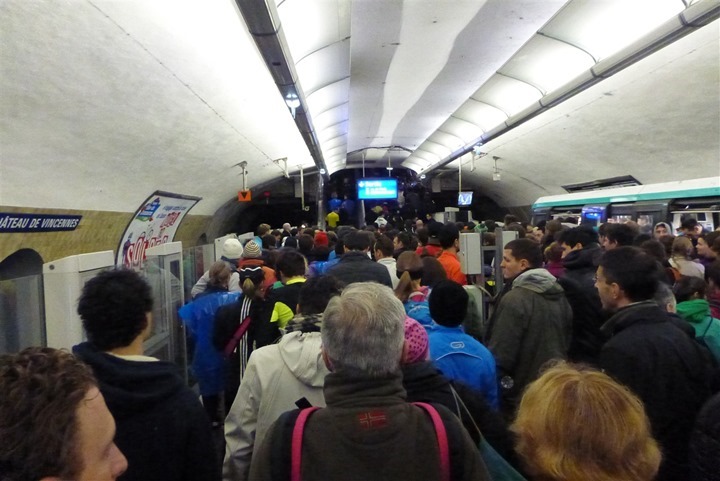 From there, we walked probably half a mile to the starting area.  It was a nice sunny morning.  A rarity here in Paris, though, the last week has been rather nice.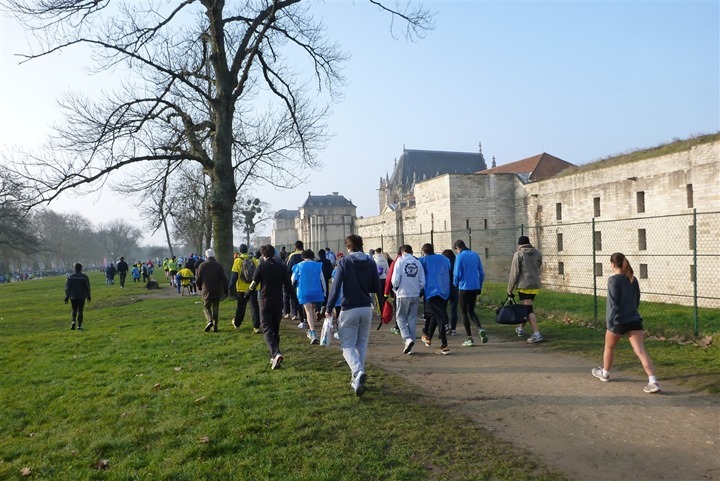 This is probably a good time to point out the 'we' aspect.  See, I was running this race with The Girl.  A team effort that we devised back this fall (you know, before we realized just how busy we'd both be between work travel, opening a business and everything else).  We'd be running together, and I'd be pacing.  Plus, it's fun to be able to run with someone again, especially her!
Also of note is that here they call the Half-Marathon the 'Semi-Marathon'.  Thus, the Paris Semi-Marathon is technically what we ran.
We had arrived at the race site around 9:25AM – pretty much perfect timing.  Just enough time to drop off our gear bags, get lost once or twice, and then find our correct starting location.  The race organizers provided us with a pre-race poncho as part of your packet/bag.  We picked up that on Friday night (the race was Sunday).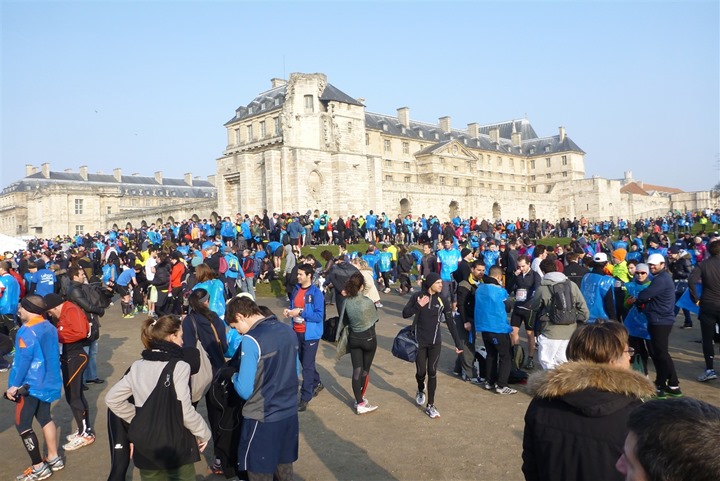 Some 40,000 people had registered for the event, so the tents for bag drop-off were at least a few football fields long.  And yes, that's a castle behind it.  This is Europe after all.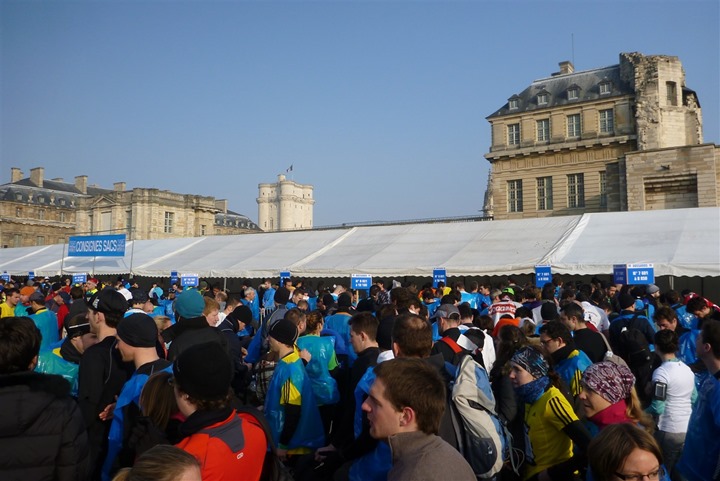 After dropping off our bags, we did the normal stuff.  You know, like watch a bunch of bananas dance.  Even if we could correctly understand the linguistic aspects of what they were attempting to communicate, I don't think it would have mattered.  At the end of the day, you're still dancing in a banana suite – all awesomeness included.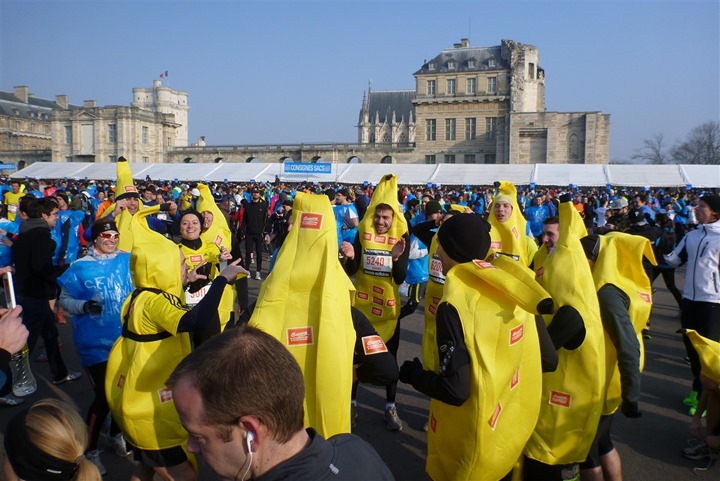 Initially we thought that we'd be joining the massive corrals that were setup in front of the castle.  But then we learned our spot was actually in the main starting chute (albeit one that was probably 800m long).  By contrast, the corrals you see above were long strips perhaps 25m wide  and 150m long each at varying paces.  They'd slide out like cars in a ferry-boat line.  Kinda smart.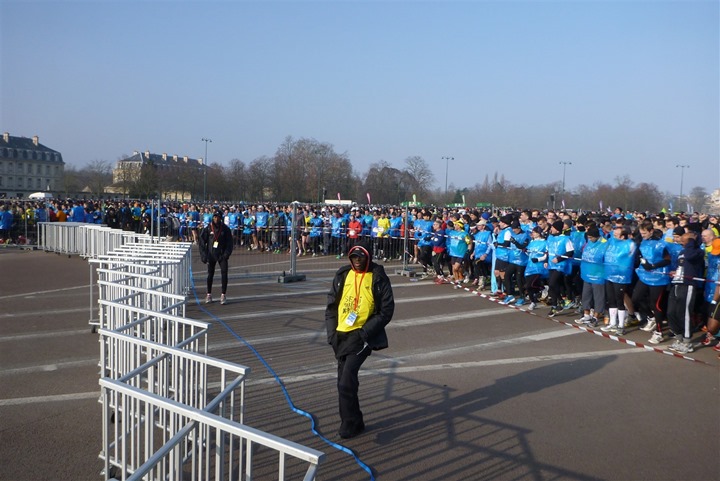 Eventually we found our spot.  We had settled on a 1hr 35m finish time (approximately 7:15/mile), back many months ago.  Thus, that's where we found our place: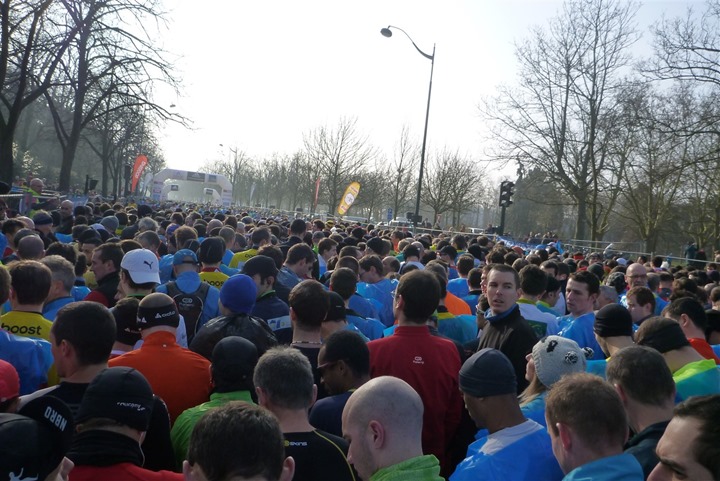 That's the starting line way up there.  Looking back, it's an endless sea of people.  And to think, we can't even see the bulk of the folks (who are slightly off to the left in this picture below, behind the trees).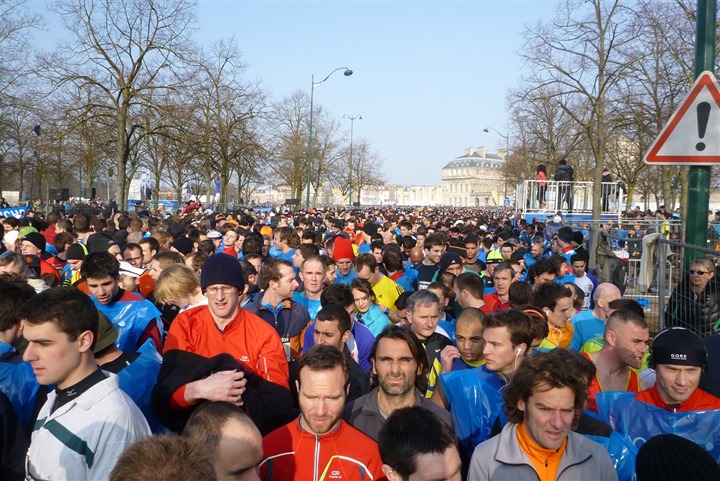 While waiting, I remembered to add the Vibration alert to my nutrition alerts.  I'm definitely loving the nutrition alerts on the Timex Run Trainer 2.0.  Now, I've been too lazy to setup separate drink/eat alerts, so I just use the drink alert for everything.  Set for every 15 minutes.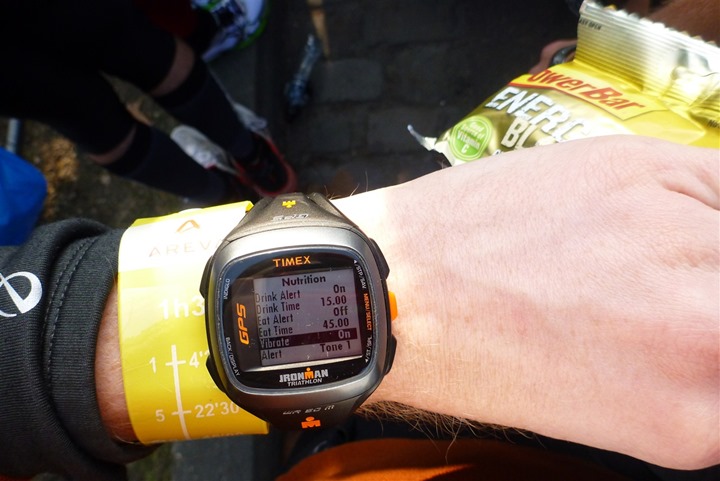 At 10AM, we heart a tiny cracking sound – which turned out to be the starting gun.  No announcements, nothing.  Grandmas slowly rocking back and forth on a rocking chair have exuded more excitement.
What was pretty cool though was that they held chunks of the racers.  At, they did so at a few points.  You can see us below, about a 50m from the start line, being held up as the section in front of us cleared.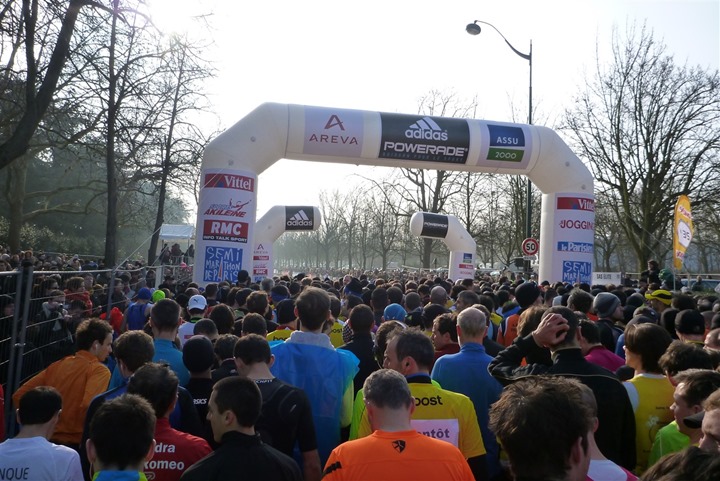 Then, just in front, held again.  This was absolutely perfect!  Nothing better than a clear section of road.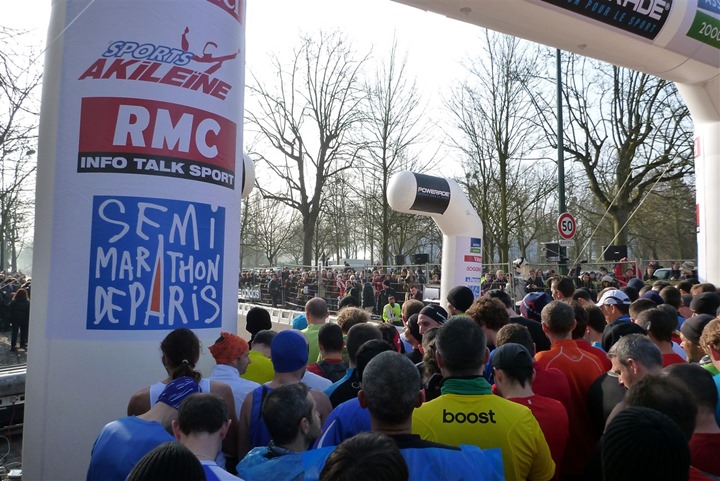 And then – we were off!
Pretty good crowds up here, given it's a bit of a haul from the more populated areas (the start sits on the edge of a massive park).  Here's a quick video I shot just after the starting line:
The biggest thing we noticed was just how fast people move here. And most notably, the fact that people here are fully capable of choosing the correct pace area.  Meaning, people that had signed up to run a roughly 7:20/mile pace, were legitimately running it.  Not much dodge and weave.  Not sure why this concept is so difficult for folks in the US (look, it's one of my pet peeves – put yourself in a realistic pace group).
With that, the first couple miles were mostly within the park.  Pretty much just cruising around!  It's funny to think that on any other Sunday on this very road I'd be doing laps on my bike (going against the crowd).  Definitely not today!  It's actually a large horse racing track to the left in the photo below.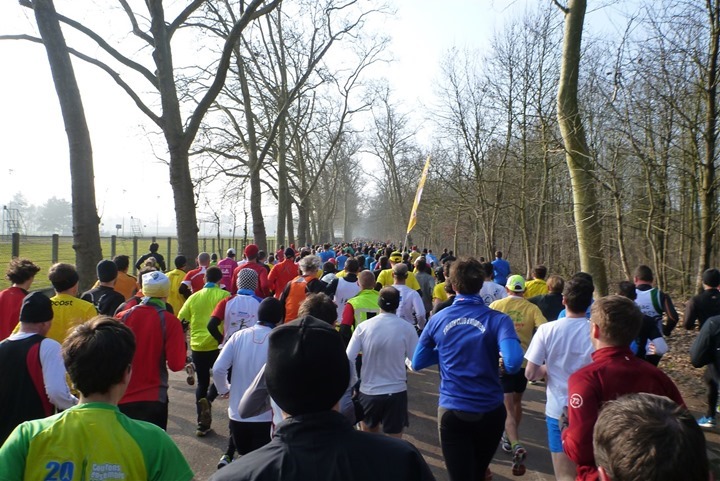 Roughly every kilometer, there was a band.  They varied in size – but at least one large drum appeared to be required.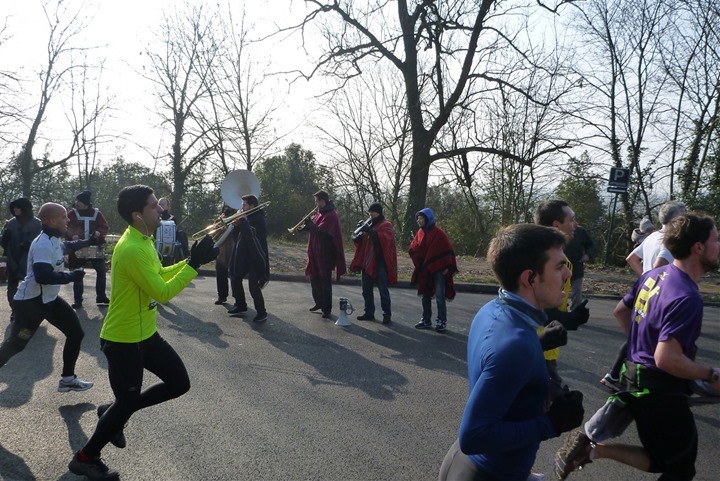 I think they're grapes.  Or, actors aspiring to be Barney.  Either way, good entertainment.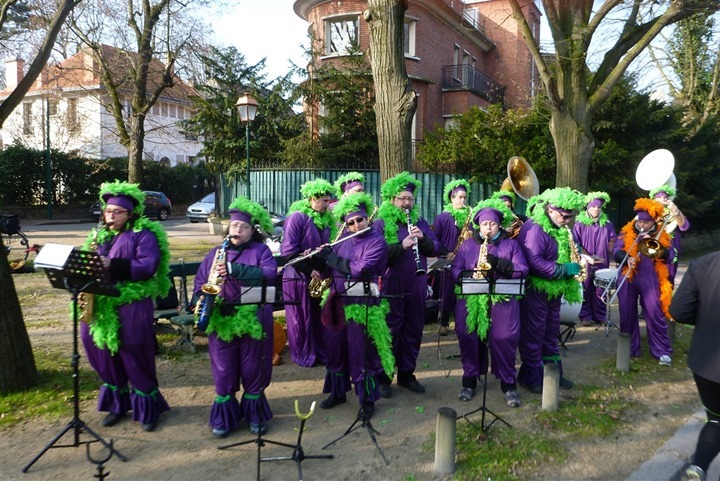 And then there was this gentleman.  Sorry for the fuzzy picture – but it was a split and last-second shot.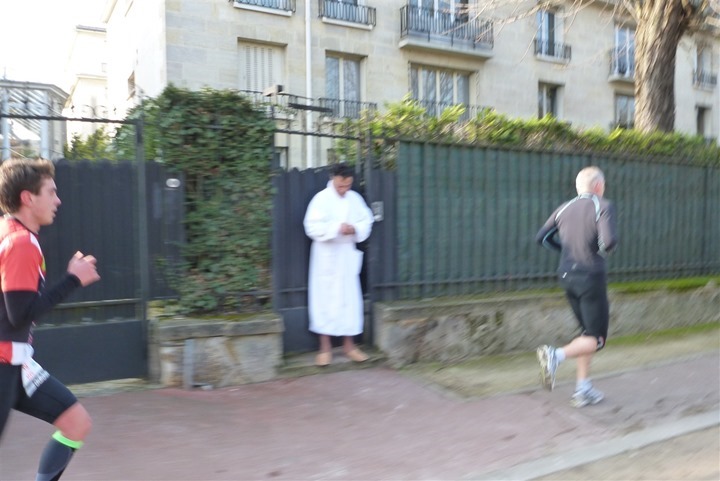 Soon we found ourselves at the 5K marker – largely on time.  Actually, sorta ahead of pace.   A fair bit.  My bad.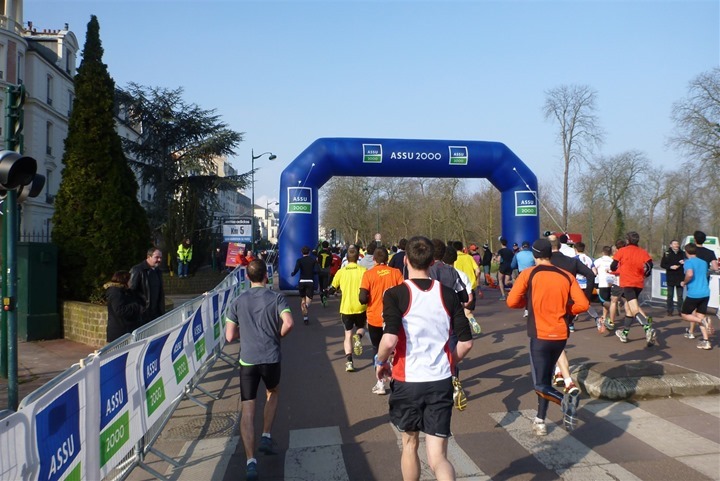 This would also be the first water stop in the race.  A bit of a shift from the norm in the US being about every 2 miles (5K = 3.1 miles).
Also of note was that they give you entire bottles.  While I understand the logic given fewer stops, since they don't give you caps, you end up just throwing them away.  A bit of a bummer and a waste, since most folks were taking a couple sips and tossing a bottle away that was 85-90% full.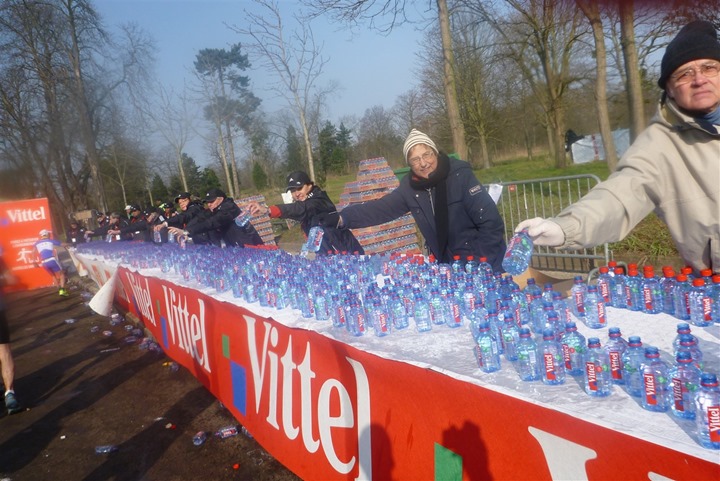 They also had a wide array of things to eat.  This was definitely smash and grab.  Or grab and go.  Later aide stations on the course looked like a food fight had broken out, with food splattered everywhere.
It's just interesting seeing something so different (in the US, things are almost always pre-packaged for big-races like this, exceptions being some endurance events with smaller crowds).
We continued plodding along – and, mostly right on pace.  A touch fast at times, but we knew we had some uphill sections later in the course.
The every-kilometer entertainment kept things fun.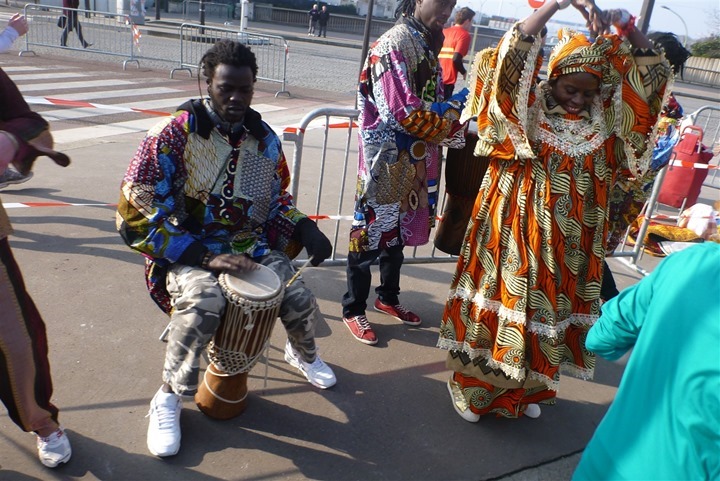 I loved this shirt.  It says "Team Baguette Camembert" – or basically, Team Bread & Cheese.  Brilliant.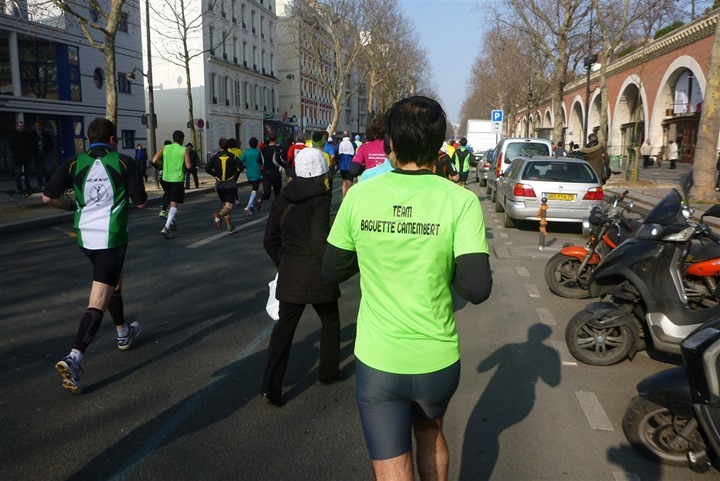 At this point, we're back into the city a bit more, cruisin' the streets.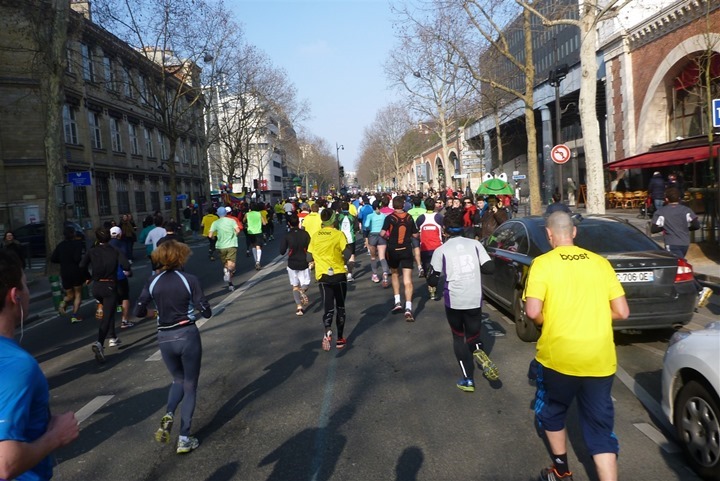 Around the 10K marker, another water stop.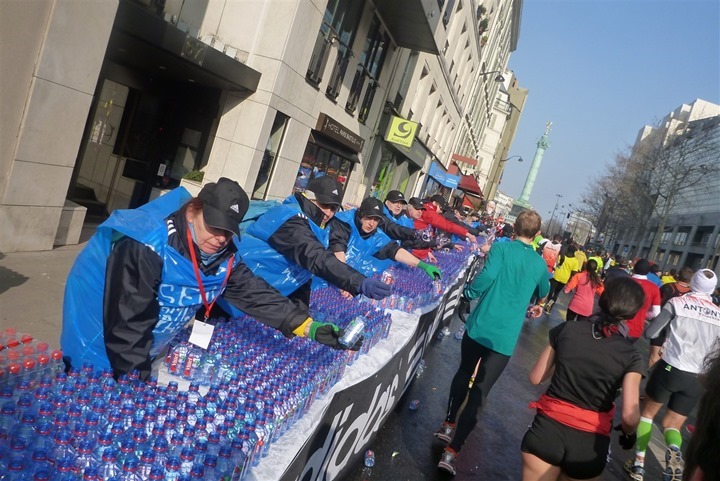 Here's the gigantic containers you throw the bottles at.  Well, actually, you throw them at the backstop, and then they bounce into the containers.  I would venture to guess that the location of the person standing in the white coat is poor.  The water evidence on the ground proves so.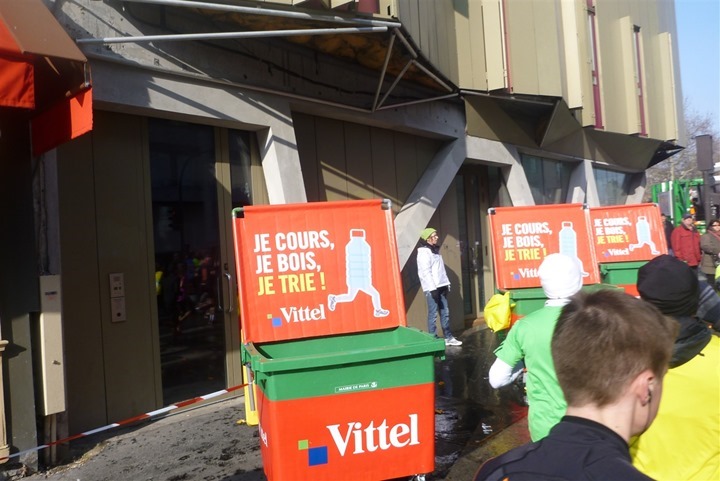 And of course, more bands!  This was in front of Bastille, and this exact spot is where we run never ending intervals loops on weeknights around the canal behind it.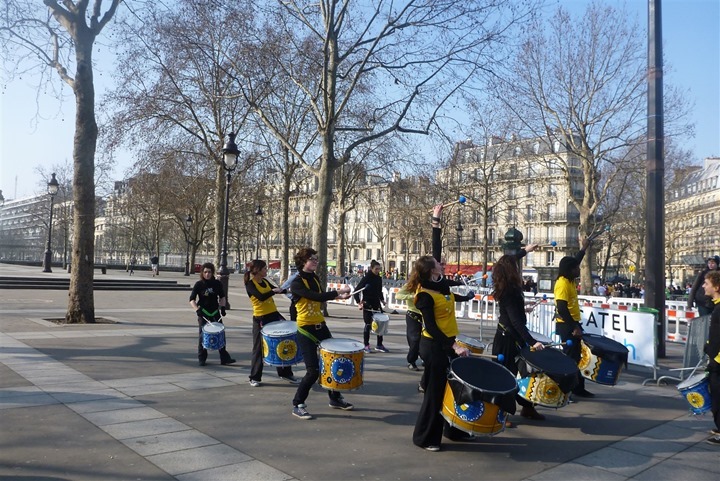 I thought it was interesting that at almost every kilometer marker they had defibrillators available, and clearly marked it.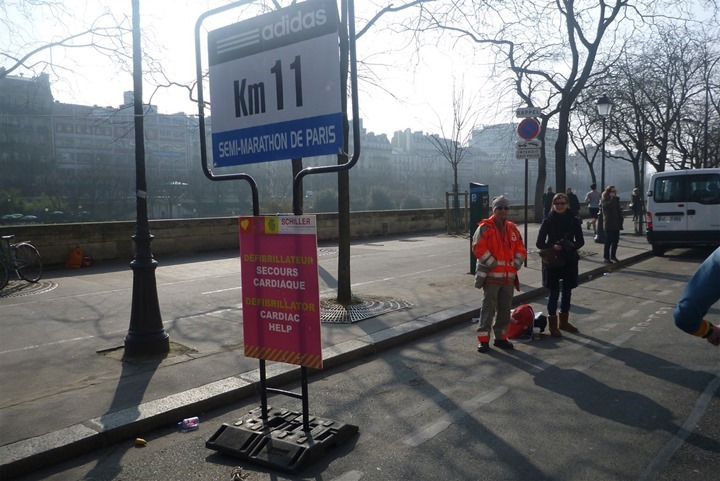 Soon we were along the river, with Notre Dame in view.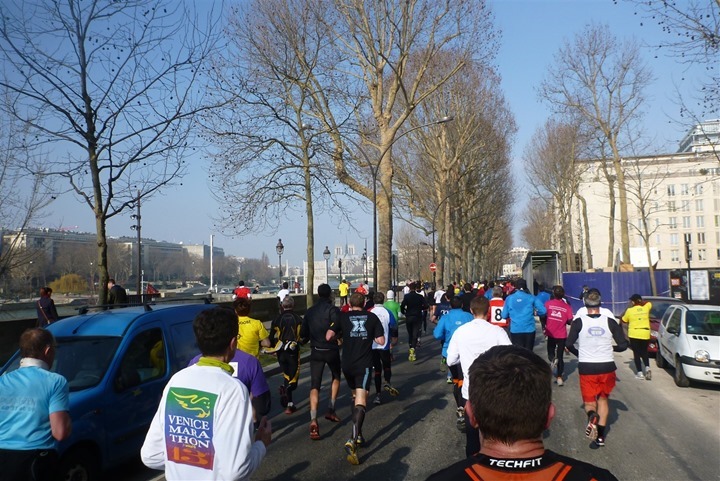 As we passed Hotel de Ville, both The Girl and I looked at each other and jokingly said – 'Wanna just run home?' – a few hundred meters away. 🙂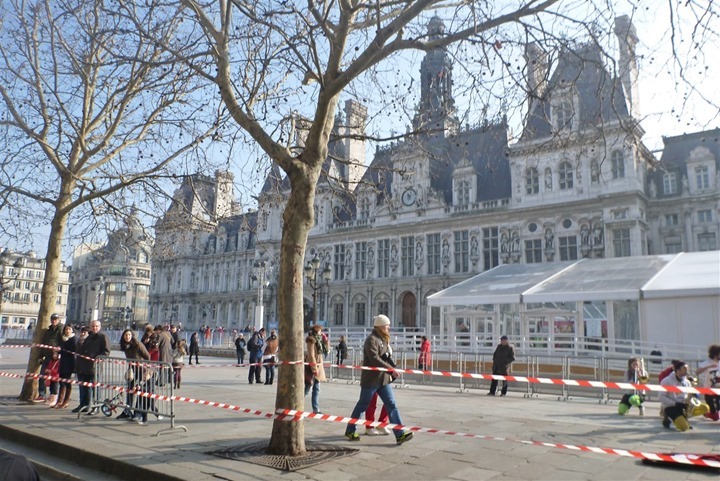 Instead, we looped around it and kept on chugging!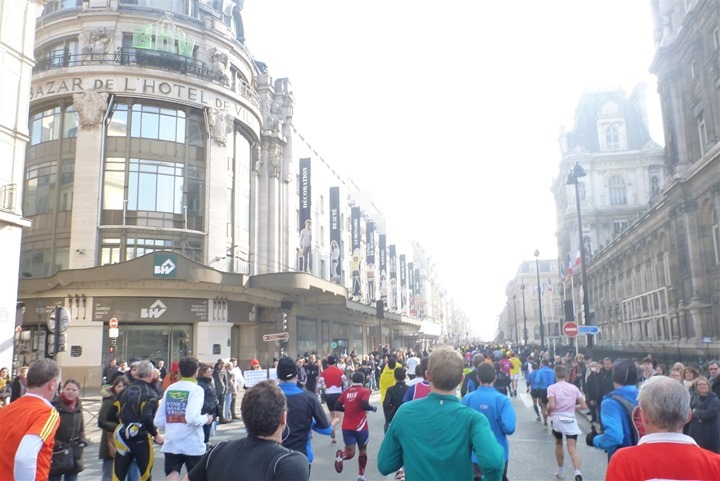 A few kilometers up the road I saw another first – water buckets.  People would dip their hands in them.  I'm not sure if it was to clean them of any gels/gu's, or to clean them for the upcoming pickup of items from the food table.  Given it was between 30*F and 40*F…I wasn't terribly excited about this dipping.  But I had my own food anyway.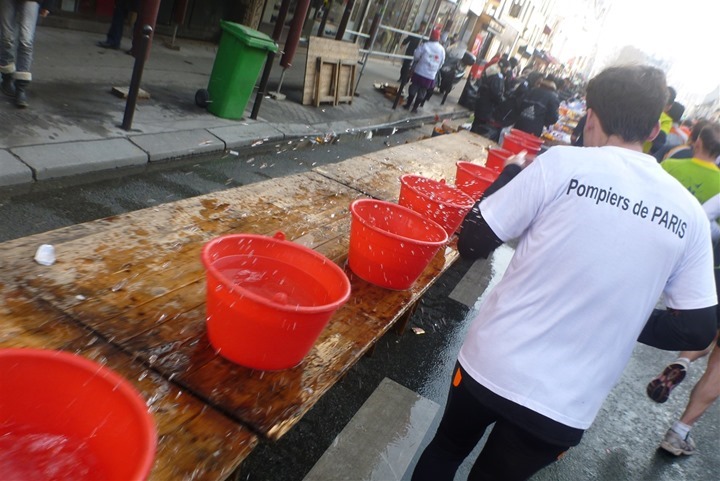 Oh, here's The Girl!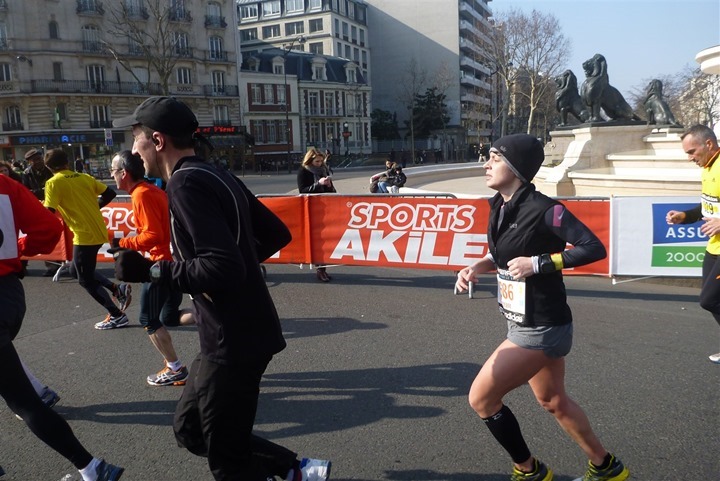 Just to recap a bit of where we've been, here's the map layout.  We're going clockwise around it.  And in case you wanted to look at the actual Garmin file, here's my file.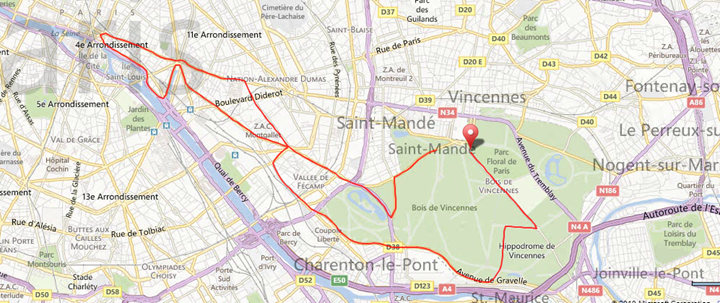 From a pacing standpoint, we kept things very consistent.  I was happy with that.
I was a little over-zone on heart rate, likely due to two factors.  First is that I had simply overdressed.  I was in tights, a t-shirt, and a long-sleeve fleece.  I was rather warm.  And the second, I had spent a LOT of time on Saturday afternoon and evening getting Wahoo KICKR photos/screenshots/etc…, which means I spent a lot of time on the trainer.
Nonetheless, it was a good run and felt fine to me.
Finally, the home stretch!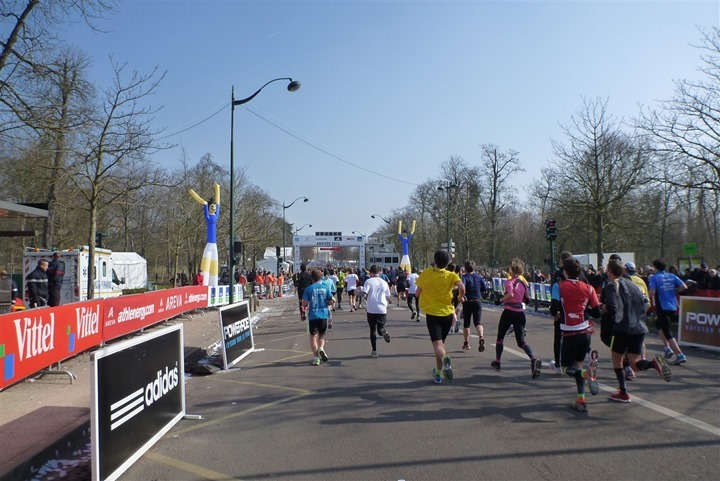 They even have cheerleaders at the finish area!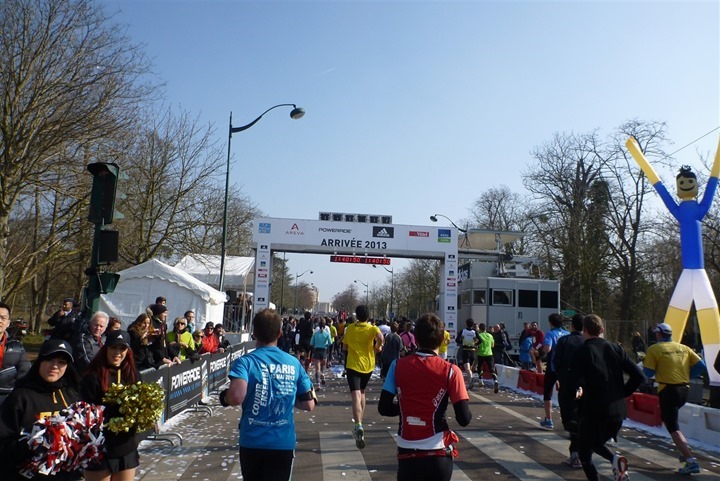 Our final time (per my watch anyway) was 1:36:45.  I had estimated a pace of 7:30/mile, so this was closer to 7:22 a mile (for the correct distance of 13.1 miles).  Overall, pretty solid and about where we wanted this effort to be at.  Obviously not a PR for either of us, but given the crazy busy schedules we've had over the last 6 months since moving here, I can't complain.  Training has definitely taken a backseat.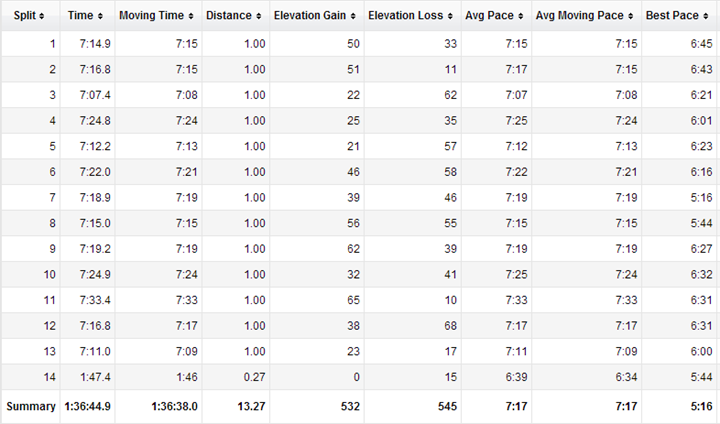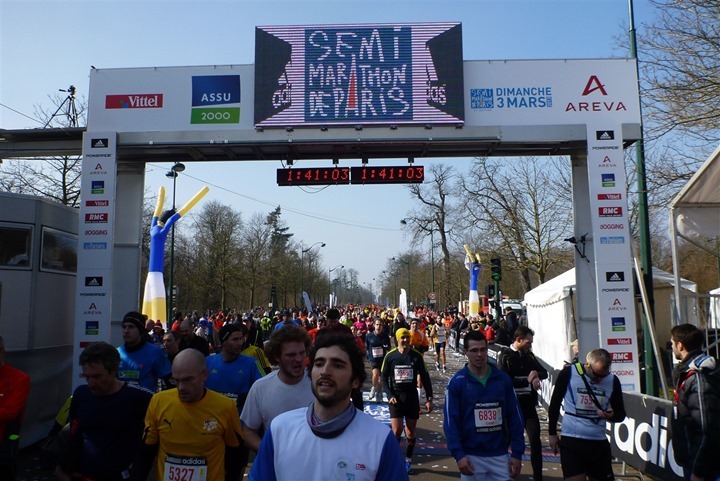 Post-race, we picked up more ponchos: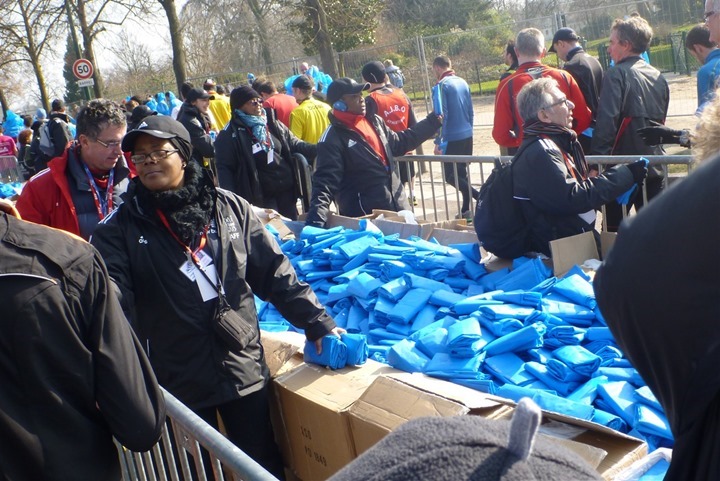 And then our finisher medal!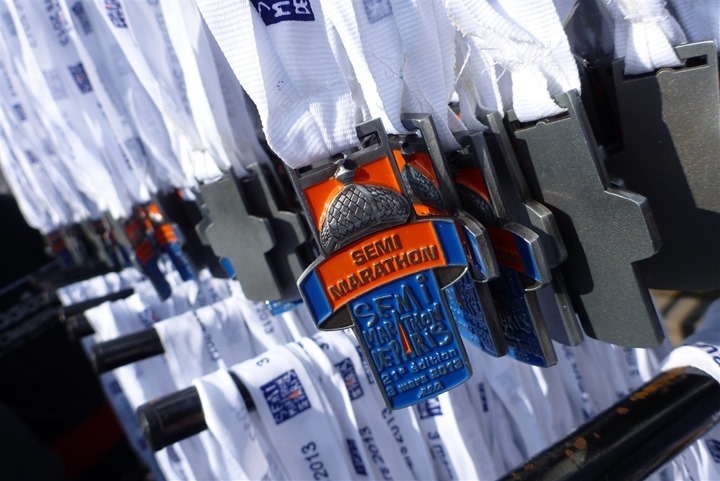 And then a little picture of us.  Woot!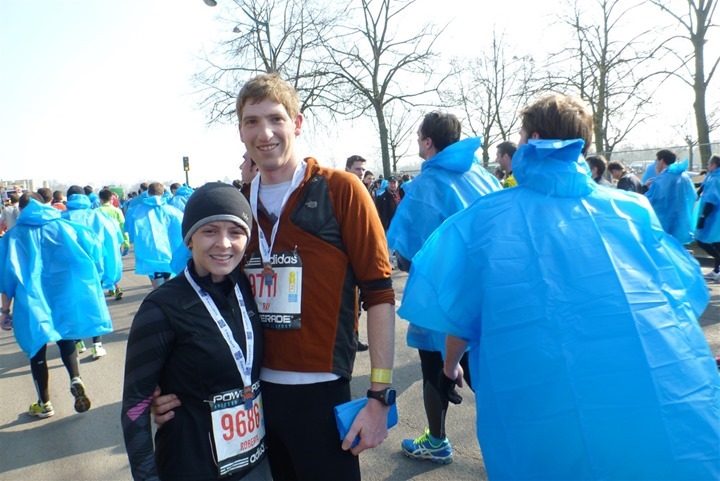 And then we spent 45 minutes in this line waiting to get our bags.  A long…painful…story.  For another day.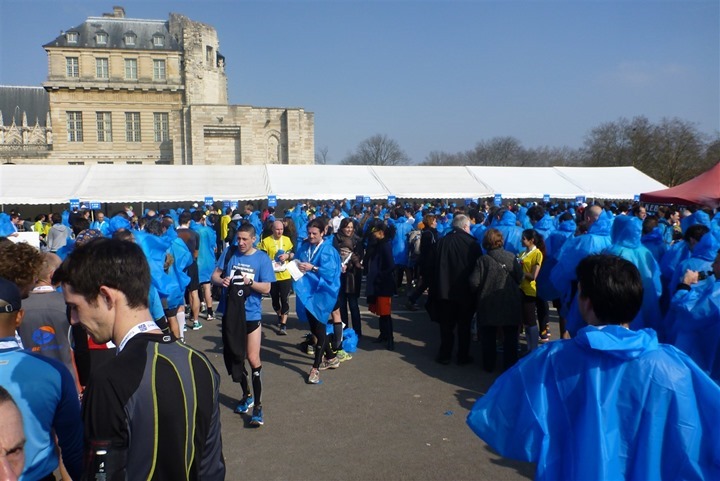 With that, we headed on home.
I had really hoped to go to the Paris-Nice Time Trial Stage held in Paris this afternoon.  But the bag drop pickup and my evening flights put the cap on that.  Sorry!
Thanks for reading!  Gotta go run and board my next flight!