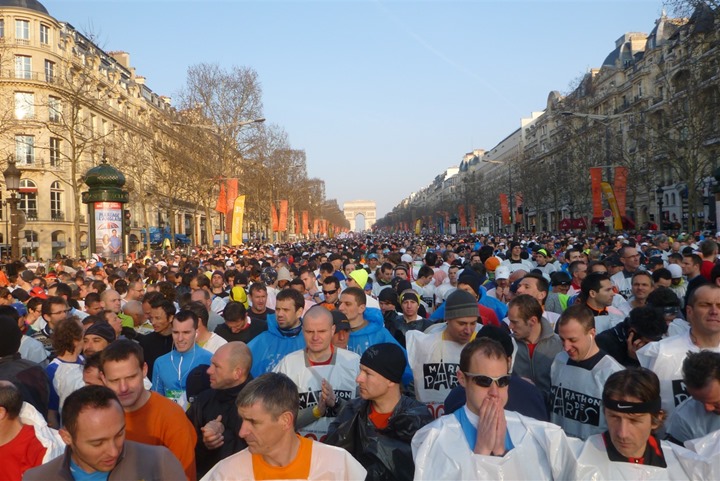 The goal going into the Paris Marathon was to help pace The Girl.  The idea started last fall, before things got a bit hectic in our lives.  Between her working 12 hours a day and running/opening a small business, and my travel schedule – it's been a busy winter.  So we modified our goal slightly to simply enjoy the day and still be married at the end of it.  Except being the moderately competitive folks we are, we ended up having a reasonably achievable time-goal to shoot for.  Figuring getting The Girl a  Boston Qualifier time of 3hr 35 minutes would be a nice to have.  And then we (and our Coach) sorta decided we could definitely run it faster.  So we aimed for 7:45/mile splits (4:48/km), which would have us finish in about 3hr 22m.  Seemed doable.
But before we get to the race, let's start at the beginning.
Packet Pickup:
Packet pickup was open on Thurs/Fri/Sat, and we decided to get it out of the way Thursday evening right before closing at 8PM.  It was only a 10-15 minute Metro ride over to the convention center: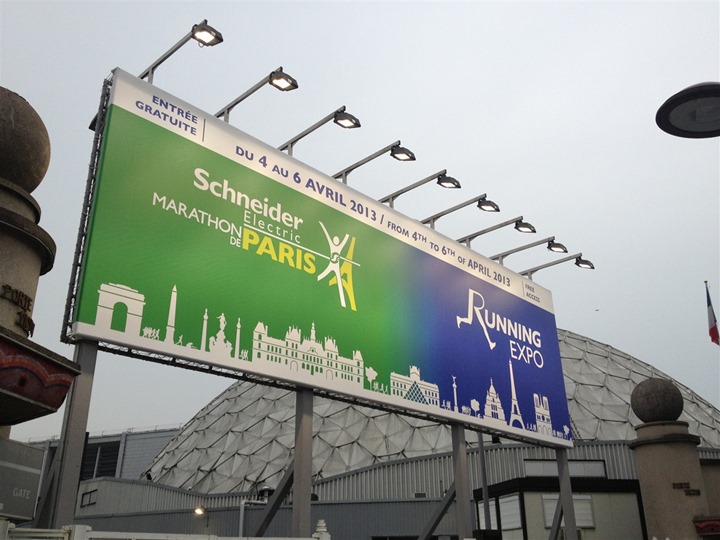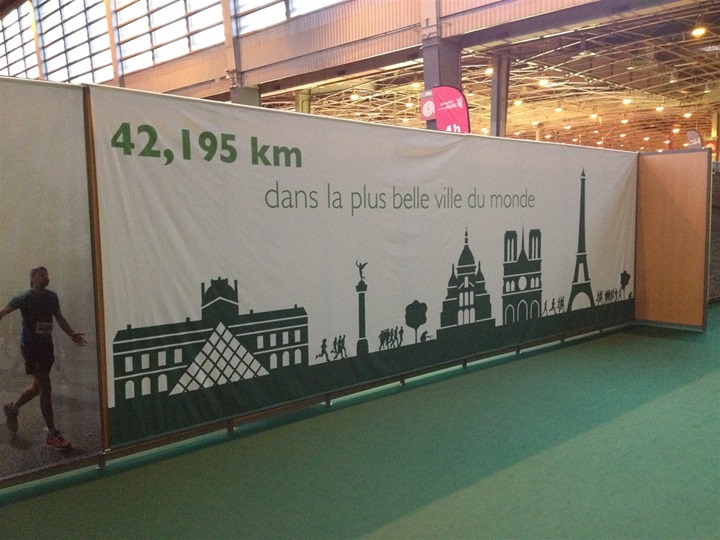 Inside the place was completely empty for check-in.  They were ready to check-in 50,000 runners, and we were literally the only ones there: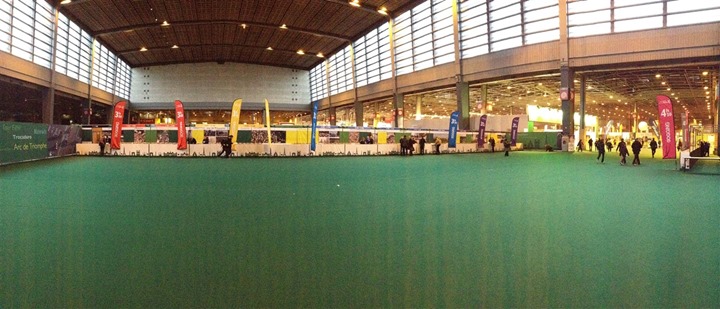 We took care of our medical certificates and then were soon into the expo: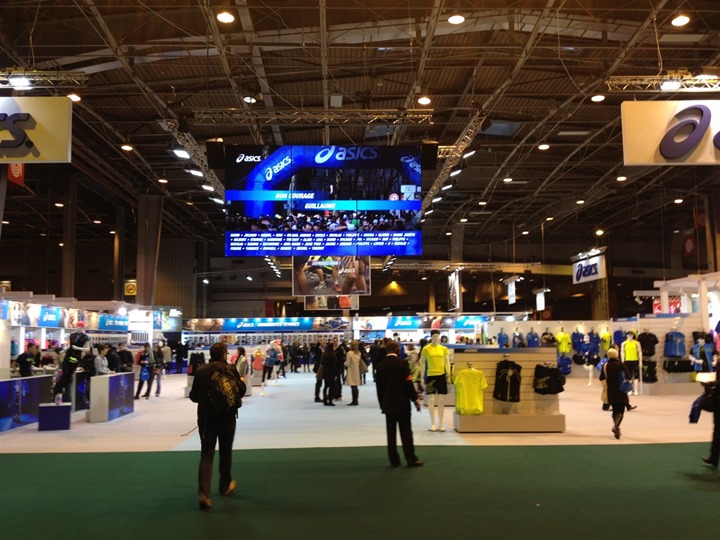 The expo was without question the biggest running expo I've seen anywhere, outside of the Boston Marathon: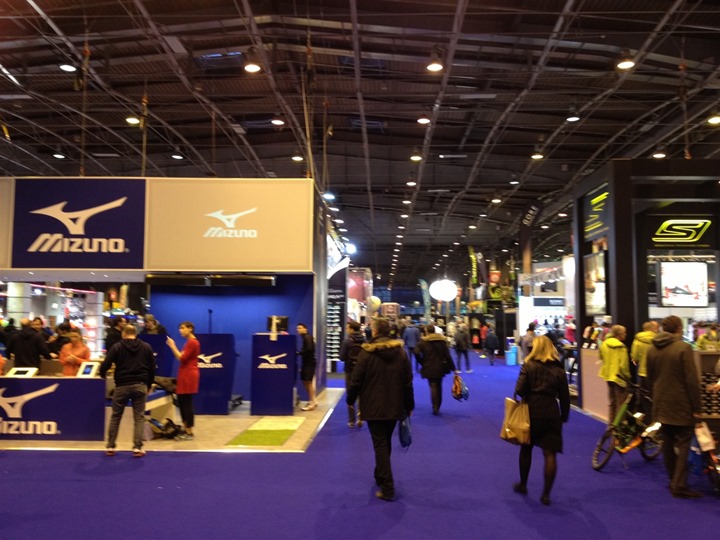 Look, they even had 'Sport Lingerie'!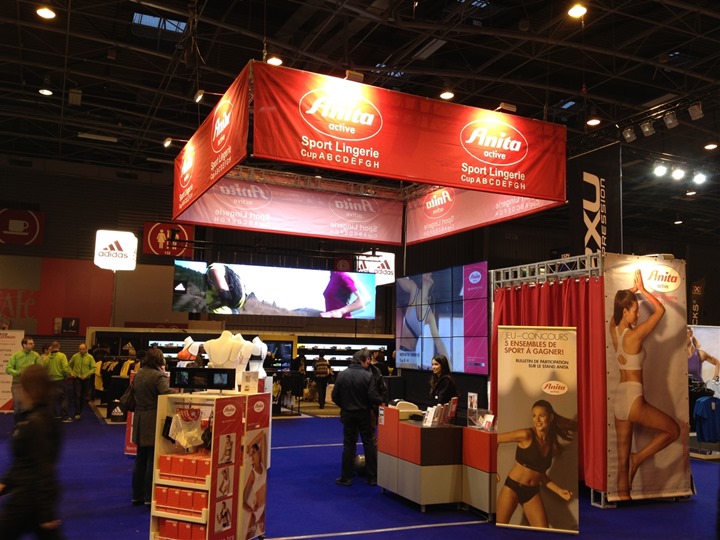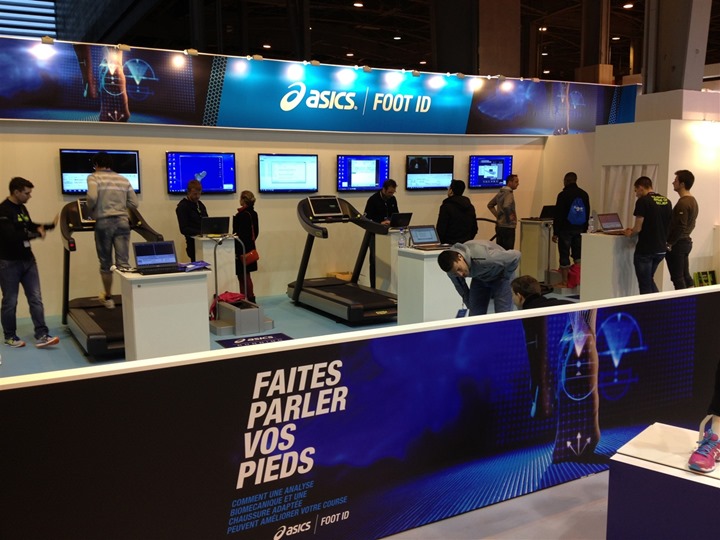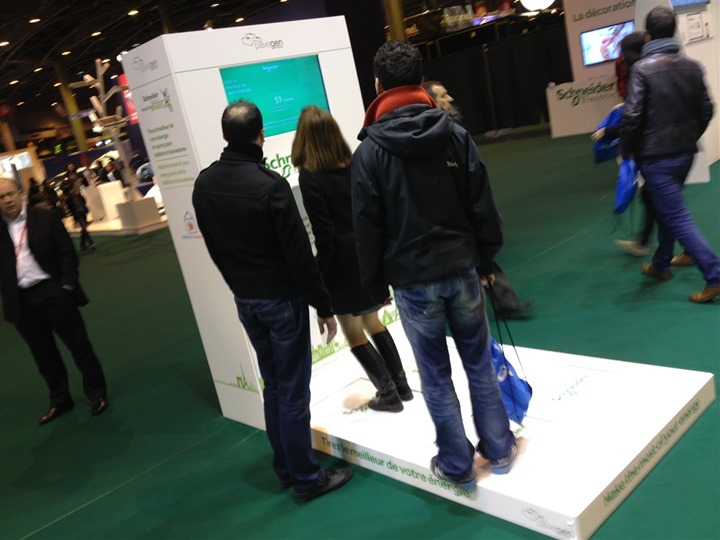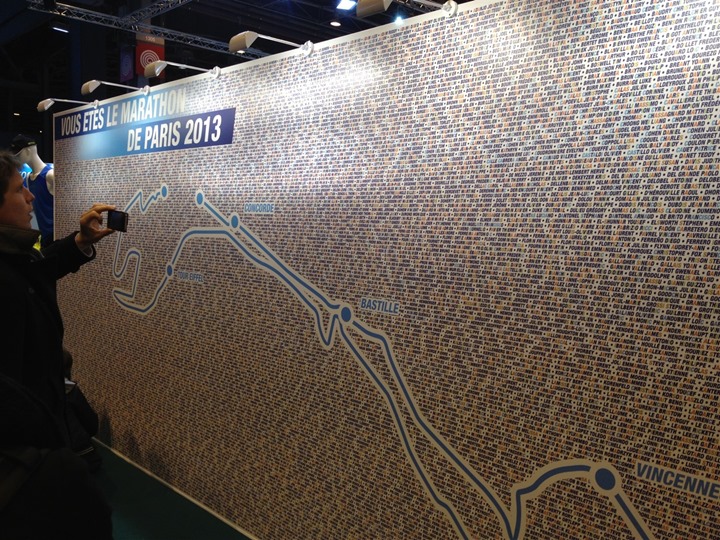 We wandered around  a bit, checking stuff out.  I noticed that all of the major sports technology companies were there: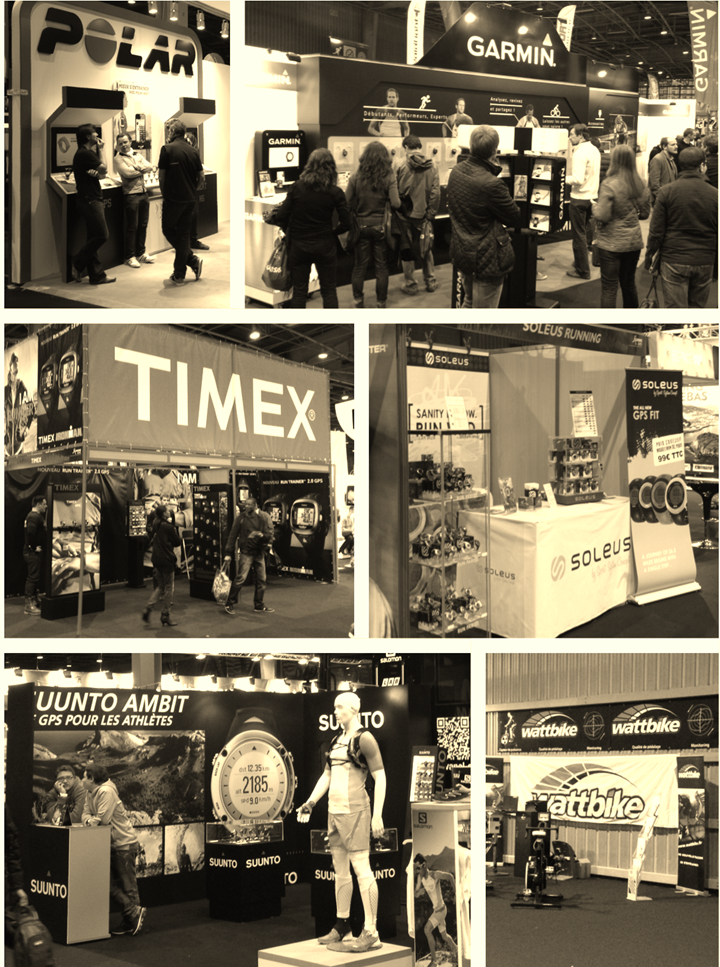 Brooks even had this photo booth with various props.  Obviously, we utilized them: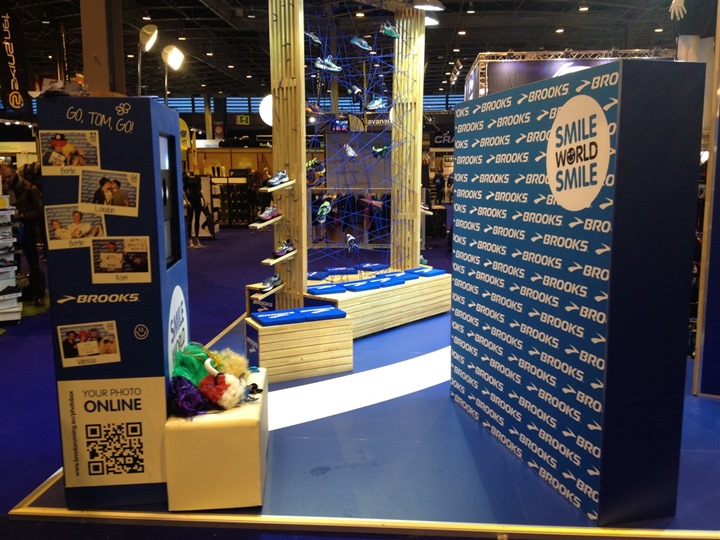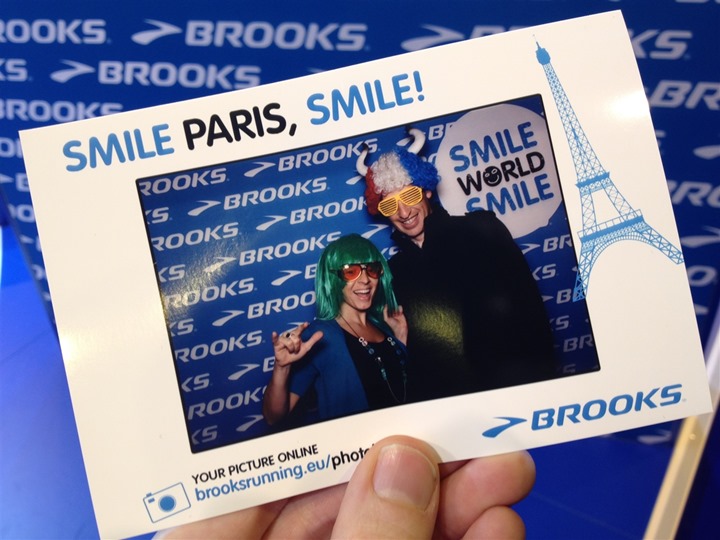 We checked out a few more booths and then made our way out.
Here's the loot from the registration bags: A re-usable tie bag, a towel (seems common here), a bunch of other race papers, our bibs (timing chip on back of bib), a sponge, a plastic poncho for the morning, and a race manual: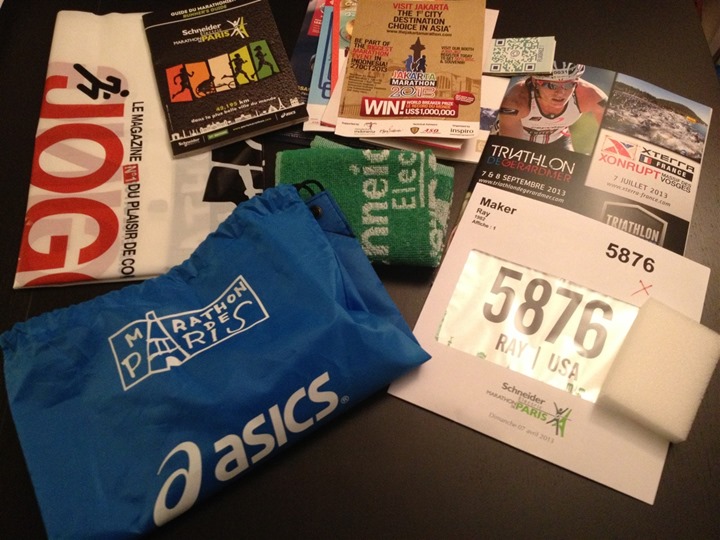 Finishers t-shirts would be (logically) given post-race.
Off to the start:
You've gotta love the efficiency of the Paris Metro system (when not on strike anyway).  We left our house about 75 minutes before the start of the race.  We walked 5-8 minutes, took a Metro for 10 minutes, and then were at the bag drop-off area within another 5-10 minutes of walking. Very solid.
Getting into the bag dropoff area included a wee bit of a walk.  Probably at least a mile round-trip.  Essentially you had to walk to the finish line, and then back up the finishers chute.  But, the bag dropoff was super-efficient.  So we weren't too worried.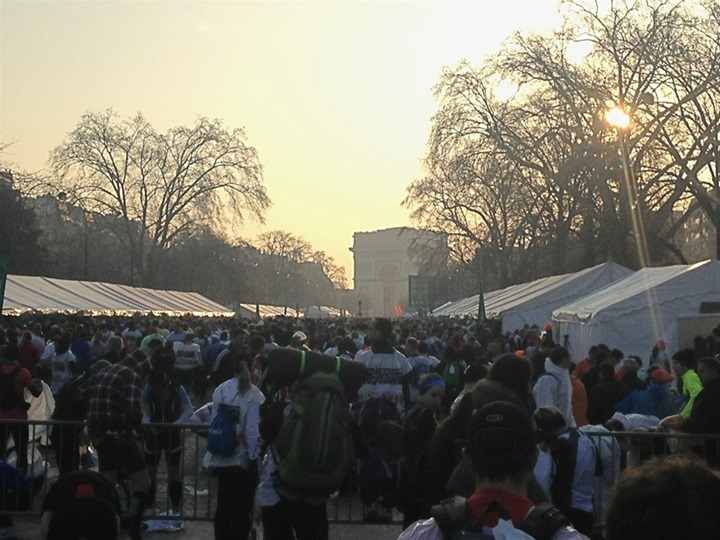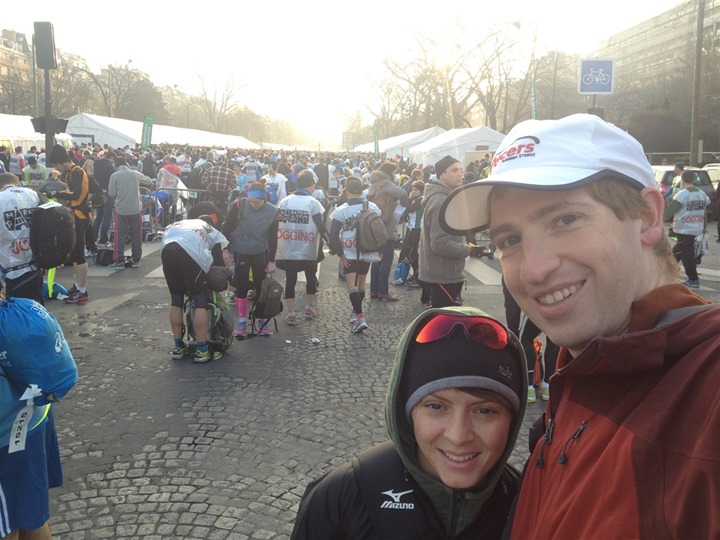 I will note that the number of port-a-potties was far below the required number for 50,000 runners.  I could probably count them all without going more than double-digits.  As a result people were pretty much going to the bathroom (#1 & #2) everywhere.  Trees, shrubs, in between cars…or just out in the open.
We also noticed a substantial number of people seemed to have these thin white suits on.  Sorta like biological weapons protective suits.  But disposable.  And warm.  And brilliant: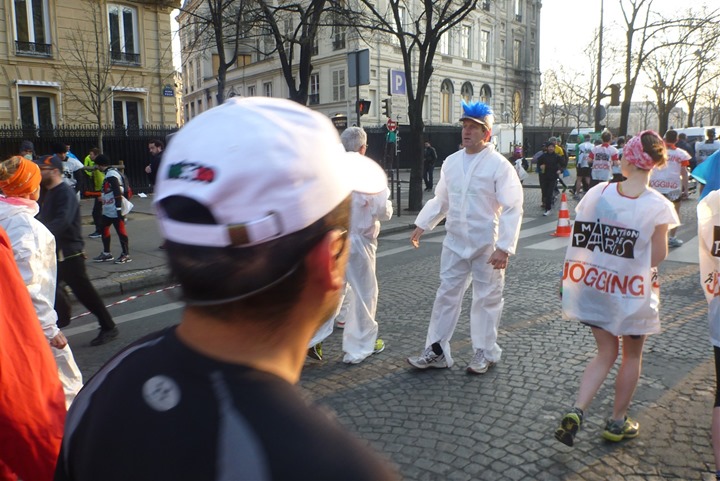 Don't worry though, even if you don't have a biological weapons suit, you can still just use a bathrobe from your hotel: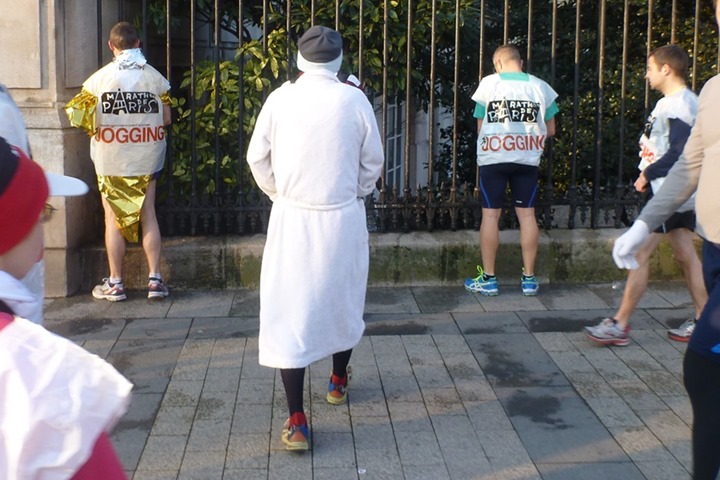 After leaving the drop-off area we were back up at the Arc (Arc de Triomphe) and headed down the Avenue des Champs-Elysees.  The back of the pack was closest to the Arc, while the start line was closer to Concorde (down the hill).  We jogged about another mile to the start line.
Each of the starting corrals was based on expected finishers time, and they were well guarded.  Here's the view looking back: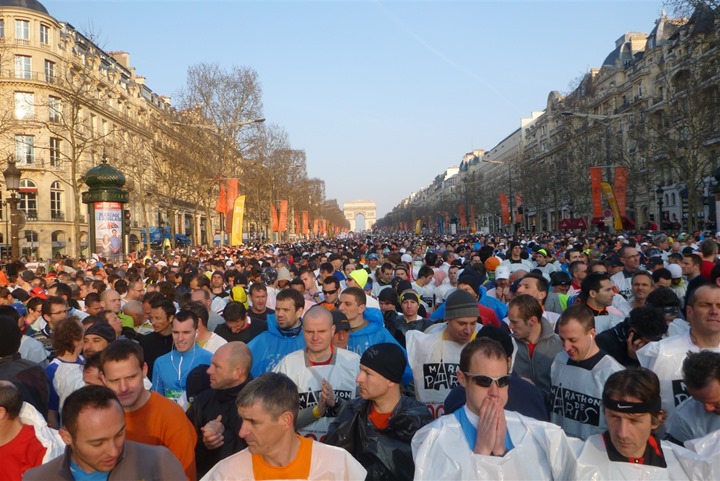 We had initially been seeded in the 3:00-3:15 (total time) corral.  That was based on when we signed up last fall.  Of course, life got in the way, and we were now aiming a few minutes slower.  Since you weren't able to change corrals, we just simply waited at the very back – which put us pretty close to our goal time. You can see the metal gates separating the corrals behind us.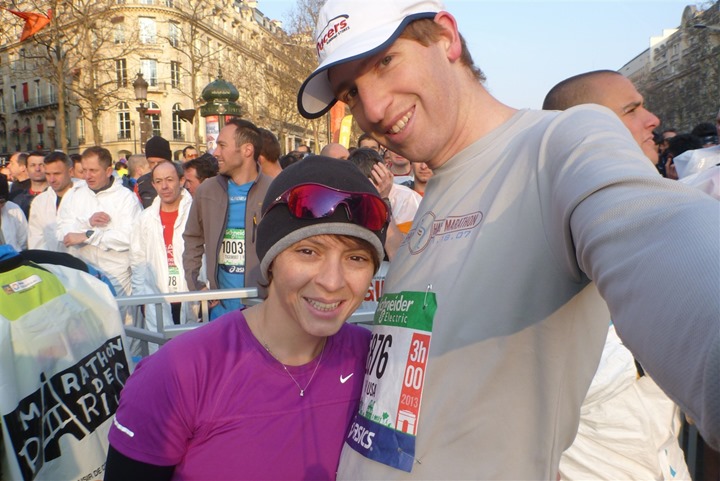 The only thing that we thought was pretty poor here was that for some reason they closed the gates to the corrals a few minutes before the start of the gun.  This meant folks were literally trying to climb over very wobbly fences.  Saw a few falls.  Quite frankly, there was ZERO reason to block runners from getting into the corrals.  They belonged there, and the race hadn't started.  And there was nothing in any of the manuals saying you had to be there by a certain time.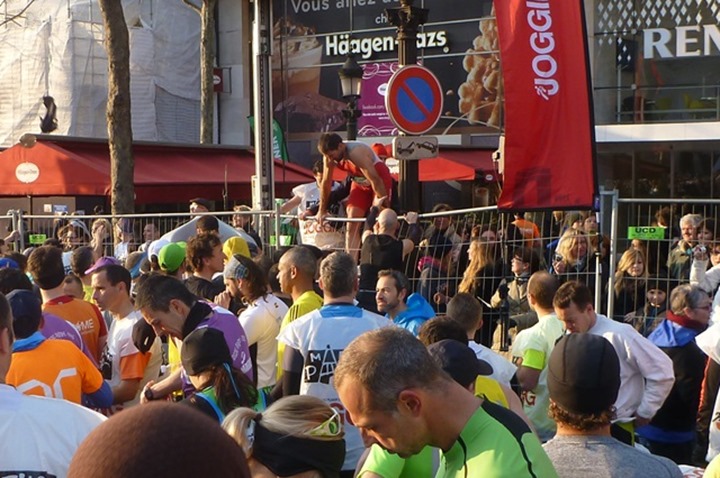 With that, let's get running.
The Race:
The starting gun went off with the same lack of fanfare that we've come to realize is normal here.  Nothing other than the mob starting to move forward slowly.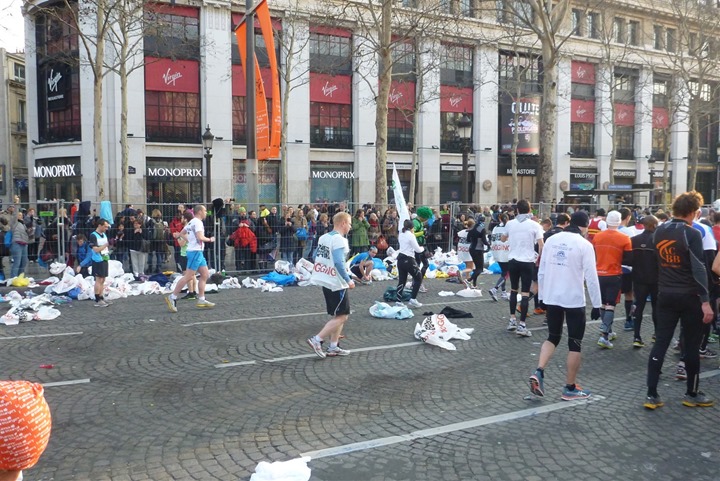 Except, our mob didn't move forward.  See, the corrals were split again in half by barricades.  The left half emptied, and then our half emptied.  Once the left side was cleared, sweepers quickly moved all the trash out of the way.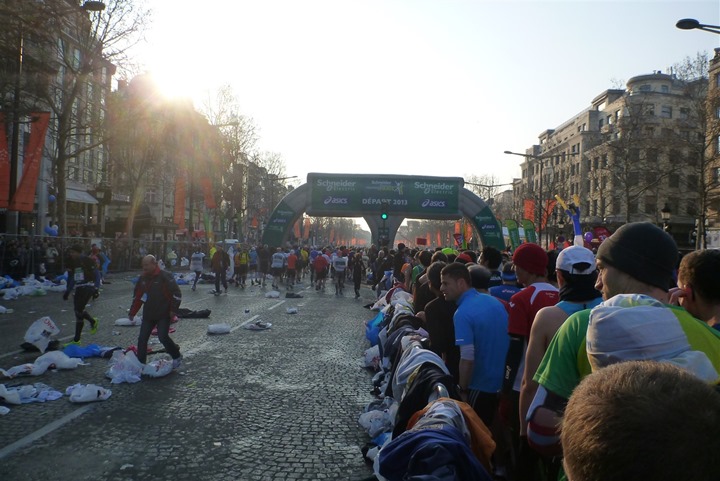 Pretty cool, and efficient.
About 4 minutes from the starting gun, we headed on forward and passed under the starting line.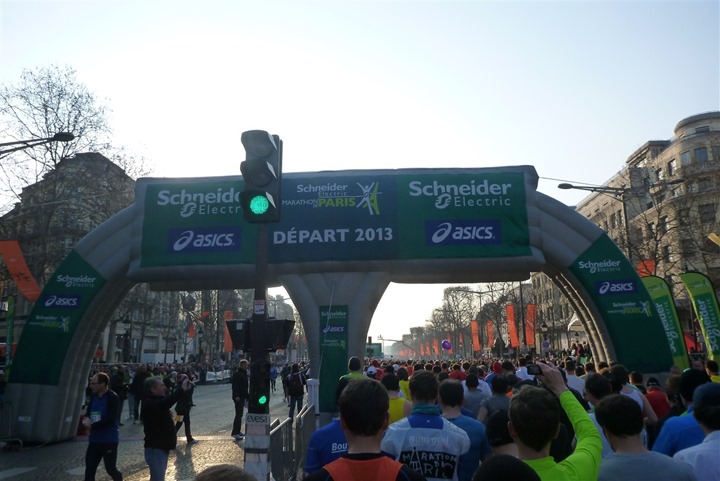 Looking around after we started running, there were really very little runners to dodge and weave.  The starting corrals were very well done in that they gave tons of space – especially compared with the bazillion lane wide Avenue des Champs-Elysees.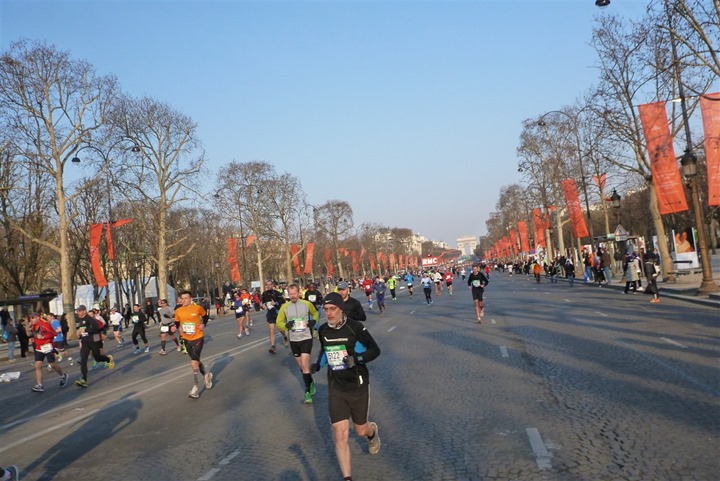 The goal of the first few miles was merely to race according to race plan and not go out too fast.  But starting at the back of the corral, this was super-easy.  No dodge and weave, no pushed pace.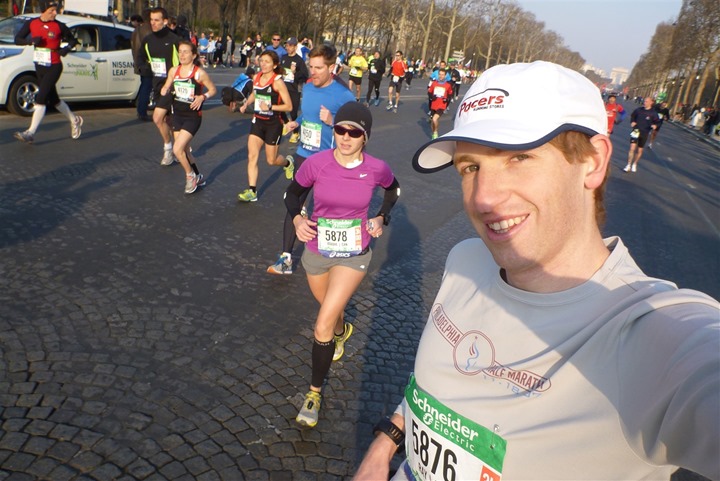 Shortly after leaving the Avenue des Champs-Elysees we passed Concorde (big spear thing), and then were alongside the Louvre.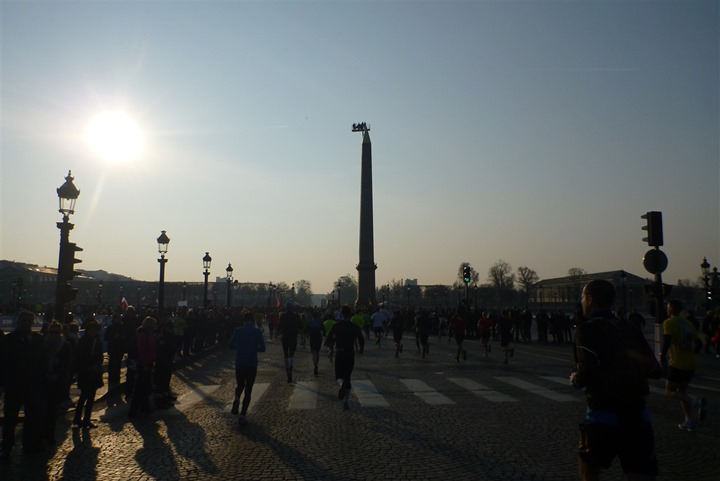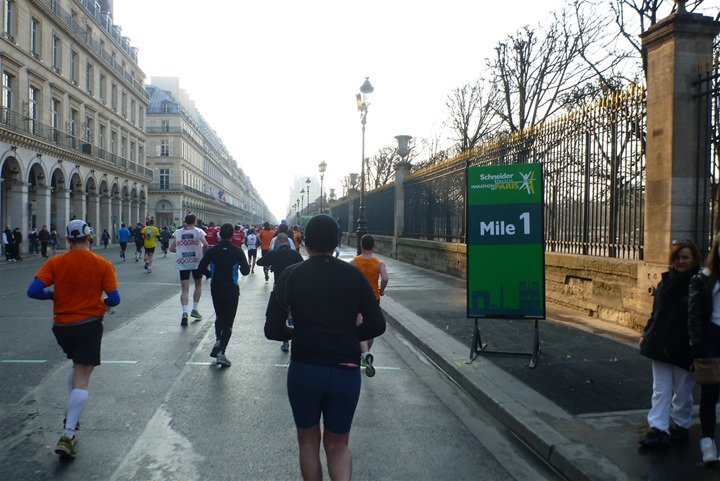 Like the Paris Half-Marathon, there's TONS of bands out there.  Most fall into the camp of drum groups, dance groups, brass groups, or rock bands.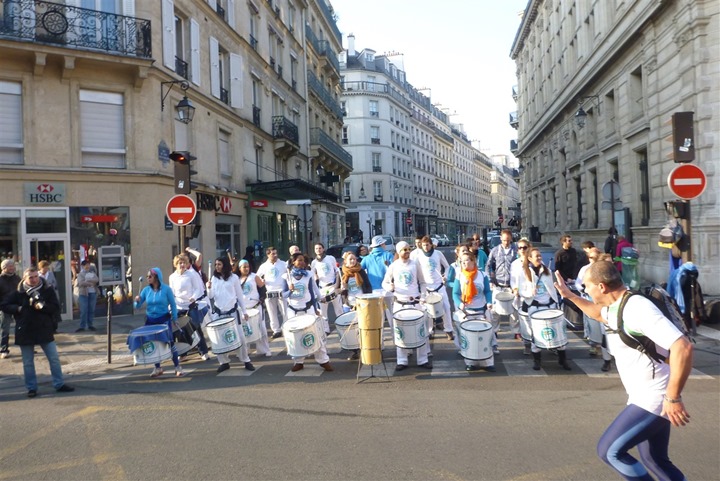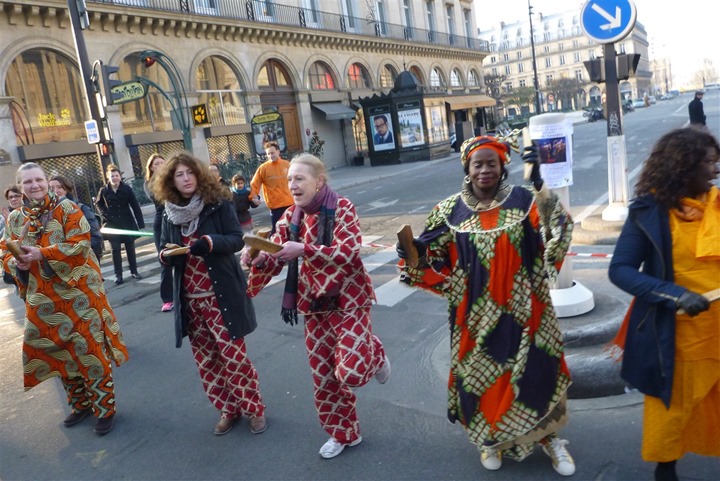 Our first 6-7 miles (10-12K) up towards Bois de Vincennes went really well.  Fairly good for pace, a touch fast here and there, but pretty solid.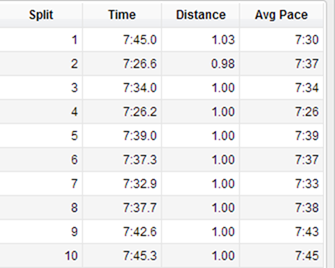 Oh, by the way, here's the course route: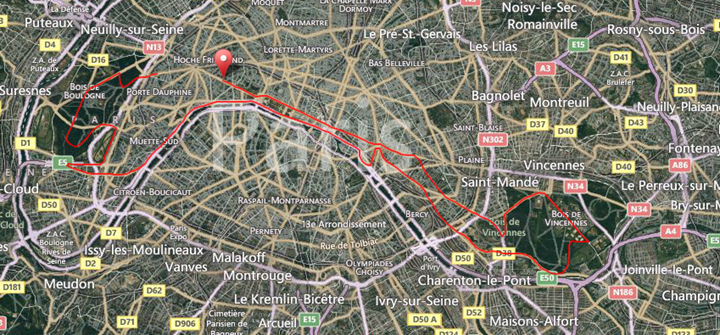 I had fastened on a spare GPS watch and paired it to The Girl's heart rate strap in the morning.  This allowed me to keep an eye on her HR and ensure it was roughly in the range our Coach wanted.  In a lot of ways, pacing The Girl is sorta like trying to ride a bumblebee at the rodeo.  She has a bit of a mind of her own sometimes when it comes to pacing (yes, I'm looking at you, Ms. 5:00/mile first-half-mile pace on a certain 10K race).  And further, I liked how she tried to convince me this morning at about the 1-mile marker that her race plan had her HR 10 beats higher than it really was.  Thankfully, I had re-read the plan just before heading out the door that morning. 😉
To the right of the watch below is the SPIbelt, packed with gummy bear gel things.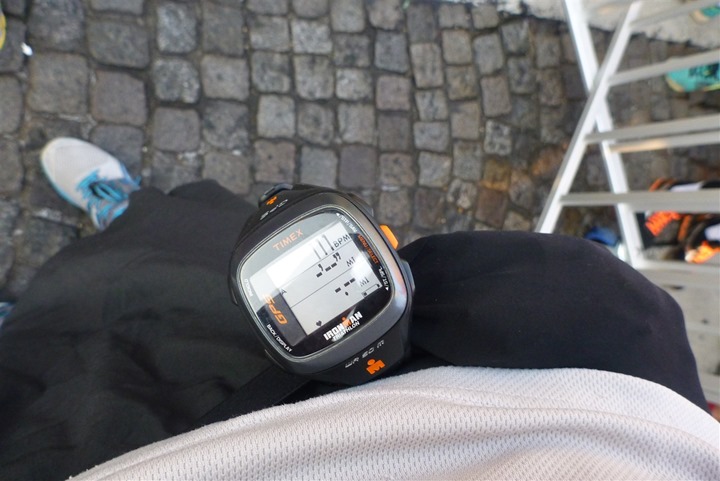 Of course, it's not purely about HR in a race.  That's just one aspect.  We were using HR mostly as a limiter.  And while she mostly slightly exceeded that limit, her perceived effort was very good.  That's obviously a substantial risk though on an endurance event like a marathon where perceived effort is always easy the first 1/4th of the way or so, especially coming off of a taper.  But, I worked with the little bumblebee I had. 😉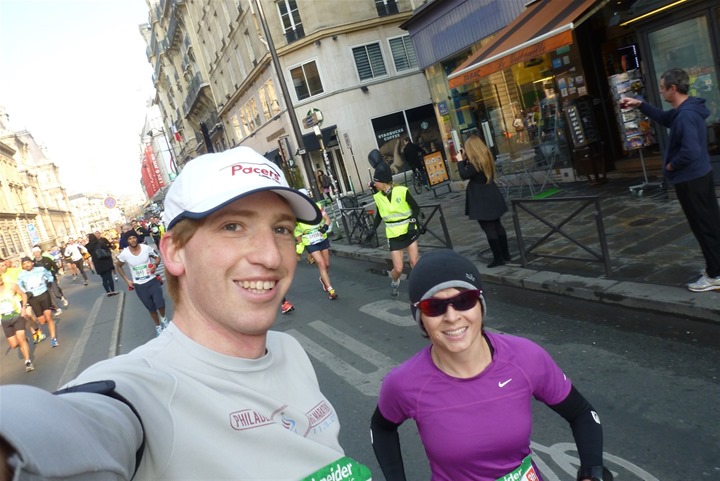 The park was fairly straight forward and mostly flat.  There are some false-flats to be aware of, but we've run up there enough to know where they are – and thus not get too concerned when things seem slightly harder or easier than they are: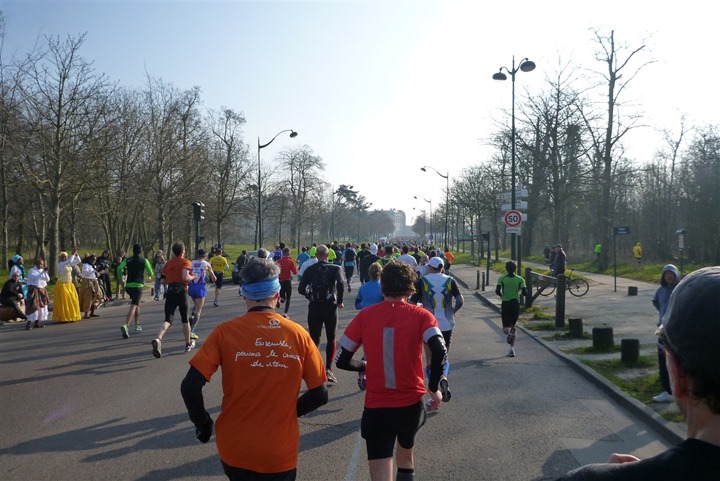 And of course, more bands and a few folks in uniform too: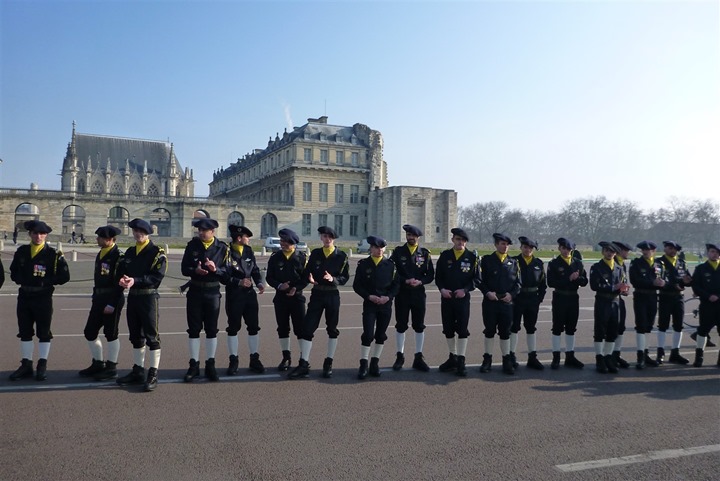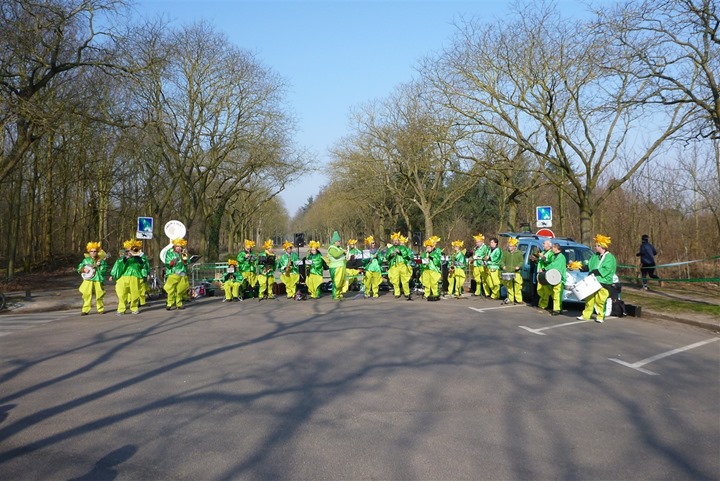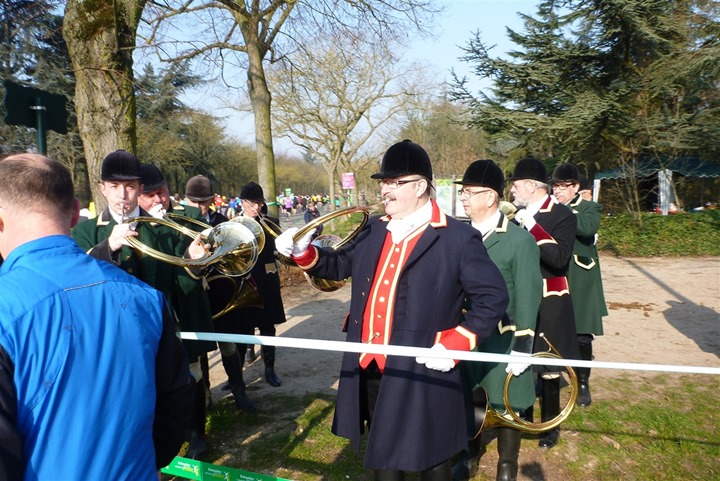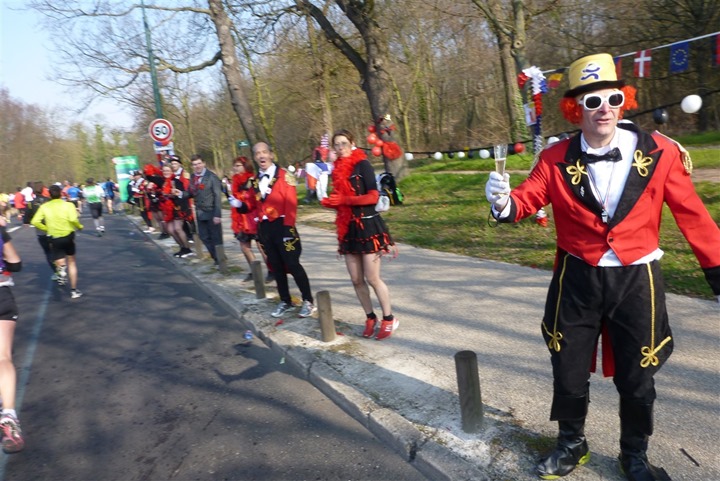 Coming back down out of the park you'll get yourself some nice downhill time: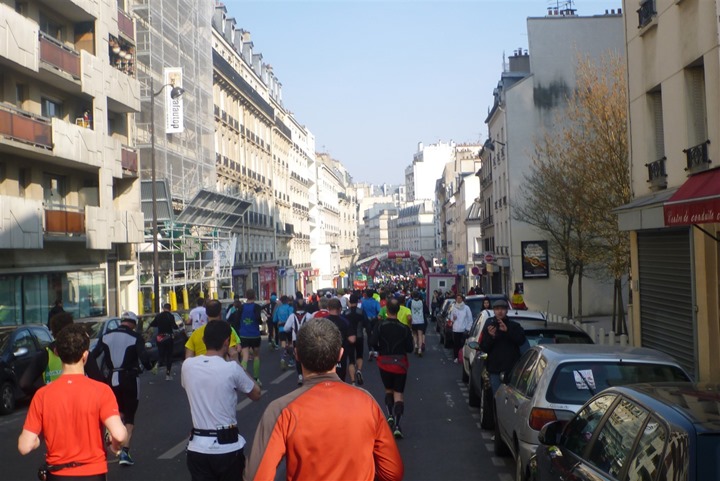 Then, before you know it you're passing the half-marathon marker.  Woot!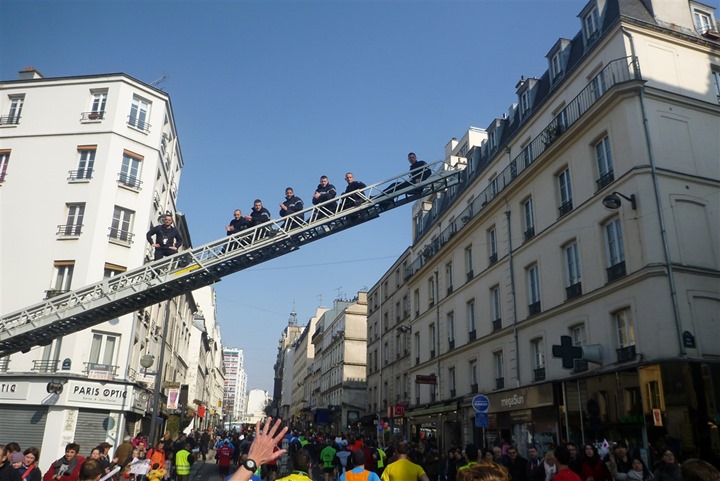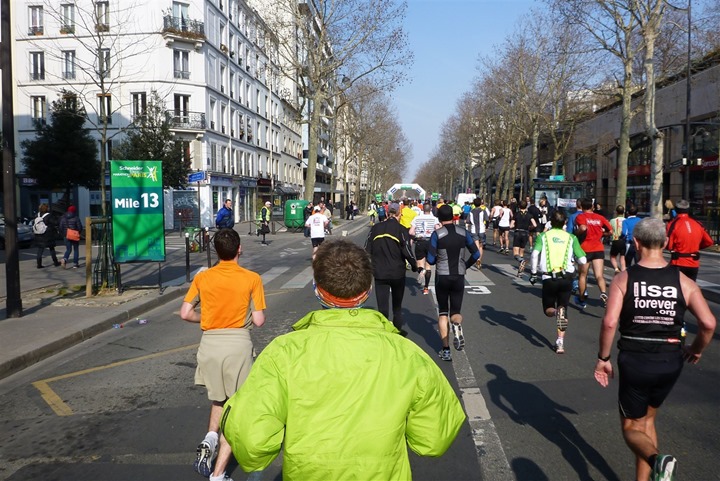 By this point we started working out a nutrition system where I'd get the nutrition (basically just a water bottle to split) and she'd just stay on the blue-brick road (more on that in a second).  This worked out fairly well as it minimized her need to deviate and get caught-up in the fray of the aide stations.
The aide stations had bottled water like the half-marathon:
Additionally, they also had oranges, bananas, sugar cubes, and a few other random things: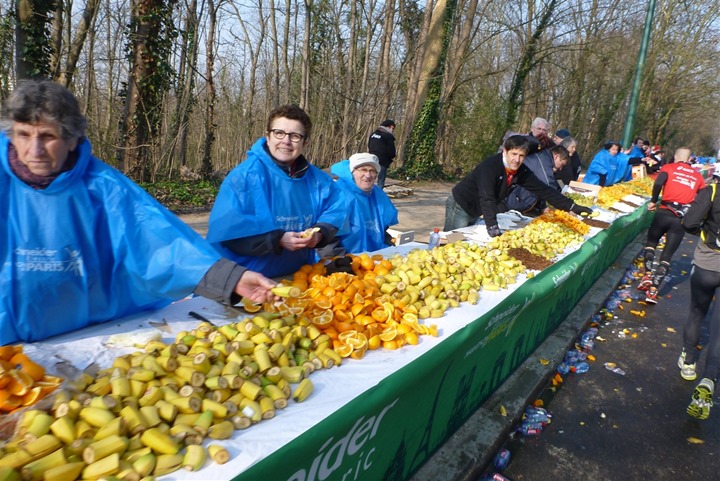 And, every once in a while there were the sponge bath stations.  They had given you a sponge with your packet, which you were to utilize should you wish to give yourself a sponge bath (for cooling down):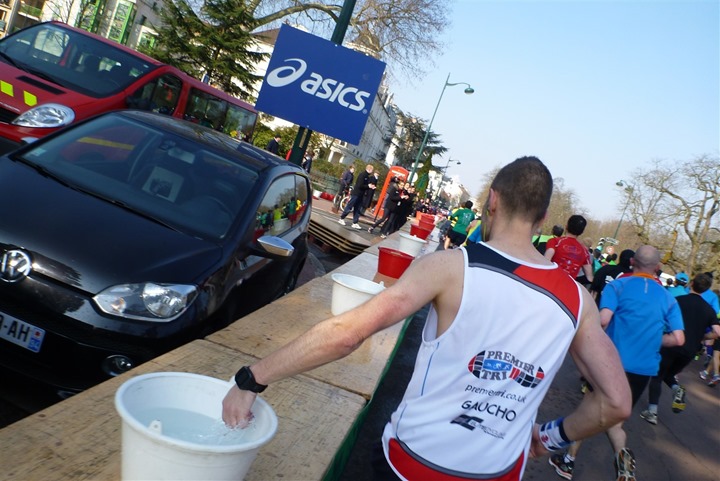 As for the blue-brick road, it was actually just a painted line.  They painted it on Thursday/Friday along the entire course.  The paint marked the official route, and was pretty close to being a near perfect race line.  I talk a lot about running courses correctly (and explaining why your GPS watch will almost never read exactly the same course distance).  This made it very easy for folks who wanted to zone out and just run.  There were some opportunities to optimize the route slightly – primarily around tight corners.  But overall, it was very solid.  My Garmin ended up at 26.31 miles.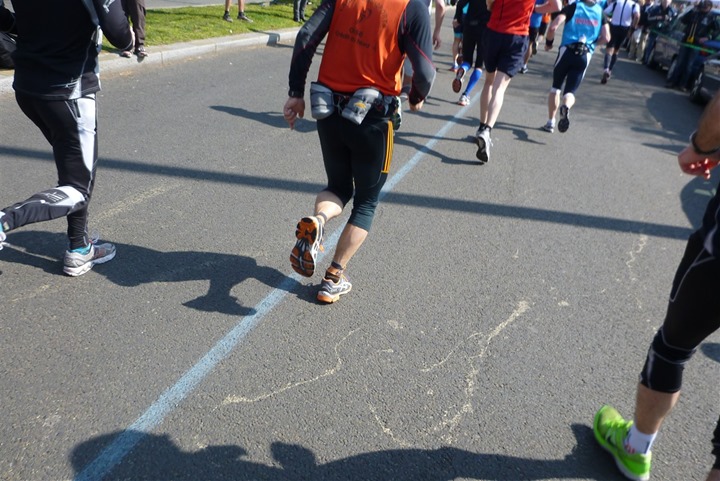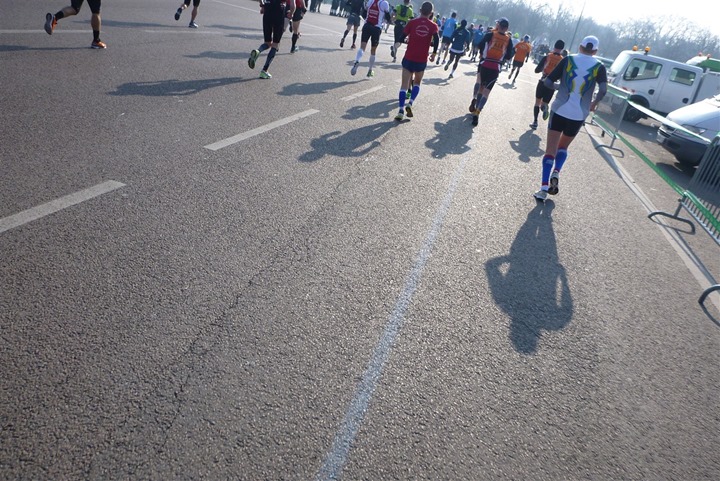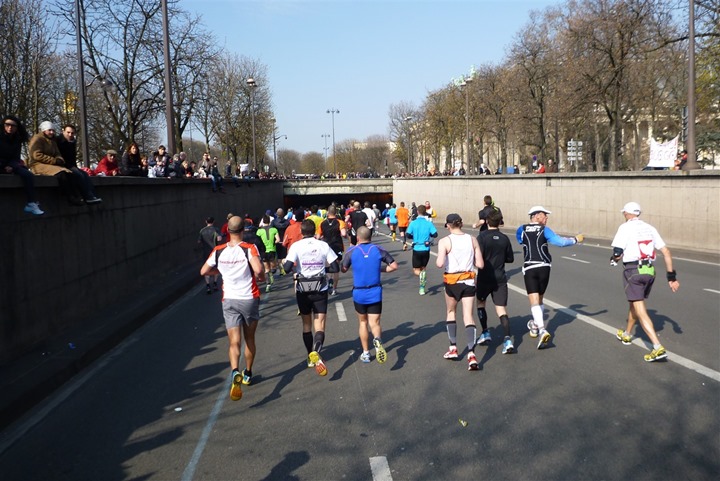 They noted that with the high traffic, in some areas the blue line will only last a few days (painted), and in other areas considerably longer.  It explained all this in the athletes guide.  I guess I should be happy more folks don't read it, because it made following the blue line relatively easy (versus if everyone had known about it and crowded it).
Speaking of other random things.  There was this: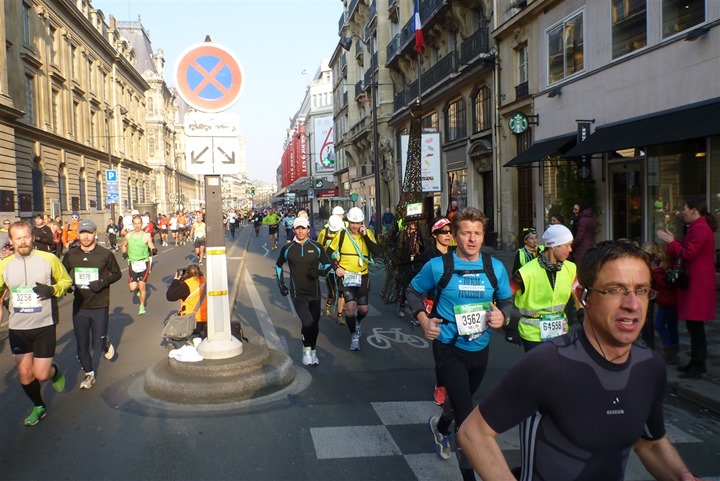 Yup, a team of guys running with an Eiffel tower.  Apparently it happens each year.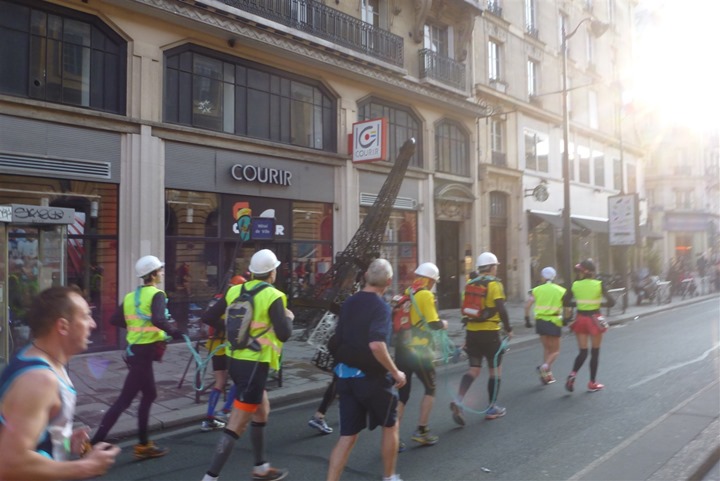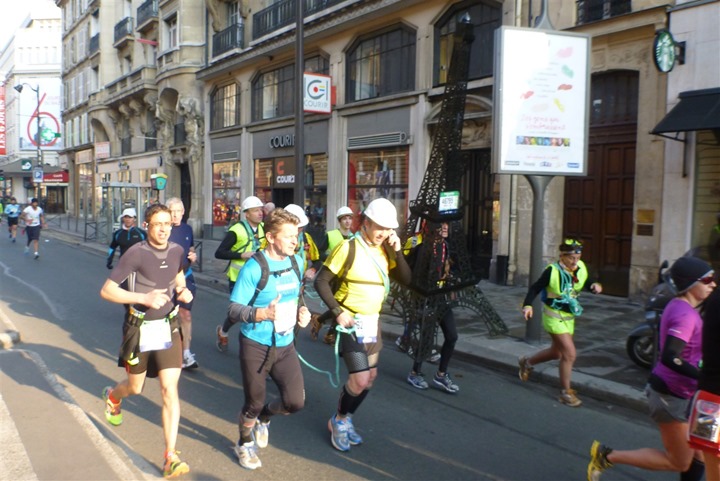 And these two from Vittel (water sponsor)…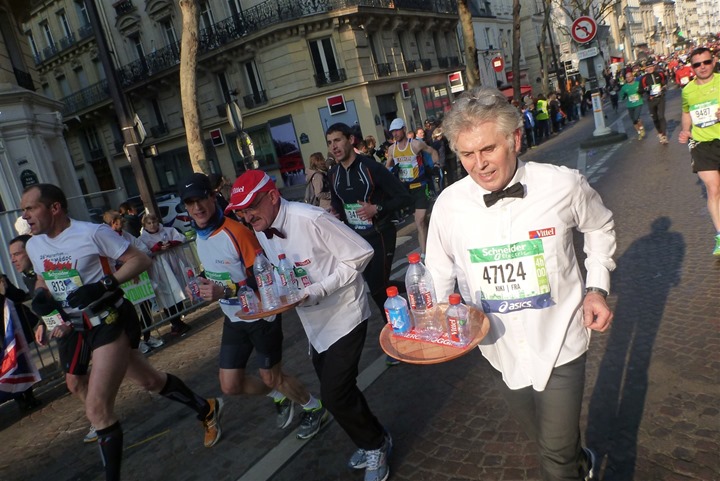 But back to the race…
So we passed the half-way marker and rounded past Bastille (nearby us where we do interval loops).  From there we finally dropped down along the road next to the river: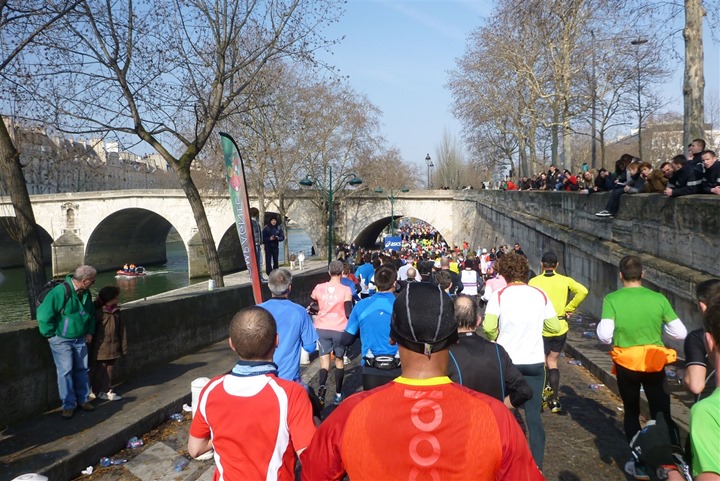 This was nice in that we were now largely in the city's core, and the spectators really picked up – completely lining the course.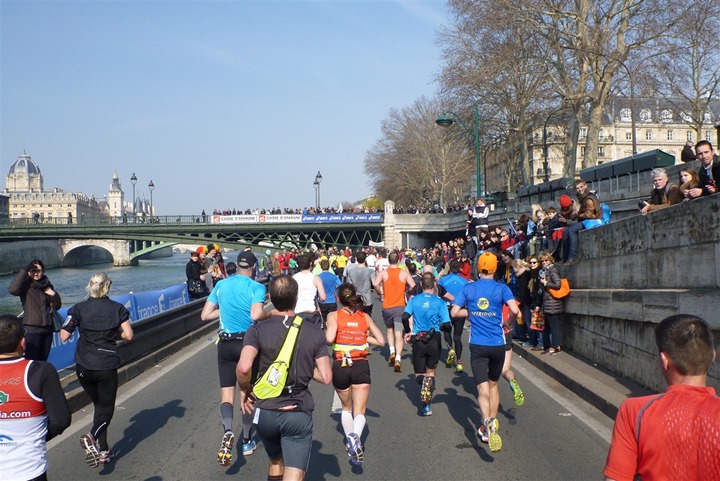 About 1.5 miles later (about 2.4KM) we entered the tunnel.  This entire span (tunnel and river road) is actually open to runners on Sunday's and holidays in the warmer months.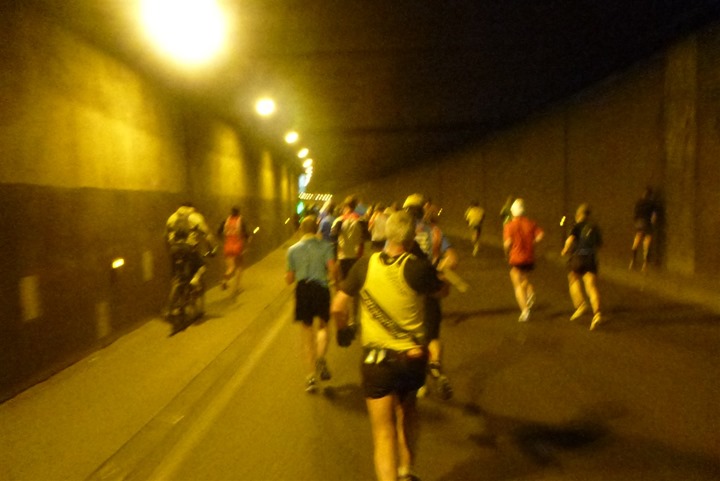 There were even mile markers inside the tunnel: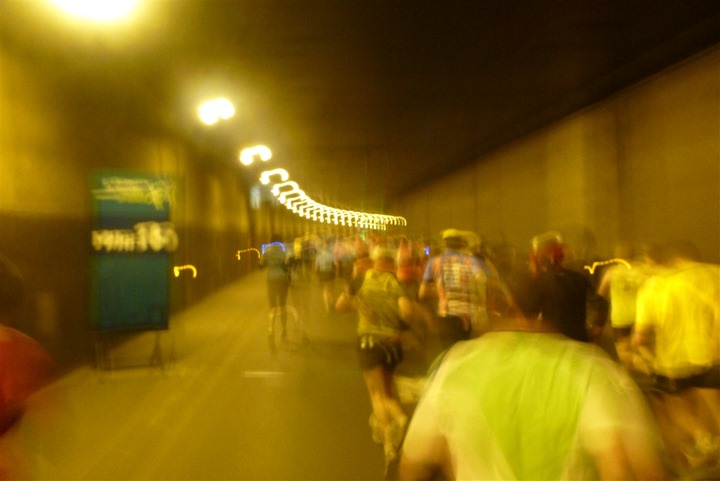 My GPS switched over to the footpod providing speed and distance information.  And while it wasn't calibrated spot-on, I just kept it at the same number as when I entered the tunnel and it switched over.
We exited the tunnel along the Louvre, and quickly saw one of our Parisian friends and his son.  Hi Caspar!
He shot these photos of us (The Girl is in purple, and I'm in a long-sleeve grey shirt):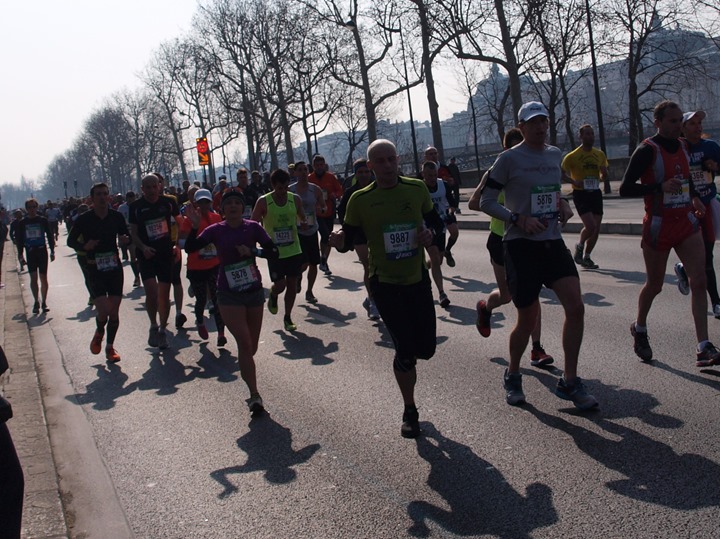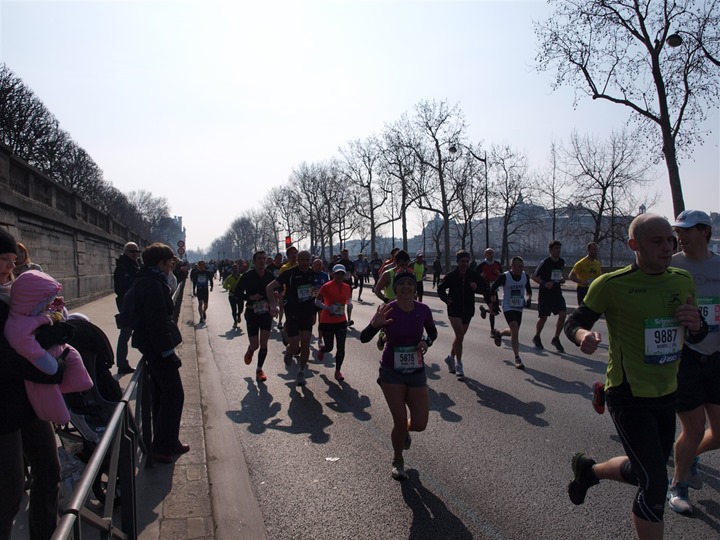 Awesome stuff!
At this point the route rolls up and down through various underpasses along a small stretch of speedway.  Including the tunnel where Princess Diana died.  Though, I wasn't paying much attention to it at the time.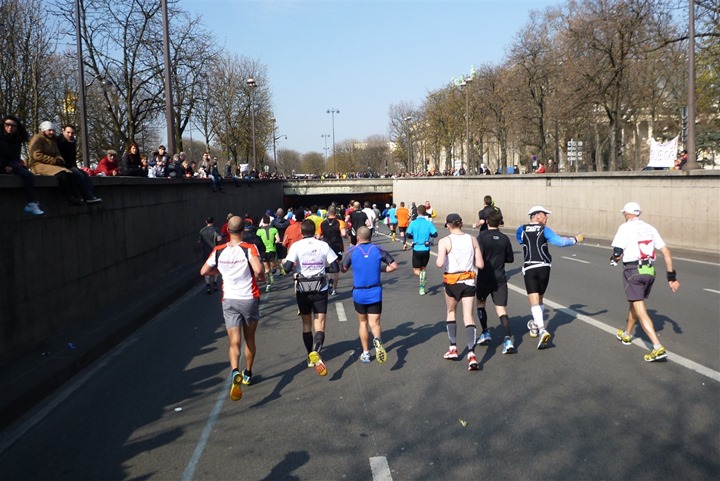 And then the Eiffel tower: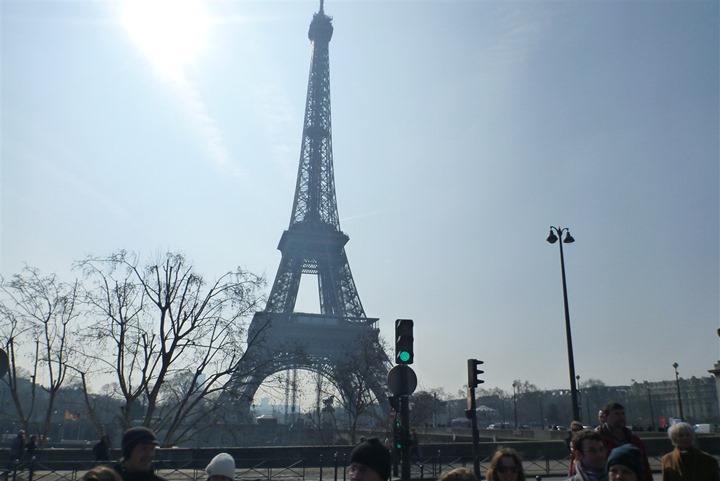 After the tunnel it was mostly flat until we ascended slightly towards Longchamp (large park area on the Western side of Paris).  At this point it was about the 6-8 miles out (~10-13KM) from the finish.  Things were going quite well on the pacing front, though The Girl's right knee was really hurting her.  She felt fine otherwise (both aerobically and her legs), so it's always a bit of a bummer when sharp pains slow you down and you feel fine otherwise.  Nonetheless, she kept on pushing and were really only losing a handful of seconds per mile.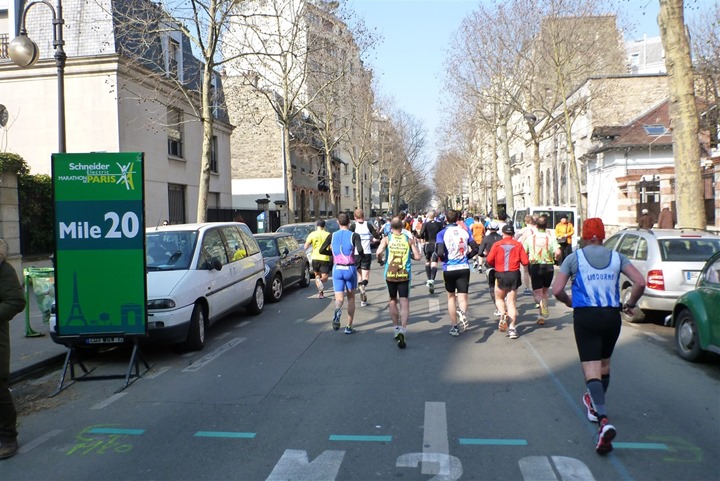 Once hitting the park area it's a bit of a relief.  You just mentally need to focus on wandering through the park back to the Arc.  Relatively straight forward.  And for the most part, it's fairly flat here – or even some downhills.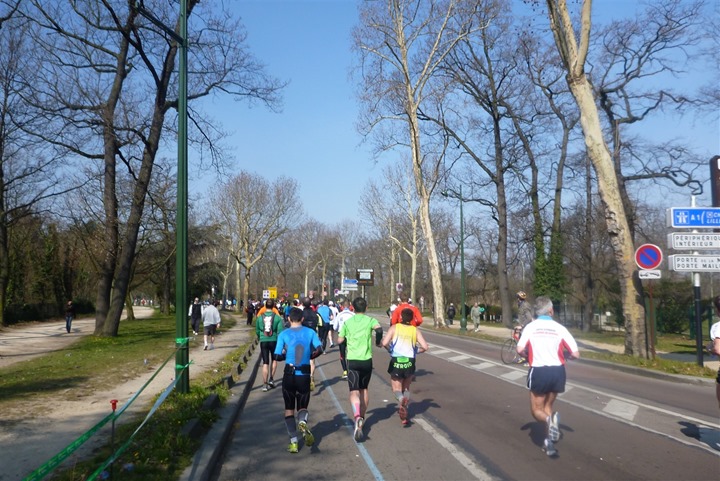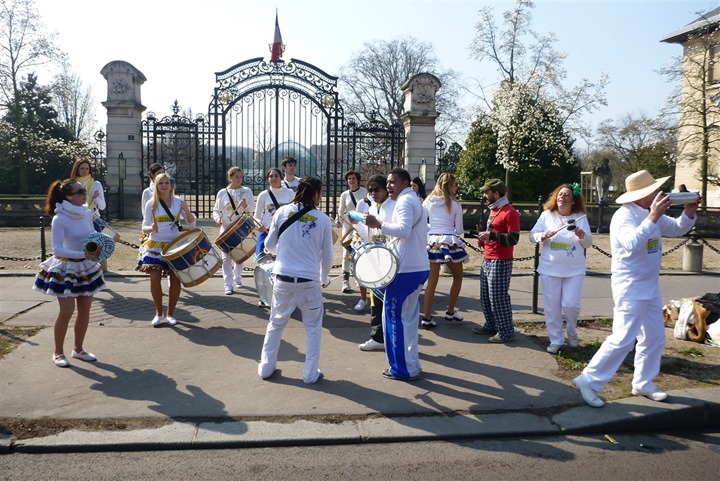 Around mile 23 The Girl's knee was hurting a fair bit more, and she wanted a quick second to stop and try and stretch/adjust things.  This happened to coincide with a Coca Cola stand (non-official).  Brilliant!  Coke is well known to provide a good boost when things are getting rough.  And this was perfect timing for The Girl.  I got her that and we were soon off.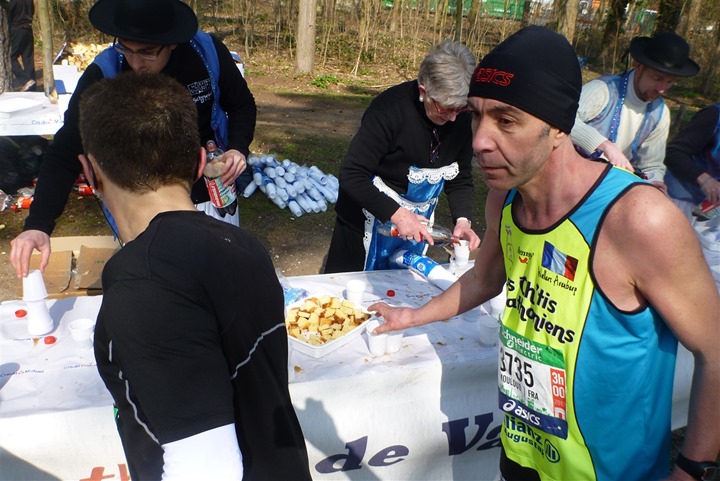 Note that many Ironman and endurance events serve Coke.  Typically served flat though (this wasn't).  The one important thing to remember with Coke is that once you start – you CANNOT stop taking it until you finish the race.  If you do stop pre-finish, you'll crash pretty quickly.  Coke is pretty much a last resort item.  Given there were only three miles left, I figured we were good.  Typically a small cup will give you about 2-3 miles worth of instant energy.  And I figured the last mile would be covered by excitement anyway.
The last few miles were pretty easy terrain wise, just a gentle downhill section on wide avenues: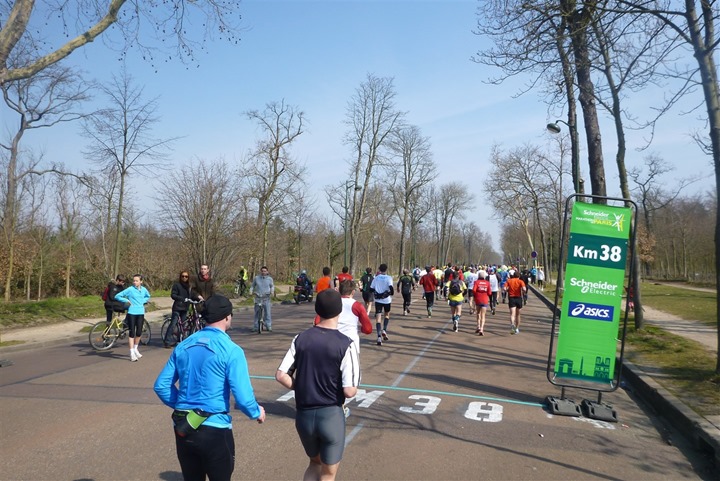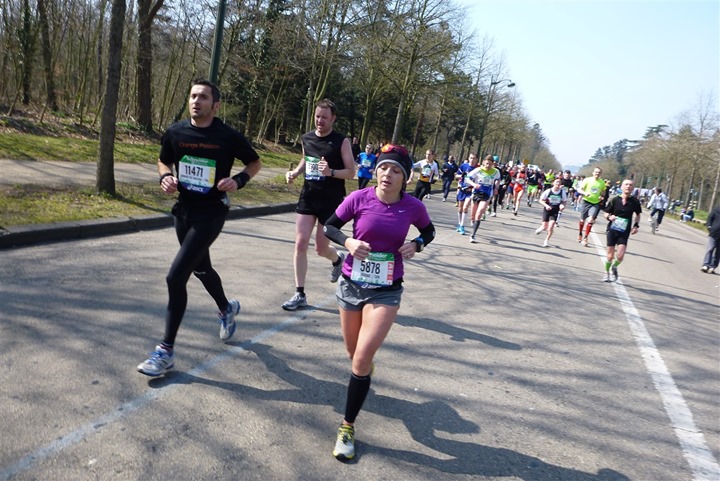 Then, just one last turn!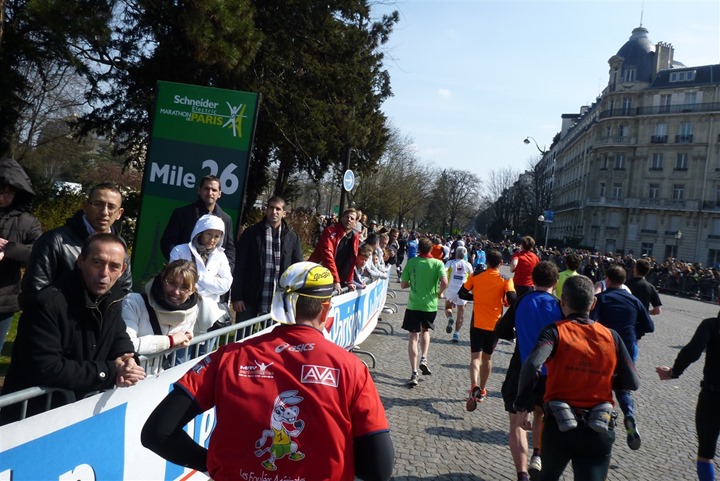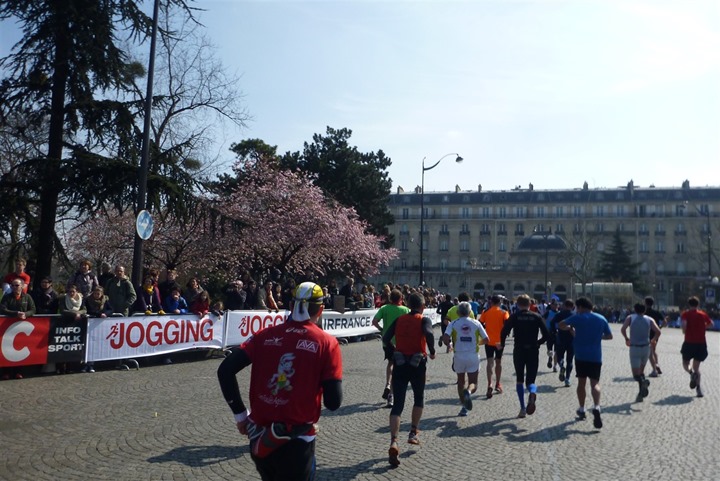 Finally – the Arc was in sight, with the finish far before it: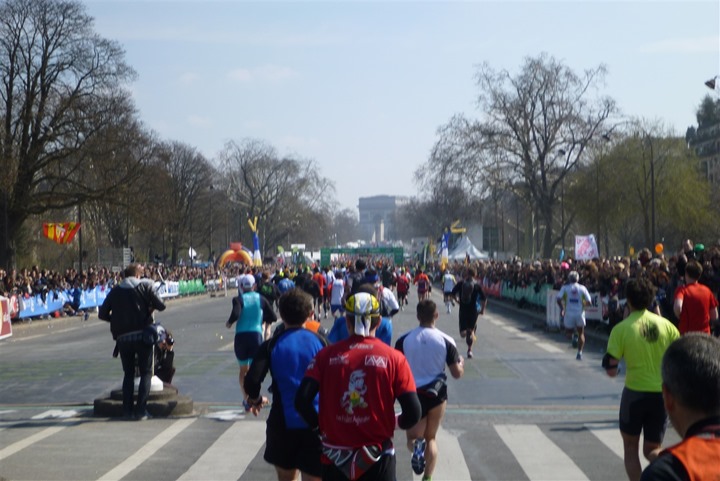 This was sorta akin to in the Boston Marathon making that final turn down the home stretch with gazillions of fans lining the street: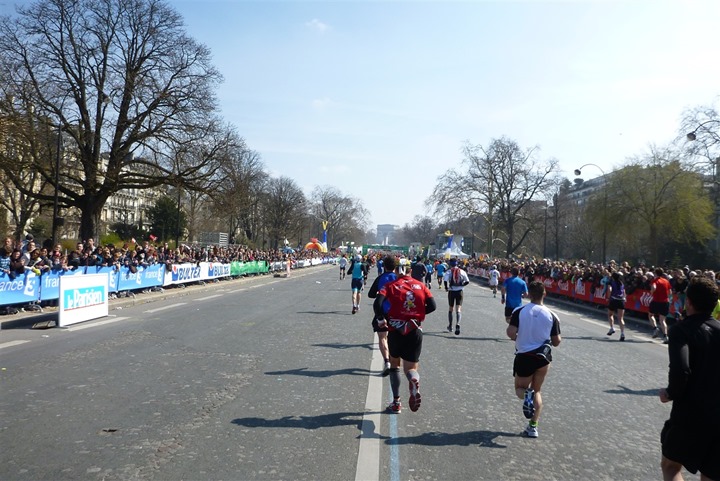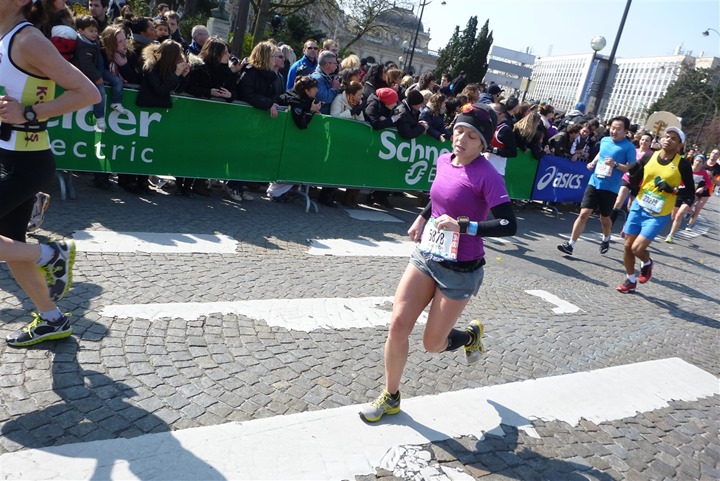 Interestingly, a few folks tweeted at me the day before that they had installed these pads that took the runners energy and converted it into electricity.  And a few hundred meters before the finish line, there they were: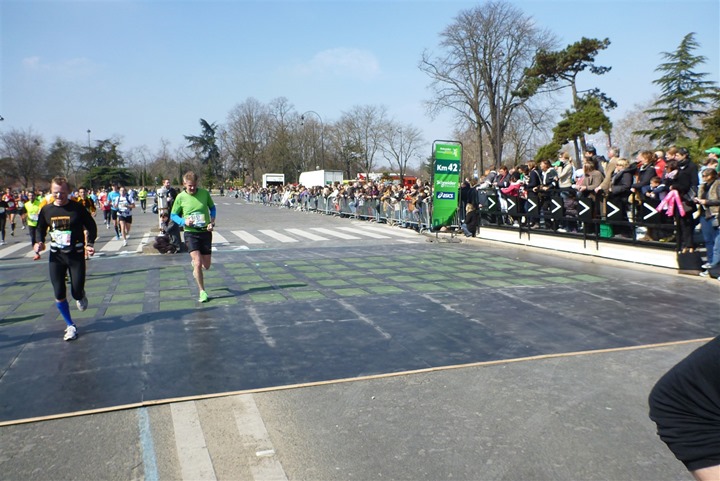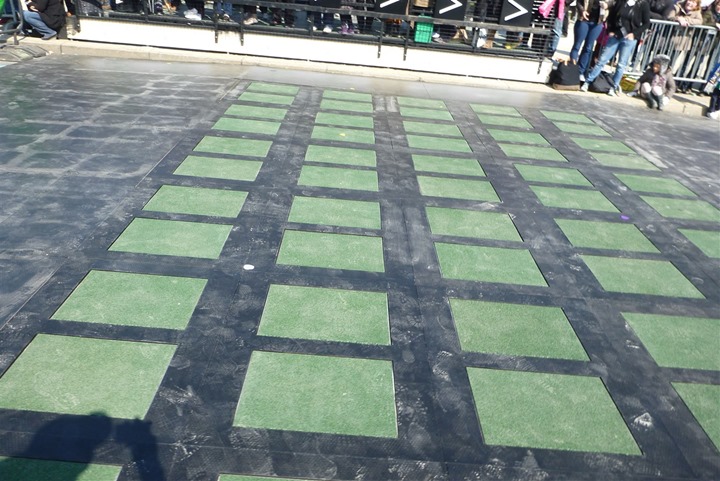 With that, we made the final push towards the finish.  There wasn't any particular time goal (nearest minute/etc…) that made sense to sprint for (and cause injury), so we just kept it steady with a slight uptick.  About a minute/mile faster over the last half a mile.  Not too much.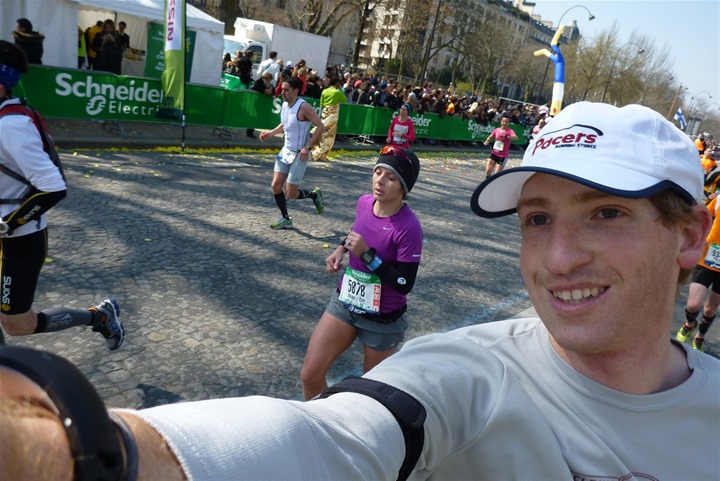 And behold, the finish!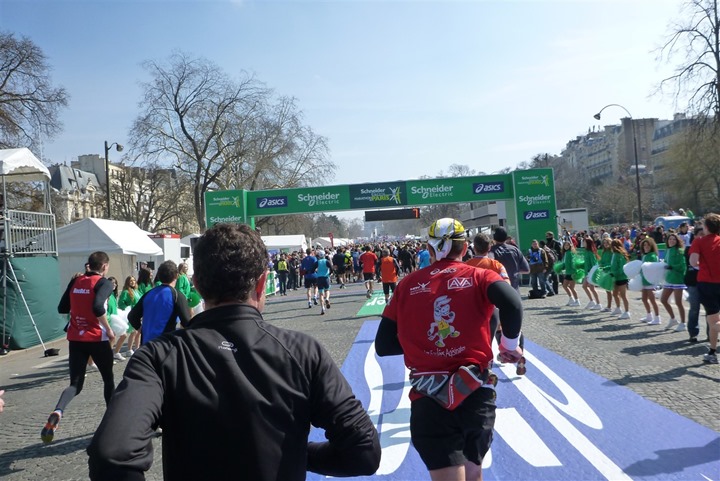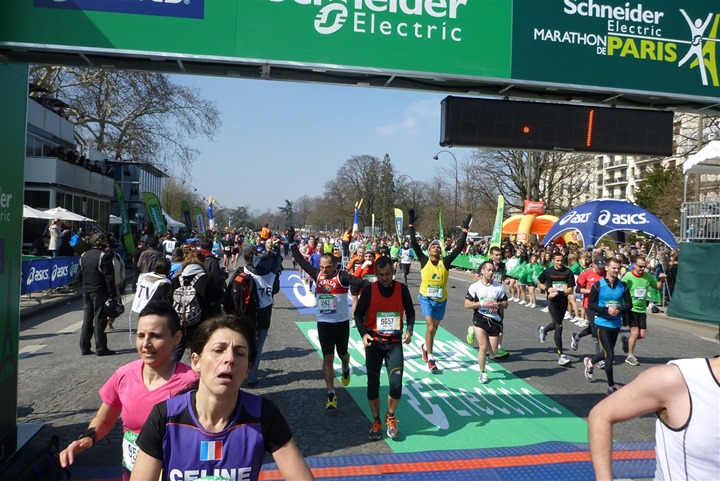 We finished up a time of 3hr and 27m, and are still happily married.  I'm really proud of how she kept on pushing through.  And even more so that she knocked out that time on as minimal training as she could fit in with everything else she's been keeping in the air.
On my side, the race was a good opportunity to see how my pacing would hold up at longer distances.  My training has been largely tied to hers.  About the only substantial difference is I've been doing cycling as well (and now swimming).  So my running doesn't quite have the top-end speed on the aerobic side that I might normally have, but I do have a really solid base (mileage).  The cycling though (through intervals/etc…) has helped hold up the aerobic side.
So I was definitely very happy that I ran the whole thing in a Z1/low-Z2 heart rate.  With only a few seconds above Z2 when I swung back to visit a tree in the park.  Now the next three or so months will be layering in the speed side of that through the usual painful intervals.
Post-Race & Finish Area:
After crossing the finish line we waddled up towards the Arc (off in the distance):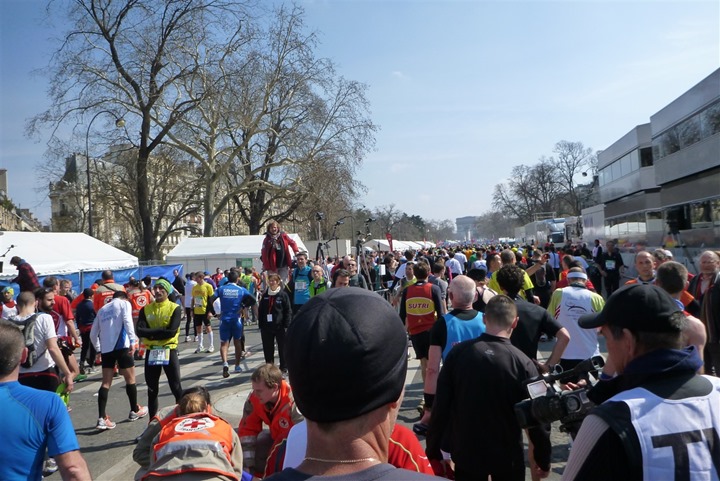 There were a surprising amount of French TV crews still present, interviewing folks, shooting video of participants collapsing post-finish into medics, and the like (no really, they really enjoying getting shots of people going kaput).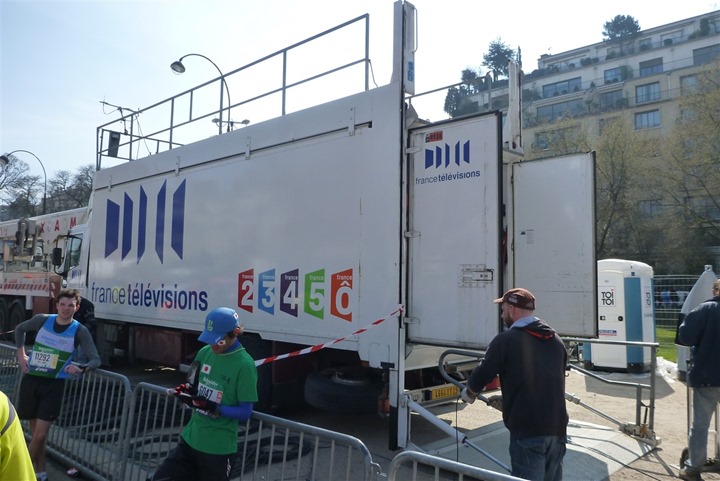 The finish area first had you grab some water, then your t-shirt.  You didn't get that at packet-pickup, solving the race-day bad-luck issue of wearing your finishers shirt for the race itself.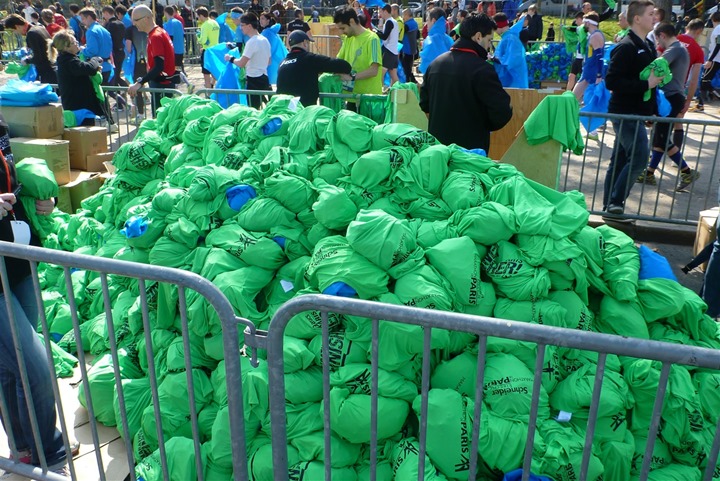 Then there was a large stash of food.  Though strangely, I can't find my pics of it.
And finally, your medal: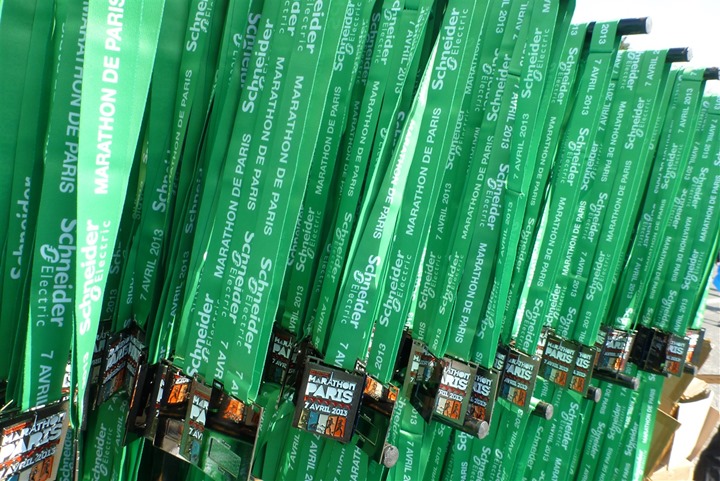 After which you were able to go and grab your bag and change.  I'll note that unlike the Paris Half-Marathon, the bag pickup here went unbelievably quick.  We waited for our bags for perhaps…12 seconds.  Compared to nearly an hour in line last time.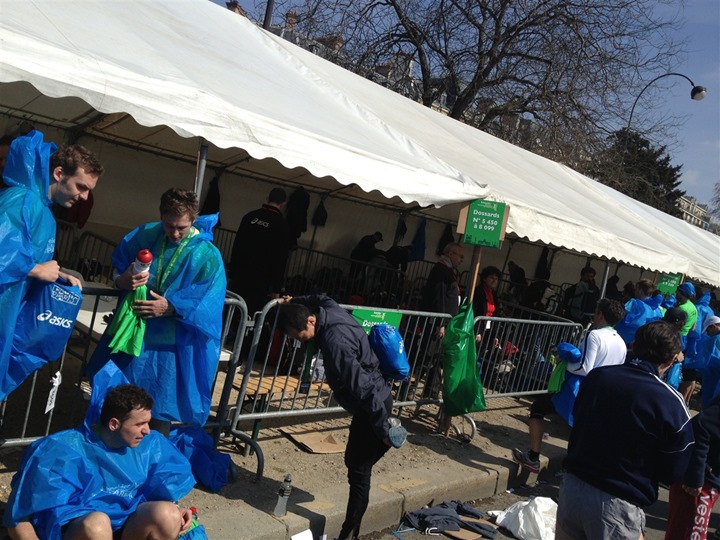 With that complete, we took a picture or fifteen: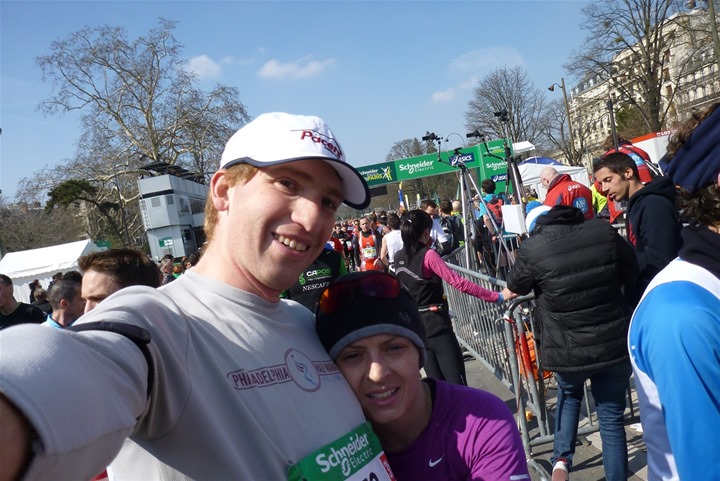 From there we continued waddling up the hill to the Arc.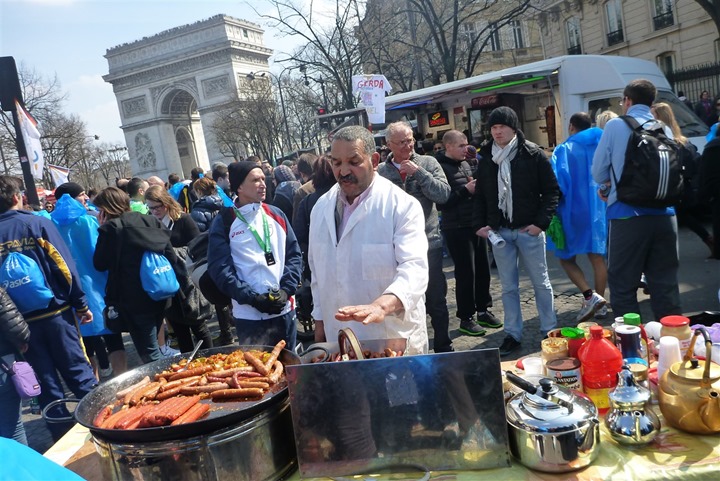 Upon arriving we saw runners attempting to cross the circle of death via the post-marathon slow-walk.  Many a marathon runners were nearly lost here.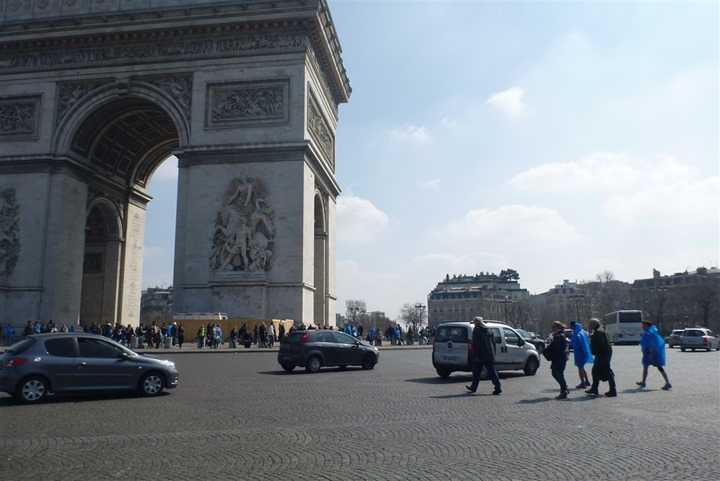 Our plan was to Metro home.  Seemed efficient.  But then we saw this little Tuk-Tuk truck and negotiated a solid deal back to the house.  Being a beautiful sunny day, this seemed way better than our continued walk to the subway, then standing on the subway, and then walking home some more. 🙂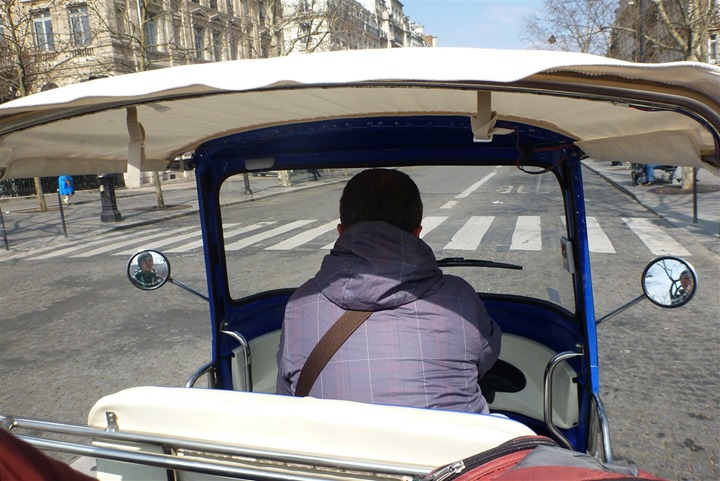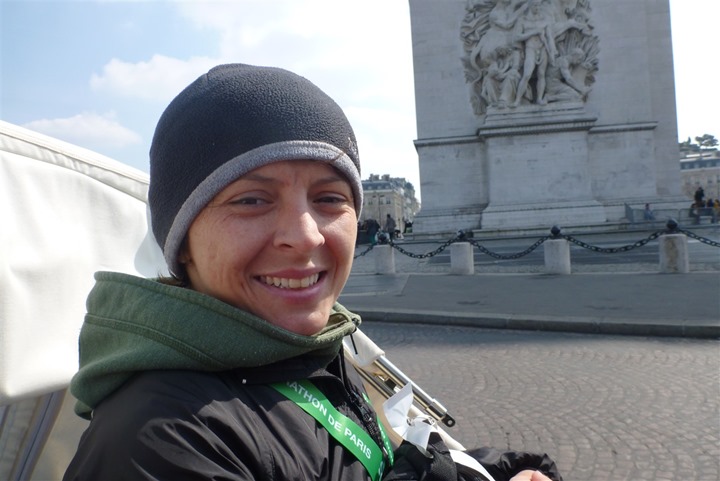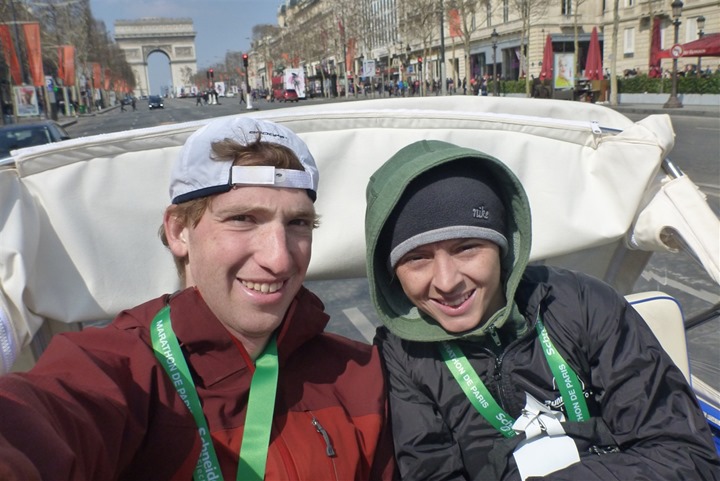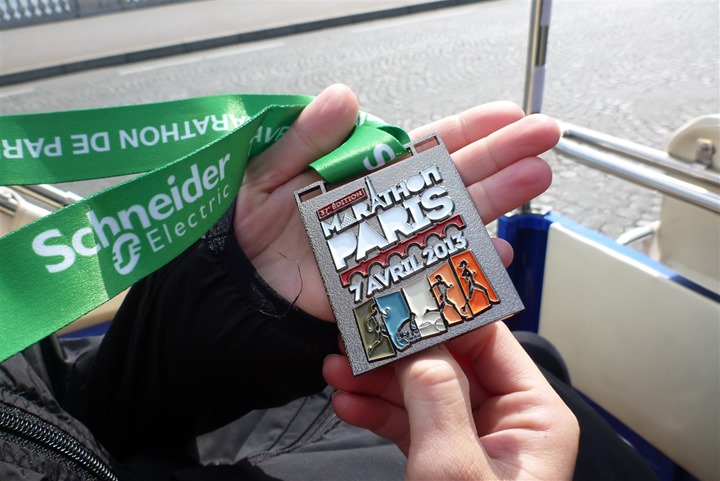 With that, home!  And then, a few hours later, right off to the airport. 🙁
Fun notables:
At the last second before heading out the door I happened to notice the WASP ANT+ data streamer sitting on the floor charging.  I decided to grab it and toss it in my backpack.  While I didn't have a good place to stash it while running (weather was too warm for a coat), I decided I'd play around with it post-race.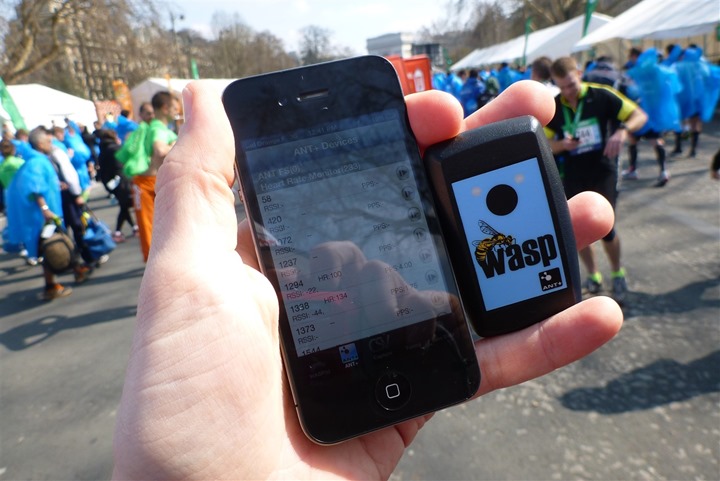 So upon finishing and grabbing my bag, I just let it roam and pickup ANT+ enabled heart rate straps and footpods.  And I suppose, anything else ANT+ it saw along the way.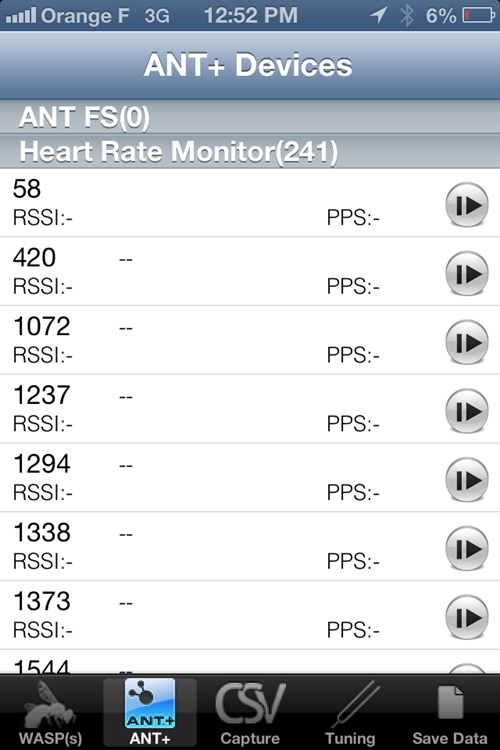 In total, for the few minutes in between when I picked up my backpack, and then when I managed to get out of the secure area – it picked up some 241 ANT+ heart rate straps.  Along with 60 ANT+ footpods.  I didn't have any data logging going on.  Instead I just was in browsing mode.  It would have been cool had I had a good place to stash it along the course and just let it log everything that went by.  Purely to see how many folks were wearing ANT+ HR straps.  I've gotta say, I wouldn't have thought the number would have been that high given how short a time period we're talking about.  Additionally, I tend to see a higher ratio of non-ANT+ devices here in Europe.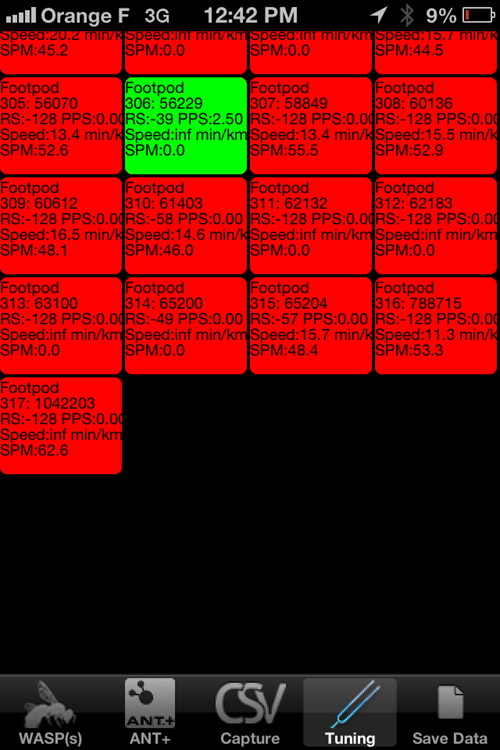 Still, cool stuff.  You can see some of the values shown.  These were the last known values before it dropped out of range.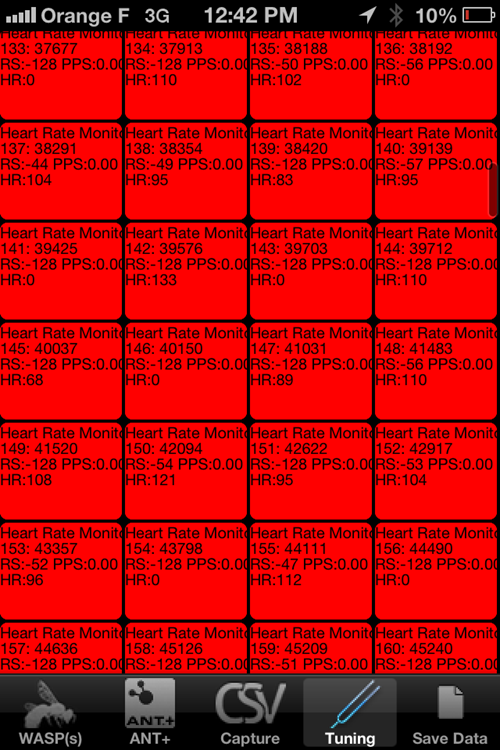 With that, thanks for reading!  Have a great week ahead!