After running the marathon Sunday, then running straight to the airport Sunday night, then up early again for another long-haul 10hr flight (this) Monday morning, and then doing booth duty for 3hrs upon landing…I'm pooped.  So, we'll keep this short and get right to the action.
Garmin FR110 with heart rate strap Deal with Clever Training:
Clever Training has put together a 6-day only deal with the Forerunner 110 with the heart rate strap, for $149, until Sunday –with free US shipping.  Roughly about $50 off of the cheapest you'll find it anywhere else.  You can dive into my in-depth review of the FR110 here.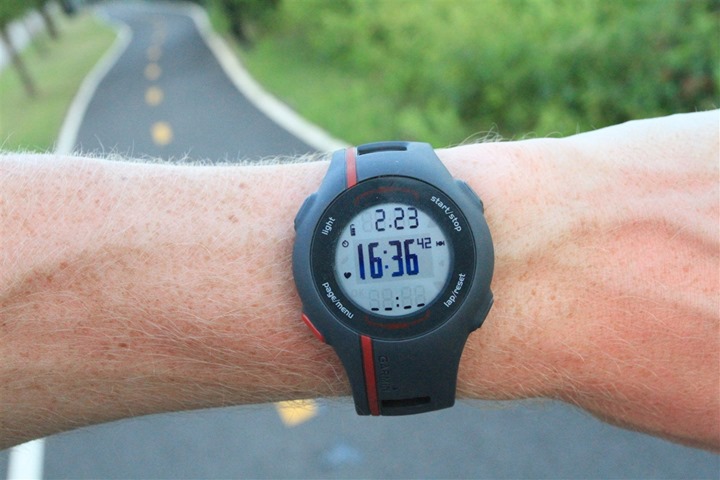 There are two color variants on sale:
FR110 pink edition with HR strap
FR110 red edition with HR strap (seen above)
Note that because it's a deep-discount sale the usual DCR 10% off doesn't apply unfortunately, though, the free US shipping still does.
So who do I recommend the FR110 to?  Well primarily folks looking for heart rate training that don't plan to use a footpod.  The FR110  is in a middle-ground spot between the cheaper $129 FR10 that came out last summer/fall, and the more expensive FR210.  The cheaper FR10 offers no ANT+ connectivity (so no heart rate or footpod support), but does have more overall features than the FR110.  Meanwhile, the FR210 that's even more expensive does have both ANT+ heart rate and footpod support.  It also has instant-pace, which the FR110 doesn't have but the FR10 does.
Yes, it's confusing.  Here's the chart with the three Garmin options from the product comparison tool:
(Remember to click the 'expand' button above to see all four gazillion rows)
Note that the deal FR110 DOES include the HR strap (usually about $30-$45).  So that's really who this is targeted at.  If you're not looking at a HR strap, then quite honestly you can save yourself $20 and pickup the FR10.  If you are more of a hardcore runner and want footpod support (for treadmills), then I'd recommend looking at the Garmin FR210/Polar RC3/Timex Run Trainer 2.0.  And here's the same with these three:
Make sense?
Finally, for those that have asked about new running watches.  I do not expect any new running-specific watches until at earliest the fall running season, from Polar/Timex/Garmin.  Same goes for the FR910XT – but with later timelines.  Remember that really the FR910XT is only about a year old.  While it was announced in October 2011, it didn't actually hit market availability until the January-April 2012 timeframe.  Typically Garmin goes for a 2-year release cycle.  Given there's virtually no competitive pressure on the FR910XT today (that covers all three sports), there's little reason for them to rush to market with a unit.
Update of the Clever Training coupon code:
Along the same front, if you've been previously using the Clever Training coupon code, it's been updated to a slightly new coupon code: DCR10BTF.  Same 10% off your entire order (and the usual free shipping), just a different combination of letters and digits.  Simply an administrivia thing.  Don't worry though, you don't need to remember it.  It's at the end of every product review and on the sidebar at all times.  So no worries about trying to remember it, you can just grab the code there before checking out.

As always, the discount is applicable to everything except clearance/deep-sale items.  And that covers virtually every product I review.  They've also added some new ones lately like Nike+ GPS and Quarq/SRAM power meters.  I'm working with them to get any missing items in there, but as always – if there's a product line missing, definitely drop it in the comments and we'll make magic happen.
Consolidated page for supporting DC Rainmaker:
Since the re-design a few folks have asked where the little tip jar that used to be on the sidebar went to.  It got somewhat lost in the shuffle because the code used in it was fairly slow and would often fail to render in the page, thus slowing down the site for all.
But, with the thinking of having a consolidated 'discounts/deals/support dcrainmaker.com' page, I figured that's a fine place to put it.
More important than the tip jar is simply the various links and ways you can support the site.  Right now that's essentially Amazon.com (for any country btw, such as Amazon.co.uk and others), Clever Training (who also ships to most countries for a flat rate fee, and has the 10% off everything), and then a sprinkle of REI and the tip jar.
Make sense?  Good.  Here's the page that you can quickly access: https://www.dcrainmaker.com/deals
—
Thanks for reading…and supporting the site!  Have a great week ahead.  I've got a pile of interesting things lined up for the next 2-3 weeks. Lots of sport tech company visits (paid for by me), and interesting experiences on tap!