A few weeks ago a Parisian reader let me know about an upcoming 10K race slated for this past weekend.  Given I had nothing else on the calendar and given that it was a huge race in Paris – The Girl and I decided to give it a whirl.  Plus, the entry fee was very cheap and the start line only a few minutes away.  Perfect!
Packet Pickup:
As has almost universally been the trend at all French races I've gone to (and other European races I've been to as well), the packet pickup process is mind-bogglingly quick and efficient.  We arrived just before lunch on Saturday to tents setup in Place de la République.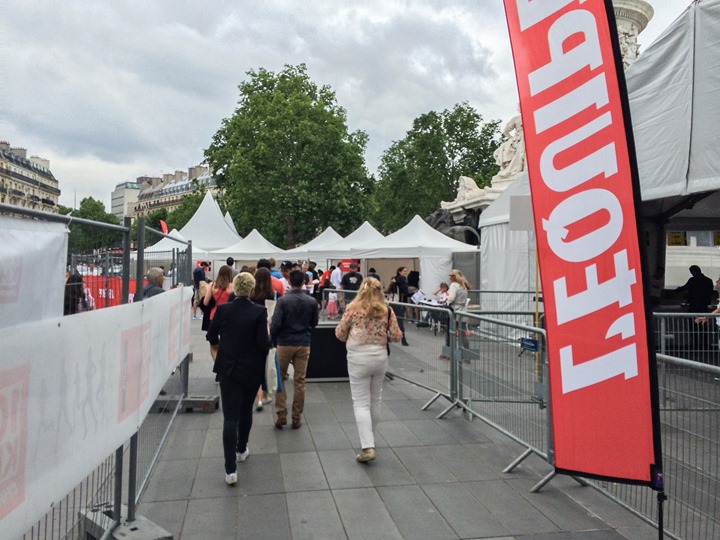 Inside the lines were non-existent and we quickly had our packets.  The only minor challenge was that when we had originally signed up (all of a week and a half ago), there was only the option to sign-up in the 42-minute (plus) corral.  The corrals were all arranged based on expected finish time.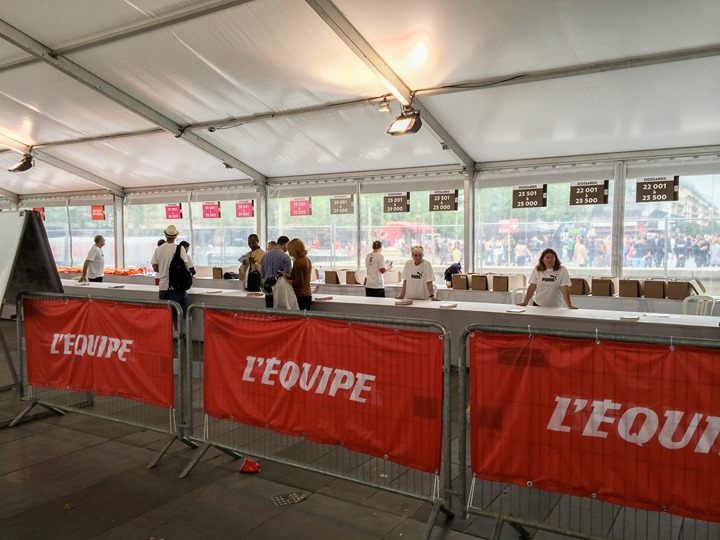 But, it so happened that you were able to very easily move to a different corral if you could pull up a past race result within the past year proving a faster time.  So I grabbed my phone and pulled up a half-marathon time from a few months ago, which got me moved up to the 38-minute corral.  Perfect!
They simply either stamped your bib or added a sticker, showing the new corral.  A number of others were doing the same.
There was a small expo of a few different vendors – some other races, some clothing – but nothing that really stuck out to me.  Plus, they gave us a free technical t-shirt (you'll see the orange shirts throughout my photos, worn by others).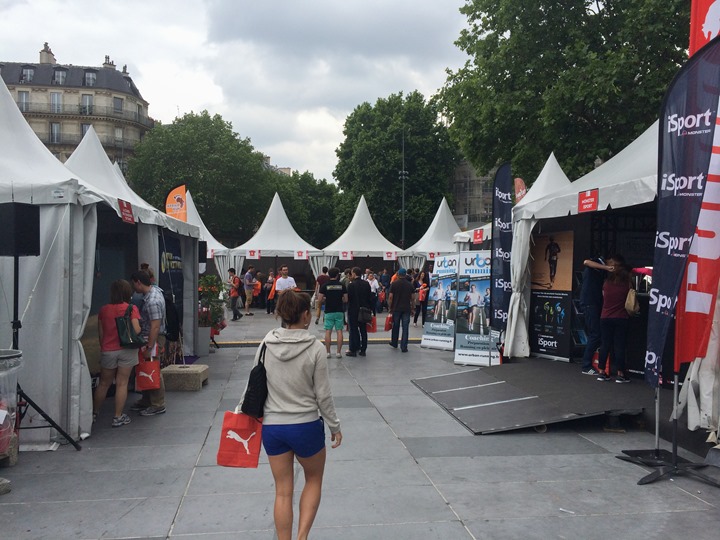 What did stick out to me though was a Mozzarella–focused food truck.  Or rather, food TukTuk.  This particular company actually has a place (a converted shipping container) down on Les Berges where I often run.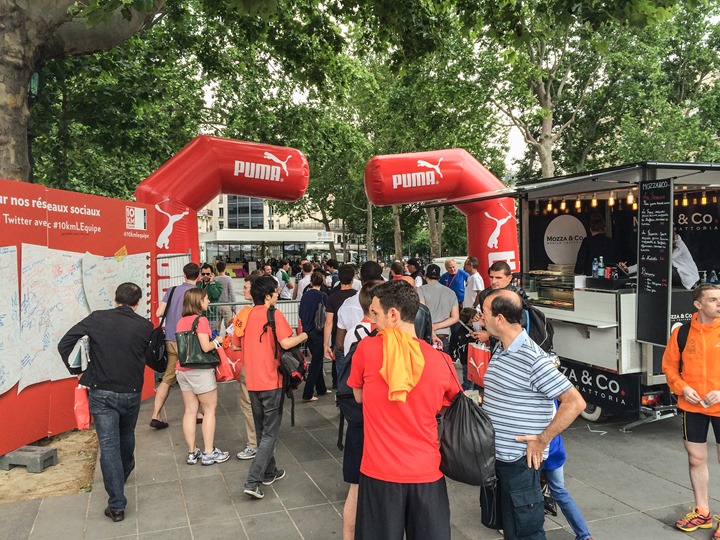 Definitely cool to have good food options onsite at the packet pickup!  There was also a frozen yogurt food truck as well (which, between the two of them makes for approximately 50% of the food trucks in Paris).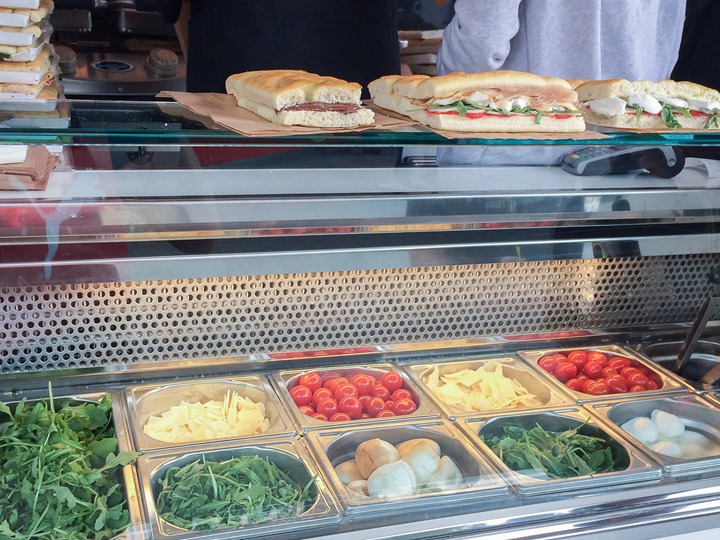 With packet pickup efficiently completed we headed on out to run errands the rest of the day as I outlined in yesterday's post. Lots…and….lots…of errands.
Pre-Race:
The race started at 10:00AM.  And as of roughly 9:08AM I was still lying in bed.  And, I might still have been there at 9:10AM too.  Hard to say.
But, what counts is that the race start was all of a 5 minute easy jog from our home, which makes for a pretty awesome morning.  Well, that combined with the brilliant steadfast resistance of the Parisians to ever get up before double digits on a weekend – ensuring late starting races.
After an easy jog to the starting area I picked up the pace a bit and started doing loops for about 5-10 minutes in front of the start line.  They had a few block section closed down which made things pretty easy.  I just slowly worked my heart rate up – nothing complex.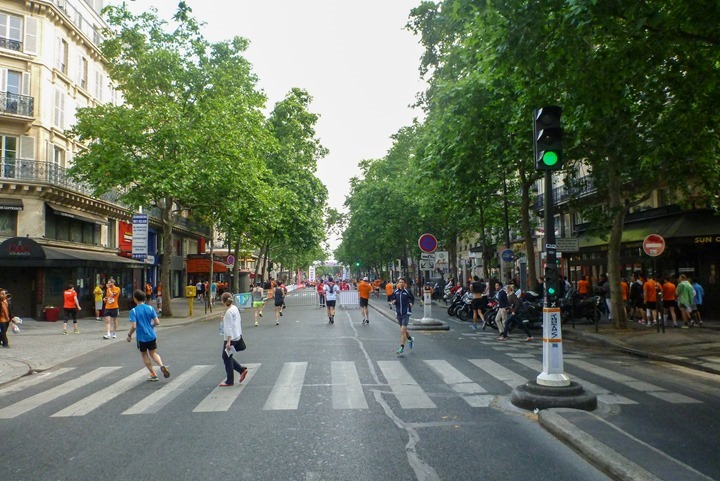 I ended up having more time than I knew what to do with, so I kept popping in and out of the starting area.  I was lucky in that my time put me into the preferential area, which made it easy to keep warming up.
Of interest is that they actually had pacers for a number of different times (down to 42 minutes).  I don't think I've ever seen pacers for 10K races in the US.  In watching the pace groups come into the finish line later on – they seemed rather popular.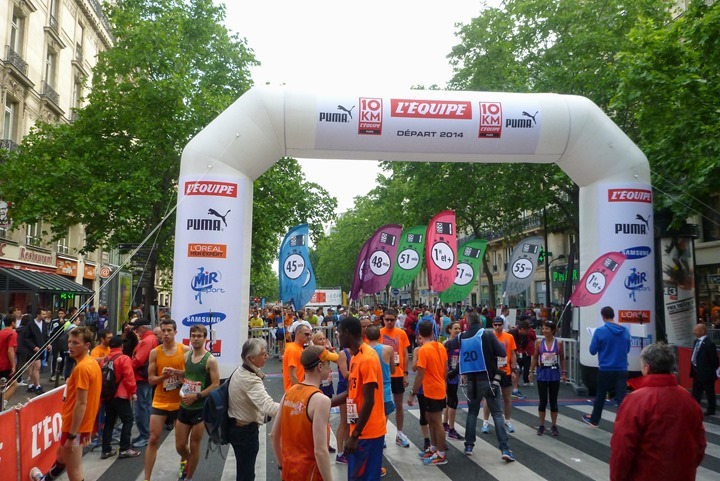 Last but not least, I setup my watch for the race.  I actually did two sorta different things than normal.  First is that I reduced my data pages down to simply time, distance and pace.  Nothing else.
Then, for the heck of it I setup the Virtual Partner for 6:10/mile.  I figured 6:15/mile would be too slow, and 6:05 might be a bit too ambitious in the hills.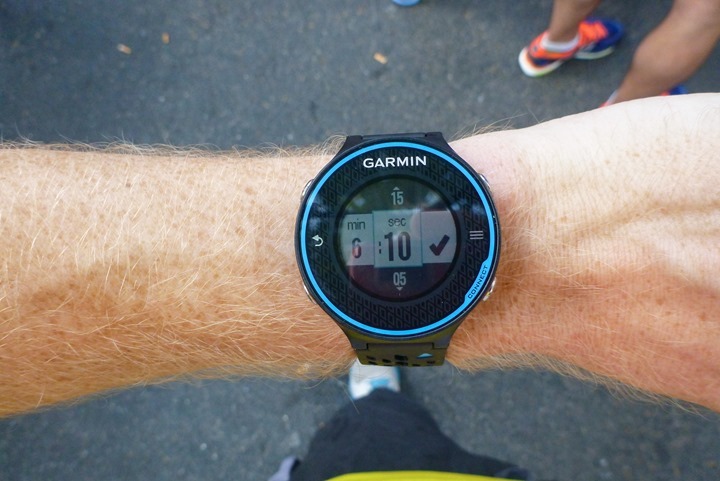 And, on that note – I've actually pretty much just been solely using the Scosche RHYTHM+ lately as my (optical) heart rate strap (at least when I'm not testing a product requiring a different strap).  Loving not wearing the HR strap and it 'just works' (normally it's under my shirt sleeve a bit more, but I pulled it up for this photo).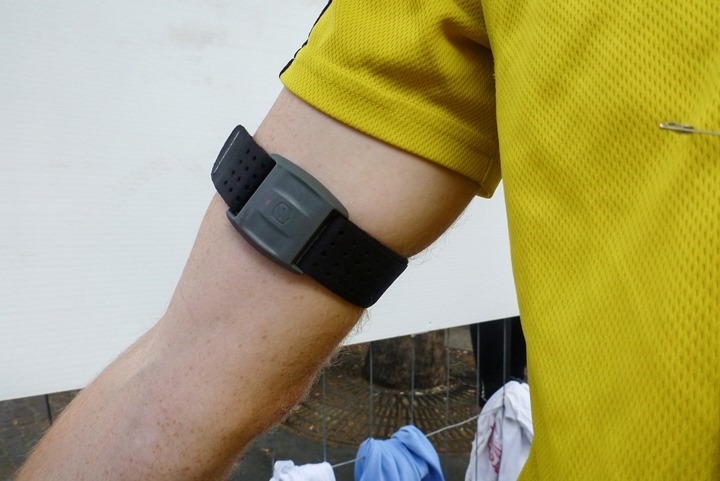 With that – things were just about ready to go.  Here's the view looking back.  Crazy, huh?  Approximately 20,000 runners.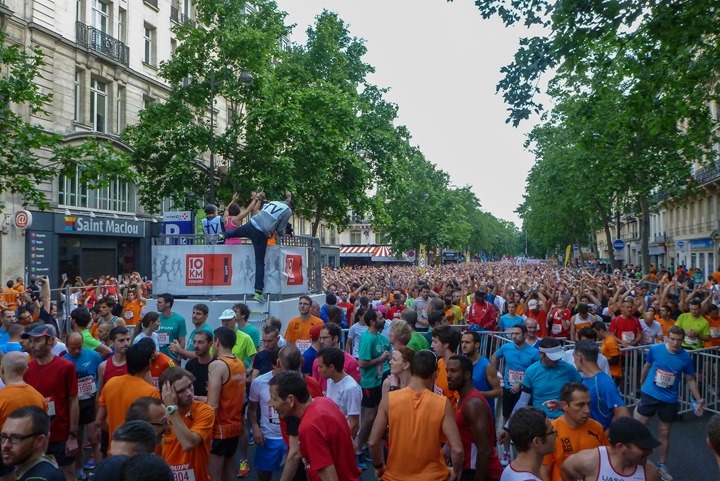 The Race:
Up until just about 60 seconds before the start of the race there had been this crazy metal fence separating the first wave from the second wave.  But then they removed that and just had a little blue ribbon (which didn't last long).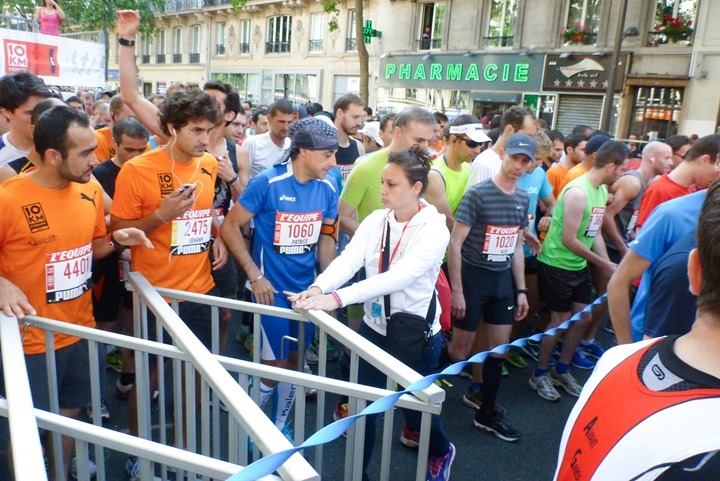 As you can see here, I hung out at the back of this tiny little section since I figured I'd be closer to the 38 part of 38 and under (wave), and faster people would likely be ahead, so I wanted to stay out of their way.
Unlike most races around these parts they actually had a 10-second countdown, and with that – people were off!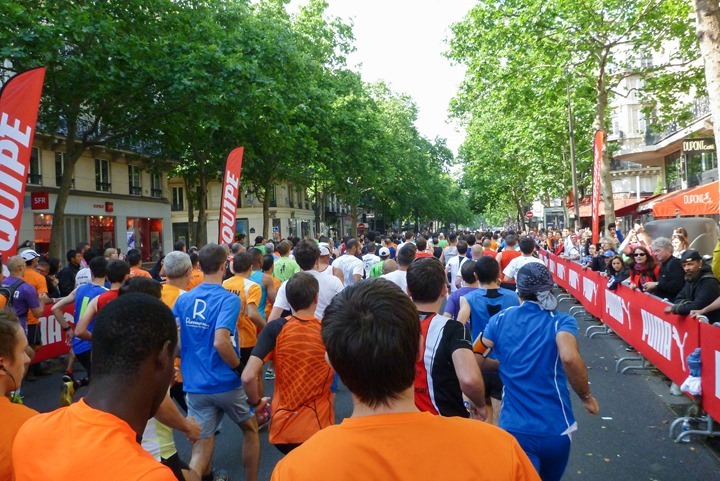 It's somewhat mind boggling how I took this photo just a few seconds after the start line – I fail to understand where on earth all these people came from.  My starting corral area wasn't more than 5 meters deep.
My only goal for the first kilometer or so was not to go out too fast.  Which, I suppose is generally always my goal in running races.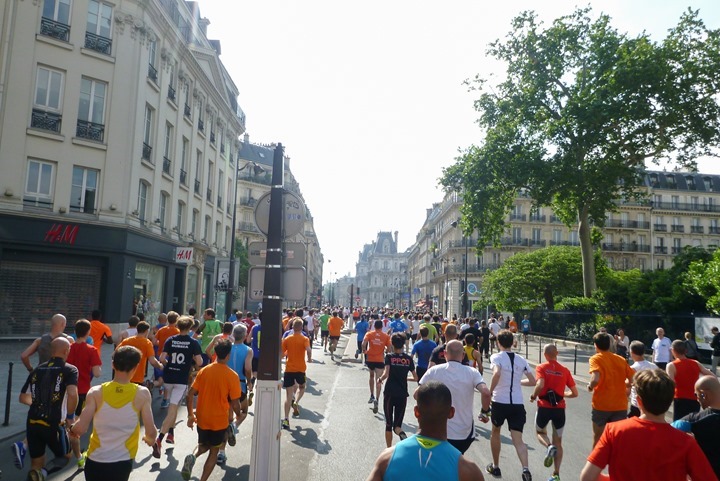 Just a couple minutes after leaving the start we passed Hotel du Ville, where they were putting the finishing touches on moving an entire live forest (yes, trees) to the concrete plaza for two weeks.  More on that in a future post I think.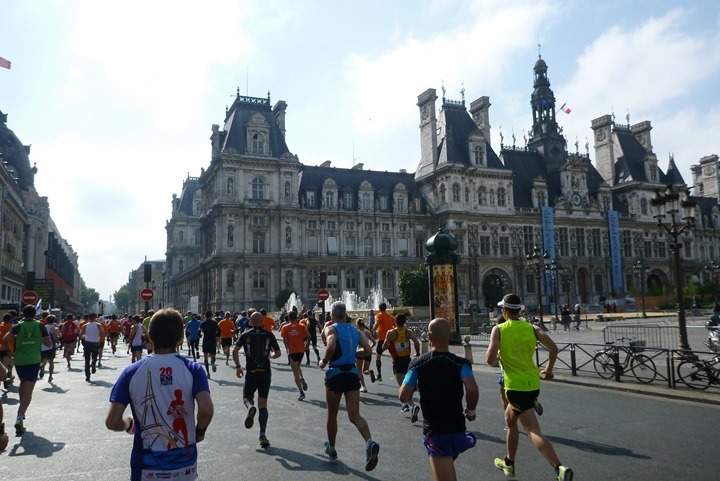 Soon my first kilometer (as well as my first mile) were behind me, and things were looking pretty stable on both fronts:
Kilometer #1: 3:47
Mile #1: 6:04
Good deal, not too fast, not too slow – just about right.  And I was feeling perfectly fine on all fronts.
There were bands along the vast majority of the course.  There were so many bands that at times it felt like a radio station in my head that never stopped – shifting from one couple block section to the next.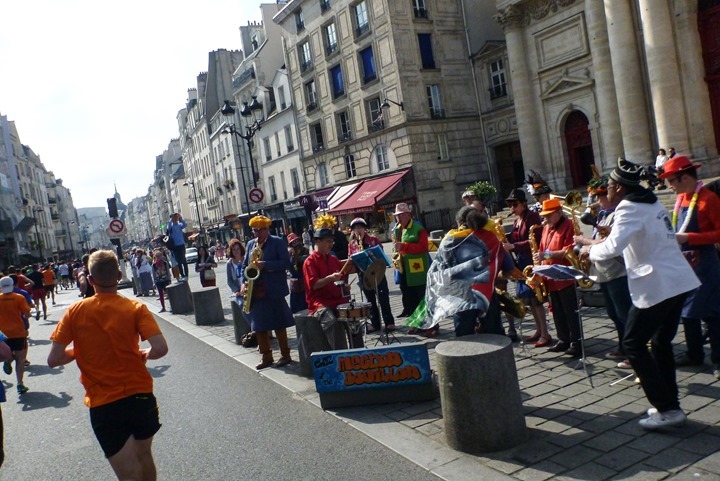 A short bit later I cruised through Bastille, where I often do 1600m and 800m repeats around the canal next to it.  Today though I got to run across the giant crazy intersection without any cars.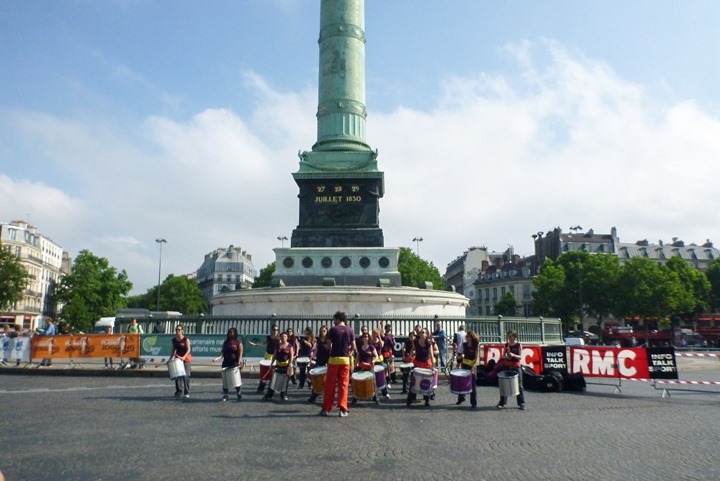 A short bit later while running alongside the elevated running path (up to the left in the photo below) I saw an elephant playing the trumpet.  I figured it was worthy of a photo.  And, I even gave him his requested High-5.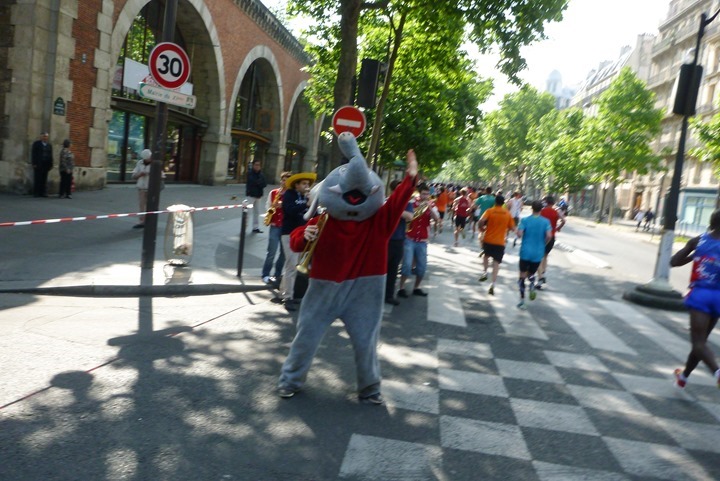 Pace meanwhile was going quite nicely.  I clipped through kilometers 2 and 3, as well as mile marker 3 pretty even:
Kilometer #4: 3:44/KM (Overall average pace)
Mile #3: 6:06/mile (Overall average pace)
The next part though is where I would lose a little bit of speed as we hit the rolling hills.  Not massive Pyrenees hills, but certainly some solid rollers.  Here's a quick elevation map, with my heart rate mapped against it:

The 5K marker indicating the half-way point was conveniently located at the bottom of one such hill.  Shortly before that was an aide station – though I didn't stop at all.
I lost about 10-20 seconds per mile going up the two main hills.  Not ideal, but that was about as fast as I could go.  You can sorta see one of these hills here.  Though, realistically it never looks that big in a photo.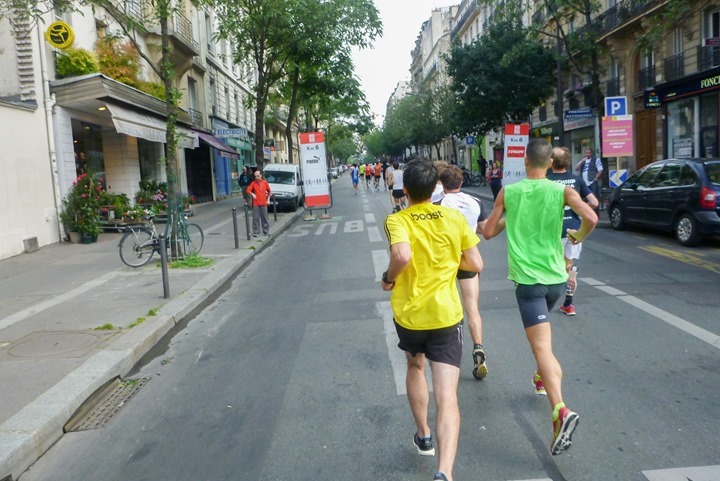 Apparently there weren't actually any hills at all in last year's course (a point which many people made clear to me).
From a pacing standpoint I was purely looking at my lap paces (which I was keeping in miles), and tracking based on that.  I was not actually using heart rate at all (though was recording), but rather just perceived effort this time.
Oh, and about that Virtual Partner? I completely and totally forgot about it.  Likely because my pacing was spot-on with that number so it didn't really have much reason to get upset at me.
The only good part about the hills is that the last kilometer is 100% all downhill to the finish.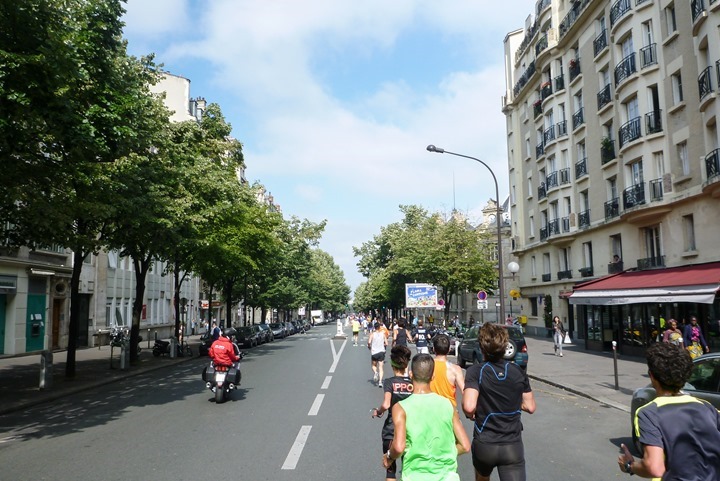 One would think 1,000m of downhill action to the finish would go by quickly, but apparently not.  I was trying to do the math in my head of how long it would take if I combined my 800m repeat time with my 200m sprint times and then added a slight fatigue factor plus the downhill component.  The problem was the drums ruined my concentration on that math problem.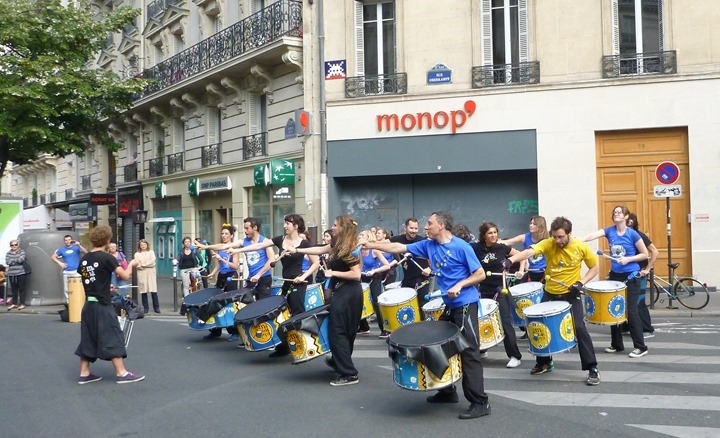 So..I just kept running as fast as I could go.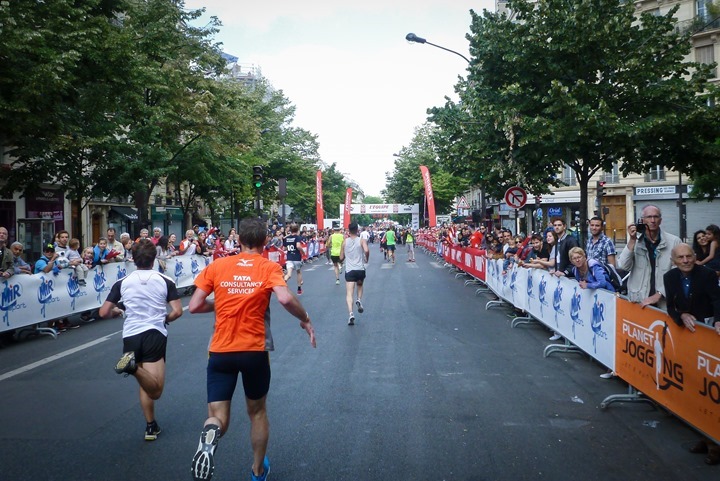 Shortly before the finish line the smoke canons went off with some confetti.  I'm not entirely clear why – I think it had to do with a woman crossing the finish line just ahead (though not sure what place, but camera crews met her).  For now, I'll just assume they were welcoming me.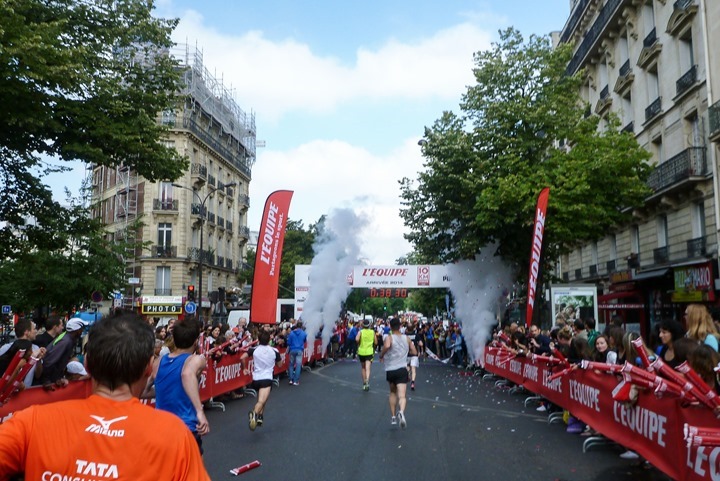 In case you're curious, the over the shoulder backwards looking shot of the finish line: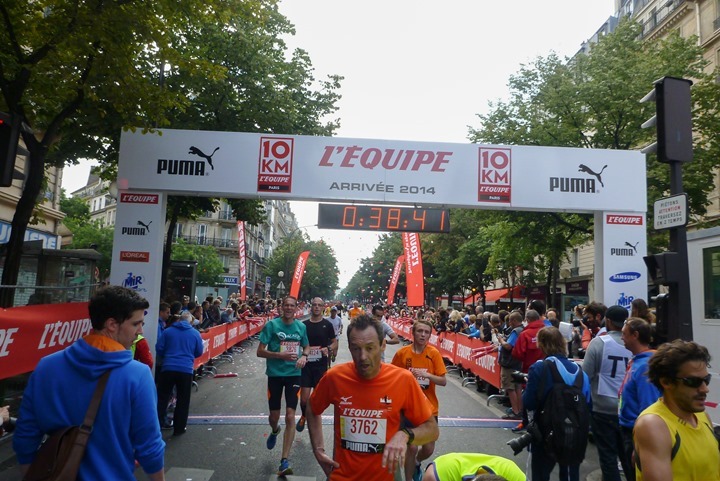 My official time was 38:26 – for an average pace of 6:11/mile (3:51/KM).  Of course, it took me a couple seconds to stop my watch (and I usually start it a second early), so my exact watch time is slightly different.
Still, I always like the race analysis option that Strava has for splits over the course of the race.  Here's two versions – the first in metric (kilometers), and the second in statute (miles).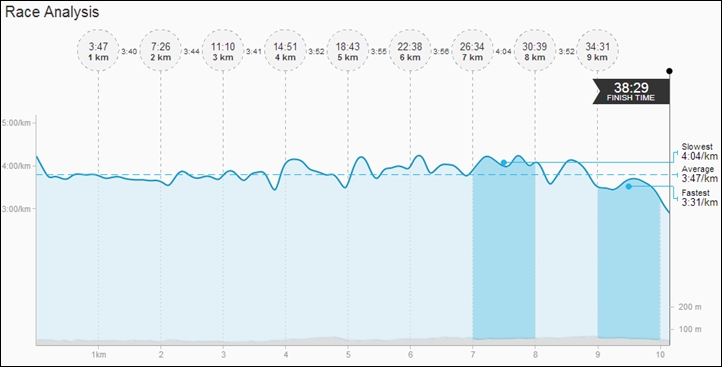 Post-Race: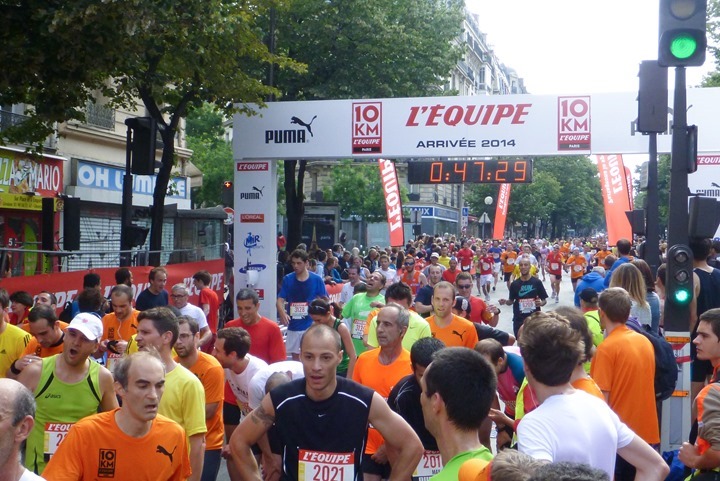 After catching my breath I had a few minutes until The Girl came on through.  She was slightly behind me in a different wave, so I didn't quite know how long it was until she got to the start line.  Turns out it didn't take too long.  Just as I was trying to guesstimate the deferred start time + run time math she arrived on the scene at the finish line…and promptly tossed her breakfast just after the finish line in the main chute (photo below not initial cookie tossing).  She was feeling sick but decided to give the run a go anyway.  Nicely done!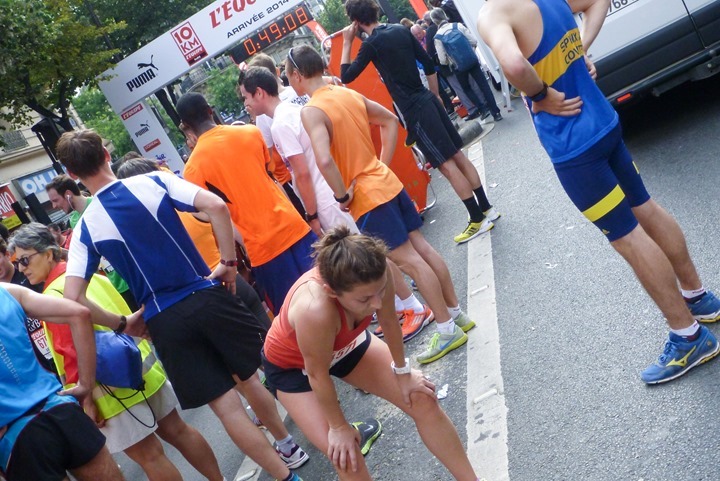 As she caught her breath we walked down the rest of the chute and past the anti-doping tent.  Kinda neat to see at a 10K event.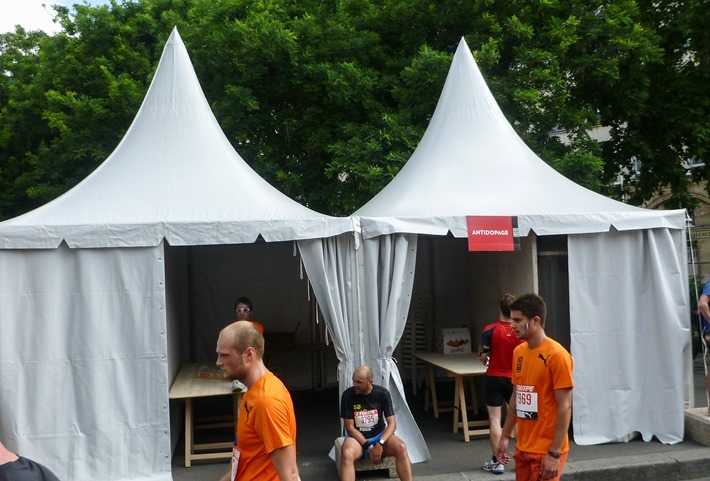 Then it was off to more important things, like the free food and drinks.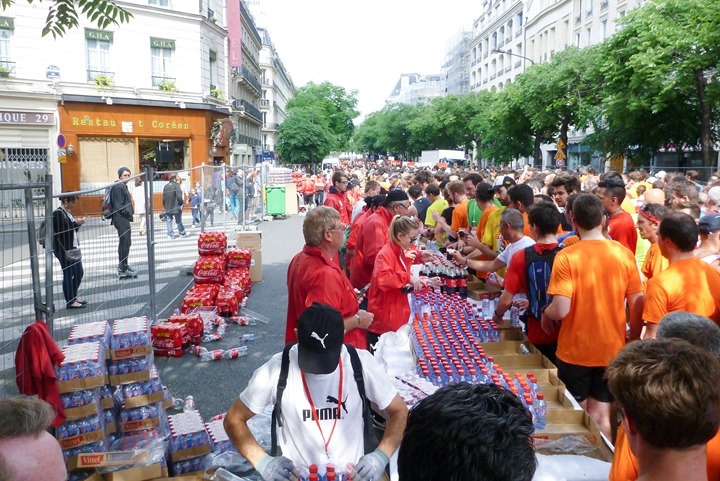 Which, had tons of options, including most notably Haribo gummy alligators (very popular in the Paris Metro system):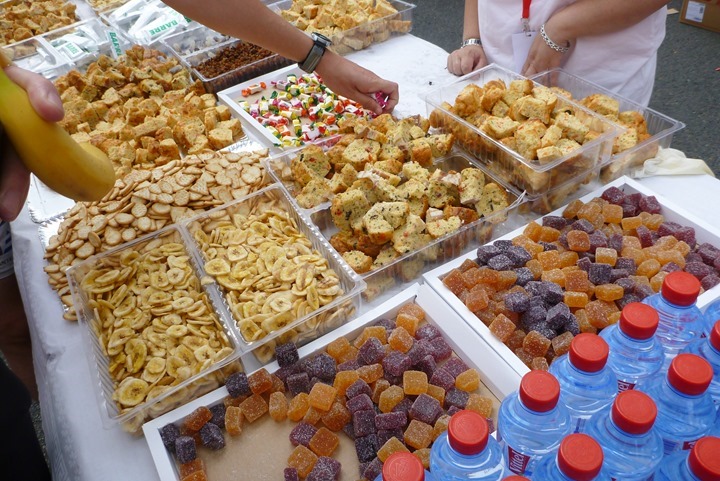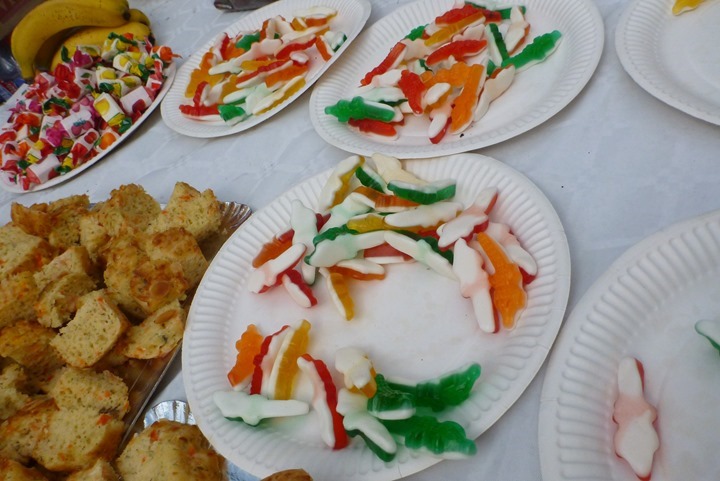 Then, it was time to retrieve a rather weighty medal for my morning's work.  Seriously, all of this for 25€.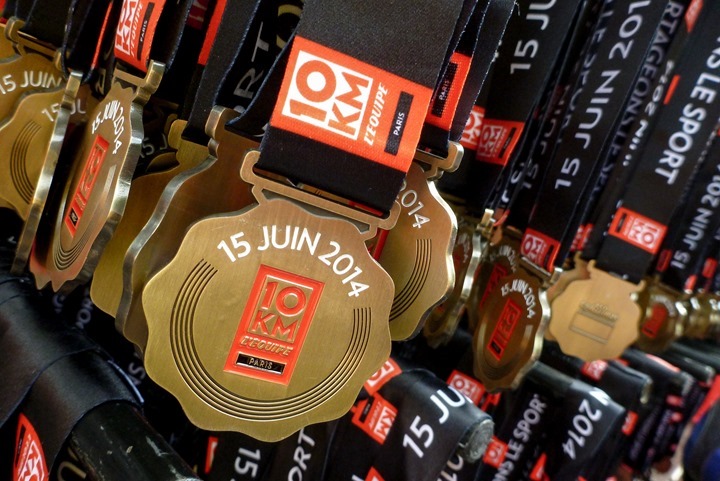 Looking back to the masses of people finishing was pretty crazy: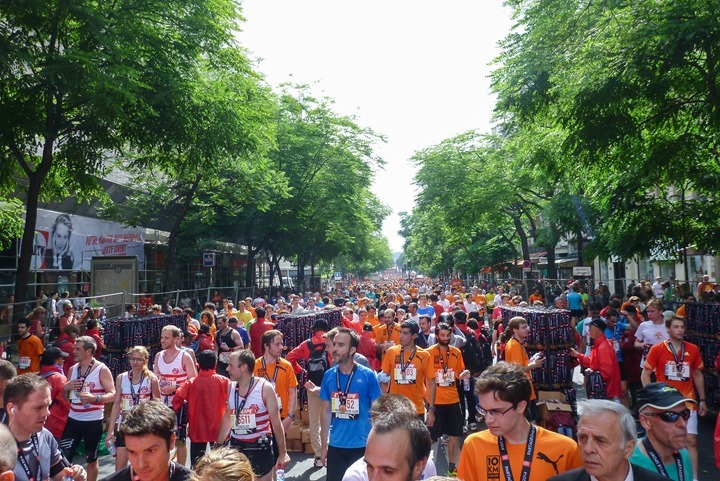 Also of note in the finishing corral (as well as pre-race) was just how many DCR readers said 'Hello'.  It's definitely cool to see folks out there, and a few more said hello on e-mail a bit later in the day.  Fear not, you can always say hi to either myself or The Girl – we generally don't bite!
Since the run ended in a slightly different place than it started, we ended up just grabbing the Metro home – just like many other runners.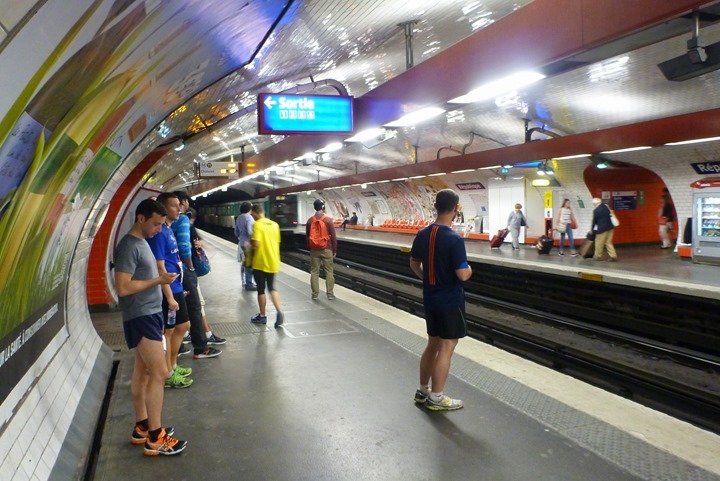 And finally – by time I got home they already had results posted and even little downloadable PDF file certificates.  I do want to point out just how darn fast Parisian runners are in general.  The fact that most of my photos are packed with runners all running sub-40 is really impressive.  But, I'm still at a loss for where all these fast people train.  Someday I'll figure it out.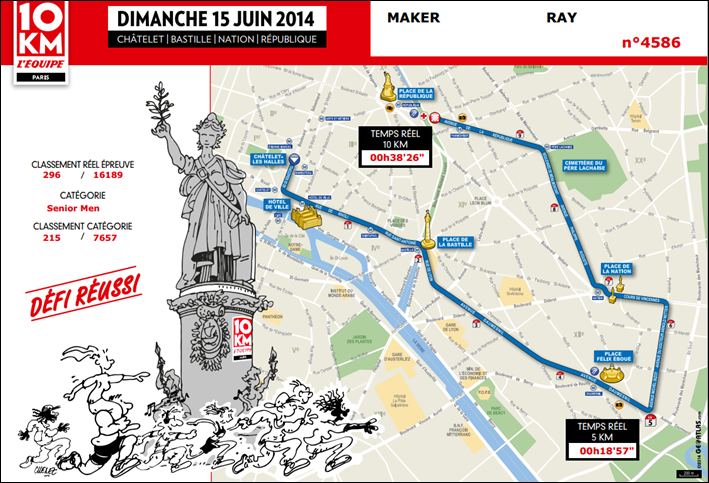 Thanks for reading!