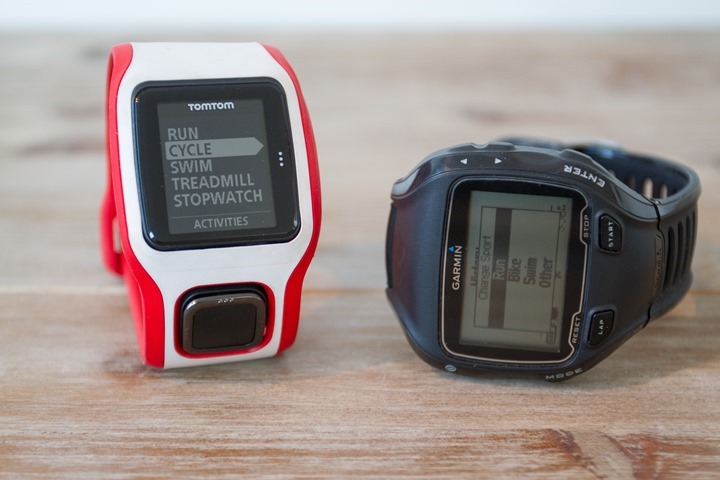 Starting today, a handful of products are on a fairly big sale  – the Garmin FR910XT, TomTom Runner Cardio, and a deal with the Scosche Rhythm+.  As is usually the case, I tend not to create standalone posts on any sales unless it's a pretty big sale and worthy of noting.
Garmin FR910XT Sale:
Here's the simplified version of what's on sale, starting with the Garmin Forerunner 910XT multisport watch deal:
Garmin FR910XT Base: Now $249US (was $399US)
Garmin FR910XT with HR strap: Now $299 (was $449US)
Garmin FR910XT with HR strap, speed/cadence sensor, quick release kit: Now $349US (was $499US)
(Select dropdown for different bundles)
For the Garmin devices, the usual DCR 10% device savings doesn't apply due to the sale nature.  However, the free US shipping does apply – so still solid there.
With the Garmin sales, these are good from now until March 28th – and only through Clever Training.  We tend to see these sorts of triathlon product focused sales each year from Garmin in the spring, so the presence of a sale isn't too big a surprise.  Additionally, with the FR920XT having come out last fall, and the Fenix3 now as well – the FR910XT is a bit older – though, still definitely quite capable.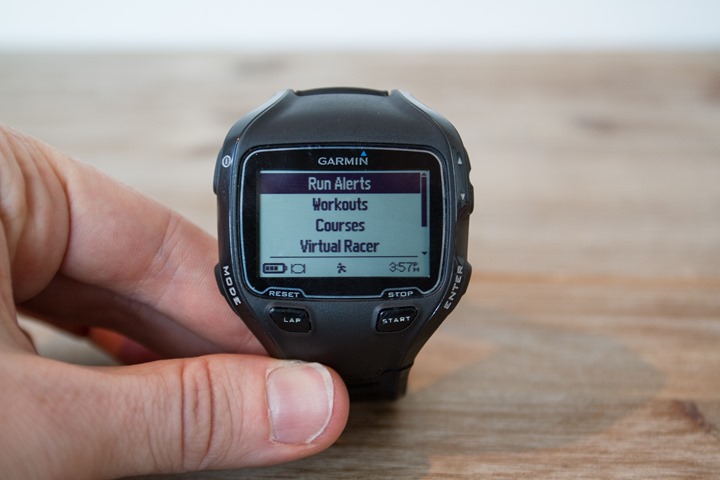 As for the Garmin side and my guidance – here's my thinking.  First, obviously the FR910XT will not see any new feature updates, so definitely don't expect that.  At three years old, those dates are long behind us given the FR920XT & Fenix3 are out now.
But, that doesn't mean the FR910XT is obsolete.  I'd argue that from a feature standpoint it's the most full featured triathlon product out there, except the FR920XT/Fenix3.  By the same token, at $219US, the Suunto Ambit2 S is also a slamming deal, but lacks much (all) of the structured training that you see on the Garmin device.  This means that while both devices can do swim/bike/run tracking, the FR910XT can do structured workouts, intervals, and the like.  Whereas with the Ambit2 lineup none of that is really there.  For some folks, that won't matter much, and yet for others, it'll matter quite a bit.  Additionally, I'd give a significant edge to the Garmin lineup for power meter metrics support (the Ambit series is limited there).  On the flipside, the Ambit series has much better support for courses, routing & navigational pieces than the FR910XT.
As for deciding whether or not one would get the FR920XT instead of the FR910XT – I'd say that's primarily a budget based decision.  No doubt that at the regular FR910XT price of $399, it's highly overpriced (and I suspect we'll see that drop in the months ahead).  I think $249 is a fair price for it.
Of course, with the newer watches including the FR920XT, Fenix3, and Vivoactive you're going to get Connect IQ support –  which will open up the doors for lots of apps to provide features that Garmin doesn't natively (or, just do certain features better).  The app store really only just opened last week, but there's already some good things coming out of that.  Though, I suspect that'll take some months to mature more.
Finally, for those that may want to compare the Vivoactive with the FR910XT, that's definitely valid.  Both are $249US in this scenario.  However, keep in mind that the Vivoactive is unable to do a true multisport mode workout.  It also doesn't support openwater swimming (it does support pool swimming).  And, it lacks structured workouts today – though, that could be fixed via Connect IQ.  And, it's possible the others could be addressed via apps as well.  But, I just don't know if we'll see that gap closed that way.
TomTom Cardio line-up:
Next up, is the TomTom Cardio lineup, including the TomTom Runner Cardio and Multisport Cardio.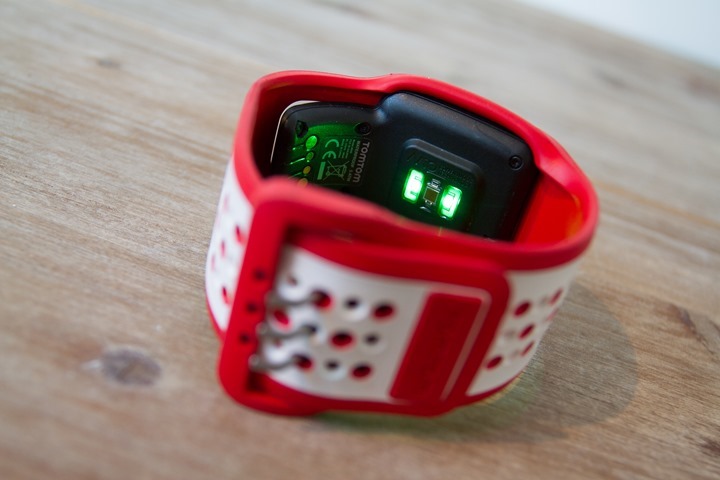 These two watches are one of the few optical sensor GPS watches on the market, and realistically one of only two product lines on the market that actually has an optical sensor that works during sport use.  If you compare it to something like the Fitbit Surge or some of the Soleus units – neither of those companies utilize optical sensors that work terribly well during activities.
The run-down on the deal here is slightly better than at first glance, because the DCR 10% coupon code DCR10BTF remains valid for these purchases.  Plus, you get free US shipping.  The below prices are prior to the 10% discount:
TomTom Runner Cardio: Now $219US (was $269US)
TomTom Multisport Cardio: Now $249US (was $299US)
TomTom Multisport Cardio Cycling Bundle (altimeter, cadence sensor + bike mount): Now $349 (was $399)
Now, then you'll layer in the DCR 10% savings on top of that.  So in the case of the Runner, you're looking at $197, or basically $72 off.
So how does the Cardio line compare?  Well, as per my recommendations in November – if you want an optical HR GPS watch, the TomTom Cardio lineup remains the best unit overall option.  You do have the Adidas Smart Run GPS with integrated optical HR, but that's a bit more pricey.
As for the multisport crowd – I generally don't recommend the TomTom Multisport units as much, only because they lack a multisport mode as well as an openwater swim mode.  So, for a pure triathlete…that's kinda a substantial omission.  Additionally, the web platform continues to lag just as some of the updates have been notably lacking.  But, on the flip side, it gets optical HR right and GPS is accurate.
So I think the best option here out of the group on sale is really the Runner Cardio variant, since that doesn't appeal to the multisport athlete but rather the runners.  And in that area, it does really well.
Finally, the TomTom Cardio deals are good through Saturday, March 21st, so a bit shorter.
Scosche Rhythm+ optical HR sensor (dual ANT+/Bluetooth Smart):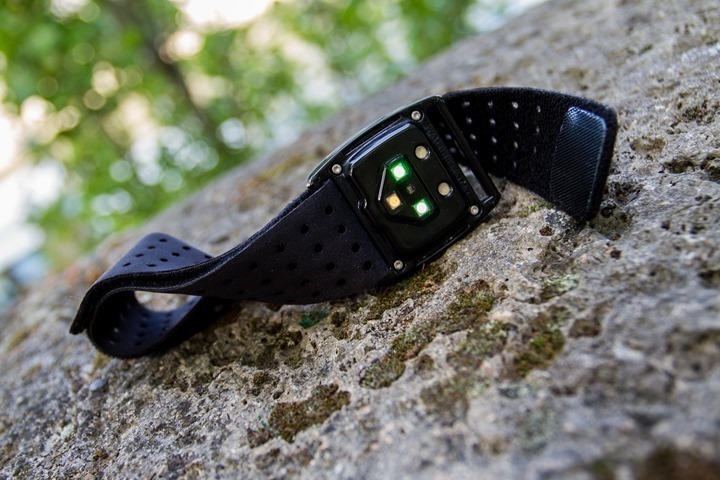 Finally, we've got the Scosche Rhythm+ optical HR sensor, my favorite standalone optical HR sensor.  The deal here is a bit more simplified, but probably still appeals to some.  In this case, there's no discount on the unit itself (aside from the usual DCR 10% discount), but you do get a free pair of headphones.  It's a similar promotion to back during the holidays, which you all seemed to like.
As noted in my device recommendations, the Scosche remains my favorite because I have the best results with it, and you as readers universally have had the best results with it (and about half of my family is using it too).  It transmits on both ANT+ and Bluetooth Smart concurrently, so it'll pair just fine with a Garmin watch or an app on your smartphone (or both at once).  Basically almost every device out there will use one of those two protocols.
It's typically worn on the upper arm, though you can be flexible on that.  And unlike some other devices, it doesn't have any transmission problems either.
As for the headphones, they are the Scosche Sport Clips 2.  This deal is good until for about a week, or while supplies last.  Like the TomTom deal, you can indeed use the DCR DCR10BTF coupon code.
–
With that – thanks for reading, and for supporting the site!