(Before we start, my Black Friday post will hit tomorrow and be updated throughout the week.  This listing attempts to as best as possible take into account those price changes.)
It's that time of year where tons of folks are looking at gadget options – either for themselves or for friends and family.  For many years I've put together a list around November with my gadget recommendations.  My goal here being to give my specific recommendations – exactly the same recommendations I'd give to my own friends and family.
This post isn't here to list every option on the market in an effort to make every manufacturer happy.  Nope, it's a clear cut 'what I'd buy' for certain use cases.  Of course as more and more companies get into the market, there ends up being more and more possible scenarios as the products expand in functionality.
Now this past June I put together a Summer recommendations guide, but since then a lot of stuff has changed in certain markets.  Meanwhile, in other areas nothing has changed – for example, cycling computers remains identical to what it was this summer.  For those that are familiar with my summer recommendations, here's the sections that have changed in this post:
– Triathlon watches
– Running watches
– Action cameras
– Activity trackers
All other sections remain unchanged.
If you're looking for a listing of what I use day to day, check out my 'Gear I Use' list, as well as The Girl's list too (both of which will have updates this week, though, fairly minimal changes).
Finally, if you use either the Amazon or Clever Training links, you help support the site.  I've partnered with Clever Training to offer all DC Rainmaker readers exclusive benefits on all products purchased. You can read more about the benefits of this partnership here. You can pickup most devices below through Clever Training using the links in the tables. By doing so, you not only support the site (and all the work I do here) – but you also get to enjoy the significant partnership benefits that are just for DC Rainmaker readers (like saving 10% on non-clearance/deep-sale items). And, if you are picking up items that are more than $75, you can get free US shipping as well.
With that, let's dive into it!
Running GPS Watches: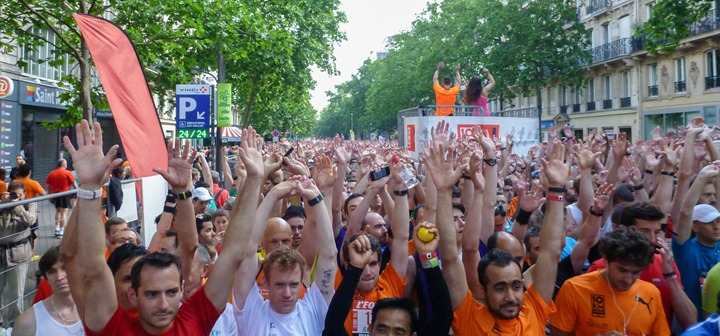 Road Running – Best in Class: Garmin FR620
It used to be that I used the Garmin FR610 for all my running adventures, but since the FR620 came out last fall, I've been using it instead – and it's working great for me.  Garmin listened when it came to waterproofing, connectivity via Bluetooth to your phone, and customization.  It's pretty much my perfect running watch.  There's simply nothing else in the same ballpark from a functionality standpoint by other companies.  And, with the FR620 cycling mode functionality added this summer, it brings the much requested functionality back to the lineup.
Many will ask why the FR620 over the FR920XT? It's true the FR920XT has more functions – a lot more.  But for some, including me, I really do like the super slim aspect of the FR620 over the bulkier FR920XT.  That said, I've been using the FR920XT over the last few months and I might be slowly switching to that as a running watch.  We'll see…
Trail/Ultra Running – Best in Class: Fenix2, or Ambit 3 on sale.
This category covers units with barometric altimeters as well as longer battery life.  Both of the options I note below contain a 'long battery life' mode, which reduces the number of GPS points recorded (through a variety of means).
Last year I 'awarded' this category to the Ambit2 over the Fenix(1), because of the versatility the watch had in connecting to cycling sensors as well as being able to do pool and openwater swimming.  But I noted at the time that the Fenix had more when it came to hiking and navigation – but lacked in other areas.
Since then though not only has the Fenix2 come out but they greatly expanded the feature set and even went back and added in a ton of Bluetooth related features to the Fenix1.  At the same time, Suunto has added in a handful of features while also filling the biggest gap I saw at the time: Inability to get proper data to 3rd party sites (for example, by adding automatic sync with Strava, and .FIT file export).
So to that end this is still a slightly tricky category.  But I'd kinda put my recommendation as such: If you can get the Ambit3 at a lower price then that's still a choice.  But if it's at a higher $500+ price, then go with the Fenix2.  Said differently: I don't believe the Ambit3 is worth the high-price they've set for it.  But I do believe the watch is much more competitive about $100 cheaper, making up for the lack of features found on the Fenix2.
Running – Moderate/Mid-Range: Polar M400
This is the first time in years that Garmin has lost the coveted best mid-range running watch to another company.  It was held last year by the FR220, but with the Polar M400 being far cheaper than the FR220, and having more flexibility, and more features – it was an easy choice.
The FR220 sits at $249, whereas the M400 is $179.  Both have good running features, but only the M400 also includes a daily activity tracker for measuring steps when not in a workout, and sleep metrics at night.  The M400 also supports a slew of sport modes that you can fully customize, and they've got footpod support planned for the next month or so – rounding out treadmill use.  Like the Garmin it can upload via your mobile phone to Polar Flow, their training log site.  The site recently announced 3rd party compatibility options, and a number of major 3rd party sites are already working on connectivity to Polar.
Ultimately though, the price is the biggest ticket here as to why it's the winner.  At $70 cheaper, it's a no-brainer.
(Update Nov 2015: One thing we have seen a spike in during 2015 is failures of the USB port, primarily due to corrosion. Interestingly, in the October timeframe we started seeing Polar ship a slightly different USB port arrangement on the M400's. Whether or not it fixes things is still to be determined.  On the bright side, Polar has swapped out pretty much everyone's units without question.)
Running – Budget Range: TomTom Runner (or FR15 on sale)
The TomTom Runner with its new $99 sale price has easily moved into the top spot here.  It's able to track your runs, has some basic structured workout functionality and alerting options, as well as can upload via your mobile phone.  Plus, you'll get more display customization on the TomTom series than you would on the Garmin FR10/FR15 watches.
Now, in the event the FR15 goes on sale, then it's definitely worth considering again especially since it has daily activity tracking (steps), which the TomTom doesn't.  The challenge is that at regular prices of $169, it's only $10 cheaper than the above Polar M400 – which is a far better deal.  So the price has to drop quite a bit to really be a contender here.
If neither unit is on sale, then I'd still go back to looking at the FR10, which floats at around $129US.  It lacks heart rate or activity tracking found in the FR15.  But beyond that virtually everyone who purchases one is happy with it (judging by 600+ comments on my review post).
Triathlon GPS Watches: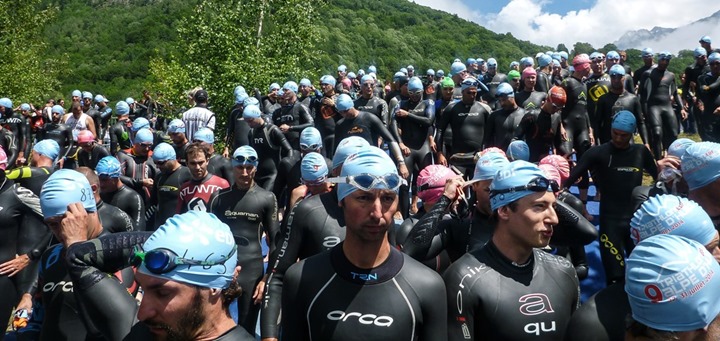 This category is for what the industry calls 'multisport' watches, but that typically just translates to triathlon watches.  They track your time/distance/etc… within the three sports – swim/bike/run.  From a non-triathlon multisport aspect, these watches are often used by everyone from wind surfers to rollerbladers, mostly because of their versatility and flexibility in configuration and display customization.
Back in June, I noted that it was a poor time to purchase a new multisport watch.  Now that we've had two new watches hit the market, you can easily see why.  Both the Garmin FR920XT and the Suunto Ambit3 arrived, and the Polar V800 has seen some solid updates, like indoor swimming in the last few weeks and power meter support the previous month.
Overall Best in Class: Garmin FR920XT
Despite those updates though, there's really no competition here at this point.  The sheer volume of features found on the FR920XT dwarfs that on even the V800 and Ambit3.  While I think Polar has the longer term option of catching up with consistent new firmware updates to the V800, I think the hardware limitations of the existing Ambit3 platform make it difficult for it to hit the same level as either the Garmin or Polar units.
When it comes to new features in the FR920XT, it's essentially pulling the 'best' features found on all the other new Garmin fitness devices over the past 3 years into a single watch.  Everything from live tracking via  phones to daily activity tracking (i.e. steps/sleep) to new swim interval timer modes and tons more.  While I could list all the new features here, it'd really just be redundant with my previous 'What's new' section, as well as the full In-Depth review.  Perhaps what I think may be the most important feature though is Connect IQ, which means that developers will be able to start releasing apps for the FR920XT, allowing you to add functionality that perhaps Garmin hasn't.
Of course, there are some areas I'd still like to see them focus on – such as courses and the barometric altimeter calibration.  But for most triathletes, those are likely to be of less concern in daily training or even most races.
Budget Options: Suunto Ambit2 S, and in some cases FR310XT
At the budget end, you've got the Ambit2 S, which sits at $219US these days.  That's a very solid deal for a watch that tracks across all three sports – including laps in the pool.  Plus, Suunto's addition of standard export capabilities over the last year mean that it's easy to get these to the platforms and apps you'd like, including direct connection to Strava.  Plus, it looks like a normal watch and can be worn day to day as a regular time watch as well.
If you want to save a bit more, you can pickup the Garmin FR310XT.  It hovers around $175US, and has the vast majority of the FR910XT functionality.  The core areas that both it lacks compared to the Suunto Ambit2 S though are indoor swim tracking, as well as stroke metrics for outdoor swimming.  The FR310XT has a variant of openwater swim mode to be used on the wrist, though accuracy isn't as good as the Ambit2 S.  If you're just getting into triathlon and aren't quite sure what your plans are – I'd really recommend the FR310XT over the higher end watches. But if you can afford the extra $50 for swim tracking and the ability to just use it as a regular day watch, I'd go the route of the Ambit2 S.
Cycling GPS Units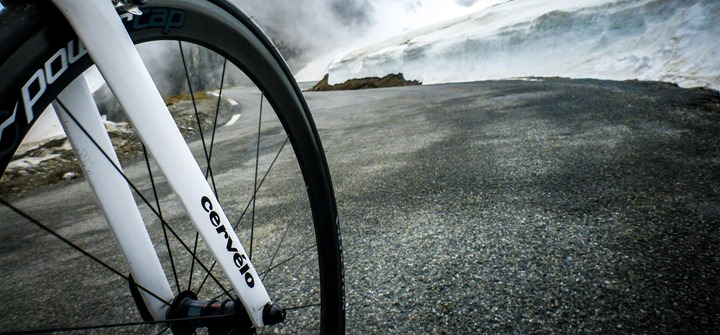 As I've noted previously, anytime someone in the cycling/sports technology industry starts a conversation about bike computers, it always starts with "it's like the Edge 500".  Well, there's reason for that.  Given the Edge 500's current prices at $200, it's still an awesome deal.  If you don't care about maps and turn by turn navigation, you won't find a better unit out there.  Plus, with all Garmin devices pushing automatically to sites like Strava, Training Peaks and more – it's hard to beat that connectivity.
Meanwhile, CycleOps has the Joule GPS, which…'is sorta like the Edge 500', except from CycleOps.  Importantly though, it does more around historical power metrics (like showing your 5min power max, weekly and monthly maxes, etc…).  Many folks like it just as much as the Edge 500.
Finally, the O-Synce Navi2Coach is very solid, and I'd have no problems using it day to day either.  We haven't quite seen as many updates to the unit as we did during the initial release cycle – but most people seem quite happy with it.  About my only complaint there is (still) the mount, which can be prone to breakage.
If you want turn by turn navigation (like a car GPS), there's not a ton of choices.  You've got a few Garmin units (Edge 810, 800, Touring), and then the Mio Cyclo units.
Last fall I recommended the Edge 800 over the Edge 810, as I felt the features didn't justify the extra price.  And in many ways I still feel the same way.  However, the ability to upload via Bluetooth is becoming more relevant with Garmin's new automatic sync partnerships (like Training Peaks, Strava, SportTracks, and MapMyFitness).  Within the course of a few short months these partnerships covered all the major players in the game.
Meanwhile, you've got the Mio Cyclo 505 (also branded as Magellan).  That unit received a substantial firmware update this past fall that added in a ton of features.  For example the ability to control trainers and Shimano Di2 integration.  These were features that Garmin didn't have at the time, though have since been added to the Edge 810 and Edge 510.  That's why the Mio is slowly sliding out of contention here, but I'm keeping it for the moment as a very viable alternative.
There are some minor nits though with it that may cause more serious cyclists to pause – specifically the lack of a lap function, insufficient power data recording, and the inability to put together workouts.  The lap piece is coming down the road in a future firmware update, so that should help there.  And, I don't find the interface as polished as the Garmin Edge 810, though that's a lesser issue.  But I do think over time Mio will be able to play catch-up in a lot of areas.  No doubt that I see them as Garmin's biggest competitor.
So why not the Edge Touring?  In many cases the Edge 800 isn't all that much more expensive than the Edge Touring.  And the Edge 800 has far more functionality than the Edge Touring does, except in the area of round-trip routing (whereby you tell the unit you want a 50-mile ride and it goes and creates a random route).  The Edge 810 lacks that as well.  Meanwhile, the Touring lacks 80%-90% of what either the 800 or 810 has.  So if you're looking to save some cash, go Edge 800 instead of Edge Touring.
Budget GPS Option: Garmin Edge 200 or RFLKT+
If you're looking for a budget option that records your route, your first and best bet is actually your phone with a free app like Strava, MapMyRide, Wahoo Fitness, or similar.  If however you want more of a small handlebar unit, then the Edge 200 is where it's at.  While I've been playing with some other options, ultimately, at $129 it comes down to the Edge 200 being the cleanest interface and the easiest to upload to Garmin Connect (or any other site you'd like, they all support it).
You also do have the Wahoo RFLKT and RFLKT+.  These units require your smartphone be on you at all times, as they display data directly from popular apps, sorta like a dashboard.  It's a bit cheaper than the Edge 200, and gives you a bit more flexibility because the apps allow you to easily pair sensors like heart rate and cadence sensors.
Cycling Power Meters:

Choosing a power meter is a tough decision matrix.  Anyone who answers the question "Which power meter should I choose?" and instantly names a specific brand name/model upfront, is full of crap.  The correct answer is "Tell me more about your usage plans?"
There are so many variables that go into that decision beyond just price.  For example: How many bikes?  What type of bike? What type of pedals? Do you want to move it around a lot? Race wheels or not? What do you want to measure?  And on and on.
The good news is that I cover these in-depth in my Power Meter Buyer's Guide from this fall.   Nothing has changed there since then (neither in products nor in my opinions), and I don't expect any shifts in the near future.
Cycling Trainers:

The best way to cover this section is to go read my complete 2014 cycling trainers guide, so again like power meters, I'd go over and and check out that post for all my recommendations (a massive list on a slew of categories).  Plus, just on Friday I posted my massive Trainer App guide.
Obviously, given it's now basically the trainer season, there's no more trainers coming out till at the earliest mid-next year, with most announcements typically happening at Eurobike in August each year.
Swimming: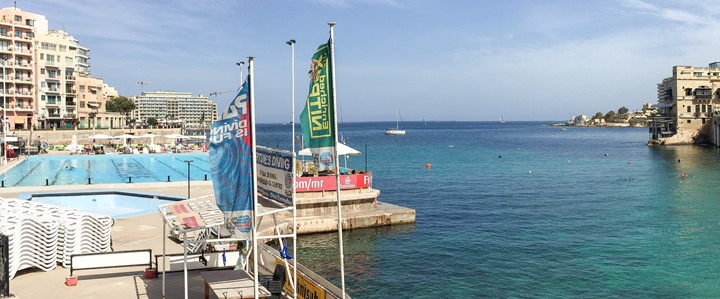 MP3 Players: FINIS Neptune + See MP3 Player post
There's a lot of options in this category. Some are good options by reputable companies.  Some…are crap knockoffs.  I'd really encourage you to read my Swimming MP3 Player Shootout post to get all the details on many of the units out there.
The one new unit to the market though that I've reviewed since is the FINIS Neptune MP3 player.  I did this back last summer and really liked the unit.  And many of you as readers who have picked it up have said the same.  Thus, like I concluded in my post, if I were looking at an MP3 player these days, I'd be sticking with the Neptune.
Again though, read both the Neptune review and the MP3 Player Shootout post.
Pool Swim Watch: Garmin Swim
There are a handful of options in this category, but I don't think there's any real discussion that the best isn't the Garmin Swim.  While the FINIS Swimsense was a good option at one point, it's sorta beyond it's prime.  You've also got the Poolmate Pro and HR, which, are a bit more clunky than the Garmin Swim.  The Poolmate HR does do heart rate, but for the life of me I can't get that strap to stay put on my chest during flip turns (and no, I'm not going to wear a shirt over it at the pool).
Thus, the Garmin Swim.  The unit measures your laps and distance, and can be configured for drill mode as well.  Afterwards it uploads the data to Garmin Connect, and a variety of 3rd party sites support it as well.  Note that it won't measure outdoor swims, just indoor – as it depends on an internal accelerometer to figure out each time you hit the wall of the pool.
Openwater Swim Watch: There's no good answer.
Quite frankly, there isn't a specific outdoor swim watch that I'd recommend.  The closest there is comes from FINIS in the Hydrotracker, but I wouldn't recommend it.  It's overpriced and I found it prone to error.  Honestly if you just want to track where you went, grab a cheap GPS unit and stuff it in your swimcap.  Alternatively, if you've got a bit more money to spend, any of my triathlon swim watches above will measure swim distance outdoors within about 10-15% while on your wrist.
Sensors and Mounts: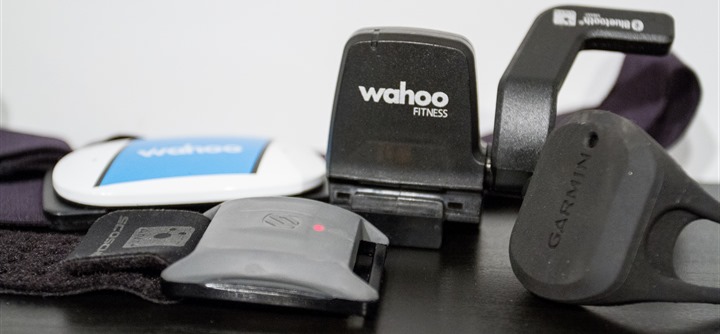 If you're getting any of the units listed above, you may be in the market for accessories.  Obviously, some bundles include accessories, while others do not.  Here's what I recommend based on having entire buckets worth of accessories to test with.
Before I get started, I'll note that when possible I'd highly recommend folks buy dual ANT+ & Bluetooth Smart (BLE) sensors.  These are available in almost all categories now.  The reason for going dual is simple: It allows you the flexibility to choose whichever device you want and know it'll work with it.
Dual Heart Rate Strap: Wahoo TICKR or 4iiii's Viiiiva
The Wahoo TICKR is new on the scene, while the 4iiii's has been around a while.  The TICKR (regular edition) is a simple dual ANT+/BLE strap.  Whereas the 4iiii's does the same, but can also bridge ANT+ sensors over to supported Bluetooth apps on your phone.  So in that respect, the Viiiiva does more cool stuff, but does cost a bit more.
You've also got the Wahoo TICKR RUN, which builds on the base TICKR by adding in the ability to measure pace/cadence without a GPS (i.e. treadmill), as well as give a look at running efficiency type numbers.  I'd have no problems recommending that for runners (but it wouldn't be of any use to cyclists).  Now, I'd be cautious on the TICKR X though, I think there's a lot of misunderstanding into what it does.  It doesn't integrate with watches from the standpoint of being able to save your heart rate and upload it to the watch. It only works with the Wahoo App there.
Optical Heart Rate Sensor: Scosche RHYTHM+
This has become my primary and singular running heart rate monitor (when not testing something else).  I just love it.  While I liked the Mio Link wrist straps, I've found the signal too weak in some cases and then also not quite as stable as the Scosche from a measurement standpoint.  Like the Link, the Scosche is dual ANT+/Bluetooth Smart, so it can transmit to just about anything.
Dual Speed/Cadence Combo: Wahoo Blue SCv2
Over the last month or so, Wahoo has come out with the v2 of their BlueSC, which includes both ANT+ & Bluetooth Smart.  Thus, two for the price of one.  I love this model though because of the quick release bands making it easy to move between bikes if you need to.
If however, you're looking for a cheaper option, just simply pickup the Garmin GSC-10 – which usually hovers around $30-$35.
Speed-Only (ANT+): Garmin Speed-Only Sensor
This new little sensor is perfect if you only want speed.  It requires no magnets and no zipties, and just simply clips on your back (or front) wheel.  I wrote up a thing on it here rather recently.
Cadence-Only Sensor (ANT+ or BLE): Wahoo RPMv2
I've been using this in tests since it came out last spring, all without issue. It's a small pod that attaches to the side of your bike crank and it transmits on both ANT+ and Bluetooth Smart, so you can use it with your Garmin device or your smart phone.
ANT+ Footpods: The Timex, Suunto, and Garmin mini-footpods (whatever is cheapest that day)
As long as you pickup any of those three above they all work the exact same way and all function with any ANT+ device.  In other words, just pickup whatever is cheapest that day.  Ensure that you aren't picking up the giganto footpods of yesteryear.
If/when in doubt, check out my post on 'All you ever wanted to know about the ANT+ footpod'.
Bluetooth Smart Footpod: Adidas miCoach Bluetooth Smart Footpod
For Bluetooth Smart footpod capable devices or apps, I'd go with the Adidas one.  It's the smallest BLE footpod on the market and works great with most devices.
Bike Computer Mounts – Garmin quarter-turn Edge (and Forerunner 310XT/910XT/920XT) cycling mount: Barfly TT and Road Mounts
I love my Barfly, specifically for triathlon, the TT/Aero Barfly.  I reviewed it back here, but it just works perfectly.  While K-Edge does make some great (and really darn sturdy) mounts for Garmin units, I simply don't think your Garmin unit needs that much mount durability to justify the price.
Weight Scales (Connected)

Best Options: FitBit Aria or Withings WS-30 & WS-50
I've been including little snippets of these scales in my FitBit Zip and Withings Pulse reviews.  Overall, either scale is a solid option and really just depends on if you're aligned to either of those platforms already (FitBit or Withings).  If not, poke at the slight differences with 3rd party partners, and see if either of those partnerships matters.  Failing that…flip a coin.
Seriously – they're near identical scales (exempting the more advanced WS-50 with pulse and air monitoring).  Any only relevant differences are partnerships or platforms.  And, again, they're both great scales.
Now, what about ANT+ scales?  At this point I wouldn't recommend them.  Garmin (being the only company that ever enabled uploads to devices from them), has pretty much killed off support for them in new devices going forward.  Thus buying one of these scales at this point would be kinda silly.  Plus, with the exception of the low-end ones, I've felt for a while now that the high-end units are a wee bit overpriced.
Activity Trackers:

Let me be clear – this is a category that's in a huge state of sea change right now, and especially over the next 45-60 days.  There's a ton of recently announced new/revamped models either days away from being available (i.e. Basis Peak, Fitbit Charge, Jawbone UP3, Withings Activite), and those that won't hit till early 2015 or so (Fitbit Charge HR, Fitbit Surge, Apple Watch), plus other recent new on-market options like the Microsoft Band and Jaybird Reign.
As a result of all this churn, what you'll see over the next few weeks is existing units dropping in price.  This is partly in response to new models, partly due to holiday sales, and partly due to clearance ahead of new models at CES the first week of January.
In general, if I was looking at purchasing a unit right now – I'd stick to one of the ones being sold for cheap.  I think there's too much uncertainty at the higher end of the market with too many new companies introducing products that simply don't do what they say they'll do.  Be it beautiful touchscreen displays on some new activity trackers that don't work when you sweat, or optical HR on others that don't work during a workout.  A lot of companies are pumping optical heart rate sensors into these units, but not a lot of them actually work accurately.
Said differently, tread carefully with models that are just showing up over the next few weeks.  And, expect to see my pop out thoughts on most of the above as they arrive over the next few weeks (many of which are scheduled to show up this week).
Activity Tracker – Athlete: Polar Loop or Garmin Vivofit
Both of these units are very solid, and both of them allow you to connect to heart rate straps to get more accurate calorie data when doing non-step related activities.  I'd really say the choice simply comes down to whether or not you've got Garmin stuff already or got Polar stuff already.  The differences between them are teeny-tiny.
If you can get the Vivosmart on sale, that's definitely an option as well.  You'll lose some battery life there, but you'll gain smartphone notifications and the ability to pair it to a cycling speed sensor.  On the flipside, not having to charge the regular Vivofit is really just awesome.
Activity Tracker – Budget: FitBit Zip
Finally, when it comes to the budget selection – the $49 FitBit Zip is about as perfect as it gets.  It gets some 6-8 months of battery life and then uploads via Bluetooth Smart in the background to your phone.  I wear it near-constantly and just don't have to think about it.  It just works…perfectly.
So why the FitBit Zip over the Misfit?  Well, for me it's one simple reason: I want a screen. I think being able to glance at the number of steps without having to look at your phone is meaningful and a motivator. Obviously, some feel differently.
Action Cameras: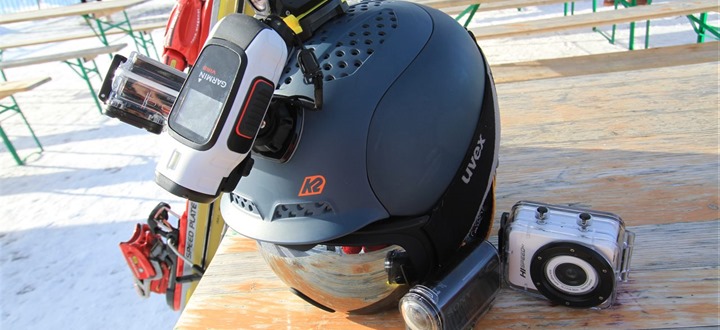 The action camera market continues to get more and more crowded, seemingly each week.  But for the most part, you can divide cameras up into ones with good clean user interfaces and good software suites, and then cameras with clunky user interfaces and lacking/poor software suites.
Over the past month or so we've seen GoPro release a trio of new models, while at the same time I fully expect to see a flood of new action cameras at CES in the first week of January (as is customary).  Obviously, since GoPro does annual releases and they just put out theirs last month you won't see anything new from them till next fall.  But the rest of the industry should respond then – both at the new ~$100 budget action cam range, as well as the more expensive $500 level.
Action Cams – Best Quality: GoPro Hero4 Black
When it comes to high quality 4K footage, it's hard to beat the GoPro and the ecosystem there – especially on the mount side of the equation.  The size also has remained the same, which is great for both convenience of placement and compatible 3rd party solutions.
That said however, I wouldn't recommend it as the best overall action cam option for most people.  That's because despite being the most expensive, it's also the one with the lowest battery life – barely breaking an hour.  If you're looking at GoPro's specifically, I'd look at either the Hero4 Silver, or, one of last year's Hero3+ Black models on clearance somewhere.
Action Cams – Budget: Garmin VIRB (base)
This unit is floating between $99 and $129US, which makes it the same price as the new 2014 Hero Base (or cheaper).  Plus, it's got a ton more features than the GoPro has.  While it's a little bit bigger than the GoPro, the handy LCD for framing your shot as well as the fully complete timelapse modes and ability to use it with VIRB Edit easily (software app) make it an easy choice for those looking to save money.
Finally, it has more picture and video resolutions than the GoPro Hero base does along with having a battery that you can can remove (the GoPro Base doesn't), so if you want to get a spare battery for those long ski days, you can do so.
Note that while a handful of retailers are showing the product is discontinued, I wouldn't worry much there. While true that VIRB based production has ceased, Garmin continues to pour resources into the platform – including new partnerships and software updates announced in the past few weeks.  I'd have no qualms about purchasing a unit at $99 or so these days.
Action Cams – Those wanting GPS/sensor data: Garmin VIRB Elite
I'm really liking this action cam.  I've been using it constantly for all sorts of things over the past year and am really impressed by it in scenarios where I want to show what I was doing from a GPS map standpoint and/or ANT+ data sensors (for example, my cadence, heart rate, etc…).  The VIRB Edit software is also surprisingly good, and Garmin has been publishing software updates since release adding an impressive array of functions.  Yes, the camera is slightly more oblong than the GoPro, but it's also waterproof out of the box, and the record button is easier to use when mounted in strange places.  Plus, the ANT+ remote control option via your Garmin Edge unit is really damn cool (to start/stop recording of video directly from your Edge).
All that said, the core reason I'd recommend the VIRB over the GoPro is if you plan to overlay data onto videos.  If you don't plan that, then there are few reasons to go the route of the VIRB (albeit, much better battery life of the VIRB is one of them).  I discuss all the detailed pros and cons of VIRB vs GoPro at the end of my Garmin VIRB In-Depth review.
Oh, and for those curious – why not the Shimano CM-1000? Well, while it's a great little camera, they've failed at the one job they had to do: Bring out the software app to actually overlay the data. There's almost no point in buying that camera without that software. And they've been promising it since summer without delivery. Even if they delivered it tomorrow, the camera itself has seen no other updates. This is in comparison to every other action camera on the market seeing either regular software or firmware updates.
Action Cam Mounts: K-Edge Action Cam Mounts
Now, while I prefer the Barfly for my Garmin Edge, I really prefer the K-Edge mounts for my action cams.  In doing all my testing lately I've come to love the sturdiness of the K-Edge mounts.  It's hard to explain to someone how incredibly rock-solid these mounts are until you attach a camera to them and don't even get a sliver of a millimeter of sway on them (unlike a stock mount).  Incredible.  I just bought a bunch more to use with all sorts of cameras.  You can literally hang a full blown DSLR on most of these.
Action Cam Flying Mounts: DJI Phantom 2
I've been slowly sneaking in shots into various posts from the DJI Phantom 2 over the past few months since purchasing one, and thus far loving it for use with the GoPro.  With a bit of creativity you could probably get some other action cams to mount on it, but you wouldn't get the stability you get with the GoPro (I'd love a well made VIRB mount for it).  I shot a bunch of stuff in New Zealand with it and the GoPro series within my GoPro Hero4 In-Depth review.
As an aside for those interested, the 3DR Iris+ just arrived as well last week and I'm starting to poke at that a bit.  In some areas it exceeds the Phantom 2 from a usability/functions standpoint, while in others it's a bit funky.
Don't forget the Comparison Tool!
Ok, lots of recommendations.  If there's a category I've missed (entirely plausible) – just drop a note in the comments and I'll try and come up with a recommendation and add it above.
More importantly though, you can mix and match just about everything I've talked about above, with in-depth comparison tables over at the product comparison calculator, which today supports: Action Cameras, Heart Rate Straps, Watches/Bike Computers, Power Meters, Activity Monitors, and Trainers.
Select product use/budget for a comparison from the drop down menus:
Select product use:

Select price range:

Note: While many running watches have a basic bike mode, only running units that are multi-sport focused are also included in the bike-only results (in addition to bike-specific units). Hiking units are those that include a Barometric Altimeter, Magnetic Compass and navigational functions.
Or select products for comparison by clicking the product boxes below:
Apple Watch Series 2 & Nike+ Edition
Bryton Cardio 60 Multisport Watch
CycleOps Joule 2.0 (Original)
Garmin Edge Touring (Normal)
Garmin Edge Touring (Plus)
Garmin Fenix 5 Plus (5/5S/5X)
Garmin Fenix 6 Pro Solar Series
Garmin Fenix 6S Pro Solar
Garmin Fenix 7 Pro Series
Garmin Forerunner 255 Music
Garmin Forerunner 645/645 Music
Garmin Forerunner 945 LTE
Garmin Forerunner 955 Solar
Garmin Vivoactive 3 Music
Magellan Switch & Switch Up
Mio Alpha Optical HR Monitor
Suunto Spartan Sport Wrist HR
Suunto Spartan Trainer Wrist HR
Timex Cycle Trainer 2.0 GPS
Timex Run Trainer GPS 1.0
Timex Run Trainer GPS 2.0
Wahoo ELEMNT BOLT V2/2021
Wahoo ELEMNT ROAM V2/2022
As always, thanks for reading – and supporting the site!