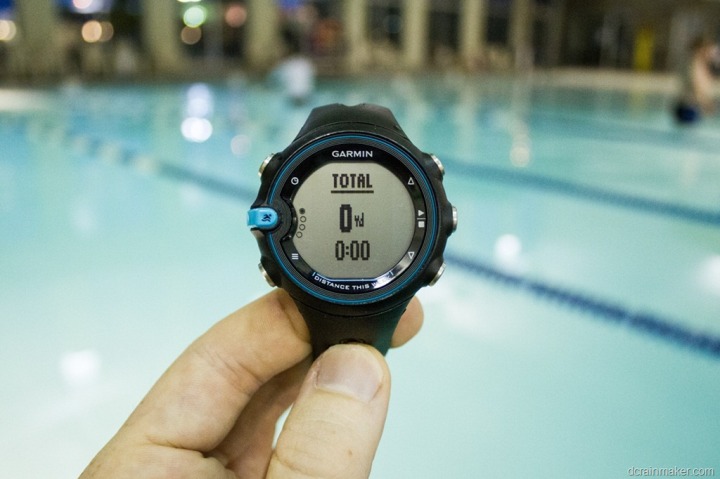 (*** UPDATE: Garmin has released the next generation watch. For more details, see the Garmin Swim 2 In-Depth Review***)
Today, Garmin announced the Garmin Swim, which is a dedicated swim tracking watch that builds upon the accelerometer based technology that was introduced within the FR910XT to track swimming data in a pool environment.  I've been using the watch for a while now, and have had a good opportunity test it out in my day to day swims, and understand just how it ticks (and tocks).
Like all my reviews, they tend to be pretty in depth (perhaps overly so) – but that's just my trademark DC Rainmaker way of doing things. Think of them more like reference guides than quick and easy summaries. I try and cover every conceivable thing you might do with the device and then poke at it a bit more. My goal is to leave no stone unturned – both the good and the bad.
Because I want to be transparent about my reviews, this unit was provided by Garmin as a media trial.  It's been running pre-release software, though the hardware is the final version.   Once I'm done with it, it heads back to Garmin.  Simple as that. Sorta like hiking in wilderness trails – leave only footprints. If you find my review useful, you can use any of the Amazon links from this page to help support future reviews.
Lastly, at the end of the day keep in mind I'm just like any other regular triathlete out there. I write these reviews because I'm inherently a curious person with a technology background (my day job), and thus I try and be as complete as I can. But, if I've missed something or if you spot something that doesn't quite jive – just let me know and I'll be happy to get it all sorted out. Also, because the technology world constantly changes, I try and go back and update these reviews as new features and functionality are added – or if bugs are fixed.
With that, let's get onto the review!
Unboxing:
The Garmin Swim unit comes boxed in the standard Garmin fitness box with the clear plastic front enabling you to see the watch face from the outside: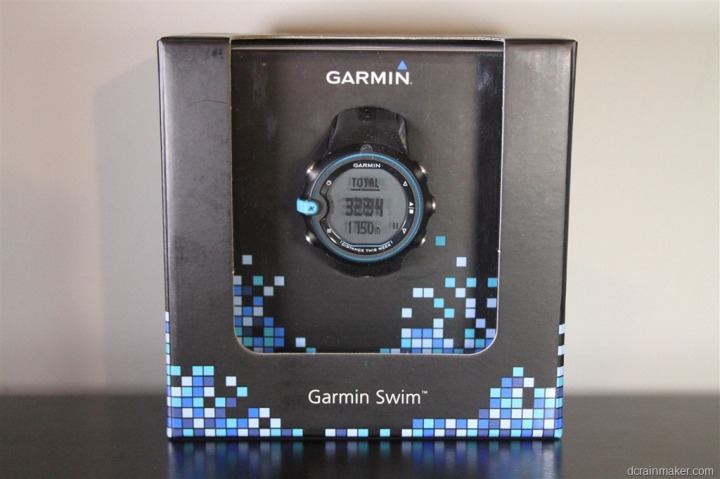 It also has the little fake-display sticker on it, thus making my photos look semi-blurry on the watch itself.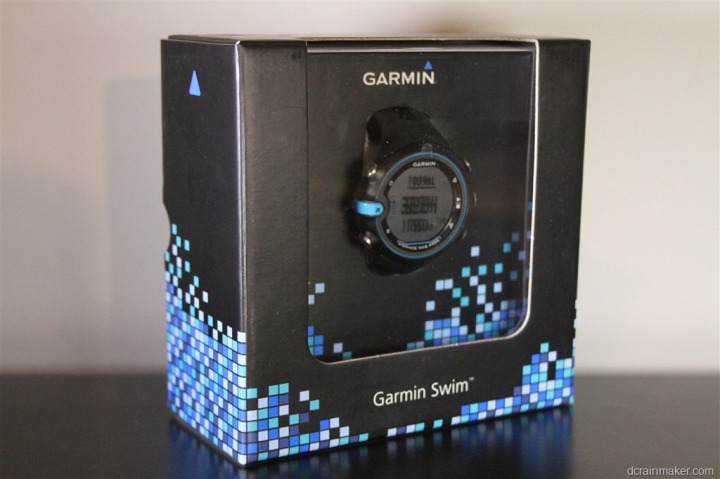 The back of the box has a swimmer doing a perfect butterfly stroke – something I'll be unlikely to ever emulate.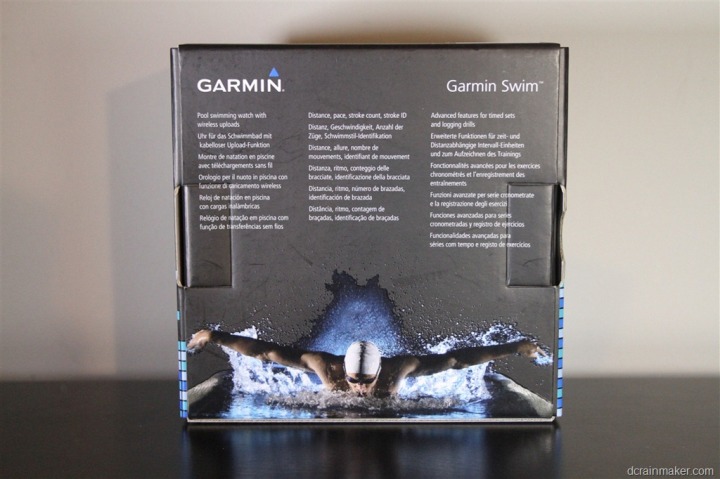 Once you crack it open, you'll find it contains precisely three items: The manual, a Garmin ANT+ USB stick, and the Garmin Swim watch itself.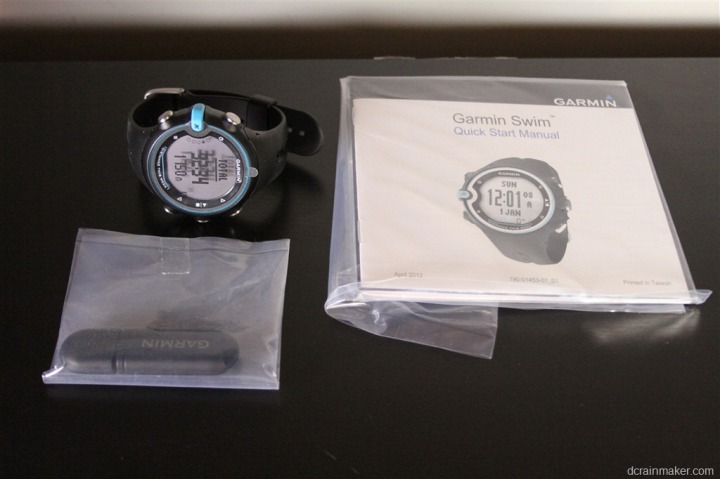 The manual isn't too exciting, so I'll let you save that for a rainy day.
The USB stick is the standard Garmin ANT+ stick that enables you to transfer data wirelessly between your computer and the watch.  I'll talk more about that later on.  If you already have a Garmin watch with a USB stick, you can just use that one (though you'll still get this one in the box).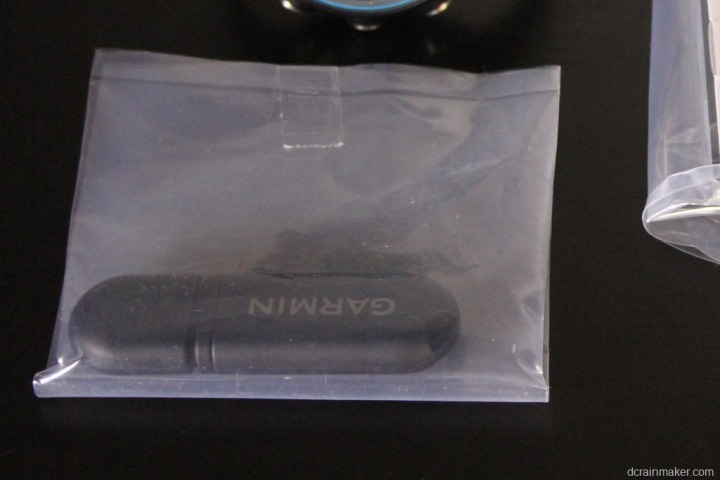 Let's take a closer look at the watch itself: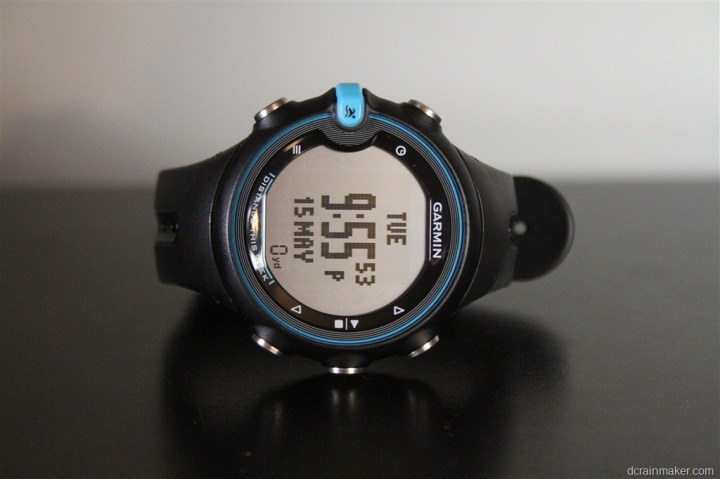 The unit's band is a soft flexible plastic, and is connected via two small pins on either side.  The plastic isn't as thick as the FR910XT or other triathlon watches, and is more inline with the FR70 plastic.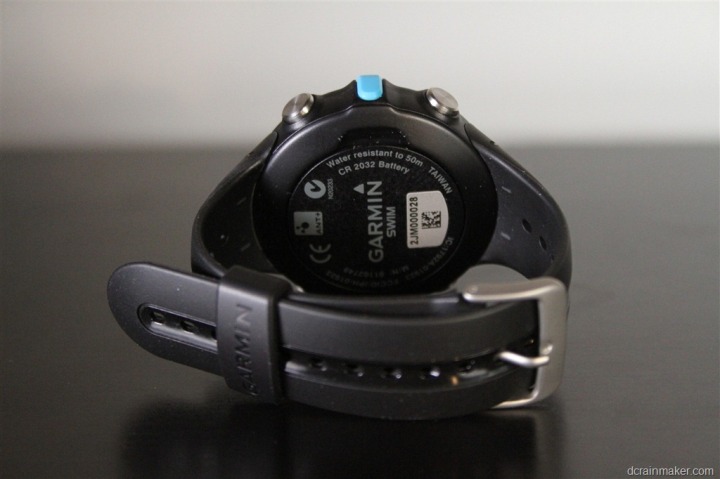 The unit is waterproofed to 50meters, and uses a standard CR2032 battery to power itself.  Typically in Garmin watches that contain the CR2032 battery, they last about a year before you need to swap out the $3 battery from the drugstore.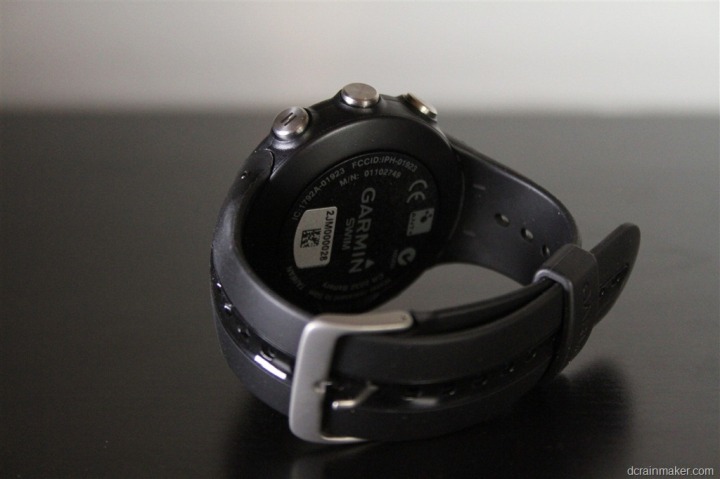 Comparison Shots:
In order to give you a better impression of the size of the watch, I've included the two other most popular swim tracking watches on the market.  I meant to include the Pool-mate/Pool-mate Pro, but forgot to dig it out when I took this photo.  For reference, it's slightly smaller than the Garmin Swim – though, I generally don't recommend the Pool-Mate Pro as much anymore (see this post for why).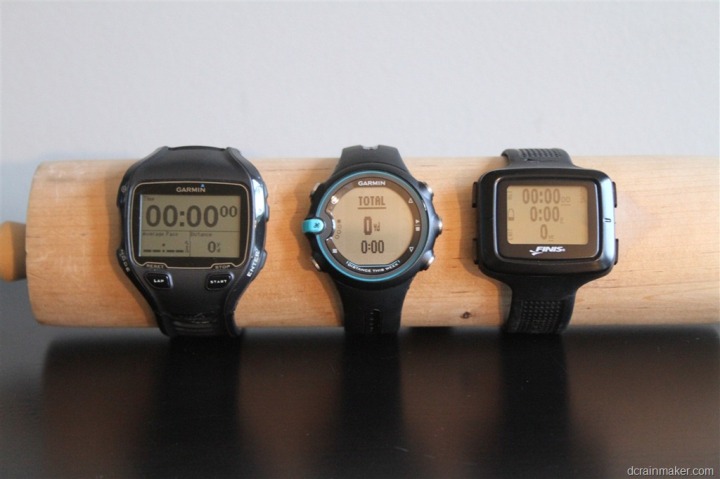 Looking at the heights (image reversed), you can see the FR910XT is the highest, with the Swimsense following, and then finally the Garmin Swim.
I've been asked to show the straps/clips in the past – so now I include them.  On the left is the Swimsense, the middle the Garmin Swim, and the right the FR910XT.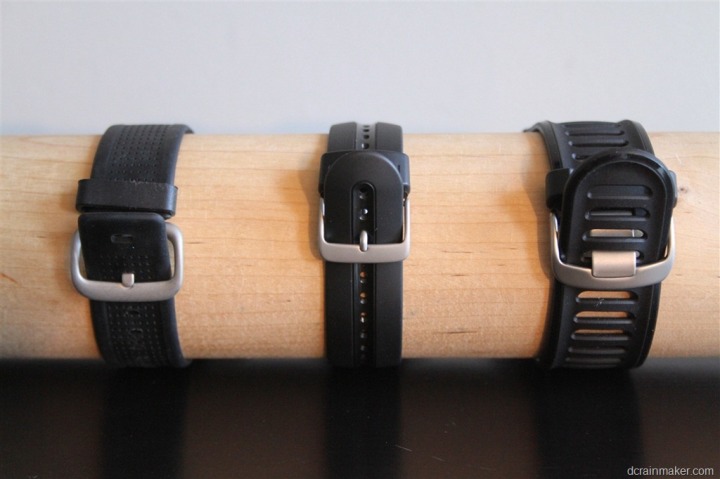 Now, keep in mind that the smaller size does mean you sacrifice some features – for example, more display room for additional data fields, as well as a bright backlight.
Speaking of the backlight, here's a comparison showing the FR910XT backlight compared to the Garmin Swim and Swimsense.  I did find however that the text was crisp enough that I didn't need the backlight at all on the Garmin Swim – but I also recognize my eyes are probably a bit sharper than some.  So your mileage may vary there.  And to clarify there technically is a backlight on the Garmin Swim, though it's essentially impossible to see during the day (only in the dark, since you probably wouldn't need it in a pool).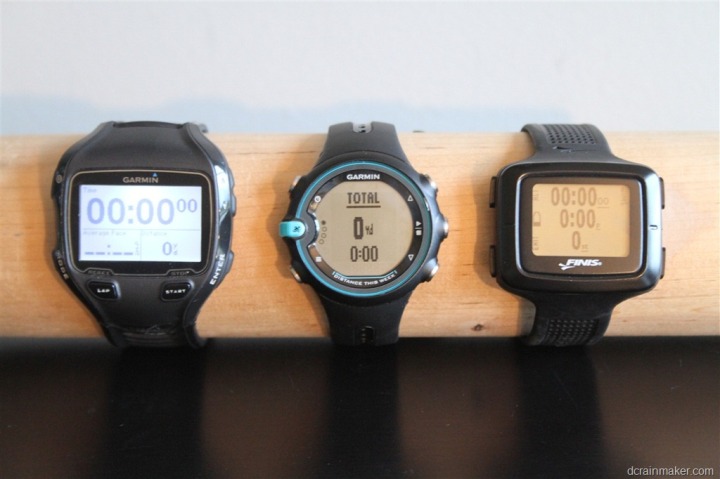 With the comparison shots done – let's head to the pool!
Swim Tracking (pool):
After you've got it all unboxed and the time set, it's time to head to the pool.  Unlike other Garmin watches, you've got a new button on the Garmin Swim – the blue button.  The blue button is how you engage the swim mode and prepare to start swimming.  It's also how you change data fields.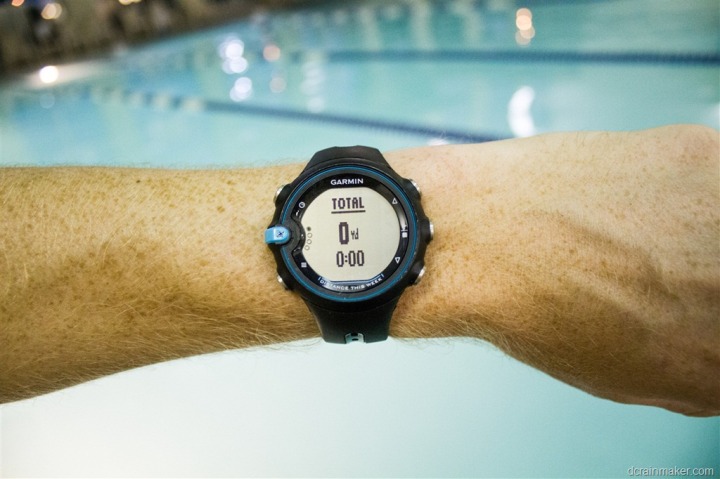 Once the blue button is pressed, you'll be at the main starting page, with the timer at zero.  To begin recording and swimming, simply press the mid-right button – which has the Play/Stop logos.
This will begin the timer.  The unit will now be recording, both strokes as well as lengths and time.  The Garmin Swim has an internal accelerometer (sorta like most modern smartphones), which allows it to determine stroke type, and lengths/laps.  It does NOT use GPS, and thus only works within a pool setting where it bases its calculations on a known pool length and the changes in accelerations as you push off the wall.
Unlike the FR910XT, this watch will recognize a lap nearly instantly after pushing off the wall.  The FR910XT tended to take about 10 yards before it realized/validated/decided that you did indeed start a new length.  However, in every case for me, before I even hit the surface for my first breath off the wall, it showed the length completed.
As you're swimming, you can alternate through three preset data pages.  This is different from the FR910XT or Swimsense which allows infinite customization.  The Garmin Swim only has one additional data page you can customize, which I'll talk about in a bit.
The first preset data page is focused on the given interval you're in, showing total length and time, if you're in a rest, it'll show the rest time, and the last interval will be shown on the third page instead.
The second preset page has your swim session totals, showing total distance and total time: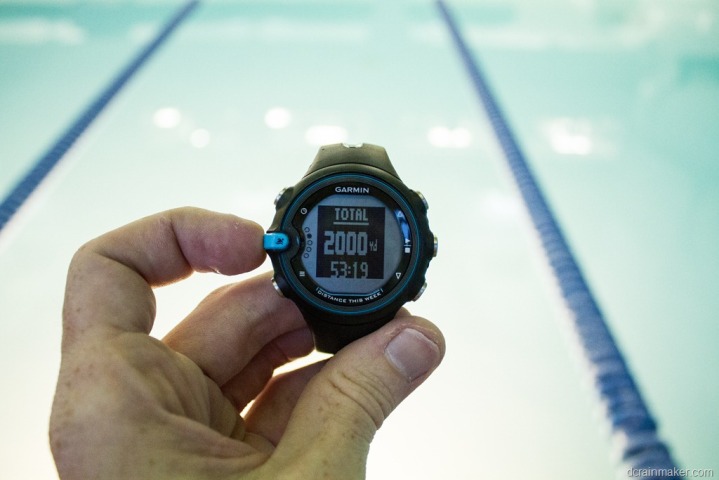 And the third and final default page shows your last length information, including your pace (as displayed in time per 100 yards), strokes, and SWOLF.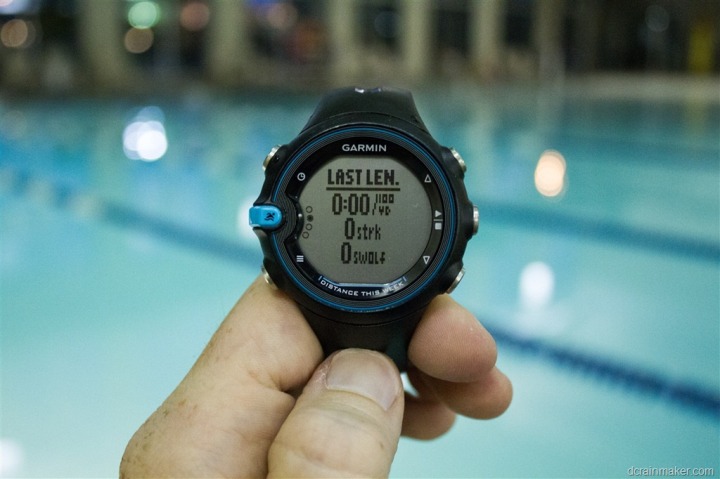 After which, you'd have your custom page – with whatever information you've added there (I didn't realize until later after I took this photo that while taking photos of the custom pages I ended up setting all three values to the same…fail).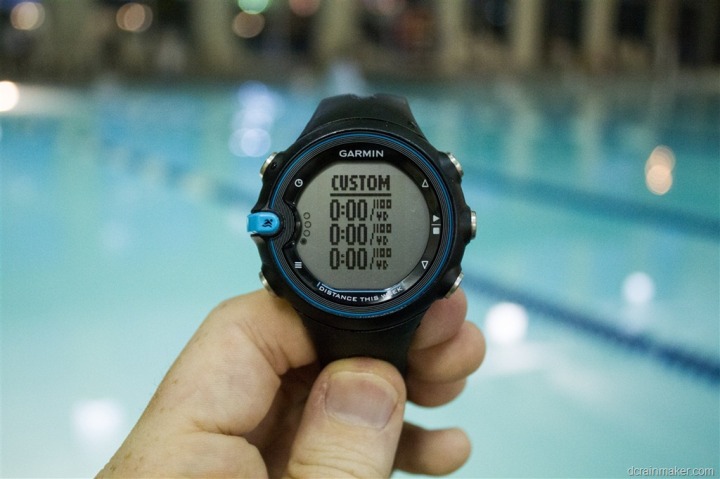 Note that the little circles along the left side of the watch showing the different pages are changed by pressing the blue button.  The reason you see four bubbles/circles is because the session hasn't been started yet, when you see five bubbles, it's mid-session.  The last bubble I didn't show above is when you engage drill mode, to kick into that.
Creating an interval/set:
At the end of your set (interval) – be it 50y, 500y, or 5000y, you'll press the bottom right button, which kicks the unit into paused time.  Within this mode, it'll show you two numbers, first is the total time since the start of the previous interval, and second is the paused time.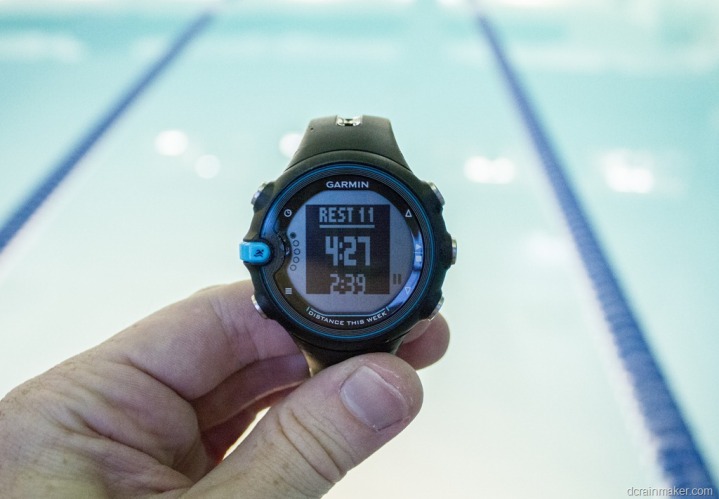 This is primarily so that if you're doing a workout where you go "on 1:30", you can see when you hit 1:30, and how long you've been resting.  As soon as you hit the pause button again (lower right), then it'll go into regular swim mode.
Rest Timer:
When you're at the wall, you'll likely not want that time included in a given lap – so you'll probably hit pause or stop.  In doing so, you'll enable the rest timer (though, you can disable it).  The rest timer will track how much time you spend at the wall, and then display it within Garmin Connect
You can see below how the separation of laps is displayed in the lap view on Garmin Connect, first, with rest timer enabled:

And then with rest timer disabled (specifically note the lack of time split between Length 24 and 25).

Drill Log:
The Garmin Swim introduces a unique feature called Drill Log, which I talk about a few sections down lower in a ton of detail.
Inverted Display:
This option is very similar to the Swimsense unit, which will invert the display colors of the screen while in paused mode.  This makes it much easier to quickly glance and determine whether or not you've managed to hit lap/pause at the end of a set (when you're gasping for air).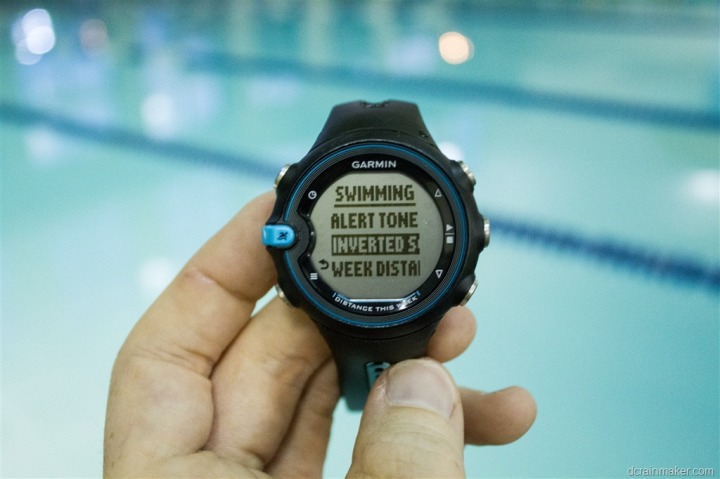 You can enable this or disable it as you see fit (default is disabled).  And, if you want, you can invert the display for regular swimming and have it be regular for rests.  Your choice.
Completing a Workout:
Once you're done with your swim, you'll tap the Stop button, which brings you to the menu allowing you to Resume (basically, keep swimming), Save, or Delete.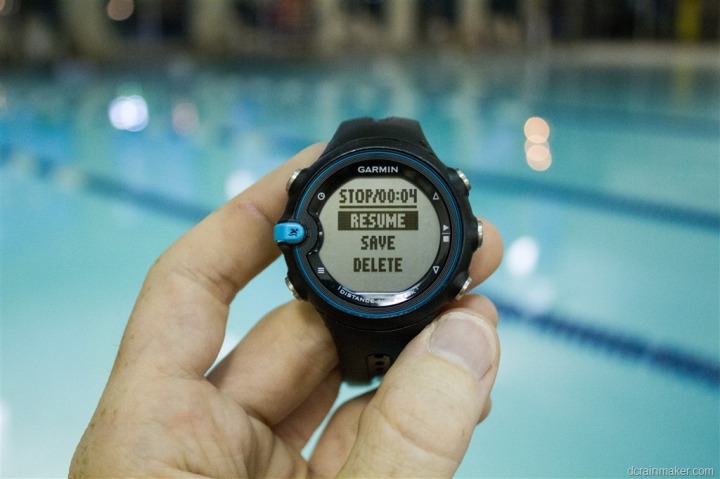 The watch will take a few seconds to save your session, at which point it'll show you a summary.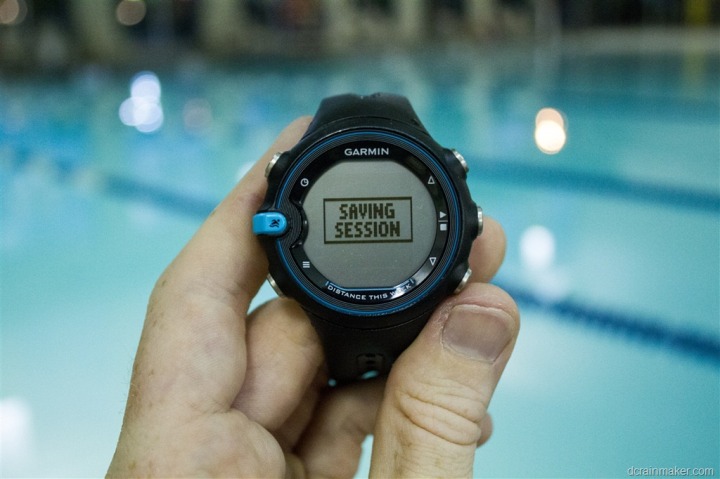 The summary includes the total time at the pool, then your total swimming time (excluding rests essentially), total yardage, total lengths, average pace per 100/yds, total calories (kcal), along with the option to review details about each intervals (sets).
Here's the detail page on a given interval: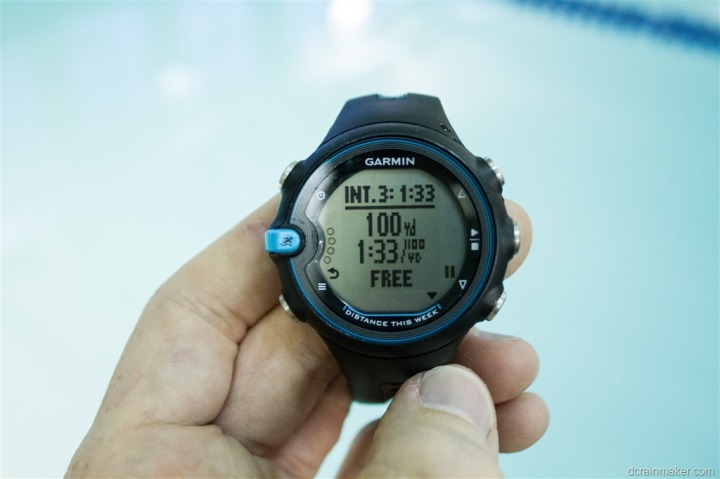 From there you can review previous swim sessions, or just go back into standard watch mode.
Drill Log mode:
Having used swim watches now for a couple years, I'm pretty used to their capabilities – and limitations thereof.  In particular, their inability to deal with drill/kick segments.  In most cases, you either choose to pause the watch during the drill set (my preference), or you simply let it run and deal with wonky numbers in your swim log.  Either way, in most cases the data is usually incorrect.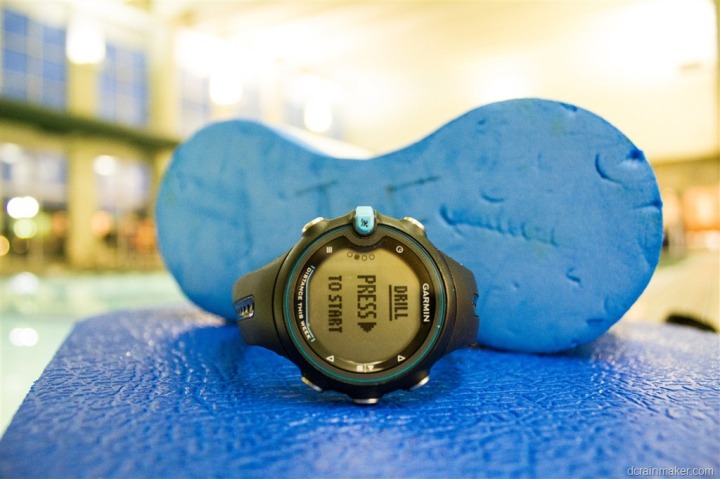 The Garmin Swim however introduces 'Drill Log', which enables you to maintain the timer running, but then manually set the swim distance after you've completed that drill set.  Essentially an override.  You'll need to enable the Drill Log (either before your swim or afterwards), and then once in the pool, you can select it as you see fit within your workout.
Think of drill log as a feature to enable, not in place of the regular swim tracking.
To enable it, you'll head into the Menu > Swimming > Drill Log, and then select 'Enable'.  This simply allows you to select it later on during your swim (though, you can also enable it later during the swim).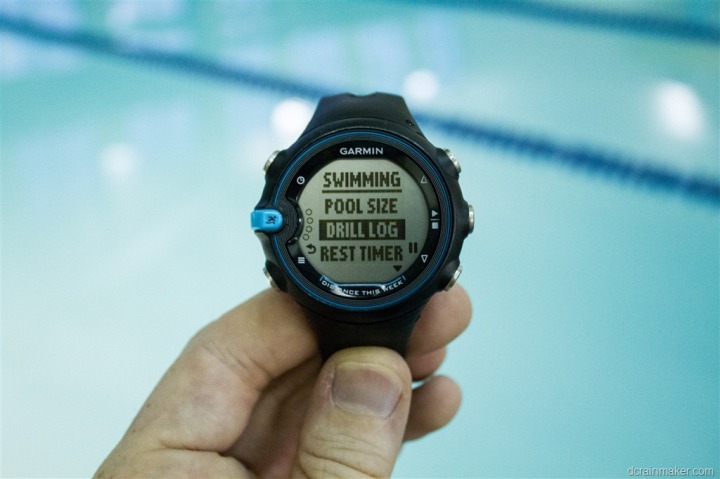 Later, during your swim, you'll tap the blue swim button and scroll down to the bottom option (bubble) on the left hand side, before pressing the Start/Stop button to start a drill: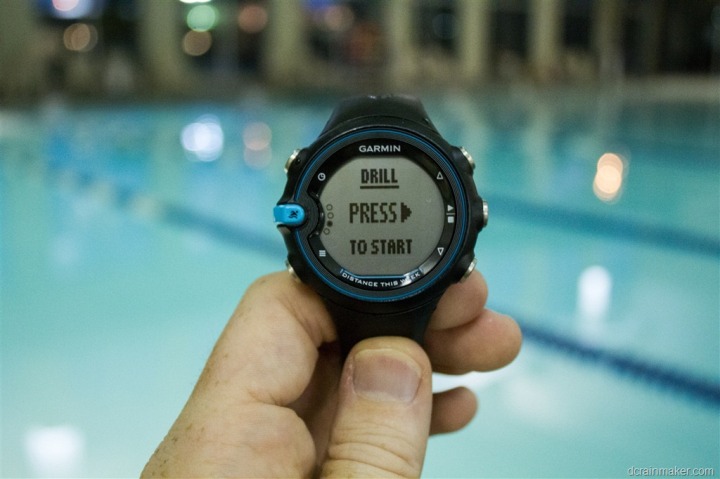 When in Drill Log mode, it'll create a new interval with a simple timer.  It's up to you to tell it when you're done: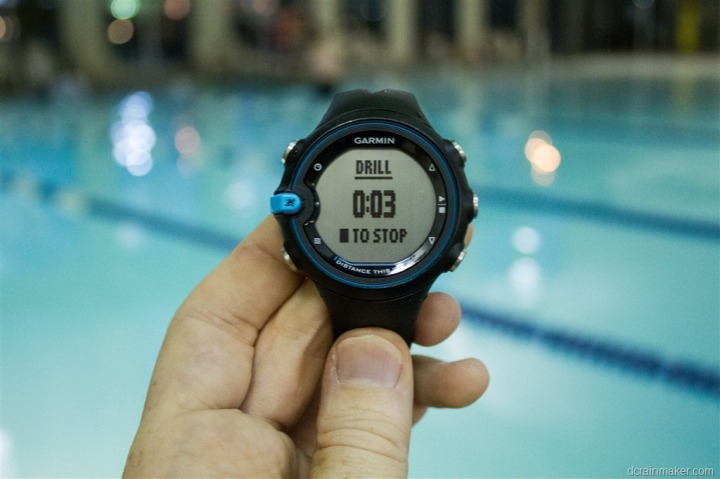 Once completed, it'll tell you the total drill time, and then allow you to specify the distance of that specific drill.  While you're doing this, the watch is in paused (Rest) mode.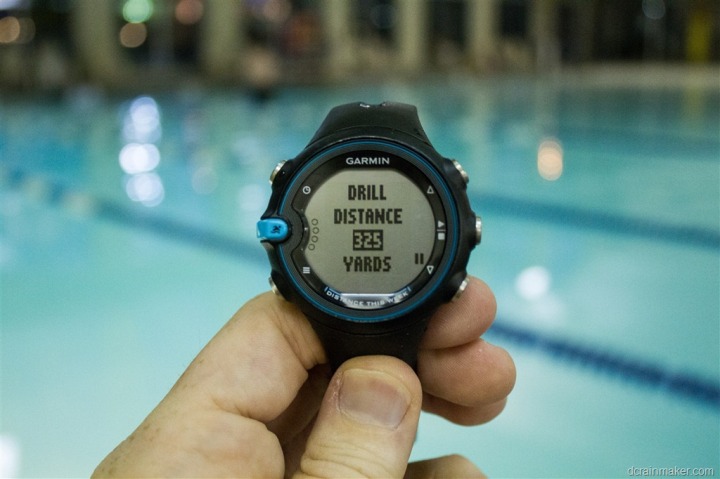 The drill mode will use the last known drill value, which you can then modify.  So if my previous drill set was 200y, it will go ahead and guess 200y as the next set (regardless of time swam).  I've personally found this useful in that most of my drill sets are the same distance, so it makes it quick and easy.
The drill mode will allow you to enter in a single drill segment up to 2,500y/m per drill.  You can hold the up/down button to increase how quickly it changes, though I found on mine you have to push fairly hard and hold before it registers that you just want to increase it a ton.  But once it does, it increases pretty quickly (you can always still adjust up/down once you get closer).
In drill mode, strokes are not counted (nor estimated).  Swim efficiency is however shown.  All length and lap times are merely estimated in Garmin Connect – simply taking the total time and dividing it by the distance you entered.

You can rinse/repeat and add as many drill segments as you like (at least, I haven't found a limit yet).  Once done with a given segment, it'll automatically bring you back to start a normal swim segment, or you can just press the blue button again to engage drill mode again.
Data Fields and Customization:
As noted earlier, the Garmin Swim watch includes two default pages that show information about the last length and total swim information.  However, you can also customize a third page with up to three piece of information.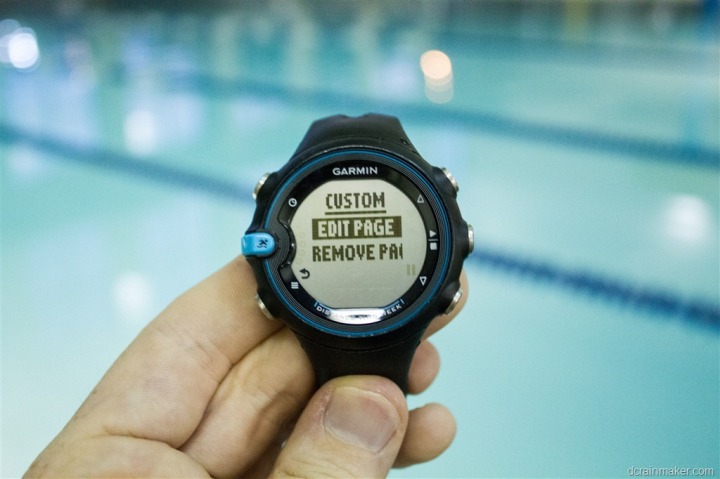 Once in the customization menu, you'll find it notably different than other Garmin devices.  Instead of sorting the data fields by metric and then Average/Interval/Totals, the Garmin swim sorts first by Interval/Total/Length, then by the given metric you want (i.e. distance/time/etc…).  This threw me at first, but I've found it works far better for this particular application.  I wouldn't agree that it would work better for a more advanced watch such as the FR910XT where you are mixing and matching data types on a single screen.  But in the case of the swim metrics, I find that I tend to show all stats for the interval together – such as: Interval Distance, Interval Time, and Interval Pace.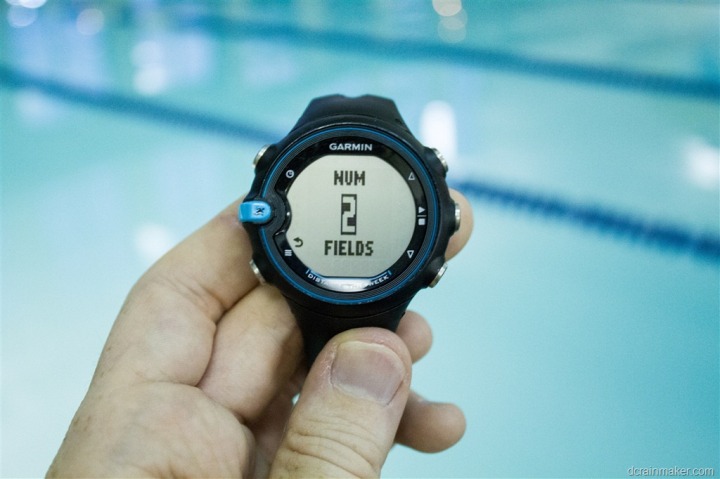 You can show up to three data fields on the custom screen.
With that, here's the data fields that you can add/customize:

Note, here's the full list of those lap swimming data fields that you can add/customize on the FR910XT – to understand the differences.  Also, in the case of the FR910XT, you can show up to four fields per page, and up to four pages can be customized – which is really the biggest and most important difference.

History:
The watch has a history mode which enables you to view all of your past swims in the same manner as you'd see the summary information after completing a swim.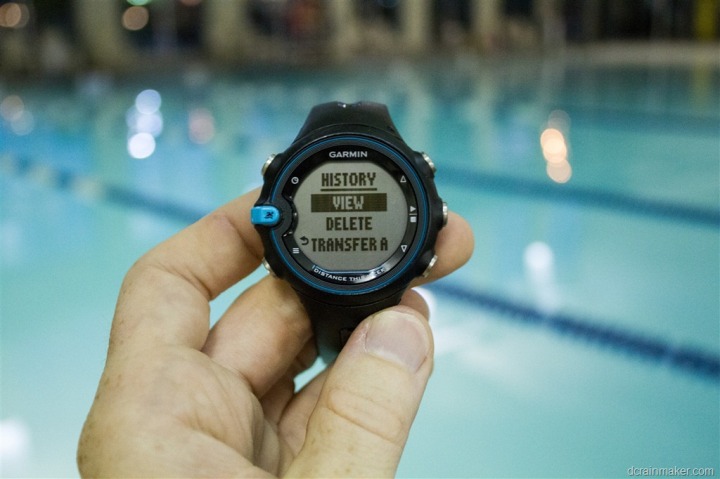 Within this mode you can also delete a given activity, or select to re-transfer them to the computer.
The history mode allows you to see not only history for a given activity, but also for each week that you've got data for.  Additionally, it'll show all totals rolled up.  In my case, since I just updated my firmware again before heading to take these shots, the display is empty (this particular pre-release update erased all history on the watch).
Swim Tracking (openwater):
I wanted to call out specifically that this unit will not track outdoors in openwater. The reason being it doesn't use GPS, but rather an accelerometer to understand when you've hit the wall at the end of each length of the pool.  If you want both indoor pool and outdoor openwater tracking, you'll need the Garmin FR910XT instead.
Pool Sizes (indoor):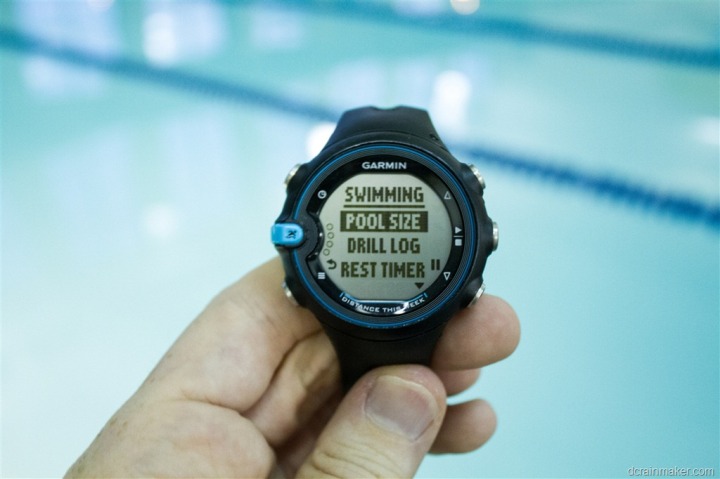 By default the watch will allow you to select a pool size of 25 meters or 50 meters, or 25 yards.  However, you can also specify a custom pool length size by scrolling down.
[Update: As of Feb 8th, 2013, a new/free firmware update now allows up to 150m/y in length, and pools down to 17m/18y in length]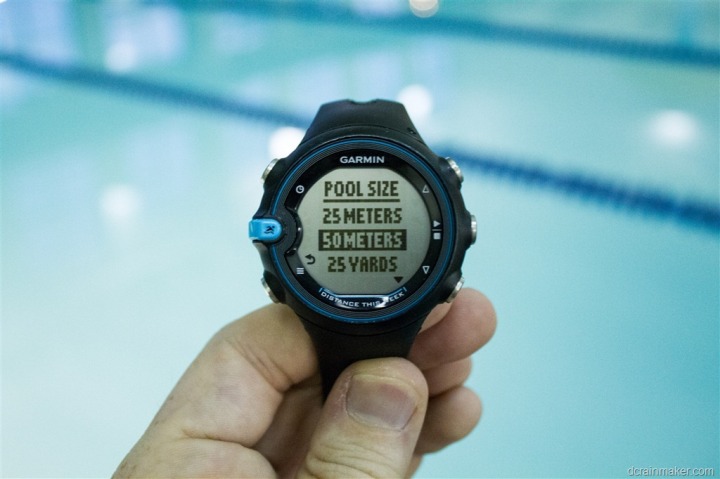 For those however with access to a really darn big pool – the largest pool size you can specify is 100 meters or yards. Though, this will be just a wee bit shy for that crazy pool in 137 yard long outdoor pool in Vancouver.  Or the even bigger one in Chile.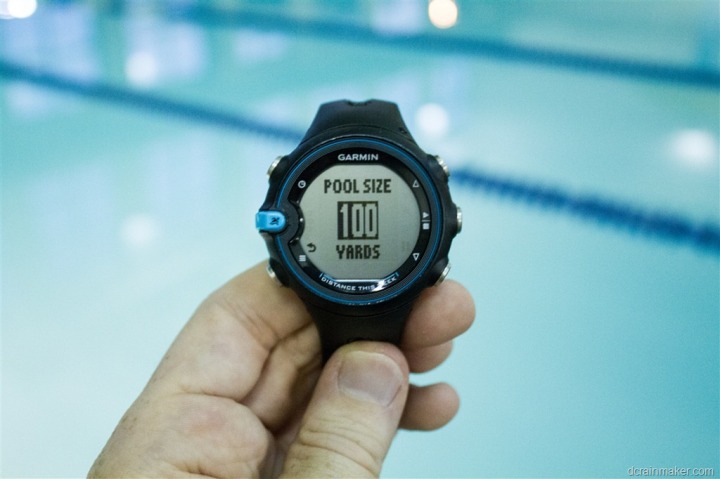 For those in the short kiddy pool, the smallest you can specify is 18 yards/17 meters – which is still a bit short for most hotel pools (I had originally posted that this was shorter, but that was a beta bug). (Updated with most recent firmware as of Aug 25th, 2013)
Regular Watch Mode
The Garmin Swim watch can easily be worn as a day watch, as it's small enough to pass as a normal sports watch.
Interestingly, the unit will actually turn off the display when not in use.  When it detects movement, it'll turn back on again.  It's pretty cool, and a fairly innovative way to save battery.  Here's a 8-second video clip of it:
Garmin Swim sleep mode video
It detects motion using the 3D accelerometer inside the watch – the same accelerometer that detects your swim stroke.  Generally, the display will appear within 1 second of movement.  I haven't had it take any longer than that.  Any tiny bit of movement will trigger it, so it doesn't take much.  The display will turn off after 60-seconds of non-movement.  You can both enable or disable sleep mode.
In addition to sleep it's movement shenanigans, it all has standard watch features like two time zone tracking options (TIME1 and TIME2), a stopwatch, and an alarm.
Here's the secondary time option: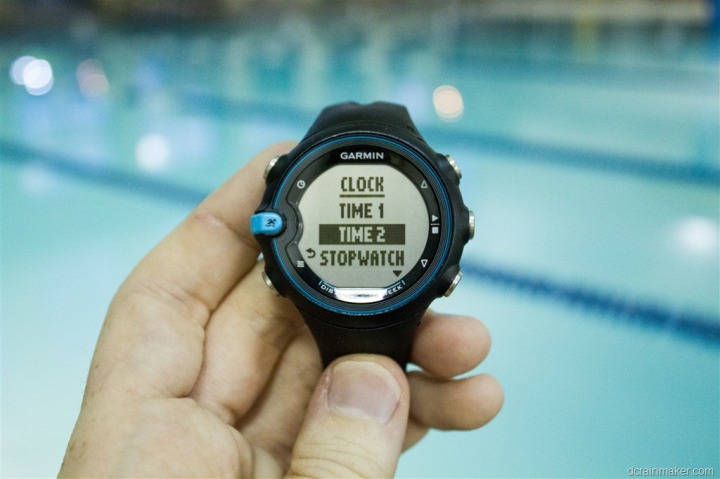 Here's the very simple stopwatch.  It doesn't support any laps, nor uploading to Garmin connect.  It's really simply a very simple stopwatch.  More of a counter really.
Finally, there's also a basic alarm option.  You can specify a singular alarm, or a repeating daily alarm.
Week Distance:
You may have noticed at the bottom of the watch is a small number that indicates the total yards (or meters) that you've swam over the past week while in normal watch time mode.  You can choose to either enable or disable this (I suppose, depending on whether your excited or embarrassed by the number).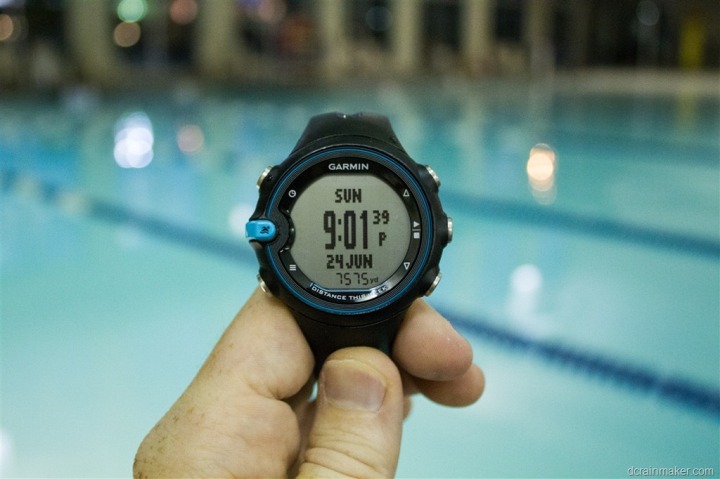 You can specify which day of the week you want to start your week on – which is ideal not only for those wanting to start on Sunday versus Monday, but also countries (such as many in the Middle East) that start their weeks on days other than Sunday or Monday:
Random other tidbits:
Languages: Languages available are – English, Francais, Italiano, Deutsc, Espanol, Hrvatski, Cestina, Dansk, Nederland, Suomi, Ellinka, Magyar, Norsk, Polski, Portugues, Slovensky, Slovenscina, Svenska, Russkij.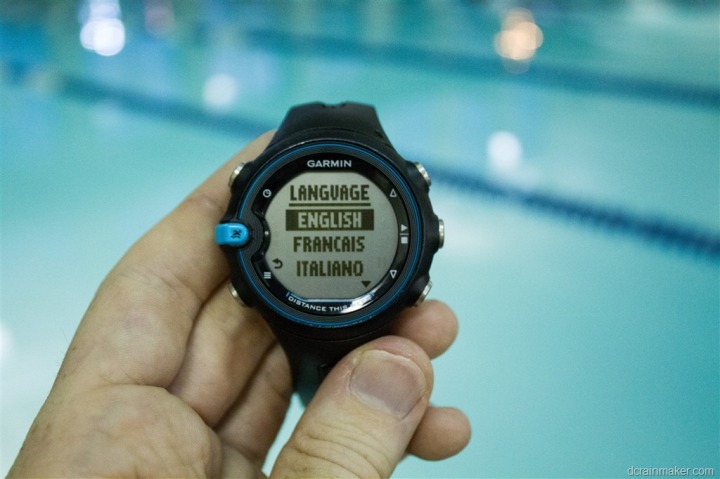 Button Tones: You can turn on/off both button tones, as well as the shrill alarm thing.  The Slarm shrill is for when you start/stop an interval.  It sorta sounds like a parakeet chirping madly in a blender.  No, really, it does – mildly painful (but effective).  Default for both is on.
Calories: Calorie metrics uses the weight entered, as well as stroke type, pace and time  You'll enter the weight via the settings menu in either pounds or kilos, depending on which metric you've selected.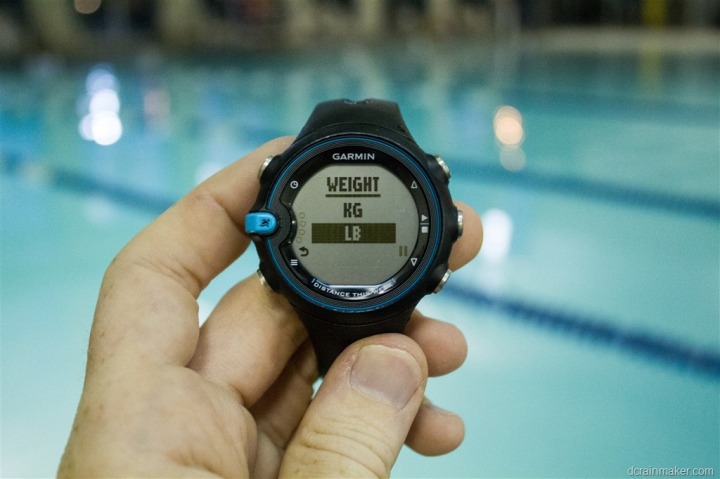 Uploading to computer:
To upload to your computer, and eventually Garmin Connect, you'll need to install the Garmin ANT Agent software, which utilizes the ANT+ USB stick to download your swim data from the watch.  To start the download process you'll first pair the watch to the computer.  The watch is automatically in pairing mode when it's shipped, but if you have another Garmin watch already, you'll need to tell the ANT Agent to go all eHarmony and start pairing again.
To do so, you'll simply right-click on the little ANT Agent icon in your task bar and select "Pair with New Devices" to Enabled.  That's it.
Once paired, the watch will automatically upload your workouts to the computer, as well as to Garmin Connect if you've selected that option.  This is anytime the watch is within range of the ANT USB stick, generally about a room or so away is close enough.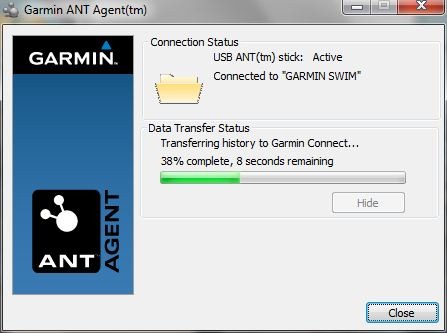 Once the data has been downloaded to your computer, it'll immediately upload it to Garmin Connect (again, if you've selected/enabled that option in the ANT Agent software for this particular watch).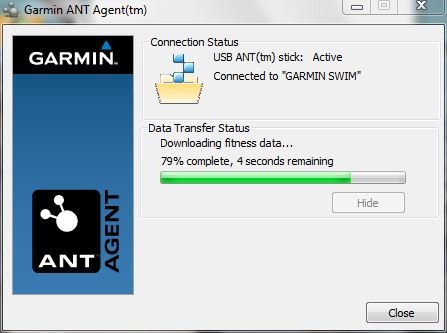 Now, let's talk about what happens when it gets to Garmin Connect.
Garmin Connect:
Once you've got the data up to Garmin Connect, it's the main platform for analyzing your Garmin Swim recorded workouts.
Once you're logged in, you'll go into your dashboard and be able to select your swim workout.  After selecting it, you'll be brought to the main activity page, which contains the high level overview of your workout.
Along the left hand side of the page you'll find the summary information – including swim totals and averages, as well as the pool size specifications (useful for later on remembering whether you were in a meters or yards pool).
The first chunk on the right side you'll see is the Swim Graph, which is a movable timeline that you can slide left or right to see your different intervals, and the lengths within each one.  I only swim freestyle (simply because that's what you need to survive a triathlon), so that's the only type shown for me, except drills.  I was happy to see that unlike other watches (including the FR910XT), it never thought I did any stroke other than Freestyle.

If in drill mode, it'll simply show the type as Drill, and then the length time will be identical across the entire drill set:

Below that, is the pace chart.  Note that the first chunk of my workout was a drill, so the pace information is hard-set here doing simple math using the distance and total time of the drill, hence why it looks flat.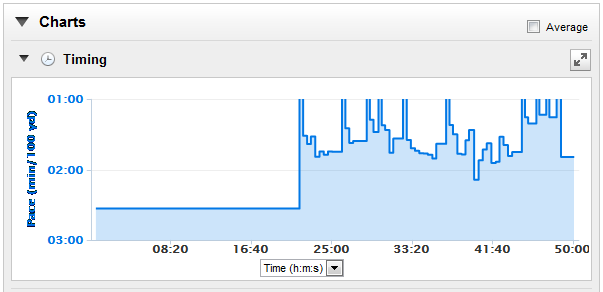 You can click the little expandomatic icon in the upper right corner to expand the chart and make it bigger.  If you click the drop-down at the bottom, you can change to distance instead of time.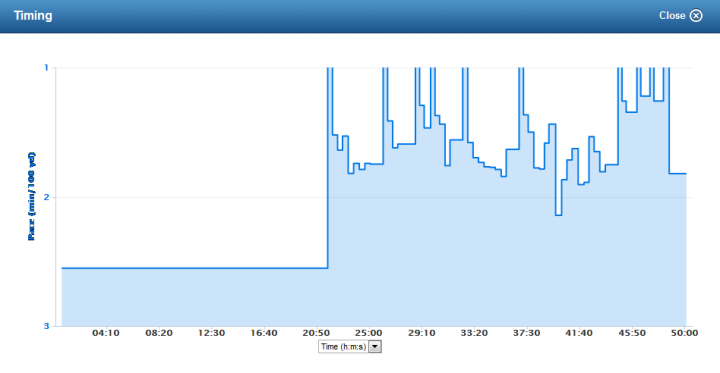 Below pace is the Strokes chart, showing you strokes per length.  In the case of the drill set, it's hard-set as zero, since no stroke information is recorded.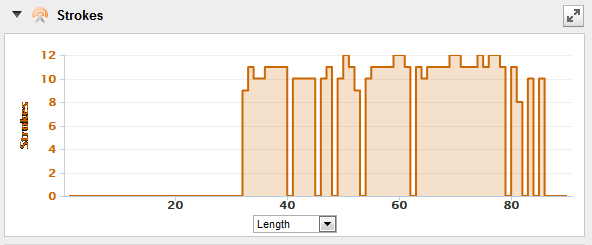 Last but not least is the efficiency/SWOLF score, which is a metric will correlates how many strokes it takes to get across a single length of the pool.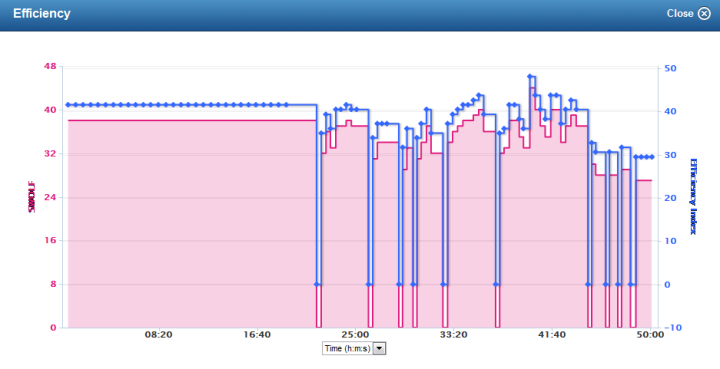 In addition to the overview, you can also click to view a listing of all intervals/sets: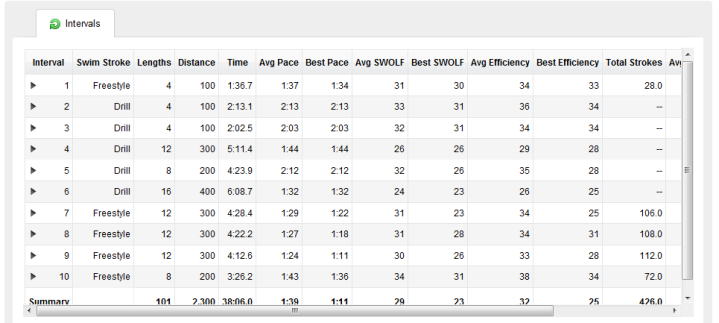 Then, within that, you can even expand out a given interval and show all the lengths: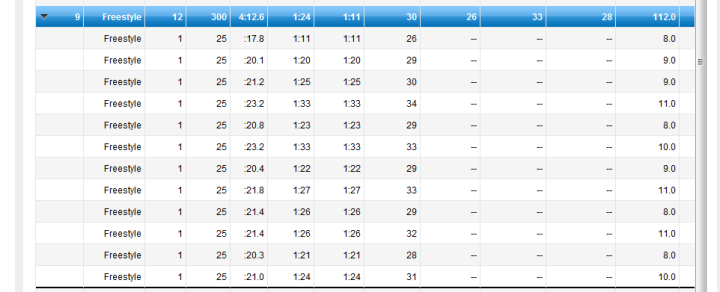 Overall, the Garmin Connect platform offers one of the cleanest ways to view swim data today online.  And, it covers all the data that you'd need.
Now, I've had a few oddities were some (but not all) activities seem to end up in 1989 (the year), despite the time being set correctly.  This may be a beta bug with the specific pre-release firmware versions I was on.  The Garmin Swim team was looking into it – so I'm not super-concerned about it yet.
Firmware Updates:
The Garmin Swim does support firmware updates in the same manner that most all other Garmin units do.  Updates would be offered via Garmin Connect, and then are downloaded to your computer.  Once on the computer, the Garmin ANT Agent software will transfer them to the watch: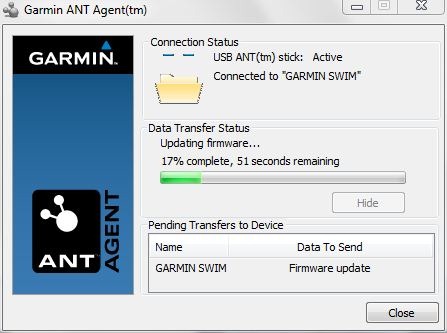 Firmware updates enable Garmin to fix bugs, or release new features.  Over the course of the beta period, both have been the case for me.  The updates generally only take about 60-90 seconds for this particular watch (much faster than the FR310XT/FR910XT updates).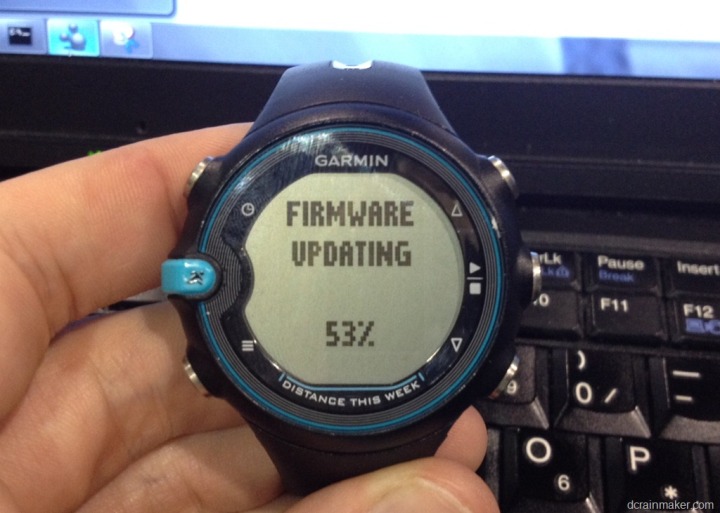 In my case, with the pre-release software versions, it did erase my on-device history upon upgrade (semi-common for firmware upgrades), though it's possible in the future that won't be the case.
Comparison Chart:
Here's a quick and high level comparison between the four major swim-tracking products on the market today:
Function/Feature

Garmin Swim
Garmin Venu 2
Polar Vantage M2
Polar Ignite 2
COROS Vertix
Copyright DC Rainmaker - Updated June 21st, 2021 @ 8:24 am New Window
Price
$150.00
$399
$299
$229
$599
Product Announcement Date
Jun 25, 2012
Apr 22nd, 2021
Mar 24th, 2021
Mar 24th, 2021
May 2019
Actual Availability/Shipping Date
Jul 5, 2012
Apr 22nd, 2021
March 2021
Mar 2021
May 2019
GPS Recording Functionality
No
Yes
Yes
Yes
Yes
Data Transfer
ANT Agent
USB, BLUETOOTH SMART, WiFi
USB, BLUETOOTH SMART
USB, BLUETOOTH SMART
Bluetooth Smart (smartphone)
Waterproofing
Yes
50 meters
Yes - 30m
Yes - 30m
15fffff0m
Battery Life (GPS)
1 Year
22 hrs (just GPS), up to 8hrs GPS+Music (2S: 19hrs GPS/7hrs with music)
Up to 30 hours
Up to 20 hours
60hrs, up to 150hrs UltraMax
Recording Interval
1-Second
1s or Smart Recording
1s
1s
1-second
Quick Satellite Reception
N/A
Great
Great
Great
Great
Alerts
No
Vibrate/Visual
Vibrate/Visual
Vibrate/Visual
Audio/Visual/Vibration
Backlight Greatness
OK
Great
Great
Great
Great
Ability to download custom apps to unit/device
No
Yes
No
No
No
Acts as daily activity monitor (steps, etc...)
No
Yes
Yes
Yes
Yes

Music

Garmin Swim
Garmin Venu 2
Polar Vantage M2
Polar Ignite 2
COROS Vertix
Can control phone music
Yes
Yes
Yes
No
Has music storage and playback
Yes
No
No
No
Streaming Services
Spotify, Amazon Music, Deezer
No
No
N/A

Payments

Garmin Swim
Garmin Venu 2
Polar Vantage M2
Polar Ignite 2
COROS Vertix
Contactless-NFC Payments
Yes
No
No
No

Connectivity

Garmin Swim
Garmin Venu 2
Polar Vantage M2
Polar Ignite 2
COROS Vertix
Bluetooth Smart to Phone Uploading
No
Yes
Yes
Yes
Yes
Phone Notifications to unit (i.e. texts/calls/etc...)
No
Yes
Yes
Yes
Yes
Live Tracking (streaming location to website)
No
Yes
No
No
No
Group tracking
No
No
No
No
Emergency/SOS Message Notification (from watch to contacts)
No
Yes
No
No
No
Built-in cellular chip (no phone required)
No
No
No
No
No

Cycling

Garmin Swim
Garmin Venu 2
Polar Vantage M2
Polar Ignite 2
COROS Vertix
Designed for cycling
No
Yes
Yes
Yes
Yes
Power Meter Capable
N/A
No
Yes
No
Yes
Power Meter Configuration/Calibration Options
N/A
N/A
Yes
N/A
No
Power Meter TSS/NP/IF
N/A
N/A
No
N/A
NP only
Speed/Cadence Sensor Capable
N/A
Yes
Yes
No
Yes
Strava segments live on device
No
No
No
No
Crash detection
Yes
No
No
No

Running

Garmin Swim
Garmin Venu 2
Polar Vantage M2
Polar Ignite 2
COROS Vertix
Designed for running
No
Yes
Yes
Yes
Yes
Footpod Capable (For treadmills)
N/A
Yes
Yes
No
Yes
Running Dynamics (vertical oscillation, ground contact time, etc...)
N/A
No
No
No
Yes
Running Power
WITH 3RD PARTY APPS
Yes with 3rd party devices (not built-in like Vantage V/V2)
No
Yes
VO2Max Estimation
N/A
Yes
Yes
Yes
Yes
Race Predictor
N/A
No
No
No
No
Recovery Advisor
N/A
No
No
No
Yes
Run/Walk Mode
N/A
Yes
No
No
No
Track Recognition Mode
No
No
No
Yes

Swimming

Garmin Swim
Garmin Venu 2
Polar Vantage M2
Polar Ignite 2
COROS Vertix
Designed for swimming
Yes
Yes
Yes
Yes
Yes
Openwater swimming mode
No
No
Yes
Yes
Yes
Lap/Indoor Distance Tracking
Yes
Yes
Yes
Yes
Yes
Record HR underwater
No
Yes
Yes
Yes
Yes
Openwater Metrics (Stroke/etc.)
No
No
Yes
Yes
Yes
Indoor Metrics (Stroke/etc.)
Yes
Yes
Yes
Yes
Yes
Indoor Drill Mode
Yes
No
No
No
No
Indoor auto-pause feature
No
No
Yes
Yes
-
Change pool size
Yes
Yes
Yes
Yes
Yes
Indoor Min/Max Pool Lengths
18y/17m to 150y/m
13M/15Y TO 150Y/M
20M/Y to 250 m/y
20M/Y to 250 m/y
15y/m-300y/m
Ability to customize data fields
Yes
Yes
Yes
Yes
Yes
Can change yards to meters
Yes
Yes
Yes
Yes
Yes
Captures per length data - indoors
Yes
Yes
Yes
Yes
Indoor Alerts
Yes
Yes
N/A
N/A
Yes

Triathlon

Garmin Swim
Garmin Venu 2
Polar Vantage M2
Polar Ignite 2
COROS Vertix
Designed for triathlon
No
No
Yes
No
Yes
Multisport mode
N/A
No
Yes
No
Yes

Workouts

Garmin Swim
Garmin Venu 2
Polar Vantage M2
Polar Ignite 2
COROS Vertix
Create/Follow custom workouts
No
Yes
Yes
Yes
Yes
On-unit interval Feature
No
No
No
Sorta (offers structured workouts)
Yes
Training Calendar Functionality
No
Yes
Yes
Has daily suggested workouts
Yes

Functions

Garmin Swim
Garmin Venu 2
Polar Vantage M2
Polar Ignite 2
COROS Vertix
Auto Start/Stop
N/A
Yes
Yes
Virtual Partner Feature
No
No
No (but can give out of zone alerts)
No (but can give out of zone information)
No
Virtual Racer Feature
No
No
No
No
No
Records PR's - Personal Records (diff than history)
No
Yes
No
No
No
Day to day watch ability
Yes
Yes
Yes
Yes
Yes
Hunting/Fishing/Ocean Data
No
No
No
No
No
Tidal Tables (Tide Information)
No
No
No
No
No
Jumpmaster mode (Parachuting)
No
No
No
No
No
Geocaching
No
No
No
No
No
Weather Display (live data)
No
Yes
Yes
Yes
No

Navigate

Garmin Swim
Garmin Venu 2
Polar Vantage M2
Polar Ignite 2
COROS Vertix
Follow GPS Track (Courses/Waypoints)
N/A
No (but some 3rd party apps can)
No
No
Yes
Markers/Waypoint Direction
N/A
No
No
No
Yes
Routable/Visual Maps (like car GPS)
N/A
No
No
No
No
Back to start
N/A
Yes
No
Yes
Impromptu Round Trip Route Creation
N/A
No
No
No
No
Download courses/routes from phone to unit
N/A
No
No
No
Yes

Sensors

Garmin Swim
Garmin Venu 2
Polar Vantage M2
Polar Ignite 2
COROS Vertix
Altimeter Type
N/A
Barometric
GPS
GPS
Barometric
Compass Type
N/A
Magnetic
N/A
N/A
Magnetic
Optical Heart Rate Sensor internally
Yes
Yes
Yes
Yes
SpO2 (aka Pulse Oximetry)
Yes
No
No
Yes
ECG Functionality
No
No
NO
No
Heart Rate Strap Compatible
No
Yes
Yes
Yes
Yes
ANT+ Heart Rate Strap Capable
No
YEs
No
No
Yes
ANT+ Speed/Cadence Capable
N/A
Yes
No
No
Yes
ANT+ Footpod Capable
N/A
Yes
No
No
Yes
ANT+ Power Meter Capable
N/A
No
No
No
Yes
ANT+ Weight Scale Capable
No
No
No
No
No
ANT+ Fitness Equipment (Gym)
No
No
No
No
No
ANT+ Lighting Control
Yes
No
No
No
ANT+ Bike Radar Integration
Yes
No
No
No
ANT+ Trainer Control (FE-C)
No
No
No
FTMS (Bluetooth) only
ANT+ Remote Control
No
No
No
No
No
ANT+ eBike Compatibility
No
No
No
No
No
ANT+ Muscle Oxygen (i.e. Moxy/BSX)
no
No
No
No
ANT+ Gear Shifting (i.e. SRAM ETAP)
No
No
No
No
Shimano Di2 Shifting
No
No
No
No
Bluetooth Smart HR Strap Capable
No
YEs
Yes
Yes
Yes
Bluetooth Smart Speed/Cadence Capable
No
Yes
Yes
No
Yes
Bluetooth Smart Footpod Capable
No
Yes
Yes
No
No
Bluetooth Smart Power Meter Capable
No
No
Yes
No
No
Temp Recording (internal sensor)
No
No
Yes
No
Yes
Temp Recording (external sensor)
No
Yes
No
No
No

Software

Garmin Swim
Garmin Venu 2
Polar Vantage M2
Polar Ignite 2
COROS Vertix
PC Application
GTC
Garmin Express
Polar FlowSync - Windows/Mac
Polar Flowsync - Windows/Mac
No
Web Application
Garmin Connect
Garmin Connect
Polar Flow
Polar Flow
No
Phone App
Garmin Fit
iOS/Android/Windows
iOS/Android
iOS/Android
iOS/Android
Ability to Export Settings
No
No
No
No
No

Purchase

Garmin Swim
Garmin Venu 2
Polar Vantage M2
Polar Ignite 2
COROS Vertix
Amazon
Link
Link
Link
Link
Link
Backcountry.com
Link
REI
Link
Link
Wiggle
Link
Link

DCRainmaker

Garmin Swim
Garmin Venu 2
Polar Vantage M2
Polar Ignite 2
COROS Vertix
Review Link
Link
Link
Link
Link
Link
Summary and Final Thoughts:
At $150 for the Garmin Swim, it's roughly in the same ballpark as the Swimsense watch from FINIS (which hovers in the $160ish range).  However, I think it has surpassed the Swimsense watch from a display perspective.  At the data field level the Swimsense allows more overall customization, but the display clarity is inferior to the Garmin Swim.  As I've noted many times before, while the Pool-Mate Pro is certainly an option in this competition, I just don't prefer it due to the confusing menu system and lack of web-based software platform.
Finally,  it should be noted that recently FINIS has fully taken control of the Swimsense, with the company originally behind it (Sportsense), going on in a different direction.  That doesn't mean that the unit won't be supported (as it certainly will by FINIS), but I think it's going to be a bit of time before we see FINIS fully ramped up on new software development in that area. [Update: I've heard from FINIS, and they are working on some added features for the Swimsense.]
So who should buy this watch?  Well, if you've already got a FR910XT – it would be silly to get this, since you've got 90% of what this has.  The areas this has that the FR910XT doesn't is the sleep mode, all-day watch functionality, and the drill log mode.  Conversely, the FR910XT does have alerting modes for time/distance in the pool.  I've heavily suggested to Garmin than they add the drill log mode to the FR910XT – and they've noted that they have passed that on to the FR910XT team (all I can really ask for).
If you have any of the other Garmin watches, and want swim functionality, this is a good way to do it without splurging for the $400+ Garmin FR910XT.
If you have the Swimsense, and are happy/fine with the display – then I honestly see little reason for you to move over to the Garmin Swim.  Sure it's a nicer day to day watch, but the display would be the major reason you'd move over.
Pros and Cons
With that, let's get into the Pros and Cons:
Pros:

– Very accurate, I had no issues with false laps/lengths
– Clear and easy to read display
– Relatively cheap – $150
– Integrates with Garmin Connect
– Can be worn as a regular watch

Cons:

– Unable to add more than one customized page (I wish I could do 2-3, or customize the base ones)
– Doesn't contain alert functionality like FR910XT (distance/time)
– Can't support that crazy multi-mile long pool in Chile (but does do the crazy big Vancouver BC pool)
This watch simply does what it's supposed to do, and does it well.  It doesn't have the complexities (both good and bad) of something like the full-featured FR910XT, thus, it's a bit easier to understand and use.  Ultimately, I'd like to see both watches support the workout functionality in swim-mode that's available for other sports on other Garmin watches.
Found this review useful?  Here's how you can help support future reviews with just a single click!  Read on…
Hopefully you found this review useful.  At the end of the day, I'm an athlete just like you looking for the most detail possible on a new purchase – so my review is written from the standpoint of how I used the device.  The reviews generally take a lot of hours to put together, so it's a fair bit of work (and labor of love).  As you probably noticed by looking below, I also take time to answer all the questions posted in the comments – and there's quite a bit of detail in there as well.
I've partnered with Clever Training to offer all DC Rainmaker readers an exclusive 10% discount across the board on all products (except clearance items).  You can pickup the Garmin Swim below. Then receive 10% off of everything in your cart by adding code DCR10BTF at checkout.  By doing so, you not only support the site (and all the work I do here) – but you also get a sweet discount.  And, since this item is more than $75, you get free US shipping as well.
Additionally, you can also use Amazon to purchase the unit or accessories (though, no discount on either from Amazon).  Or, anything else you pickup on Amazon helps support the site as well (socks, laundry detergent, cowbells).  If you're outside the US, I've got links to all of the major individual country Amazon stores on the sidebar towards the top.  Though, Clever Training also ships most places too and you get the 10% discount.
As you've seen throughout the review there are numerous compatible accessories for the unit. I've consolidated them all into the below chart, with additional information (full posts) available on some of the accessories to the far right. Also, everything here is verified by me – so if it's on the list, you'll know it'll work. And as you can see, I mix and match accessories based on compatibility – so if a compatible accessory is available at a lower price below, you can grab that instead.
Street Price

Amazon

2013 - DCR - Gear I Use: Swim
2013 Recommendations: Swimming
2014 Giveaway Extravaganza
2014 Summer Recommendations: Swimming Units
2014 Winter Recommendations: Swimming Units
Garmin ANT+ Transfer USB Stick (large sized)
$38.00
$38.00
Amazon
Garmin ANT+ USB Transfer Stick (mini sized)
$49
$49
TBA
Suunto ANT+ USB Transfer Stick (mini sized)
$37
$37
Amazon
Thanks for reading!  And as always, feel free to post comments or questions in the comments section below, I'll be happy to try and answer them as quickly as possible.  And lastly, if you felt this review was useful – I always appreciate feedback in the comments below.  Thanks!
Finally, I've written up a ton of helpful guides around using most of the major fitness devices, which you may find useful in getting started with the devices.  These guides are all listed on this page here.