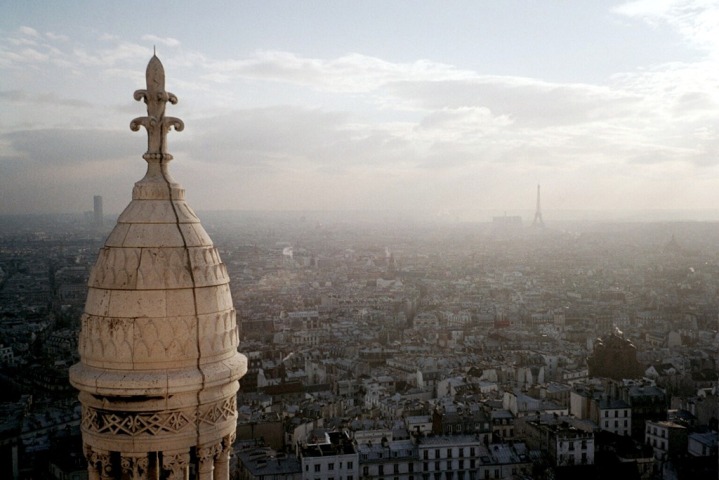 Yup, that's right, we're packing up shop and moving over to the land of chocolate macaroons!  Actually, rather, we've already packed up shop – over three weeks ago.  The stuff is slowly plodding it's way across the Atlantic (just off the coast of Newfoundland as of tonight). 
But we move tomorrow!  And by move, I mean, get on the plane for good.  At 5:14PM on Wednesday we'll push back from the gate on our final flight from DC over to Paris.
(Side note: Before I go too far, we both want to thank everyone for the constant stream of sometimes hilarious guesses that you submitted over the weekend – nearly 150 in total!  In particular, the significant contingent of you (basically, all of you) that very dearly want a little Rainmaker.  Eventually there will be, but for now, we just want to enjoy our time and flexibility in Europe.  I am impressed that two people nailed it spot-on – well done!)
Some of you may have wondered why I was doing so many back to back trips with The Girl to Paris over the past month. Of course, with my usual travel schedule, it may not have seemed too out of the ordinary.  Over the past two months we've been busy working through all the logistics of moving nearly 4,000 miles away – from house hunting to visa's to packing to tax stuff.  Busy bees!
That's why things back in late May and early June may have been a bit lighter posting-wise.  In addition to my regular work in DC (and work travel), we were also trying to pack up the house, get it ready to put on the market as a rental, find a house in Paris, sell off lots of unnecessary stuff, and a million other items.  Oh, and try and blog daily.  Craziness I tell you, craziness.
At this point, you've probably got a million questions – which, is pretty logical.  First, below, is a bunch of questions that our close friends and family have asked, so it made sense to consolidate them here as well.  Then, in addition to that, we'll be debuting a sub-blog here on the site in the coming weeks.  Those posts won't make it into your regular (current) RSS feed by default.  It's all about living in Paris, from the whole initial move process to day to day life.  The posts will likely be a little bit shorter than here, but probably a bit more fun sometimes.  We've been crazy documenting everything over the last three months from getting the house ready, to house hunting (and the midnight Paris café apartment elimination debates), to the visa process (long).  Again, that'll be debuting here with the new blog layout hopefully in the next 1-2 weeks.
So with that – off to the questions!
Are you moving on your own, or being relocated?
We're being relocated.  An opportunity came up with work, and I jumped on it.  We'd been looking for over a year for the right opportunity, and it finally popped up.  I stay with same organization, I just move across the pond.  As is typical in relos, they basically help us out a ton with all sorts of stuff from movers to house-hunter people to learning the language.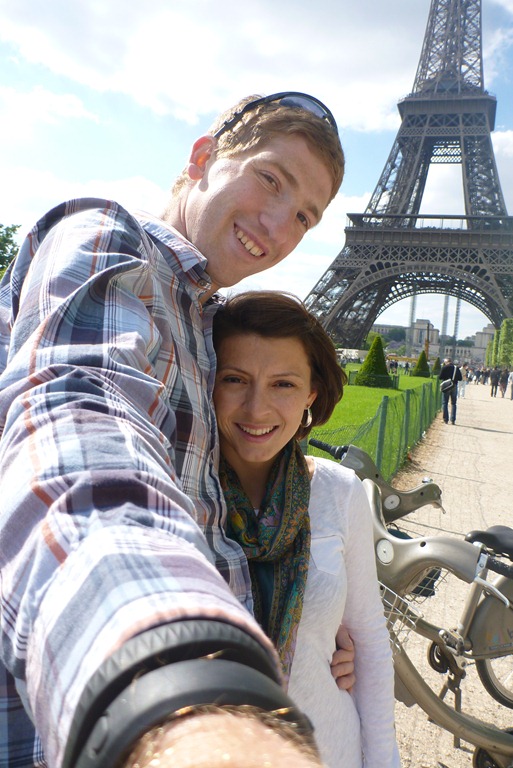 Do you speak French?
Not exactly.  But, me and Rosetta Stone have become bestest of friends lately.  Regrettably the little bit of Japanese I speak is doing me absolutely no good in France.  (Side note: Rosetta Stone is really darn expensive I found out!)
In addition, once we settle in we'll be getting more formal "language assistance".  And in case you're curious, The Girl speaks some very basic French from her days growing up in Canada where it was a required class, but it's mostly limited to ordering chocolate croissants.
How did you choose Paris?
This was tough!  The job position allowed us to basically live wherever we wanted within Europe/Middle East/Africa, as long as I could get on an airplane quickly to major international cities in those regions – we were good.  We narrowed it down to a few countries and cities, but in the end it came down to Paris (France) and Cape Town (South Africa) – though Zurich was also in the running.  While we absolutely love South Africa, we felt that Paris provided a great opportunity to see not only Paris, but also the rest of Europe, due to being easily accessible via train (and plane).
Oh, and did I mention I get 47+ days of vacation per year (it's the way it works in France!). Plus nights and weekends!  I could spend vacation days just trying to figure out how to spend vacation days.
The job involves a fair bit of travel all over Africa, the Middle East and Europe (typically known as EMEA), and of course many visits back to the US – so we'll still get to see tons of the world.
Wait, does that mean it becomes ParisRainmaker.com?
Funny, when I selected the blog name nearly 5 years ago, I certainly didn't think it would ever be visited by more than six people.  Thus, I didn't think to consider future moves of my location (despite the fact that I certainly was considering moving overseas at some point).
At this point, the domain name 'rainmaker.com' is already taken, so dcrainmaker.com will definitely stick around for eternity!
Does anything change here on the blog?  Are you still going to review products?
Not much changes.  Instead of hearing about my runs on the National Mall, you'll have to hear about running past the Eiffel Tower.
Product reviews work out the same, and I've got a mail forwarding service in place to quickly get products from the US to Paris in the matter of a day or two (though most companies will direct-ship to me in France).  In fact, most of the cycling products I review are usually shipped from Europe to the US, so it's probably a wash now.
Folks in the industry that have sent products previously will all receive an e-mail later today with our updated shipping information.  If you don't and have mailed me stuff previously, please shoot me back an e-mail so I can ensure you've got the right address!
What about your DC and US readers?!?
You guys are the base of everything I started off with – so I definitely appreciate everything you've done for me, especially those that have been here since the very very very beginning (you know who you are).  Yet, I think US readers will still enjoy everything I'm writing about – since for the most part the content won't change – same-same, but different.
What may come as a surprise to some, is that today my readership is actually almost perfectly split between US and international, with the vast majority of the international readers being in Europe.  Funny how that works, ehh?
Does this change anything with supporting the site?
Nope, Amazon will take your money regardless of where I am, and it still supports the site (like the big giveaway last week).  No worries there!  And yup, all the same links for all the other Amazon countries still work as well: UK, Canada, Germany, France, Spain, and Italy.
Where are you living?
Right in the heart of Paris.  We've already selected a location, and tomorrow morning we'll land and go to our new home.  We toured over a dozen apartments in the city, all of which we've got well documented coming up in posts on the Paris sub-blog.  Think of it like House Hunters International: DC Rainmaker Edition, which, is actually pretty much what it was like.
Why a new Paris sub-blog instead of just posting it like normal?
Simply put, we don't want to overwhelm everyone.  Or rather, overwhelm the folks here that are primarily here for swim/bike/run/technology.  Since you'll be able to easily just subscribe in one shot to all of it, it makes it simple for that that still want everything.
And – of significant importance is that it'll be more of a 'we' blog than just a 'me' blog.  By we, I mean The Girl and I.  We'll both be contributing to it.
Additionally, over time I think there's lots of coolness associated with the city that we can talk about in our typically unique way.  As I noted earlier, it'll be shorter posts – just more snippets of our daily life.
That doesn't change much on the blog here though.  You'll still get Paris sports stuff – like the usual weekend roundups, and day to day training.  The other side will be less training, more Paris and us.  Make sense?
Good, it's coming soon – likely within a week or two as I cutover to the new blog platform.
What happens to The Girl and Bertie's Bakery?
Well, The Girl is of course part of this package.  But for her bakery, you'll have to swing over to her little place and get all the details.
Are you going to be racing just European races now?
It'll likely still be a mix to be honest.  I've got a ton of travel and will as usual likely tie in races to other trips I have.  Sometimes those will be overseas, and sometimes US.
Are you going to the Tour de France?
Indeed, this weekend!  Our current plan includes a brief trip to see the Prologue (Individual Time Trial) and Stage 1 this upcoming weekend.  Since I won't be there later in July to see the finish in town (seriously bummed about that!).  So, if you're around at either of those two stages this weekend – give me a shout!
(Thanks Rob for the above – ready to use both starting Thursday!)
Are you racing the Paris Triathlon in a few weeks?
I really had wanted to – really really badly!  But, it turns out it conflicted with previously established plans for being in a wedding back in the states.  No worries, I'll definitely be there (or rather here) next…year!
Of course, if you're a local and have race suggestions for the fall – we're definitely all ears! (Running or triathlon)
How long are you staying?
We don't have a defined timeframe.  The way it works is I move one-way to this position, and when I want to return, I find a different opportunity (in the states or elsewhere) and move back.  At the moment we're thinking about 3 years, maybe more, but we don't have a set timetable in any way.  For all we know, we could be there for 50 years eating Nutella crepes.
Does this mean you're coming to Eurobike in August!?!?
Darn straight it does!  Though, I haven't actually thought that far ahead schedule-wise (you should have seen the messiness that the schedule looked like for the past, present and next month).
And, at present, I plan to be at Interbike too like usual (just registered this past weekend).  But of course, various work trips could interrupt both of those.  Thankfully, Eurobike splices over a weekend.
Thanks for reading!
As always, a huge thanks for reading.  I've got a ton of exciting stuff planned, and I think you'll enjoy getting not only the same stuff you've been reading – but also exposure to a whole new side of the world.