Ahead of our big move to Paris, we've spent weeks…if not really months preparing.  Since we had to be out of our house back on June 4th, we've actually been hoteling it since – with locations dependent on my work and play schedules. Though generally we were in the DC area.
Last week though, we took a breather before we bid DC farewell. A bit of a calm oasis before the final storm to move across the pond and start the whole moving process in reverse (unpacking).  So I met The Girl's family down in Florida, and we spent the whole week just relaxing on the beach.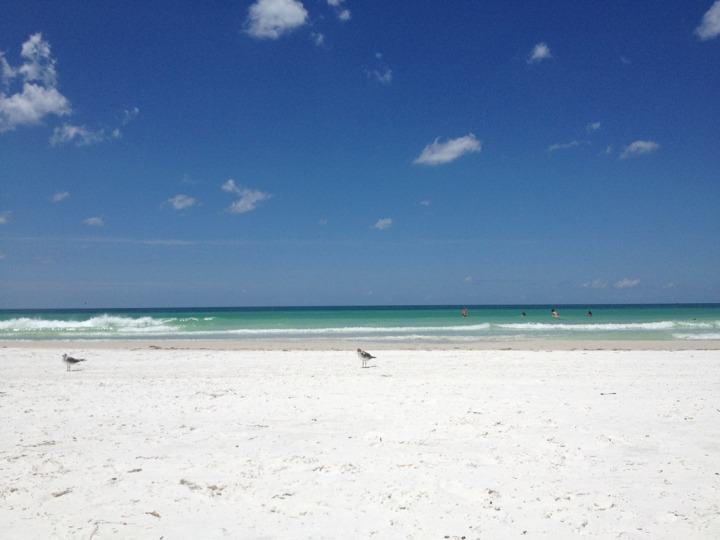 Well, at least until Tropical Storm Debbie Downer came along.  And while she may be off doing Dallas now – she was busy with Siesta Key while we were there.
But, if I had to find a bit of silver lining in the days of rain it was that it gave me a chance to test out some products in the rain – to validate that they work as advertised and don't drop dead.  For better or worse, Florida definitely delivered on the large amounts of liquid sunshine side of things.
Above is the Cerevellum Hindsight – which is a accident protection system that acts both as a rear-view mirror, but also a black box of sorts.  In the event of a crash, the system will save the video file leading up to the crash – potentially giving you (or someone else) the evidence you need.
Of course, it also works as a rear-view system as well.  The color screen displays in real-time anything behind you.  Because the resolution is a bit lower, and the frame rate only 10 frames per second, it's not quite like a high definition image that would allow you to pick out a passing butterfly.   But, you can spot cars coming up behind you – and that's what it was useful for.  Here's a short video I took while riding as it starts to rain…and then pour:
Test clip with rain
And one more clip in overcast skies that shows a bit more traffic and changing lanes, etc…
Test clip with traffic
Additionally, the unit is going to allow apps to run on it – though the details are still being finalized.  More on this device in the coming weeks.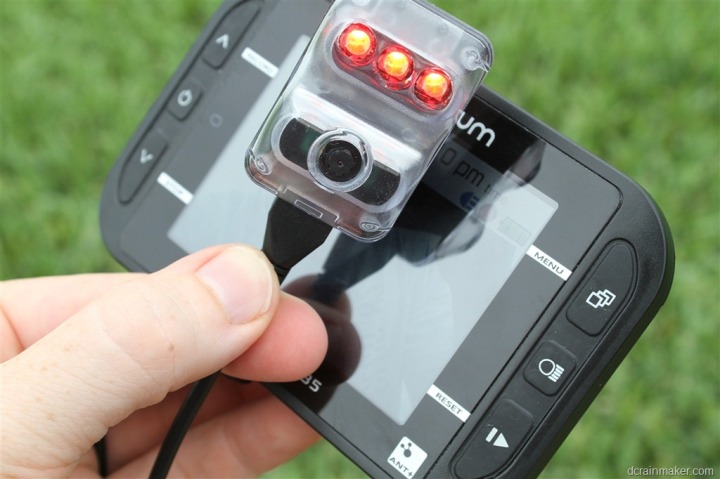 During the handful of rides down in Florida (I took my bike), and had time to play with Strava a bit.
I haven't used it previously (simply due to lack of time), but this gave me the time to get to know it better.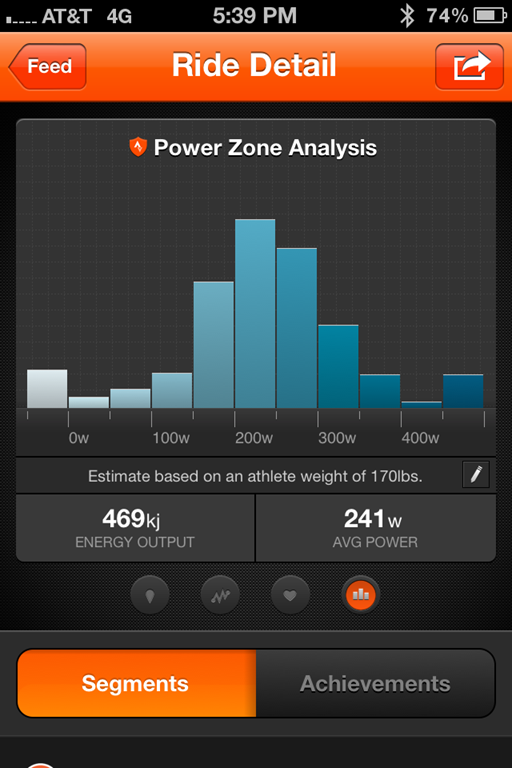 And for a brief time, I had KOM on a 12-mile course down on Siesta Key (a local triathlon route).  And then I was bumped after some re-stacking/consolidation of the courses.  I rode the course pretty conservative, hence the lower power numbers.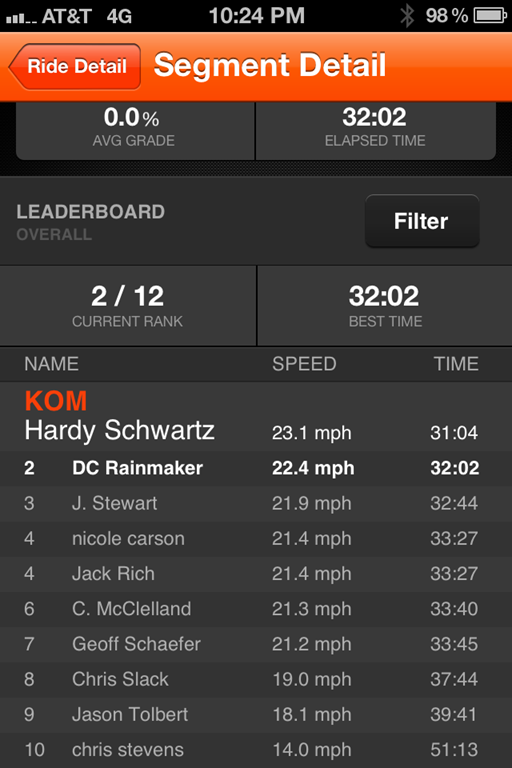 I like the competition aspect of Strava, however, the app itself leaves a ton to be desired (I think Angry Birds has more display metric options than the Strava app does).  Of course, you can simply upload your Garmin files to it instead, as it accepts those as well.  Which is what many folks do.  In fact, I hear that the thing to do is simply upload your entire Garmin file collection.  I'll have to give it a shot.  It's a bit of a large collection.
Next up was playing with the O-Synce ScreenEye system, which is a heads up display system that displays your ANT+ and other data streams (heart rate, pace, time, temperature, etc) in the upper visor.
Here's what it looks like when looking through it up close.  It's kinda hard to take a photo of though, just due to the focusing aspect.
This is in some ways similar to the 4iiii's system I've reviewed.  Both can be used on the run, but the 4iiii's also goes to the bike.  However, the 4iiii's uses a color LED system, whereas the ScreenEye uses actual numbers.  More comparisons in the future…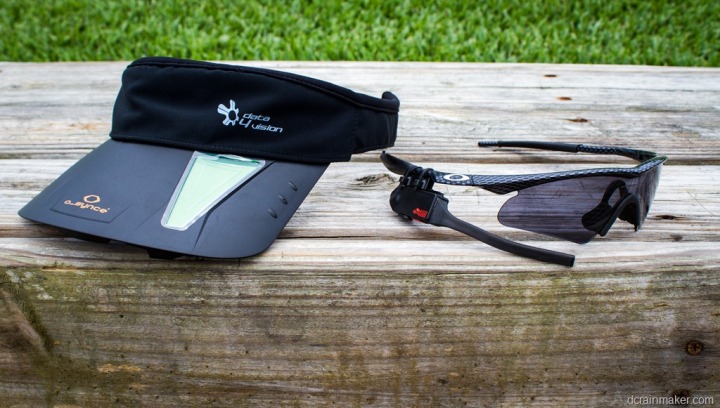 Next up, was using the new G3 PowerTap wheelset.  The CycleOps folks sent me this out to help do on-road power comparisons with some of the different power meters I'm testing (Polar Pedals and Power2Max.  The Power2max went on Wednesday morning thanks to my awesome Coach helping out get it installed as we were running hours before our flight.  Additionally, the new Joule and Joule GPS are waiting for me, and I'll pick them up next weekend while in the US for a wedding.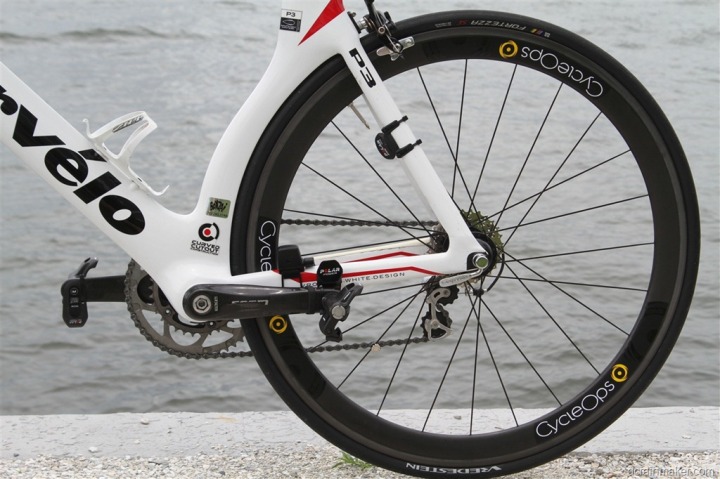 And finally, I got all my shots for the Magellan Switch In-Depth review.  I was just lacking battery power here over the past two days to finish it up and get it posted, as our apartment doesn't have electricity yet.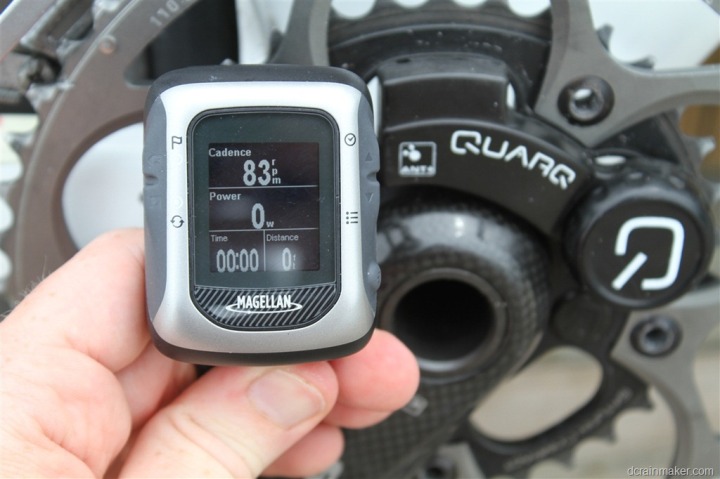 Of course, that doesn't mean I was just playing with products the whole week.  Nope, I was busy doing lots of other things – like playing tennis, eating hotdogs, and watch TV when it rained.
Though, I don't have any photos of me watching TV or eating hot dogs.  Instead just a picture of tennis.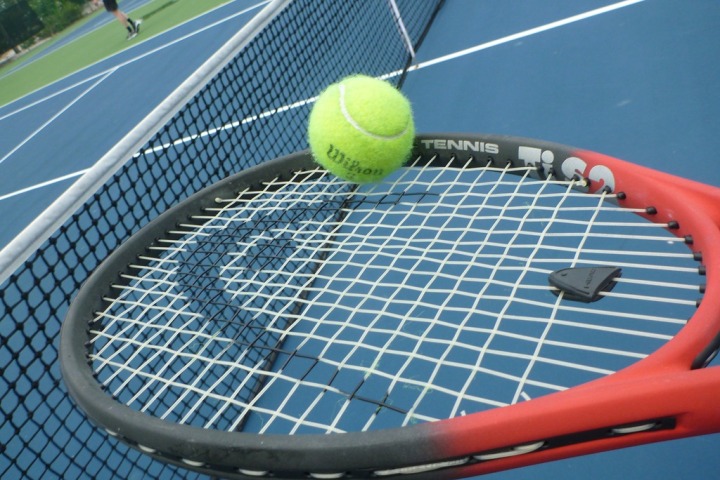 We also went wandering for pre-historic shark teeth, which wash up on shore with teeth from sharks thousands of years ago.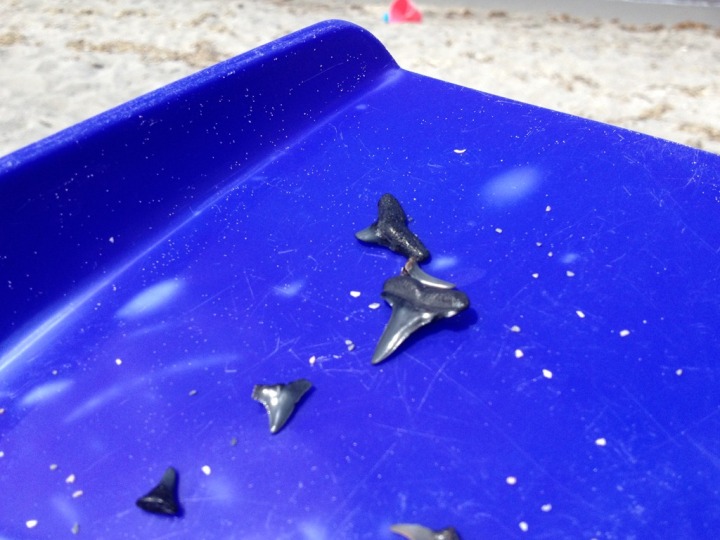 With that, I'm back to unpacking in Paris – we've arrived, and the man to hookup our apartments electricity is here – so time to get power!