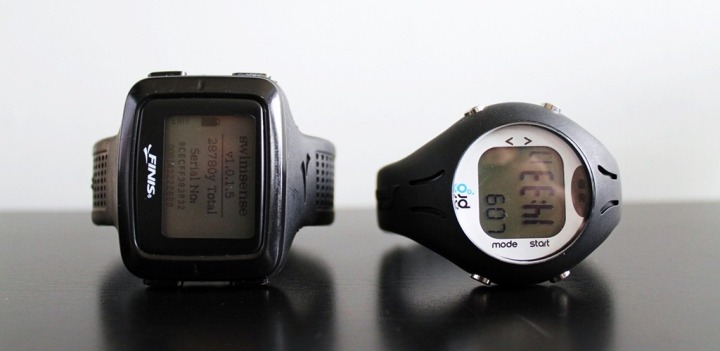 Ever since I reviewed the FINIS Swimsense and the Swimovate Pool-Mate Pro a few months ago, there's been significant interest in understanding how the two devices compare.  The two watches aim to solidify themselves in the still young market of swim technology, in particular though the area of recording devices.  This is an area that I expect to explode with many new devices from a number of competitors over the next 1-2 years. Over the past 3 months I've had a chance to swim workout after workout with both watches – in some cases wearing both watches at once.  In doing so I've become very familiar with the intricacies of each device, its software, and their platforms in general.  In doing so I've put together a pretty comprehensive comparison of the two and how they line up in virtually every category applicable. So how do they stack up?  Well, let's get on with it! Basic use in the water (usability):When it comes to use in the water from a usability perspective, you're primarily looking at a few areas.
Ease of button pushing: Both watches work pretty well here.  I find that the Pool-Mate has easier to depress buttons (less force required), while the Swimsense buttons are easier to find blindly (like at the end of an interval when you're gasping for air). Menu System: While the Pool-Mate system is fairly simple once you get used to it, I also find it's somewhat easy to get tangled up in it, and either exit the system or wipe your swim altogether.  The Swimsense menu system is a bit cleaner and easier to navigate.  Some of this is simply due to the different technologies used – Swimsense created a more traditional platform akin to how you might navigate a phone, whereas Pool-Mate is using more of a standard stop-watch interface. Display Configuration Options: On both watches you can rotate through which fields you'd like to display while swimming.  However, the Swimsense gives a few more options and fields due to the larger screen size (more real estate). Lap Use: Both watches have the concept of 'paused time', which means if you do a 500y set, then wait two minutes, and then do another 500y set – it allows you to 'pause' the time in between, but also record that as rest time.  The Pool-Mate Pro displays this with a "P" next to the counter when in paused mode, whereas the Swimsense will not only display a "P", but also invert the colors (black/white) so that at a quick glance you can see you're in paused mode instead of regular mode.
Winner: Swimsense, due to the cleaner menu system and the nifty inverted colors trick when in pause mode. Accuracy (Distance/Laps/Lengths): When it comes to accuracy, I've generally been astounded at how accurate both of these devices are.  When looking at accuracy I've been judging based on accuracy against the actual distance I swam, but also accuracy against each other. I've swam a few workouts where I've used both watches at the same time and found that even after 3,000 yards – both ended up identical in terms of distance/laps.  Fairly impressive in my opinion. When it comes to stroke identification, that's one area I really can't speak to.  As a triathlete, I pretty much exclusively swim freestyle.  And even if I could 'swim' a different stroke, it's highly likely that you wouldn't be able to recognize it due to my hideous form.  Thus, I can't really expect either watch to either. Winner: Tie – both are equally as accurate in my testing. Display Quality/Readability in the water:Let me just say this up front – neither display is terribly great when it comes to underwater readability during an active swim set.  Both have general issues that make readability more difficult than it needs to be. I define this category as readability during a flip turn or other mid-set attempt to read your split/distance/etc.  Both are of course easy to read when you're standing at the end of the swim lane – but for me, if I'm doing a set the reason I'd wear a watch is to see the splits while swimming.
Swimsense: The Swimsense has a larger screen, which helps it a bit in this category.  However, the plastic/glass that's used on the front tends to reflect a bit and has a low tolerance for angular viewing unless you're less than 45 degrees to the watch itself. Pool-Mate: While the watch size is smaller, the main numbers are actually about the same as the Swimsense, due to the way the data fields are divided up.  Like the Swimsense, it too suffers from angular readability depending on where the watch is.
Winner: Neither.  They're virtually identical when it comes to readability mid-set: Not terribly good.  It's certainly possible to read underwater, as one can do it (and I do) – but it's just not as clean and easy as some simple stop watches from Wal-Mart.  And sometimes it takes more than a quick glance to do so. Battery Life: This is one area where the two watches have diverged paths quite a bit, based on different engineering goals.  In the case of the Swimsense they've chosen a model which depends on a rechargeable battery – much like that of your typical Garmin watch.  This is due to the larger display being used (more like a Garmin than a simple stopwatch).  In this scenario, the battery lasts about 4 hours of swimming (soon to be 8 hours with firmware update). The Pool-Mate Pro meanwhile goes the route of a normal watch battery, and one that lasts at least a year before you have to replace it.  This is due to the smaller screen size, battery consumption model, and display characteristics. Winner: Pool-Mate Pro. It's fairly hard to argue with simply not having to charge.  Additionally, when it's not in swim mode, it can be used as a normal day to day watch.  The Swimsense on the other hand would be too bulky. Data Gathering:The primary goal of purchasing either of these devices is to be able to collect data.  After all, if you didn't want to collect data, then a cheap watch from a department store would do just fine.  So what does each watch gather?
Swimsense: This watch can record time and distance for sets (intervals), lengths/laps, and total swim workout.  In addition, it also records pace, stroke type, stroke rate, stroke distance and SWOLF score for each data type noted.  The key differentiator here is the ability to record lengths/lap data.  Meaning, the ability to record data for each and every length in a larger set.  The Pool-Mate Pro only records data at the interval (set) level.
Pool-Mate Pro: This watch can record time and distance for sets (intervals) and total swim workout.  In addition, it also records speed, stroke rate, and efficiency for each data type noted.
For me, the biggest difference is the ability for the Swimsense to record data at the per-lap/length level.  This means that if I do a 1,000y set, I can then see exactly how my pace and stroke count varies over the course of each and every lap.  This allows me to see for example if my pace is stable across the set, or if I'm slowing down.  Thus, due to the extra data captured, the Swimsense wins this category. Winner: Swimsense Charging/Data Download Dock/Cradle: The two companies selected entirely different routes here, but I can't really say that either is wrong.  They're just different. The Swimsense uses a separate cradle which has a standard USB connector on it.  You then apply the included Mini-USB cable (or any other that you have handy), connect it to a computer or USB hub and you're set.  It'll automatically start charging and download once you open the Swimsense Bridge application on your computer.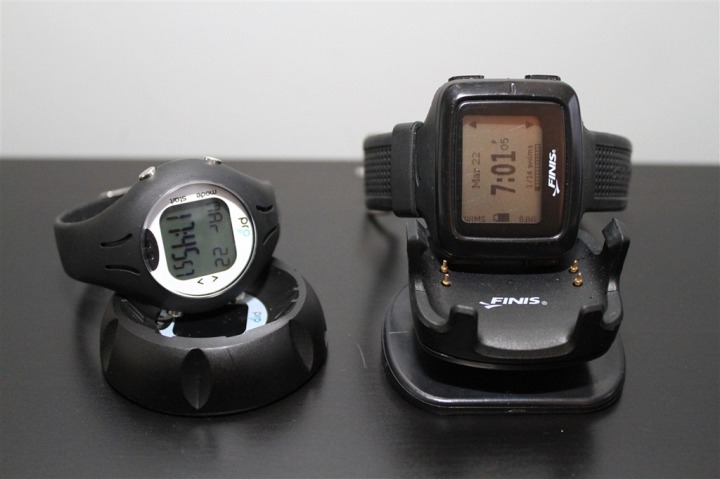 The Pool-Mate Pro on the other hand uses a different cradle that relies on infrared to transfer the data.  That cradle is connected to your computer via a standard Mini-USB cable.  The watch gets placed inverted on the cradle and within a second or two the Pool-Mate Pro Link software detects the watch and your data zips across to the computer. I've been pleasantly surprised that both methods work equally as well.  Both are quick, take a few seconds to complete and then are done.  While one could sit and argue the in-depth minutia when it comes to USB vs. Infrared for this particular scenario (and as a geek that would be fun!) – in this case I find they work equally well. Winner: Tie – both download flawlessly every time. Software – included by vendor:When it comes to software included, both do a good job of providing simple and easy to use software that allows you to analyze your data at both an individual workout level, as well as from a more historical standpoint (over time).  But, despite those similarities, they've both selected very different paths to get that information to you:
Swimsense: Swimsense uses a piece of software called the Swimsense Bridge, which essentially connects to the watch via USB, grabs the data, and then uploads it to the Swimsense.com site.  Once on the site, all data analysis is done there online – be it individual workouts, historical views, or reporting…all in one place.  There is no separate/additional downloadable client application that allows you to analyze data. The benefit to a purely online strategy is that your data is available anywhere there's a browser.  Additionally, they can more easily partner with other sites to allow you to share your data (like how they've done with Training Peaks).  And finally it also allows them to quickly add new features without dealing with client computer installs.  The catch of course to a fully online system being that you need to be connected to the Internet to view your data.  Some may find that a disadvantage (though, export to CSV that I'll talk about later allows you to download data for later use).

(Above: Swimsense Web Platform)

Pool-Mate Pro: Swimovate uses a fully desktop focused solution.  The watch connects to a piece of software called the Pool-Mate Link – which in turn transfers the data to a text file on your computer.  From there you'll open up the Pool-Mate Pro software, which is the main application for looking at your swim workout and past history.  You can drill into a single workout and look at any splits you created, as well as look at historical information from any previous workout.  This includes some basic reports as well. Additionally, the software supports more than one user as well.

(Above: Pool-Mate Pro main application)
As I noted above, both software suites take different methods of ultimately achieving the same goal.  Both software suites focus exclusively on swimming, with neither supporting other sports. For the majority of use, either solution works fine (and both watches now support both PC and Mac).  However, I think based on the improvement I've seen from the Swimsense side, I'm a bit more excited about what they can do based on the position of being able to roll out changes quicker, and also having active data connections and development API's to other partners. Winner: Swimsense Software – 3rd party options:When looking at software, it's important to look at other applications which can leverage the data from the unit.  There are virtually no successful sports technology products on the market today that don't interoperate with other applications – be it Garmin, Nike+, Polar, Timex or others – they all interoperate in some way with other platforms.  Let's take a quick look at where things stand:
Swimsense: They support exporting to CSV file, which allows anyone to write applications to support the data, as well as you to look at the data in Excel or similar.  In addition, they now support automated uploads to Training Peaks.  In the 'soon' column, they'll be adding support for Sport Tracks, Beginner Triathlete and 2Peak.com.
Pool-Mate Pro: Like the Swimsense, they support export to CSV file as well – which also allows anyone to develop applications that can read the file.  In addition, it allows you to open/analyze the file in programs like Excel.  The only 3rd party application I'm aware of, is Training Peaks, which doesn't yet support it – but is planning to in the coming months.
Also, the folks from Swimsense are promising the ability to ultimately allow you to extend the functionality of the watch through some form of 'marketplace' type concept.  Though, this may indeed be a way off. Because of the automated partner mechanisms and development API's that Swimsense offers, one has to give them the advantage in the 3rd party arena.  While it's great that both support a basic CSV format, I think that having additional mechanisms beyond that is advantageous. Winner: Swimsense Comparison Chart: I put together a quick comparison chart of the major features, to help you visualize the last few dozen paragraphs of text (I'm a picture person too!).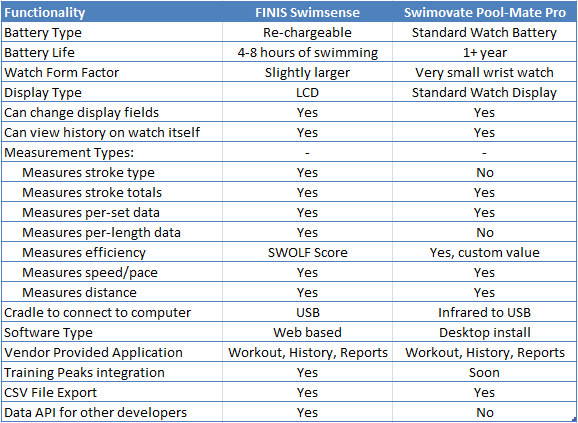 Summary:This is one of the very few cases around these parts where I can't say there's an absolute clear winner.  It really does depend on what you want.  In my mind, it all boils down to two simple use cases/scenarios:
A) If you want a very slim watch that records the basics and you don't have to worry about charging, then the Swimovate Pool-Mate Pro is best for you.  It has a very clean/slim design that ultimately allows you to get your core swim data (distance/time/pace). B) If you want a device that has more analytics capability, and can give you more data and functionality then the FINIS Swimsense watch is really the one for you.  The watch offers more for the data driven person, with more compatibility and expansion options.
For me, I'm finding that I tend to choose the Swimsense watch, merely because I like to see the per-lap data that the Pool-Mate doesn't have (and the new Training Peaks integration is pretty cool).  Meanwhile, my fiancée finds that she prefers the Pool-Mate Pro because of the smaller size and the fact that she doesn't have to think about charging (and Training Peaks integration is coming there soon as well). Again – it's really a matter of what you value in such a device.  Hopefully between all of the different sections here, you're able to make a decision that best fits you.  Also, remember that you can always visit the two original In Depth Reviews here:
FINIS Swimsense In Depth Review Swimovate Pool-Mate Pro In Depth Review
As always, you can help support the blog and future posts like this by simply using either of the links below.  Nothing special to do – just buy like you always buy from Amazon via either of the two links below and the magic happens.
Thanks for reading!