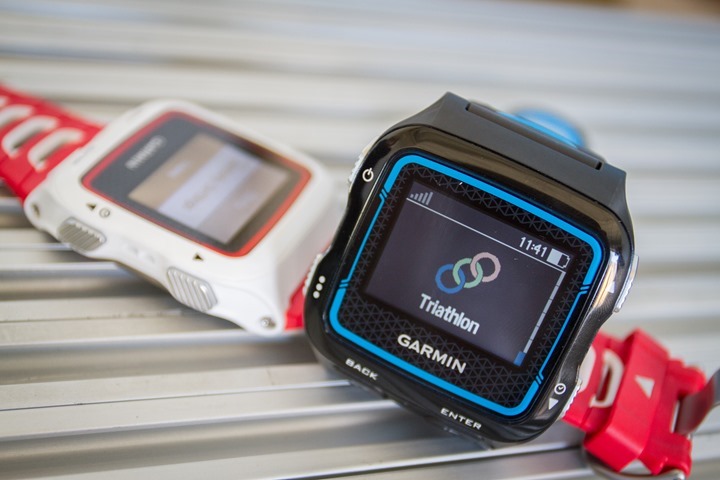 Please note: My Full In-Depth Review is now published and available.  Please click on over to that post to get my final impressions of the unit. Enjoy!
Today, Garmin has officially announced the successor to the FR910XT triathlon/multisport watch, the FR920XT.  The swim-bike-run focused watch effectively takes all of the recent new features from a number of other new Garmin fitness devices and plunks them into this watch.  Yet at the same time there's also a number of features which aren't seen elsewhere on Garmin devices such as cycling-specific VO2Max, a new metronome mode, and then support of Garmin Connect IQ, which allows companies to make apps for the watch.
I've had small windows of time with the watch over the past few months, so definitely consider this in the camp of a 'first look' post and not an in-depth review. Which means I'm mostly focused on explaining all the new features and functionality, versus deciding if it's worth the cash (that comes in my full review).  Sound good?  Grab a pint of Ben and Jerry's and let's get started.
The New Features: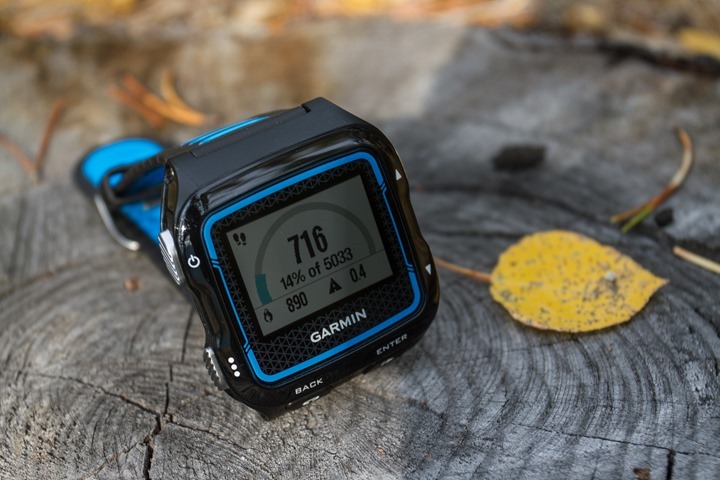 In many ways there are few major unexpected surprises when it comes to the FR920XT.  This is largely because as most people assumed the feature-set really builds upon that established by the Garmin FR620 and Edge 1000 – Garmin's latest cycling and running units.  So one is squeezing out all the new features from those units and adding it to the FR910XT.  Still, it's a substantial list. Here's a rundown of the purely new items (over the FR910XT):
– Addition of Bluetooth Smart, WiFi connectivity
– Addition of Daily Activity Tracking (steps, Sleep, etc…)
– Ability to create Internet connected apps, widgets, data fields (Connect IQ)
– Addition of Live Tracking (requires you carry a phone)
– A Color Screen (that actually really shows colors)
– Creation of Activity Profiles (allows you to create your own)
– Running Dynamics (Vertical Oscillation, Ground Contact Time, Cadence)
– Recovery Advisor, Recovery Time, Race Predictor
– Cycling VO2Max
– PR's (Personal Records)
– Regular Watch Mode
– UltraTrac (for up to 40 hours of GPS activity…with ANT+ sensor data)
– Addition of GLONASS (for increased GPS accuracy)
– Garmin VIRB action camera control
– Indoor Treadmill support (without a footpod pace/distance)
– Metronome Functionality
– Swimming Drill mode (as found on Garmin Swim, Fenix2)
– Swimming Interval Rest Timer
– Racing against past performances, downloaded performances
As you can see, while there are some completely new things (like the metronome and cycling VO2Max), virtually all the remaining features can be found in other recent Garmin products (FR620, Edge 1000, FR15).  Which, I'll point out might actually be a good thing – as it means those particular code chunks have had time to 'bake' a bit more and get the bugs worked out.
Now, there are a few things that many people saw in the wild rumor mill that aren't in the FR920XT, specifically:
– No support for heart rate while swimming (though, there should actually be a workaround there with Connect IQ)
– No optical heart rate sensor in the unit itself
– No 3G/cellular connectivity
– No Bluetooth Smart sensor support (i.e. BLE heart rate sensors)
– No Di2 support at this time (though, this too could likely be added in Connect IQ)
– No small ponies
Also, note that the screen is not touchscreen.  For a triathlon watch where it's all about water, I think that's probably a good thing at this point.
To that end, this post will largely focus on all the new stuff.  In general, unless I specify otherwise in this post you can assume all the previous FR910XT functionality is carried over.  So everything from indoor/outdoor swim metrics to regular GPS running/cycling recording to power meter functionality and anything else that's been on the FR910XT or the FR620, is here.  In my full in-depth review (based on final firmware/hardware), I'll dive into all those regular features like I always do.
But in the interest of most folks who just want the new stuff, we'll keep it quick and short here.  Actually…who am I kidding?  Nothing is short or quick here.  And for those not so into reading and photos, I've put together a bit of a video detailing my first tri with it, as well as the analytics side of the data afterwards.  You can watch that below:
With that, let's start diving into the details!
Colors, Size, & Weight Comparisons: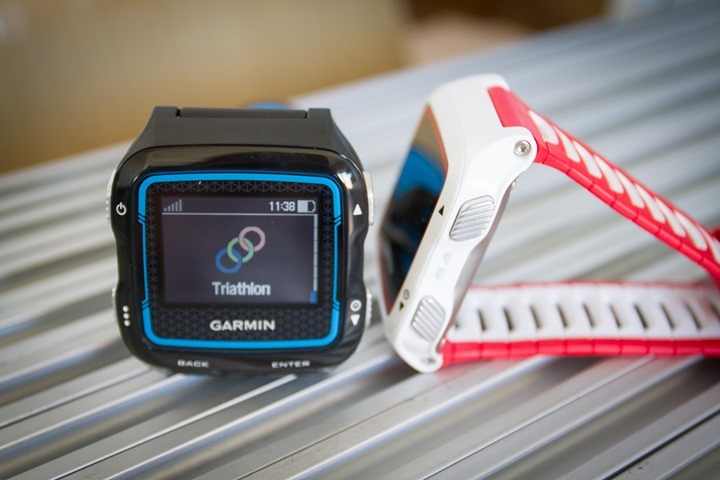 The FR920XT comes in two color variations, seen above.  They are a red/white option and a blue/black option.  Like all previous multisport watches, there is only one size of the watch (meaning, not separate sizes for women or men).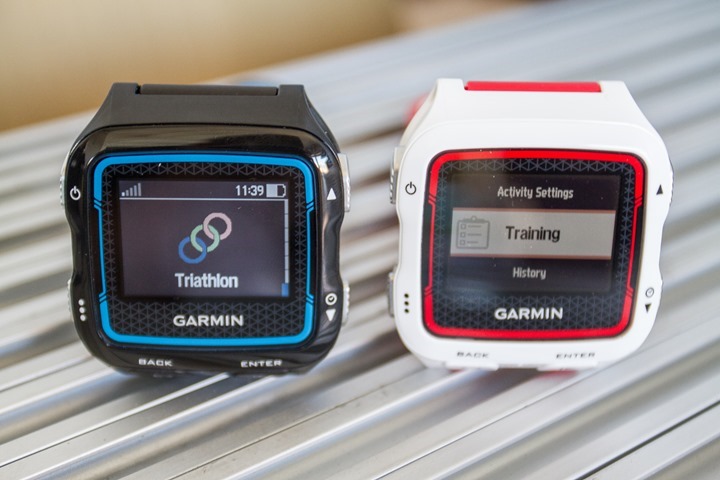 The FR920XT reduces its size a bit compared to the previous FR910XT.  To begin, it's effectively the same thickness now as the FR620, which makes it pretty darn thin: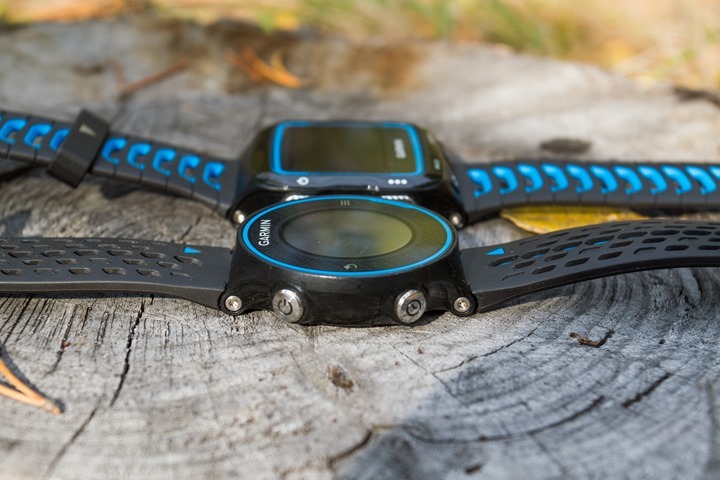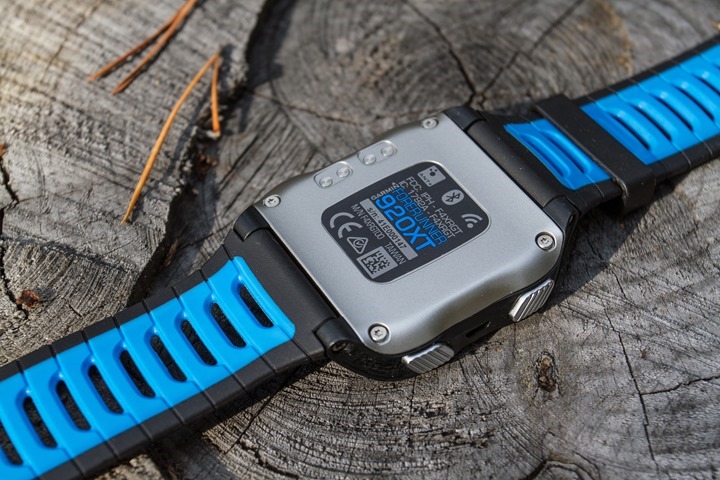 Here's a quick glance at the difference in size between the FR920XT (right) and the FR910XT (left).  As you can see the screen is similar in size though slightly smaller, additionally, the outer shell has shrunk a bit.  Note, in the below image the status bar at the top is showing, but that disappears after a few seconds giving more viewable screen space (as seen in other photos here).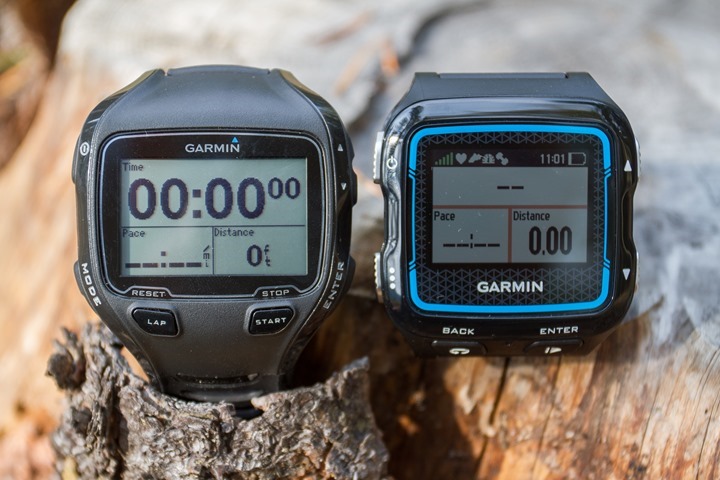 And looking at the Fenix2 (regular and special edition), it's got a substantially bigger screen size, though the overall width/height of the watch isn't terribly different – just rectangle instead of square.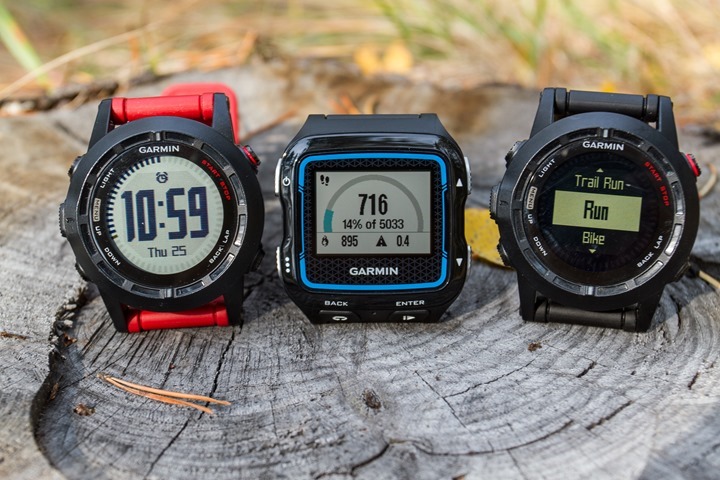 You can see quite a difference in thickness there as well: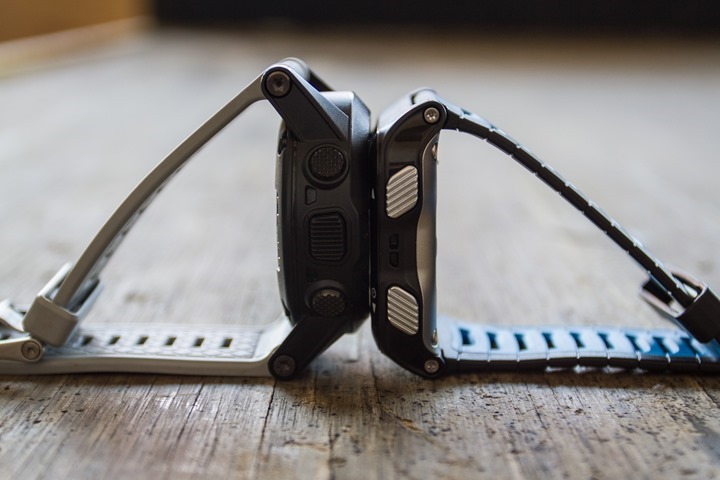 And for completeness, here's a few on my wrist, and one with the Fenix2 on my wrist: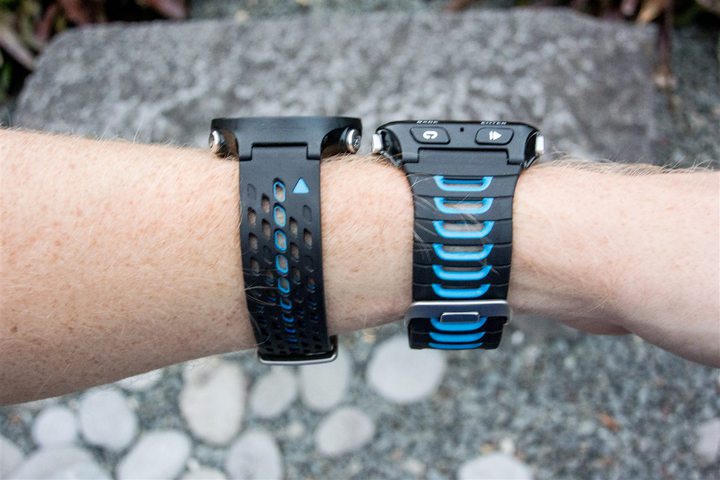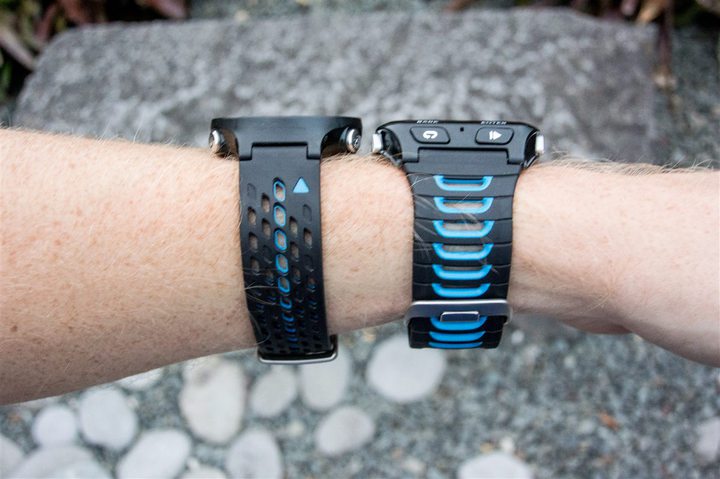 Next if we look at the color differences you'll see it's much more vibrant than the FR620 was, which didn't really use the colors for any practical purpose – nor did it have terribly sharp colors.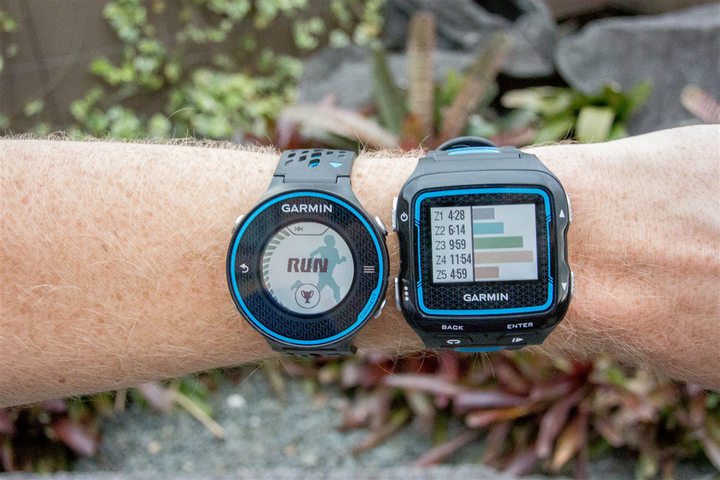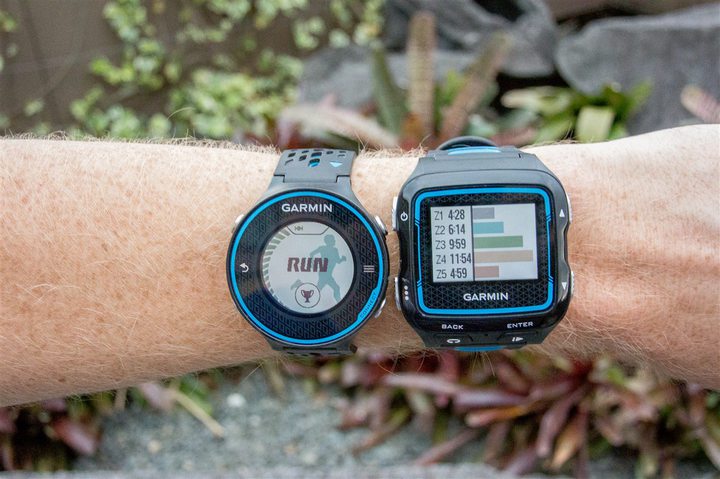 Finally, weight-wise the FR920XT sits in at 61g, a reduction of 11g from the base FR910XT which is at 72g (without quick release kit).
Daily Activity Monitoring & Regular Watch Mode: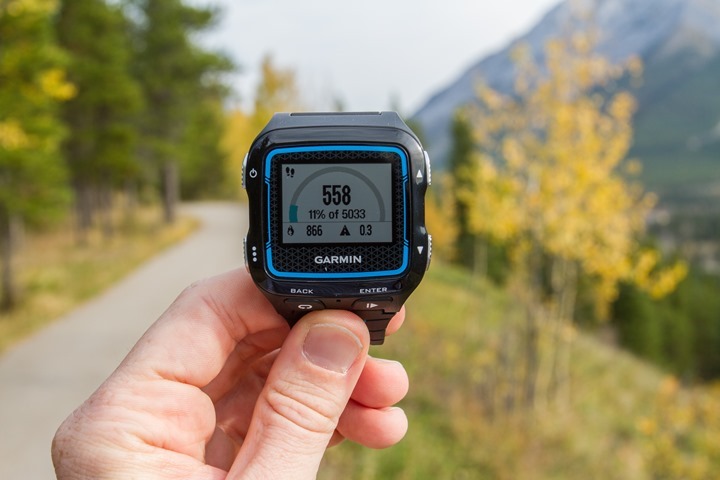 The FR920XT adds to it all of the common daily activity monitoring/tracking functions found in typical activity trackers like Fitbit and Garmin's Vivo line (Vivosmart, Vivofit).  These metrics include daily steps, step goals, distance walked, calories burned, and sleep.  Most of these specific metrics will also be transmitted to Apple's Health Kit (which is semi-implemented right now).
You can see your daily activity on the above page, which shows your progress towards the daily goal, as well as metrics related to that.  This page is accessible from the lock screen by just pressing the up/down side buttons.  Like other Garmin Vivo devices, the step goal is dynamic and will shift slowly from day to day depending on your step count trending.  Thus if you walk more, the goal will increase.  If you instead watch more Ironman Kona TV marathons, the goal will likely decrease.
Additionally, the unit includes a move alert, which will trigger if you've been sitting idle too long – a reminder to do something.  You can always override the goal setting, as well as simply turn off activity tracking altogether.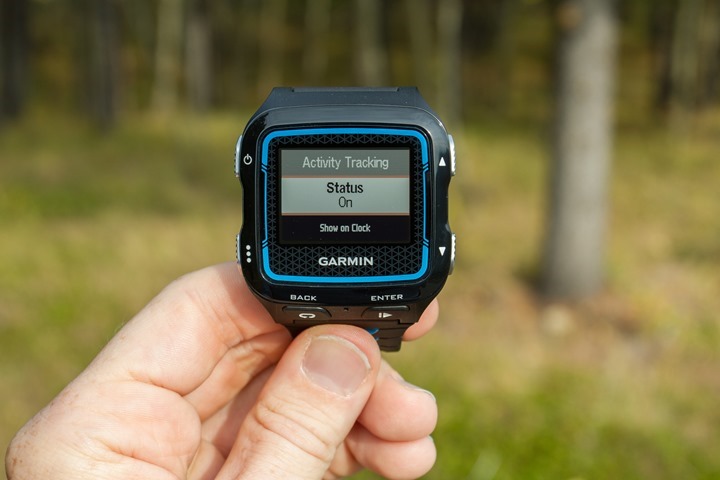 The new activity monitoring function is also directly accessible on the watch-face home page.  The watch mode is now accessible 24×7 in non-GPS mode for 33 days without having to re-charge the battery.  And if you have activity monitoring and smart notifications enabled, it's about 30 days of battery (1 month).  If you turn off activity tracking, you'll get 4 months in straight watch-only mode.
This is a significant change from the FR910XT in a lot of ways, but most notably in that it didn't offer a regular watch mode at all.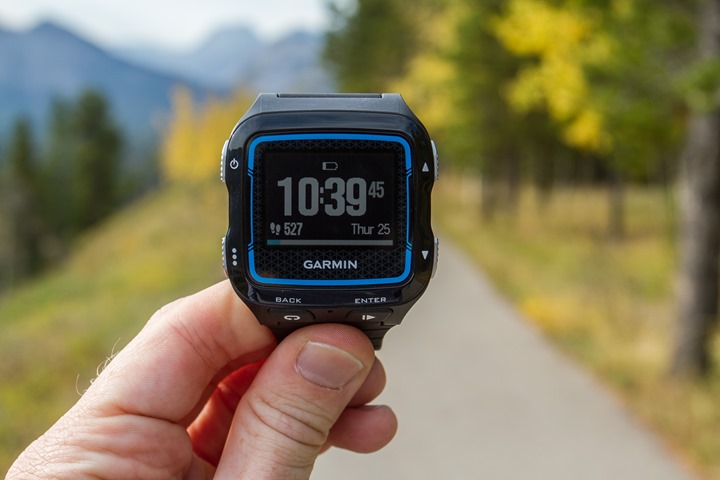 The unit also supports the creation of a single time alarm, to help you wake up at 4:45AM for that joyous morning swim session (or not, as in my case).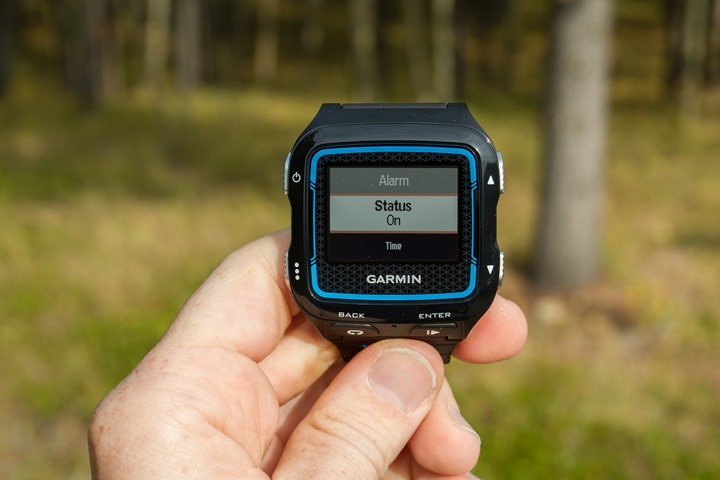 Now I will say that when it comes to the endurance athlete, sometimes less is more here.  Meaning that if you've gone out and done a 120 mile long ride followed the next day by a 20 mile long run, it's quite likely that the end-state goal shouldn't actually be to hit 10,000 steps for the next day.  Instead, recovery is likely a better approach.  In that respect, Garmin doesn't quite seem to have the same cohesive picture of activity total (including steps) vs recovery that the Ambit3 has.  I'm not sure if it's a significant loss as the FR920XT still has recovery time inclusive of those activities you do in sport modes.
Wireless Connectivity (Bluetooth/WiFi), Smartphone Notifications, Live Tracking: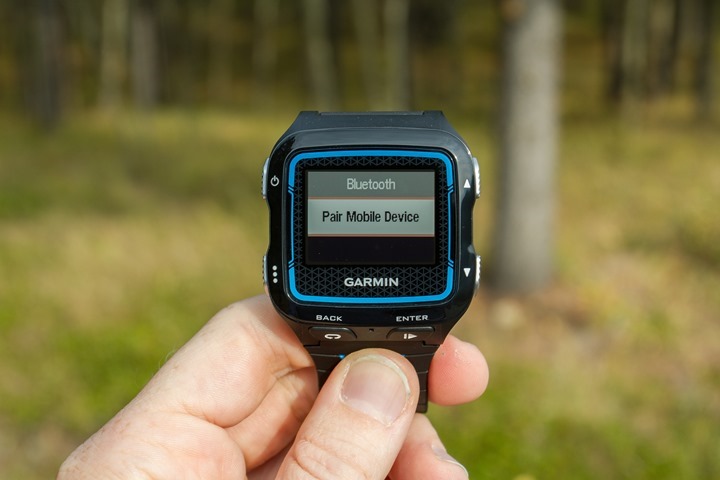 The FR920XT adds in all of the wireless capabilities found on the FR620 that was released roughly a year ago.  That means it starts by adding in Bluetooth Smart phone connectivity.  This connection to Android and iOS phone allows for the following functions:
– Live Tracking
– Completed workout uploads
– Transfer of Step/Sleep data
– Ability to transfer scheduled workouts
– Firmware updates
– Course transfers
– Satellite pre-population data
– Smartphone notifications
Smartphone notifications enables your iOS or Android device to send notifications to the unit from apps or services.  For example, incoming calls or text messages, or an update from Twitter or other critical apps like Words with Friends.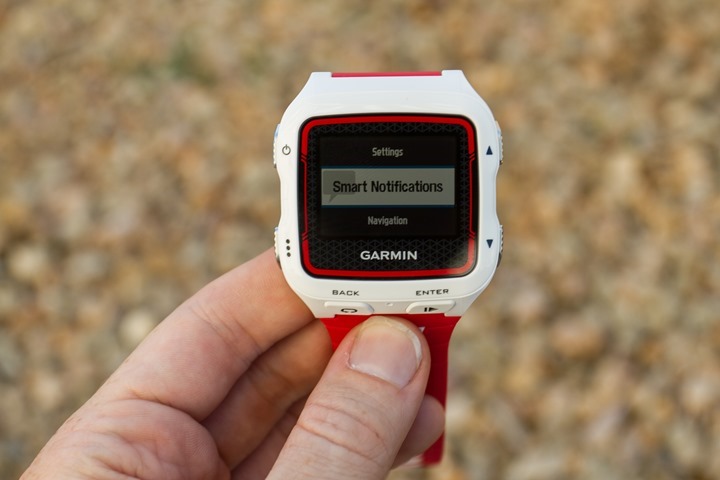 Live Tracking enables you to send your current location as well as ANT+ data (like heart rate, power, cadence) via your phone to friends and family tracking you.  They'll see where you went and where you are.  This feature works exactly like the FR620 (rather than the Fenix2) in that it does allow concurrent ANT+ data transmission and recording a swell as location transmission via Bluetooth Smart.  Note that some races prohibit the use of cell phones, so you'll want to double-check that before you get DQ'd.
In addition, some connected features are also available via WiFi.  For example completed workouts can be uploaded via WiFi, as well as download of firmware updates and satellite pre-population data.
Satellite pre-population data (officially known as EPO, Satellite Ephemeris), allows the unit to predict satellite locations and thus allows for super-quick satellite reception, typically within 10 seconds or less.  So yes, just like in EPO doping, the EPO for these devices makes it faster too.
In using units in three different global locations, I found that all three picked up satellites within 10 seconds, and in one case the unit hadn't been turned on in that country previously.  The EPO data can be downloaded for 7 days in advance.
(Update: Apparently not, this page seen below was only on one beta unit I happened to grab photos for.) This information can be quickly checked via a handy little page in the settings menu, showing you the current age of the EPO data, and when it expires.  Sorta like the date stamp on a gallon of milk: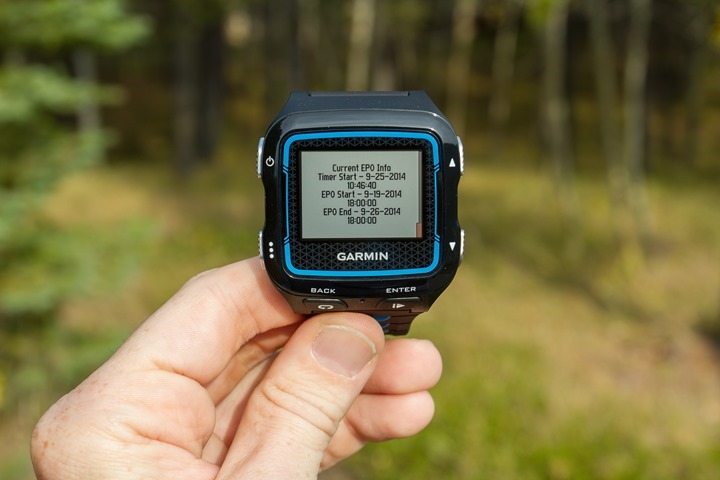 Anytime you connect the device to your phone, WiFi network, or computer (with Garmin Express installed) it'll automatically pull updated EPO information.
Running Dynamics, VO2Max, Recovery Advisor, Race Predictor: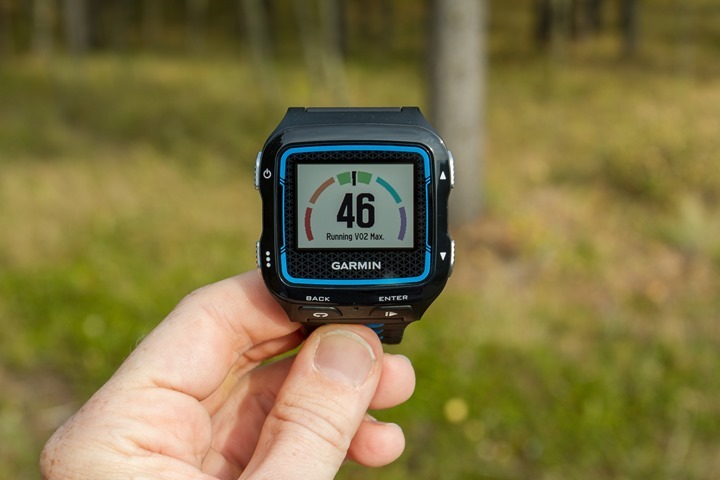 The FR920 adds in many of the same functions found initially in the FR620 and then in the Fenix2/Fenix2SE.  For example, it now supports Running Dynamics, which is the collection of running metrics that include Vertical Oscillation and Ground Contact Time.  These metrics come via the HRM-RUN heart rate strap.  The strap also provides cadence, however, the unit itself will do wrist based cadence without any heart rate strap.  And further yet, if you have a footpod you can get cadence there too.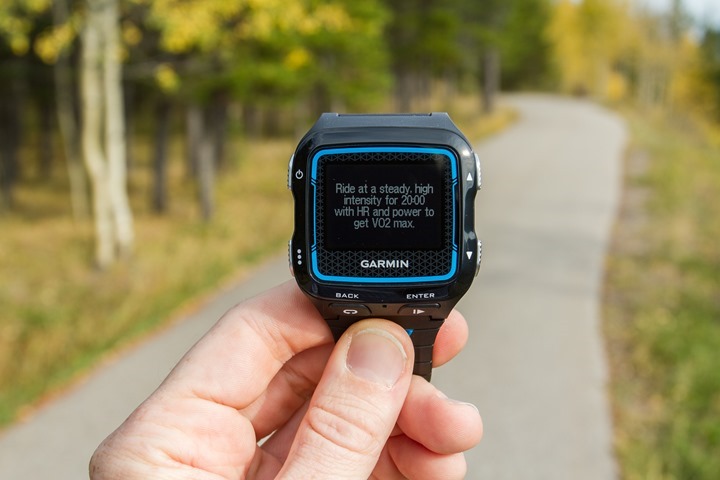 In addition to Running Dynamics, the unit supports VO2Max estimation on not only running, but also cycling.  This is the first Garmin unit to support VO2Max estimations on cycling.  To get such estimation, you'll simply do your normal rides.  Ones with slightly more intensity will help give more accurate results however.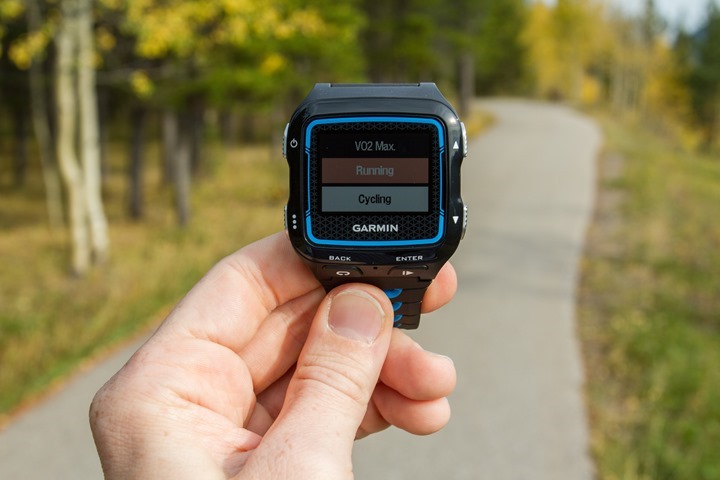 Next, there's Race Predictor.  This takes the estimated VO2Max values and then corresponds it with data for your particular gender and age from the Cooper Institute to determine the theoretical best case time for a given distance.  Note that this doesn't mean you've trained enough to do so, but rather just that your VO2Max would allow you to do so.
Additionally, for astute readers, you'll note that these figures below are a bit low for me.  This was just on a watch I happened to borrow, so the numbers were for someone else.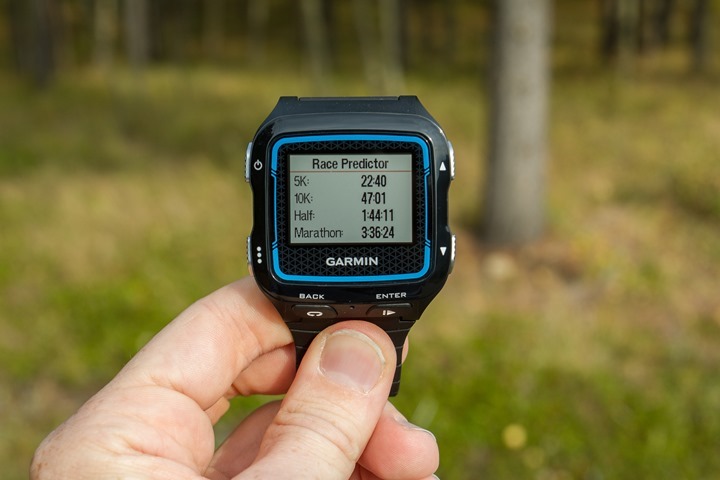 Finally, there's Recovery Advisor and Recovery Time.  These aim to give you information about how quickly you're recovering.  Recovery Advisor will display about 6-10 minutes into an activity and let you know how recovered you are from your previous workout.  I'm interested to see if this has improved over the FR620, which I found is 'too nice', and rarely tells you that your recovery is 'Poor' (ok, never tells you that).  Note that Recovery Advisor will not use step activity from the activity monitor, but only heart rate based activity data.  This is because it's looking at heart rate variability to determine its results.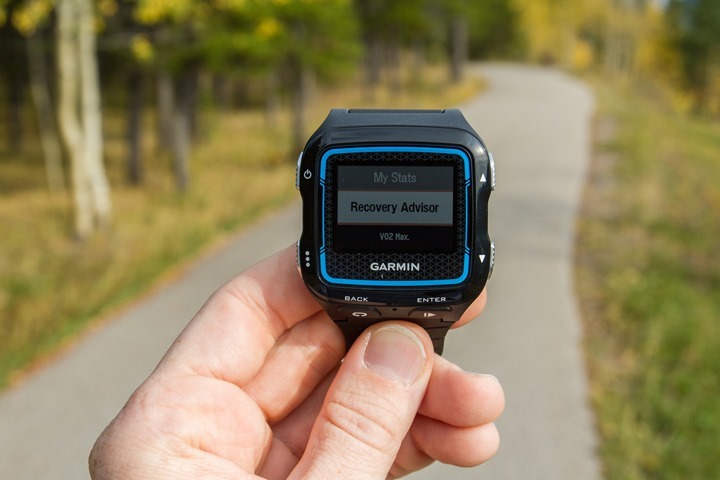 Meanwhile, Recovery Time is a post-workout thing that tells you how much time it'll take to recover from that workout.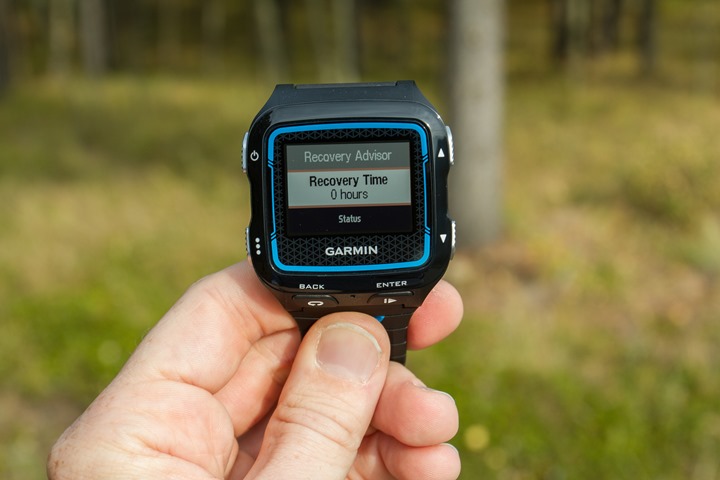 For multisport athletes the recovery time should best be judged more along the lines of 'how much time until the next really hard workout', rather than just any workout.
Training Calendar, Racing an Activity (Virtual Racer):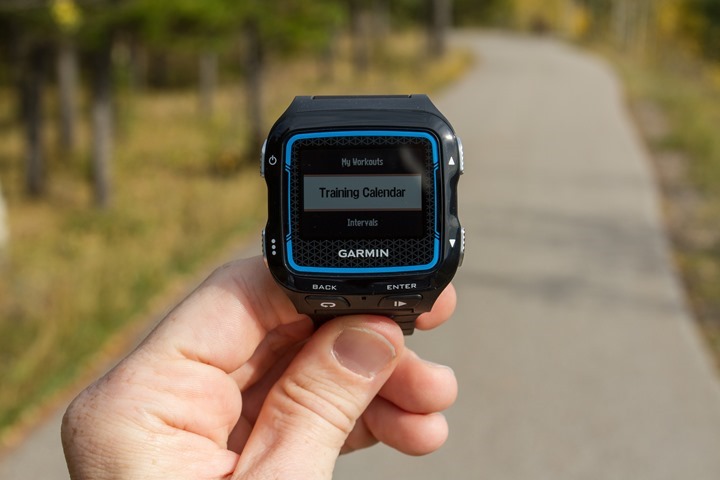 The FR920XT carries into it the Training Calendar, which allows you to download training plans and scheduled workouts from Garmin Connect into your watch.  These workouts are sync'd each time you sync your watch, and then can be executed on the watch itself.  They are always structured workouts with specific steps.  On Garmin's site it offers specific training plans for different running, cycling, and triathlon events.  These training plans comprise specific workouts for certain days of the week that will then appear on your watch to complete on that given day.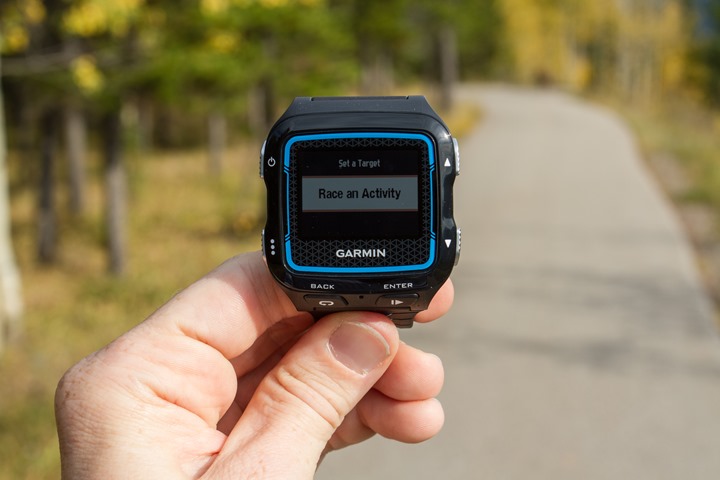 Next, is 'Race an Activity', better known as 'Virtual Racer'.  This feature took a bit of a break within the FR620, so it's good to see it's not been cut from the FR920XT.  In the case of the FR920Xt, it's been expanded a little bit however and split into two specific sections.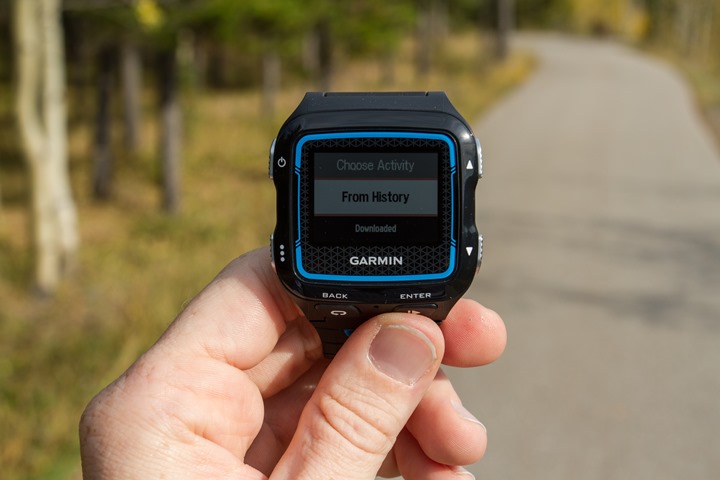 First is the ability to race your past efforts that happen to be on the watch.  For example, if you run the same route each week you could race last week's effort.  It'll then show where you are in relation to that time last week during your run.
Secondly, you can now easily send other activities (not yours) to the watch.  For example, you could send a Pro Athlete's training or racing file to your Garmin (assuming they've set that activity file as public), and then race against that.  The same could be done from family or friends for given routes/races.  For example, I could go run a 39 minute 10K on a specific course with specific speed sections, then give it to The Girl to go execute and follow the same pacing.
Indoor Treadmill Mode, Metronome: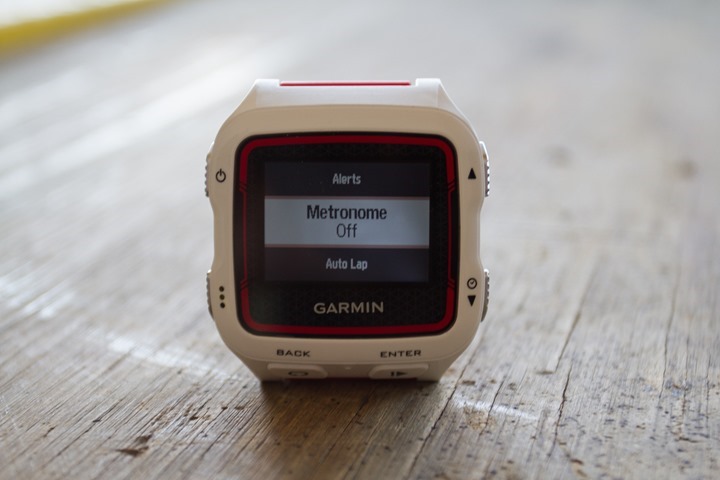 The FR920XT follows the FR620 and adds an indoor treadmill mode that doesn't require a footpod to be utilized to gather pace and distance.  This means you can get both metrics indoors (or in places with no GPS signal like tunnels) without paying extra for a footpod.
Of course, the accuracy of such technology for pace tends to be a little…variable.  I haven't had a chance to test the FR920XT's treadmill accuracy, but in recent tests on both the Fenix2 and FR620 (which uses the same technology), I'd give the accuracy a 'B+' grade.  Sometimes it's better, sometimes it's worse.  It's rarely (never) perfect for me, but each person has different running styles.  It'll be something I'll be testing in more detail in my in-depth review.  For cadence data (also gathered from the wrist by default), I find it virtually spot on.
Next, Garmin has added one feature completely out of left field – which is the metronome.  This functionality allows you to set a specific beat, typically a run cadence, which can be used for anything from running drills to trying to maintain a specific stride rate.
Within the feature you can set the specific cadence and it'll beep just like a traditional metronome would.  You would then align your footsteps to that.  You can also set an Alert Frequency, which will allow you to reduce how often the beat happens, such as every 2,3,4, or 6 beats.  Further, you can at any time hold down the menu button and select 'Mute' to tell the metronome to STFU.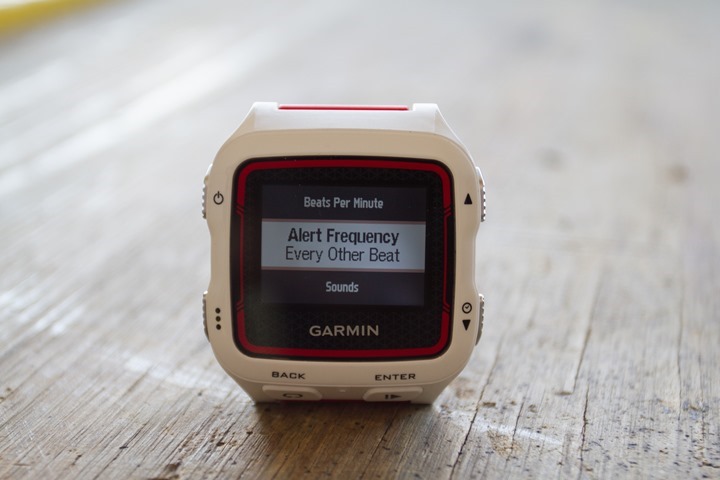 Generally speaking there's a strong link between running cadence and running efficiency.  This is interesting because this falls inline as a component that could be used to actually improve the Running Dynamics metrics you get.  I've often lamented that Running Dynamics metrics were more about marketing fluff than actual beneficial things that were/are scientifically proven based on a training methodology.  With the metronome you could leverage that for various drills and/or focus on running turnover.
Swimming Features: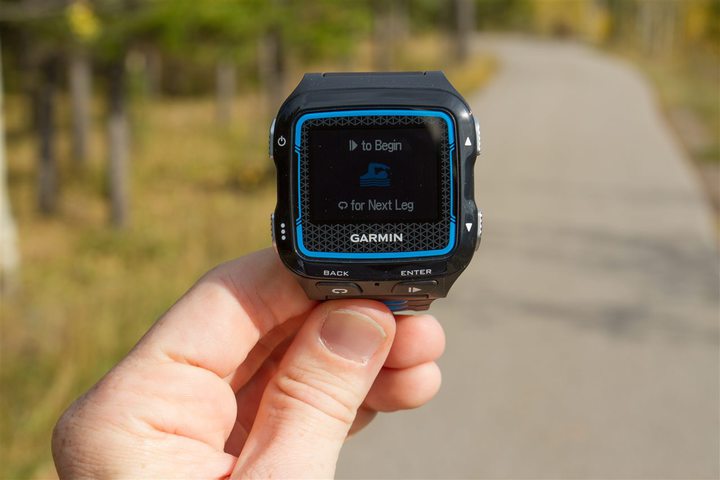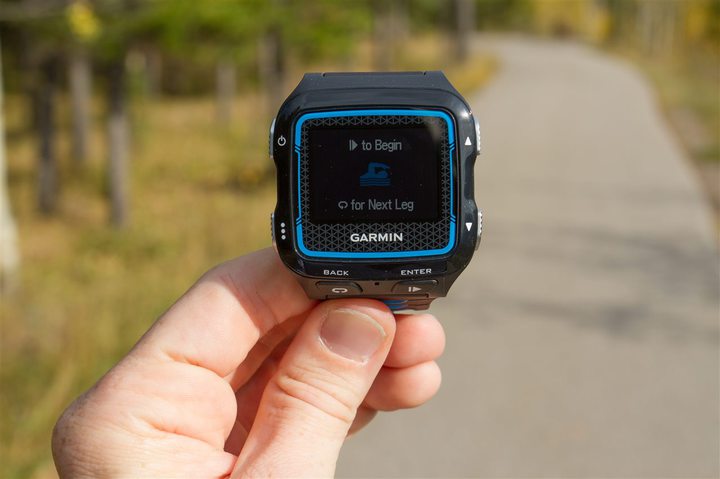 There's been a few minor swim enhancements.  First is that the unit now adds the Swim Drill mode that was found in the Garmin Swim watch (and on the Fenix2 watch).  This mode allows you log drills that might not be easily recognized by the watch, and then simply lets you enter a total distance for those drills.
The second item is a more clear interval/rest timer for swimming.  This makes it a bit easier to see how long the previous interval was and then what your current rest time is.  This is useful so you can setup a timer for how long your rest should be and then keep each set consistent.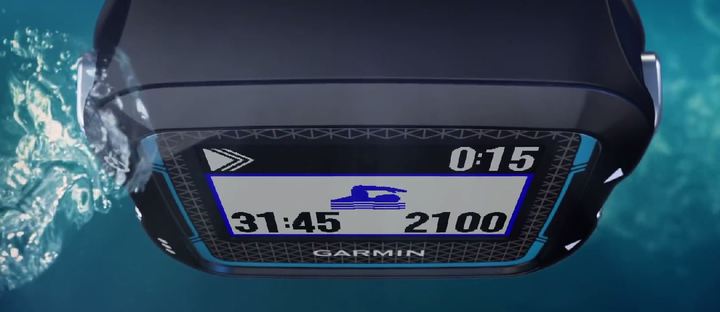 Note that it doesn't add full pre-defined structured workout support for swimming however like in running or cycling.
Sensor support, VIRB Action Cam Control, Activity Profiles:
The FR920XT largely keeps the status quo when it comes to sensor support, which means it natively supports the following ANT+ sensor types previously found on units:
– ANT+ Heart Rate sensor
– ANT+ Bike Speed Sensor
– ANT+ Bike Cadence Sensor
– ANT+ Bike Speed & Cadence Combo Sensor
– ANT+ Bike Power Meters
– ANT+ Running Footpods
In addition, it also adds support for this new type of ANT device:
– Garmin VIRB action cam control
With that, the unit can now control your Garmin VIRB action cam, such as starting/stopping recordings as well as taking photos from it.
It does not at this time support either the Edge Remote, or Shimano Di2 data recording like the Garmin Edge 1000 does.  Nor does it support the ANT+ weight scale (a loss from the FR910XT) or the rarely seen Fitness Equipment (ANT+ enabled gym treadmills/bikes/rowers).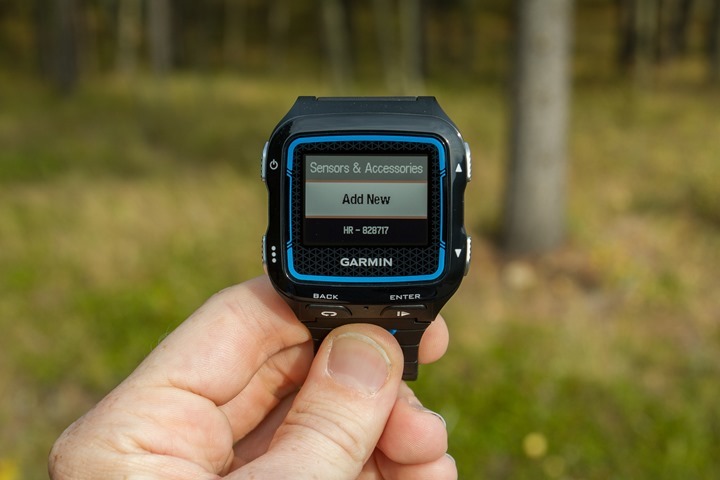 Note that the unit officially supports the above ANT+ sensors, as I discuss in the section at the end around Garmin Connect IQ, it can now effectively support any ANT devices out there via custom apps and data fields.  Thus, devices like BSX, Moxy and even the ANT+ weight scale could be added by 3rd party developers with relative ease.  I would expect to see that occur pretty quickly by some 3rd party developer.
Also note that the FR920XT does not support Bluetooth Smart sensors, thus while there is Bluetooth Smart within the unit, it's used for connecting to the phone and not for sensors.  In discussing this with them, Garmin has "no plans" to enable Bluetooth Smart sensor support on the FR920XT.
Next, the FR920XT adopts the Activity Profile concept found on the Edge 510/810 and then in the Edge 1000.  In the case of the FR920XT, it aligns more to the Edge 1000 variant as it includes the sensor pool concept.  This means that instead of having to manage sensors separately for each bike, you simply pair all your sensors.  Then, you define specific activity and multisport profiles.  You can have up to 10 single-sport profiles, and 5 multisport profiles.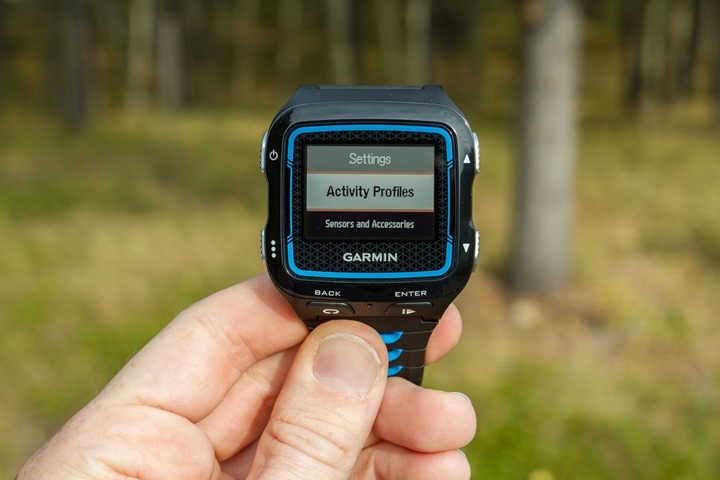 The unit will automatically use whatever ANT+ sensors are enabled when you start that profile, just like the Edge 1000.  This actually works out fairly well and allows you to easily create a different set of data pages for training than for racing.  Or perhaps yet another set different for a running race (single-sport) than a triathlon (multisport)
Navigation & Courses, UltraTrac mode, Satellite changes: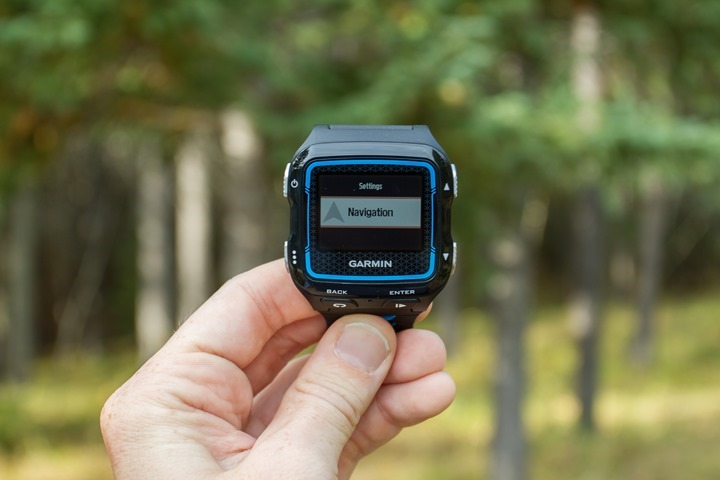 The FR920XT brings with it the navigation features found on the FR910XT (but not found on the FR620), while also adding in an UltraTrac mode found on the Fenix series, and then finally adding in support for GLONASS for increased GPS accuracy in some environments (note: WAAS is not included).
The navigation component has two core areas.  The first is to follow downloaded courses (routes) that you created ahead of time on Garmin Connect and then synchronized to the watch.
The second is more ad-hoc navigation.  In this scenario you can navigate back to the start, while also saving waypoints along the way.  So you could save a waypoint for the start of a trailhead (or where you parked your car), and then navigate back to it (or forward to it).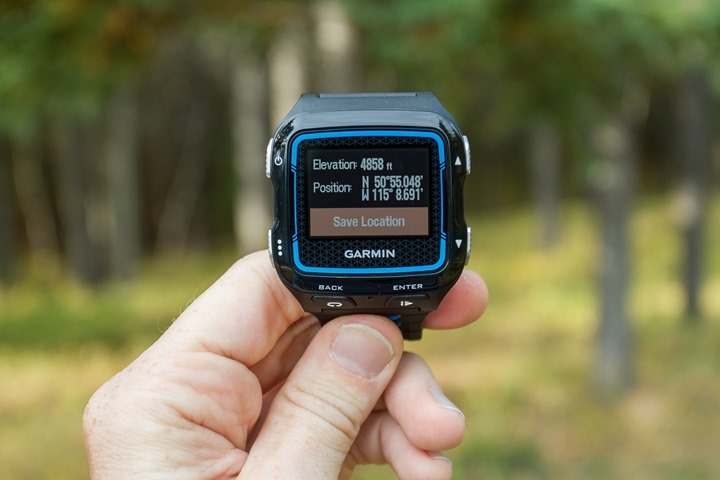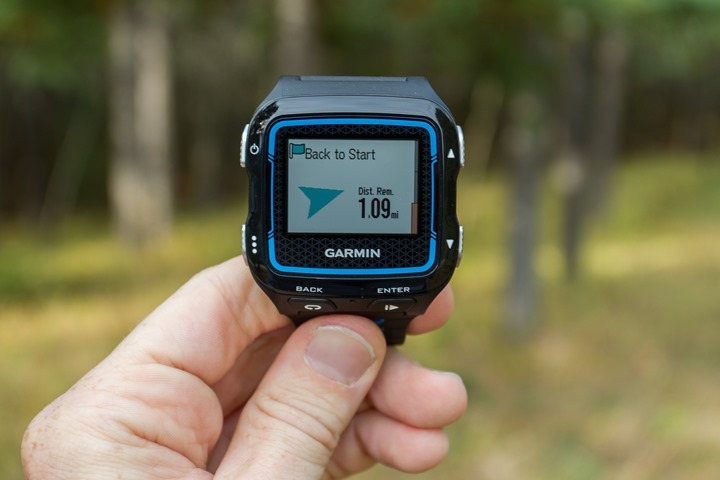 In this mode it'll show you exactly how far you are away from the waypoint.  It was here that I was fairly impressed with the satellite accuracy shown on the device.  As I stayed put to where the marker was, the accuracy of the unit stayed within 1-3ft (not meters, but feet).  Then as I walked away it increased, and walked back to the same spot it went back to those 1-3ft.  Garmin notes that they made changes to the antenna placement and positioning on the unit that should offer increased satellite performance.
All of this navigation also utilizes the units onboard magnetic compass.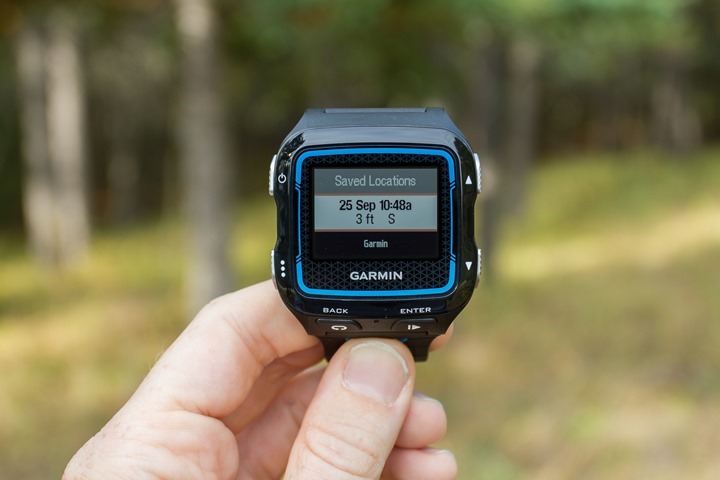 As noted, the unit also supports GLONASS, similar to some of the newer Edge devices like the Edge 1000.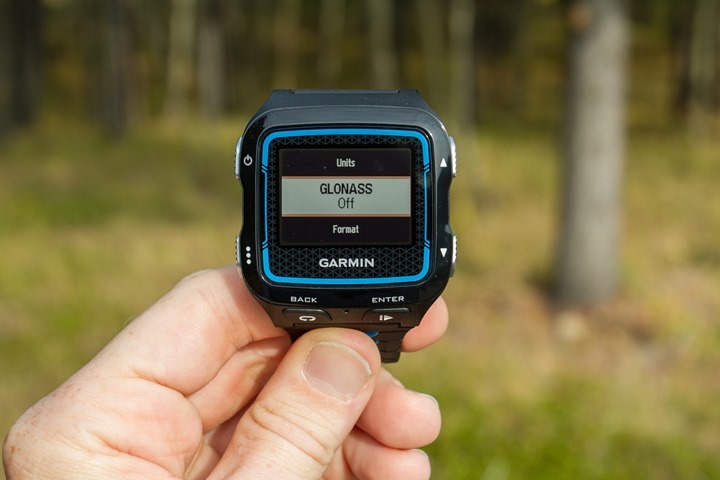 Next, the unit adds in an UltraTrac mode.  In this mode you can reduce the GPS recording rate down to a less frequent rate, but enables you to get upwards of 40 hours of GPS-on/recording battery time.  Outside of that, it's now 24 hours of 1-second recording GPS data (a bump up from the previous 18-20 hours).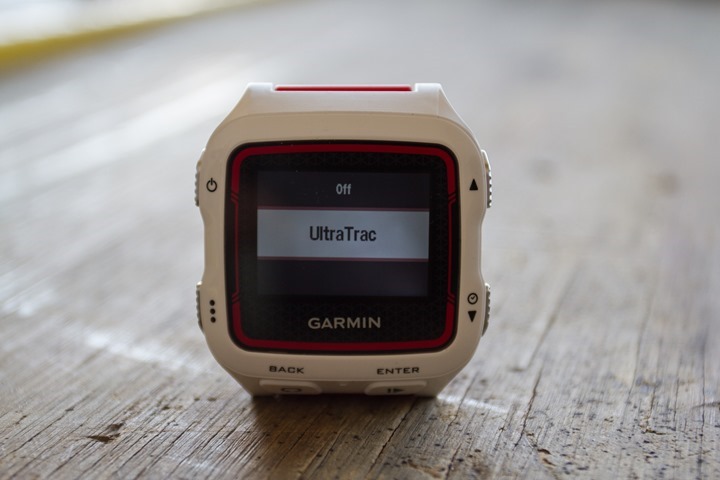 When in the UltraTrac mode you will see reduced data points however, so you'll want to use this only in cases where your single activity is going to be more than about 24 hours. Otherwise, you'll lose a lot of data/accuracy due to the reduced recording rate of approximately 15-20 seconds on, and 40-45 seconds off, per minute.  The approach is slightly different than the past, because it's more dynamic than previous units which simply jumped up and grabbed a data point every 60 seconds and went to sleep.
Further, unlike like previous units the FR920XT will record ANT+ sensor data at the same 1-second or smart recording rate in UltraTrac mode.  The UltraTrac only impacts GPS updates.  This is potentially huge for ultra runners that want to maintain that additional sensor data, but don't mind as much on the GPS track being less accurate.
Garmin Connect IQ Apps Support: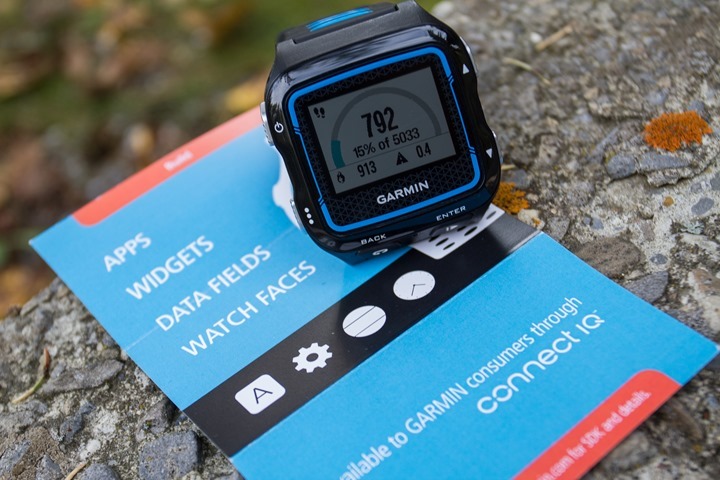 Last week Garmin announced Connect IQ, which allows 3rd party developers to develop apps for supported Garmin devices.  At the time of the announcement though, no such devices had been announced – making the announcement slightly…intriguing.  The FR920XT however will be the first device to support Connect IQ apps.  The unit will support all four modes of apps.  These modes are:
Apps: Full blown multi-level/interactive apps
Custom Data Fields: The ability to create custom data fields that you can add to any data page
Widgets: The ability to create basic screens that pull data from other sources
Watch Faces: The ability to create customized watch faces, from a picture of your bike to something more data oriented.
The real power for the FR920XT will be the ability to support sensor types that aren't traditionally supported by Garmin.  For example, I'd expect that someone like BSX would look at adding in support for their sensor via a simple app.  The same could be true of anything from hydration sensors to aerohelmet position sensors.
I won't re-hash all the Connect IQ functionality/components here, for that simply read last week's post for all the details.  Note that the Connect IQ app store doesn't launch until January, so you won't see that functionality quite yet on the FR920XT.  However, developers can already download the SDK and there will be an updated emulator that's clearly marked as the FR920XT soon (though, the default rectangle one is actually the FR920XT already…).
Garmin Connect Changes: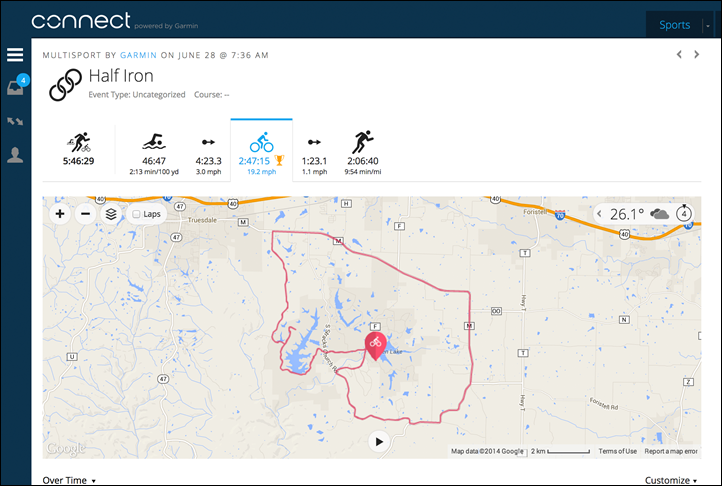 In addition to a slew of hardware changes, Garmin is also rolling out changes to Garmin Connect, one of which is specifically aimed at the triathlon crowd.  That change is the addition of a new Multisport display mode for triathlon data on Garmin Connect.  Currently (or, I suppose previously), the triathlon watches would split up each segment of your race/training day into separate activities.  So one file for swim, one for bike, one for run, etc…
This made it somewhat complex to see the triathlon as a single cohesive event.  Now, that's changed.  For Garmin FR920XT, FR910XT, FR310XT, and Fenix2 and Fenix2 Special Edition users, the new activity view allows you to see your triathlon as a single activity: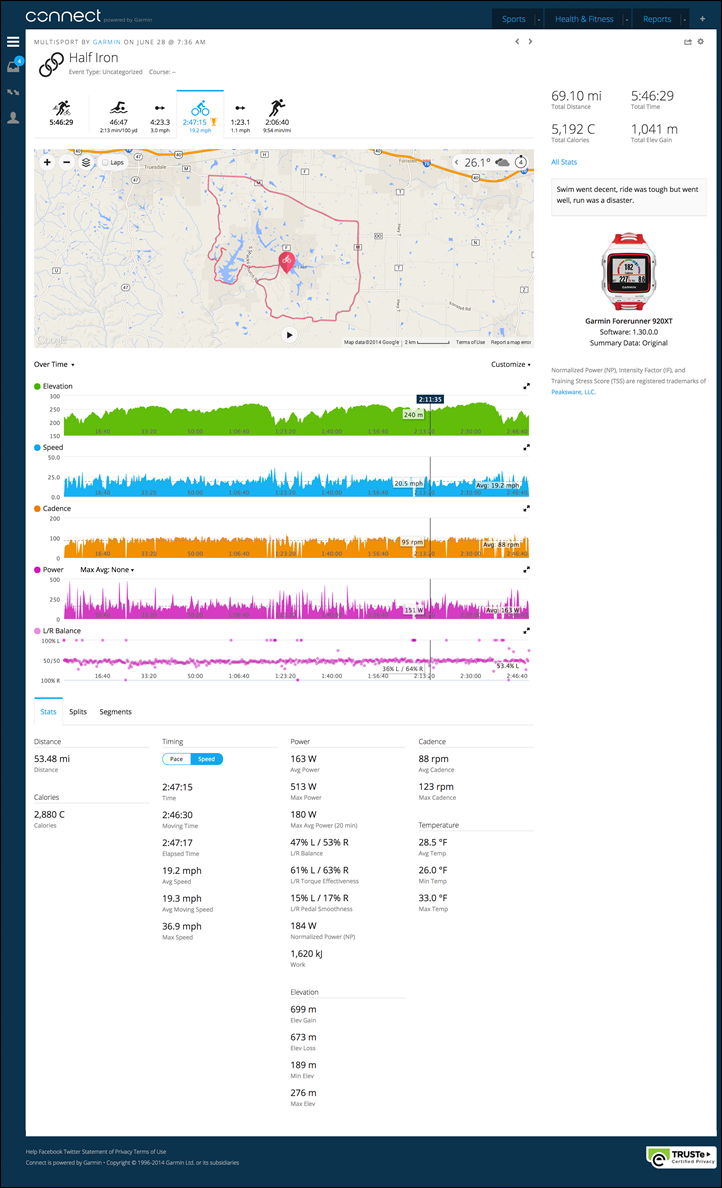 You can still view each individual leg if you'd like to, but this gives a cleaner picture of things.  My understanding is this change should go live sometime today on the site.
In addition to this, Garmin has tweaked a few other areas.  First is a new activity detail page.  The new page cleans up the view a bit and includes a larger map and then consolidates the player feature that was on the second tab, as well as now shows cumulative lap times.  I haven't spent time with this new view, so it's unclear to me yet if other things were 'lost' as part of it, for that we'll have to dive into it later today.
Next, there's now the ability to group different activity trackers together to determine which data you want from which devices.  For example, you could have step data from the Vivofit, whereas have running data from the FR15.
Finally, there's a new Group Leaderboard that ties into mileage and step goals.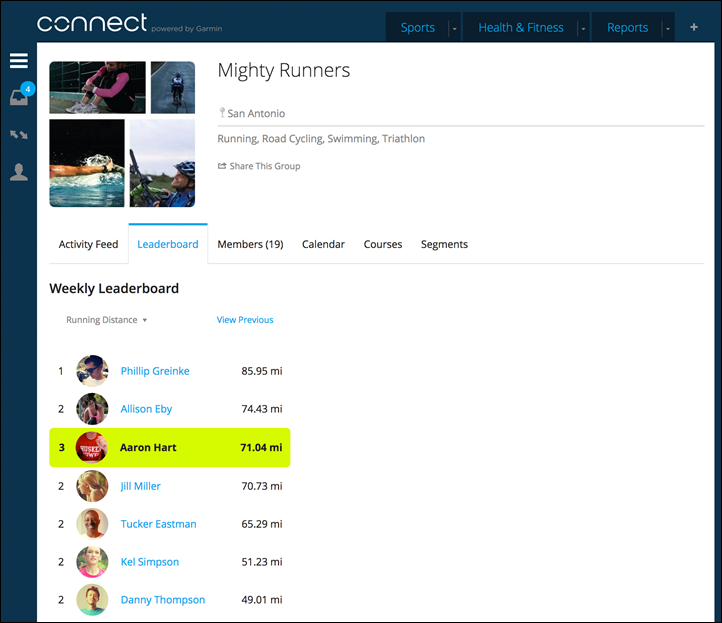 This is primarily aimed at being more social with your daily activity amongst friends on Garmin Connect.
Product Comparison Charts:
I've added the Garmin FR920XT to the Product Comparison Tool, which means you can mix and match it against any other watch's/unit's that I've ever reviewed for feature comparisons.
For the sake of simplicity, I've just selected the Garmin FR920XT, FR910XT and Fenix2.  However, you can easily make your own chart with any device you want here at this link.
The tables are updated dynamically and thus if/when things change that's represented automatically in this section.  And again, remember you can create your own charts easily here with any product you'd like.
Wrap-up: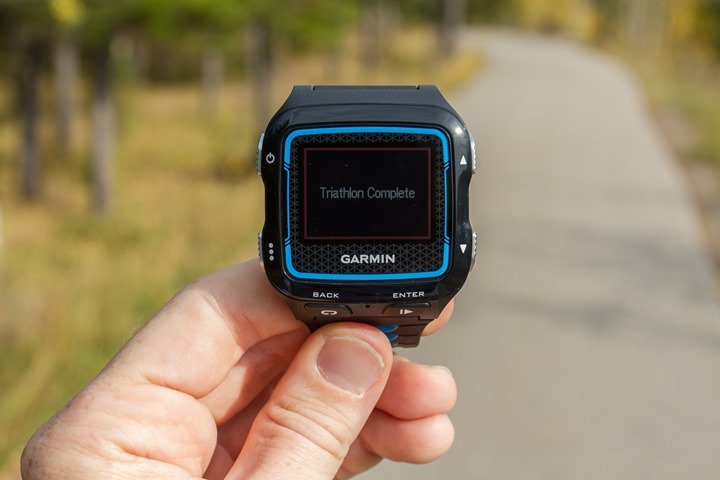 There's no doubt considerable new features in the FR920XT.  I suspect it hits almost every feature people have been asking for, short of heart rate recording while swimming and Bluetooth Smart sensor support.  Even more exciting in my mind is it will be the first device to support Connect IQ apps, which opens the door to tons of creativity for apps that people are already thinking about – but also apps people haven't even considered.  For example I suspect we'll soon see people writing custom alerts and apps for remembering to take your hydration and nutrition during a race as well as even queue sheets for sections of a race on guidance.  So much incredible potential there.
Of course, the proof will be in the pudding when it comes to validating there aren't teething pains with the new device – be it stability issues or GPS accuracy issues.  For that, I'll need the remainder of the month with a production unit and production firmware.  I can only hope that Garmin used the extra time they spent moving the previously planned release dates out from various earlier planned dates that the unit got extra testing and bug squashing.  It hopefully helps that Garmin enlisted a group of athletes outside the company to beta test the device since this past spring.
As for availability, a semi-small number of units will be available at Ironman Kona (next week).  Beyond that there are extremely limited numbers of units available globally for the next few weeks before production is significantly ramped up.  Thus, expect that it might not be until at least mid or late November that Garmin is able to get through a backlog (or even longer).  The whole early bird and worm thing is definitely at play here (just like it was for the FR620 running watch last year).
Next, the unit does see a slight bump in price to $449US for the base, and $499 for the version with the HR strap.  I suppose this might be to match both Suunto and Polar triathlon watches which have higher prices (yet those units arguably have far less features).
Finally, as noted a moment ago, I plan to spend October putting the final unit through it's paces.  I've got a very accommodating work travel schedule that takes me to the perfect places that I need so I can easily get in the openwater swims, bricks and other triathlon focused activities that I need to beat the crap out of the device.  Thus, expect a full Garmin FR920XT In-Depth Review the first week of November, just in time for me to decide whether or not the unit makes the cut for my 2014 Fall/Winter Sport Device Recommendations.
With that – thanks for reading!  Feel free to drop questions below, and as usual I'll try my best to post answers.
—
Found things here useful? Wanna help support the site?
You can pre-order the Garmin FR920XT below now via Clever Training, which helps support the site and makes posts like this and other reviews possible.  They also have all the other FR920XT accessories such as the quick release kit, extra colored straps and the like available.  Here's the link to the FR920XT pre-order page, you can use the drop-down menu on their site to choose which edition (with or without HR strap), and which color you want.