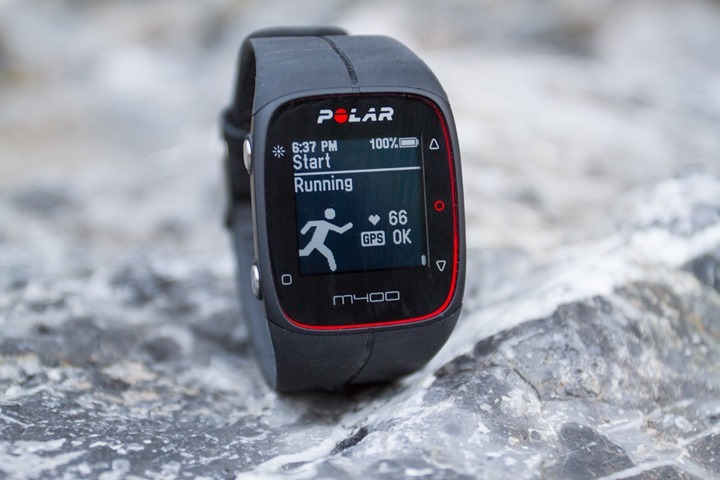 Today, Polar has announced their latest watch, the M400.  This running focused GPS watch also contains day to day activity tracking (i.e. steps and sleep) along with smartphone connectivity.  The unit priced at $179US/€159EUR, is very competitively placed in the market, significantly undercutting a number of models in the same segment as it.  It'll start arriving in stores in a couple weeks.
I've been using the unit for the past month as both as a day to day activity monitor as well as a GPS running watch, and thus have a pretty solid feel for things.  Because I'm on both a final production unit and final production firmware, I'm comfortable enough with where things stand to call this an in-depth review versus a first look.
To be clear, Polar sent me over an M400 to start testing with until retail availability.  Like always, I'll be shipping that back to them in Finland in the next little bit and going out and getting my own via regular retail channels.  That's just the way I roll.
Lastly, at the end of the day keep in mind I'm just like any other regular athlete out there. I write these reviews because I'm inherently a curious person with a technology background, and thus I try and be as complete as I can. But, if I've missed something or if you spot something that doesn't quite jive – just let me know and I'll be happy to get it all sorted out. Also, because the technology world constantly changes, I try and go back and update these reviews as new features and functionality are added – or if bugs are fixed. So – with that intro, let's get into things.
The Executive Summary: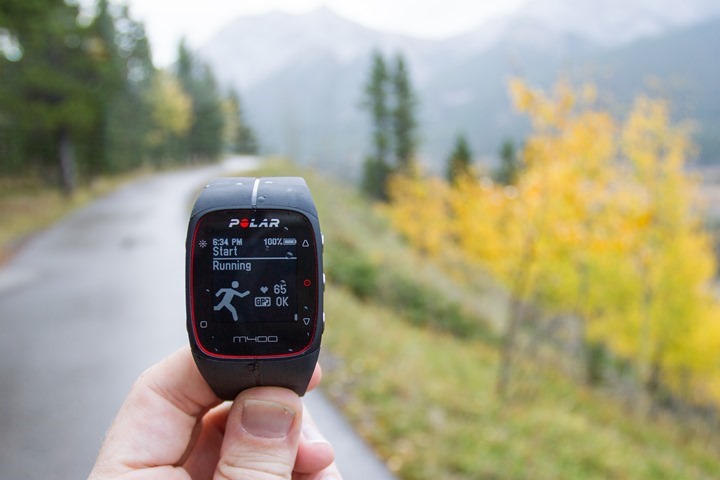 Looking for the quick and simple version of this review?  Here's the low-down of the M400.  As noted above it's Polar's second GPS watch that integrates activity tracking, following the much more expensive V800 multisport watch.  The M400 is designed as a runner's watch, but blends in support for other activities such as cycling and…horse back riding.  Given that it's a runner's watch however, it doesn't support cycling sensors, nor horse gait pods.
With the internal accelerometer the unit will track steps, distance, and sleep (along with calories), throughout your day.  It doesn't however use the internal accelerometer to give you cadence while running nor pace/distance on a treadmill – you'll need a footpod for both of those.
The battery life gets about 8-hours in GPS-on mode, like most watches in the category, and gets about three weeks in regular day to day watch time/activity tracker mode.
Like most Polar watches it includes a number of 'Smart Coaching' features.  However, one unique feature being introduced with the M400 is the Running Estimator option, which estimates how long it'll take you to complete your run of a set distance at the current pace you're running – thus taking the complex mid-marathon mental math out of the equation.  They've also added in PR support (Personal Records/Bests), which will tell you each time you break a new PR for a given distance/time/benchmark.
Lastly, the unit is well waterproofed at 30-meters, despite using just a standard micro-USB connector.  Though, while it is waterproofed, it won't give you heart rate underwater, as it only supports Bluetooth Smart heart rate transmission and not the analog frequency used on some of Polar's other water-friendly watches.
To get a feel for things I put together this quick walk-through video following my first run with the watch.  I go through all the major menu's as well as some of the mid-run functions.  Enjoy!
Overall, I think this is a very solid contender at a price point that's incredibly competitive compared to units like the Garmin FR220 (at $80 more) and the TomTom Runner.  After using it for about a month, I've really got no major complaints about the unit.  It exceeded all my expectations and does so at a sweet price.  Polar got it right here.
Unboxing & Versions:
The M400 comes in two color variants (white and black), and two package variants (with the HR strap, and without).  For the purposes of this unboxing, I have the black variant without the heart rate strap (I already had a HR strap).  However, I've also included photos of the white banded version as well.
To start, we've got a new fangled box design for Polar where you can actually see the product you're buying.  Very nice!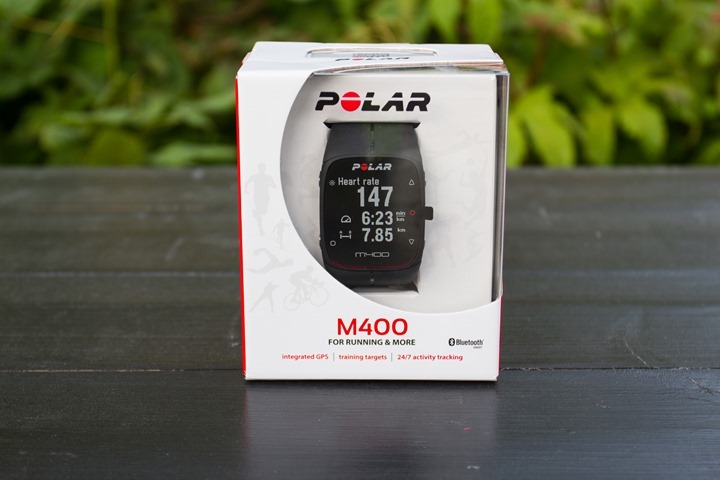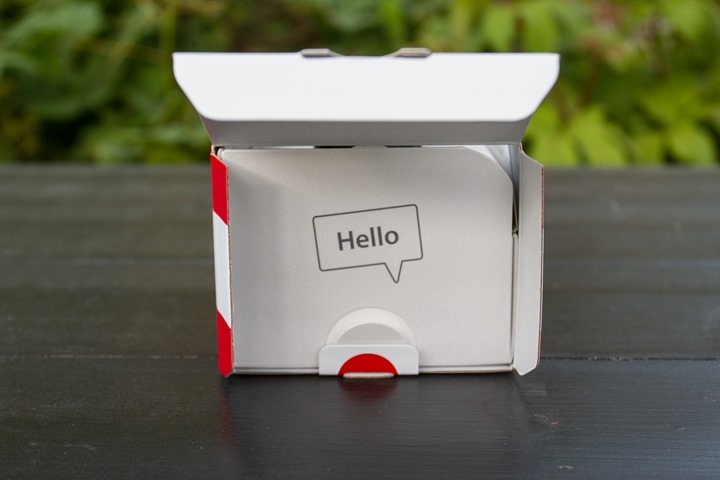 Inside, you'll have exactly two pieces of hardware, seen below.  They are the watch itself and the USB cable.  In the event you bought the heart rate strap bundle, you'll have that too.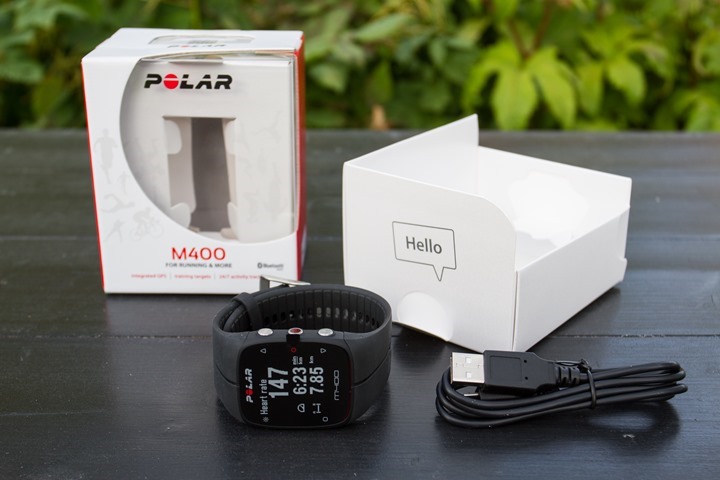 Here's a closer look: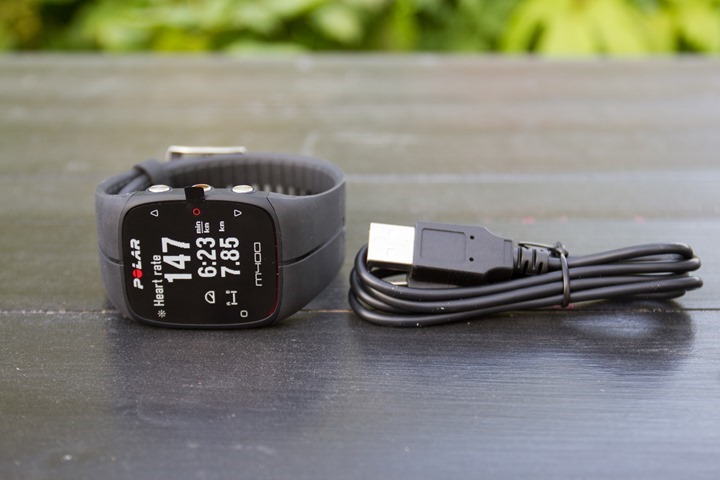 The watch as noted above comes in black or white, in my case I've obviously got the black version.  The strap is a bit different from past Polar watches, and almost feels 'soft'.  Sorta like one of those super-soft t-shirts.  It's kinda hard to explain, but the rubber is really nice (yes, it's strange saying that).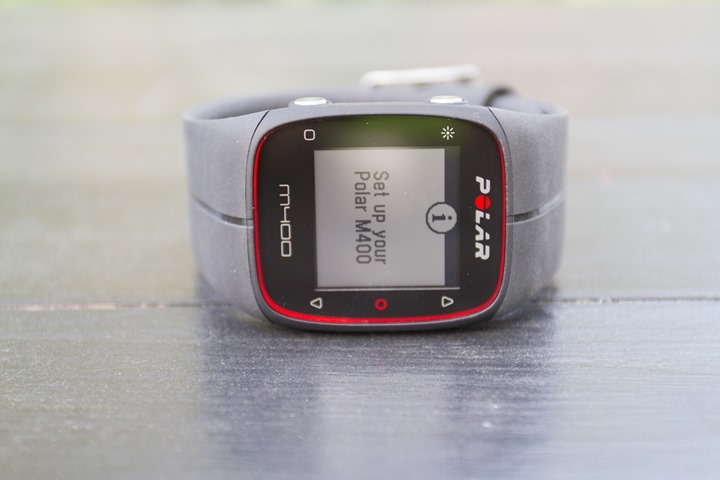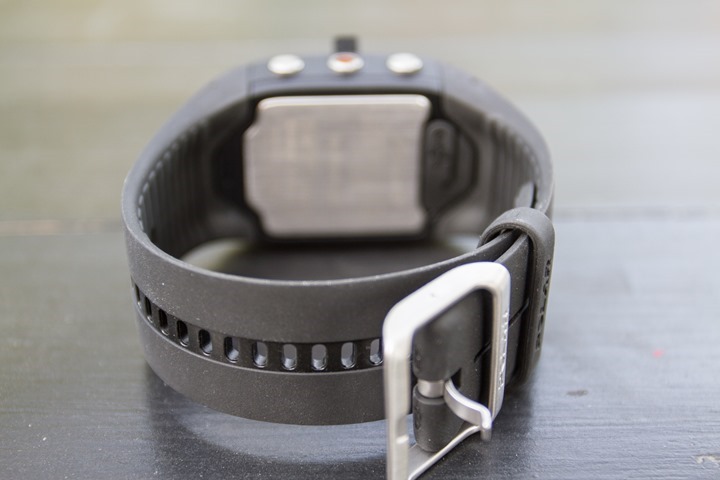 On the back you've got a standard micro-USB port.  While it has a small cover on it, the port is internally waterproofed to 30-meters.  Yes, thirty meters.  This specific internally deep-waterproofed USB port has been making the vendor rounds for a while now but nobody bit and actually put it in a product.  Definitely excited to see it show up here.  Typically internally waterproofed USB ports haven't been terribly awesome long term (past ones have only been rated to 1-meter at 30 minutes), so here's to hoping this new version is as awesome as they claim.
(Update Nov 2015: One thing we have seen a spike in during 2015 is failures of the USB port, primarily due to corrosion. Interestingly, in the October timeframe we started seeing Polar ship a slightly different USB port arrangement on the M400's. Whether or not it fixes things is still to be determined.  On the bright side, Polar has swapped out pretty much everyone's units without question.)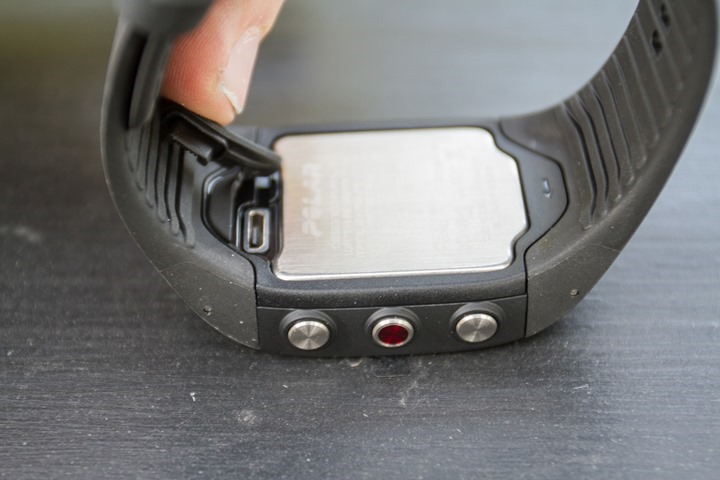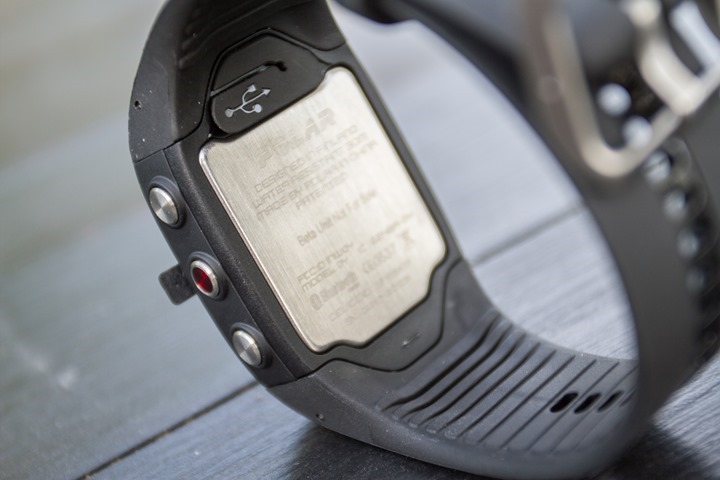 Oh and in case you're curious, this USB cable goes in that plug.  The other end simply goes to your computer, or any other USB port you'll find on this little blue marble of a planet.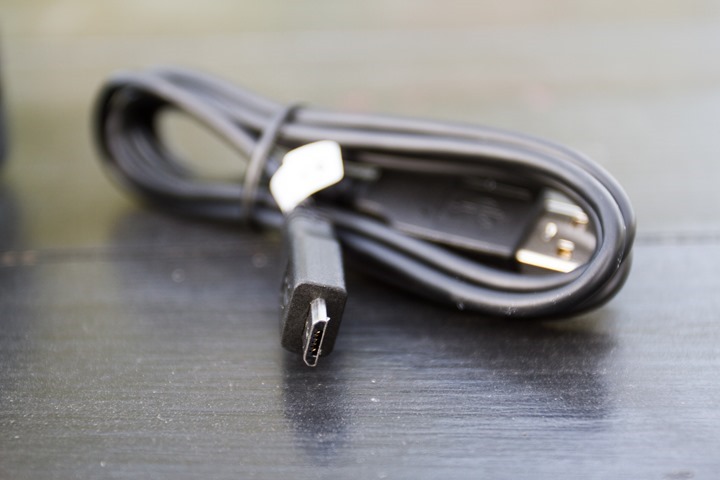 Looking at the screen on the unit, it's a 128x128px high contrast black and white screen.  It's incredibly sharp and identical to that of the V800, though with a plastic covering instead of glass: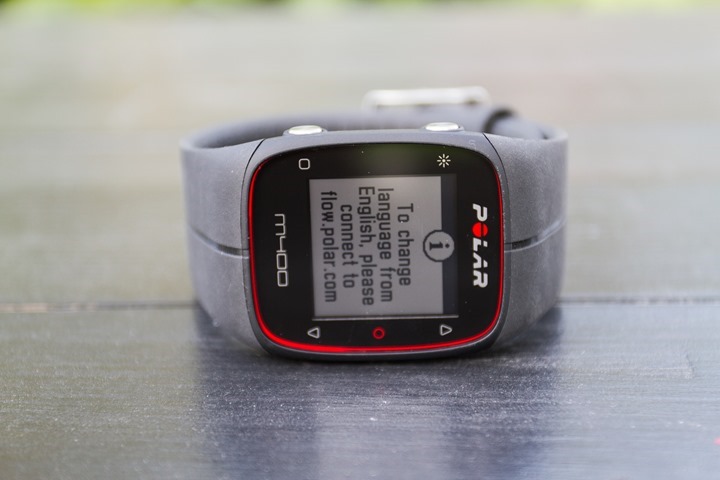 Lastly, for those who prefer a less dark watch, here's a quick look at the white variant of the watch: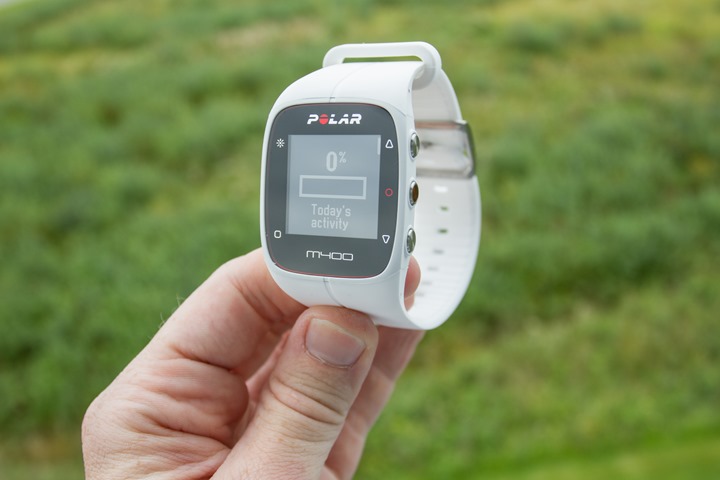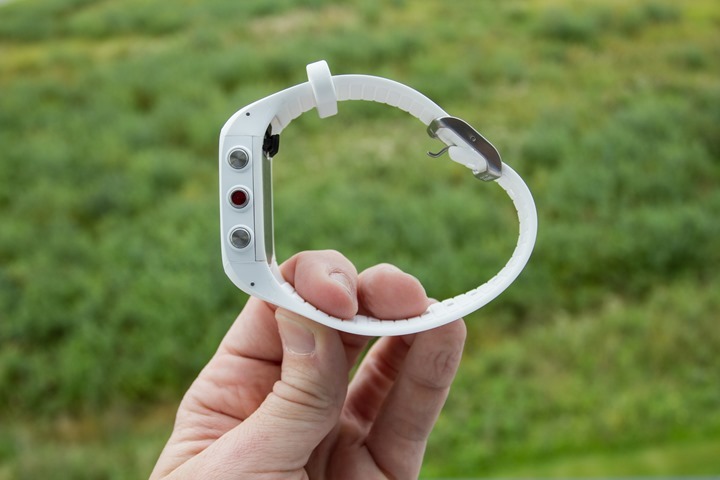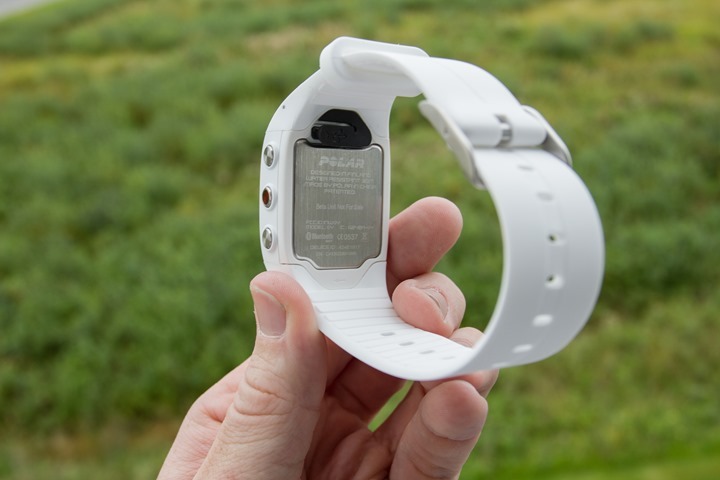 Next, let's compare some sizes and weights.
Size & Weight Comparisons: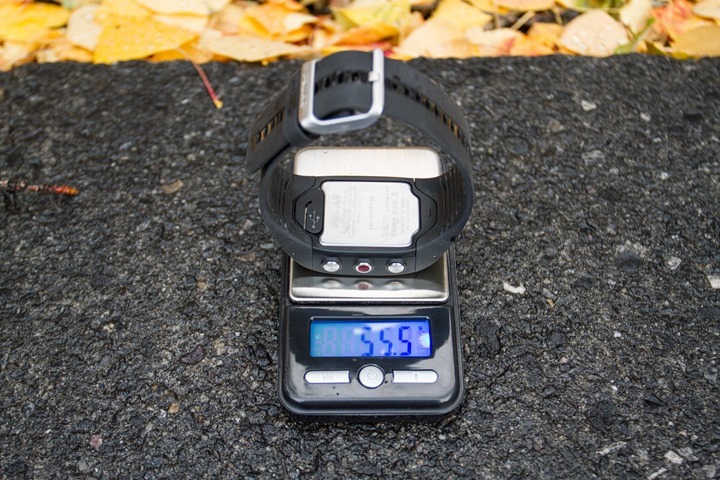 The unit weighs in officially at 56.6g and is officially 11.5mm thick – I measured it at 55.5g, which is close enough for the purposes here.  The watch saved weight compared to the V800 by going with a plastic screen instead of glass, as well as nixing metal for plastic.  That said, it doesn't feel cheap.
Next, let's look at the size of the unit compared to the V800, then we'll look at rolling pins.  As you can see in the next three pictures, it's very similar, but the M400 is just a smidge smaller than the V800, mostly due to the slight rounding.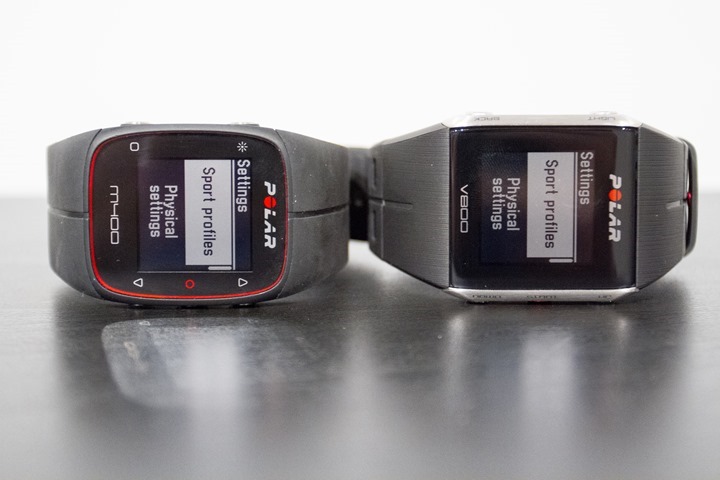 And here, the lack of additional metallic layer slightly reduced the profile as well.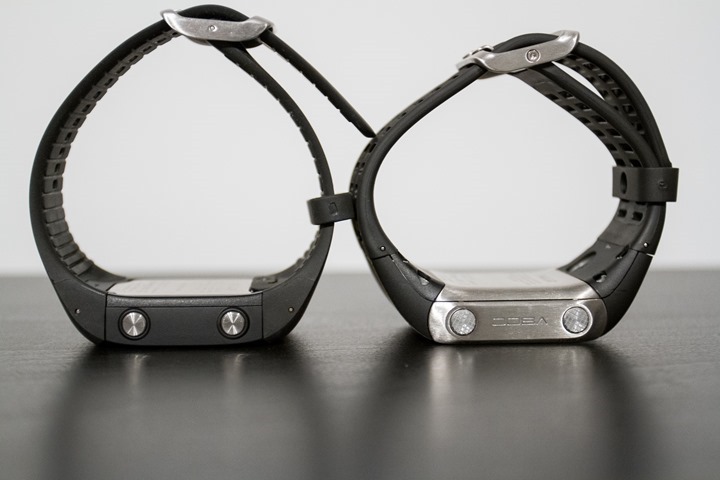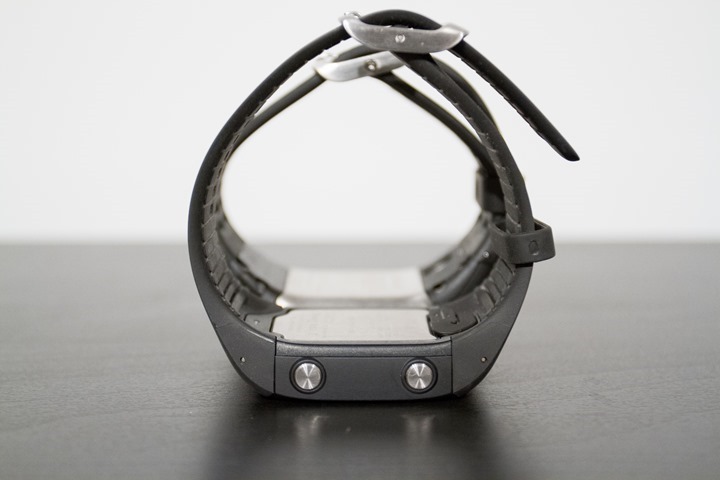 Next, the rolling pin.  You'll see the M400 as the 3rd from the right.  These are roughly ordered by size.  Here's the full lineup:
(Left to Right: Garmin FR910XT, Garmin Fenix2, Suunto Ambit3, Suunto Ambit2, Suunto Ambit2S, Polar V800, Polar M400, Polar RC3 GPS, Garmin FR620)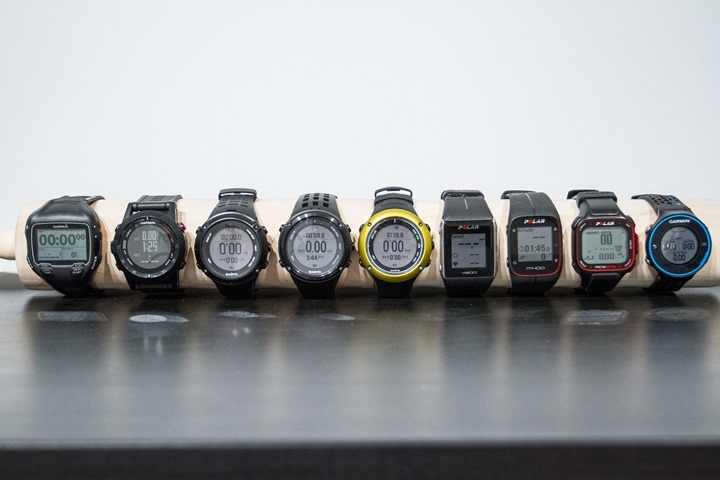 Note that on the Garmin front, the FR220 and FR620 share the same exterior shell specs, so you can mentally just swap the colors there to get an estimate on size.
Here's a look at the depth of the watches.  In this case the rolling pin is held exactly level upside down, allowing you to see how thick the watches are by looking at the gap to the most excellent Ikea table.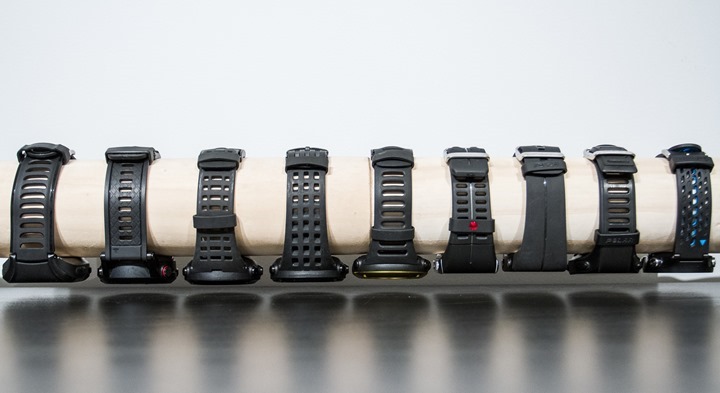 And finally, a closer look at the three Polar offerings.  As you can see both the M400 and V800 are slimmer than the RC3, and they also forgo the plastic shell area at the top/bottom of the RC3 that hides some electronics.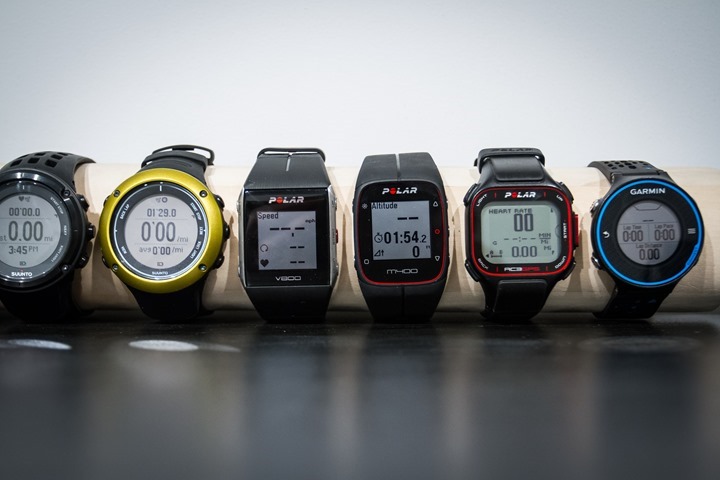 From a thickness perspective the watch is actually just slightly thinner than the Garmin FR220/FR620, so it might make it the thinnest GPS-integrated watch on the market.  It is also skinner (width) as well as shorter (height) than the FR220/FR620.  Good stuff!
You can see this thinness when the unit is located on my wrist.  Here's a look at things from a few different angles: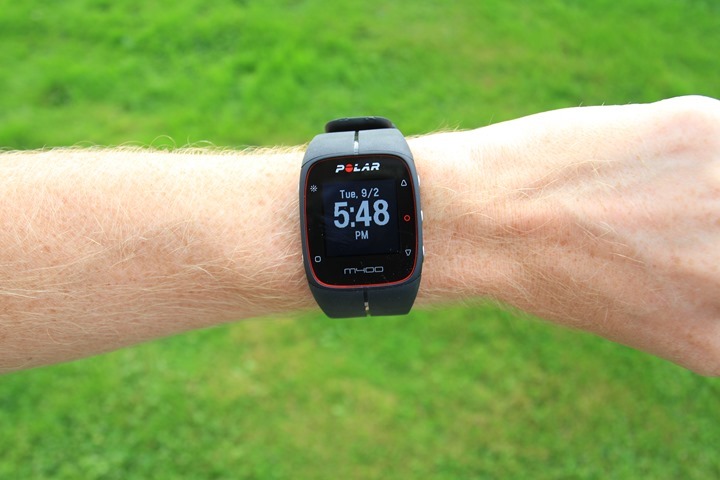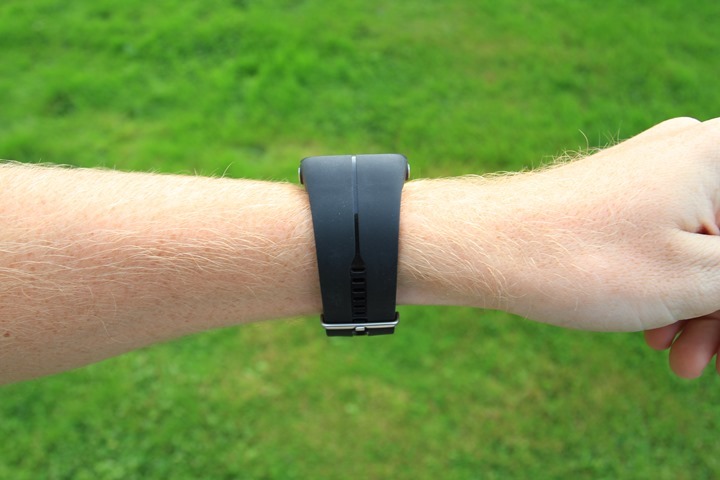 And finally, here's a picture of the black edition on The Girl's wrist (she's petite, at 5'2" tall).  My wrist size is 17cm (or about 6.5 inches).  The Girl's is 14cm (or 5.5 inches).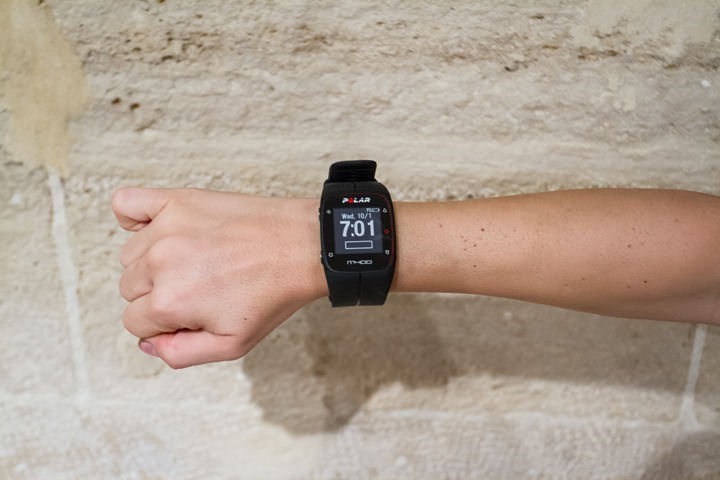 She was carving cakes when I requested her wrist, hence why her hands are so dark looking (from the chocolate).  That said, she did find the black version a bit big on her wrist.  I'm checking to see if the white version is smaller as a strap.  I'll update accordingly.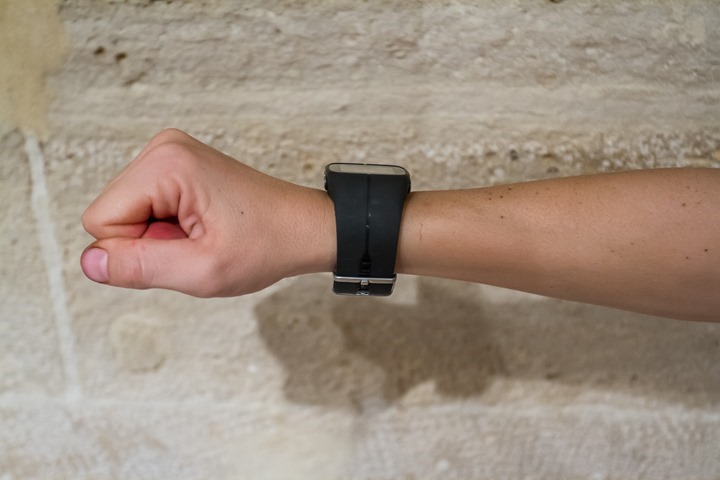 As I said above, I don't think there's a thinner all-inclusive GPS watch on the market today.
Running:
First up is running with the M400.  To begin you'll first want to configure your user profile settings to ensure accurate calorie numbers, so this includes your gender and such.  Next you'll also likely want to plug it in to your computer to ensure the firmware is up to date.
With those two minor tasks out of the way, it's time to head outside.  The M400 includes predictive GPS capabilities which allow it to minimize how long it takes to find GPS satellites outdoors.  I've generally found it quite fast and on par with most other new GPS watches in the market with similar technologies.  Even while travelling, it has sometimes only taken a few seconds in a new country to find GPS.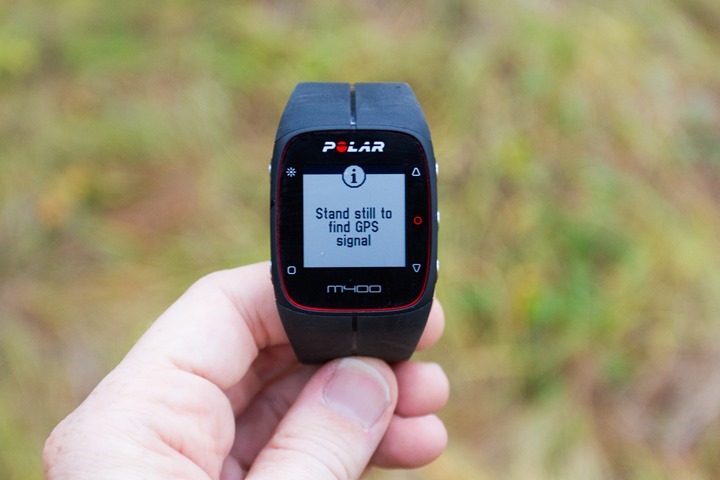 While you're finding GPS signal you can select which sport you're going to do. In our case, we'll choose running, but you can easily just scroll up or down in the menus to change the sport.  It's at this point that it'll go off and find your already paired heart rate strap (via Bluetooth Smart).  Once found it'll show the heart rate value (BPM) on the screen.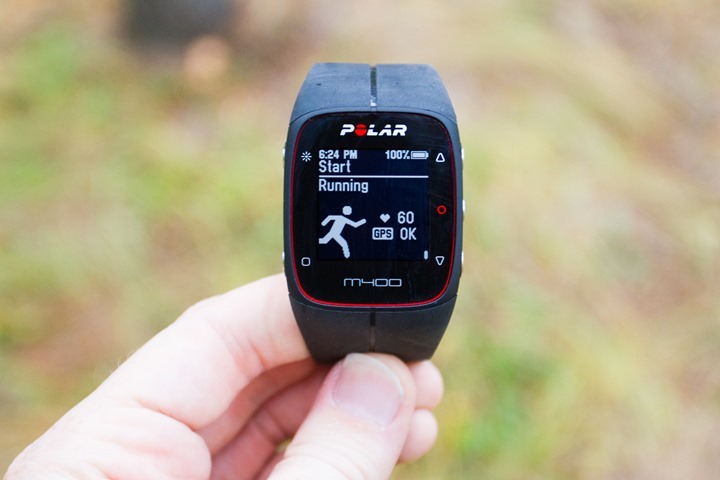 Once ready (with GPS showing 100%), you can press the red button to begin recording the session.  This means it'll start the timer and begin recording your distance, pace, location and other metrics.  These will then be shown on the screen for you in various data pages.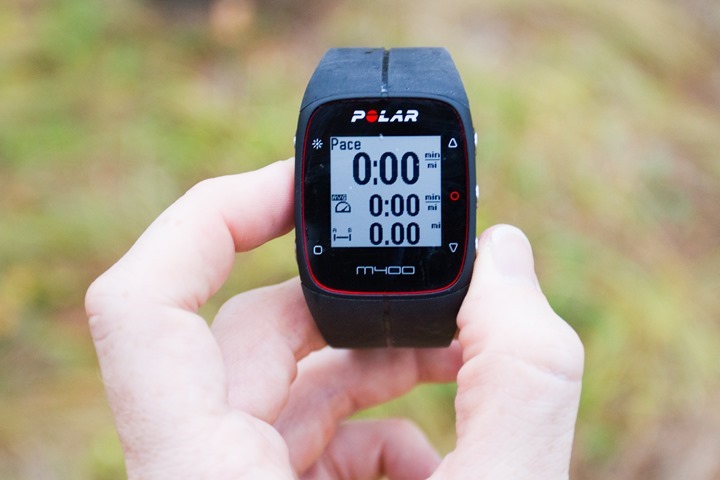 Each data page contains a configurable number of metrics.  This is an improvement over the previous Polar RC3 whereby you couldn't really customize the data fields.  With the M400, you can customize all of the fields to the same extent as the much more expensive V800.  All of this customization is done online via Polar Flow: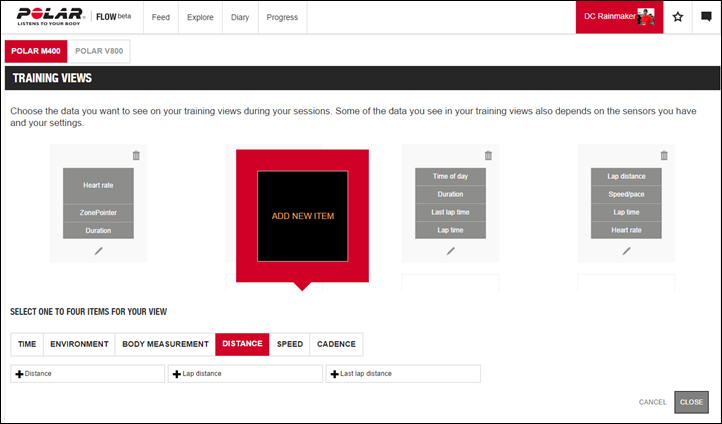 While running you'll get instant pace via GPS, along with your distance.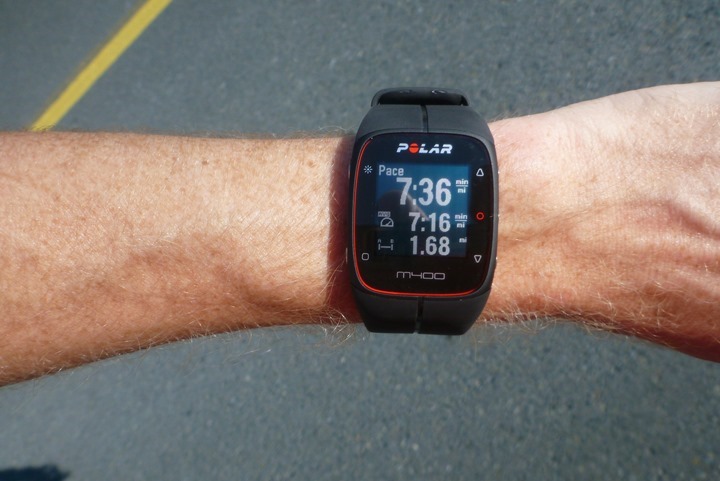 I found the instant pace responsiveness quite easy to pace by, and you can see a small snippet of that in the summary video at the beginning of this post.
You'll also get your heart rate information displayed in a variety of manners including as straight beats per minute (BPM), as well as heart rate zones.
These zones are configurable online via Polar Flow.  You can have Polar figure them out for you, or you can override them for a given activity type.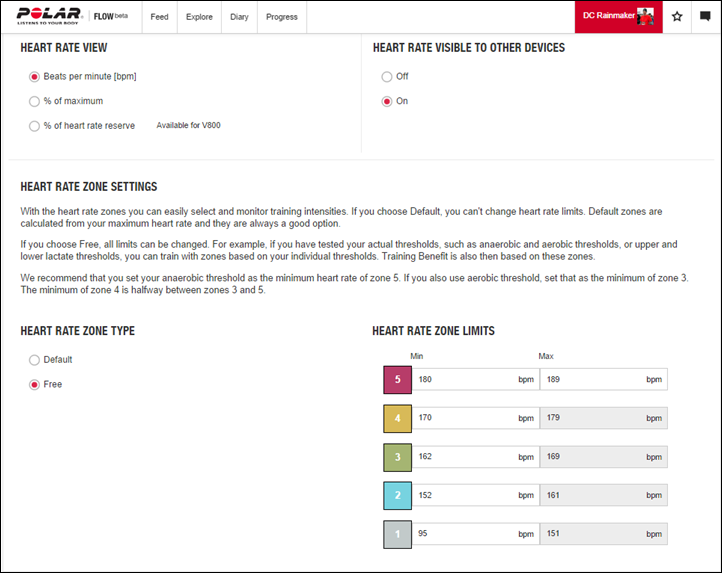 New to the Polar lineup is Estimated Completion Time.  This function can be enabled via the 'Timers' option, and allows you to enable and then configure a data page that will give you the estimated time of completion of your run.  Prior to the start of the run you'll specify how long the run will be (such as 5K):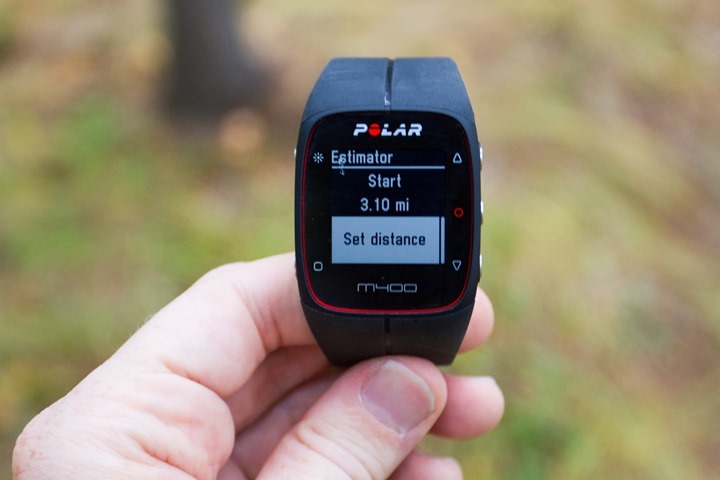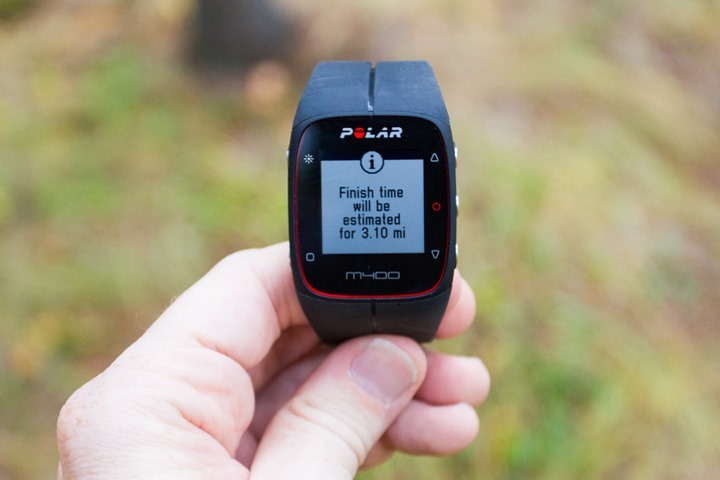 Then while running the unit will show you how much time is remaining.  This is sorta like the Virtual Partner found on other units, but rather instead of showing you how far ahead/behind a pace you are, it's showing you how long until you're done.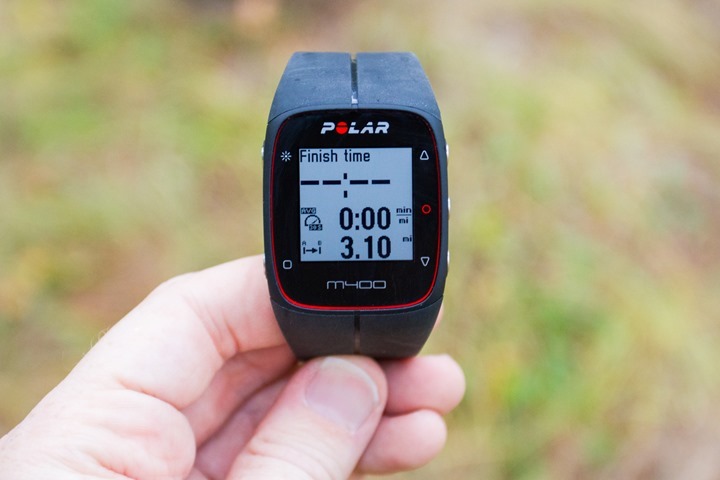 Of course, not everyone is out to race or finish in a specific time.  If you're more of the wandering type the M400 includes a 'Back to Start' function, that will show you the direct line back to the start.  Note that this does NOT follow your exact route to your current point, but rather is just a compass that points you directly back to the starting point.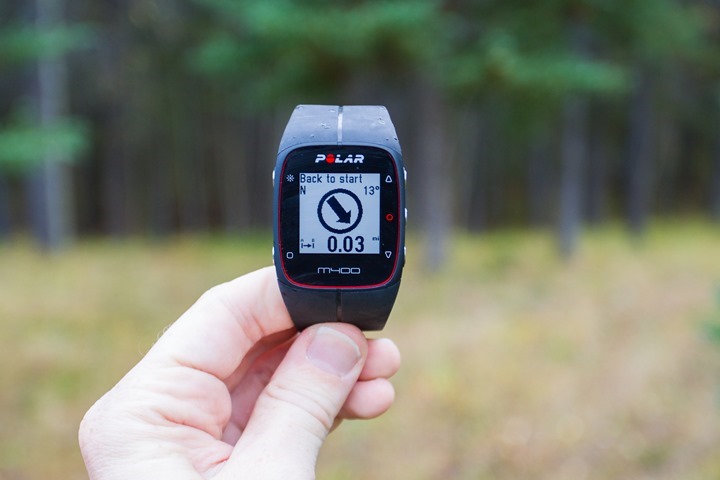 This function relies upon you moving to function however, since it's not a magnetic compass but rather one that takes into account your current speed.  If you stop moving, you'll get notified: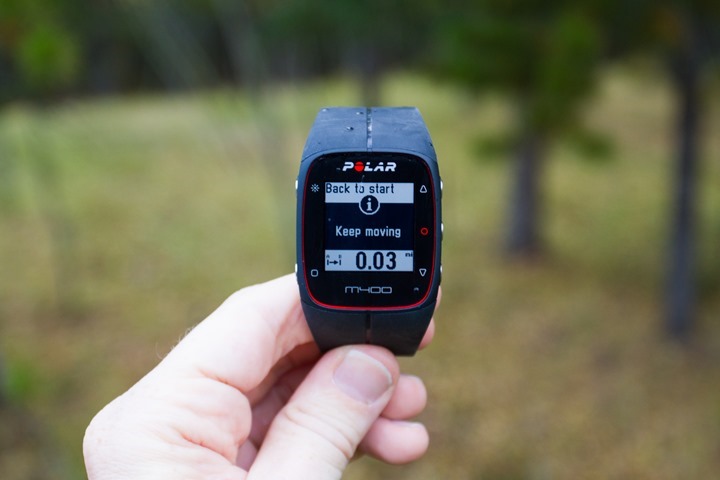 This is quite a competitive feature to be found on a watch at this price point.  For example, the Garmin FR220 at $80 more doesn't have this functionality contained in it (nor does the FR620 at $220 more).
In the event you're still lost and 'Back to start' can't help you, you can pause the watch at any time to go phone a friend for help.  To do so simply tap the lower left button and it'll bring you to a paused screen: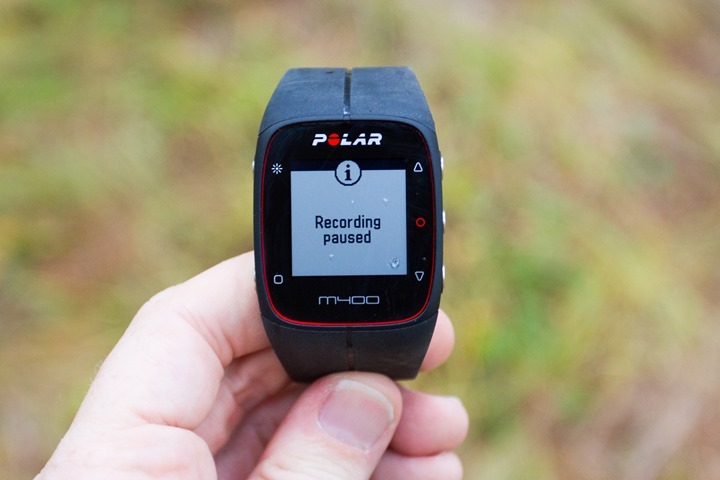 Unfortunately, Polar still doesn't allow you to see your current run data fields while paused, so you're stuck with the main screen seen above with just the elapsed time that displays a moment later.  When you're ready to resume you just tap the red button.
Finally, when you're ready to end your run you'll go ahead and hold down the bottom left button again to end the run.  At the conclusion of which you'll be given stats about the run including how far you went, the time, calories as well as training benefit type, lap summary and individual lap detail information.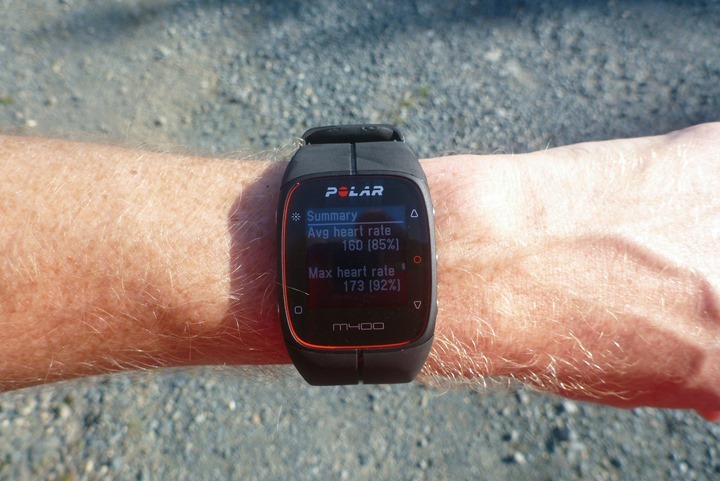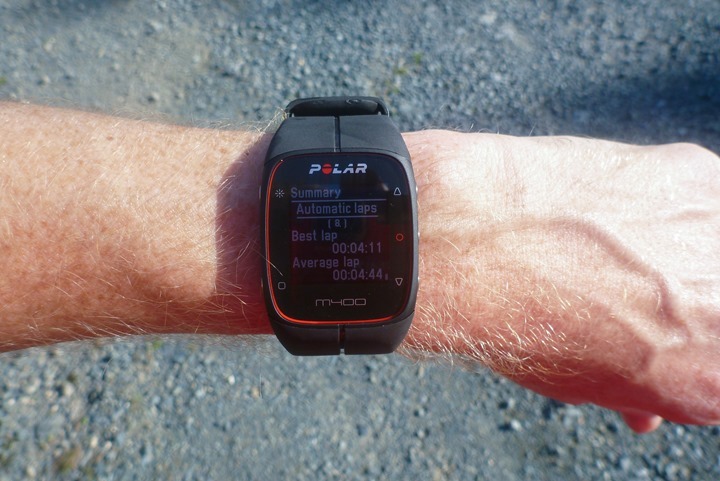 New to the Polar lineup though is personal records (PR's), which the unit will track for various distances/times.  For example, this PR here for longest distance run (it happened to be my first run with the watch):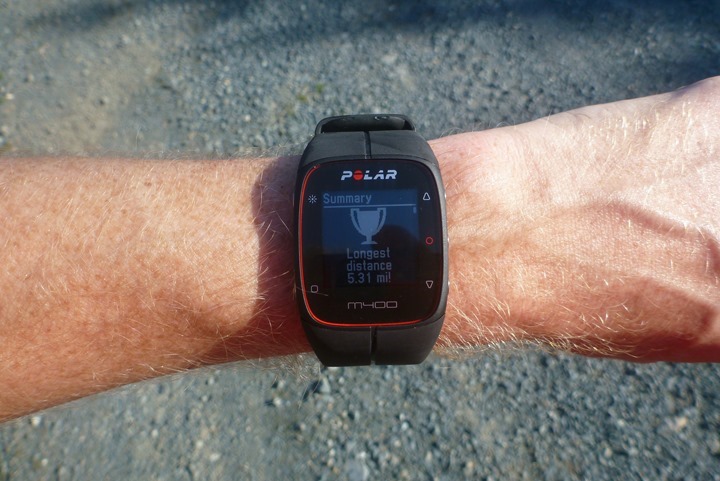 PR's are a handy way to see training advancement for a given sport profile, especially if you routinely use the watch and are focusing on various specific distances to try and better times at.
Once you're back at your phone or computer you can upload the activity to Polar Flow, which is Polar's online training log site.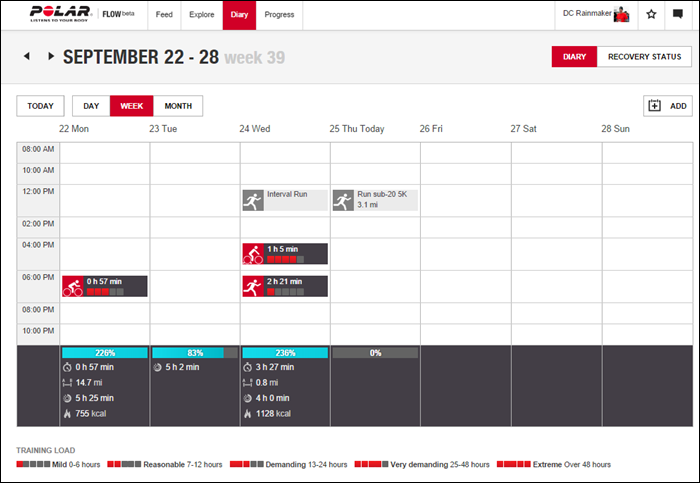 (Note: The 'Training Load' dots below each activity do NOT appear with the M400, but only with the V800 that's also in my account. To be clear, you won't see those Training Load Recovery items with just a M400 in your account.)
It's here you can go ahead and dive into the training log for a given activity: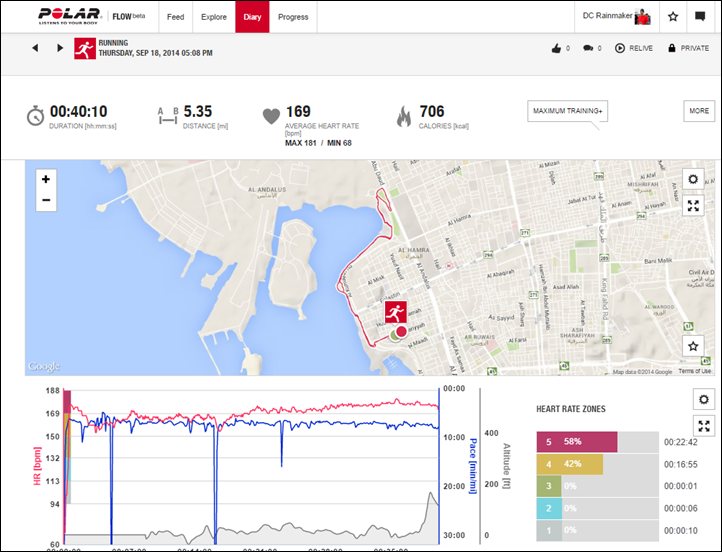 This includes viewing the details of both manual as well as automatic laps, which are recorded independently of one another.  Manual laps are ones where you press the button, whereas automatic laps can be configured for a set distance (such as every 1 mile or 1 kilometer):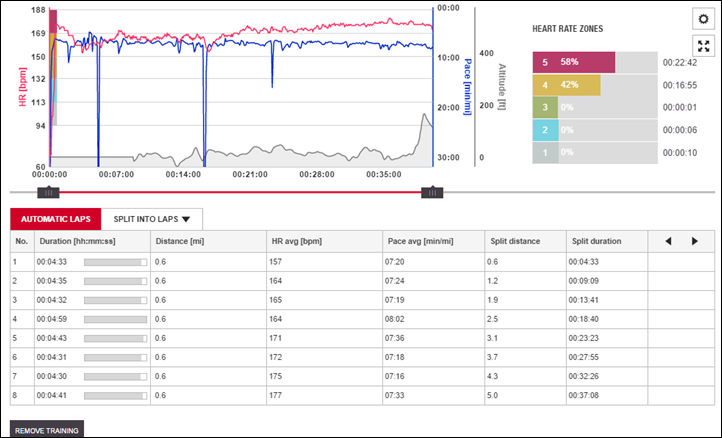 Additionally, you can change the map view between a street map and satellite or terrain maps, which include the ability to also overlay lap information.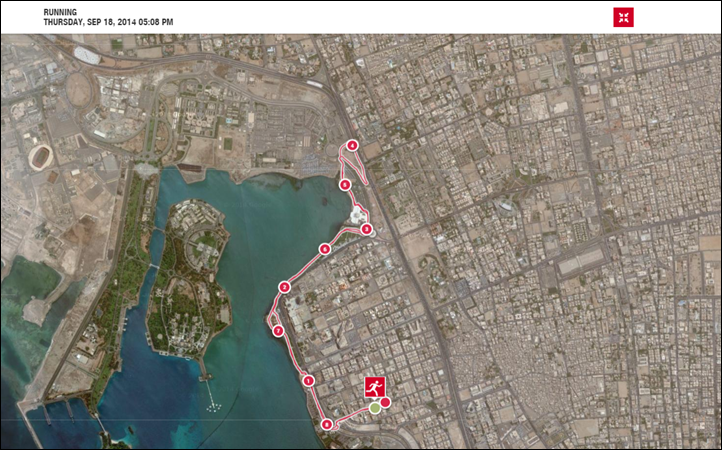 Finally, at the top of each session you have summary information regarding the activity, which in this case tested the limits of my hot weather running adaptation.  You can see a bit of the imperfections of the GPS based altimeter though (or, Polar's site), whereby this pancake flat run did show some ascent/descent oddities.  Conversely, I saw some rather accurate elevation numbers on other runs while watching the display on the watch itself as I ascended/descended some hills.

Note that this training log information is available regardless of whether you are indoors or outdoors, or which sport mode you use.
Cycling:
The unit includes the ability to switch into a cycling mode, which allows you to customize cycling specific screens such as speed (usually shown as MPH/KPH).  These screens can be configured ahead of time on Polar Flow.
You can change screens (training views) just like in running mode, as well as configure any of the training targets seen on Polar Flow for cycling: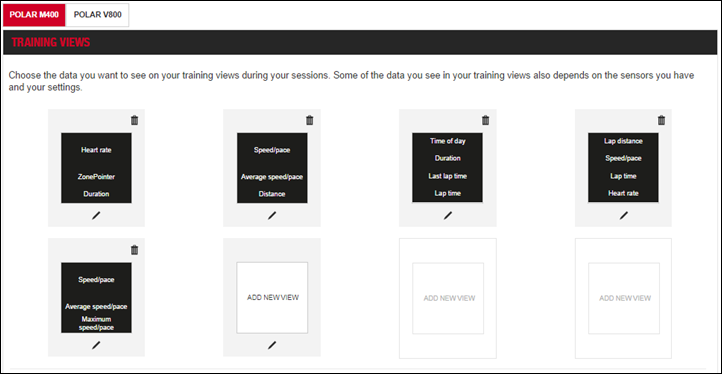 While the M400 can't connect to any speed/cadence sensors, it can still connect to your heart rate strap in the cycling mode.  Once you're ready to head for a ride you'll go ahead and switch into the cycling mode by simply pressing up/down until you're on that screen.  This also supports an indoor cycling mode where you can just capture heart rate data too.
Afterwards, if outdoors your routes will show up on Polar Flow as cycling-specific workouts, complete with speed-related metrics (versus pace-related ones):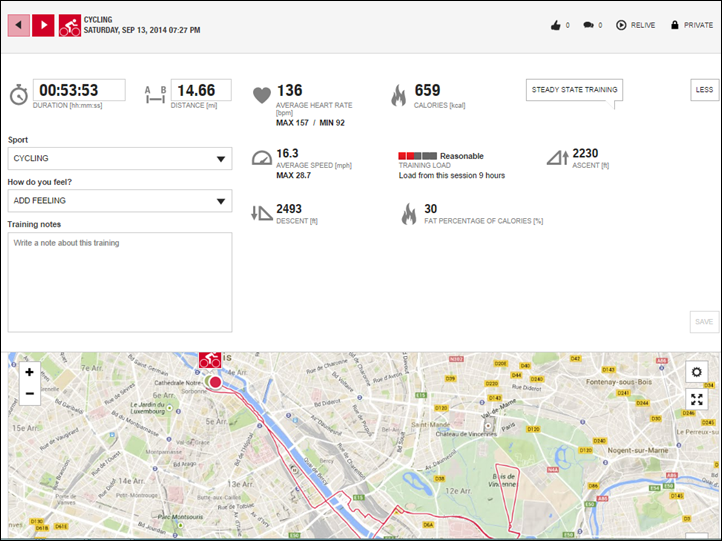 Of course, the M400 is primarily a running watch, but even then, it still makes for a handy cycling stand-in if you don't cycle very often and don't care about cycling cadence data (or speed/distance while indoors on a trainer).  I'd suggest picking up a $10 cheap bike watch mount so you can mount it on your handlebars, allowing you to more easily see the data screens.
Other Sport Modes/Profiles: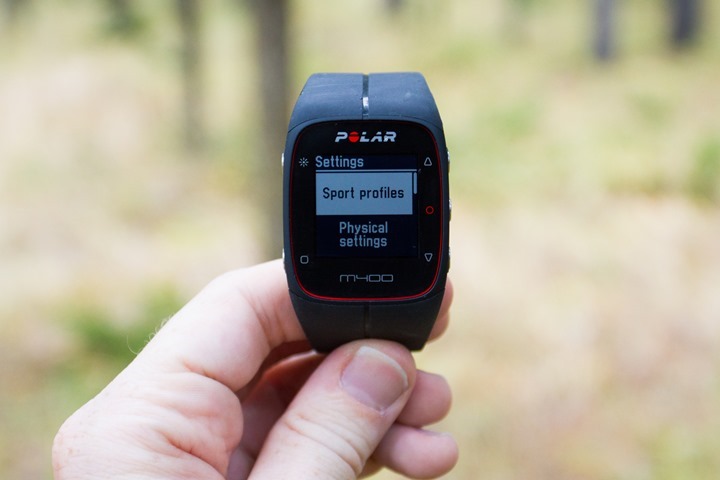 Beyond the standard running and cycling modes, the unit can also be used with any of the custom sport modes found on Polar Flow (many more than displayed below):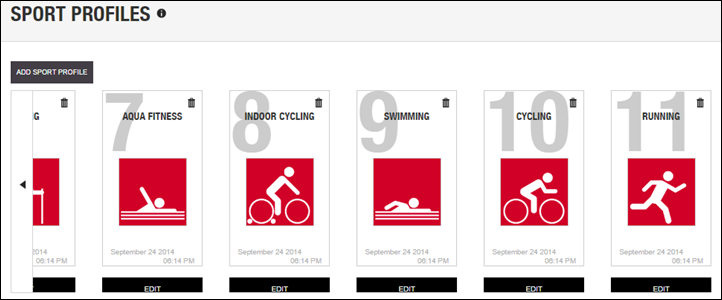 These modes have specific calorie burn algorithms, which is part of the reason you can't go rogue and create your own mode.  Note however that while there is a swimming mode, there's no lap/distance tracking in either indoor or outdoor swimming (like the V800 will have later this fall).  Further, unlike the V800 the M400 will NOT capture heart rate data underwater.
Smart Coaching & Training Functions:
The Smart Coaching functionality has always been a core aspect of many Polar products. These features were aimed at providing a more cohesive feedback loop to users on how to train in a structured manner.  Much of this functionality was focused on heart rate aspects.
For example, there's Running Index, which acts as a way to determine how efficient you are.  This information is displayed at the completion of a run:
Further, it's shown online in the training log:

(Note: The 'Training Load' dots below each activity do NOT appear with the M400, but only with the V800 that's also in my account. To be clear, you won't see those Training Load Recovery items with just a M400 in your account.)
You can then swing over to Polar's site to see how that ranks compared to others.
Next, the unit will give you a training type after each workout that tells you what type of training it was – such as a tempo workout or a steady state workout.  In addition, it'll give you an understanding of the training load from that workout, which can help you plan recovery.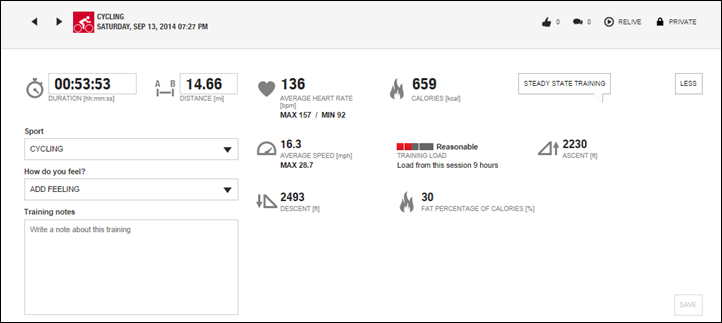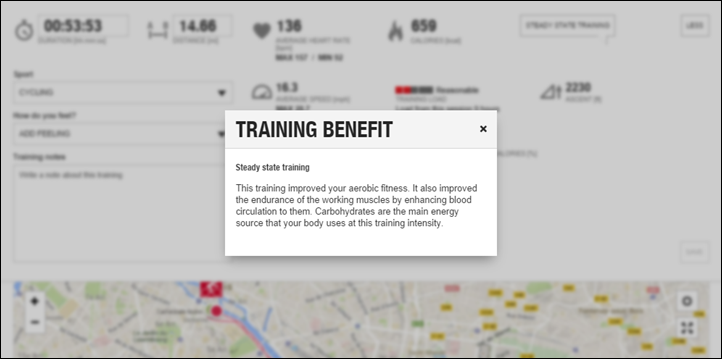 The Polar M400 also includes two different structured workout modes (in addition to a free-for-all mode), starting first with a super basic interval timer.  This timer allows you to setup two-step workouts using time or distance (or both combined).  Such as a 5-minutes on, then 30-seconds off type workout.  For each segment it'll give you a countdown of how much time is left.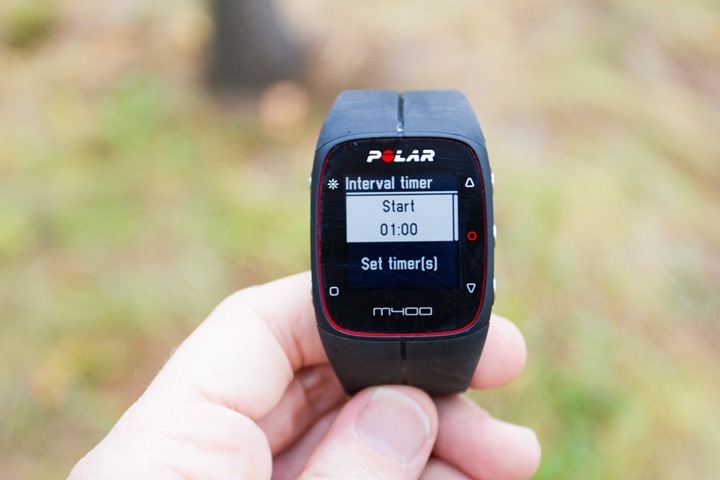 The interval timer does support the ability to add both warm-up and cool-down portions, as well as to mix rest and work portions (such as a distance-based work followed by a time-based recovery).
The second option for workouts is far more powerful though, which is Polar's full blown workout creator via Polar Flow.  In this, you can create workouts with all sorts of structures.  These structures can include goals like heart rate targets based on distance or time.  In November, Polar will also add to Flow the ability to create pace/speed targets.
This area is divided into three sections: Quick, Race Pace, and Phased.  Below is an example of a complex phased workout.  Whereas 'Quick workouts' have simple targets (such as a set distance or time).  And again, you can always just go out and run and record/manage it yourself.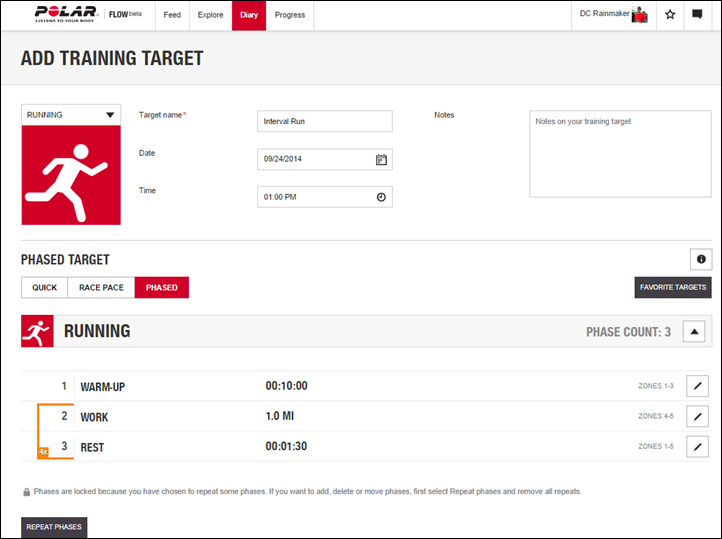 You can see I've created a simple interval structure above with a 10-minute warm-up followed by 4x(1-mile work, 90-second rest).  Each of the targets then has associated heart rate zones with them.  These are then previewed below:

Next, these workouts can be assigned to given days on your calendar so they'll automatically appear on your watch on the right day.  Alternatively, you can simply tag them as 'Favorites' and then access them via the favorites menu on the watch.
Once you select a workout to start, it'll walk you through each phase of the workout: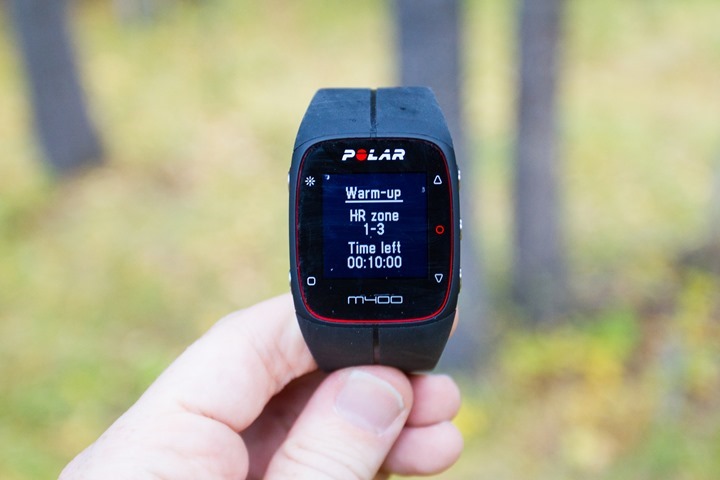 There's then a dedicated data screen during each phase showing you the target.  In my case, for this first phase I selected a warm-up target of any valid heart rate zone, which is why you see the range from 95 to 170bpm.  It then shows 9 minutes and 44 seconds remaining in the workout section, before it'll iterate to the next section.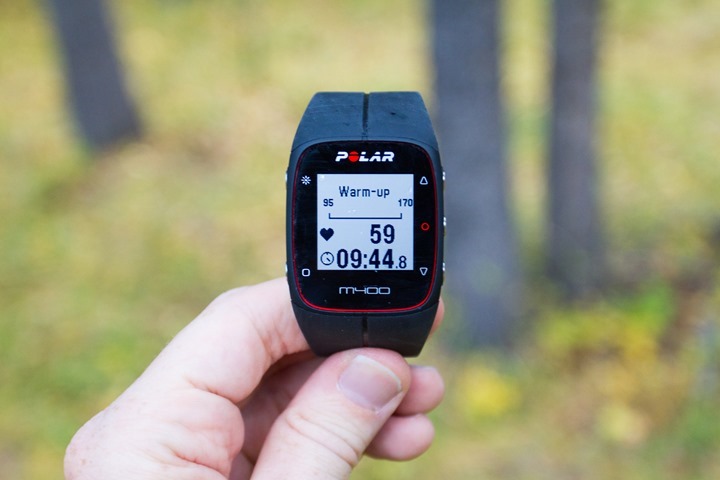 In its current state the workout functionality is basic compared to other competitors, but functional for many workouts.  Once Polar adds in the ability to specify pace/speed targets (November), as well as the ability to do post-workout analysis comparing planned versus actual, it'll start to become much more powerful.
Daily Activity Tracker: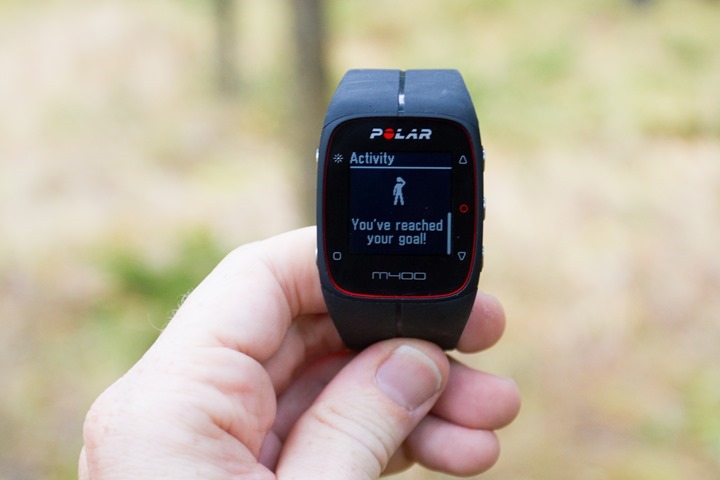 The M400 follows in the footsteps of the V800 and includes a daily activity tracker.  This activity tracker allows you to monitor your daily step count throughout the day, which in turn also feeds into the total calorie expenditure.
While it will give you distance, it won't do so until it sync's with Polar Flow at the end of the day (a bit of an annoyance given most other devices can do it internally).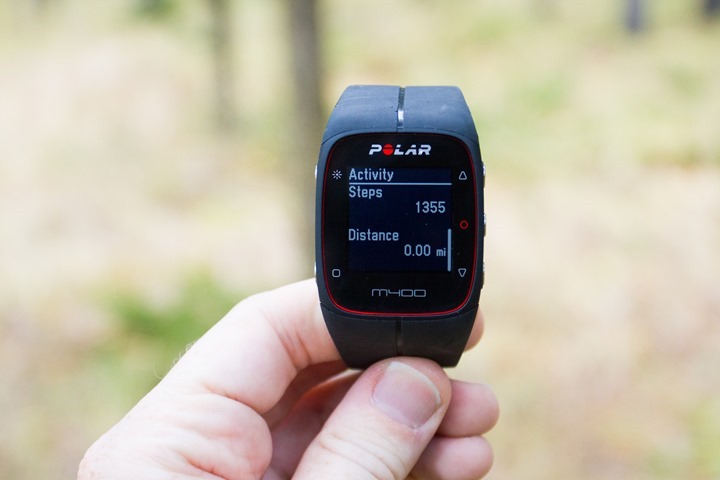 You can view your daily activity throughout the day via a progress bar that's accessible either through the watch menu, or via the home page if you add it to the watch face.
You can further dive into this information for any day in your history log as well, should you want to look back at some past day and see the breakdown of daily activity versus training log: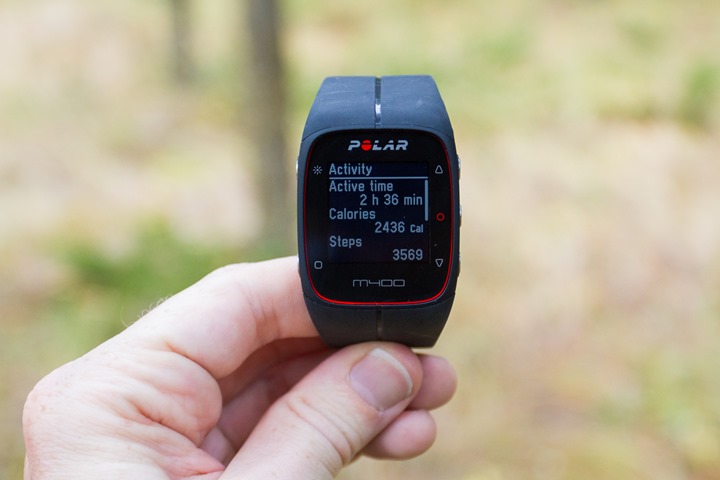 Next, all of this is sync'd to Polar Flow online, which allows you to see it both via a web browser as well as the Polar Flow mobile app.  Below is an example of yesterday using the desktop web view:
You'll see it tracks my total steps on the left side (6,676), as well as the distance below it (3.21 miles).  Further down you've got how much sleep I got (6hrs and 43 minutes), along with an overview of my day as a time slice.  The M400 doesn't require you do anything to track sleep, it just does it automatically (which is great!).
Inactivity alerts trigger after I've been seated too long.  It'll give you one warning alert before it goes ahead and marks an inactivity mark on your 'record' a few minutes later.
I can change both that view as well as my daily activity goal status by toggling the left/right arrows.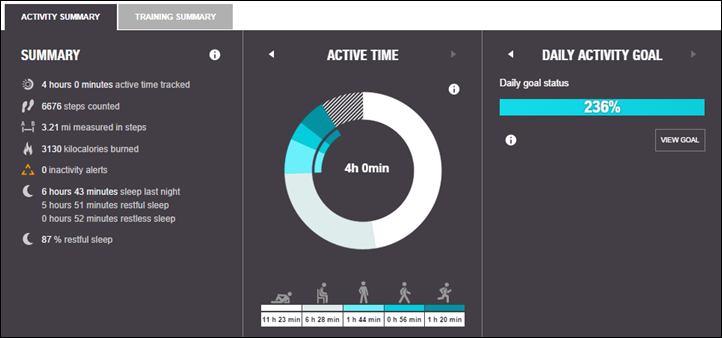 Meanwhile, the daily activity goal is shown on the left side as broken out into different categories in terms of how you can achieve it.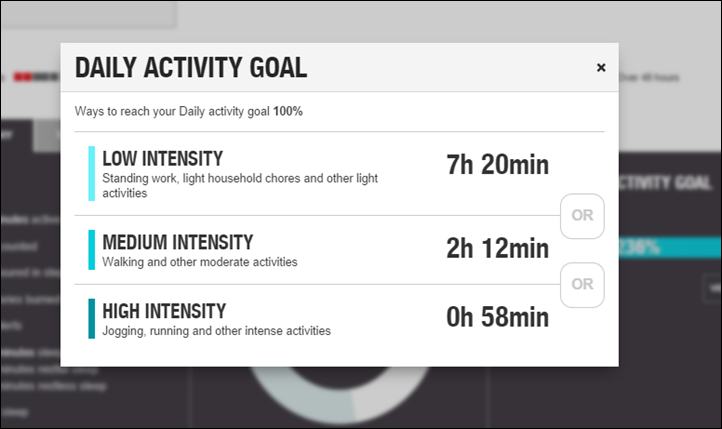 For days that are still in progress it'll give some rather interesting suggestions on how you could fulfill that activity goal: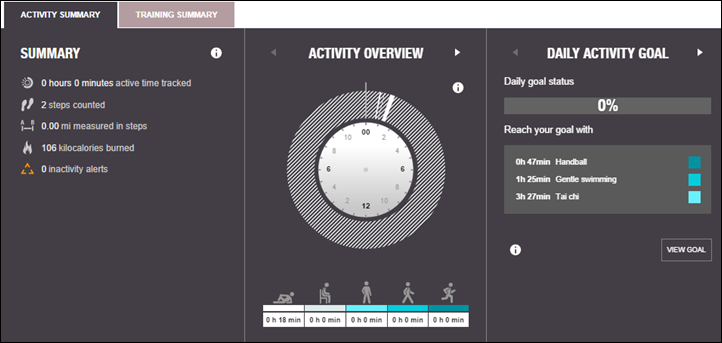 Overall the activity tracker on the M400 is good, but not great.  I'd really like to see the ability to add steps to my home screen (not just a progress bar), as well as see my exact walked distance each day.  That's sorta the baseline for even $59 activity trackers like the FitBit Zip (and every other activity tracker out there) – so I expect it on a product three times as much.
Smartphone Integration:
Like the V800 and Polar Loop, the M400 includes smartphone integration that enables it to upload completed workouts via Bluetooth Smart to your smartphone.  Further, it also allows you to transmit daily activity information like steps, sleep and distance walked to Polar Flow via the mobile app.
Now unfortunately at the time of this writing the only thing that I didn't have full access to was the mobile app updated to sync with the M400.  While it's the same app as the V800 and the Loop, the production version seen online doesn't support the M400 yet, so I couldn't fully test this function from a sync perspective.
However, the app will pull from Polar Flow, so activities do show up there from the M400, even when they weren't sync'd that way.
I'll be looping back and updating this section in the coming week or two once Polar releases the production version of the app that supports the M400.  I don't expect too many issues here though since the V800 phone sync works fairly well for me and the M400 is really just a mini version of the V800.  Of course, it'll still be something I test to ensure nonetheless.
In the meantime, I simply use the Polar FlowSync on my desktop computer, which synchronizes the content quite easily via USB cable: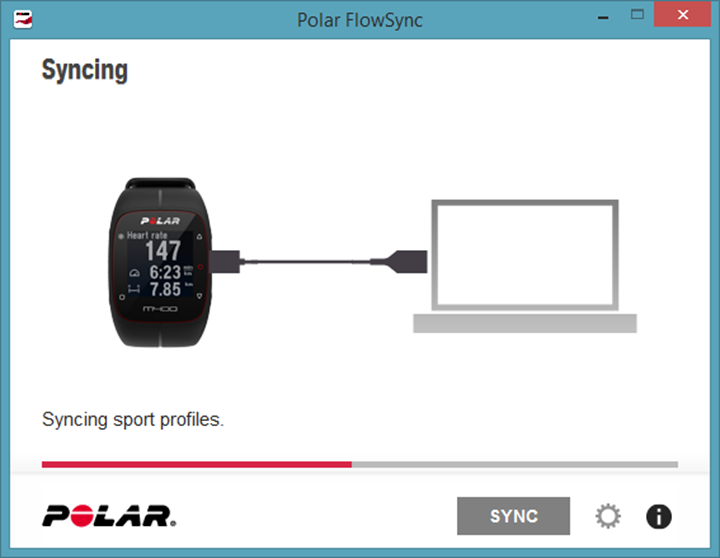 Regardless of which way you sync the data though, it all ends up on Polar Flow. There is no local analysis of the data on your computer without the data first going to Polar Flow online (web service/site).
Sensor Support (Bluetooth Smart):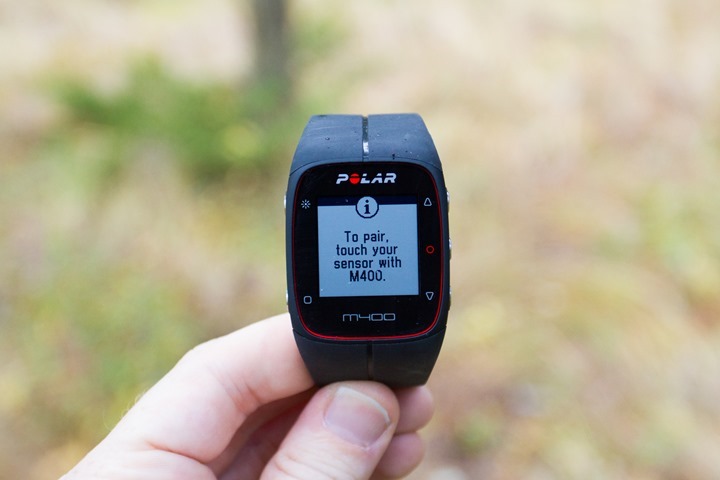 The M400 today supports Bluetooth Smart heart rate straps, and in a future firmware update will also support Bluetooth Smart footpods.  It does not support Bluetooth Smart Speed/Cadence sensors for cycling (nor is it planned to).
On the heart rate side, you can use any Bluetooth Smart HR strap with the unit.  On the Polar front that'd be the Polar H6 or H7.  It doesn't much matter to this specific unit which one, since the unit itself can't use the analog frequency of the H7 for underwater connectivity.  However, if you use gym equipment and want to display your heart rate there the H7 strap is the way to go.  I have tested it with a number of other heart rate straps (such as the Wahoo TICKR, Mio Link, and the Scosche Rhythm+) without issue.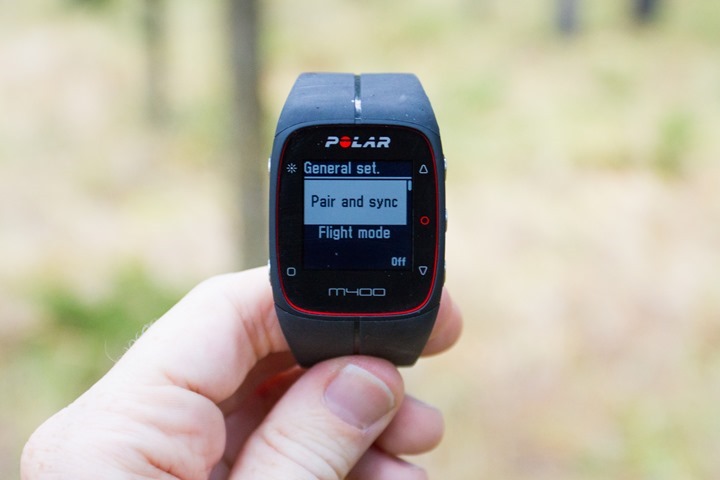 When using a heart rate strap you'll get heart rate displayed on the device as you'd expect.  This includes both current BPM, as well as zone information.  All of this is configurable via Polar Flow online: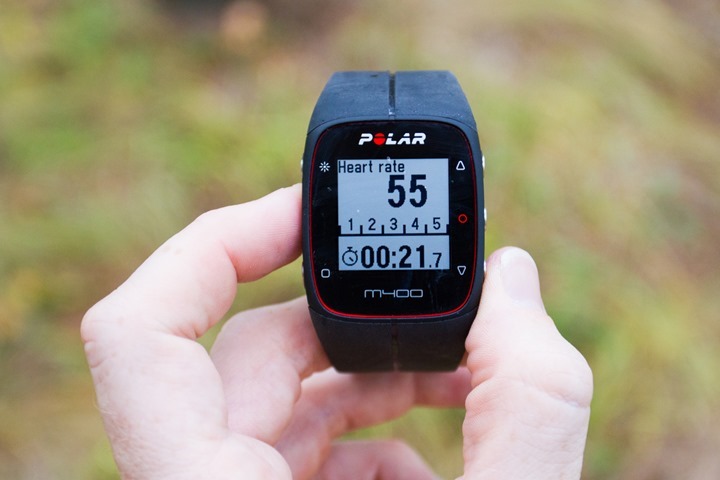 Again, down the road in a firmware update they'll add footpod support for indoor running on a treadmill which will gather cadence and pace as well as distance.  Note that without the footpod the unit will not gather running cadence information.
Day to Day Watch Functions:
The M400 works as a solid day to day watch.  Outside of a few days in Vegas at Interbike I've been wearing it globally on my wrist in day to day life including meetings and workouts.
While the unit won't automatically set the time from GPS, it's easy enough to change in the menu's in a few quick clicks (this coming from someone who changes it about 3-6 times a week).
You can set a single alarm, which can be configured as once, daily, or weekday only (Monday-Friday):
In addition, you can change the default main screen of the watch to a number of different options, such as including (or not including) the current activity level: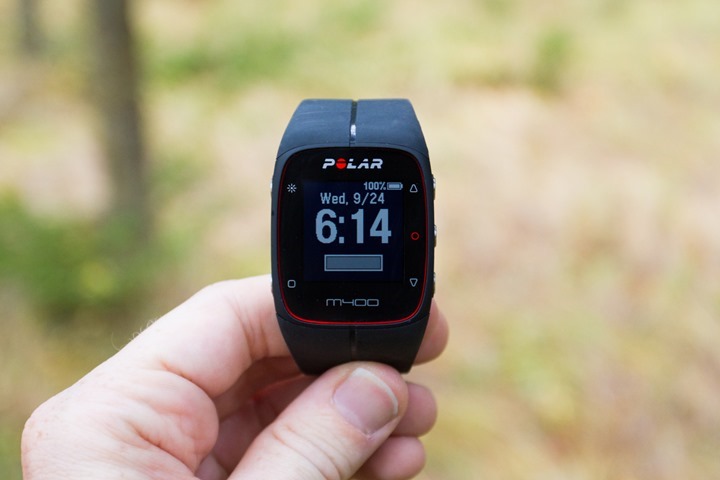 Or, an analog watch face mode: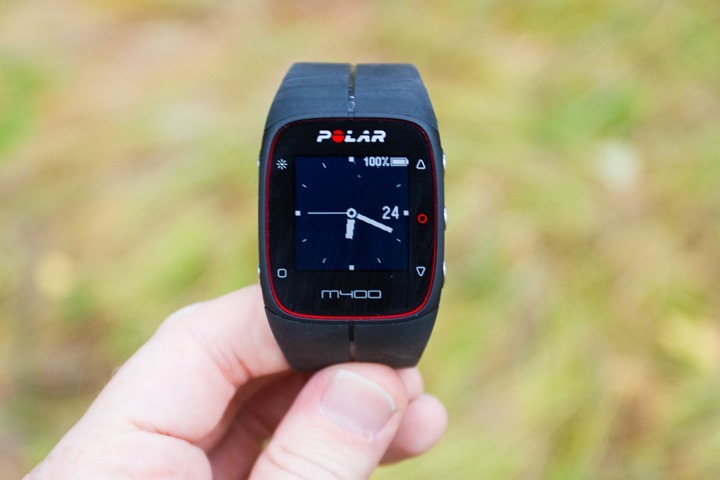 Or, a funky huge lettering mode (the mode is officially called "Big"):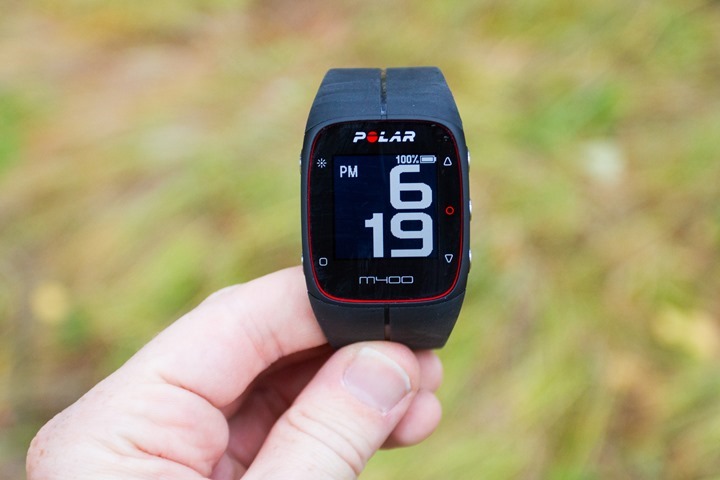 In day to day watch mode the unit will get about 20 days of battery life (or 8 hours in GPS-on training mode).
Note that while you can invert the screen in the training mode (so it's black lettering on white background), you cannot invert it for the daily watch mode, thus it'll always be white lettering on black background in the non-training pages.
The unit contains a backlight that can be enabled by pressing the upper left button: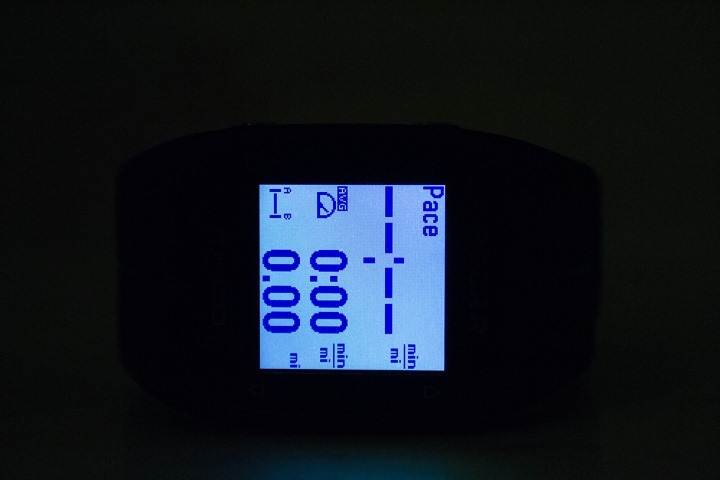 By default the backlight will shutoff after about 10 seconds, however while in an activity you can force it to stay on by holding the upper left button and selecting 'Set Backlight On'.
Within the settings you can also change the default distance/pace/speed metrics used for the US/Imperial system (miles/pounds/ft) to Metric (kilometers/kilograms/centimeters):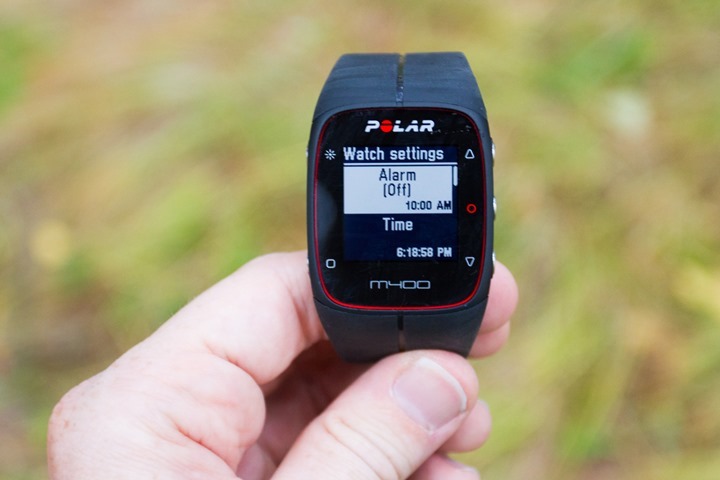 Finally, you can enable a button lock from within the menu as well.
Data Fields:
As noted earlier you can customize data fields for the M400 through the website (not on the device itself).  In doing so you can create up to 8 pages of fields, with each page containing up to four pieces of information (metrics) on them: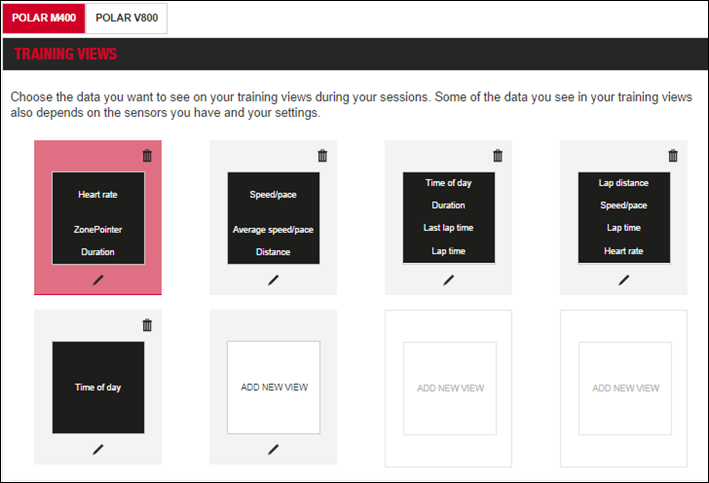 Those fields are picked from a little object picker: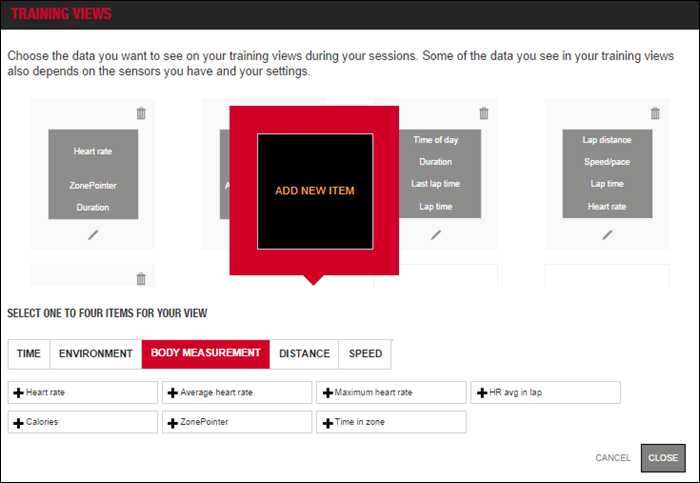 For the above data fields, on the M400 you can select the following:
Polar M400 Data Fields
| Time Fields | Environment Fields | Body Measurement | Distance | Speed/Pace Fields | |
| --- | --- | --- | --- | --- | --- |
| Time of day | Altitude | Heart Rate | Distance | Speed/Pace | |
| Duration | Total Ascent | Calories | Lap Distance | Average Speed/Pace | |
| Lap time | Current Lap Ascent | Average Heart Rate | Last Lap Distance | Maximum Speed/Pace | |
| Last lap time | Total Descent | ZonePointer | | Lap Speed/Pace | |
| | Current Lap Descent | Maximum Heart Rate | | | |
| | | Time in Zone | | | |
| | | HR Avg in Lap | | | |
Note however that for lap time, that's only for manual laps, and not for auto laps.  Auto laps will show up online afterwards however.
In addition, you can add two further pages for 'Back to start', as well as 'HR Zones':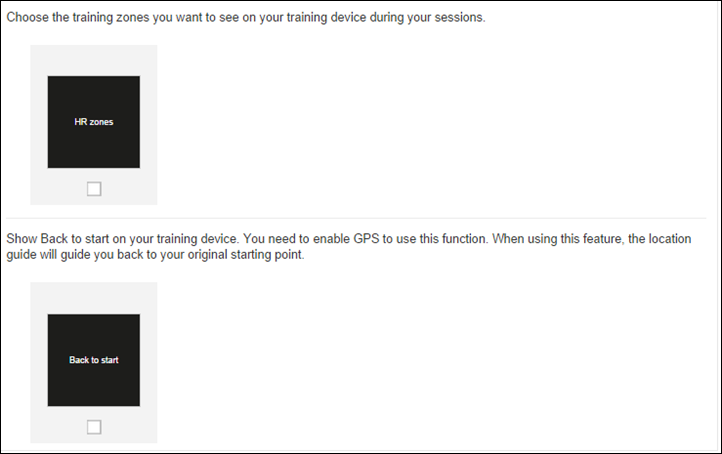 Once you're done changing your data fields you can go ahead and save the settings and then sync your M400 either via USB or via Bluetooth Smart.  Both options will update the data fields on the unit itself.
Firmware Updates:
I want to very briefly point out that the M400 can and will get future firmware updates to both add features and get updates for bugs/changes.
The easiest method for updating is simply by plugging into your USB port and then loading the Flow Sync software which will then update the watch as seen above.
Polar plans to include free updates (like the running footpod), but may experiment down the road with being able to buy additional features for a small fee, such as purchasing the Training Load function normally found on the much more pricey Polar V800 (almost three times the cost).  They haven't quite worked through the full logistics of this, but I actually think it's a smart move long term.  It would allow folks to potentially pickup just the higher end features they want while in a budget GPS watch.
Again, Polar hasn't quite nailed down any timelines or full pricing thoughts there – but that's the rough direction they're looking to go longer term with it.  Note that there are no plans to discontinue free firmware updates for things like bug fixes or minor feature tweaks/changes (and there are other unannounced major free features coming later this year).
3rd Party Support: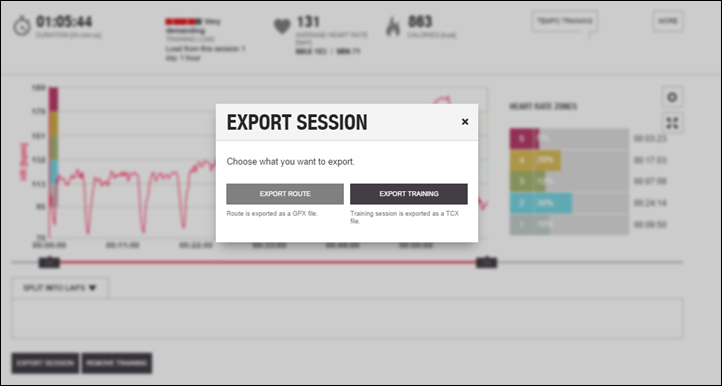 As of September 25th, 2014, Polar now supports exporting of workouts from Polar Flow.  This allows you to export out activities to either GPX or TCX files.  For most 3rd party sites that are sport-specific (i.e. Strava, Training Peaks, Sport Tracks), I'd go with .TCX, as it offers the broadest compatibility with sensor data.
To access the export function, you'll go to an individual activity and then at the bottom of the activity you'll see an export button:

Whack that button, which will then give you a menu option for the type of file to export to.  In this case for this example I happened to choose an indoor workout, hence why the GPX file option is grayed out (since it's GPS based, which this file lacks).  So, it's best here to choose TCX.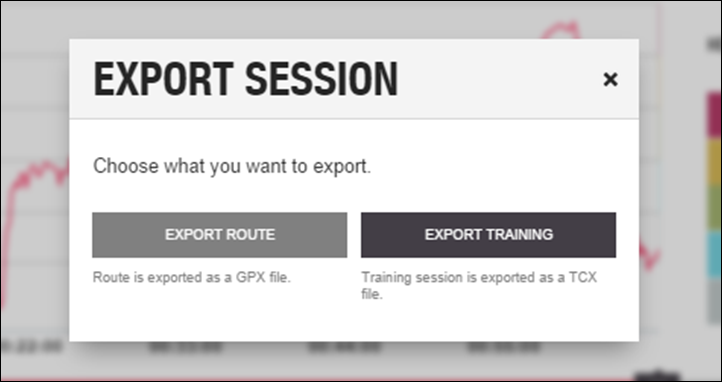 Finally, you'll be given a TCX (or GPX) file downloaded to your computer:

You can then take this file and load it into a 3rd party application.  For the heck of it, I just selected SportTracks (online variant).

And then, seconds later…magic: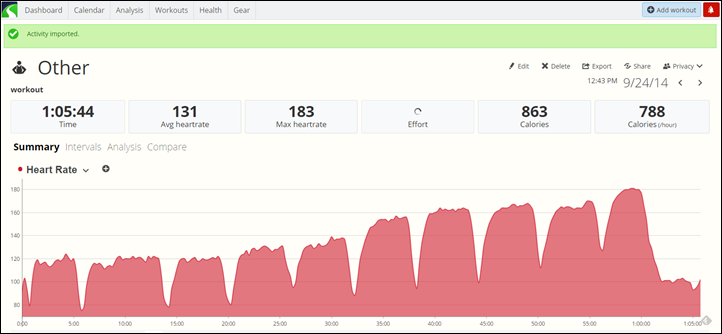 Now there does appear to be one limitation in that laps aren't exported yet (that's coming though, Polar has confirmed, hopefully later this year).
Finally, one other 3rd-party related limitation that doesn't quite fit anywhere else in this post is that the 'Fitness Test' functionality within the Polar M400 will ONLY work with the Polar HR straps, specifically the H6/H7 straps. It will not work with 3rd party straps.  This is something that Polar has done to hard-code it to their straps only.  Obviously, this is fairly stupid and is just vendor lock-in for no real purpose (since all remaining M400 functions work just fine with any 3rd party straps).  On the bright side, I don't find the Fitness Test functionality terribly useful in the grand scheme of things – so I don't see it as a substantial loss.
Product Comparisons:
I've added the M400 to the Product Comparison Tool, which means you can mix and match it against any other watch/unit that I've ever reviewed for feature comparisons.
For the sake of simplicity, I've just selected the Polar M400, Polar V800, Suunto Ambit2 S, and Garmin FR220.  However, you can easily make your own chart with any device you want here at this link.
Function/Feature

Polar M400
Polar V800
Suunto Ambit2 S
Garmin Forerunner 220
Copyright DC Rainmaker - Updated April 9th, 2021 @ 10:16 am New Window
Price
$179
$449
$219
$249
Product Announcement Date
Sept 25th, 2014
Jan 6th, 2014
APR 29, 2013
SEPT 16, 2013
Actual Availability/Shipping Date
October 2014
May 2014
May 2013
OCT 31, 2013
GPS Recording Functionality
Yes
Yes
Yes
Yes
Data Transfer
USB, BLUETOOTH SMART
USB, BLUETOOTH SMART
USB
USB, Bluetooth Smart
Waterproofing
Yes - 30m
Yes - 30m
Yes - 50m
50 Meters
Battery Life (GPS)
8 hours
Up to 50 hours
25 hours
10 hours
Recording Interval
1-second
1s
Variable
SMART RECORDING (VARIABLE)
Alerts
Sound/Visual
Vibrate/Sound/Visual
Sound/Visual
VIBRATE/SOUND/VISUAL
Backlight Greatness
Great
Great
Great
Great
Ability to download custom apps to unit/device
No
No
Yes
No
Acts as daily activity monitor (steps, etc...)
Yes
Yes
No
No

Music

Polar M400
Polar V800
Suunto Ambit2 S
Garmin Forerunner 220
Can control phone music
No
No
Has music storage and playback
No
No
Streaming Services
No

Payments

Polar M400
Polar V800
Suunto Ambit2 S
Garmin Forerunner 220
Contactless-NFC Payments
No

Connectivity

Polar M400
Polar V800
Suunto Ambit2 S
Garmin Forerunner 220
Bluetooth Smart to Phone Uploading
Yes
Yes
No
Yes
Phone Notifications to unit (i.e. texts/calls/etc...)
Yes
Yes
No
No
Live Tracking (streaming location to website)
No
No
No
Yes
Group tracking
No
No
Emergency/SOS Message Notification (from watch to contacts)
No
No
No
No
Built-in cellular chip (no phone required)
No
No
No
No

Cycling

Polar M400
Polar V800
Suunto Ambit2 S
Garmin Forerunner 220
Designed for cycling
Yes
Yes
Yes
Barely (Speed mode only)
Power Meter Capable
No
Yes
Yes
No
Power Meter Configuration/Calibration Options
N/A
Yes
Yes
N/A
Power Meter TSS/NP/IF
N/A
NP
No
N/A
Speed/Cadence Sensor Capable
No
Yes
Yes
No
Strava segments live on device
No
Yes
Crash detection
No
No

Running

Polar M400
Polar V800
Suunto Ambit2 S
Garmin Forerunner 220
Designed for running
Yes
Yes
Yes
Yes
Footpod Capable (For treadmills)
Yes
Yes
Yes (internal accelerometer)
Yes (also has internal accelerometer)
Running Dynamics (vertical oscillation, ground contact time, etc...)
No
No
No
No
Running Power
With extra sensor
VO2Max Estimation
Sorta
Yes
Yes
No
Race Predictor
Can estimate finish time during race
Yes, via Race Pace
No
No
Recovery Advisor
No (only if you have V800 too)
Yes
Yes
No
Run/Walk Mode
No
Yes, via timers
No
Yes

Swimming

Polar M400
Polar V800
Suunto Ambit2 S
Garmin Forerunner 220
Designed for swimming
No
Yes
Yes
No (protected though just fine)
Openwater swimming mode
No
Yes
Yes
N/A
Lap/Indoor Distance Tracking
N/A
Yes
Yes
N/A
Record HR underwater
No
With Certain Polar Straps
No
No
Openwater Metrics (Stroke/etc.)
N/A
Yes
Yes
N/A
Indoor Metrics (Stroke/etc.)
N/A
Yes
Yes
N/A
Indoor Drill Mode
N/A
No
Yes
N/A
Indoor auto-pause feature
N/A
Yes
No
N/A
Change pool size
N/A
Yes
Yes
N/A
Indoor Min/Max Pool Lengths
N/A
20M/Y to 250 m/y
15m/y to 1,200m/y
N/A
Ability to customize data fields
Yes
Yes
Yes
N/A
Captures per length data - indoors
N/A
Yes
Yes
N/A
Indoor Alerts
N/A
N/A
No
N/A

Triathlon

Polar M400
Polar V800
Suunto Ambit2 S
Garmin Forerunner 220
Designed for triathlon
No
Yes
Yes
No
Multisport mode
No
Yes
Yes
No

Workouts

Polar M400
Polar V800
Suunto Ambit2 S
Garmin Forerunner 220
Create/Follow custom workouts
Yes
Yes
No
Yes
On-unit interval Feature
Yes
Yes
Barely
Yes
Training Calendar Functionality
Yes
Yes
No
Yes

Functions

Polar M400
Polar V800
Suunto Ambit2 S
Garmin Forerunner 220
Auto Start/Stop
Yes
Yes
Yes
Yes
Virtual Partner Feature
Via Race Estimator
Yes
No
No
Virtual Racer Feature
No
No
No
No
Records PR's - Personal Records (diff than history)
Yes
No
No
Yes
Tidal Tables (Tide Information)
No
No
No
No
Weather Display (live data)
No
No
No
No

Navigate

Polar M400
Polar V800
Suunto Ambit2 S
Garmin Forerunner 220
Follow GPS Track (Courses/Waypoints)
No
Yes
Yes
No
Markers/Waypoint Direction
No
Yes
Yes
No
Routable/Visual Maps (like car GPS)
No
No
No
No
Back to start
Yes
Yes
Yes (added Aug 30, 2013)
No
Impromptu Round Trip Route Creation
No
No
No
No
Download courses/routes from phone to unit
No
Yes
No
No

Sensors

Polar M400
Polar V800
Suunto Ambit2 S
Garmin Forerunner 220
Altimeter Type
GPS
Barometric
GPS
GPS
Compass Type
GPS
Magnetic
Magnetic
N/A
Optical Heart Rate Sensor internally
No
No
No
Heart Rate Strap Compatible
Yes
Yes
Yes
Yes
ANT+ Heart Rate Strap Capable
No
No
Yes
Yes
ANT+ Speed/Cadence Capable
No
No
Yes
No
ANT+ Footpod Capable
No
No
Yes
Yes
ANT+ Power Meter Capable
No
No
Yes
No
ANT+ Lighting Control
No
No
ANT+ Bike Radar Integration
No
No
ANT+ Trainer Control (FE-C)
nO
No
ANT+ Remote Control
No
no (but can control GoPro)
No
No
ANT+ eBike Compatibility
No
No
No
No
ANT+ Gear Shifting (i.e. SRAM ETAP)
No
No
Shimano Di2 Shifting
No
No
No
No
Bluetooth Smart HR Strap Capable
Yes
Yes
No
No
Bluetooth Smart Speed/Cadence Capable
No
Yes
No
No
Bluetooth Smart Footpod Capable
Yes
Yes
No
No
Bluetooth Smart Power Meter Capable
No
Yes
No
No
Temp Recording (internal sensor)
No
Yes
No
No
Temp Recording (external sensor)
No
No
No
No

Software

Polar M400
Polar V800
Suunto Ambit2 S
Garmin Forerunner 220
PC Application
Polar Flowsync
Polar Flowsync - Windows/Mac
Moveslink Agent
Garmin Express
Web Application
Polar Flow
Polar Flow
Movescount
Garmin Connect
Phone App
iOS/Android
iOS/Android
Movescount
iOS/Android
Ability to Export Settings
No
No
Yes (online)
No

Purchase

Polar M400
Polar V800
Suunto Ambit2 S
Garmin Forerunner 220
Amazon
Link
Link
Link
Link

DCRainmaker

Polar M400
Polar V800
Suunto Ambit2 S
Garmin Forerunner 220
Review Link
Link
Link
Link
Link
The tables are updated dynamically and thus if/when things change that's represented automatically in this section.  And again, remember you can create your own charts easily here with any product you'd like.
Summary: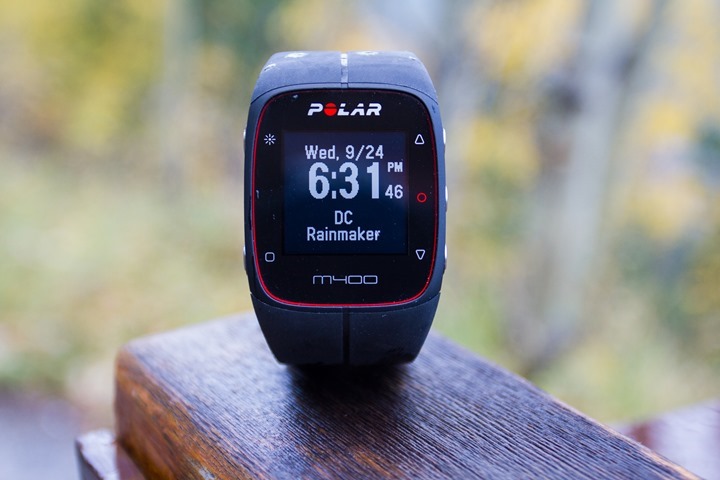 Overall I'm really impressed with the M400.  Polar seems to have finally found an appropriate price for its products (some might even say they priced it a bit low actually).  The unit is a near perfect blend of activity tracker with GPS running watch, as well as daily wrist watch.
There are some minor nits I have, such as the lack of steps on the watch home screen itself.  And of course, it doesn't do smartphone notifications (i.e. missed call alerts) like some of the other units on the market – though there's no specific reason why Polar couldn't add that down the road in a firmware update (I think they'll be forced to competitively).
When it comes time to compare the watch, the major competitors here would be the Garmin FR220 and the TomTom Runner, and in both categories I'd probably give the edge to the M400. At least, assuming you don't care about Live Tracking (Garmin FR220) or an indoor treadmill mode without a footpod (Garmin FR220/TomTom Runner) – I expand more on my FR220 vs M400 thoughts in this comment here.  Of course, I often note that neither indoor treadmill mode (sans-footpod) is terribly accurate, so that's probably not a huge loss.  The Suunto Ambit2 S is also a very worthy competitor, but about $40 more expensive (the Ambit2 R is actually more expensive than the 2S, so silly to get that over the 2S).
At this point I'd have no problems recommending this watch, and the way things are trending I suspect this unit will easily make/top my updated 2014 budget/midrange GPS watch recommendations list for the updated winter season (November-ish).
[Update note April 15, 2015: Polar added the footpod support with firmware update 1.4. You'll need to pickup a Polar Stride Sensor Bluetooth Smart for around $80, but this will give cadence and stride length metrics, as well as pace and distance when indoors on a treadmill.]
[Update note June 8, 2015: Polar announced Bluetooth Smart notifications for the M400 for iOS.]
[Update note October 22, 2015: Polar announced Bluetooth Smart notifications for the M400 for Android]
Found this review useful? Or just wanna save a bundle of cash? Here's how:
Hopefully you found this review useful. At the end of the day, I'm an athlete just like you looking for the most detail possible on a new purchase – so my review is written from the standpoint of how I used the device. The reviews generally take a lot of hours to put together, so it's a fair bit of work (and labor of love). As you probably noticed by looking below, I also take time to answer all the questions posted in the comments – and there's quite a bit of detail in there as well.
I've partnered with Clever Training to offer all DC Rainmaker readers an exclusive 10% discount across the board on all products (except clearance items). You can pickup the Polar M400 below. Then receive 10% off of everything in your cart by adding code DCR10BTF at checkout. By doing so, you not only support the site (and all the work I do here) – but you also get a sweet discount. And, since this item is more than $75, you get free US shipping as well.
Polar M400 Black or White (with or without HR strap, select dropdown)
Thanks for reading! And as always, feel free to post comments or questions in the comments section below, I'll be happy to try and answer them as quickly as possible.