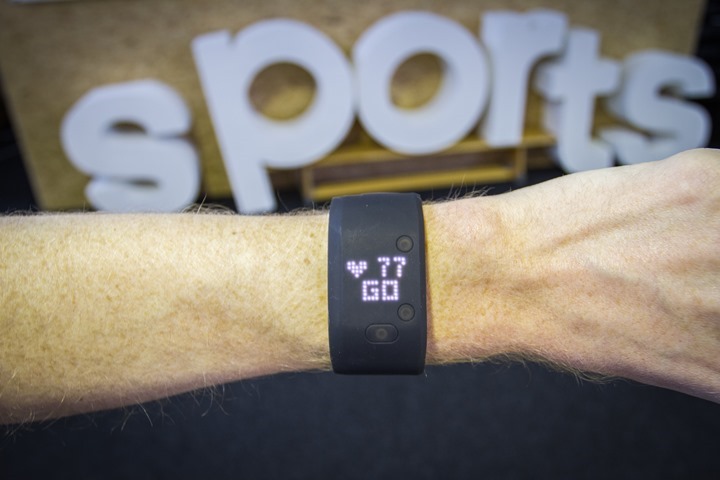 Adidas has just announced their latest sports and fitness focused device – the Fit Smart.  The unit features optical heart rate recognition from your wrist via an embedded Mio optical sensor, while supplementing that data in conjunction with accelerometer data to give you pace and speed when running.  That's all then leveraged by the unit with a light pipe that guides you through workouts based on their smart coaching features.
I had a chance a while back to get a brief bit of hands-on time with the Fit Smart, so I'll give you some first impressions before holding off for my final thoughts later this summer once the unit is finalized and hits stores.  Note though my time was extremely limited (just like the lighting in the room), thus there may be caveats (or features) that weren't yet apparent.
The Basics:
While using the wrist-based Fit Smart you'll select one of three modes to workout in:
Coach Mode: This enables you to follow coached workouts which are sent to the Fit Smart from your phone, and can target metrics like heart rate or calories.  Heart rate comes from the optical sensor on the underside of the unit

Standalone run/walk tracking mode: In this mode you can use it like other running watches, where it'll use the accelerometer inside it to determine pace/distance.  This mode is a bit different than coached mode in that you're free to do whatever you'd like workout wise with no coaching, but otherwise it still captures all the same metrics.

Integrated phone GPS/Fit Smart Mode: In this mode the unit will actually use your phone's GPS sensor for pace/distance, and then combine that with the heart rate data it gets from the Mio Optical.  Thus, you must have your phone on you during this mode (such as in a running arm band).
The unit features a 'light pipe' along the left side that illuminates green/blue/yellow/red/white to correspond with guidance on whether you're on target for the given task.  For example, if you set a heart rate zone from 140-150bpm, and you're exceeding that it would be red.
Within the coaching mode the unit will allow you to download up to 15 workouts from your phone to the device, which can then be run separately from your phone (so you don't have to take your phone with you).  This is in addition to vibration feedback from the wrist band.  And if you have your phone nearby then you'll also get audio feedback as well (either from the speaker or you could use headphones/Bluetooth headphones).
The front of the device has two navigation buttons (smaller ones) for changing the display, while it has a bigger button called the 'Action button', for confirming tasks and starting/stopping a workout.
The device itself can display Pace, Calories, Time, Distance, and Heart Rate.  For distance and pace it can be switched between metric (kilometers) or statute (miles).  As noted earlier, for heart rate the unit uses the Mio optical sensor for reading your heart rate optically from your wrist.  This is the same sensor as used in the Adidas Smart Run GPS unit (as well as Mio products).  You'll note however that the Fit Smart is a bit wider than Mio's recent Link unit, which may help ensure cleaner optical heart rate recognition (which can be impacted by outside light impacting the sensor).  From a width standpoint, the Smart Run is about 45mm wide, whereas the Fit Smart is 34mm wide (for reference the Mio Link is about 28-29mm).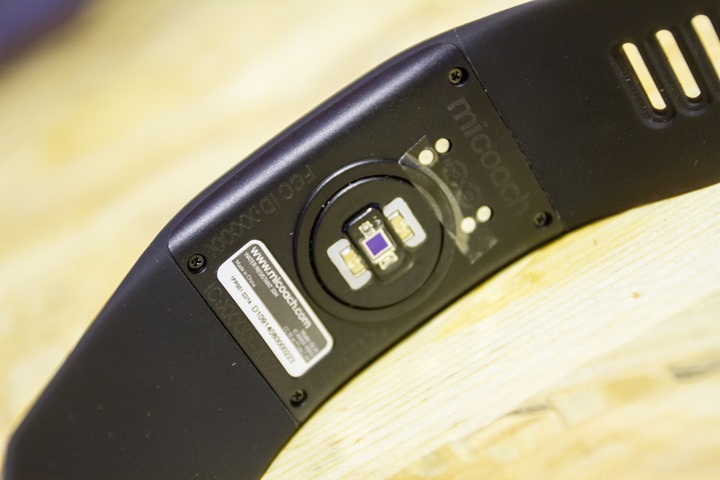 From a battery perspective the unit gets about 5 hours of active use (though it sounds like it can go a bit higher), or about 5 days with upwards of 1 hours per day.  The unit can store up to 10 hours of data however.  The strap can display time during standby, though a button must be pressed to trigger it.  The Fit Smart is charged via a USB cradle.  Like most products it uses a cradle/adapter instead of a MicroUSB port to improve waterproofing.
During discussions with Adidas about this they noted they are heavily looking at technologies like Nano waterproofing for future products, but that ultimately the integration isn't yet sustainable for the volumes they'd be trying to produce.  Yet, they believe things are getting very close there.  Speaking of which, the unit is waterproofed to 3ATM (which translates to roughly 20-meters deep).  However, they noted they don't recommend using it for swimming due to the repetitive pressure (whacking) of your wrist on the water.
You've got two modes to track distance, either with the phone or without.  When using it with the phone you can complete a calibration test using your phone's GPS for three separate pace ranges (walk/jog/run) which will calibrate the unit to your specific running style.
Interestingly when I visited Adidas that day there was a member of the Fit Smart team out on the track with four Fit Smart's strapped to his wrists testing accuracy of the calibration.  In my own testing of other units/companies that use accelerometers for pace and distance I find they are generally between 'so-so' accurate and 'barely acceptable'.  I'm interested in seeing where Adidas sits here on this, given how critical it will be for the unit since it lacks a GPS internal to it.
Phone Integration:
The unit is fully dependent on your smartphone for setup and configuration, as well as calibration. The unit is compatible with most major Android OS 4.3 devices, as well as all recent iOS devices that have Bluetooth 4.0 capabilities (iPhone 4S and newer).
Adidas has made good strides over the last year in continuing to increase functionality within their apps (iOS/Android/Windows Phone).  They have clearly become the hub for connectivity between the various devices Adidas is making and the internet.  For example, neither the Fit Smart nor the Smart Run GPS will connect to a computer – all depend on a phone (the same with their new soccer ball and various other sensors).  This approach largely makes sense given for most people the phone is their hub, however it may limit sales to people with older phones that aren't compatible (many activity tracker companies ship a USB stick to allow sync with computers).
The app will track fitness focused goals and progress towards those goals.  However, it's really important to point out that the device is not an activity tracker.  It doesn't count steps or other non-activity calorie burn or distance.  Meaning, it's not a FitBit or the like.  Rather, it's like the Smart Run GPS without the GPS and music part.
The data from the unit is automatically sent to the Adidas fitness platform called miCoach.  That platform has also seen a number of enhancements, including the ability to export out workout data and upcoming integration to a major fitness site focused on cyclists coming up.  Further, they're working to enable you to import your entire RunKeeper 'life data' file exports, essentially allowing full data transportability into the Adidas ecosystem.
Further, starting in August they'll be opening up an API to allow developers to access data in the platform.  Even more, they're considering an SDK down the road for direct access to the device itself – which would be unheard of from any of the major fitness device players (and would be very cool).
A recent Google I/O Keynote presentation slide has shown Adidas as being part of the Google Fit platform.  At this time they're still working out the details with Google and don't yet have any specific details to announce.  However in my talks with them about the integration between the two platforms they said that they see the Google Fit platform as very 'non-limiting' (which is good).  This mirrors what I've heard from other companies in looking at the difference between Google Fit and Apple Healthkit.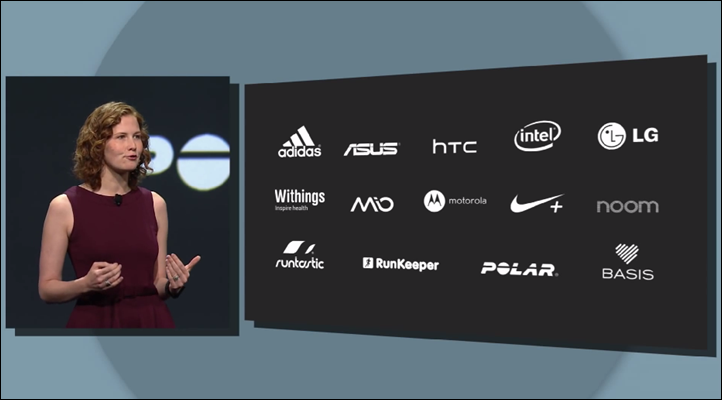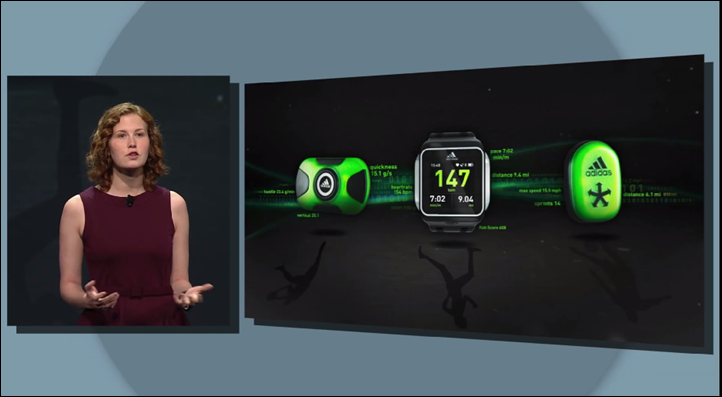 When it comes to Fit Smart models, there are two sizes.  A smaller size (184mm) and a larger size (207mm), and two 'colors', a black as seen in my photos, and a translucent variant.  Both will be available in August for $199US.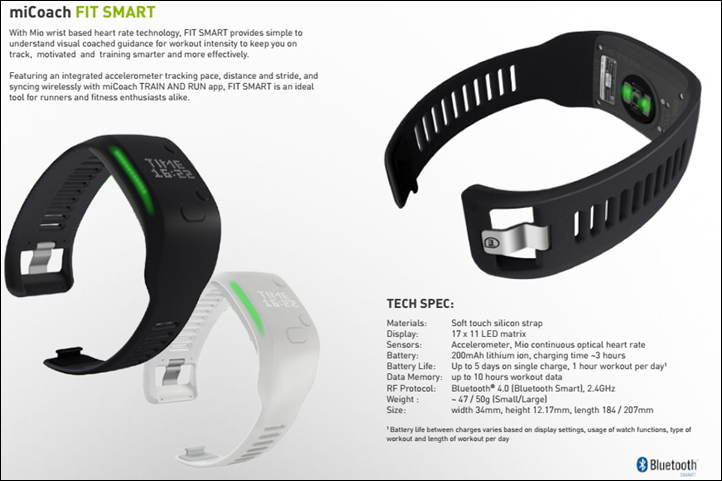 Just for comparison sake, here's the difference in size between a 'known' device such as the Garmin Vivofit: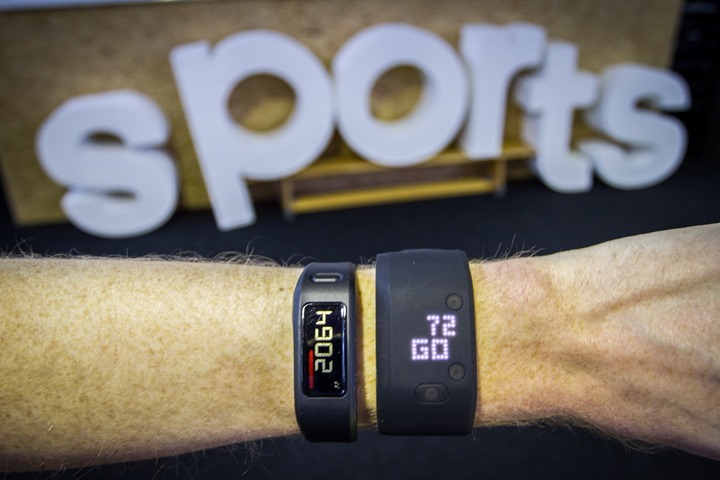 As you can see it's about twice as wide as a typical activity monitor, and is thus more in line with a GPS watch.  The reason for the additional width was to both accommodate the display but also to keep the LED lights from not becoming too blurred if squished together.
My Thoughts: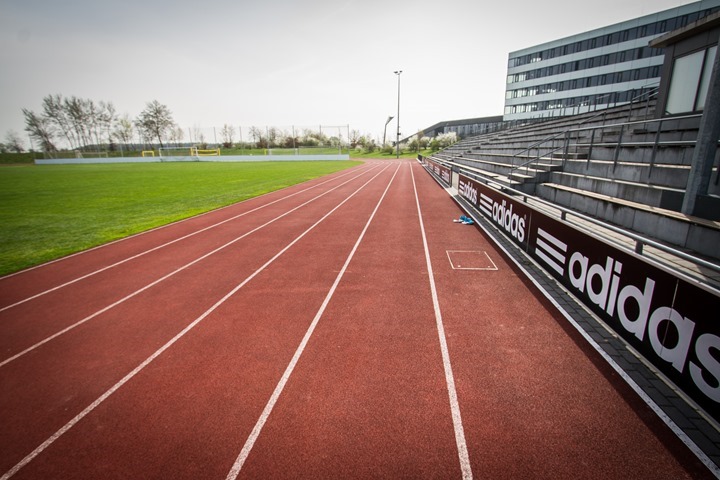 I like seeing new entrants in this space, especially from major companies that have a strong (and growing) web platform.  I think that's often the biggest differentiator between a new device from an unknown Kickstarter company and then a major player – it's about the platform.  Without the platform you end up with just another heart rate monitor or cereal box pedometer.  In this case, the device also has the embedded optical heart rate sensor, which is very unique for this segment.  Further it has coaching and downloaded workout integration, also unique at this price point.
However, that's where things get a bit tricky: Price.  The device is priced at $199US.  Which in and of itself isn't bad.  What's complicated though is that it doesn't do daily activity monitoring – which many will see as 'standard issue' for a wrist based band.  Further, since it lacks GPS (common for $100+ fitness watches) you'll be dependent on the accelerometer in the unit for accuracy.  In a lot of ways you could buy a budget GPS watch and an activity monitor for the same price, albeit without the optical heart rate strap – which is no doubt core to the experience here.
Thus, I'm actually somewhat undecided on whether consumers (you) will be drawn to the device.  If it did activity tracking I think it'd be a slam dunk – but without it, it's a tough call.
With that – thanks for reading, and feel free to drop any questions below.  I'll likely be aiming for a full in-depth review sometime in August once the device is finalized and hits retail availability.