Things started early this morning – approximately 6AM.  Which, for you early birds is indeed early for this non-early bird.  From there I'd catch the RER train 10 minutes up to Gare du Nord, where I'd change to a regular SNCF intercity train for the 2.5 hour trek out to Le Touquet, a semi-swanky beach town that faces the English channel and UK just beyond it.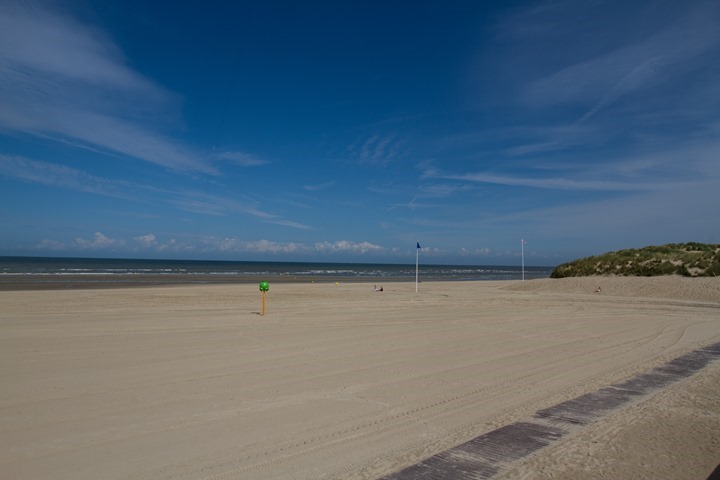 It's here that I found the start to the first French stage of this year's Tour de France.  The first three stages were just across the channel in the UK.
I arrived just in time for things to go from almost nothing going on, to full-on pre-race rush.  The announcer was just getting the crowds at the starting line worked up, but for those 'in the know' – that's not at all where you wanted to be.  Nope, you'd ultimately want to be down near all the team vans and cars, which were just barely starting to come in.
However, before all the teams started unpacking for the day there was the daily caravan to take part in.  That's the parade of sponsor vehicles that precedes the race each day, following the exact race route – all many thousands of kilometers of it.  Because the parade is moving a fair bit slower, they start about 2-3 hours ahead of the riders.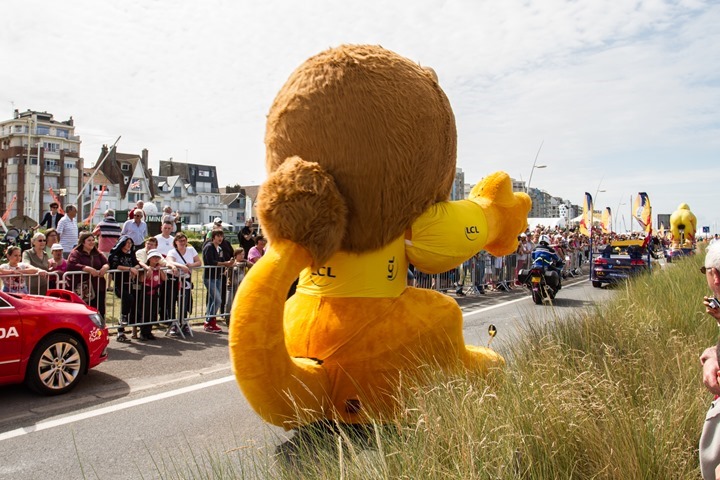 Of course the real value in the parade is the free loot that's tossed to the crowds.  There are certain iconic items that everyone tries to get (like the Carrefour polka dot king of the mountain hats), and then there are a bunch of smaller freebies that usually hit you upside the head when you least expect it (like a pen from BIC).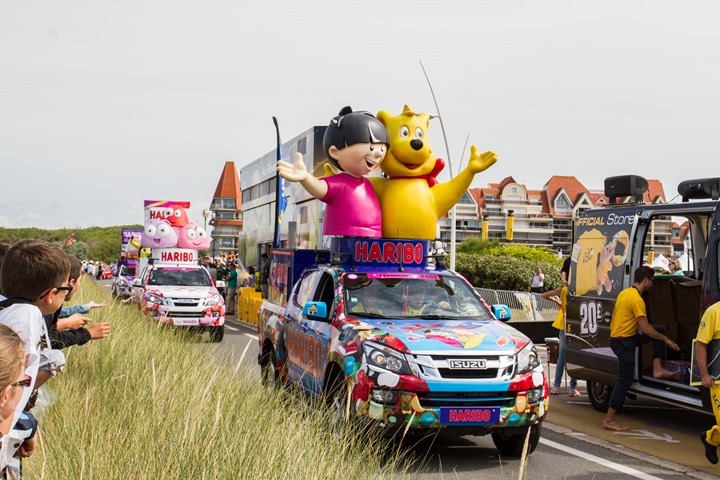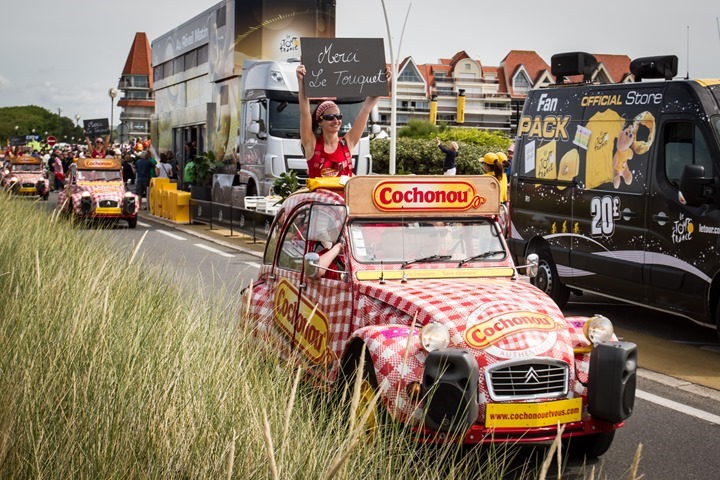 Everyone gets into the diving for goods action.  Especially little old grandmas going after madeleine's (a little pastry/donut thing of sorts).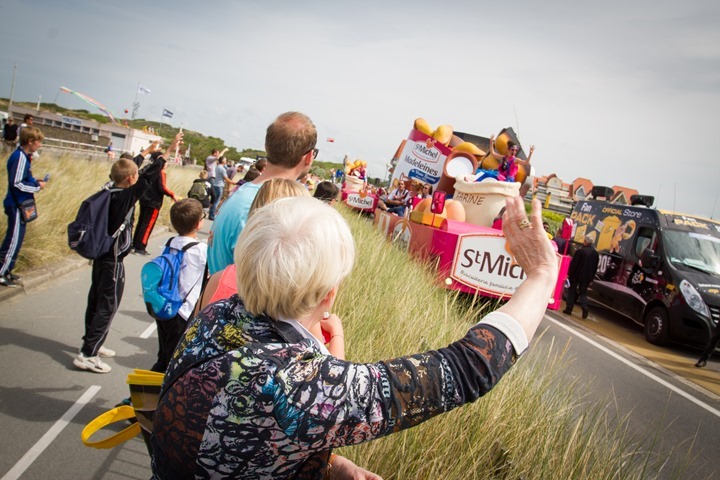 While there was loot to be had, it appeared the throwers weren't really fully warmed up yet – since about half the vehicles hadn't even started throwing things at this point.  Still, I did fairly well and came away with a Skoda hat, a LCL Le Tour bag, a Festina poncho, and a packet of juice mix.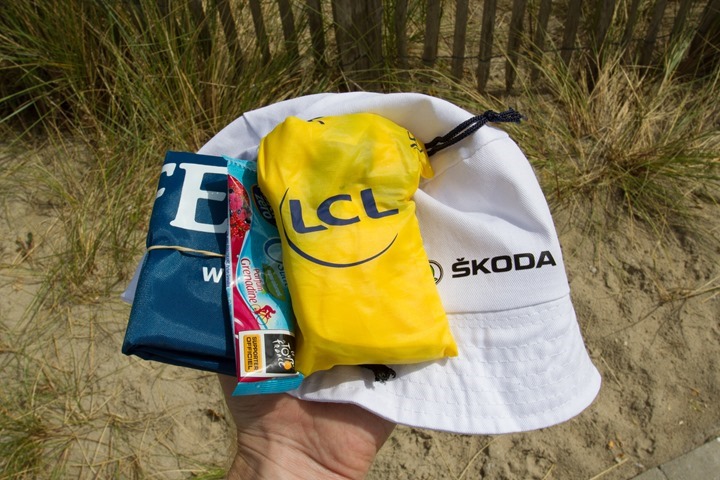 Once the parade finished up (takes about 30-45 minutes) I went ahead and swung back towards the staging area for the teams.  In today's stage it was simply along the main route beginning about 400-800m from the starting line.  It then extended for another 400-600m beyond that.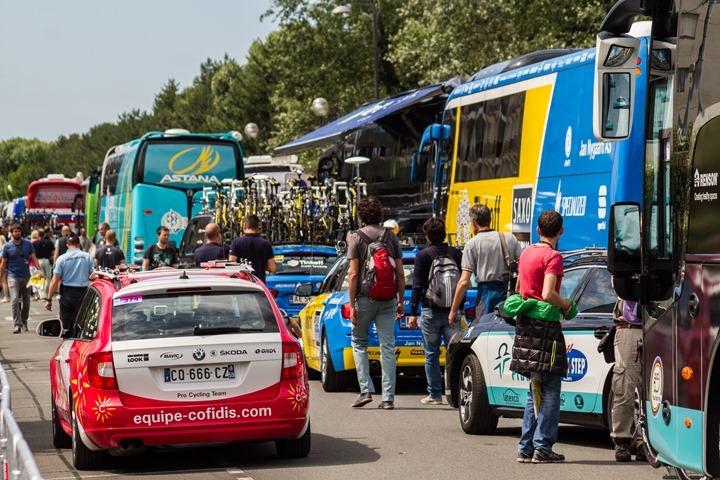 Here you'll find team directions, staff, and of course the riders themselves.  In most cases the atmosphere is pretty friendly and easy going.  And as you'll see, fans are allowed right up close (I haven't to date bothered to apply for ASO media credentials for the Tour), so everything you see in this post is just as any regular spectator would have access too.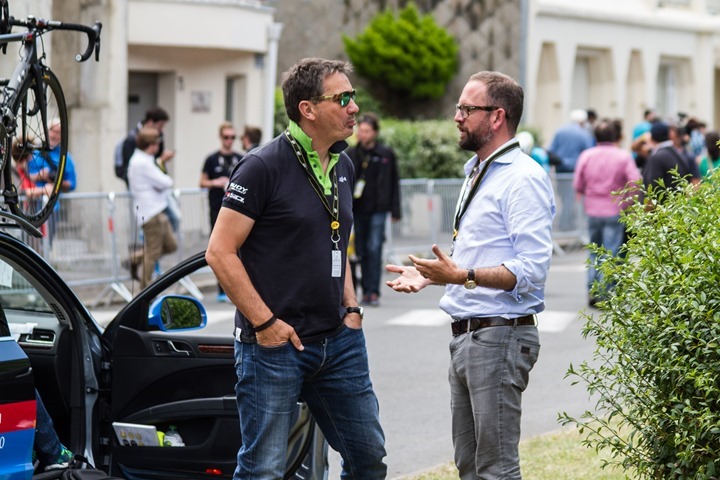 My primary goal in here is actually to get stock photos of most of the bikes – specifically the sports technology aspects.  So I'm looking at things like power meters, head units, and as is popular this week – action cameras.  It provides an opportunity to see what teams are actually using when 'it counts', as well as to note interesting discrepancies.  And lastly, simply having photos on hand of all the configurations for the rest of the year in case something pops up that I need to use one for.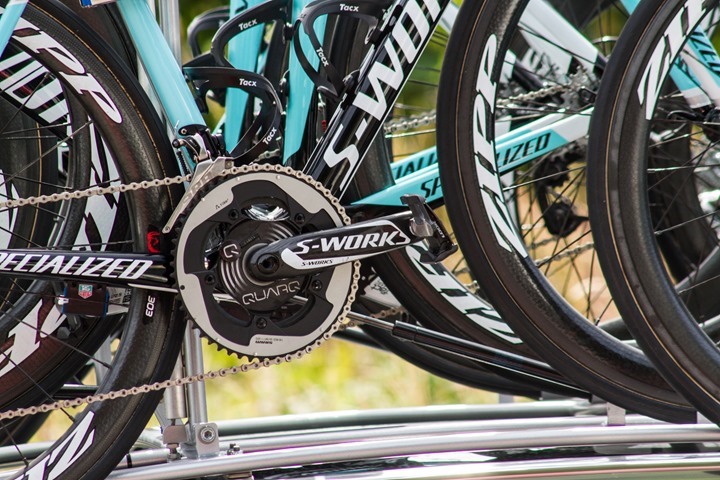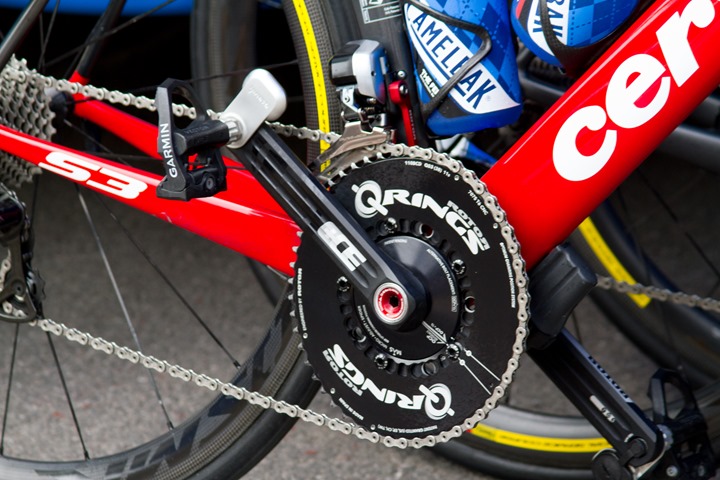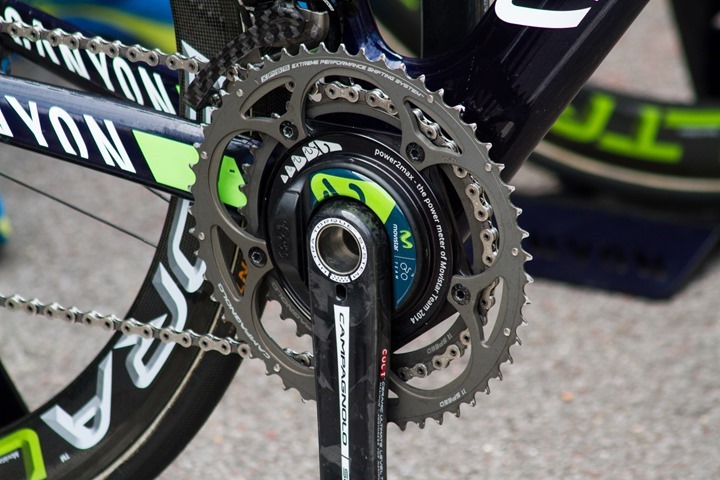 I've got some additional power meter news/details coming up in the next 24 hours or so, so hang tight there.
This year, my spotting also included a surge of teams using action cameras.  This was largely initiated by Giant-Shimano back at the Tour of California this spring.  Today they were sporting two riders equipped with cameras – one front facing (#108 – Albert Timmer) and one rear facing (#103 – Koen de Kort).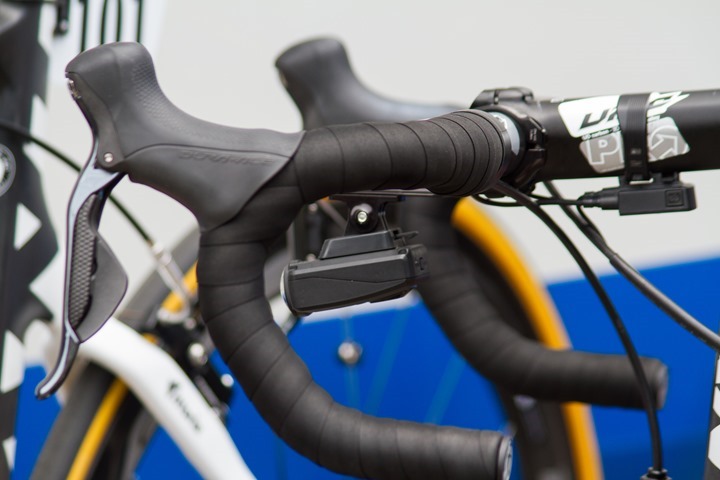 I'm fairly impressed with the the size of the Shimano unit, it seems comparable in size to that of a GoPro turned on its side.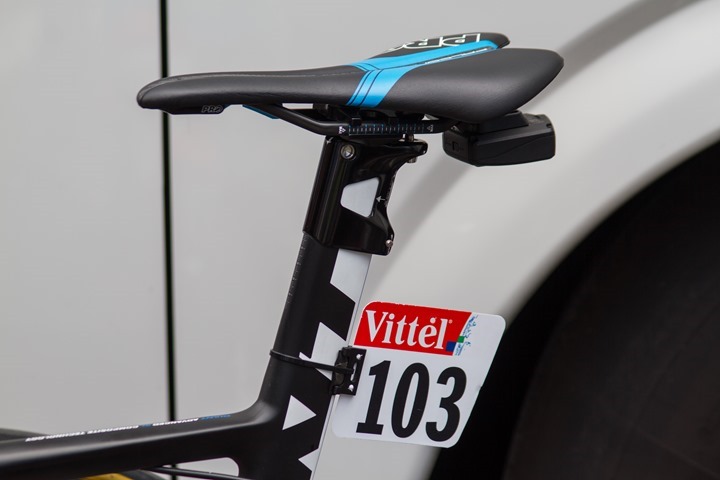 Shimano's released some pretty cool footage in races this spring with it – though, not too much terribly exciting yet up till today.  Still, it has potential.  For those curious – yes, I will definitely be reviewing it.  I have one working its way towards me now.
Meanwhile, the Garmin VIRB was also installed on two teams – first up was Cannondale, who had Fabio Sabatini using it.  Hopefully they fixed/changed the angle of the camera prior to the start, as otherwise that angle won't exactly be awesome.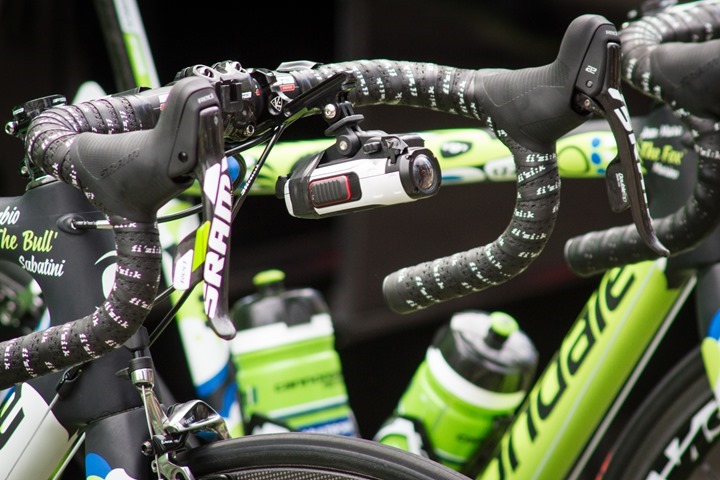 And then Team Garmin-Cervelo also had a rider (Alex Howes) with one setup on the front of his bike.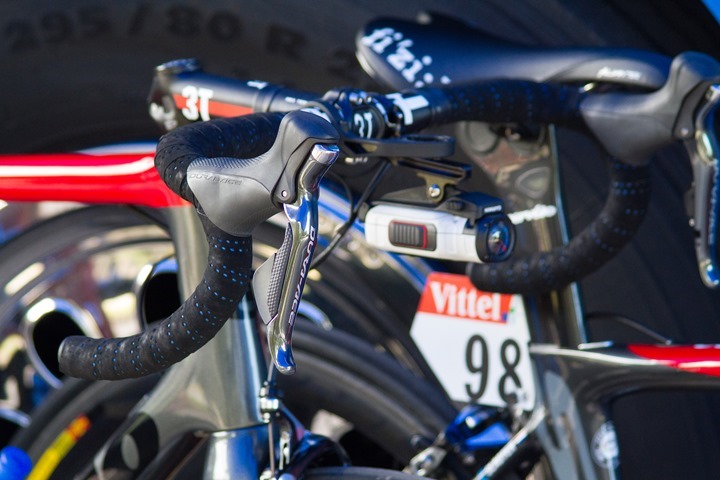 I happened to be there when Howes came out and picked up his bike to hear the exchange between the team staff (unclear if mechanic or coach) about what exactly to do with the VIRB.  It was pretty funny because clearly neither of them were given any instructions beyond "put it on the bike".  Which led to the two of them deciding to just use it adhoc whenever he felt like it.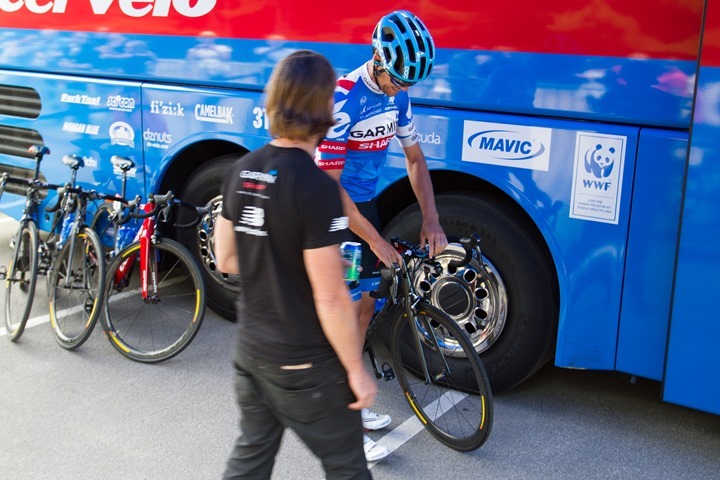 Interestingly, a reader noticed via Twitter that Howes isn't actually riding with the Garmin Vector power meter.  He has the Vector branded pedals, but there's no pods attached to said pedals.  Some Garmin riders are by the looks of it also riding SRM, though by time I got there I saw otherwise only legit Vector installs (see earlier photos).  But many Garmin Pro riders had already left to the start by then.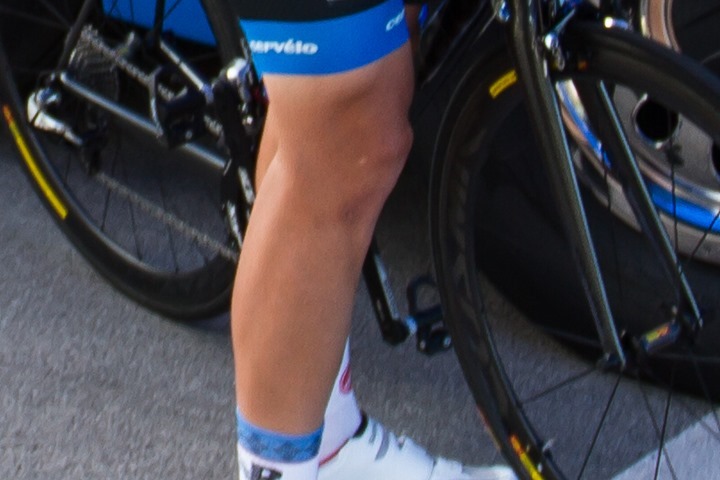 With everything in the bike area set the riders were making their way off to the start line: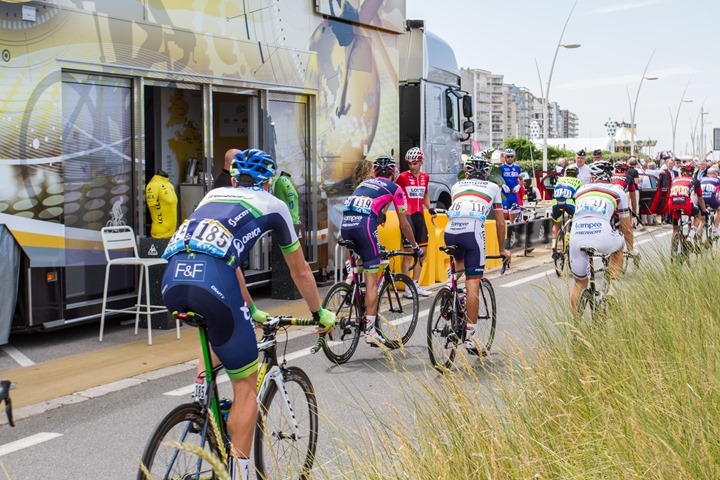 Though, they first had to navigate past the massive team vehicle stack-up: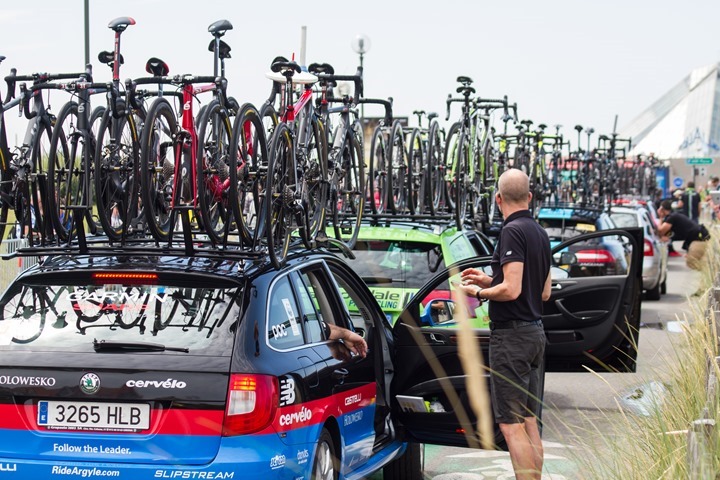 I headed down near the start line, just in time to find them lining up while some official ceremony occurred at the actual line: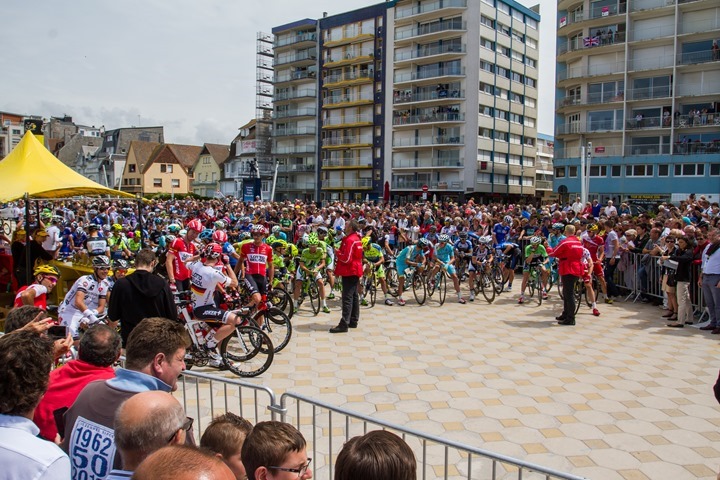 Then, the different jersey holders (i.e. sprint jersey, etc…) got some photos with what I assume to be the mayor.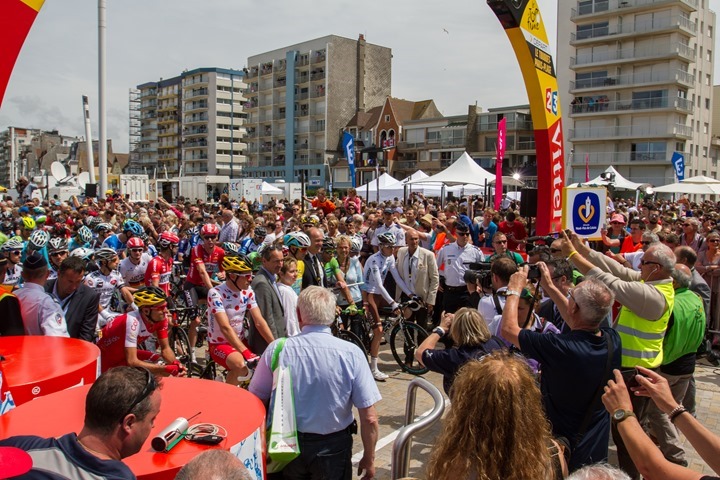 After that there was about 2 minutes before things headed on out.  This gave time for the final lead official vehicles to get moving.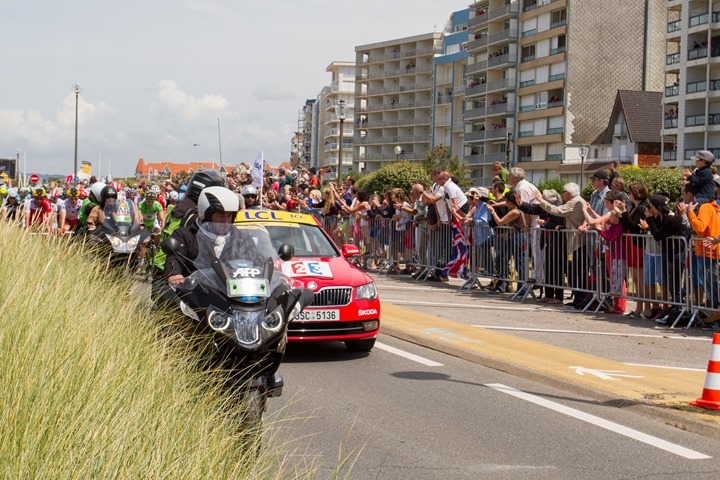 And then just after that as the countdown finished the peloton slowly slinked forward across the start.  Given it's still early in the Tour almost all the riders are still present, so it's quite a much larger pack compared to what you'd see two weeks from now.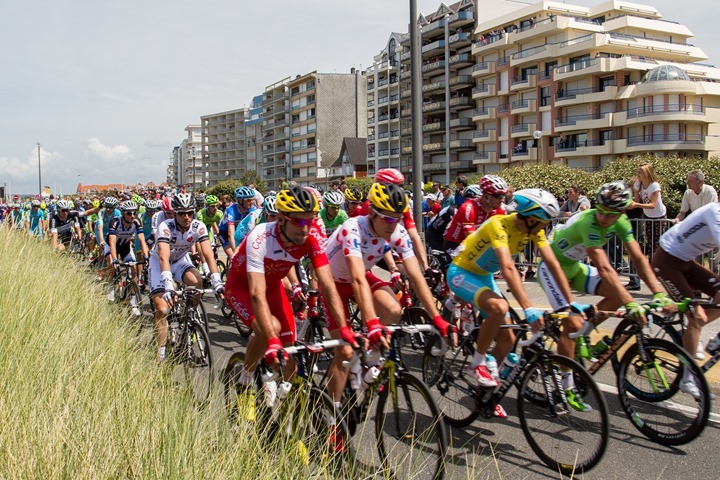 In all of perhaps 45-60 seconds they were gone, off for the 163.5 kilometer journey to Lille.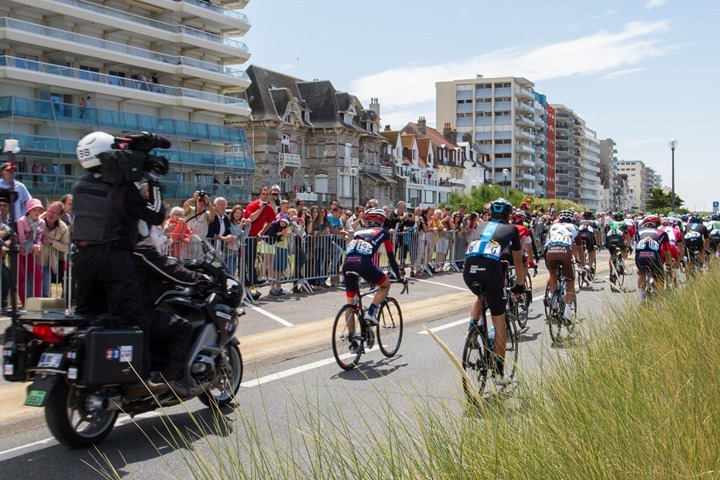 Which, left me following in their tracks.  Or rather, train tracks.  From here I'd catch a TGV train 90 minutes to Lille.  Well, I suppose that's after I walked an hour back to the train station from the start line.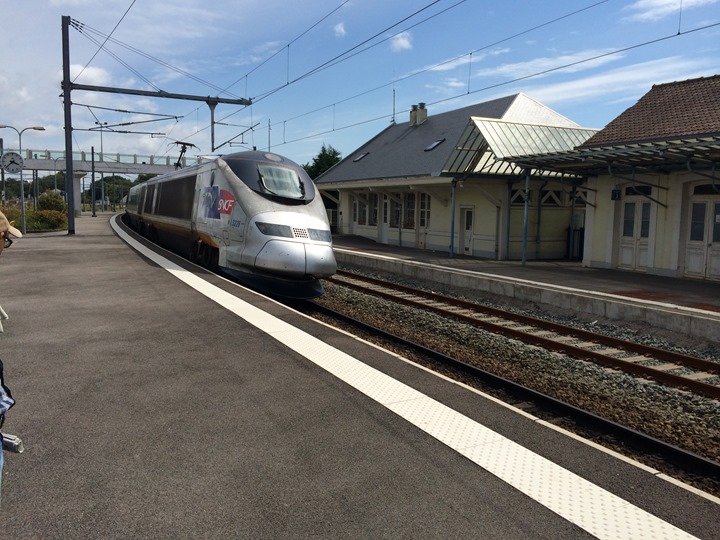 Ninety minutes (+60 minutes) later I found myself in Lille, home to the finish line.  Unfortunately, unlike many of the stages in the Tour, the finish area in this case was nowhere near the main train station.  But rather, a number of miles away across town.  So I had a bit of a decision to make – do I take the 'safe' option and just watch from the road near the train station where the route went past…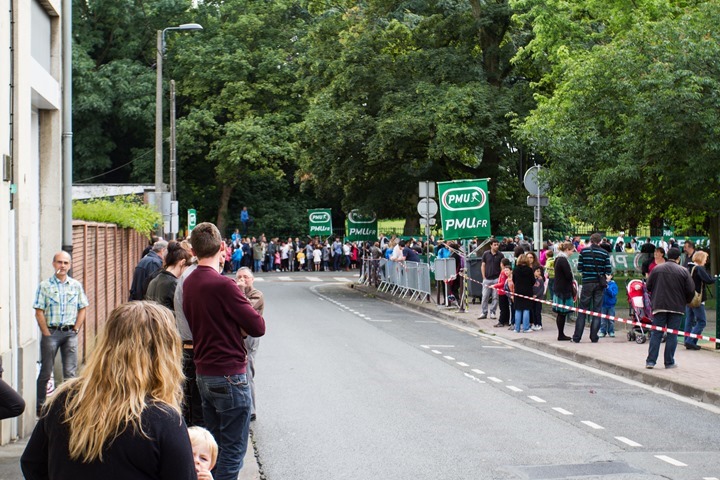 …or do I grab a bike-share bike and head across town?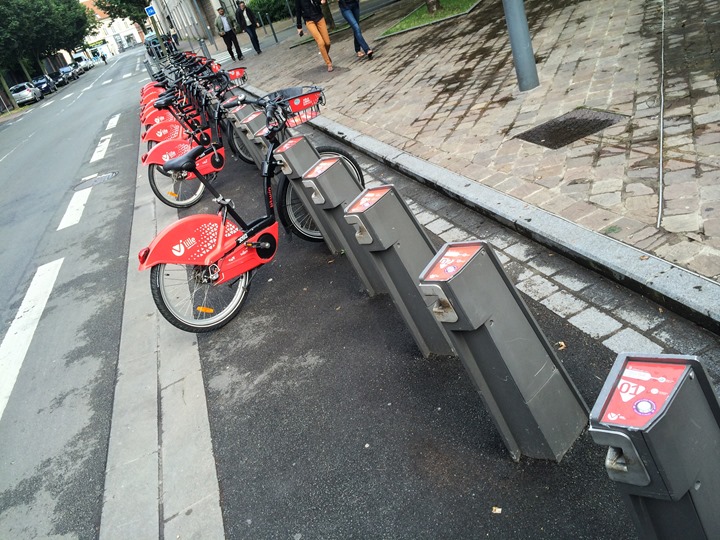 Well, the problem was I was indecisive, so I sorta tried to do both – and that ate into precious time I didn't really have to give up.  So, I slightly missed the main peloton near the finish, though, I did at least see some of the stragglers: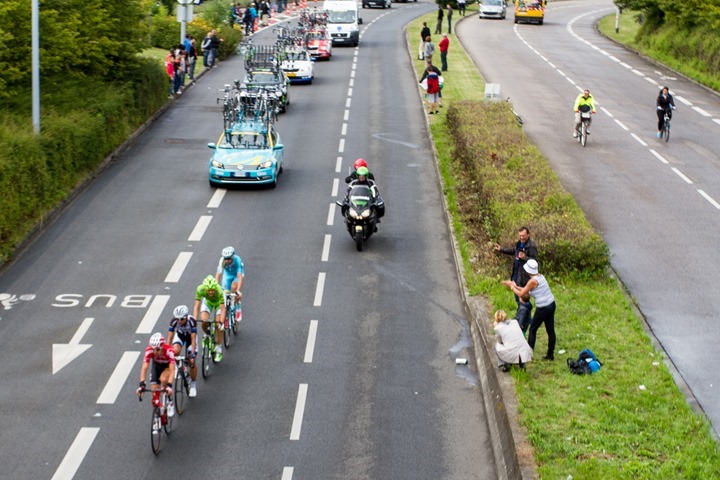 That's alright, you can't win them all.  Plus, I knew it was going to be tight even seeing them in Lille to begin with.  From there I bike rather fast back to the train station to just barely catch my onward train back to Paris: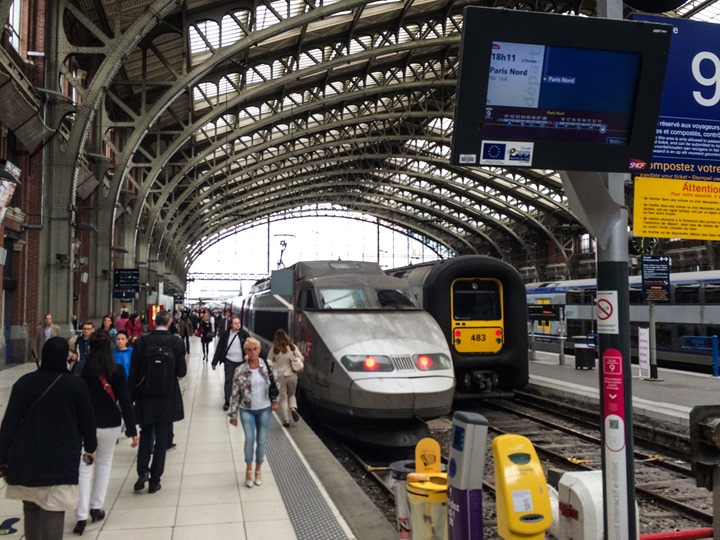 By time I got home I had clocked 16.72 miles of walking on my activity tracker.  In case you haven't been to Le Tour before…you do a lot of walking.  The gaps you see (7AM till 9AM, 3PM, 6PM) are the train rides.  And then the later gap when I went out for my workout (I generally don't take it with me when working out).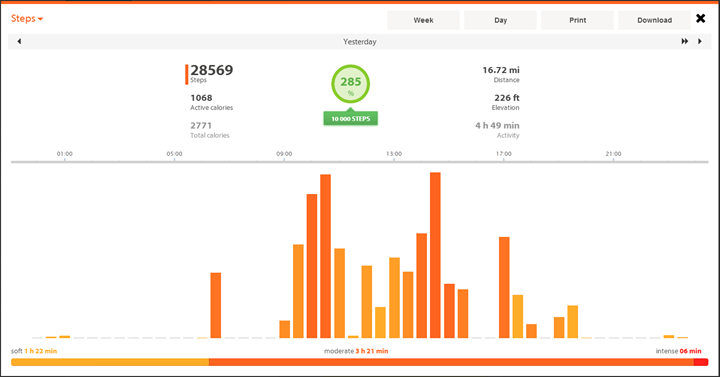 There was only one thing left to do – knock out a 90-minute high-intensity bike/run brick, starting around 9:30PM.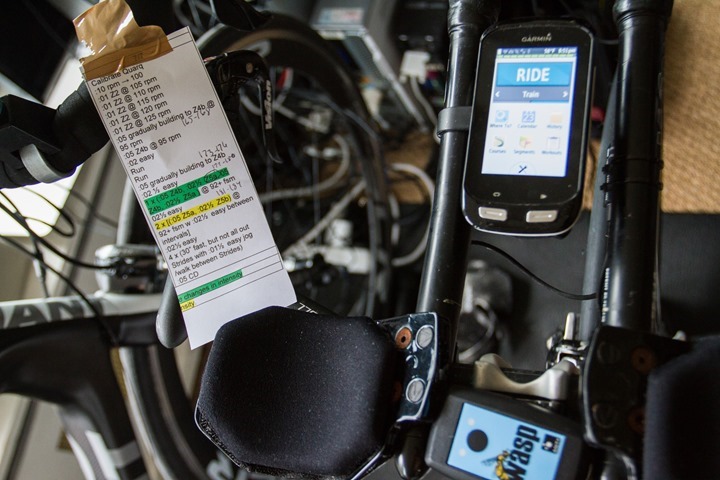 And…done.  With that, I'm exhausted.
Thanks for reading!
—
To see all my past photo-filled Tour de France posts from previous years, simply click here.  I warn you though – you might just burn a few hours in photos!