And here's how the first weekend in July went down, onwards!
1) Celebrated July 4th (yes, in France!)
When it comes to holidays that we miss while living in France, there's nothing more American or distinctly American than the 4th of July (Independence Day).  Sure Bastille day is next Monday, but somehow BBQ has not yet become as popular for the French as in the US – thus missing a key ingredient for the festivities.
Nonetheless, we did our best.  Which, ironically started with first watching the French play in the World Cup.  And that in and of itself might have been the national holiday.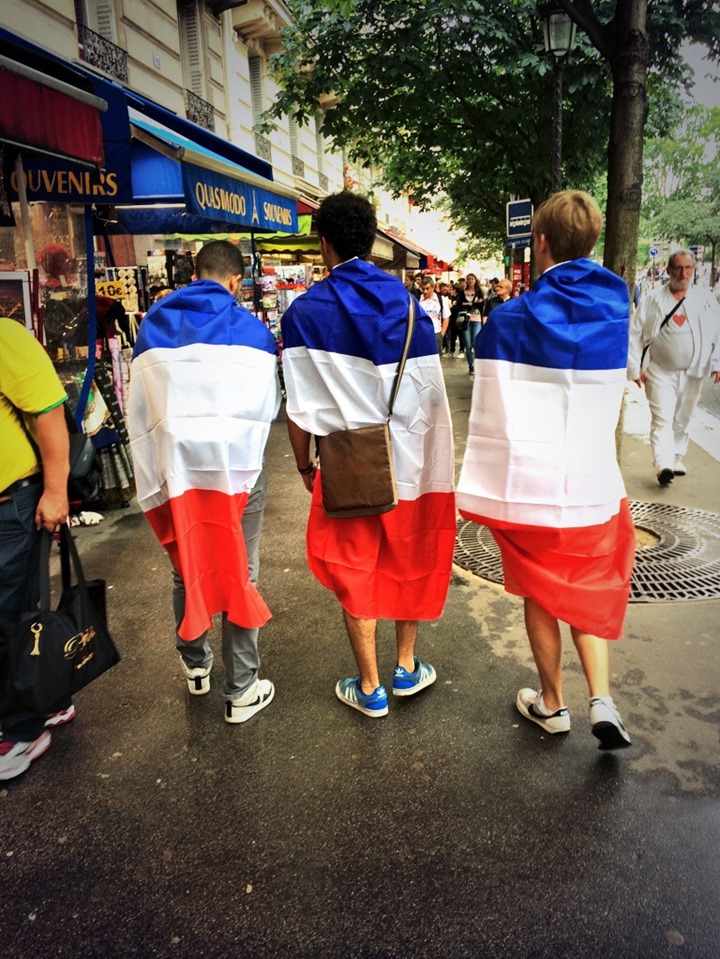 The only catch?  They lost.  Sigh.
So, with that deed done we enjoyed the rest of the evening celebrating everything and anything American.  Starting with pulled pork, Heinz Ketchup and Doritos.  Oh, and some cupcakes.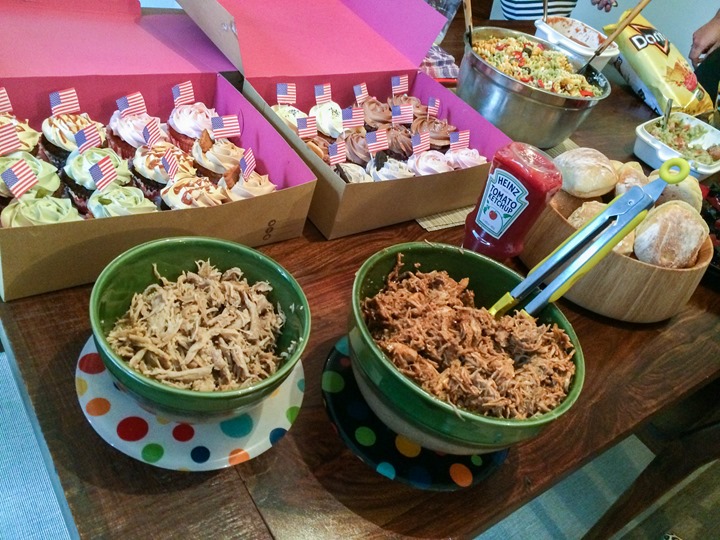 Of course, despite all attempts to keep it Americana, most of the group has transitioned into mixing between beer and wine.  Well, probably more wine.  Lots of wine actually.  Nevermind, the style of party was Americana, even if the alcohol was French and Belgian.
2) Ran around the city…
Saturday afternoon I went for a bit of a jaunt around the city.  A simple 12-mile run at an easy pace.  Unfortunately, as was the case the entire weekend the weather generally sucked during the day – lots of rain.  As a result, not a ton of interesting things to take photos of on the outbound portion.  Though, I did grab this fairly well framed impromptu photo on the return: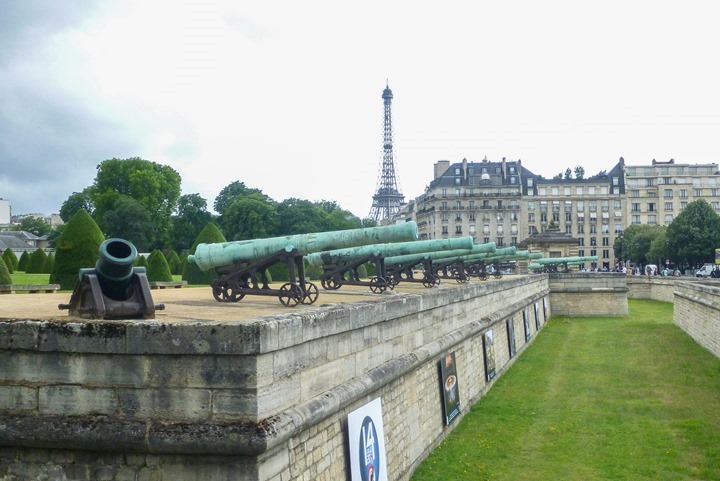 I made my turnaround the Statue of Liberty replica, which seemed appropriate for the weekend.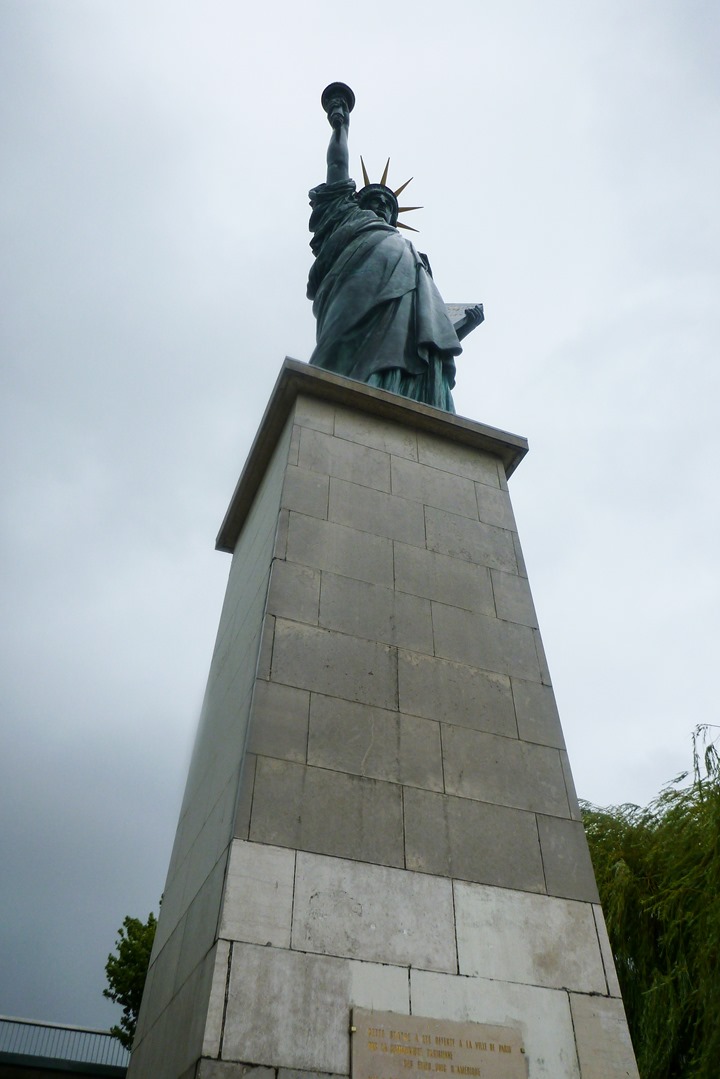 At which point I headed back towards the Eiffel tower, off in the distance through the rain.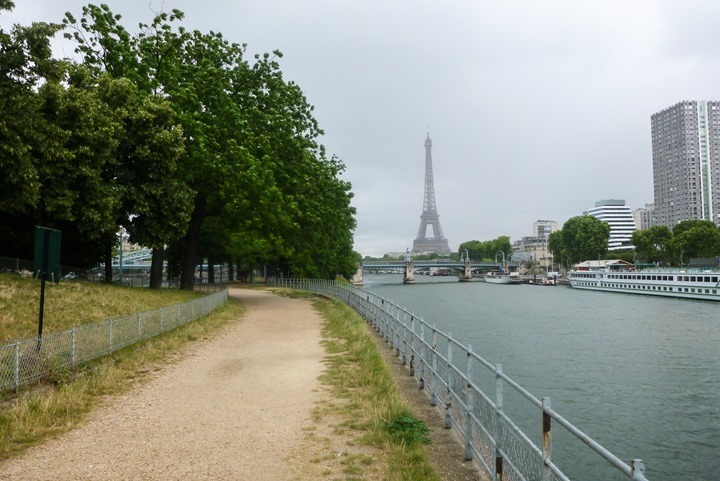 Interestingly the Eiffel Tower actually has a little buddy right now.  This little guy was put up a few weeks ago, though I didn't slow down/stop to find out its back story.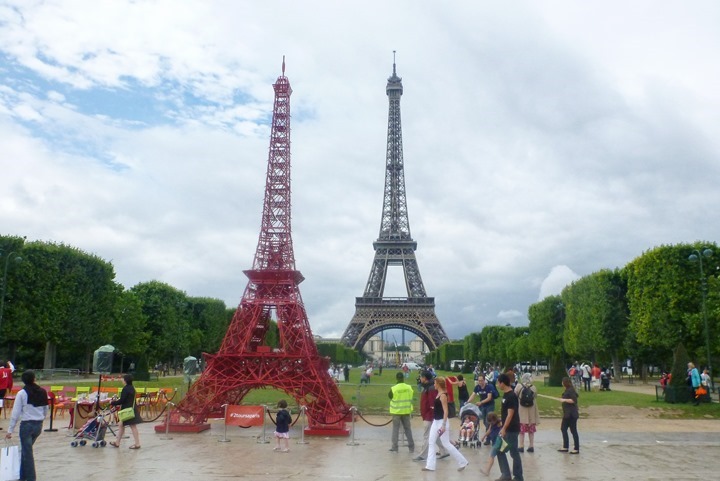 Instead, I turned around and continued towards École Militaire and the glass Monument to Peace that sits in front of it.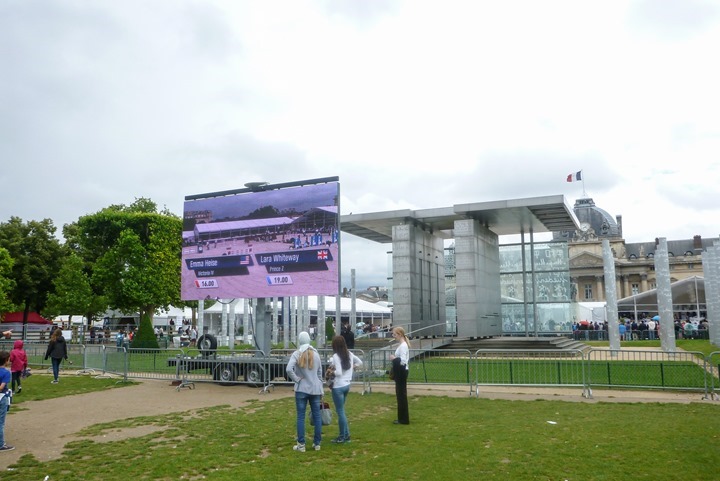 In doing so however, I was attempting to see how much I could see of an event going on this weekend – which, takes us to item #3:
3) I ran into some horses jumping at the Eiffel Tower.
Earlier in the week I had seen these banners up all around the city, and especially on the main boulevards.  The banners showed a picture of horses with wings jumping over the Eiffel Tower.  Unfortunately, the banner wasn't terribly clear on what it meant (even our Parisian friends couldn't make sense of it).  Thankfully, a reader and friend here happened to e-mail me on Thursday and explain it all.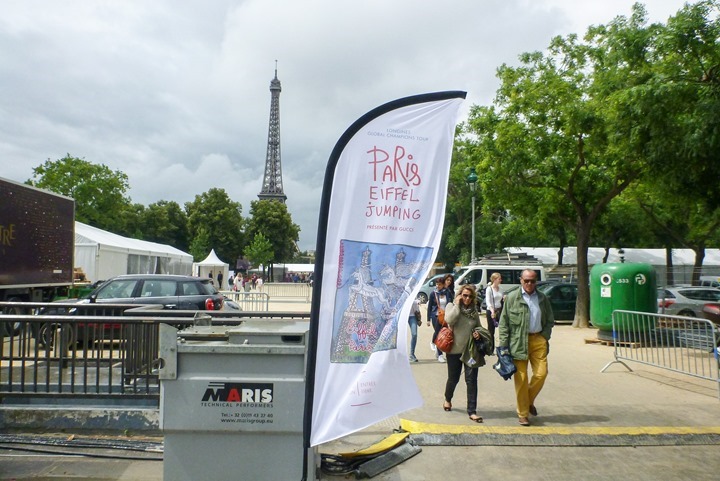 The event was horse jumping, and they had setup a giant swanky plaza right on the Champ de Mars in between École Militaire and the Eiffel Tower.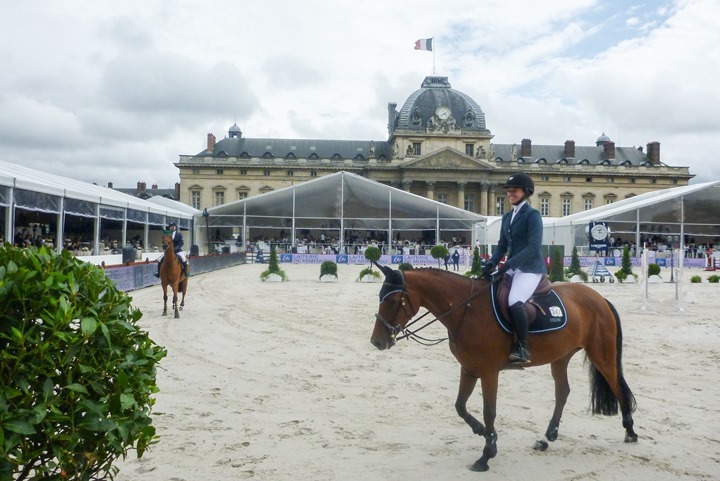 While you could buy tickets for the swanky section, I was actually able to run around the perimeter and easily stand anywhere I wanted to right along the fenced area.  For better or worse, due to the rain there was almost nobody there – so snapping a few quick photos before heading onwards was pretty easy.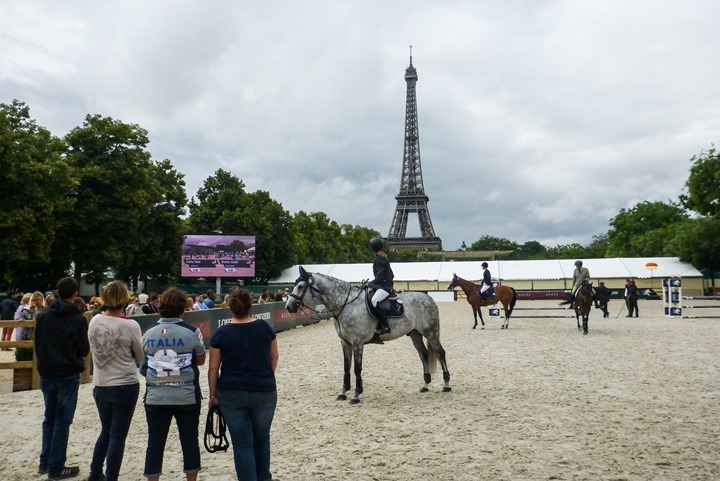 They had giant screens up all over the place, and it so happened that while I was there two different American Women were competing, at least one of which had qualified onto the next round.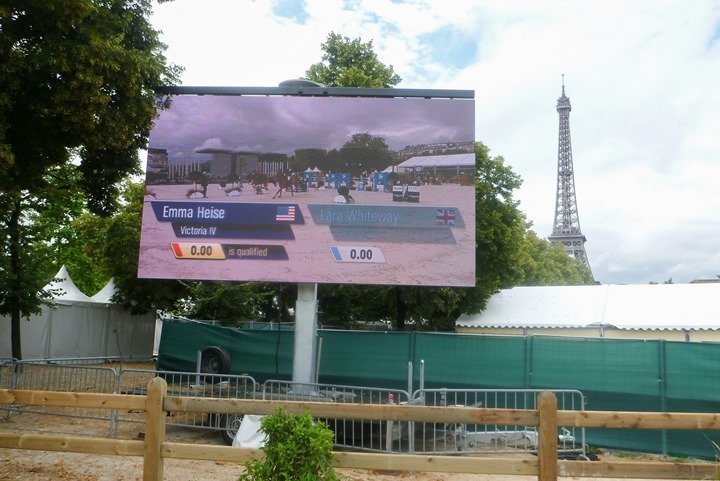 As I was leaving I noticed two things.  First was a sand smoother machine, appropriately dragged by…horses.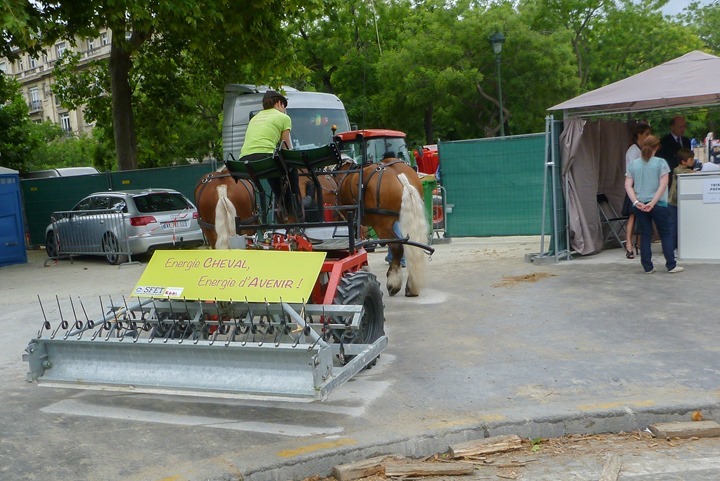 And the second was that just like a race expo they had a number of tents with horse related things you could buy.  Just in case you stopped by the Eiffel Tower and needed a saddle for your noble steed.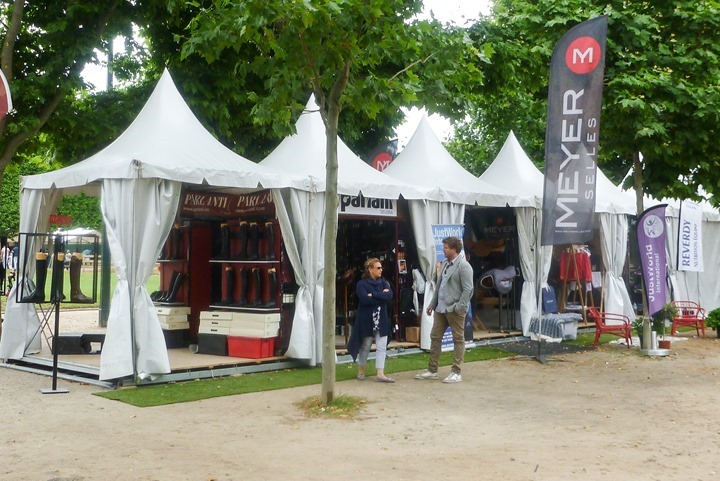 4) Went to an international track meet
A bit later after getting back from my run I headed about 20 minutes north on the train just beyond the edge of the city limits to Stade de France, which is the national stadium of France.  It's held everything from the World Cup to Lada Gaga.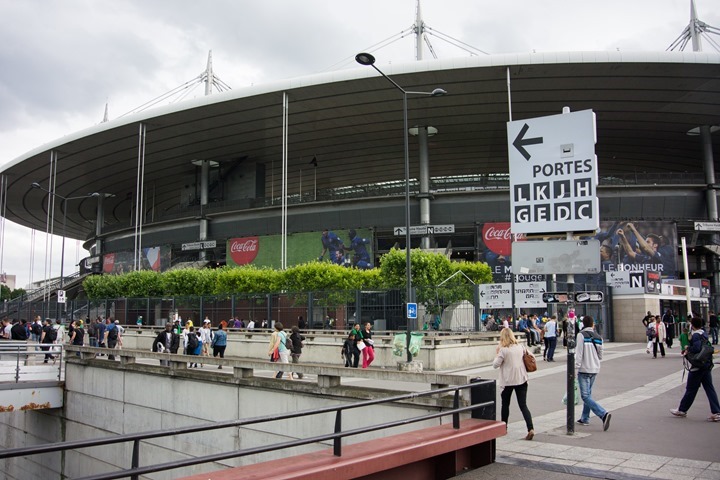 Tonight though, it'd be holding a Diamond League track meet featuring a slew of Olympians including Lolo Jones.  Lots of interesting history in this meet series.
A reader that stopped by the cupcake shop on Friday made me aware of it, and then we headed up together with another friend.  It worked out great, and best of all was the ticket price was only 20 euros!  And that's for great seats on the first row of a balcony:
We watched a slew of events starting around 6PM until 10PM.  There were major international star-studded events, but that was also sprinkled earlier in the evening with France-regional events (unclear if it was high school or college, but appeared high school).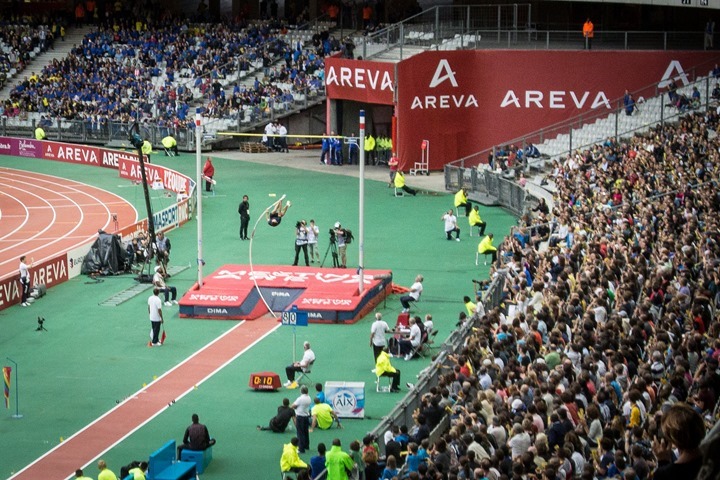 Around 7:30PM or so they did a parade of the top athletes that were there, electing to go with a Brazilian themed approach for the parade: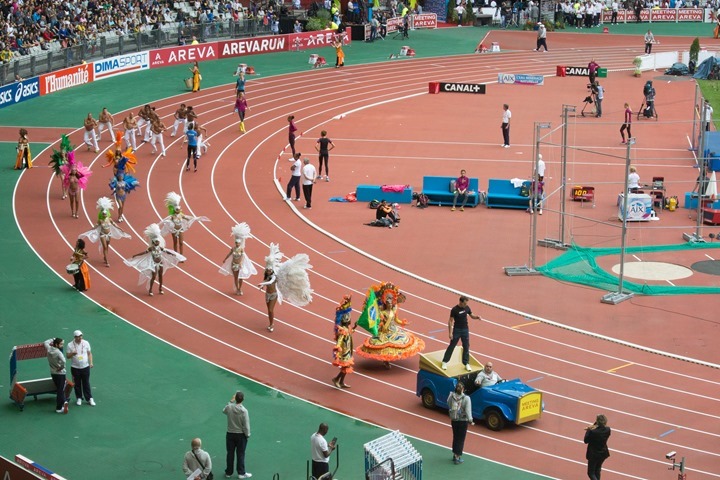 It was impressive/cool/fascinating/something to see a bunch of teen girls going absolutely crazy over one of the French athletes (along with much of the stadium), but especially them.  It was like being at a Justin Beiber concert (note: I have no such firsthand knowledge of that however).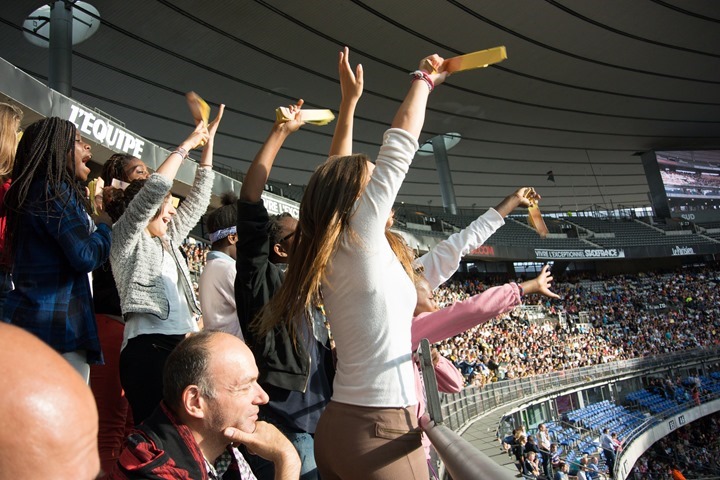 As is often the case, the night ended with the 100m sprint – albeit on the other side of the stadium.  Still, astounding how fast they move.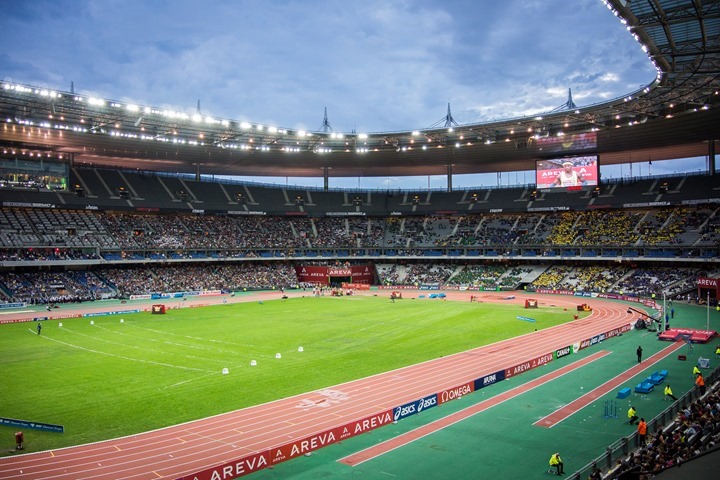 5) Went for a very wet and muddy bike ride…on my tri bike.
Despite the weekend seemingly being packed already (and really, you've only seen about half of it) – I headed out Sunday afternoon for a bit of a long ride.  Of course, the weather was definitely not cooperating from the start.  The above taken only about 1.5 miles from our apartment showing sheets of blowing rain.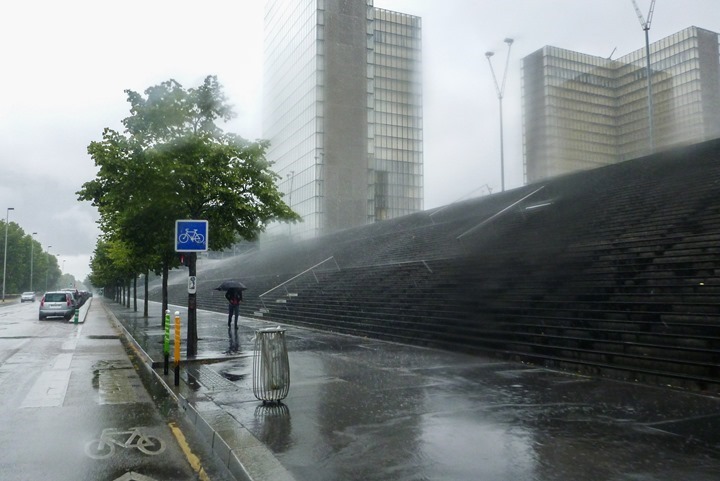 Eventually I got out of the city and to a newer area I hadn't been to before (headed towards Fontainebleau).  I was following a route that the local tri team had published/done the weekend before while I was on an airplane.  In parts it goes through the forest on non-car roads that were quite nice.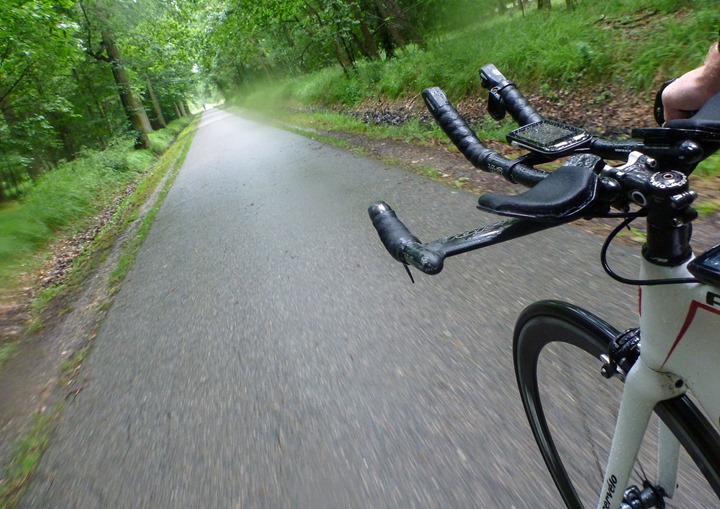 But on other parts I was on muddy dirt roads that made the below dirt road photo I took look downright royal.  The other roads weren't actually routes, but rather at one point more like mountain biking single track…downhill…with cobbles.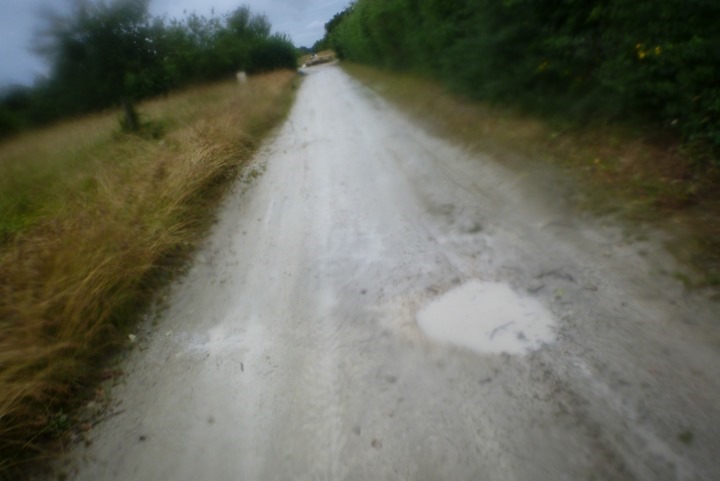 Just in case we weren't clear, I was on my triathlon bike.  Below, a brief photo-stop along the way after clearing out of a section of forest in front of some fancy place.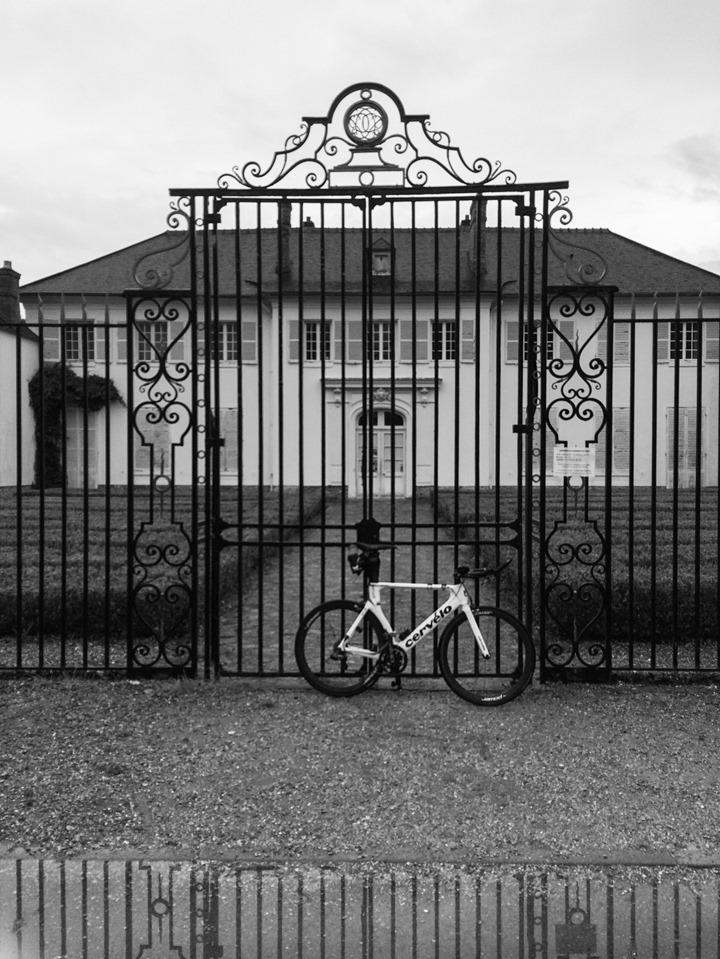 Unfortunately, about half way along I hit this little bump and immediately got a flat.  Turns out the speed-bumps for cars that didn't exist were way sharper than I thought.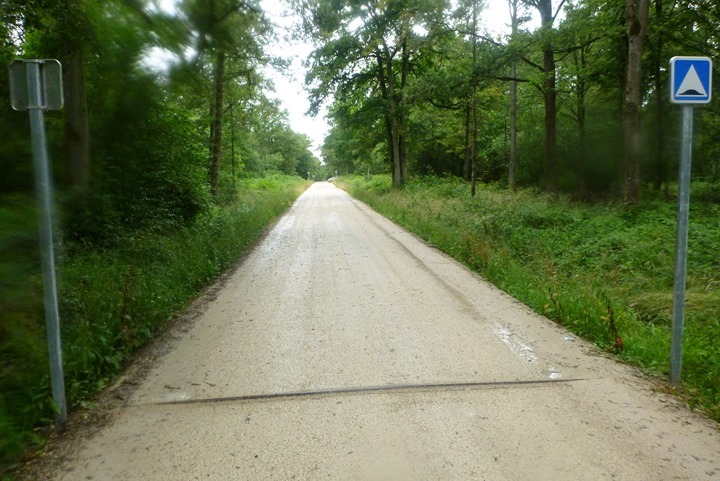 So, got out my flat kit and fixed it up.  The only bummer was that the preceding section of travelling was heavily sand based (as you can see).  Thus no matter how hard I tried sand was getting everywhere after swapping out the tube, resulting in more sand getting inside the wheel.  Not ideal.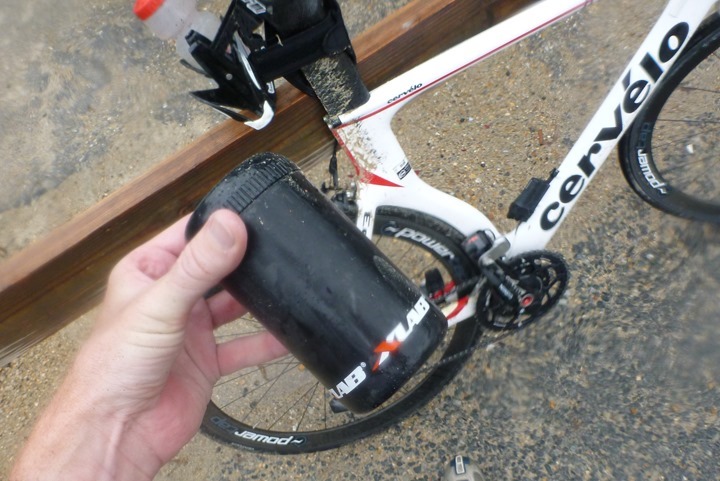 I'd actually flat once more, this time reasonably close to a train station.  So while I had about 10 more miles to go, I ended up calling it good here since even if I kept on refilling my tube with CO2 every few miles, I was tempting the gods in getting stuck in the forest somewhere if I popped the other one.  Here's what the bike looked like at the train station: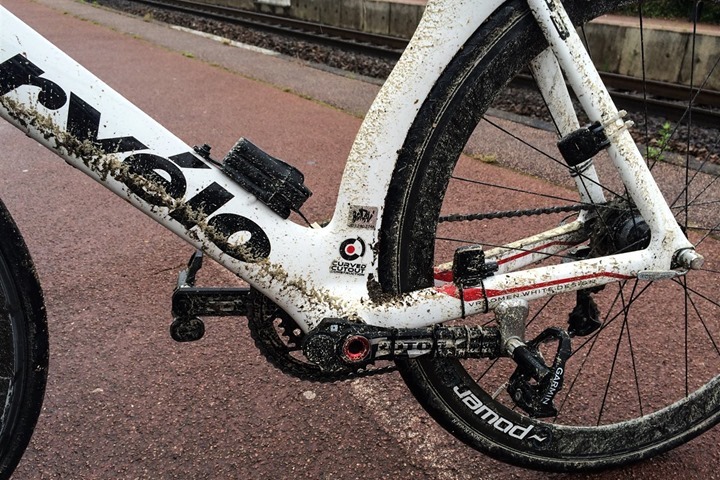 And here's how things looked post-train swinging by the shop.  The Girl took the photo of my legs absolutely caked with mud.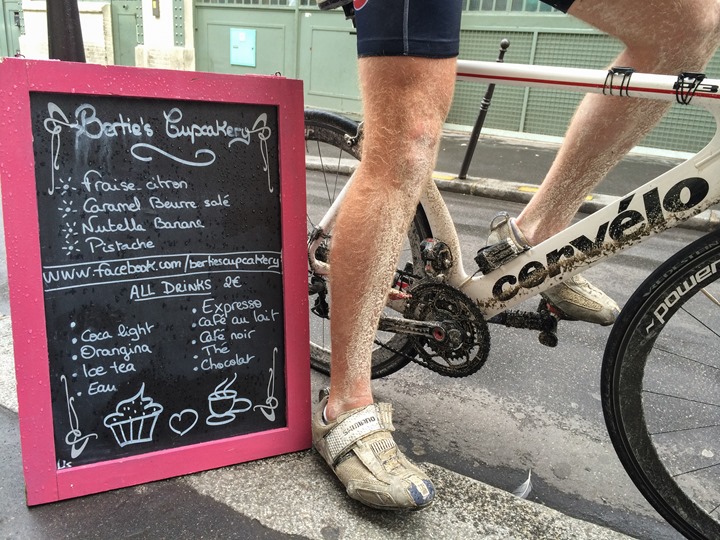 Don't worry though, I got it all cleaned up: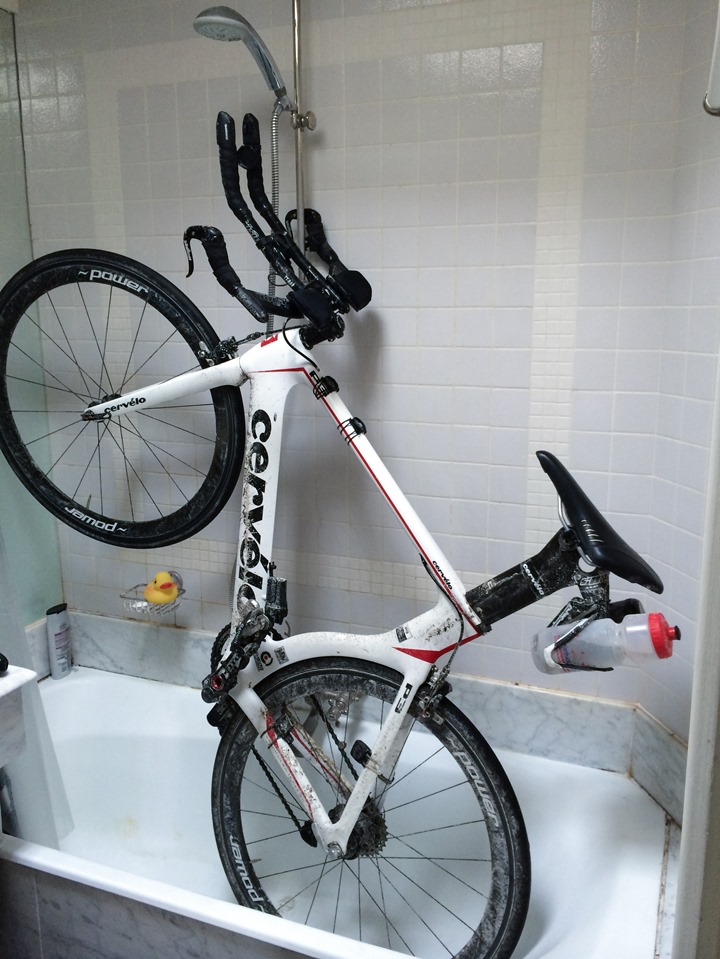 Hope everyone had a great weekend! Thanks for reading!