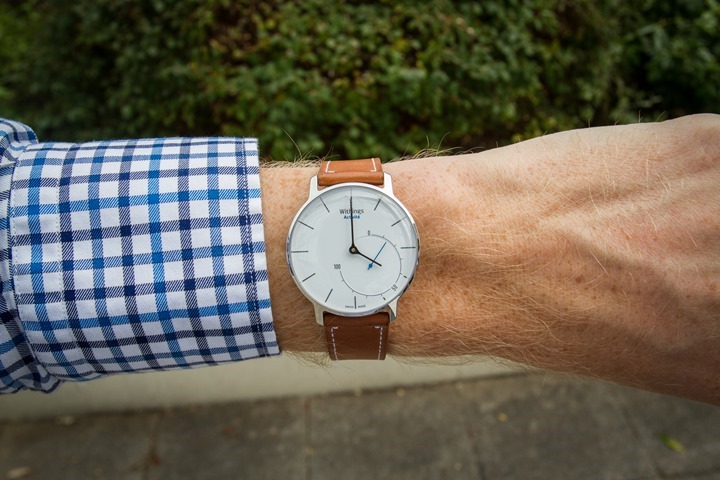 Overview:
Late last week Withings announced their latest device – the Withings Activité, which combined an activity tracker into a more normal looking high-end designer watch.  This would in effect be pulling in much of their existing Withings Pulse activity tracker unit and stuffing it into the insides of a Swiss made watch.  I had a chance to get a bit of hands-on time with the Activité and talk with the team on how it works.
The Activité is in many ways like any other activity monitor.  It'll track steps using an accelerometer inside the unit, which is then transmitted to your phone continuously using Bluetooth Smart.  Which, in retrospect is probably the first time you've ever seen a watch looking like this with Bluetooth Smart stuffed inside of it.
Instead of having a LED/LCD display on it though to show you your steps, it will keep track of that via progress towards your goal steps.  Like most activity monitors the Withings has a goal feature which you try to hit each day by walking a specific number of steps.  The progress towards the goal is displayed on the inner circle of the watch with the small blue hand (0 to 100%).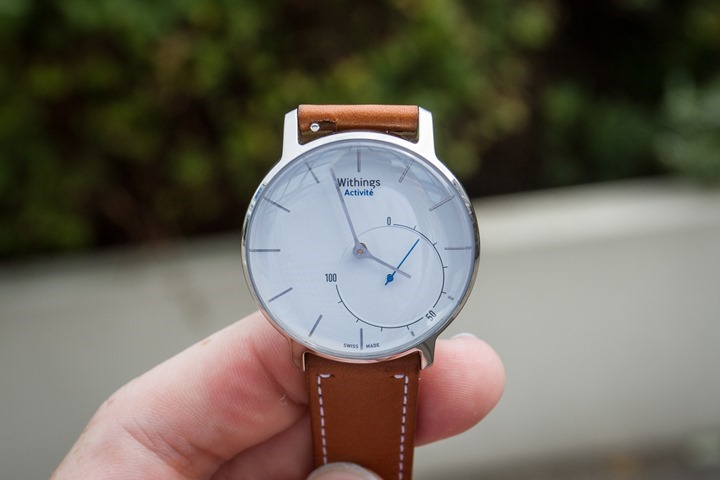 As of today the goal isn't yet customizable, but it will be by time the Activité is available – which is slated for 'Fall 2014'.
While the device itself doesn't display either raw steps or distance, both of those are tracked and available on the app on your mobile phone, which it's syncing continuously.
In addition to steps, the unit will also track sleep.  That information is relayed to the app as well and the full set of data about sleep will appear within the Withings Health Mate app, the same app used today by the Withings Pulse activity tracker as well as the Withings line of scales.  Note that unlike the Pulse however, the Activité will not capture stair data (how many stairs you've climbed in a day), though it will of course count steps while on the stairs.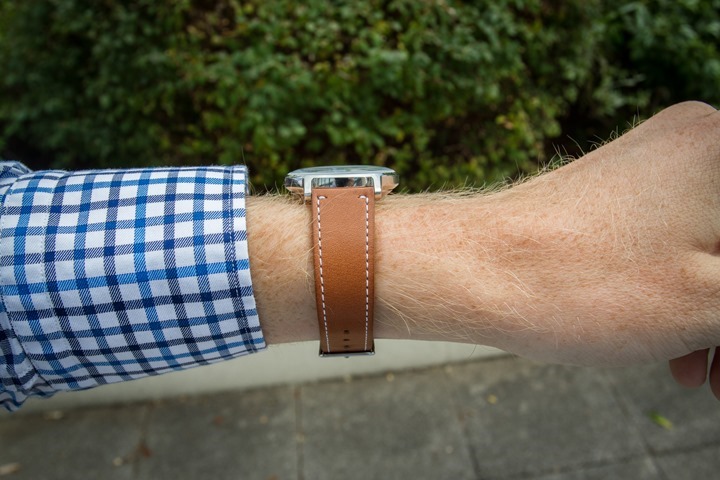 Technical Details:
The Activité contains a standard coin cell watch battery which Withings says will get about 1 year of battery life before you must replace the battery.  In order to maintain the 5ATM (roughly 50-meter) waterproofing rating though, you'll want to do that at a typical jewelry/watch repair location.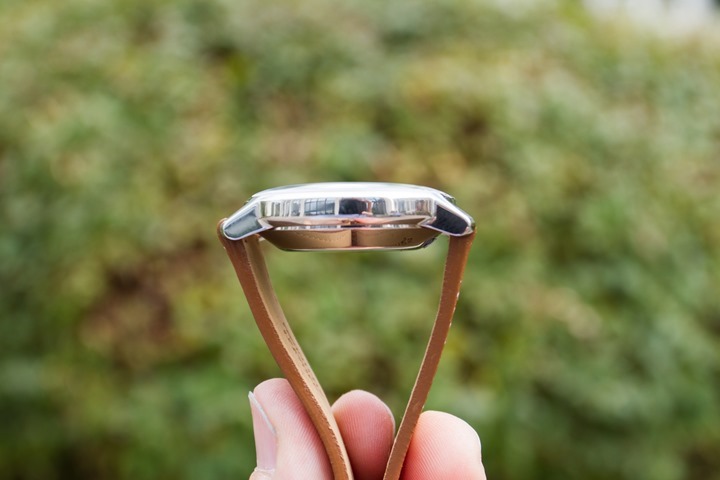 Like most activity trackers, the unit will automatically sync to your phone's time.  This means that when you travel, the watch hands will simply change to whatever time your phone displays.  There won't be a method to manually override that though, so if you prefer to have your watch on a different time zone as your body, you'll need to have the phone be on that time zone as well.
To demonstrate the hands moving, here's a short demo video I shot showing an automated test program that moves through the course of the day – increasing the time of day while the goal increases as well (presumably because you're walking around).
In addition the unit features a vibrating motor, which is used in conjunction with the app to create time alarms (such as a wakeup alarm at 7:00AM).  It will simply vibrate to wake you up.  Vibration is also used to notify you when you hit your goal for the day.  Additionally, the glass is able to respond to tap gestures.  So you can tap the glass twice to validate your set alarm time.
Manufacturing:
The Activité is billed as  'Swiss Made' watch, which dictates that at least 50% of the components are made in Switzerland, and then that the full unit is assembled in Switzerland.  To that end, it has the appearance of a designer European watch – logical for a company based in Paris.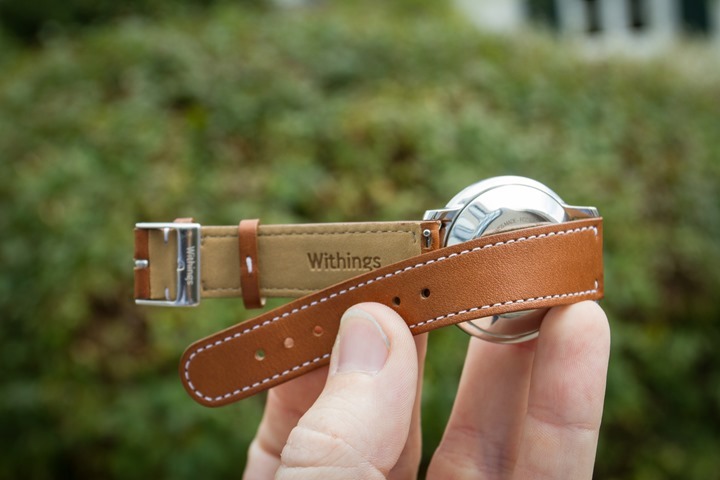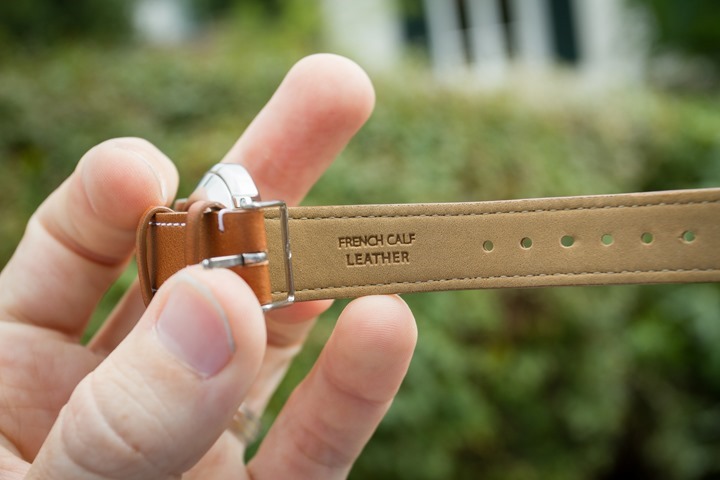 The band is unique in that it actually easily pops off with a little lever.  You can see the small lever to the left edge of the leather band: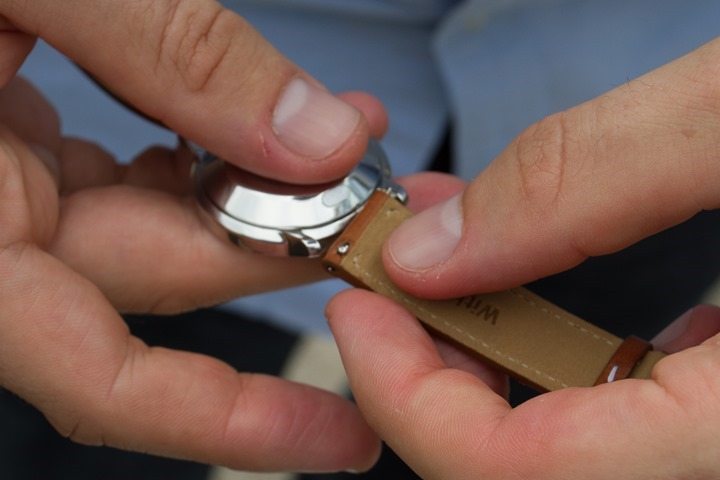 This enables you to swap out the leather band for a separate non-leather (rubber material) band.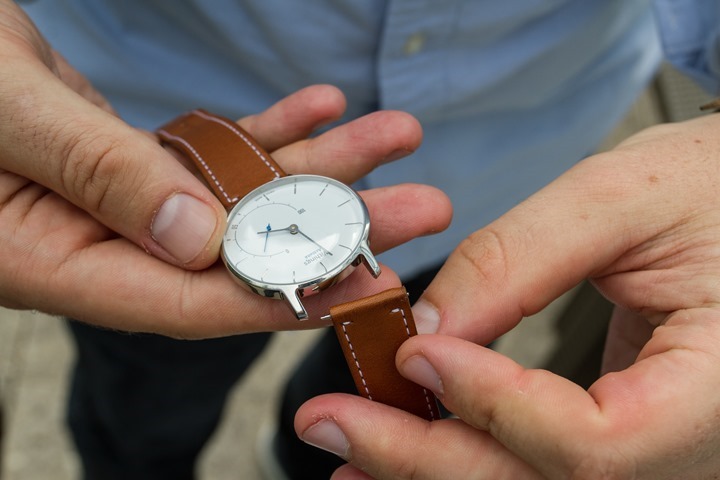 The reason you'd use the rubber band is if you wanted to swim or run with it.  It was hinted at in their launch video that swim tracking might be a part of the future of the unit.  In talking with them, they noted that they'd like to get swim tracking (laps/distance) added in, but initially it'll likely just be activity time.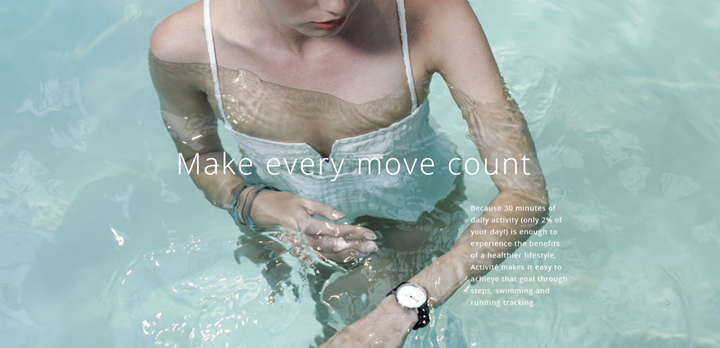 Meanwhile, on the running side the unit (like the Withings Pulse) will automatically trigger recording of a run and track distance and time, and then enumerate that separately onto the app.  That said, the running functionality is pretty basic here and there's no connectivity to other sensors – so it's more for casual use than anything else.  And, in my testing of the Pulse in the past with run distance – it doesn't tend to be super-accurate (like most other activity monitors that try and guesstimate running distance without a footpod or GPS).
Last but not least, the unit comes in two flavors – black or white.  All the shots you see here were with me using the white variant, below is a shot from them of the black variant.  Both are the same price at $390/€390 when they become available this fall on both Withings' site as well as "high end retailers".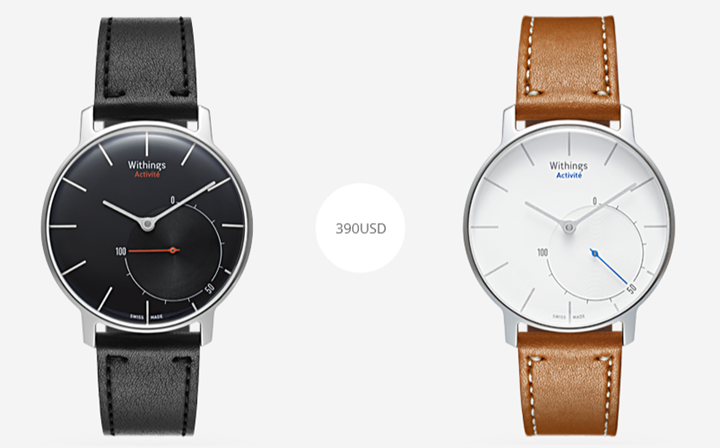 Overall I'm pretty impressed with the direction Withings has selected to go here with the Activité.  No doubt it instantly becomes the most expensive activity tracker to date (more than double the next most expensive unit), but at the same time it's also a watch that has a designer appearance.  And as I've heard from many of you when looking at other activity monitors, it's an area that many have been indirectly asking for (less ugly devices).  There's quite simply no other activity tracker on the market (at least any major ones) that have this look to them.  And thankfully there's very little compromise on features.
Note that at launch the unit will only be iOS compatible, but Withings is working to get Android compatibility sorted out down the road (but no specific timelines are there yet).  Additionally, I've added the Withings Activité to the
product comparison tool
under the 'Activity Trackers' section.
It'll be interesting to see what the competition does in terms of potentially following suit with equally pretty devices, as well as seeing if Withings can deliver the unit on time.  Their last announced sleep tracker product – the Aura – is running a number of months behind schedule, previously slated for Spring and now for late summer.  Still, I'm definitely looking forward to both devices, and will dive into reviews of both once I have final units in my hands.
Thanks for reading, and feel free to drop any questions below.