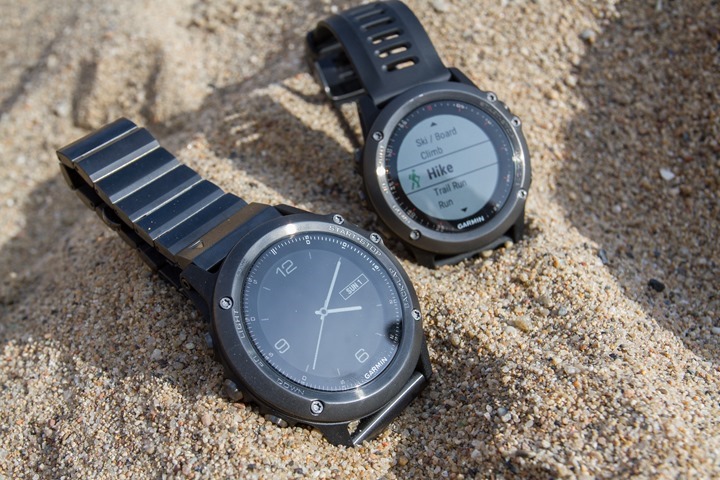 The Fenix3 aims to further blend the multisport watch realm (previously dominated by the Garmin Forerunner series), with the outdoor watches (such as the Fenix1 & Fenix2, as well as outdoor handhelds).  To that end the Fenix3 is effectively a Garmin FR920XT with additional features aimed primarily at the outdoor and hiking crowd – more than the triathlon crowd.  But, the appeal to triathletes since launch as clearly been the more normal watch looking feel, versus the plastic and blocky feel of the Forerunner 920XT units.
I've been using the Fenix3 for quite some time, and after a month on a final production unit with final production version – I've got enough data and detail for the in-depth review.  Which…is what you'll find below.   The good, the bad, and the ugly.
To be clear, I've been using a Fenix3 provided by Garmin to test with (final production unit).  Like always, I'll be shipping that back to them in Kansas in the next little bit and going out and getting my own via regular retail channels.  That's just the way I roll.
Lastly, at the end of the day keep in mind I'm just like any other regular athlete out there. I write these reviews because I'm inherently a curious person with a technology background, and thus I try and be as complete as I can. But, if I've missed something or if you spot something that doesn't quite jive – just let me know and I'll be happy to get it all sorted out. Also, because the technology world constantly changes, I try and go back and update these reviews as new features and functionality are added – or if bugs are fixed. So – with that intro, let's get into things.
Unboxing & Versions: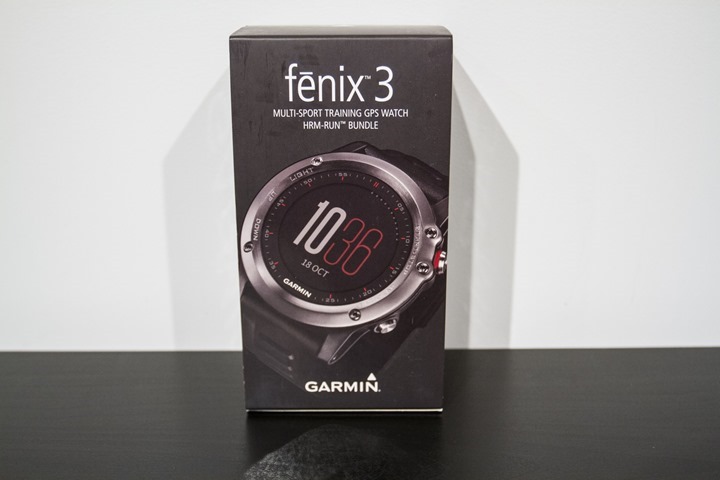 There are a number of versions of the Fenix3 that have different exterior surfaces.  However, inside, all versions are identical.  Again, there is no software differences between them – instead, it's purely the materials used on the outside.  Additionally, some Fenix3 variants are sold in bundles, which include the heart rate strap (HRM-RUN).  Let's do a bit of a walk-through on an unboxing of one version. All versions contain the same pieces and just vary in terms of which bundle you bought.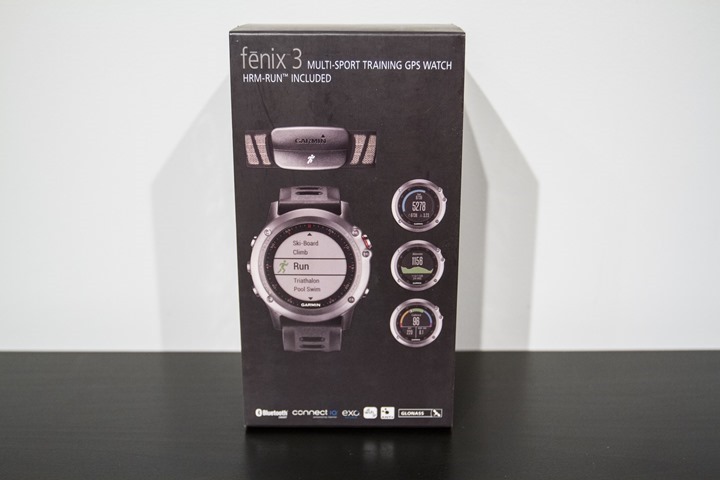 First up we've got all the parts pulled out of the box: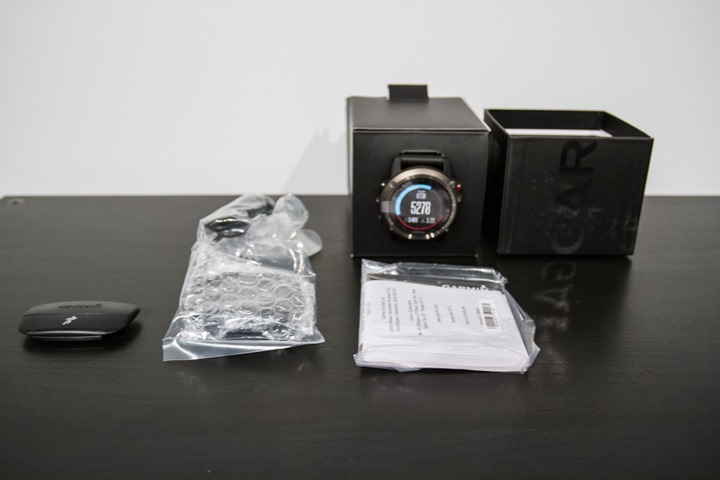 You'll see you've got the USB charging clip (new/different for the Fenix3), the watch itself, and the HRM-RUN heart rate strap.  Additionally, you've got some paperwork stuffs.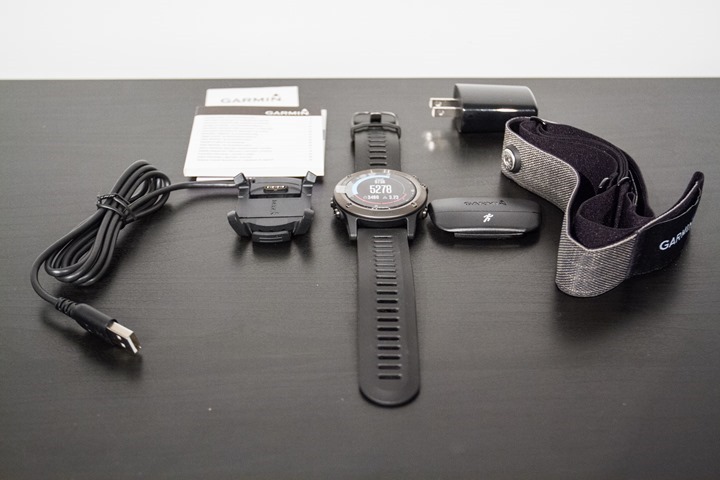 Here's a closer look at the charging clip.  It's a new design for the Fenix3, which is a touch bit slimmer than previous designs.  It features a bit of a slide in/out locking mechanism.  Easily works to wear it while using the watch, should you want to charge on the go.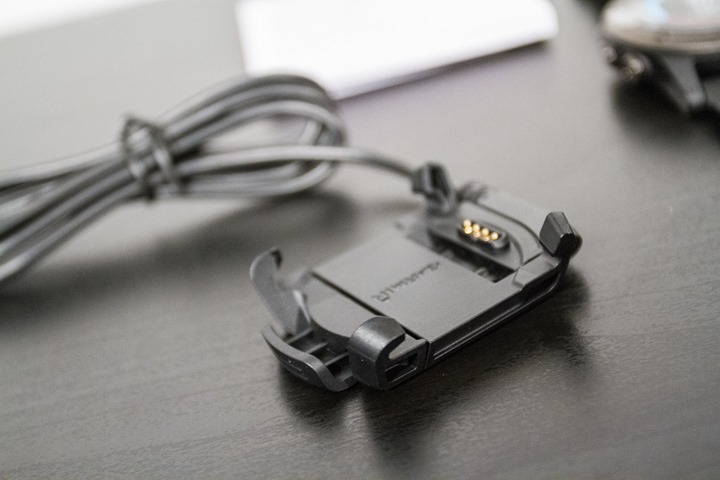 The box also includes a USB wall adapter. But fear not, you can use the unit with any USB port you'll find on this planet: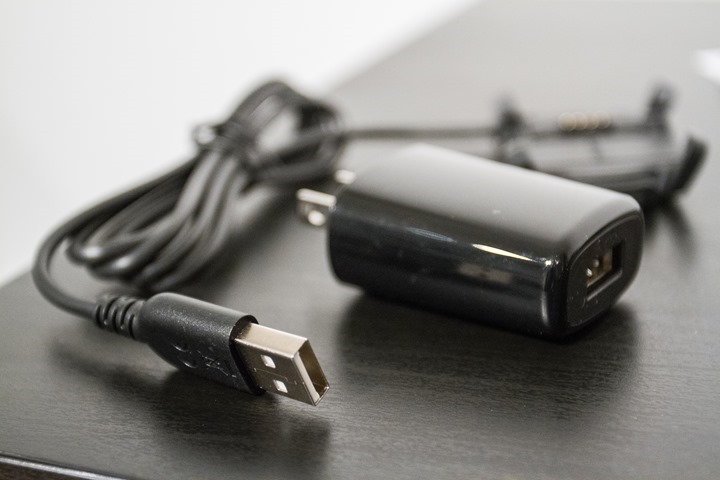 Next, is the HRM-RUN strap.  This is the strap that includes additional Running Dynamics metrics that were introduced with the FR620.  I recently wrote an entire post dedicated to the HRM-RUN strap, which you can read here.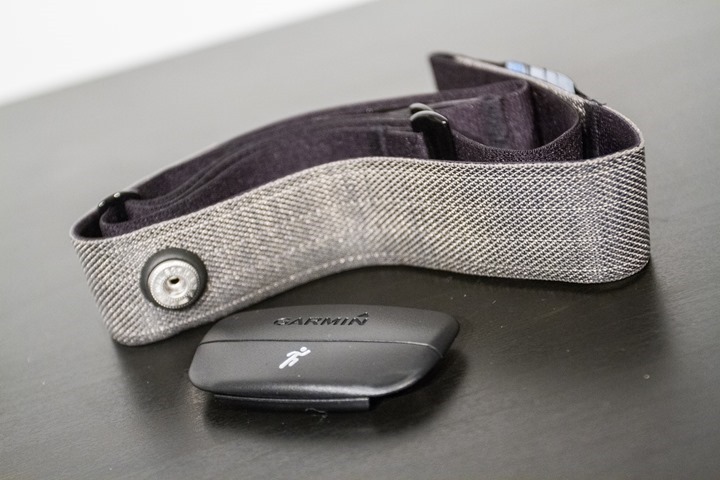 Then there's some quick start guide information and legal documents: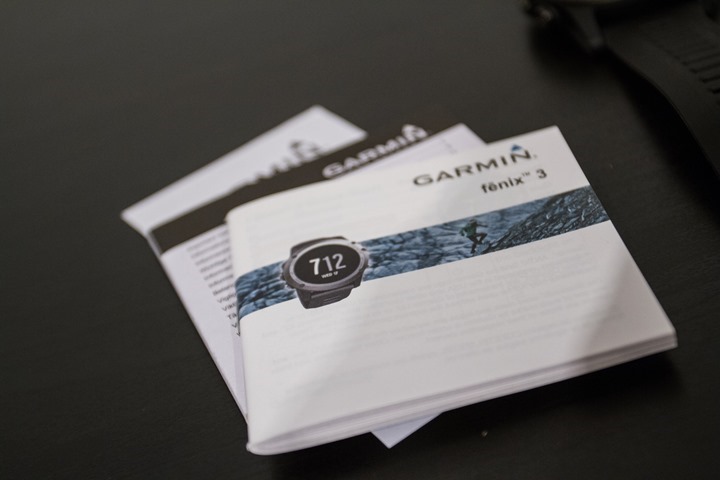 And finally, the Fenix3 unit itself: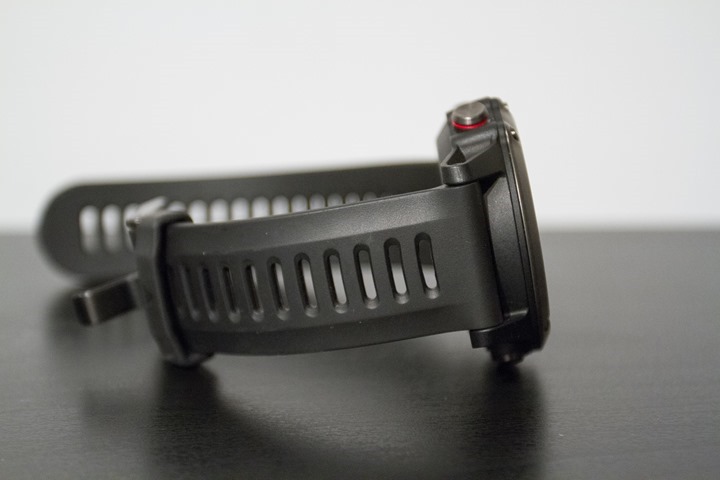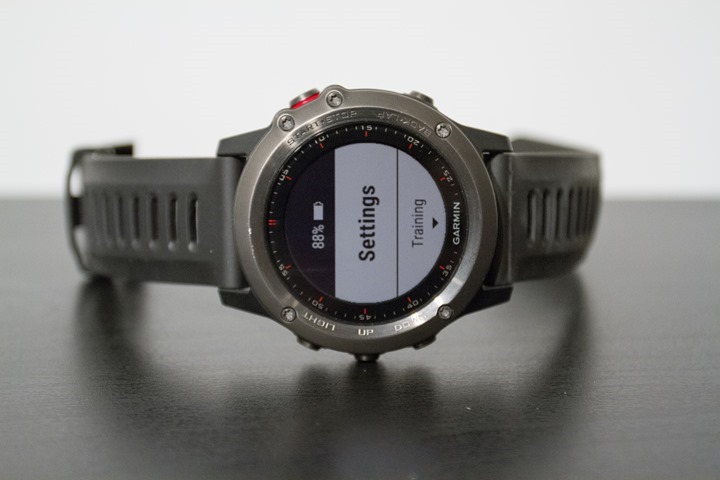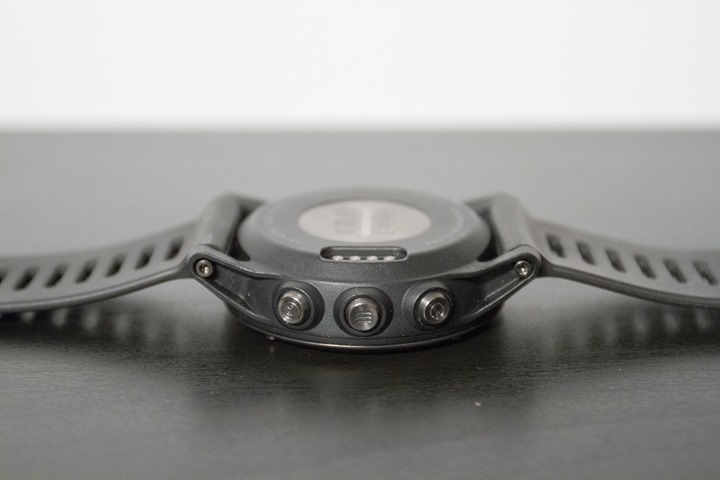 For those looking for a video-walkthrough of the box situation, here's an unboxing video I did of the Fenix3 Grey Edition:
And then, another unboxing I did of the Fenix3 Sapphire.  You'll note that in the US there isn't yet a Fenix3 Sapphire HR bundle (in the UK there is).  However, the Sapphire edition does have one minor difference: It includes a spare set of plastic straps in case you get tired of the metal strap.   Outside of that, same-same.
Here's an unboxing video I did of the Sapphire edition:
And, just for clarity on all the editions, here's a photo I shoot with the Fenix3 Red/Silver Edition: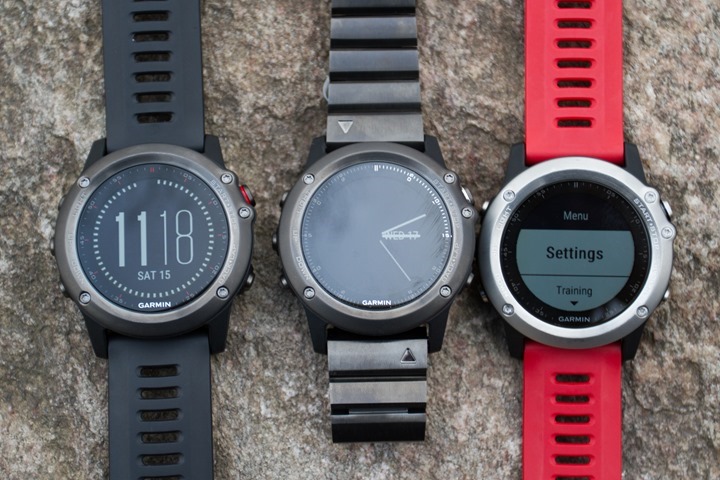 With that, let's briefly discuss some Sapphire specific notes before going through size specific comparisons.
Sapphire Edition Notables: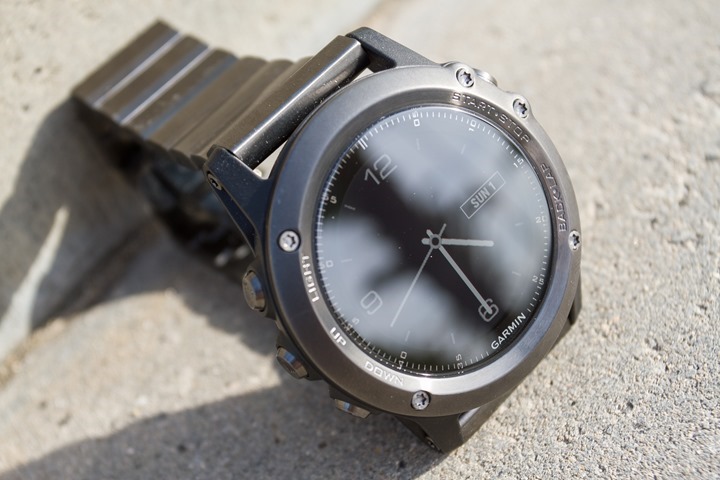 The Sapphire edition has a few tiny things that make it different, enough so that I'm going to very briefly cover them.  First is that the glass is different.  It's a sapphire glass, which watchmakers sometimes use to increase scratch protection.  Now, that said, I really haven't seen any issues with scratches on the regular unit I've been wearing 24×7 for months.  I've banged the crap out of it on surfaces and haven't seen anything.
The second item to consider is that the Sapphire edition has metal links like numerous other high end watches.  That means that you can't separate the two ends like a lower priced watch bands.  Further, you'll need to resize the band by removing links.  You can do that by bringing it to any jeweler, or, you can get this $2.30 tool and do it yourself.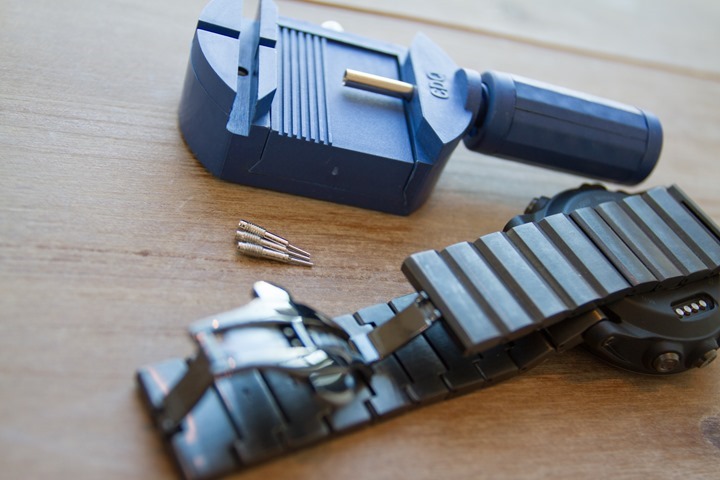 Rather than put a bunch of pictures here, I just shot a quick video of how it works, which you can find below.
As you can see, it's silly simple.  Seriously, I shot that video within the first few minutes of opening that bag.  It's that simple, and, you can resize any other watch whenever you'd like.
As for deciding between the Sapphire and regular?  Well, I've mostly been using the regular over the Sapphire, and to that extent I've been happy.  The thing with the Sapphire is that it's double the weight of the regular.  So obviously it's gonna feel heavy.  For me personally, it takes a week or two to get used to that kinda weight on my wrist (when I've done it for regular wrist watches).  But, more than that, it's really limiting if you want to mount it to a bike.
Ultimately, I wouldn't let the scratch-resistance be the driver of that decision.  I'd honestly focus on your personal style preferences and whether or not the bike mount situation is of importance (see bike section on that).
Size & Weight Comparisons:
The Garmin Fenix3 is slightly slimmer than previous Fenix editions, which is easily seen when settled next to another unit (the Fenix3 is up front, the Fenix2 is towards the back):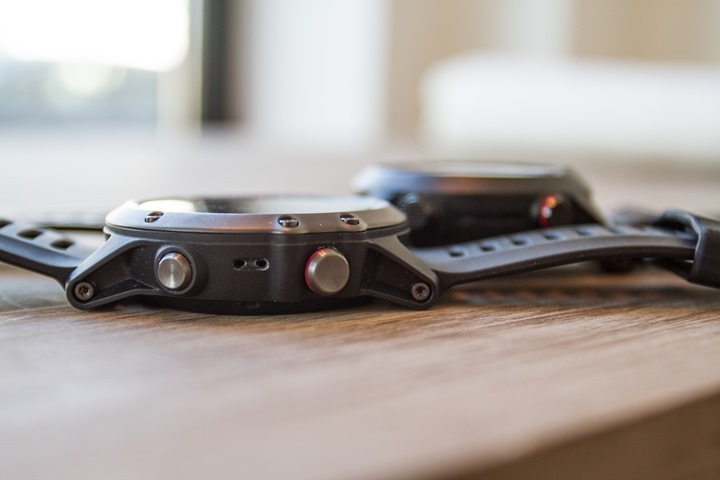 It's slightly thicker however than the Garmin FR920XT – at least without the 920XT quick release kit applied.  Not much thicker, but a touch bit: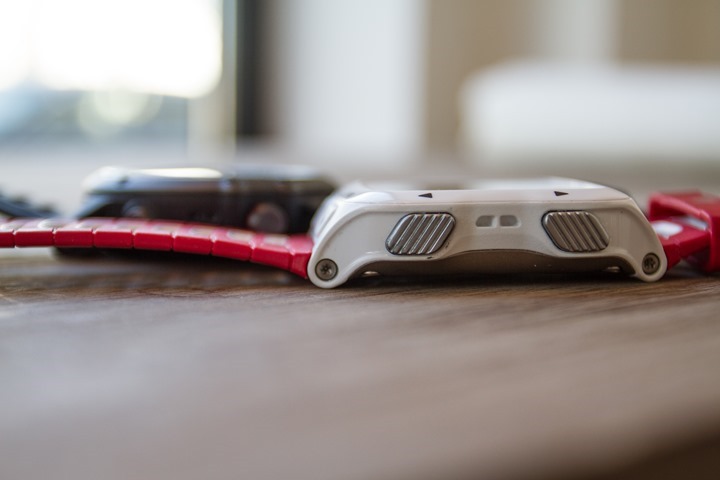 Meanwhile, looking at the front of the unit, here's how things shake out against other watches in the category.
Left to right: Garmin FR910XT, Garmin FR920XT, Garmin Fenix3, Garmin Fenix2, Suunto Ambit3, Polar V800, Garmin FR620, Epson 810, Fitbit Surge
Next is weight, I've measured two of the three models, and taken the official stats for the third model:
Fenix3 Sapphire: 175g (with 4 links removed for my wrist)
Fenix3 Sapphire with rubber strap instead: 85g (Garmin weight)
Fenix3 Grey: 82g
Fenix3 Silver/Red: 82g (Garmin weight)
This compares to the FR920XT, Ambit3, Polar V800, and Fenix2 weights as follows:
FR920XT: 61.6g
Ambit3: 86.0g
Polar V800: 80.8g
Fenix2: 85.6g
Here's a quick pic of them on the scale: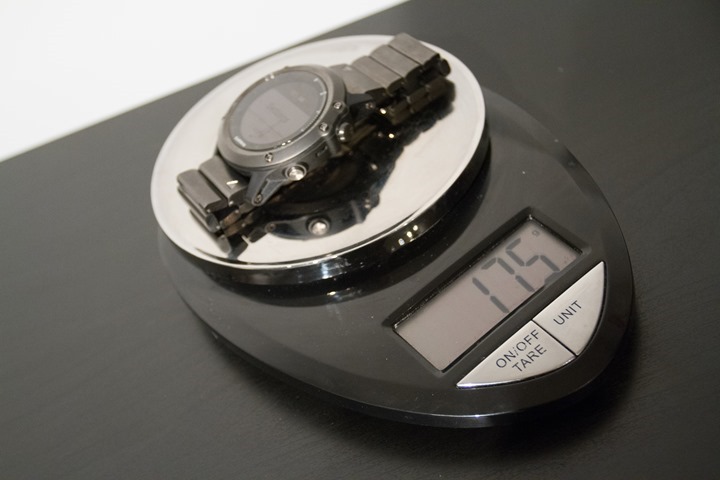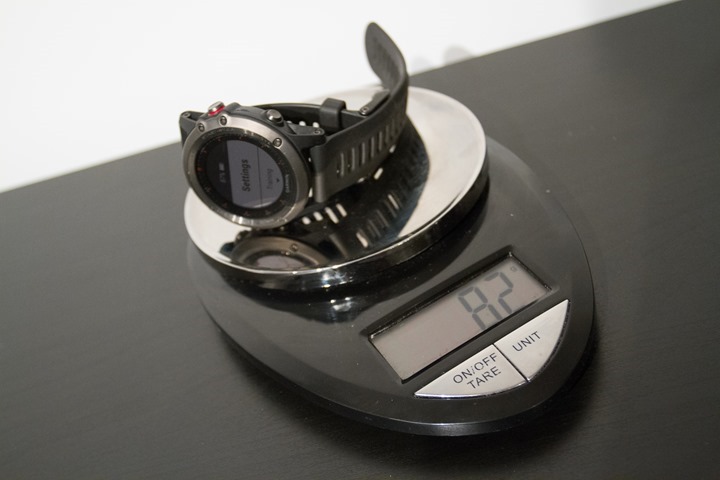 Finally, when it comes to wrist sizes, you'll see plenty of my wrist throughout the review, but nonetheless, as a starting point here are the two editions on my wrist (which is 17cm, or about 6.5 inches):
And for The Girl's wrist, I figured I'd include that here.  At 5'2" tall, she's fairly petite.  Her wrist measures 14cm (or 5.5 inches).  Here's a few shots on her wrist:
I haven't resized the Sapphire yet for her, but once I do, I'll include that in here.
Running:
There are numerous modes and sport profiles available within the Fenix3, all of which are highly customizable.  For this review I'll start with running and talk about many features within the running section.  But keep in mind that virtually all of the functions (such as alerts, data page customization, etc…) are applicable to all modes.
To begin though, you'll head outside and choose an activity type.  Technically these are now called 'Apps', and there's an app for each sport (i.e. Run, Bike, Bike Indoor, etc…).  This also makes the structure more extensible to 3rd party apps as those are released.
Assuming you've selected a sport mode that's GPS-enabled, such as running outdoors, the unit will start to find satellite.  The ring around the outside will slowly grow to 100%, in red first, and then green once complete.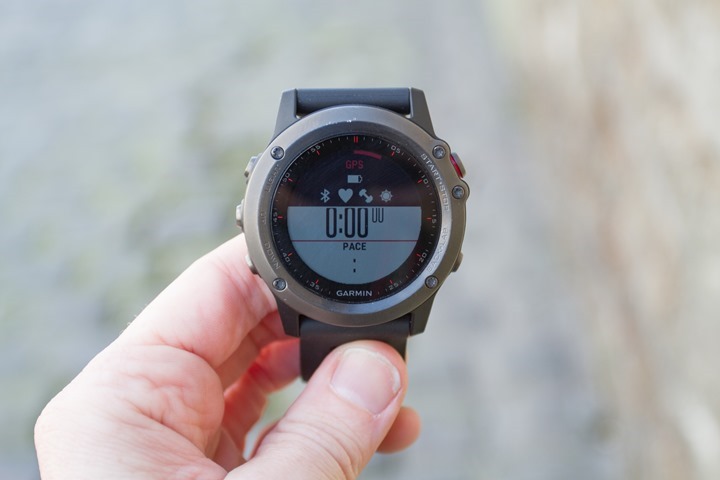 The satellite acquisition time on the Fenix3 is based on a cached database that is updated each time you sync with your phone, computer, or WiFi.  That database enables faster acquisition so that acquisition times only take a few seconds, especially if you're in the same spot as your last activity ended: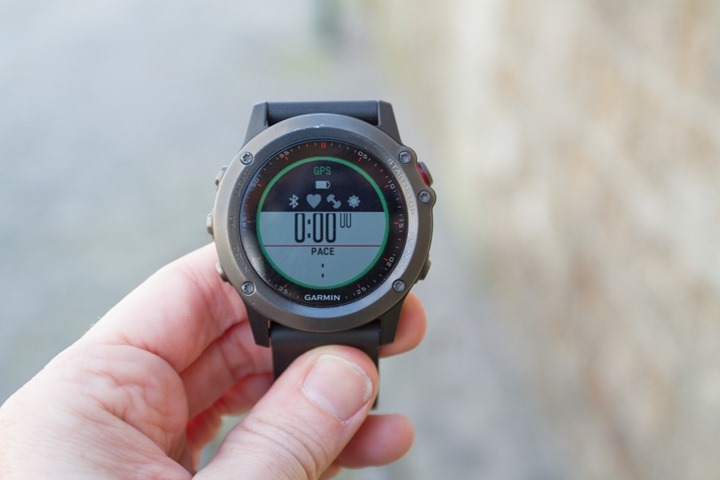 As you were finding satellites you'll have noticed that the unit would have found any ANT+ sensors that were paired.  This would show a small icon at the top for the sensor type – such as heart rate straps.
With everything all set it's time to actually run.  At this point you'll press the start button (the one with the red ring) and then it'll start recording.  Your pace, distance and any other data fields you've configured will appear on the display: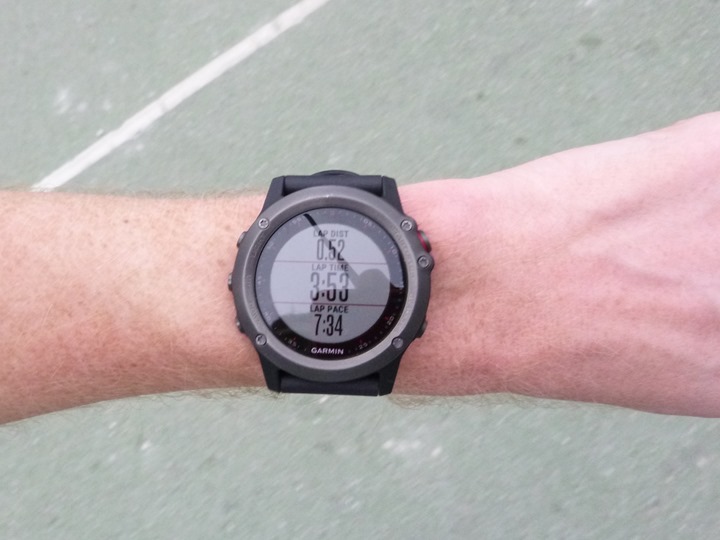 I'll discuss data fields a bit later on, but you can customize them quite a bit including changing the number of metrics per page as well as the number of pages.
When it comes to pace, the Fenix3 is like the FR620, FR920XT and other recent Garmin watches that shows pace in 5-second increments, but slightly smoothed.  This is done to ensure a smoother pace metric.  Ultimately, all GPS watches have to smooth pace data in some manner.  Either they're doing it in a visible way (i.e. 5-second increments), or in a non-visible way (smoothing the data further behind the scenes).  So the discussion on methods is somewhat academic.
Nonetheless, here's a look at instant pace reaction times on the Fenix3 during a recent run where I was running along at a long-run pace, and then stopped for traffic for a moment, and then continued running again:
As you can see, it's reasonably quick – even despite going under a large steel structure holding up the Parisian Metro/Subway system.
Within running (and all activities), you have a variety of functions you can enable such as Auto Lap – which automatically triggers laps on a preset interval, such as every 1-Mile or 1-Kilometer.  I tend to use this on long runs, but I don't use it on interval runs as I manually trigger the laps instead using the lap button in the lower right corner.
Anytime a lap is triggered though the Fenix3 supports customized lap banners.  This means that you can change which metrics are shown anytime a lap is triggered.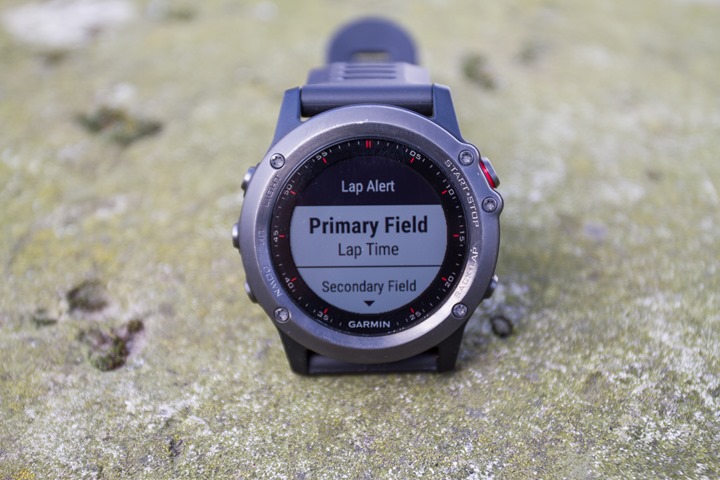 Next there's other common Garmin functions like Auto Scroll and Auto Pause.  Auto Scroll will iterate through your data pages like a carousel.  Whereas Auto Pause will automatically stop and start the timer when you stop/start running.  This is more useful for city running or riding.
One new unique feature to the Fenix3 is Auto Climb.  Auto Climb works by showing a different set of data fields when you start to climb (go uphill).  This feature can be used on any profile including cycling.  The feature works by configuring a set of data pages that you want to show while climbing.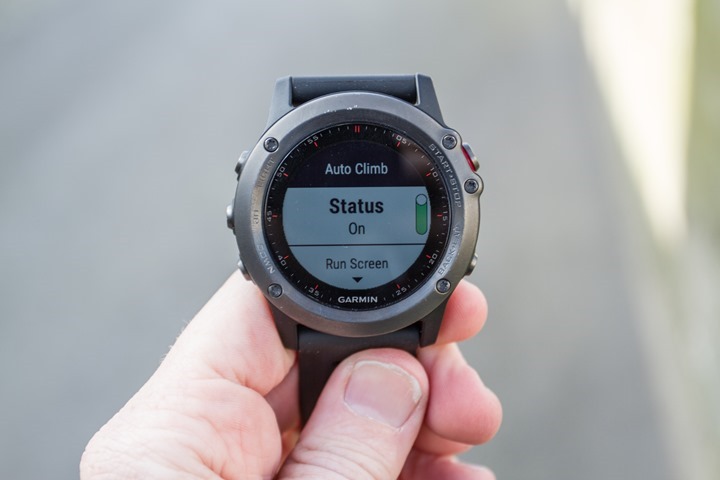 For example, for me I've configured ones with the incline as a data metric: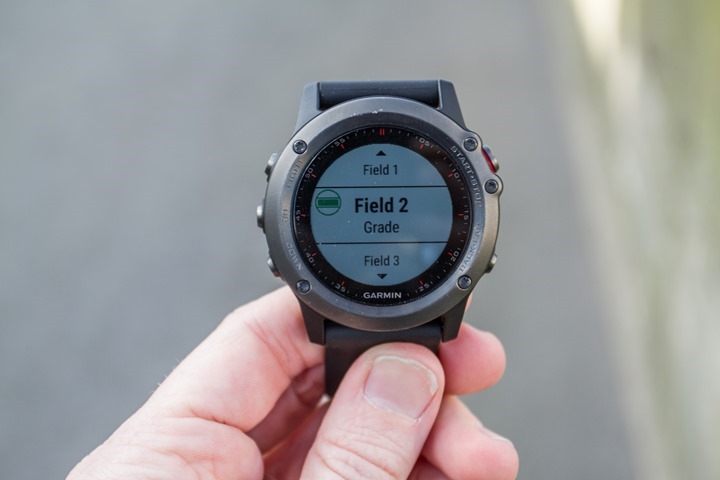 Then, once you reach about 2-3% in incline, it'll automatically trigger those data pages.  By default it'll invert the data page colors, but you can just leave the colors the same if you'd like.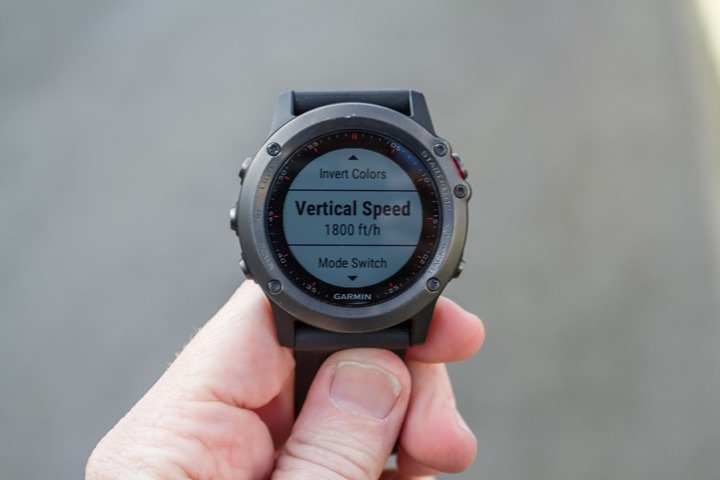 Here's a video I put together during a recent hill workout showing how it all works:
The feature of course won't appeal to everyone, but is probably most relevant to ultra and trail runners in the mountains who are going up and down and may want to grab quick elevation related stats.
Now the Fenix3 includes the HRM-RUN Running Dynamics capabilities.  Within that, you'll get stats like Vertical Oscillation and Ground Contact Time.  I recently wrote up a full post on the strap here, and whether or not to get it.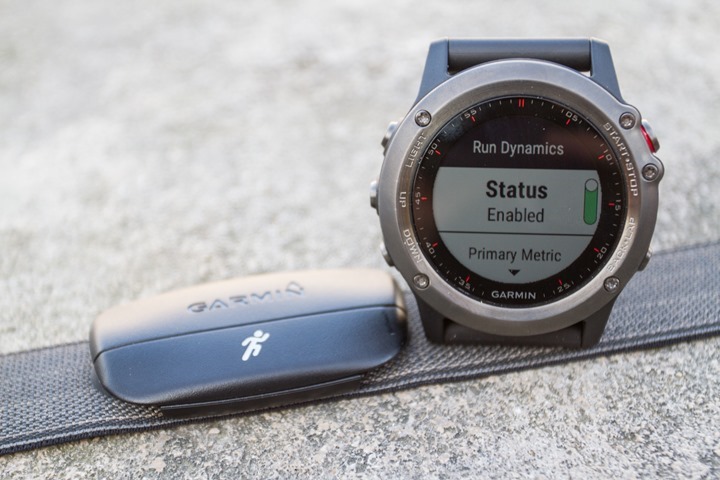 While running you'll also get stats like Recovery Advice, such as whether or not you're fully recovered.  In my experience it's very rare to get anything other than 'Good' or 'Excellent'.  I feel like Garmin is trying to make everyone feel all warm and happy inside, as opposed to telling them 'Sucky'.  Most other users who have been using these metrics for a few years now seem to get pretty similar results.
And then afterwards you'll get Recovery Time estimates.  These estimates are geared at letting you know how much time you should wait until your next hard workout.  Of course, for multisport athletes this isn't aimed for your next workout (of any sort), but just hard workout.  This was after a long run…so while perhaps a bit overaggressive, it's not horribly off the mark.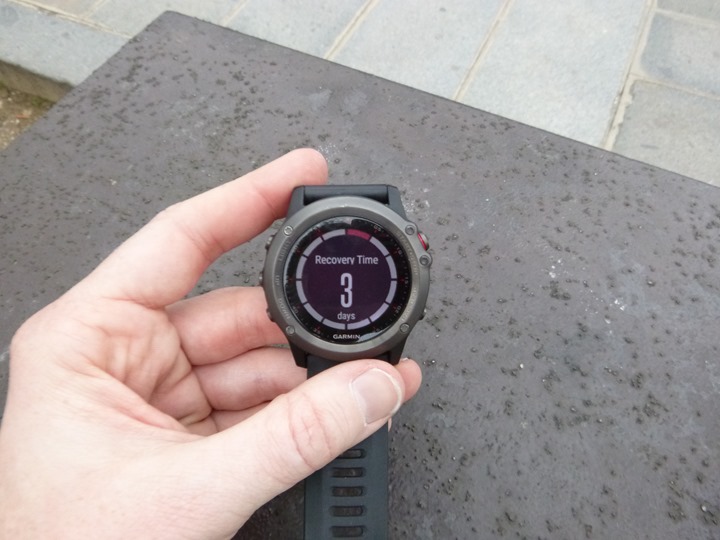 Additionally, upon completing a run you'll get information such as any PR's that were broken (Personal Records) – such as best mile split or longest run.  Note that by default these are only specific to this watch.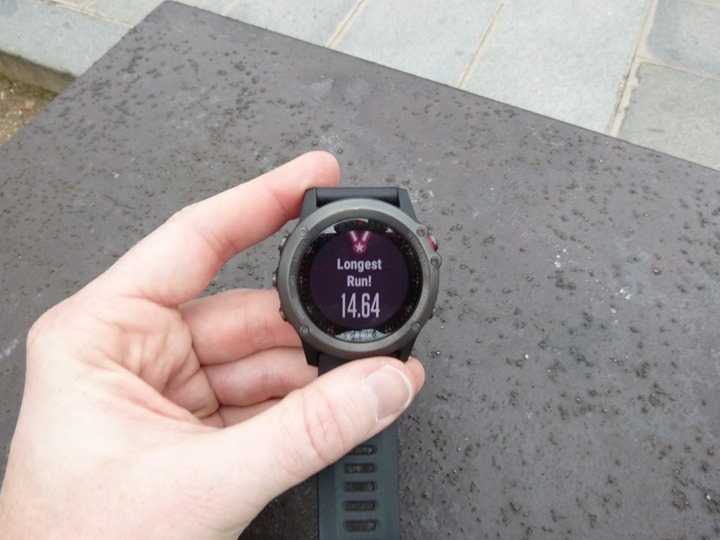 And finally, you'll get a summary of your run that you can dig through and look at all the stats, both for the entire run, and each individual lap: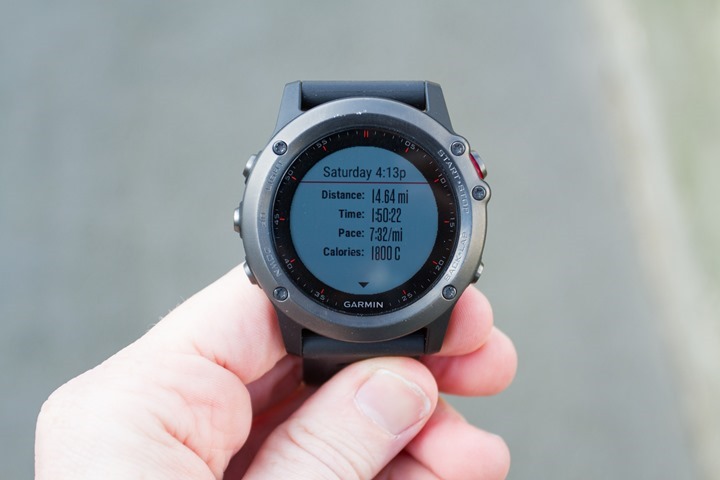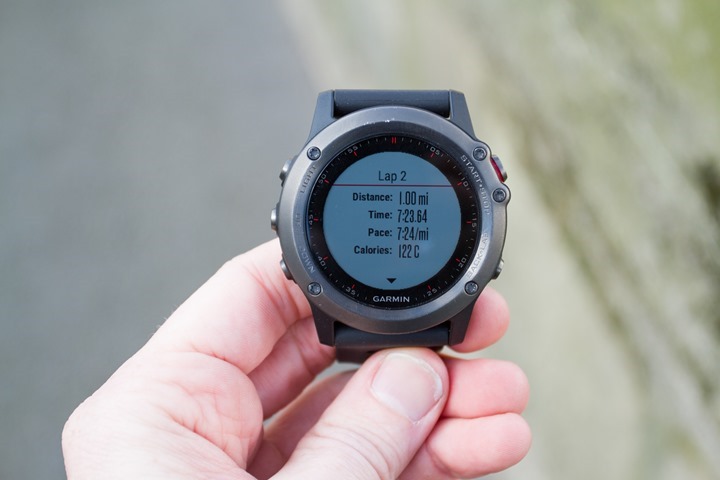 Now, you're not limited to outdoor running with the GPS.  Like most Garmin devices you can also use the Fenix3 indoors, such as on a treadmill.  For that you've basically got two options.  First is to use the built-in accelerometer within the Fenix3 to capture pace and distance.  In my experience, this works 'ok', but not great.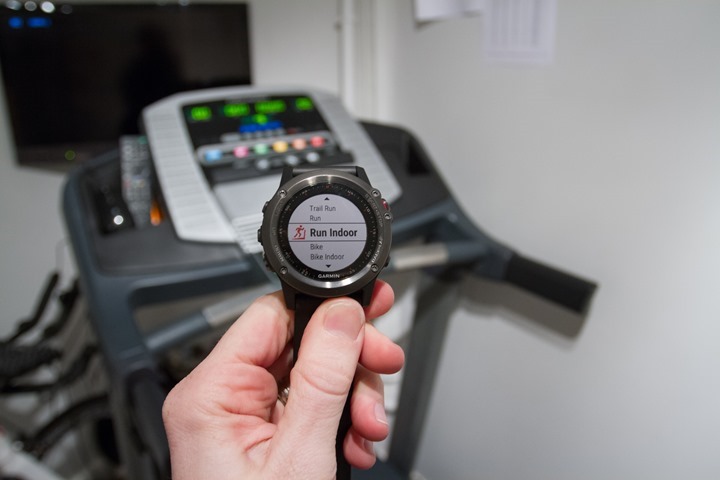 The way this function works is that while you're running outdoors it learns your paces and effectively your wrist movement.  With that knowledge, it's important that for the highest accuracy indoors that you wear it on the same wrist as outdoors.  Most people have slight differences in how much wrist movement they have on each wrist.
Nonetheless, despite this, what I find is that certain paces are fairly accurate – but others less so.  For example when I run my long-run pace, the internally calculated pace is pretty accurate.  However, when I go into intervals, the pace tends to fluctuate a bit more – often upwards of about 10%.  This isn't really unique to Garmin however; virtually all wrist-based pace/distance detection solutions are the same in the market today.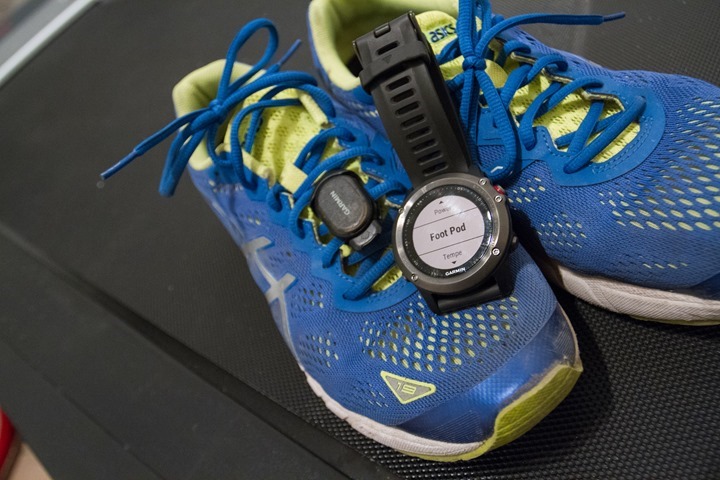 The second option for indoor pace is the ANT+ footpod.  That allows you to enter in a calibration value and get very accurate pace on a treadmill.  I talk about the footpod here in this post in uber-detail.
But, I've been using the footpod with the Fenix3 quite a bit on the treadmill over the past few months – all without issue.  In each one of those instances my pace nearly matches that of my treadmill (once calibrated), and the distance as well.
Ultimately, my recommendation is that if you want truly accurate pace/distance recorded while indoors – to get a footpod.  Also note that at this time there's no method of selecting pace while outdoors from a footpod.   All pace when outdoors comes from GPS, except in scenarios where the GPS signal is lost (i.e. tunnel), in which case it falls back to the footpod (and failing that, to the wrist based detection).
Cycling:
The Fenix3 includes virtually all of the cycling functions and features found in any previous Garmin Edge device – including the Edge 1000.  The only features it lacks are turn-by-turn navigation with mapping (i.e.: Turn Left on Maple Street), Auto-Lap by position, and the Edge Remote Control support.  That said, let's spend a few minutes walking through it.
First up is that like running, cycling has its own sport mode.  In this case either 'Bike' or 'Bike Indoor', depending on the weather I suppose.  Once you've selected that mode it'll go ahead and find any relevant sensors that you've paired.  In my case that's usually a power meter along with a heart rate strap, plus sometimes a speed or cadence sensor if indoors: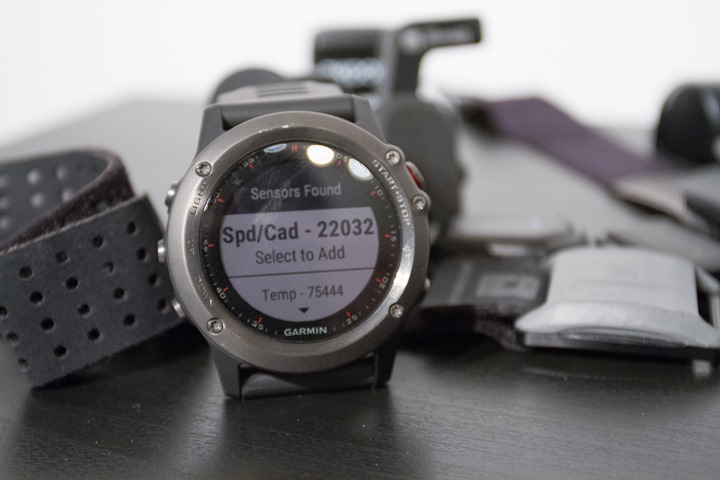 It'll pair with any ANT+ cycling sensors out there (see my section later on that), which includes all power meter brands except Polar/Look and their Keo Power solution.
The Fenix3 also will shortly support Cycling Dynamics, so for those Garmin Vector users, you'll get that data as well.  In the meantime, you'll still get all the regular left/right data.

When cycling, the functions at a foundational level are the same as running.  The only difference for most is that you now have power meter support.  This includes all of the power meter relevant fields like Training Peaks metrics such as TSS/NP/IF, and any power balance fields.
Indoors, the situation is much the same.  You can go ahead and pair to trainers such as the Wahoo KICKR or TACX Smart series trainers, which broadcast open ANT+ metrics like power, speed and cadence.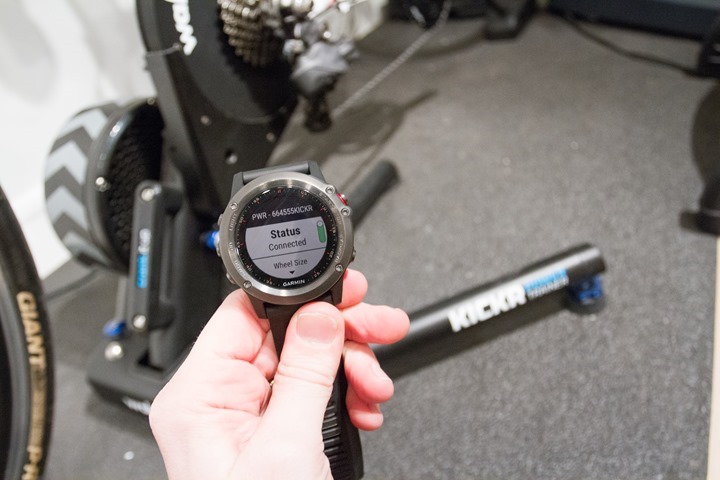 All of these metrics are then saved after the fact for uploading to Garmin Connect (and if you choose, automatic sync to sites like Strava).
So what about mounting the Fenix3 to your bike?  Well, for that it's a bit tricky.  See, the Fenix3 lacks a quick release kit, so thus it lacks any way to mount it directly using the ubiquitous Garmin quarter-turn mount that's supported by the Edge series as well as the FR310/FR910XT/920XT watches.  This means instead if you don't want it on your wrist you'll need to use a little block like this rubber mount from Garmin for about $10: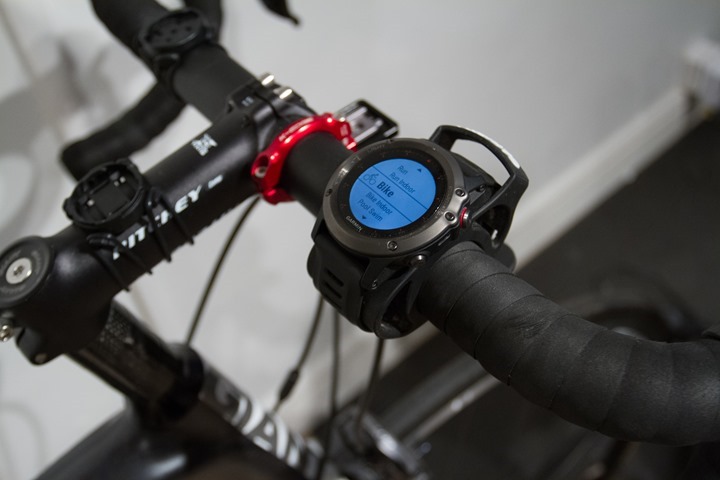 But, the challenge with that block is that with the Sapphire band you can't detach it to fit through the hole.  So instead, your better bet is this also-$10 rubber block from Timex.  The challenge there though is that you can't put that on your bike handlebars easily unless perhaps it's a mountain bike.
So I don't have a solution for road bikes, but for triathlon bikes you could use the Profile Designs bike computer UCM mount, and mount it from the side.  Kinda lame, but it does technically work:
Now for me personally, it's this single item that's probably the biggest reason I'll probably still stick with the FR920XT as my main triathlon watch.  I don't like looking at it on my wrist – especially in aero position.  Instead, I want it mounted on the bike.  Hopefully Garmin will look to release a quick release kit – it's something that realistically should be simple for them to do, and basically just puts more money in their pocket anyway (since people have to spend at least $50 more for the Fenix3 over the FR920XT anyway).
Swimming: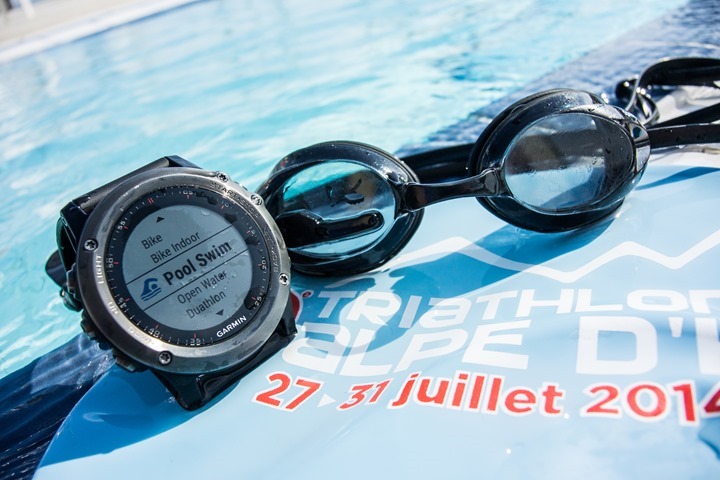 The Fenix3 supports tracking of both pool and openwater swims.  For pool swims the unit will use the internal accelerometer within it to track swims.  This means that it's looking at your movements and trying to determine what type of stroke you're swimming as well as when you reach the end of each length of the pool.
To start a pool swim you'll select it from the list of sports: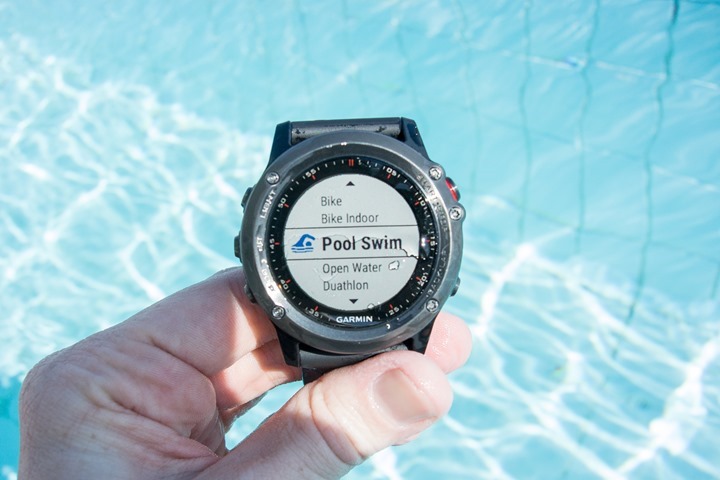 Next, if it's the first time using a pool swim it'll ask you your pool size.  Else, it'll remember your pool size for future swims.  If you go to a different pool that requires changing the size, you can simply select it within the settings menu: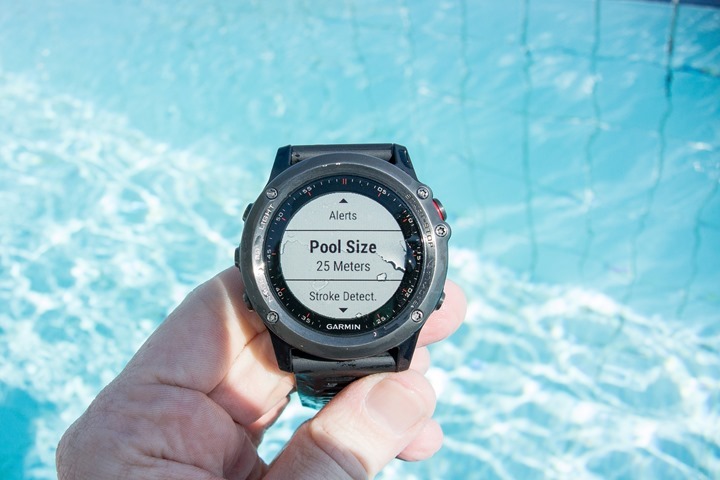 There are preconfigured sizes for common pool lengths such as 25m, 25y, and 50m.  Additionally, you can specify and pool length between 17m/18y, and 150m/y.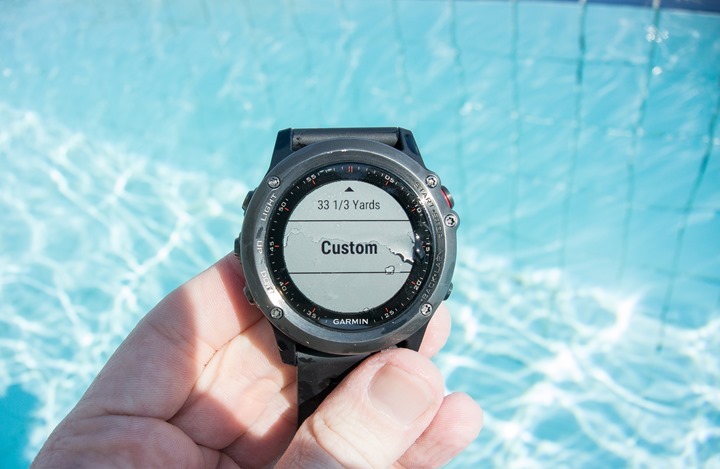 Next, it's time to swim.  Now when swimming with the watch you can do either a flip turn or an open turn (non-flip turn).  It'll track either way.  The thing to keep in mind is that it's essentially measuring acceleration and change in movement direction.  So if you stop mid-lane in the pool, it'll confuse the unit.  Likewise if you sit at the end of the lane line for a few seconds and then do your next lap and do the YMCA song with your arms – it'll confuse it.
Just swim, and keep swimming…and it'll work out just fine.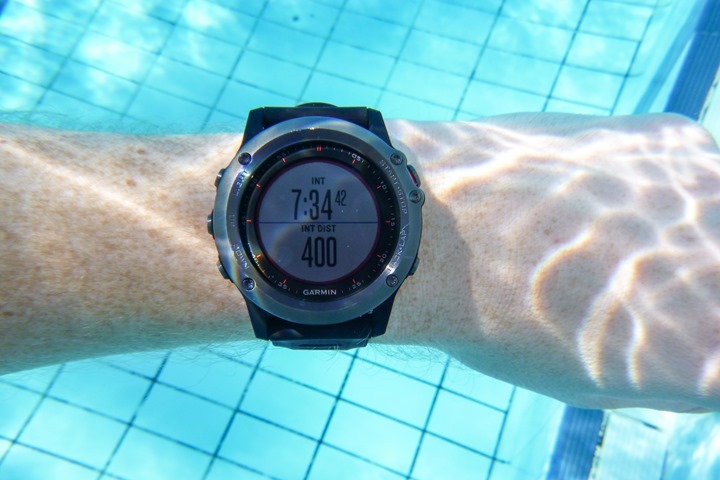 As you swim it'll show you your pace and splits, all of which can be customized.  When you reach the end of a given portion of your workout (set), you can press the lap button to go into the rest timer.  This will separate out the different sections of the workout for you automatically.  It'll also invert the screen so you know it's in a paused state.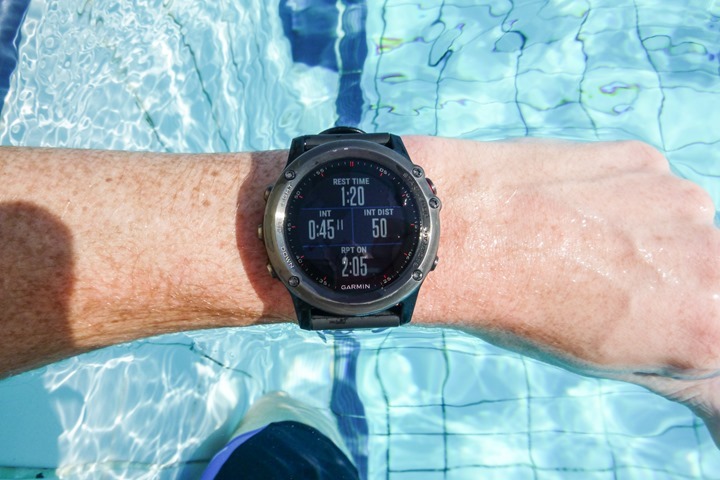 In addition the Fenix3 supports the Drill Log mode.  This mode allows you to do drills that the watch wouldn't recognize distance on, such as kickboard drills.  For this you enter drill mode and then at the end simply tell it how far you swam: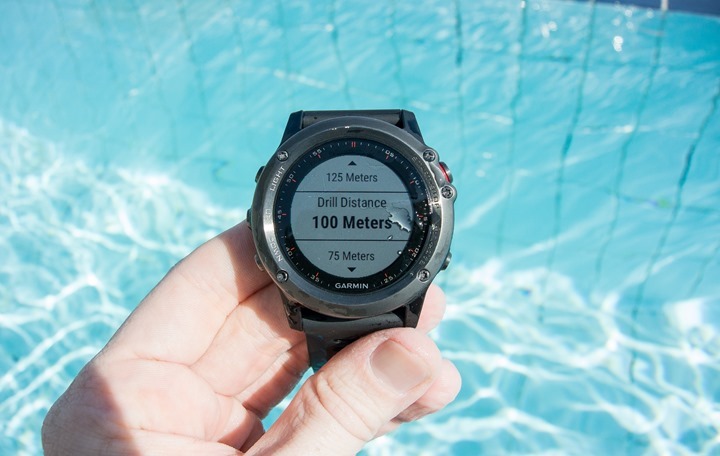 Afterwards, all of this data is available on Garmin Connect and can be sliced and diced.  Note that I only swim freestyle, so I can't really comment on accuracy of other strokes.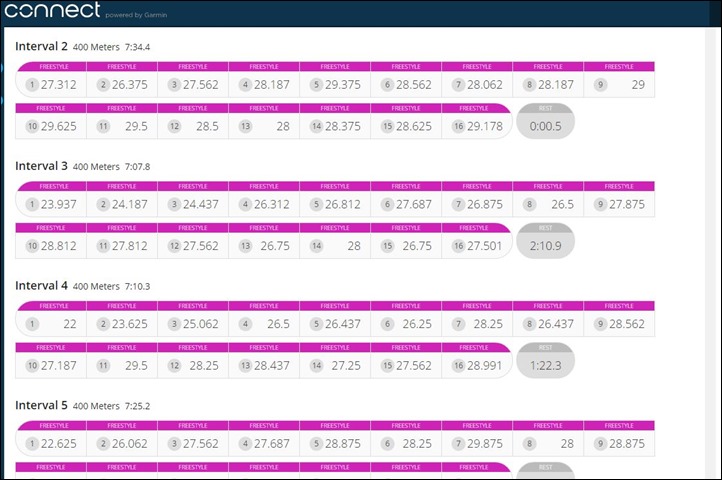 While Garmin Connect doesn't allow editing of swim data, some 3rd parties like Sport Tracks do.  For example, in the above swim I had to stop mid-lane on one of my lengths, which caused a missed length.  Completely my fault (I dropped a camera out of my swim shorts), but there's no method to fix that on Garmin Connect today.

Also note that at this time there is no method for any Garmin swim-capable watches to give you structured swim workouts.  However, interestingly Connect IQ was coded with that in mind – so it's certainly possible we'll see swim workout functionality come soon via that route instead.
Next, we've got openwater swims.  These are any swims in a lake/pond/ocean/etc… Basically any body of water big enough that GPS is logical.  Note that for outdoor pools (except the massive one in Chile), you should always use pool mode.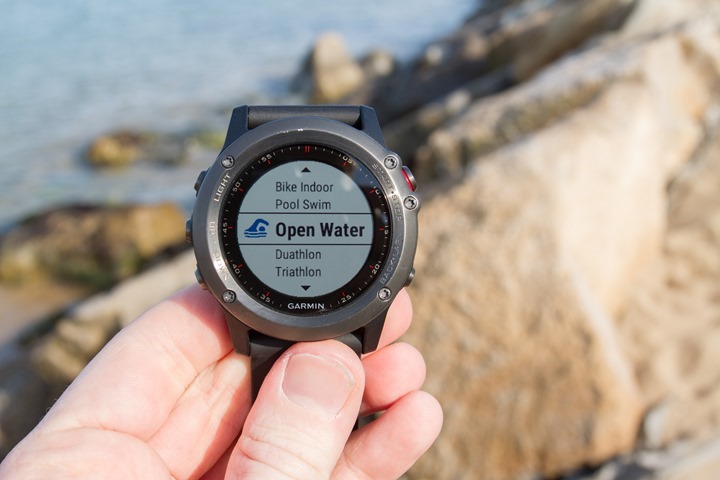 Once you've selected this mode it'll go ahead and search for GPS just like other modes.  Interestingly, within the openwater swim mode you can actually do Live Tracking using the Garmin Connect Mobile app.  I've done that on a few occasions now using the Safer Swimmer buoy with my phone inside the dry compartment in it:
The Fenix3 communicates with the phone just fine in between each stroke.  Heck, I even got a text message from The Girl during one of my openwater swims.
Next, while swimming the unit will track distance, pace and stroke information – such as it does in a pool: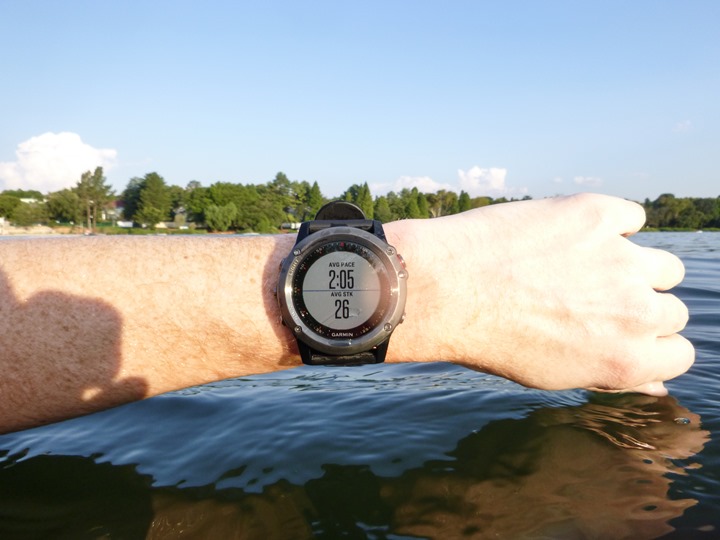 You can create laps as you see fit as well – for example to split apart a course.
Remember that the way openwater swim mode works is that each time your watch goes underwater it loses satellite, thus, each time it comes back up again it has to reacquire satellite in the half a second or so your wrist is above the water.  This obviously results in less accurate readings.  So what companies do is they take a bit of an average plot of where you're going and try to figure it out, despite the reduced accuracy.  It's usually not perfect, but it's also usually pretty good.
I found that in all of my openwater swims that the Fenix3 was the most accurate Garmin openwater swim capable device to date that I've tried.  Typically I give a very slight edge to the Suunto series for openwater swim accuracy, but that doesn't appear to be the case anymore.  They seem to probably be a wash.
Below you can see some swim tracks with the Fenix3 on my wrist, and where I put another GPS watch (typically the FR920XT on the swim buoy above the water floating next to me).  This helps me create a 'reference' track to compare against.
Ultimately, these are pretty good.  Here's the exact number comparisons.
First Test: 1,194 vs 1,200yds
Second Test: 1,249 vs 1,305yds
Third Test: 1,475 vs 1,540yds
That last one is actually really impressive track-wise, especially where I edged around the barriers, it perfectly nailed that.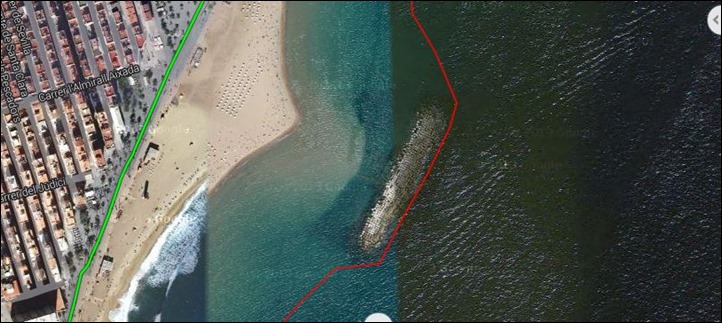 Just as a bit of a tip, if when swimming I find it helps to start the GPS above water where you know it has a lock for the first 1-2 seconds.  That establishes a good solid 'starting point'.  And the same is true when you exit the water – just give it a second or two to find your ending point.  Seems to help (across most GPS watches).
Multisport activities: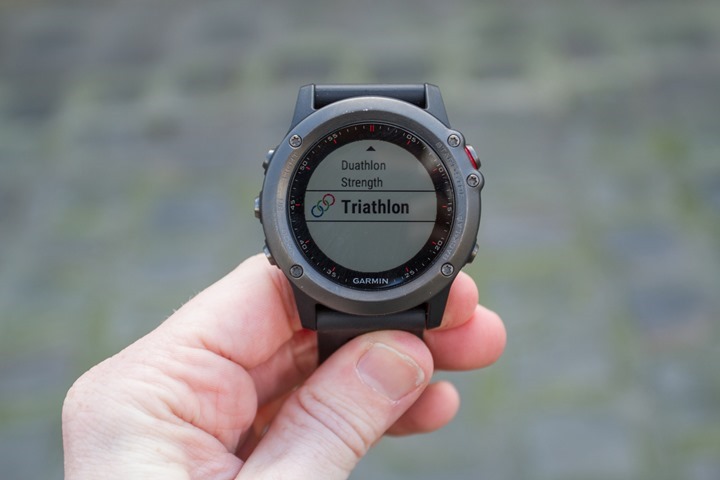 Being a multisport watch, the Fenix3 supports what's known as 'multisport' mode.  In this mode (well, actually multiple modes), the watch will automatically transition to the next sport upon pressing the lap button.  This allows you to line-up multiple sports such as in a triathlon and get sport-specific settings and records for each segment: Swim, T1, Bike, T2, Run.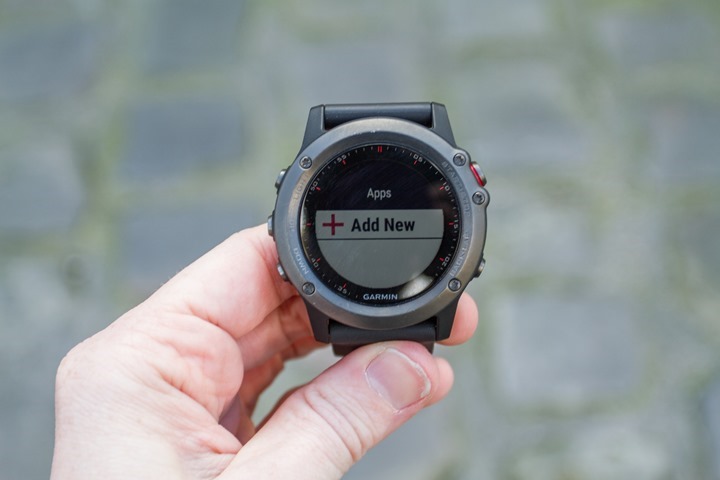 You can also create your own custom multisport profiles, using any combination of existing sports.  Unlike the Fenix2, there is no limitation on creating a fully indoor triathlon for example.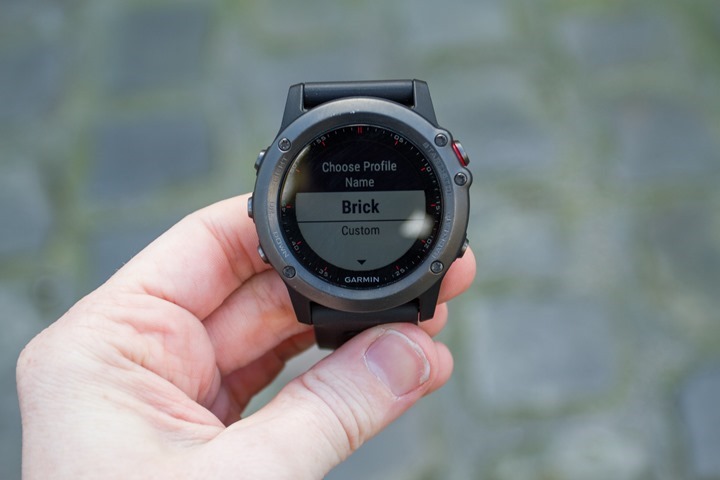 Within these modes you can customize whether or not to include transition data.  What's nice about the custom modes is that it's easy to create duathlons.  For example, I did an openwater swim/run brick two weeks ago quite easily.
Afterwards, on Garmin Connect the Fenix3 multisport activities will show each segment of the workout separately – but as part of a larger workout.  This new Garmin Connect feature was introduced last fall for all new multisport workouts uploaded after that date (or, re-uploaded).  You can see my short swim/run brick here: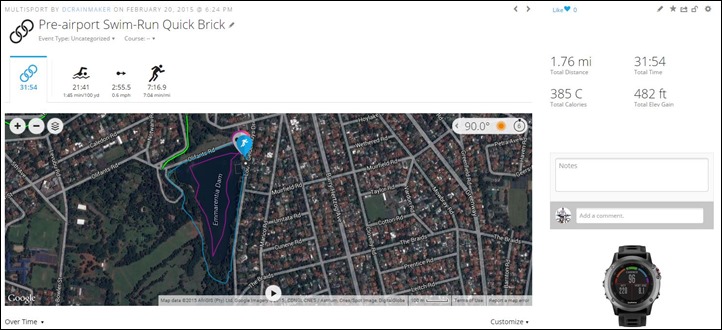 And you can see how if I click for just the swim tab I get additional detail, and it removes the other portions of the activity from view:
Additionally, you can see the same styling on a longer swim/bike/run activity I did this past fall when the weather was slightly more hospitable to that kind of workout.
Note however that the Fenix3 lacks a quick release kit, so you'll need to basically keep it on your wrist the entire time.
Daily Activity & Sleep Tracking: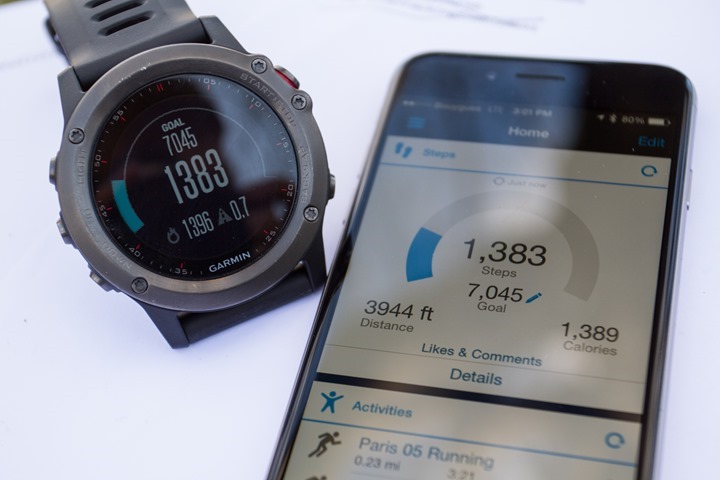 The Fenix3 incorporates daily 24×7 activity tracking including such metrics as steps, distance walked, calories, and sleep.  It also incorporates the Garmin inactivity/move bar, which triggers to tell you that you've been lazy.
This activity tracker mode then transmits that data to your smartphone app (Garmin Connect Mobile), which stores the data on the Garmin Connect site for display.  Additionally, Garmin Connect can transmit the data to partners such as MyFitnessPal.
This data is also visible on the Fenix3 through the "Wellness" widget (activity tracking widget).  It'll show you your steps towards goal, your current goal, and your calories burned and distance walked.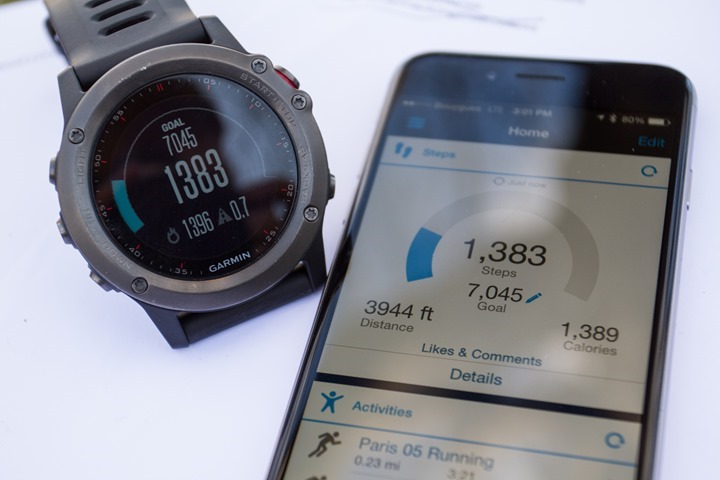 Along the bottom you see the red 'move' bar.
That bar fills up when you don't move, eventually alerting you after an hour that you need to move.  You can clear the move bar by walking roughly 100 yards:
The goal steps that are displayed each day are dynamic, based on your previous days steps and trending data.  So, the more you walk, the higher the goal goes – and the inverse is true.  It's designed however such that a single long run on a weekend won't totally hose up your daily goals.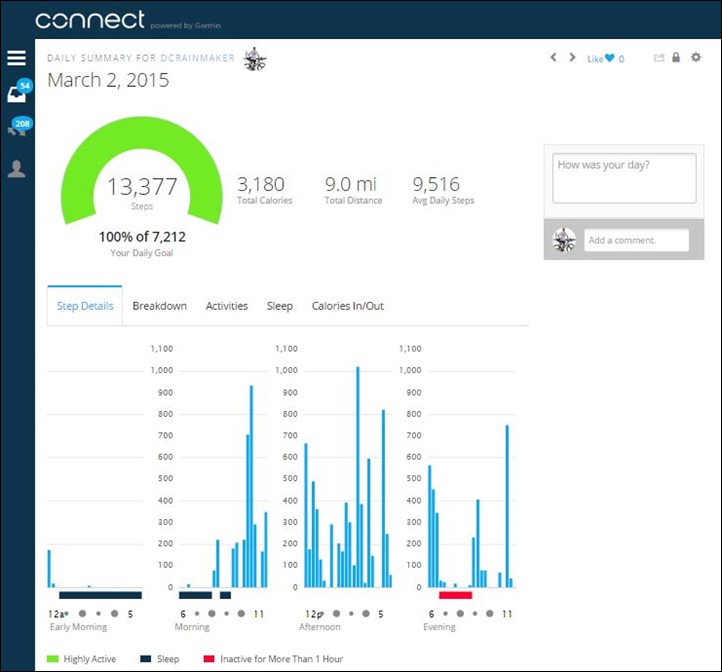 Next there is calories.  Calories on the Fenix3 activity tracker are inclusive of your baseline calories (BMR), aka, the calories you need to stay alive.  That's why if you just sit there watching Saved by the Bell re-runs, it'll still show you burning calories.  That's pretty much the norm for activity trackers on the market.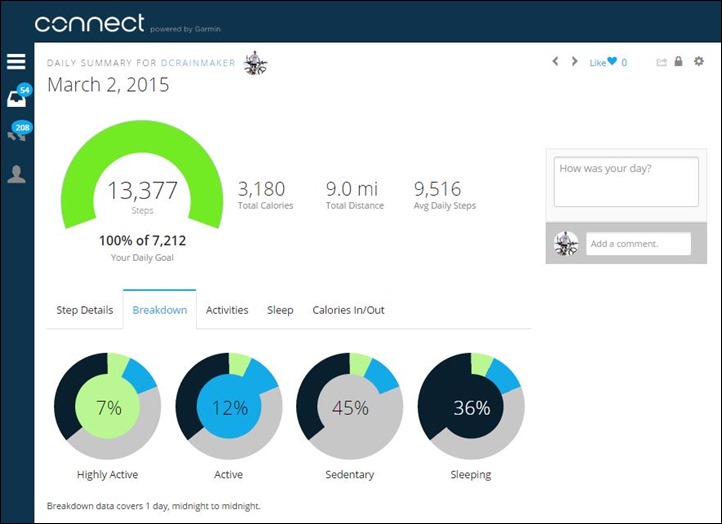 There's also support for MyFitnessPal as well, in the event you want to track both your consumed calories as well as burned calories: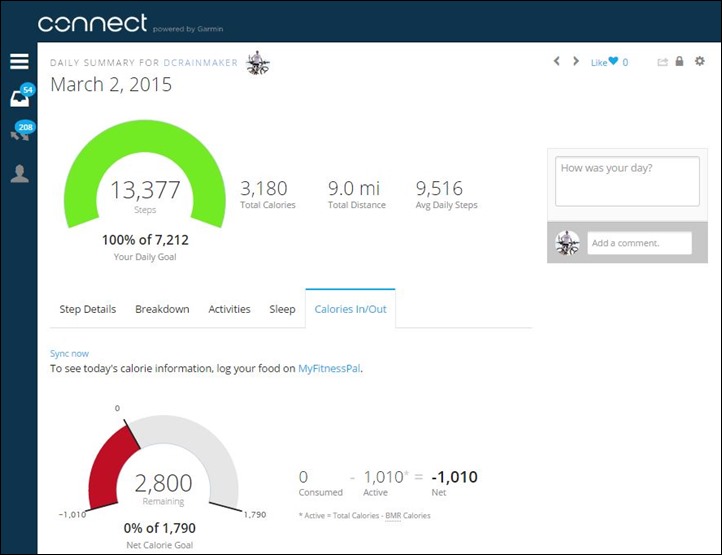 Finally, we look at sleep.  The Garmin Fenix3 requires you to manually trigger sleep.  This is like the rest of the Garmin units that support sleep metrics…and is honestly pretty lame.  Most other watches/trackers will automatically sense it, such as the Fitbit series.  Worse yet, is that even when you do manually enter it in, the data that Garmin displays after the fact is pretty useless.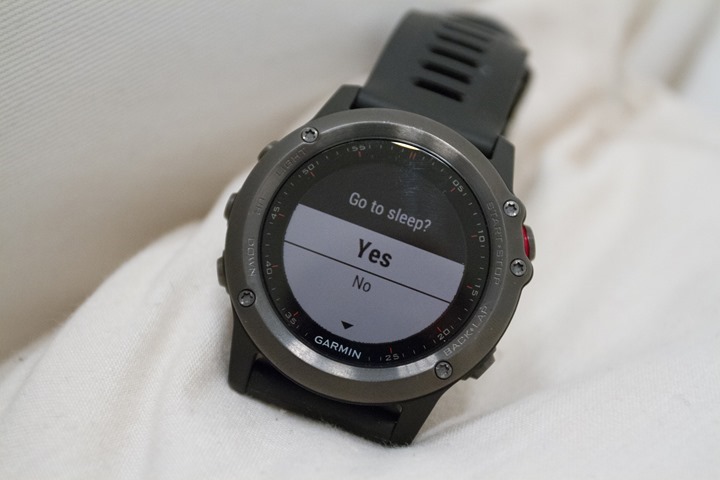 No 'times/minutes awake', or anything else of value.  Just a very blah-like up and down chart vaguely showing movement.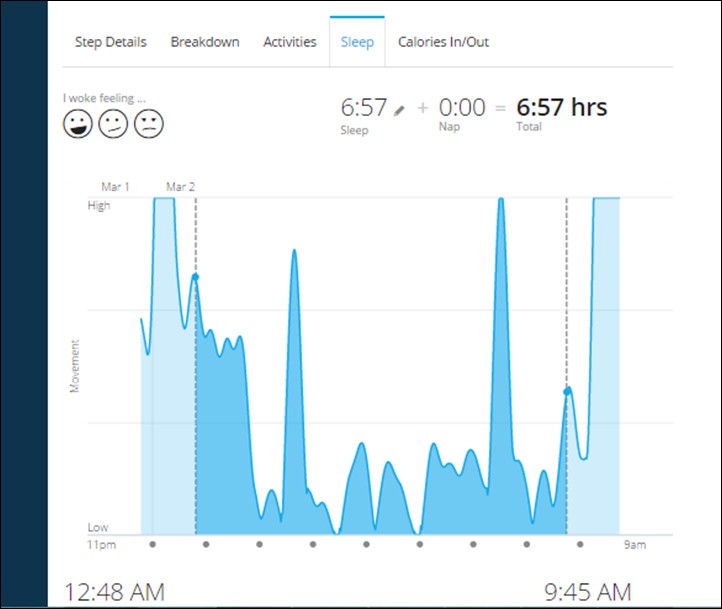 As far as accuracy of activity tracking in general goes, the Fenix3 measurement of steps has been inline with other activity trackers for me.  Which means that it's generally within 5-8% of what I'm seeing on other devices I've been wearing at the same time such as the Fitbit Charge HR and Jawbone Move.
However, keep in mind that there is no 'perfect' activity tracker.  Different companies use different algorithms to try and minimize inaccuracies.  Further, different wearable locations can also impact accuracy.  For example, if I'm pushing a shopping cart with a wrist-based device such the Fitbit Charge or Fenix3, I'll likely get reduced step counts.  This is because the accelerometer isn't likely to be triggered due to the static position of my hand.
Companies try and counter these sorts of items – such as ensuring steps aren't counted when you're showering or washing the dishes.  But the reality is that sometimes they do trigger steps.
Here's what I'd remind ya: You shouldn't be concerned about a few hundred extra steps.  At the end of the day, you're aiming for a goal in the 10,000+ step range – so a few hundred steps really isn't that meaningful.   If you only walked 2,000 steps, then no, you didn't walk enough.  And at the other end of the spectrum, if you walked 18,000 steps – then yes, you walked a lot and an extra 100 steps washing the dishes wasn't likely the cause for that 18,000 steps.
To that end these devices are best looked at from a trending standpoint.  They help you assess whether you're walking a lot or a little.  That's no different between a Fitbit, a Garmin, a Polar app – or even your phone.  They all have imperfections in certain scenarios – and excel at others.
Navigation: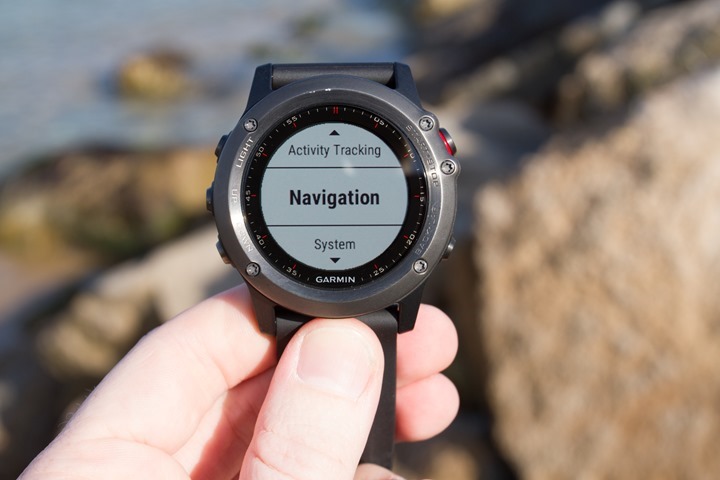 The Fenix series  ultimately has it's roots in navigation – and thus to that end much of that remains the key reason that you'd buy the Fenix3 over another device such as the FR920XT.  There's two types of navigation capabilities within the Fenix3.  The first is the basic 'ABC' (Altimeter, Barometer, Compass) functionality.  These features require no GPS enablement, and are otherwise running 24×7.
They're accessible at any time by pressing the up/down buttons on the left side of the watch.  You can change the time scale for these, but by default they show historical values such as a 48-hr barometer and 4hr temperature.
The sensors that support these features (Compass, Altimeter, Barometer), can be accessed and configured within the settings and then sensors menu of the watch: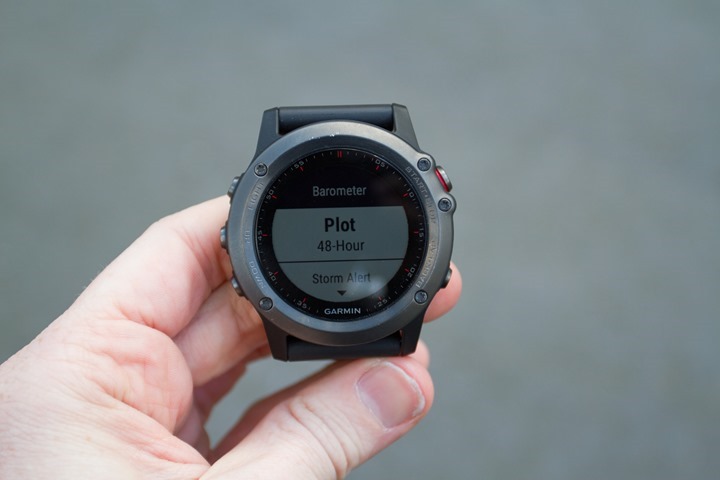 It's here that you can do tasks such as enable the Storm Alert, or change the plot length.  Additionally, in the case of the altimeter, you can calibrate it by manually entering in the current elevation (useful for trailheads).  Further, you can change the behavior of Auto Calibration, which controls when and how often the unit will calibrate the altimeter.  By default it's once at the start of an activity, but you can change it to be continuous if you'd like.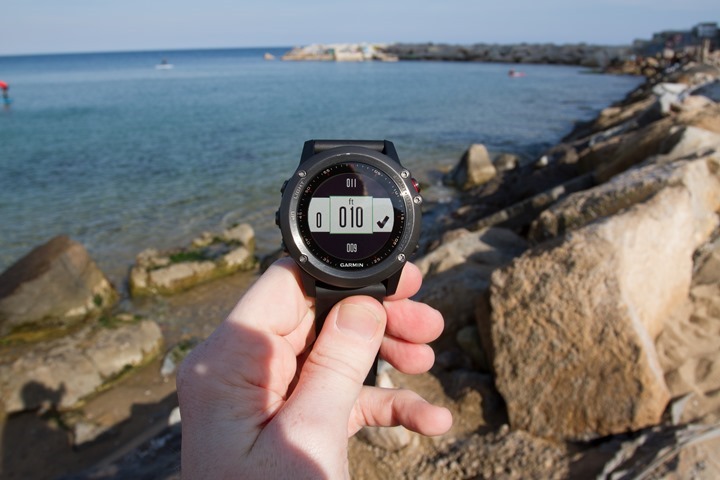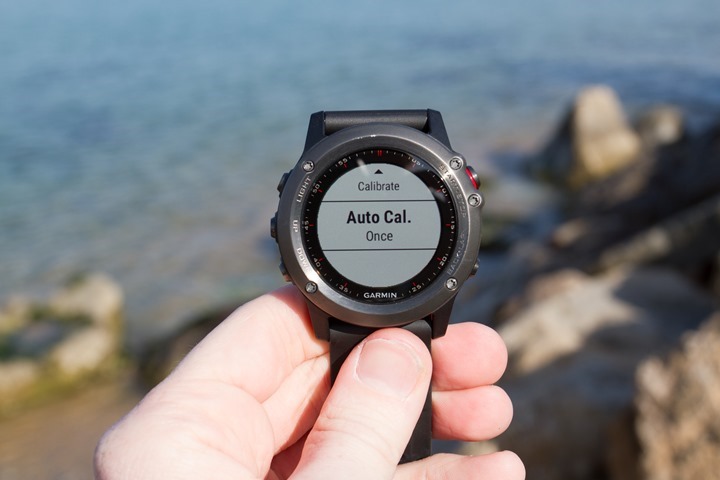 Note that for compass, as well as other position-format based metrics, you can change to a wide assortment of display formats.  I'll try and get these manually typed up, but Garmin basically covers every possible position format I've ever heard anyone ask for.
Next, beyond the ABC functions there's the GPS-based navigation capabilities.  These use GPS to guide you to various points, either pre-defined or on the fly.  To start navigation you've got two options.  The first is to simply select 'Navigation' from the main menu, and then select a given type of navigation: Courses, Activities, Saved Locations, Sight 'N Go, or Coordinates.
When you do this, it'll ask you for further details on what you're navigating to – such as the pre-created course name: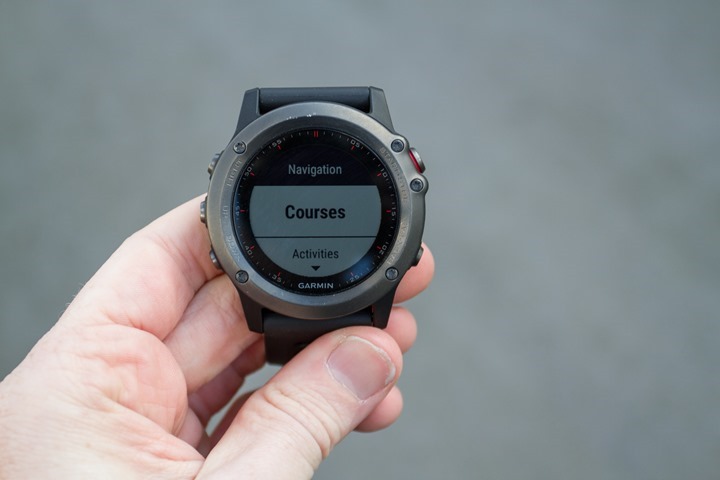 Then, it'll give you a bit of an overview of that particular selection.  For example, in a course it'll show you a map of the course, as well as the elevation profile. Interestingly however, that elevation profile is not available once you start the activity.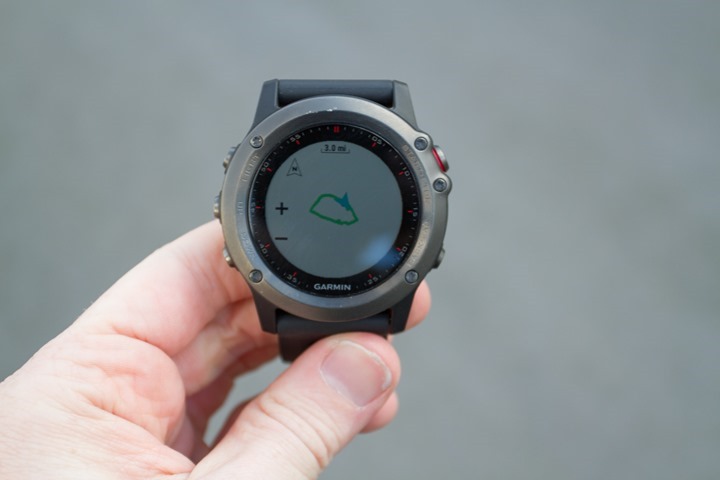 Then you an select 'Do Course' to start the navigation. At this point the unit will ask you which activity profile to use.  You can use any GPS-enabled sport to navigate, for example hiking, running, or cycling.
At this point, the unit will add the navigation-specific screens that you have to that sport profile.  These four screens can be fully customized (each with four data fields), plus the Map and Guide screens.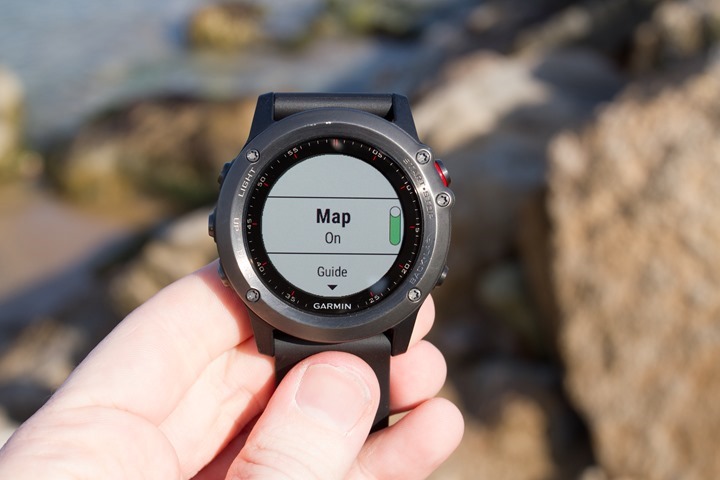 And of course, it'll start navigation once you press the Start button.  As you navigate, it'll guide you based on a map showing progress.  You can change the zoom level of that map by holding the middle left menu button: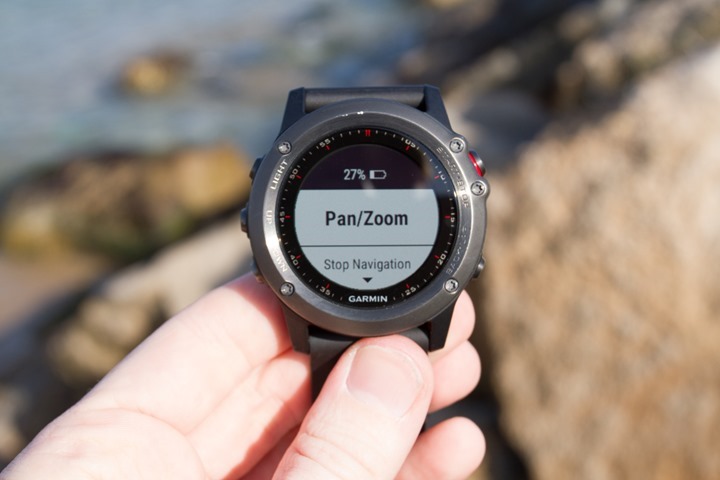 In my case, I had pre-created a course on Garmin Connect and downloaded it to the unit via the Garmin Connect Mobile app: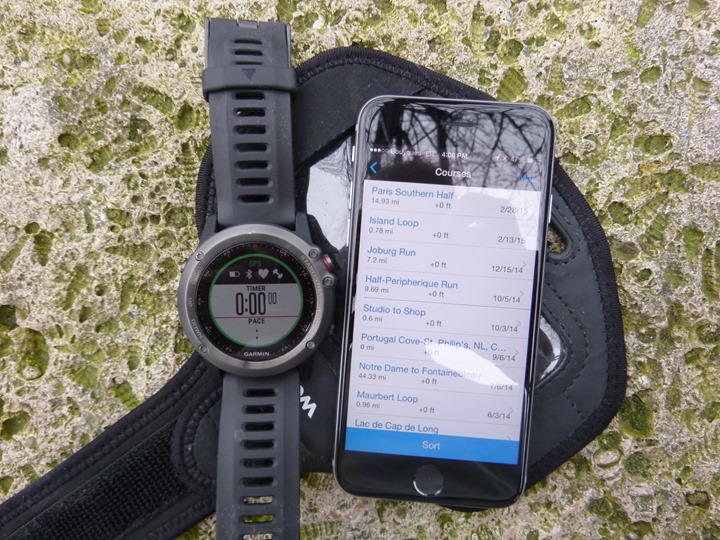 You can also use the desktop application called Garmin Basecamp, but that lacks the free base map set seen on Garmin Connect, so it's a bit more tricky to create routes with a default Garmin Basecamp install.  Note that rather unfortunately the Fenix3 is not compatible with Basecamp Mobile.  That's quite a bummer because Basecamp mobile was super-easy to create waypoints, whereas there's no method on Garmin Connect to create Waypoints, only routes.  So oddly, things got slightly harder with this new version.  Hopefully Garmin will enable support for it on the Fenix3.  Ultimately in my mind if they don't have that in place by time the Epix releases, otherwise it'll be a super-disjointed story.
In any case, back to navigating the route.  As you're navigating you'll get various status on your progress related to the course.  For example if you're on course, and how much of the course is remaining.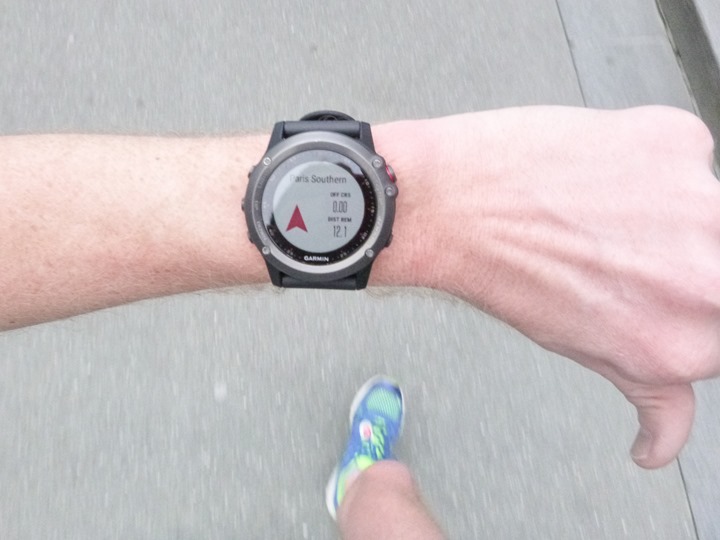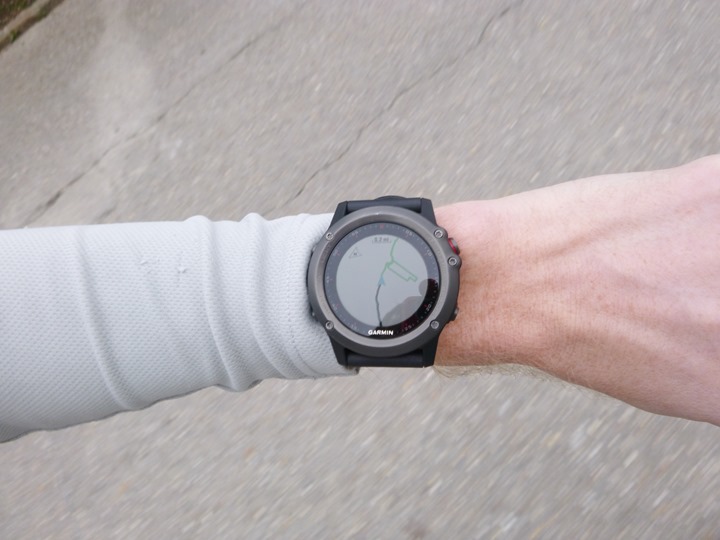 If you've defined a given pace for the course, the unit will show that as well within the screens.  This is essentially the same functionality that's then leveraged for the ability to follow a previous activity.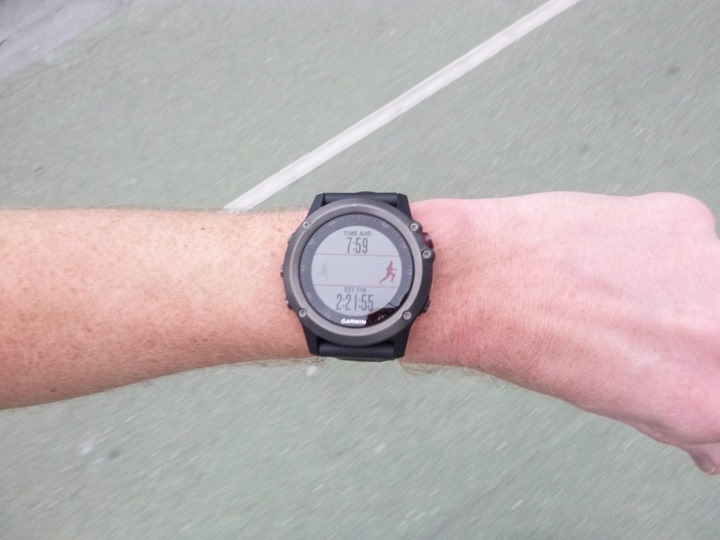 In addition to courses you can also save coordinates and route to them.  You can further save these coordinates with given names, such as 'Start of trail', or 'Home'.  Or perhaps more critical place names like 'Burger place'.  Note that the Fenix3 does not contain any sort of POI (Point of Interest) database, so you'll have to create all your own POI's.
Finally, note that there are actually a number of very small (but important to some) navigational differences between the Fenix3 and the past Fenix1/Fenix2.  In order to minimize the amount of updating I have to do each and every time Garmin updates/addresses these, I've placed them all into a massive comparison table a few sections down from here.  Please do read that section though to better understand if there's any gaps that cause you pain.
Battery Life: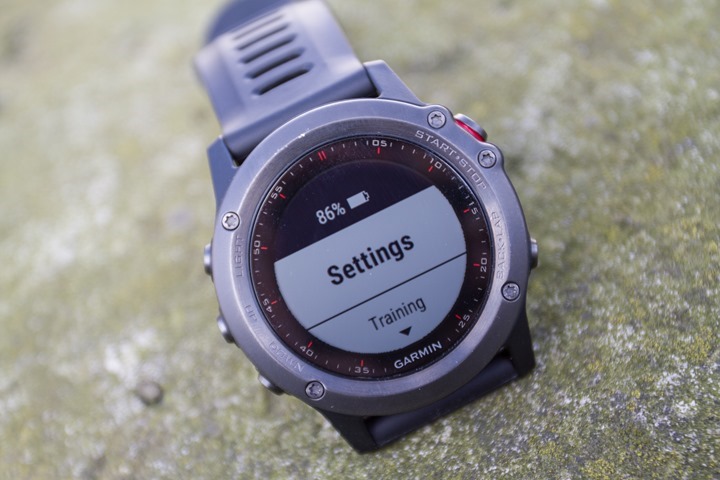 The Fenix3 has a few different technical specs when it comes to battery life, depending on how you use it.  For example, they note on the product page that it'll get: "50 hours in UltraTrac mode, 16 hours in GPS mode and up to 3 months in watch mode" (yet in other places on the spec pages it notes 20 hours in GPS mode).
So how does that compare in reality?  Well, it depends.  First, we'll start with just a simple long-life battery test.  For that, I simply fully charge the unit up and plunk it on my roof and see when it dies.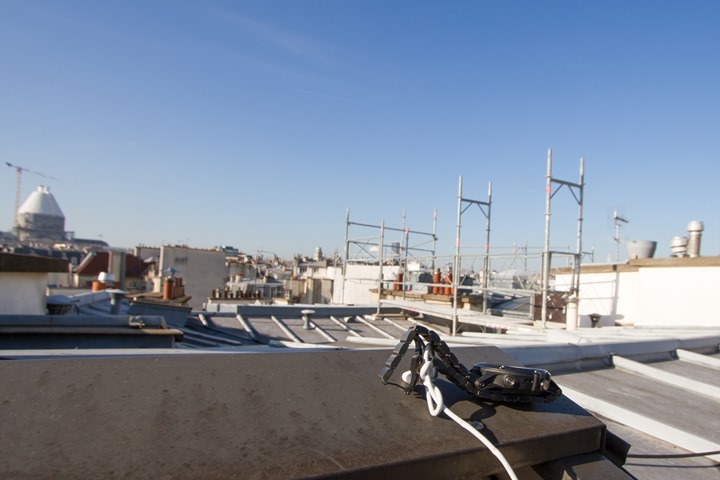 In this case, I went with 1s recording (non-UltraTrac, 1-second recording, GLONASS-off) Here's the results there:

As you can see, it went 18 hours and 12 minutes, a bit shy of their claimed 20 hours but above their 16 hours.  We'll call it splities.  In my case the temperatures here have been about 38°F/3°C, so you'll see that impact battery life slightly.  Still, at 18 hours it easily covers an Ironman triathlon.
The next option you'd have is UltraTrac.  This mode reduces the GPS update frequency to save battery life.  This means you'll get less GPS track points, as it works in a 15-20 seconds of GPS on-time, then about 45 seconds of GPS off-time pattern.  Because of this, it cuts some of the corners, because of the reduced update rate.  Now, for something like city running – it's not really ideal.  But, if you're doing a longer hike where you might otherwise be tight on battery, it's probably fine.  That's because your rate of speed is lower.
Note that with UltraTrac you DO get ANT+ data, which is a change from prior Fenix versions, where you didn't get ANT+ data.  This data is recorded at 1-second rate.  Additionally, instant pace, temperature and cadence is also recorded at the 1-second rate, since all of that comes from the accelerometer.
But what if UltraTrac isn't enough?  For that you can use a USB battery charging pack.  These packs allow you to charge the Fenix3 while it's recording mid-use.  So you can simply attach it and re-charge as you complete your activity.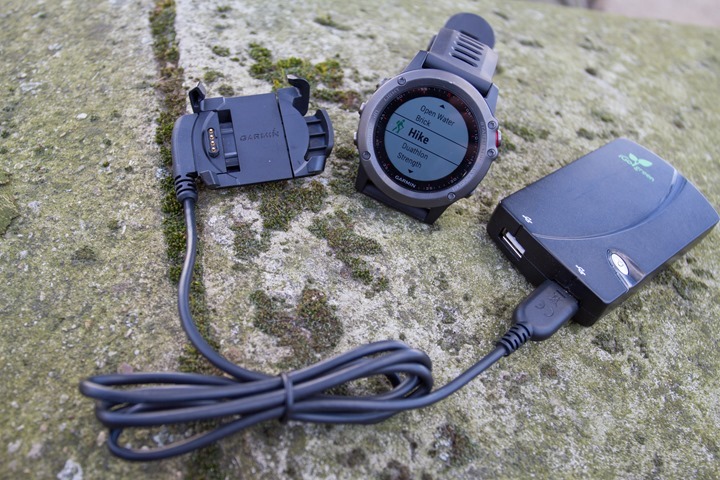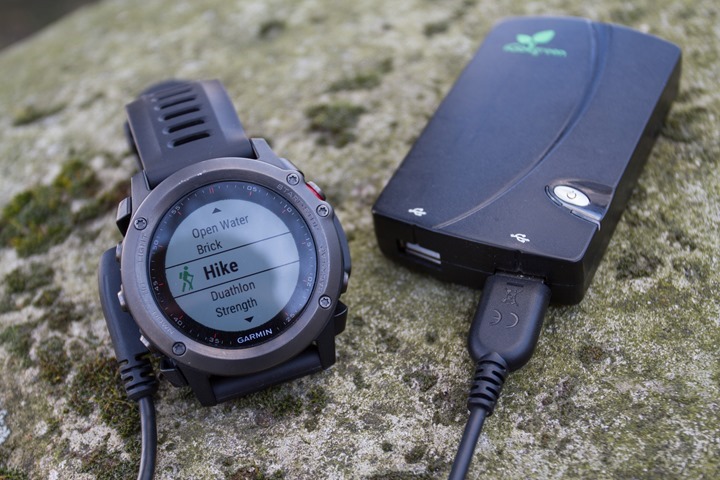 To get an understanding of how that works, I've put together this quick little video:
Finally, what about day-to-day battery life?  Well for that the unit is spec'd at 6 weeks.  But quite frankly, I wasn't about to wait 6 weeks without plugging it in, because then I wouldn't have had the battery juice for all my day to day GPS workouts.  Instead, let's focus on battery life for day-to-day  activity.
Within the Fenix1/Fenix2 timeframe, the battery life was pretty good (lasted a long time) in normal day to day mode.  But, on the Fenix1/2 it was greatly shortened if you enabled Bluetooth Smart (for notifications, primarily).  Down to about 24-36 hours, on a good day.
With the Fenix3 however, you can leave Bluetooth Smart on and it'll last quite some time.  It's tough to get an exact real-world figure, since again the mere act of using GPS for other activities would drain things.  But we're talking at least a week or more here.  Perhaps it's three weeks, I just don't have any way of knowing.  Either way, for most people you'll need to charge it again before that point simply for use during GPS activities.
Sensor Compatibility & Sensor Pools: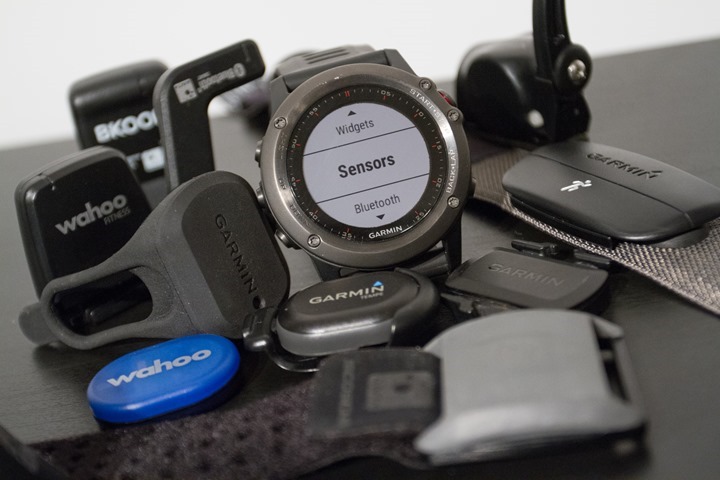 The Fenix3 follows in the footsteps of both the Edge 1000 and FR920XT in including the sensor pool concept.  This means that instead of having 'bike profiles', you just pair all your sensors into what is effectively a pool.  When those sensors turn on (such as turning your bike wheel, or putting on your HR strap), then the Fenix3 will automatically find them.
This is ideal for people with multiple bikes that may or may not forget to change the bike profile before starting the ride – as the sensors automatically pickup instead.  It's also great if you have more than one pair of running shoes with footpods on them, or simply different heart rate straps.
To pair a sensor you'll go into the sensors menu and add a new sensor.  You can tell it to search for everything, or you can pair a specific sensor type: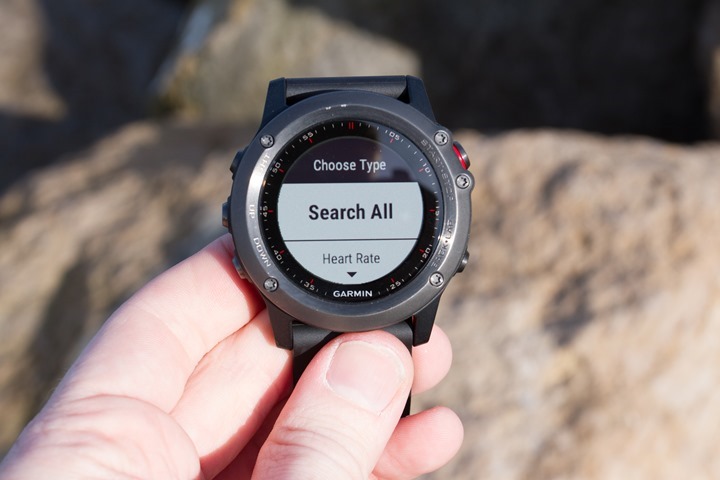 The Fenix3 can save numerous sensors of the same type within the pool.  For example, you can see multiple heart rate straps saved here on my unit (you can give them custom names too!):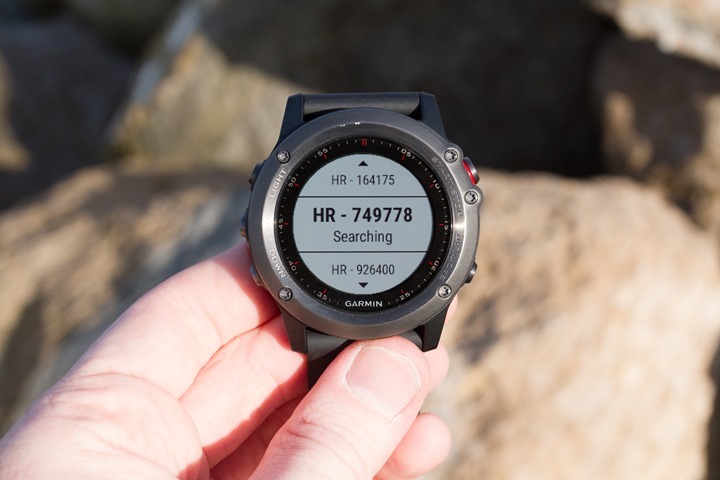 The Fenix3 supports the following sensor types:
ANT+ Heart Rate Strap
ANT+ Running Footpod
ANT+ Cycling Power Meter
ANT+ Cycling Speed-only Sensor
ANT+ Cycling Cadence-only Sensor
ANT+ Cycling Speed/Cadence Combo Sensor
ANT+ Tempe (Temperature Sensor)
ANT+ VIRB Action Camera
ANT Shimano Di2 (coming in future update)
For those that want more accurate temperature data during activities (so that it's off your wrist, due to body heat interference), you'll want to look into the Tempe sensor, which is made by Garmin.  This sensor lasts a year on a coin cell battery and transmits the temperature to the Fenix3.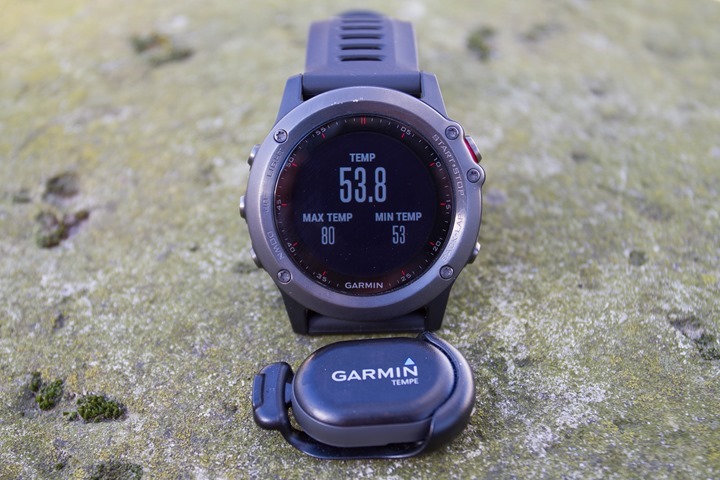 Like existing Garmin products, the Fenix3 does not support any Bluetooth Smart sensors, nor other sensor technologies such as analog sensors or Polar W.I.N.D. sensors.  Nor does it support Nike+ straps or sensors.
Finally, a brief note about optical sensors (such as the Scosche or Mio products).  With using optical HR, you do run the risk that you'll get reduced accuracy on metrics that require heart rate variability (such as Recovery Time, VO2Max, Race Predictor, and to a much more limited degree, calories).  This is because these sensors today largely 'estimate' heart rate variability (HRV/RR) information.  However, they are required to transmit said information according to the ANT+ heart rate specification.  So instead of transmitting nothing, they estimate it (but not measure it).
For some people, it'll work out and their metrics would lineup against a normal chest strap. For others, the differences may be more apparent. It's hard to know exactly how it would impact a given person. For me personally, some workouts line-up near identically, yet others are far off the mark.  Again, just a lot of variables (none of which are the fault of the Fenix3, but rather the state of optical sensor technology today).
Data Fields & Display Customization: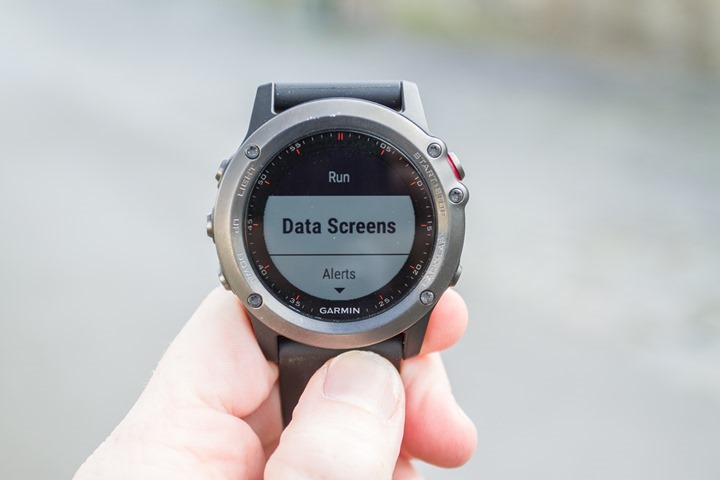 The Fenix3 includes numerous ways to customize the display within activities (as well as outside of activities).  Within activities you can display up to four pieces of data on a single page, and you can have up to 10 pages of data per activity profile (app/sport).  I honestly can't think of a reason you'd need more than 40 pages of concurrent data.  And technically speaking, you get another few pages of data when you add in the 'Navigation-specific' pages.
Each of these is customized on a per-sport basis, which is handled through the settings option.  But you can also change these on the fly during the activity if you need to.  There is no method to change these via the app or online.
You can display 1, 2, 3, or 4 data fields per data page.  But, there are also different ways you can display some of those – such as the way the screen is split up.  The below little gallery shows you all the ways you can show the data:
Note that there is not an active HR graph like there has been on some previous Garmin units, however there is some Connect IQ HR graph data fields (but reaction to those is mixed from folks).
Note that widgets also show data as well when not in an activity, such as the temperature, barometer, and altitude.  These are on 24×7 and do not require necessarily GPS (though some do leverage it):
Finally, the exact listing of all available data fields can be found within the Fenix3 manual.
GPS Accuracy: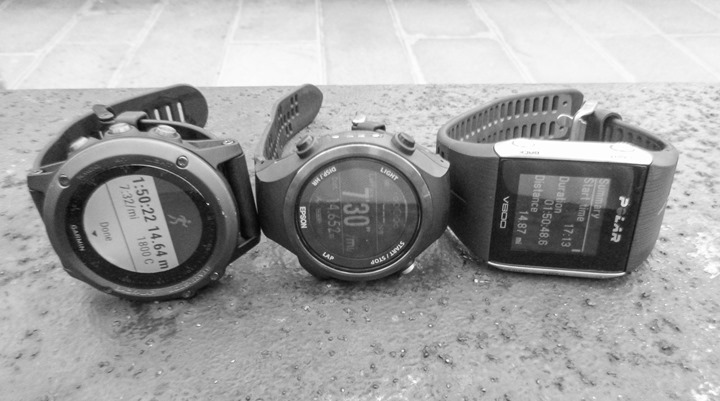 The Fenix3 includes additional GPS related technologies (GLONASS) which can increase GPS accuracy in most situations.  In my testing of the Fenix3 over quite some time now, I'm seeing accuracy on par with the Garmin FR920XT and Suunto Ambit3 – both of which I've had virtually zero issues with in a wide variety of scenarios.
Now, when it comes to GPS accuracy I tend to take a fairly practical viewpoint.  I'm generally looking at how well a unit tracks compared to where I went, as well as the total distances seen between different units.  Generally speaking I'm running/riding with 2-5 other GPS devices at the same time.  I feel this is pretty important – comparing two different runs, even on the same route, will result in differences due to environmental factors and simple things like body placement.  Which, is also important to consider.  You can get different results between the left and right wrists, depending on how your body impacts GPS reception.  In most cases, it's negligible, but in edge cases it could be more overt.
When looking at GPS accuracy and tracks on a map – you must be sure to be in satellite mode and not map mode.  Maps don't always align with reality, while satellites are much closer.  A map might have you running in the water whereas the satellite will show you on a river path.
Finally, do recognize the limitations of consumer grade GPS, which is generally specified as +/-3M.  By default the Fenix3 does NOT have GLONASS turned on, so you'll want to enable that via: Settings button > Settings menu item > System > GLONASS = ON.  Note it will have a slight impact on battery, but not significant.  Note however that a very small percentage of folks have seemingly seen worse accuracy with GLONASS enabled on other watches like the FR920XT.  So, if you're having some GPS issues, try simply turning that off instead.  Finally, be sure that you have 1-second recording enabled, otherwise you'll often see cut-corners.
All that said, I've seen consistently impressive results when it comes to GPS accuracy with GLONASS enabled.  Here's a data sheet of distances recorded by two or more devices.  Obviously, with only two devices in some cases, it's hard to know who was right – but as you can see, in almost all those cases the two devices were nearly identical.  For cases where I had a third device, I included that.
My personal testing with the Fenix3 has been in the following locales in a variety of conditions from snow to sun, rain to fog: USA, Canada, France, United Kingdom, Ireland, South Africa, Turkey, Spain, and the Netherlands.  For the below table however, I've only included activities on the final firmware versions (despite having a vast library of accurate data prior to final firmware) – and only activities where two or more devices finished their recordings (i.e. sometimes another unit would run out of battery).
Fenix3 GPS Accuracy
| Description | Fenix3 | Other 1 | Other 2 |
| --- | --- | --- | --- |
| Openwater Swim 1 | .74mi | .71mi (FR920XT Buoy) | - |
| Openwater Swim 2 | .68mi | .68mi (FR920XT Buoy) | .69mi (Ambit2 S) |
| Openwater Swim 3 | .87mi | .84mi (FR920XT Buoy) | - |
| Long Run | 14.64mi | 14.65 (Epson 810) | 14.87 (Polar V800) |
| Hill Repeats | 7.77mi | 7.816mi (Epson 810) | - |
| Sunday Mixed City/Park Ride | 23.44mi | 23.55mi (Edge 510) | 23.65mi (Edge 810) |
| Sunday Long Run Through City | 14.43mi | 14.47mi (Epson 810) | - |
| Evening City Run | 5.82mi | 5.84mi (FR920XT) | 5.85 (Polar V800) |
| Cycling - Sunday | 30.10mi | 30.09 (Edge 810 #1) | 30.16 (Edge 810 #2) |
| River Long Run | 12.56 | 12.60 (FR920XT) | 12.69 (Polar V800) |
| (Activities below this are post-review additions) | | | |
| Interval 800m Repeats | 7.33 | 7.28 (Fenix3 #2) | 7.38 (Vivoactive) |
| Long Run | 12.15 | 12.31 (Vivoactive) | - |
| City Sunday Run | 10.02 | 10.26 (Epson 810) | 10.31 (Vivoactive) |
| Bahrain Run | 4.15 | 4.12 (Epson 810) | - |
| Evening City Run | 5.60 | 5.62 (Epson 810) | 5.63 (Vivoactive) |
| Half-Marathon | 13.04 | 13.13 (Epson 810) | - |
| Night River Long Run | 12.63 | 12.77 (Vivoactive) | - |
| Interval 800m Repeats Les Berges | 7.29 | 7.35 (Vivoactive) | - |
| Numerous indoor rides | - | - | - |
| Numerous treadmill runs | - | - | - |
Note that virtually all of my activities are available on Strava, so you're free to look at any activity.  Unfortunately Strava has yet to update the device name mapping field, so it shows these as the FR920XT.  Fear not, any file I've uploaded to Strava since late January has been with the Fenix3 (unless it says Garmin Edge).
Additional post-review note: I've been occasionally adding in activities I've done since publishing this review, into the table above.
Connect IQ Compatibility: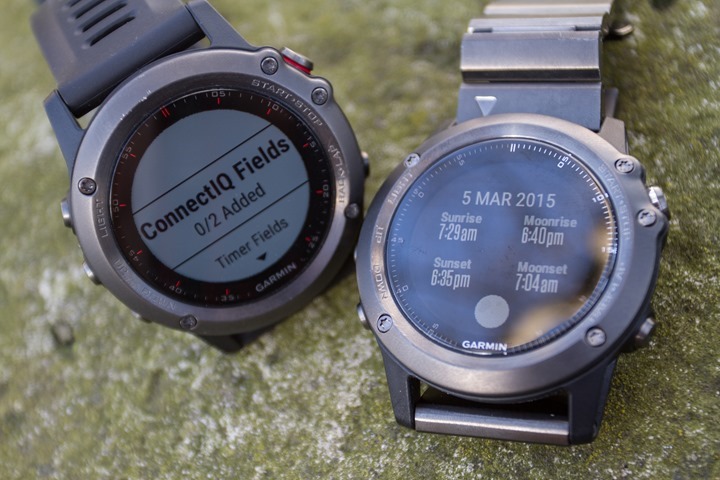 The Fenix3 supports Connect IQ, which is Garmin's new app store concept for Garmin devices.  The platform was unveiled this past fall, and contains four basic types of 'things':
– Watch Faces
– Data Fields
– Widgets
– Apps
At present, only Watch Faces and Data Fields are released in the Connect IQ store.  The Apps and Widgets will release tomorrow (Friday, March 6th).  Today within that store you can download various data fields and watch faces.  These include both Garmin and 3rd party made options: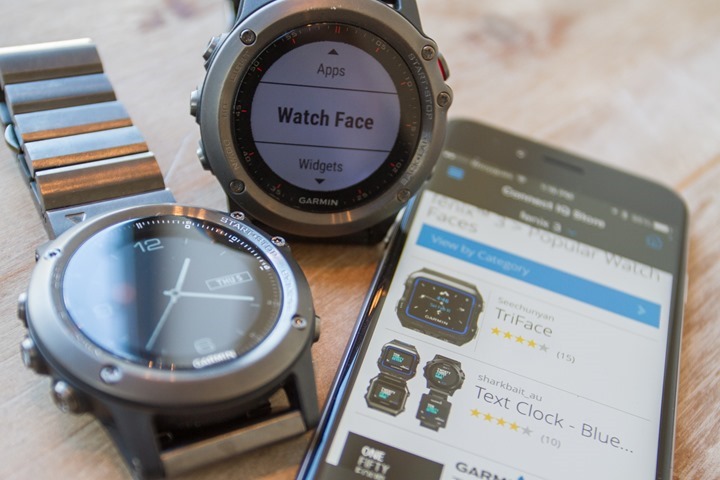 Once downloaded to your watch you can include Connect IQ data fields within any of your existing data pages: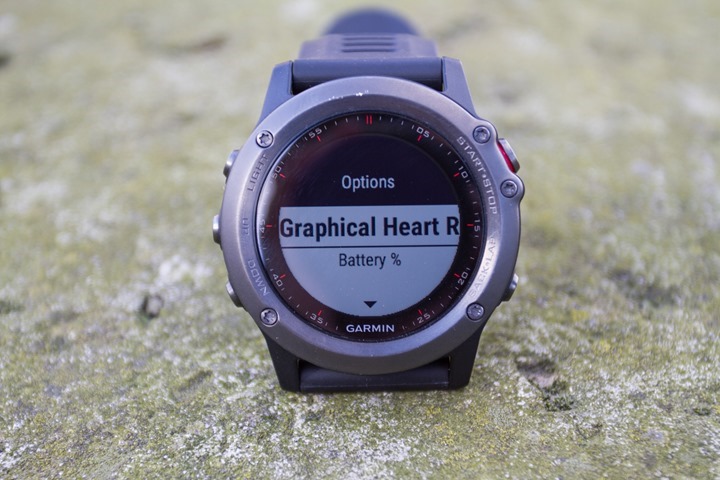 Similarly, you can change to the Connect IQ watch faces as you see fit.
The next set of things that Garmin will release tomorrow (Friday) are- Apps and Widgets – are really where the major benefits of the platform come into play.  That's where you'll start to see cool logic driven programs that can run on the Fenix3 and generate meaningful feedback and guidance.  For example, there's an upcoming App that does turn-by-turn navigation on Connect IQ: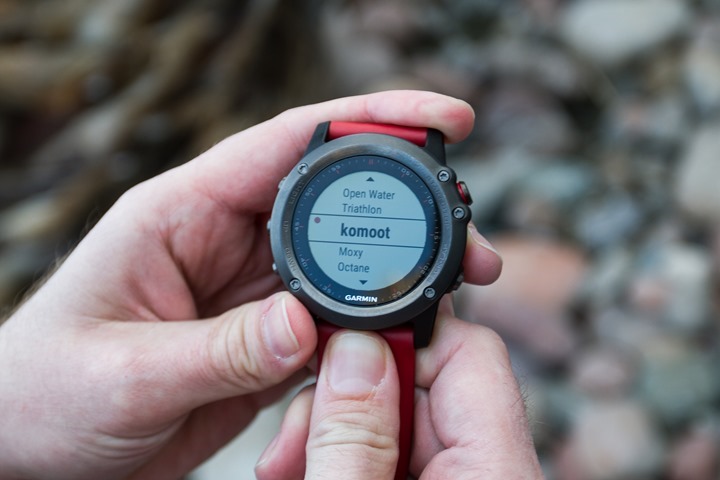 Now in some cases, Garmin has selected to make widgets instead of adding base functionality into the Fenix3.  For example, in the past the Hunt & Fish, as well as Moon & Sun functionality was within the Fenix1/Fenix2 natively.  But now it's a Connect IQ widget.  Here's an early preview into these two widgets which will be released tomorrow – the Sunset/Sunrise, and Hunt/Fish ones. (Update: These specific widgets have been delayed slightly now, and will not release tomorrow.)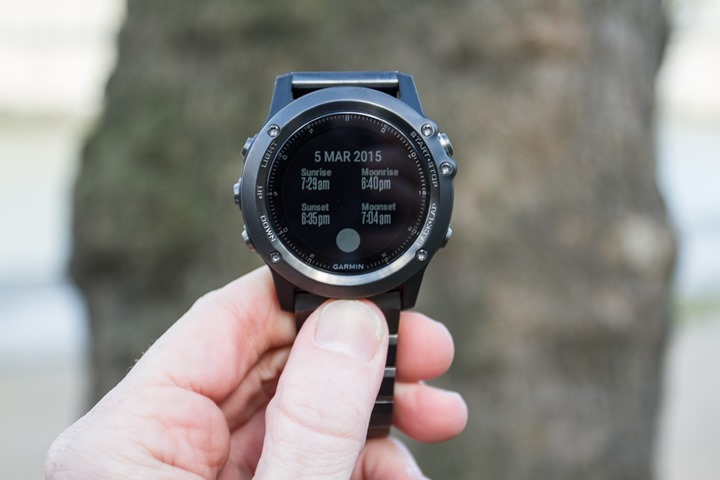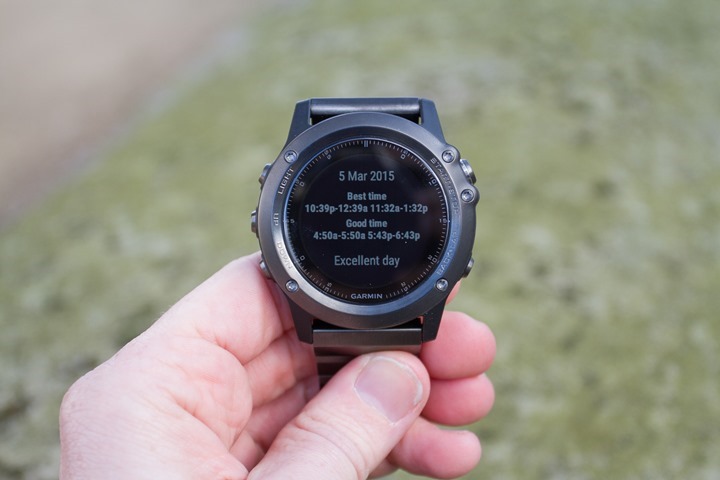 Finally, here's a preview of another app coming up called Sky Watch.  This app will show you the locations of star constellations, planets, and the moon (with phases), as you move the watch around.  It's pretty cool.  Here's a quick video I shot of it tonight:
I'll do a bigger follow-up post on Apps & Widgets as they start to hit the app store.  In the meantime, you can catch-up with my first post on Connect IQ where I talk through a preview of these functions.
Smartphone/Smartwatch Features Connectivity: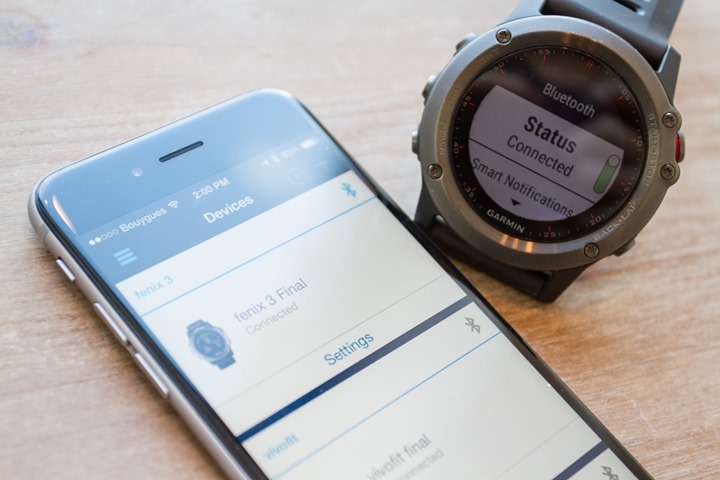 The Fenix3 like virtually all of Garmin's new devices made in the last 2 years, can connect to the Garmin Connect Mobile app for smartphones.  The Fenix3 will leverage Bluetooth Smart to connect to your phone for uploading of workouts, downloading of courses, and the sync of notifications and other smartphone related goodness.
Unlike the Fenix1 & Fenix2 however, the Fenix3 can do all this while concurrently using ANT+.  Meaning that there's no longer a limitation of using sensors with things like Live Tracking, as there was previously.
In addition as well, the battery drain profile for use of Bluetooth Smart notifications from your phone is much more normal now, allowing you to go quite some time before re-charging (on the Fenix1/2, it was only a day or two).  Now, you're realistically looking at charging perhaps every 1-2 weeks depending on how much GPS activity you have for workouts.
Notifications on the Fenix3 can be enabled to buzz or beep you, and customized as to when it will do so.  For example, you can configure it to leave you alone during workouts if you want.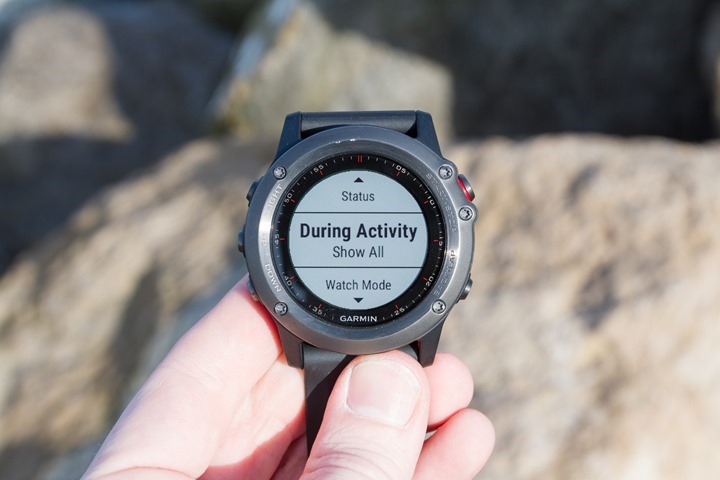 The notifications will appear immediately on the Fenix3 screen – often before it even shows up on your phone (it's kinda impressive):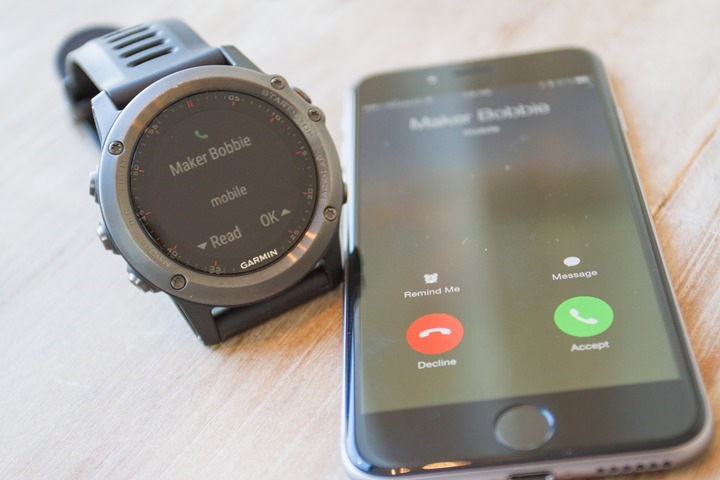 In addition, they'll disappear after a timeout – but can still be accessed via the notifications widget by just pressing the up/down buttons: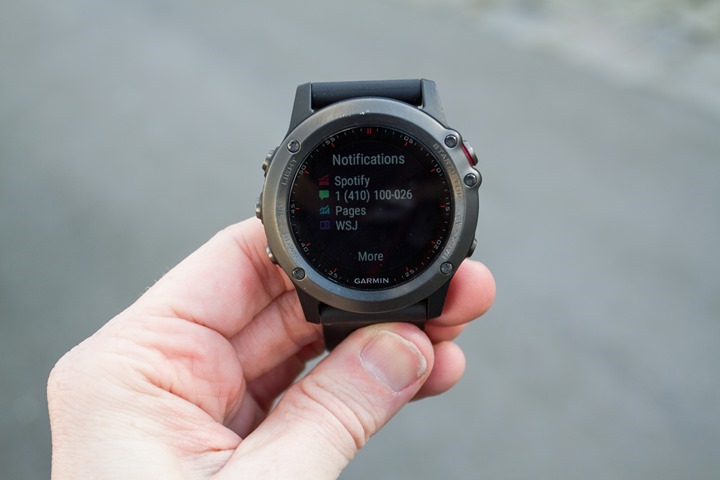 (The above phone number isn't real, it's just used by Google News Alerts to send notifications)
In either location you can dive into the details of a notification further: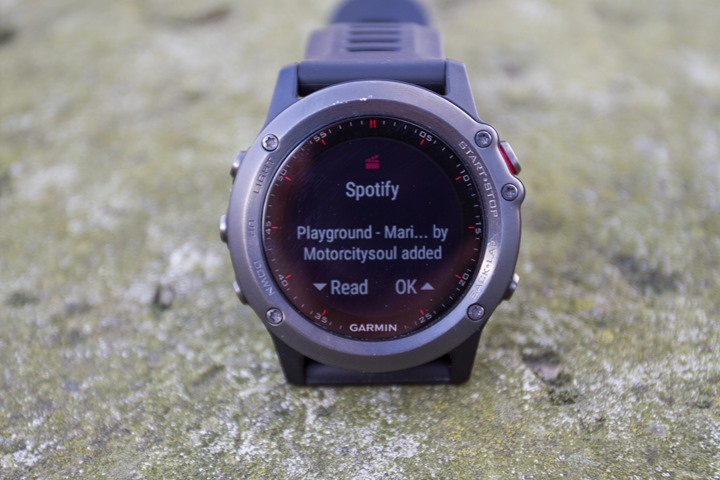 Note that notifications are controlled by the respective phone platforms notification center.  So it's not Garmin deciding which notifications to show – but rather how you've configured it on your iOS or Android device for a given app.  To get an idea of how both the inbox widgets work, as well as how notifications work, I put together a little video of it:
Beyond notifications, the Garmin Connect Mobile app will automatically upload completed workouts as soon as they are saved, assuming your phone is in-range.
Additionally, you can use the app to download courses (as I showed in the navigation section).  And the phone is also used to upload step and sleep data from the Fenix3.
Beyond these functions, you can utilize Live Tracking with the Fenix3.  This function works the same as with previous Garmin devices whereby it uses your phone's data connection for uploading your current position and post track locations to a website that you can share with friends and family (and stalkers of your choosing).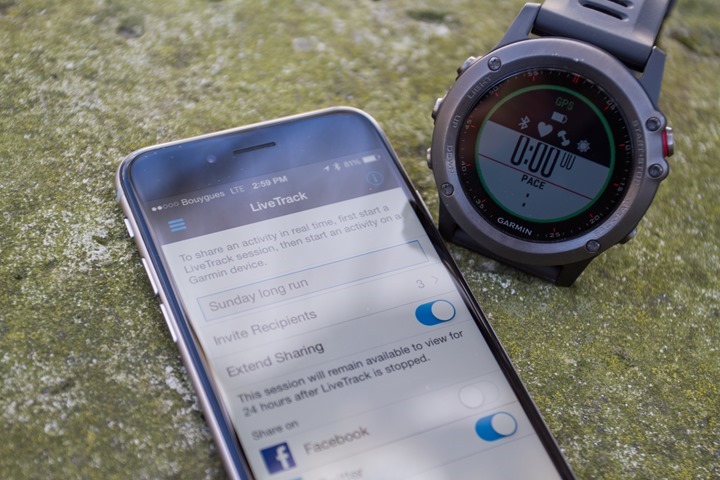 This site will also display ANT+ data from your workout as well: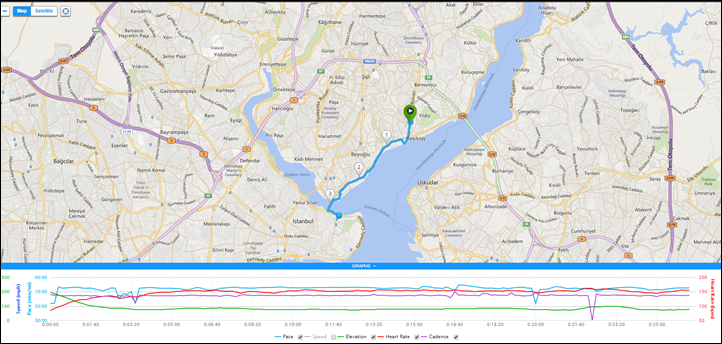 The benefit of doing this over just a regular phone app that transmits your location is that this offloads the GPS service to your Fenix3, as opposed to the battery drain on your phone.  As anyone who has used the GPS on their phone knows – the battery drain of GPS can be huge.
Finally, the Fenix3 is the first Garmin 'smart' device that has managed to remember it's marriage to my phone the entire time.  Now this may sound like an odd statement, but whether the fault of Garmin Connect Mobile (GCM) updates, iOS updates, or just the device itself – I've yet to have an issue where I've had to re-pair the Fenix3 to the GCM app.  It just works.  Day in, and day out, it notifies me for various notifications.
Bugs and other quirks: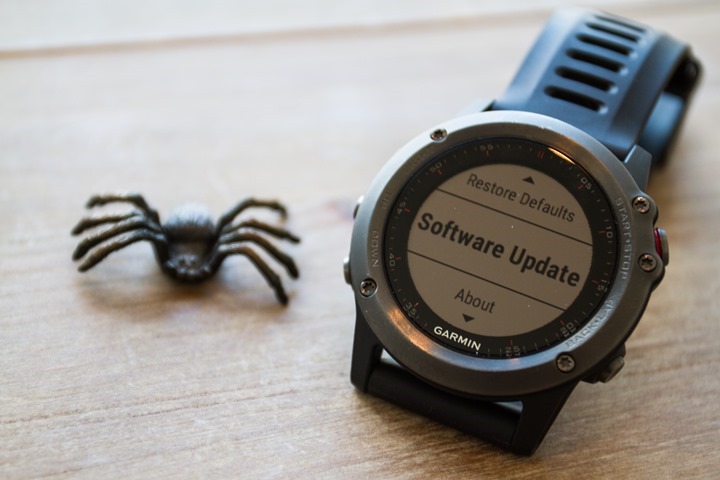 By and large, the Fenix3 has been pretty bug-free for me.  I have seen a handful of little quirks, most of which have already been addressed since I've noted (and reported) them.  I haven't seen anything that's systematic, nor anything that was a show-stopper.  Finally, I haven't seen any single oddity more than once (meaning, a repeating issue).
The minor quirks I have seen on production versions of the Fenix3 include some oddities with Live Tracking here and there, such as sessions that showed odd sensor data to people following me live (but my data recorded/shown to me was perfectly fine).  Also, a discrepancy where Garmin Connect told me a course was ~14.9 miles, yet when I actually ran it, it was ~14.6 miles – nearly a third of a mile off.  It's not clear to me if that's a Fenix3 issue or a Garmin Connect course creator issue.  Similarly, I did see an issue where the Fenix3 wasn't reading the estimated paces within a course file from Garmin Connect.  But again, it could be that Garmin Connect wasn't sending them correctly.
Finally, I've seen one issue with reboots related to changing power meter data fields during configuration.  Garmin has confirmed/reproduced that as being fixed in the next firmware update.
I haven't seen any GPS accuracy issues, nor have I seen any reboots beyond what I just noted.  I've not seen any data loss either across not just production units but any pre-production units.
Which of course this doesn't mean you'll see something I don't.  I can only test what I think to test, or stumble into during day to day use across swim/bike/run/hike/etc…  In looking at other sources, such as the Garmin Forums, I don't really see any sort of widespread issues either with people that have had the unit going on a month now.
Update #1 (May 4th 2015): Issues with trail running/riding and under-reporting of distance:
Some users are seeing issues in trails with the Fenix3 undereporting distance (cutting corners). I reached out to the Fenix product manager and Garmin PR regarding the issue.  My question/inquiry was specifically related to those seeing GPS shortages primarily in wooded areas while running/riding, most often associated with changes in direction and switchbacks. Their official quotable response to that topic area from both the PR lead for the Outdoor team, as well as the program manager for the Fenix product line is below:
"We're aware of the customer concerns and are working towards a resolution. This is a priority for the Garmin team, and we'll be sure to communicate to consumers once a firmware update is available to fix the issue."
They aren't comfortable giving a specific time frame for said firmware update at this time.
Update #2 (May 18th, 2015): Secondary update on Fenix3 shortening
I received another update, albeit a very brief one on the distance shortening, here's the latest from Garmin (media lead, after checking directly with Fenix3 engineering team lead):
"…our engineering team has this issue at the top of their priority list. They're moving quickly to get a fix pushed out, and I'll be sure to let you know once I have more information on when the firmware update will be released."
Not a whole lot more detail than before, other than to say it's being worked.
Deciding between the Fenix3 & FR920XT (and the Fenix2):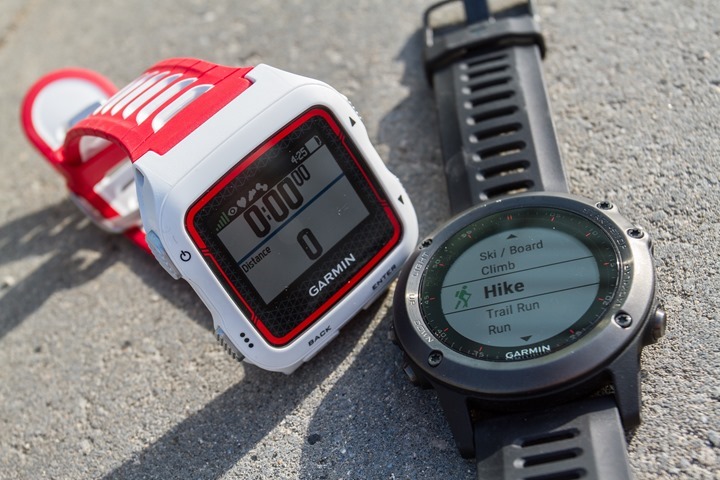 Since the Fenix3 has come out there's been a lot of questions on whether to get the Fenix3 or the FR920XT.  Additionally, how precisely the Fenix3 differs from the Fenix2.  The key thing to consider is that the Fenix3 is largely built on the same software platform as the FR920XT.  Thus, they share many features.  The Fenix3 should be looked at as a superset of the FR920XT.  So, a FR920XT++.
However, there is one aspect that might sway many people towards the FR920XT: The lack of quick release kit on the Fenix3.  Given it doesn't have one, for triathletes that's kinda a big deal.  Additionally, some might find that because of the rectangular nature of the FR920XT screen, it allows the numbers to be a smidgen bigger versus the rounded display that cuts into some of the display area.
Shifting to past changes between the Fenix3 and the Fenix1/2, there's a host of them – mostly minor, but for some those tiny little differences may be a big thing.  On the flip side, for many, they might not matter.  Do keep in mind that the below chart doesn't encompass many of the 'better known' differences between the models (i.e. weight, sensors types like Di2, etc…).  This is really about capturing a lot of the 'tiny' changes between them.
Fenix3 Feature Differences
| Functionality/Feature Differences | Garmin Fenix3 | Garmin FR920XT | Garmin Fenix2 | Garmin Fenix1 |
| --- | --- | --- | --- | --- |
| General: Multiple Time Zones Displayed (i.e. showing both US EST and US PST on device) | Planned Connect IQ Widget | No | Yes | Yes |
| General: Multiple Time Alarms (i.e. 8AM, 10AM, etc…) | Initially March 2015 - now Summer 2015 | No | Yes | Yes |
| General: Battery with Bluetooth enabled lasts a long time (more than ~24-36 hours) | Yes | Yes | No | No |
| General: Ability to operate dual ANT+ & Bluetooth Smart concurrently | Yes | Yes | No | No |
| General: Weather Widget (uses cellular data via Bluetooth Smart for weather data) | Yes | via Connect IQ | No | No |
| General: GLONASS for increased GPS accuracy in some situations | Yes | Yes | No | No |
| General: Show exact satellite accuracy (i.e. +/- 15ft) | No | No | Yes | Yes |
| General: Show satellite map (display of satellite positions) | No | No | Yes | Yes |
| General: Daily Activity Tracker/Sleep Tracking | Yes | Yes | No | No |
| General: Resume later functionality (stops GPS activity, allows you to resume activity later) | Yes | No | Yes | |
| General: Ability to use device while being charged | Yes | No | Yes | Yes |
| General: Auto Light capability | No | No | Yes | Yes |
| General: Configurable hot key capability | Yes (added Apr 2015) | No | Yes | Yes |
| Navigation: Ability to display coordinates ('Where am I'/similar function) | Yes | Yes | Yes | Yes |
| Navigation: Can save GPS locations on watch for future navigation | Yes | Yes | Yes | Yes |
| Navigation: Ability to configure position formats (Datum/Spheroid/Coordinates) | Yes | No | Yes | Yes |
| Navigation: Numerous Compass Data Fields (Heading/GPS Heading/Compass Heading) | Yes | Only 'Heading' | Yes | Yes |
| Navigation: Numerous Navigation Data Fields (Dist remaining, Bearing, Course, Off Course, Lat/Long, etc…) | Yes | Minimal Fields | Yes | Yes |
| Navigation: Has 'Sight 'N Go' functionality (following compass heading) | Yes | No | Yes | Yes |
| Navigation: Has navigate to Coordinate (entered on device) functionality | Yes | No | Yes | Yes |
| Navigation: Can navigate on/following historical activities | Yes | No | Yes | Yes |
| Navigation: Has 'Back to Start' navigation | Yes | Yes | Yes | Yes |
| Navigation: Waypoint Average functionality | No | No | Yes | Yes |
| Navigation: Project Waypoint functionality | No | No | Yes | Yes |
| Mapping: Can pan/zoom on track map | Yes | Yes | Yes | Yes |
| Mapping: Basemap functionality (basic map loadable) | No | No | Yes | Yes |
| Mapping: Supports Basecamp Mobile smartphone app | No | No | Yes | Yes |
| Hiking: Can one-tap display Altimeter, Barometer, Compass,Temp (no GPS enablement needed) | Yes | No | Yes | Yes |
| Hiking: Can display barometer value | Yes | No | Yes | Yes |
| Tools: Ability to share routes wirelessly between devices | No | No | Yes | Yes |
| Tools: Calculate distance between two points | No | No | Yes | Yes |
| Tools: Area calculation functionality | No | No | Yes | Yes |
| Tools: Man overboard functionality | No | No | Yes | Yes |
| Tools: Sun & Moon functionality | Planned Connect IQ Widget | No | Yes | Yes |
| Tools: Hunt & Fish functionality | Planned Connect IQ Widget | No | Yes | Yes |
| Tools: Jumpmaster functionality (parachuting) | No | No | Yes | Yes |
| Sports: Autoclimb functionality | Yes | No | No | No |
| Sports: Ability for multisport profile with indoor swim | Yes | Yes | No | No |
| Sports: Has quick release kit (for triathlon) | No | Yes | No | No |
| Sports: Support for sport-specific heart rate zones | Yes | Yes | No | No |
| Sports: Support for multiple activity profiles (via multiple saved sensors) | Yes | Yes | No | No |
| Apps: Garmin Connect IQ Support | Yes | Yes | No | No |
For the bigger changes, see the below main comparison tables.  The above is like a 'special edition' comparison table for just this one post to try and ferret out all the little differences.
Product Comparisons:
If you're looking for a general (but still detailed) comparison chart between the Fenix3 and other units on the market, check out the product comparison tool.  Below is just a look at the Fenix3, FR920XT, and Fenix2 – but every GPS watch product I've reviewed is available to mix and match and create your own comparisons here.
Again, remember that all products are available in the product comparison tool – so you can mix and match and create your own comparison there.  Enjoy!
Frequently Asked Questions:
I've attempted to consolidate many of the most frequently asked questions I've seen about the Fenix3 into the following sections.
When is the Fenix3 going to ship?
Technically it's been shipping for about a month now.  Though, it's probably been one of the more bungled Garmin distributions to date, full of miscommunications and misinformation (really, I haven't seen anything this hosed up in years from the company).  While Garmin is within their previously stated "Q1 2015" range, their shipment of just a single handful of units early February has caused a lot of confusion – even within Garmin.  Unfortunately, their move has only led to disappointed consumers.  Hopefully things will get sorted out in the next few weeks with larger volumes.
Should I get the Fenix3 or FR920XT?
See the above section on that, but I think for most it'll come down to whether you care about some of the additional navigation features, the quick release kit, and the slight differences in weight and screen sizes.
Will Garmin start selling a Fenix3 quick release kit?
I don't know.  I think I've made it really clear that it's silly they don't – just seems like lost money left on the table for them.
What about using optical sensor such as the Mio Link or Scosche?
These are great units, but do keep in mind there are some limitations using optical sensors with certain features of the Fenix3 (along with other Garmin/Suunto/Polar units).  These features such as recovery time, VO2Max, and to a limited degree calories – depend on accurate heart rate variability information.  With today's technology, that transmission is often quite estimated.  See a bit more detail in my sensors section.
Does the HRM-RUN transmit pace too?
No, it does not.  Only Vertical Oscillation, Ground Contact Time, and Cadence.  The watch also calculates cadence internally.  See my HRM-RUN post for full details on the HRM-RUN strap.
Can the Fenix3 read your heart rate underwater?
No, it cannot.  No ANT+ or Bluetooth Smart strap is capable of transmitting through water.  In the case of the Suunto Ambit3, they use a cache and forward technique where it saves the data while swimming and sync's it afterwards.  In the case of Polar and the V800 they use a legacy analog signal to transmit the data underwater.
What about the Garmin Epix, how does the Fenix3 compare to that?
Honestly, it's too soon to know.  With the Epix seemingly on a path for an April (or even later) release, there's just too much that's not finalized at this point.  Ultimately the biggest difference will be that the Epix obviously supports mapping, but beyond that it remains unclear how many other differences there may be.  See my previous preview for the latest news there.
Summary: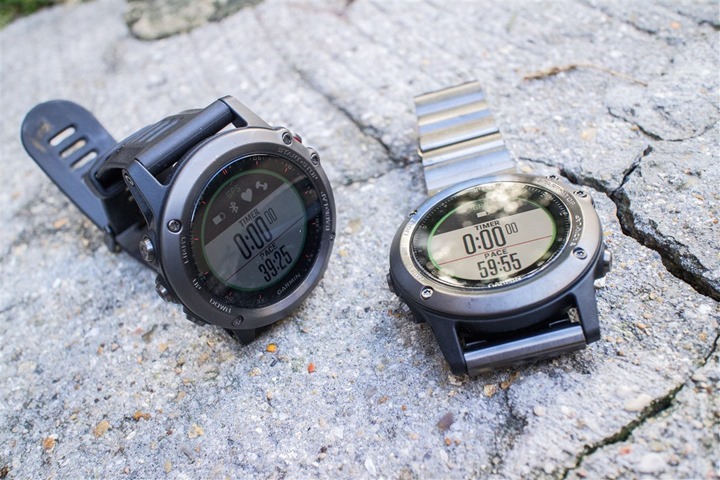 For the multisport crowd who's been looking for Garmin to come out with a multisport sport watch that's as elegant as more classical time pieces, the Fenix3 definitely delivers there.  For the outdoor/hiking crowd, there's been some changes from the Fenix1/2 that some won't quite like (such as lack of basemap). Yet, there are certainly features that same crowd will be quite happy about.  So, it's really going to be a personal preference.
When it comes to stability and functionality, given the Fenix3's foundation of the FR920XT (which is widely seen as quite stable and solid), the watch continues in that vein.  I simply haven't had  any major issues (and barely any minor issues) on the final production firmware.  The single biggest issue I have has nothing to do with firmware, but just really the lack of quick release kit for cycling.
When it comes to looking at other units on the market, it's going to be incredibly tough for any other multisport or hiking GPS to compete with the Fenix3.  Feature by feature, nobody is really in the same ballpark these days.  Some are closer in certain areas (such as the Ambit3 in the multisport realm), but with Garmin Connect IQ, that gap is going to start widening very quickly tomorrow with the release of Apps & Widgets.
At this point I've got no issues recommending the Fenix3.  For myself personally, I'll likely stick with the FR920XT however for most swim/bike/run ventures, purely because of the slightly thinner profile and ability to use the quick release kit.  However, should I go hiking or skiing – I'm likely to grab the Fenix3 out of the bin instead.
Thanks for reading!
Found this review useful? Or just want a good deal? Here's how:
I've partnered with Clever Training to offer all DC Rainmaker readers exclusive benefits on all products purchased.  By joining the Clever Training VIP Program, you will earn 10% points on this item and 10% off (instantly) on thousands of other fitness products and accessories.  Points can be used on your very next purchase at Clever Training for anything site-wide.  You can read more about the details here.  By joining, you not only support the site (and all the work I do here) – but you also get to enjoy the significant partnership benefits that are just for DC Rainmaker readers.  And, since this item is more than $75, you get free 3-day (or less) US shipping as well.
Garmin Fenix3 (with or without HRM-RUN bundle) – select dropdown for different editions
Additionally, you can also use Amazon to purchase the Fenix3 or accessories (though, no discount). Or, anything else you pickup on Amazon helps support the site as well (socks, laundry detergent, cowbells). If you're outside the US, I've got links to all of the major individual country Amazon stores on the sidebar towards the top.
As you've seen throughout the review there are numerous compatible accessories for the unit. I've consolidated them all into the below chart, with additional information (full posts) available on some of the accessories to the far right. Also, everything here is verified by me – so if it's on the list, you'll know it'll work. And as you can see, I mix and match accessories based on compatibility – so if a compatible accessory is available at a lower price below, you can grab that instead.
Product

Street Price

Amazon

Clever Training - Save with the VIP program
2015 - DCR - Gear I Use: Run
2015 - DCR - Gear I Use: Swim
2015-2016 Winter Gadget Recommendations
2016 Recommendations: Triathlon
Left/Right Capable Bike Computers
Garmin ANT+ Heart Rate Strap (Classic Plastic Strap) - HRM1
$37.00
$37.00
Amazon
Clever Training
Garmin ANT+ Heart Rate Strap (Premium Soft-Strap) - HRM2
$69.00
$69.00
Amazon
Clever Training
Garmin ANT+ Heart Rate Strap (Premium Soft-Strap) - HRM3
$50
$50
Amazon
Clever Training
Garmin ANT+ Heart Rate Strap (with Running Dynamics) - HRM-Run
$99.00
$99.00
Amazon
Clever Training
Garmin ANT+ Replacement HR Strap (for HRM3/HRM-RUN - just the strap portion)
$28.00
$28.00
Amazon
Clever Training
Garmin ANT+ Running Footpod (Mini)
$45
$45
Amazon
Clever Training
Garmin ANT+ Speed/Cadence Cycling Sensor (GSC-10)
$35.00
$35.00
Amazon
Clever Training
Garmin Bike Mount Kit (for mounting any watch onto handlebars)
$10.00
$10.00
Amazon
Clever Training
Garmin Cadence-Only ANT+ Sensor (magnet-less)
$39
$39
Amazon
Clever Training
Garmin Solar Charging Kit
$71.00
$71.00
Amazon
Clever Training
Garmin Speed & Cadence ANT+ Sensor bundle (magnet-less)
$69
$69
Amazon
Clever Training
Garmin Speed-Only ANT+ Sensor (magnet-less)
$39
$39
Amazon
Clever Training
Garmin Tempe External ANT+ Temperature Sensor
$29.00
$29.00
Amazon
Clever Training
Garmin Vector
$1499
$1499
Amazon
Clever Training
Garmin/PowerMonkey Explorer Solar Charger (co-branded)
$89
$89
Amazon
Clever Training
Timex ANT+ Heart Rate Strap (Premium Soft-Strap)
$48.00
$48.00
Amazon
Clever Training
Timex ANT+ Running Footpod (Mini)
$51.00
$51.00
N/A
N/A
Timex ANT+ Speed/Cadence Cycling Sensor
$50.00
$50.00
Amazon
Clever Training
Timex Bike Mount Kit (for mounting any watch onto handlebars)
$9.00
$9.00
Amazon
N/A
Wahoo Blue SCv2 - Bluetooth Smart/ANT+ Speed/Cadence Sensor
$59
$59
Amazon
Wahoo RPM (Bluetooth Smart/ANT+ Cadence Sensor)
$34
$34
Amazon
Thanks for reading! And as always, feel free to post comments or questions in the comments section below, I'll be happy to try and answer them as quickly as possible.