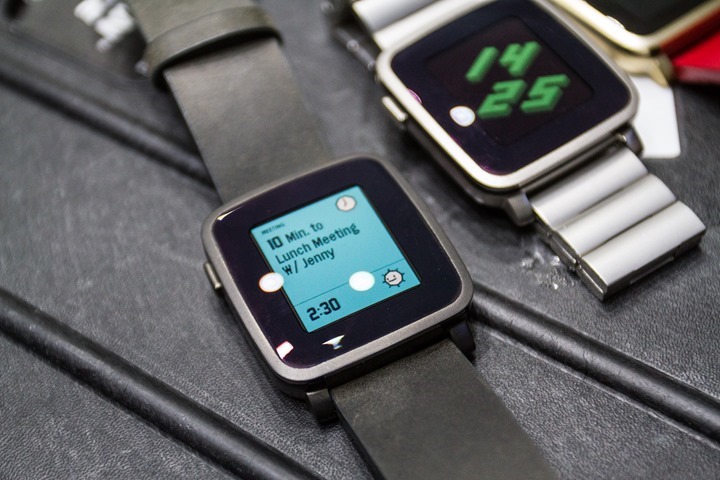 It's only been a week since Pebble's last announcement, the new Pebble Time. That watch blasted through nearly $11M in Kickstarter sales through the end of the first weekend.  Now, Pebble has made another announcement while at MWC in Barcelona that's further driven their Kickstarter progress – currently at over $15M USD.
It's this new announcement that's actually slightly more interesting to me.  No, not the secondary announcement of the new Pebble Time Steel edition, but rather the announcement of the strap extensibility.  But, before I get there, yes, I'll show you the Steel edition shots I took:
I'll give credit where credit is due in that Pebble's secondary announcement of the Steel edition is pretty brilliant marketing. Timed a week after the initial announcement it effectively gives reason for media outlets to cover them and thus more potential for new Kickstarter backers (or for existing backers to upgrade).  And of course, it looks nice too – though, all of the new watches look pretty clean.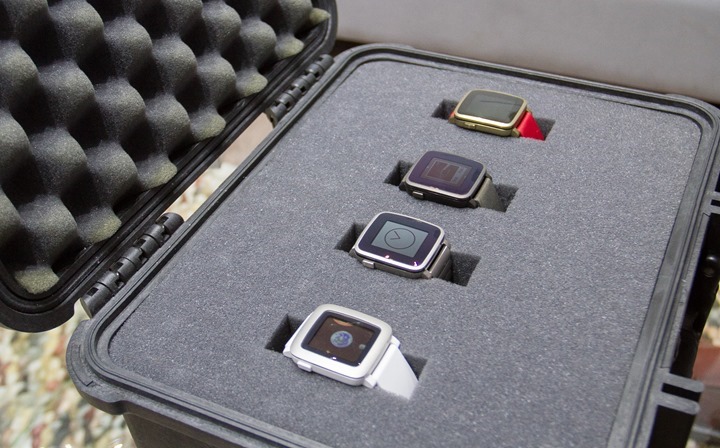 But the real focus of this post is the band piece.  Sure, many watches support the ability to swap out a watch band for a different color or material.  But actually supplying power to those straps?  Well, that's a whole new ballgame.
And that's exactly what Pebble has done here.  Going forward with all Pebble Time units, there's the ability to allow 3rd parties to design strap/band replacements that could have powered functions, in addition of course to non-powered accessory straps.
The way it works is that first you'll remove the existing strap using the little quick release system: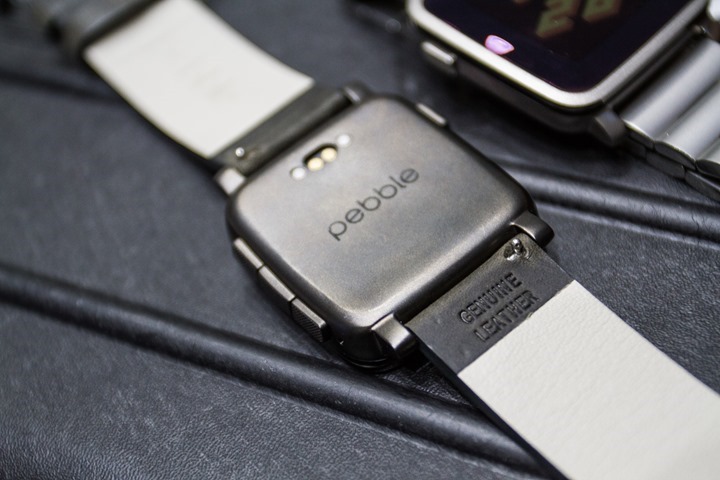 Next, you'll see on the back of the Pebble Time there are power connectors.  But you'll notice one set is recessed, whereas the other is more flush.  It's this design, combined with the two notches you see on the edge of the watch in between the watch band poles – that creates a power connector 'port' for powered accessory bands.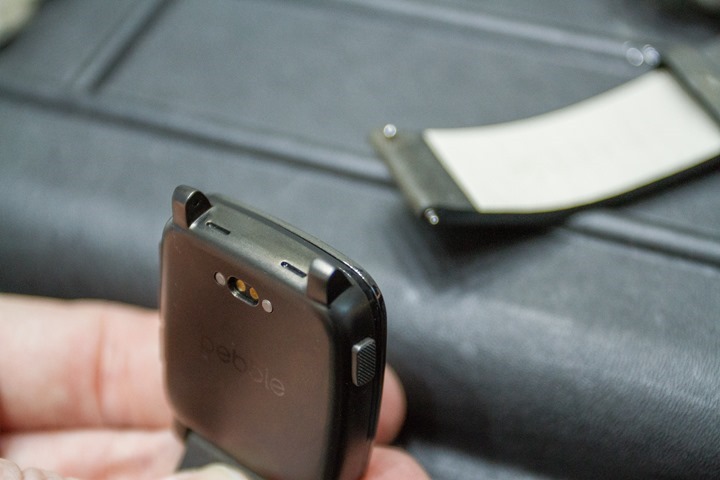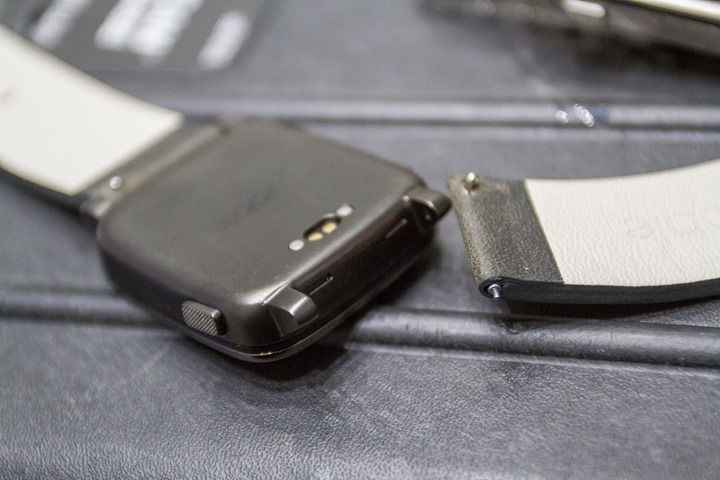 You can see the 'lip' that encloses it a little bit better in these renderings from Pebble: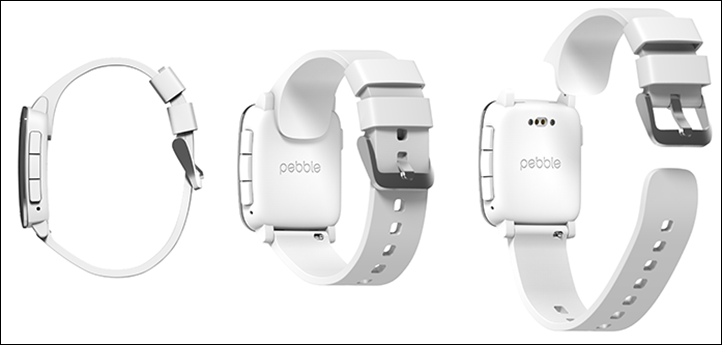 So what's the real world use here?  Tons of things. See, one of the biggest draws of Pebble over most other smart watches is the low battery usage along with extensive app store of 3rd party creations. The idea here with the Smartstrap is that it can extend the 3rd party piece to hardware as well as software apps.
For example, from an athletic standpoint the strap could be used to house a GPS antenna for Pebble (which it lacks).  One could envision a scenario where someone like 4iiii takes their GPS pod concept and builds it into a Smartstrap band directly.  Similarly, they could do the same with their optical HR sensor pod, attaching it to Pebble. Alternatively, with a project like the Spark Electron, one could add 3G/4G connectivity to the Pebble directly, thus enabling Live Tracking or other scenarios.
The strap would also give it flexibility to compete better with the likes of the Apple Watch.  One could extend the strap to include NFC, for contactless payments – a feature the Apple Watch has.  This would enable you to finish your run and swing by the café without having to carry your wallet on you.  The world is somewhat of an oyster for developers, in that the SDK is being extended to the strap – so developers are able to create all sorts of crazy things to accompany the apps that developers could already create.
Now since this concept is relatively unproven, it'll be interesting to watch both the product mature as well as how well it actually works in execution.  For example, will something like saltwater impact the contacts during active powering of the band?  And what's the real-world lifespan of that connector that will invariably have some slight wiggle?  All questions that really only time will answer…no pun intended.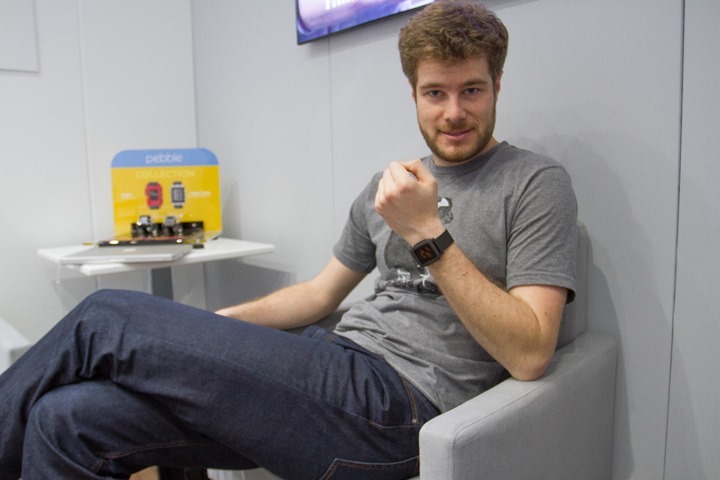 For those that are curious about the Pebble Time itself, I did get to spend a bit of time with the watch over the course of a few days.  While it's certainly not finalized yet, I was generally impressed with it.  Most notably, I was astounded with the speed and response of the screen.  It was virtually instantaneous.  I think I was expecting a bit of lag – but it was very quick.  In talking with Eric, he noted it's fully capable of displaying 30 frames per second, within those 64 colors it can display. Obviously you're not likely to watch season three of House of Cards on it, but it does give a fair bit of flexibility for other scenarios.
Which is to a large degree the goal of Pebble from the start: Giving developers the ability to create what they want on the platform.  Now of course it's a much different market than it was when Pebble first launched three years ago.  There are competitor platforms in-market today with apps on devices (Android Wear), another coming just a month away (Apple Watch), with yet more from fitness incumbents like Garmin (Connect IQ).  Still, with over a million existing Pebble devices, and already 62,000+ Pebble Time units ordered – the Pebble team is certainly in a better position than most.
Thanks for reading!