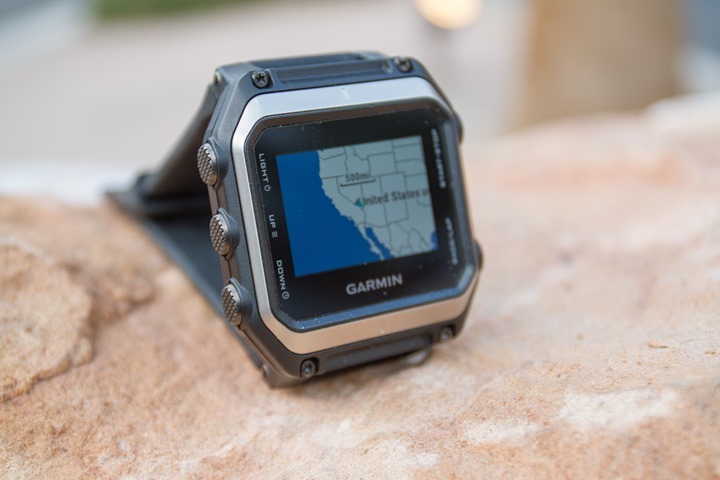 Today Garmin introduced a full color mapping GPS wrist watch that doubles as a multisport watch – making for the first time they've merged the multisport world with their historically separate handheld mapping units.  This new unit – the Garmin Epix – employs a touch screen (as well as regular buttons) to allow you to navigate on full color downloadable maps as well as Connect IQ apps.  But more importantly to this segment here, it's a fully functional GPS sport watch containing every single feature of the FR920XT and just announced Fenix3 watches.  It's effectively the ultimate single Garmin GPS device containing everything minus the kitchen sink.
I've had some very brief hands-on time with a prototype Epix unit to get the run through on the key features.  Expect a much deeper review in a few months once it releases.
(Note: Garmin has also announced other products today including the Garmin Fenix3 GPS watch, the Garmin Vivoactive GPS smartwatch, and the Vivofit2 activity tracker.)
Main Features: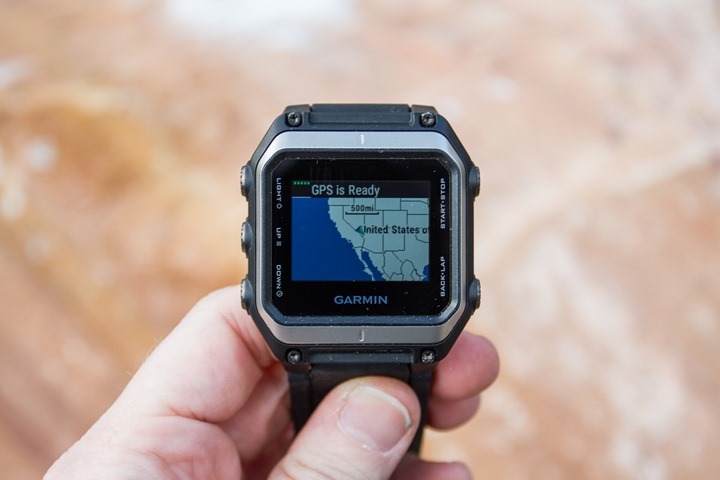 The first thing to understand is that it has every single software function of the Fenix3 (which in turn, has every software function of the Forerunner 920XT).  There are some hardware differences though, mostly positive, but one negative (no WiFi).  On the positives, first is that the Epix has the larger 1.4" full color touch screen.  The main point of this enlarged screen being to display maps like above.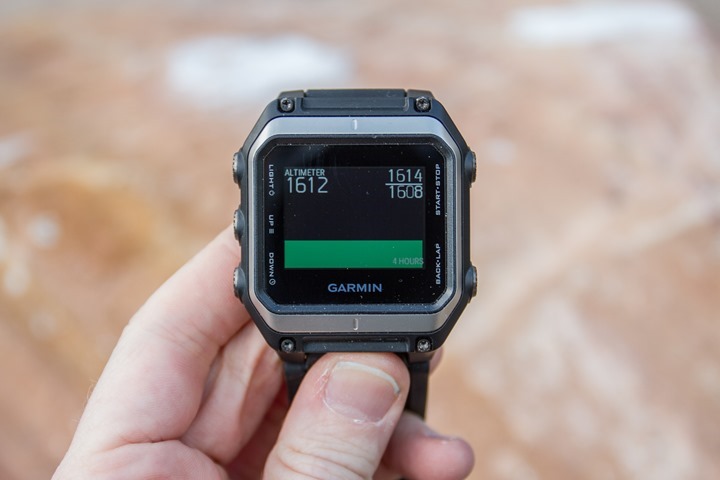 These maps can be purchased as part of an Epix bundle, or downloaded separately from either Garmin.com (paid) or free 3rd party sources (just like the Garmin Edge series).  So you definitely aren't limited to Garmin's semi-costly maps, which is great news.  That moves right into the next piece, which is storage.  The unit contains 8GB of storage for maps, which should be plenty for just about any expedition out there.  You can't extend the storage, which is likely due to the increased 50m waterproofing and difficulty they'd have otherwise properly waterproofing a micro-SD card port.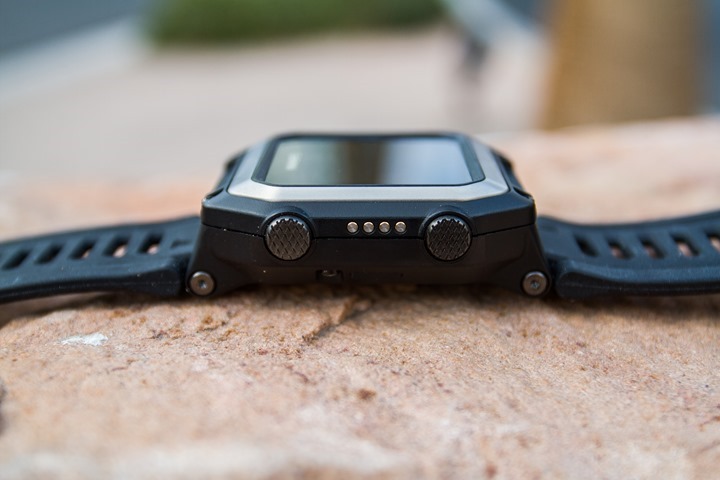 Because the Epix carries with it the expanded navigation feature set of the Fenix3, it has a much higher focus on hiking and related activities.  This includes features not found in the base FR920XT, like the Sight 'N Go capability as well as the TracBack functions.  Further, unlike the FR920XT you can control the zoom levels and change it as required on the fly.
For the triathletes in the house though, you weren't left behind.  As noted above, it carries with it all of the triathlon-focused functionality found in the new Fenix3 and the FR920XT (for those who haven't read the Fenix3 post yet, all you really need to know is that there's nothing new tri-specific software-wise that's not in the FR920XT already).
The included multisport functionality means that you can take the watch out into openwater and track swims just as easily as navigating in the offseason in the mountains with Topo maps.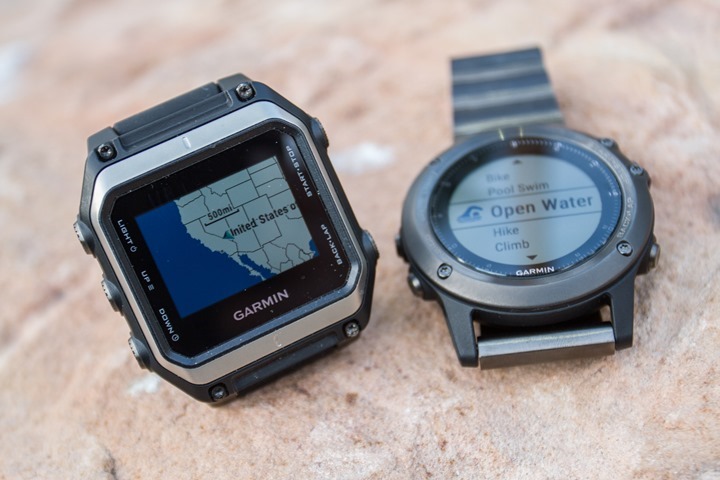 The same goes for activity settings, sensors and profiles – all of that is retained from the FR920XT.  While the watch is no doubt bigger (in every way) than the slim and sleek FR920XT, it doesn't feel much different than the older FR910XT from a size standpoint.  So if the FR910XT didn't bother you, I doubt the Epix will either.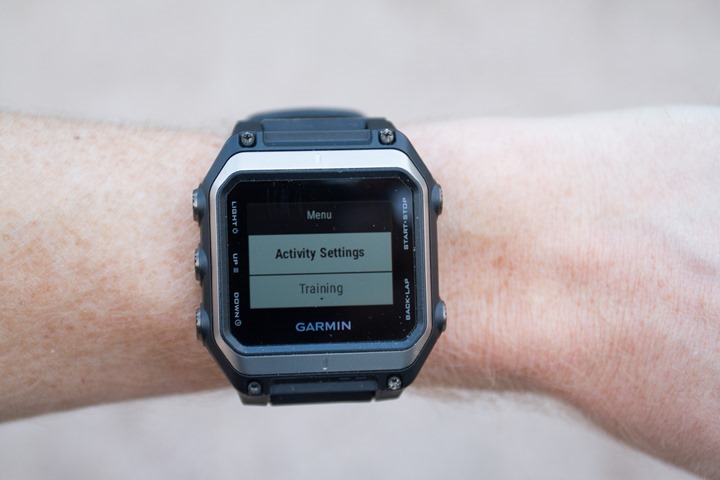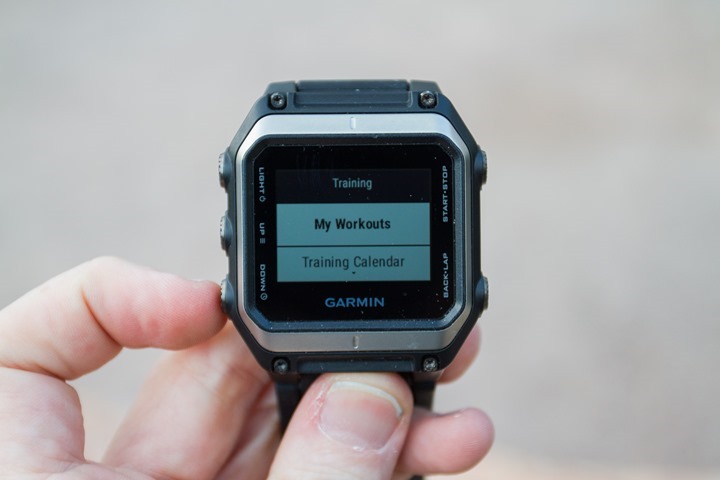 Now, there is one hardware feature that strangely isn't found in the Epix watch – which is WiFi.  Despite being available in all other recent high-end Garmin units, it didn't make the cut for the Epix.  Fear not though, you've still got USB as well as Bluetooth Smart.  So you can still transfer routes and what-not via your phone, just like with the Fenix series.
And finally, just like every other new Garmin device over about $200 these days, it supports Garmin Connect IQ.  This means you can download Garmin Connect IQ apps, watch faces, widgets and data fields to the Epix.  There's already a number of companies (big and small) working on apps, which I'll dive into in a post later this week.
Product Comparison Tool:
Now, it's probably getting a bit confusing with some of these recent models as to how the FR920XT, Fenix3, and Epix all differ.  In many ways, they're basically the same base functionality with the material aspects of the watch and navigation capabilities being the major differences.  Here's a nifty little somewhat over-simplified overview of the differences that I whipped up: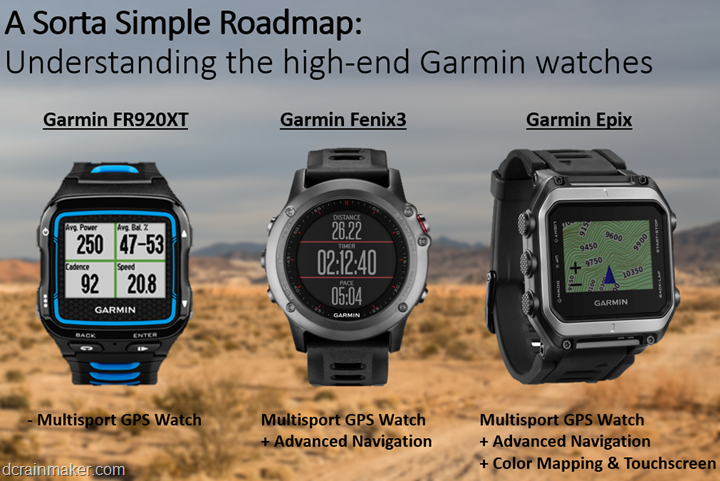 But, for those of you who are more spec oriented, here's the full rundown of specs.  Note that my charts don't fully cover materials yet (like the glass front, bezel, and band types), so this is more from a technical feature set level.  Also note that for the Epix series there are two models.  The first is at $549US without detailed maps, and the second is at $599US with the TOPO US 100K maps.  Keep in mind though you can easily download free maps from the interwebs, so I wouldn't let that bother you too much.
Function/Feature

Garmin Forerunner 920XT
Garmin Fenix3
Garmin Epix
Copyright DC Rainmaker - Updated April 29th, 2021 @ 4:56 am New Window
Price
$249
$499
$549
Product Announcement Date
Oct 1st, 2014
January 5th, 2015
January 5th, 2015
Actual Availability/Shipping Date
Early Oct 2014
February 2015
May 2015
GPS Recording Functionality
Yes
Yes
Yes
Data Transfer
USB/Bluetooth Smart/WiFi
USB/Bluetooth Smart/WiFi
USB/Bluetooth Smart
Waterproofing
Yes - 50m
Yes - 100m
Yes - 50m
Battery Life (GPS)
UP TO 40HRS IN GPS
Up to 50hrs in GPS
Up to 50hrs in GPS
Recording Interval
1s or Smart
1S OR SMART
1S OR SMART
Alerts
Vibrate/Sound/Visual
Vibrate/Sound/Visual
Vibrate/Sound/Visual
Backlight Greatness
Great
Great
Great
Ability to download custom apps to unit/device
Yes
Yes
Yes
Acts as daily activity monitor (steps, etc...)
Yes
Yes
Yes

Music

Garmin Forerunner 920XT
Garmin Fenix3
Garmin Epix
Can control phone music
No
Yes
Yes
Has music storage and playback
No
No
No

Connectivity

Garmin Forerunner 920XT
Garmin Fenix3
Garmin Epix
Bluetooth Smart to Phone Uploading
Yes
Yes
Yes
Phone Notifications to unit (i.e. texts/calls/etc...)
Yes
Yes
Yes
Live Tracking (streaming location to website)
Yes
Yes
Yes
Emergency/SOS Message Notification (from watch to contacts)
No
No
No
Built-in cellular chip (no phone required)
No
No
No

Cycling

Garmin Forerunner 920XT
Garmin Fenix3
Garmin Epix
Designed for cycling
Yes
Yes
Yes
Power Meter Capable
Yes
Yes
Yes
Power Meter Configuration/Calibration Options
Yes
Yes
YEs
Power Meter TSS/NP/IF
Yes
Yes
YEs
Speed/Cadence Sensor Capable
Yes
Yes
Yes
Strava segments live on device
No
No
No

Running

Garmin Forerunner 920XT
Garmin Fenix3
Garmin Epix
Designed for running
Yes
Yes
Yes
Footpod Capable (For treadmills)
Yes
Yes
Yes
Running Dynamics (vertical oscillation, ground contact time, etc...)
With HRM-TRI or HRM-RUN
With HRM-TRI or HRM-RUN
With HRM-TRI or HRM-RUN (Gen1 only, no Gen2 Running Dynamics)
VO2Max Estimation
Yes
Yes
Yes
Race Predictor
Yes
Yes
Yes
Recovery Advisor
Yes
Yes
YEs
Run/Walk Mode
Yes
Yes
Yes

Swimming

Garmin Forerunner 920XT
Garmin Fenix3
Garmin Epix
Designed for swimming
Yes
Yes
Yes
Openwater swimming mode
Yes
Yes
Yes
Lap/Indoor Distance Tracking
Yes
Yes
Yes
Record HR underwater
With HRM-TRI/HRM-SWIM
WITH HRM-TRI/HRM-SWIM
WITH HRM-TRI/HRM-SWIM
Openwater Metrics (Stroke/etc.)
Yes
Yes
Yes
Indoor Metrics (Stroke/etc.)
Yes
YEs
Yes
Indoor Drill Mode
Yes
Yes
Yes
Indoor auto-pause feature
No
No
No
Change pool size
Yes
Yes
Yes
Indoor Min/Max Pool Lengths
17M/18Y TO 150Y/M
17M/18Y TO 150Y/M
17M/18Y TO 150Y/M
Ability to customize data fields
Yes
Yes
Yes
Captures per length data - indoors
Yes
Yes
Yes
Indoor Alerts
Yes
Yes
Yes

Triathlon

Garmin Forerunner 920XT
Garmin Fenix3
Garmin Epix
Designed for triathlon
Yes
Yes
Yes
Multisport mode
Yes
Yes
YEs

Workouts

Garmin Forerunner 920XT
Garmin Fenix3
Garmin Epix
Create/Follow custom workouts
Yes
Yes
YEs
On-unit interval Feature
Yes
YEs
Yes
Training Calendar Functionality
Yes
Yes
Yes

Functions

Garmin Forerunner 920XT
Garmin Fenix3
Garmin Epix
Auto Start/Stop
Yes
Yes
Yes
Virtual Partner Feature
Yes
Yes
Yes
Virtual Racer Feature
Yes
Yes
Yes
Records PR's - Personal Records (diff than history)
Yes
Yes
Yes
Tidal Tables (Tide Information)
No
No
Only with Garmin Bluechart g2 maps (extra)
Weather Display (live data)
Yes
Yes
With Connect IQ

Navigate

Garmin Forerunner 920XT
Garmin Fenix3
Garmin Epix
Follow GPS Track (Courses/Waypoints)
Yes
YEs
Yes
Markers/Waypoint Direction
Yes
Yes
Yes
Routable/Visual Maps (like car GPS)
No
No
Yes
Back to start
Yes
Yes
Yes
Impromptu Round Trip Route Creation
No
No
No
Download courses/routes from phone to unit
Yes
Yes
Yes

Sensors

Garmin Forerunner 920XT
Garmin Fenix3
Garmin Epix
Altimeter Type
Barometric
Barometric
Barometric
Compass Type
Magnetic
Magnetic
Magnetic
Optical Heart Rate Sensor internally
No
No
No
Heart Rate Strap Compatible
Yes
Yes
Yes
ANT+ Heart Rate Strap Capable
Yes
Yes
YEs
ANT+ Speed/Cadence Capable
Yes
Yes
Yes
ANT+ Footpod Capable
Yes
Yes
Yes
ANT+ Power Meter Capable
Yes
Yes
YEs
ANT+ Lighting Control
No
No
No
ANT+ Bike Radar Integration
No
No
No
ANT+ Trainer Control (FE-C)
No
No
No
ANT+ Remote Control
No (can control VIRB though)
No (can control VIRB though)
No (can control VIRB though)
ANT+ eBike Compatibility
No
No
No
ANT+ Gear Shifting (i.e. SRAM ETAP)
No
Shimano Di2 Shifting
Yes
Coming in update
No
Bluetooth Smart HR Strap Capable
No
No
No
Bluetooth Smart Speed/Cadence Capable
No
No
No
Bluetooth Smart Footpod Capable
No
No
No
Bluetooth Smart Power Meter Capable
No
No
No
Temp Recording (internal sensor)
No
Yes
Yes
Temp Recording (external sensor)
No
Yes
Yes

Software

Garmin Forerunner 920XT
Garmin Fenix3
Garmin Epix
PC Application
Garmin Express
Garmin Express
Garmin Express
Web Application
Garmin Connect
Garmin Connect
Garmin Connect
Phone App
iOS/Android/Windows Phone
iOS/Android/Windows Phone
iOS/Android/Windows Phone
Ability to Export Settings
No
No
No

Purchase

Garmin Forerunner 920XT
Garmin Fenix3
Garmin Epix
Amazon
Link
Link
Link

DCRainmaker

Garmin Forerunner 920XT
Garmin Fenix3
Garmin Epix
Review Link
Link
Link
Link
If you'd like to compare in other models – like the now older Fenix2, you can do that within the product comparison tool/calculator over here.
A Small Gallery:
Here's a handful more photos I have of the device.  Keep in mind that at the time I shot these (early January), features and functionality was fairly limited as it was/is still early in the beta cycle.  Down the road once I have a final production device I'll include more photos and videos.
Also note that because it's beta, things typically change a little bit.
A few initial thoughts: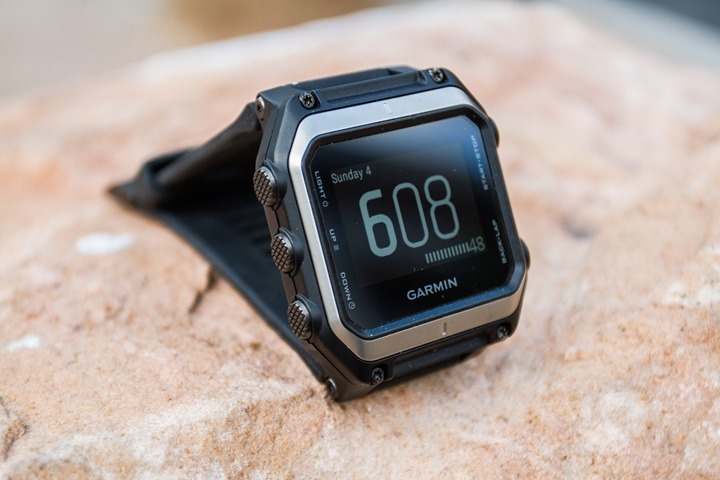 The strategy that Garmin has started to roll out with is to effectively establish a common base watch (the FR920XT) and then add higher end differentiating levels beyond that (the Fenix3 and Epix).  Each higher level encompasses all features of the lower level units.  This is somewhat different than the past where separate Garmin divisions would create different offerings that resulted in frustrated consumers having to pick between a fitness watch and an outdoor handheld unit.  Now, you can effectively get a single device that contains it all.
Of course, to get it all…you'll certainly be paying for it.  With a starting price at $549US, the Epix certainly isn't cheap.  But it is cheaper than having to buy a FR920XT at $449 and then another navigation device for yet another $300-$400.  So I suppose viewed in that lens it's….a bargain?  Now with all these devices the piece I'm actually most excited about is the app component with Connect IQ.  Having seen some of the initial apps including a ski resort app (lift/slope/run information), a personal safety app, and a weather app – these 3rd party companies are definitely going in the right direction.  And that's before we get into some of the cooler sensor gathering apps like Moxy and what I suspect we'll see for other unique sensor types over the next few months.
As noted earlier, the Epix will be available in Q1 2015, though expect that to be as close to the bounds of Q1 as possible (i.e. March).  And of course, because my time with the Epix was far more limited than normal – I have no idea if it'll have any hardware teething issues.  With a touch screen display, that's always a concern – especially since this particular model hasn't been recycled from any other Garmin product lines yet.
As always – feel free to drop any questions below and I'd be happy to track down the answers.  Thanks for reading!
Pre-Orders:
Note: You can pre-order the Epix through Clever Training today, as well as various accessory bands.  The units will ship as soon as Garmin starts shipping, which is currently slated for Q1 2015.
–
Welcome to CES 2015! Don't forget to check out all my CES 2015 coverage, as well as my continual updates throughout the day on Twitter.  It's gonna be a crazy busy week!