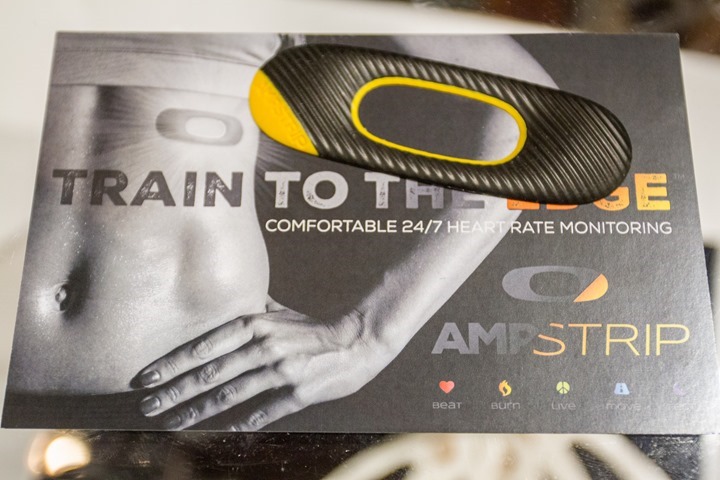 Yesterday I got the chance to catch-up with FitLinxx, which is making the AmpStrip sticker that does 24×7 heart rate monitoring, step tracking, sleep tracking and even body temperature.  But wait, I realize you're probably still back on the 'sticker' part.
Yes, seriously, a sticker.  The sticker simply attaches to your chest, roughly over your rib cage.  The sticker has basically two portions.  The first is the electrode piece that attaches to your skin.  While the second is the 'brains' of the unit that attaches to the first piece and contains the ultra-small battery Bluetooth Smart communication stack.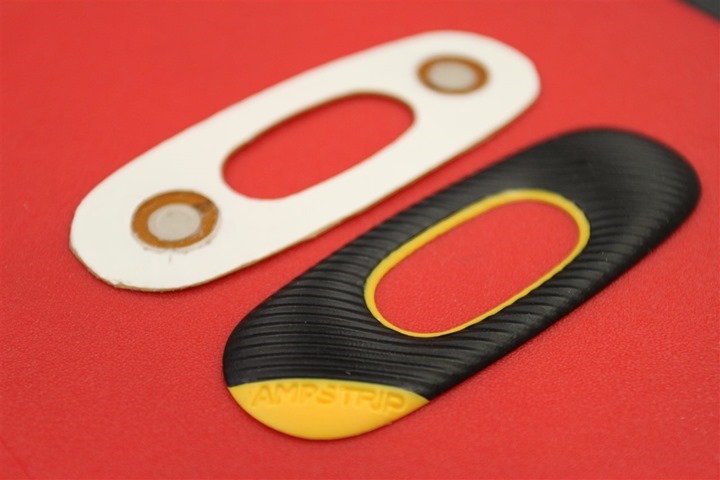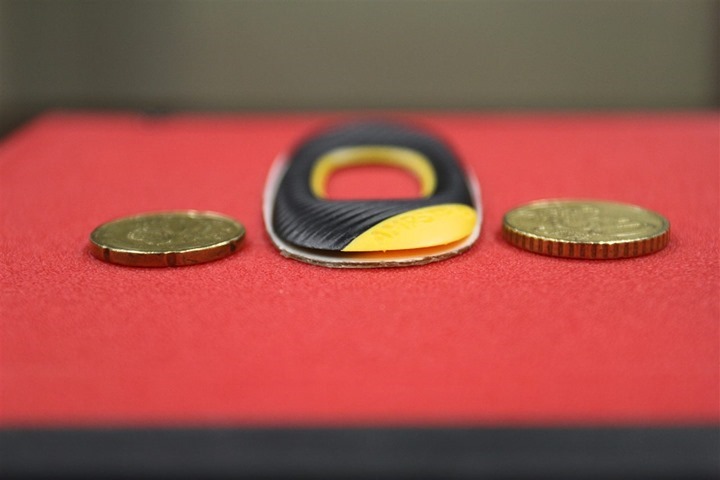 Despite being super-thin, the unit packs a battery that can last up to 7 days before it needs to be charged.  At that point you take the second portion of the unit and simply lie it on the wireless charger to top back up the battery.  If you look at the black portion of the sticker, one side holds the battery while the other side holds the communications and accelerometer pieces.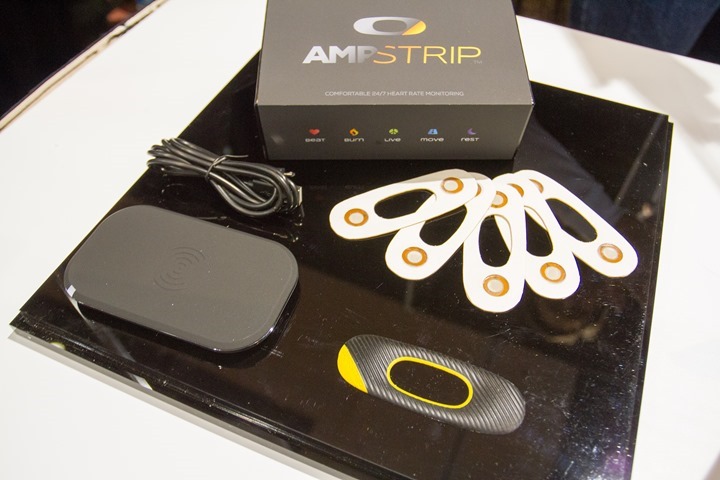 Meanwhile, the first sticker portion (seen white above) that was attached to your body gets tossed.  The complete sticker system is designed as fully waterproof, and can even be used within swimming.  It's unclear however if it'll work well on those crazy plummeting water slides that make you scream like a little child (but if it does…it'll capture just how scared you really were!).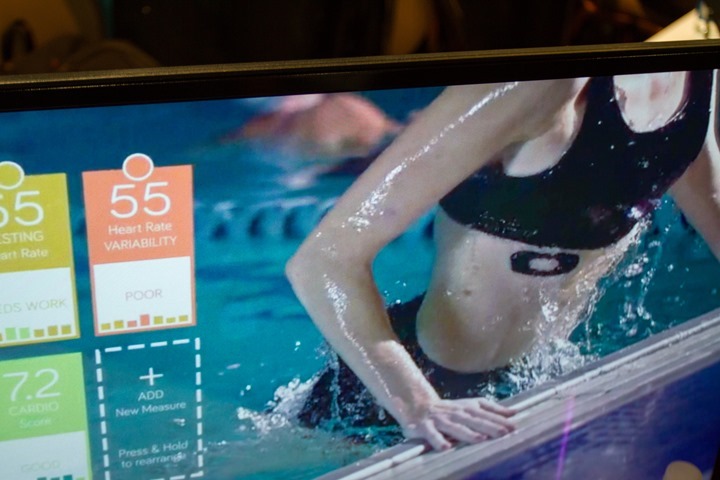 Now the cool part is all the data you get.  The unit quietly tracks your heart rate, body temperature, steps and sleep in the background.   It also sorts out your resting heart rate and will automatically track heart rate recovery as well within the app.  In this background 24×7 tracking mode it caches everything within the sticker itself and then periodically and automatically uploads the data to their app via Bluetooth Smart.  The app as pictured below is their non-beautified prototype app, but it'll get a makeover by launch.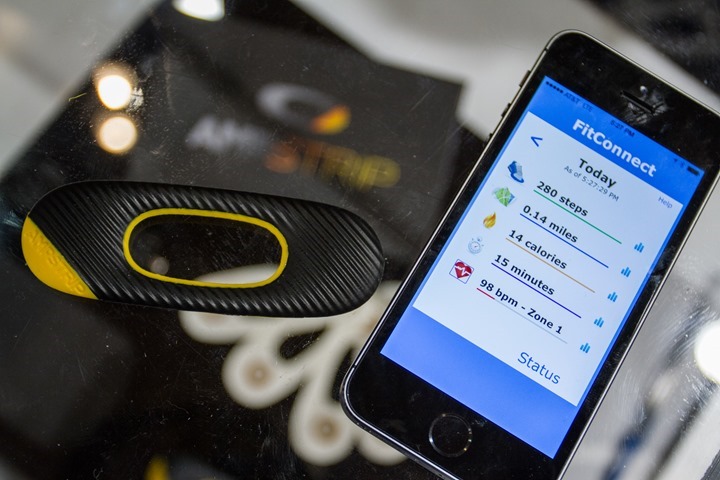 The cool part though is that the system is not proprietary.  To begin it'll take all the heart rate/step/sleep/etc data and will pipe it to Apple Health (with them also working on Android's Google Fit too).  So your data isn't islanded in just their app.
More importantly (and of more interest to endurance athletes) is that it also transmits your heart rate over Bluetooth Smart in the standard Bluetooth Smart Heart Rate device profile.  This means that you can pair it to any one of hundreds of apps out there as well as any Bluetooth Smart sensor capable devices like a TomTom watch, as well as newer Polar or Suunto devices.  Here it is paired to MapMyRun: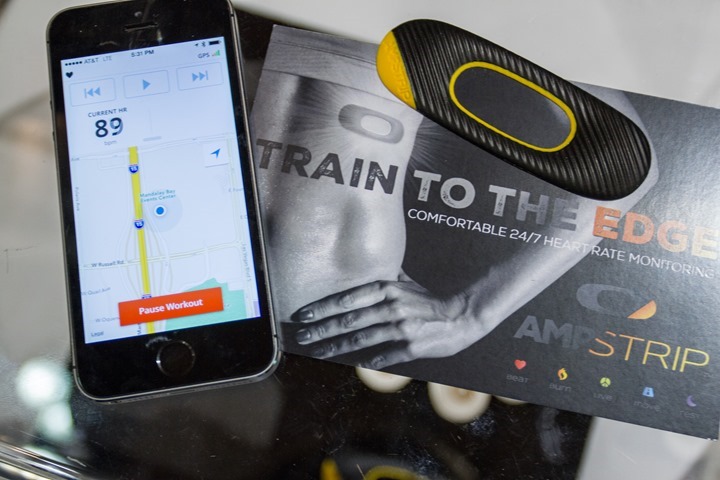 Note that the device at this time does not transmit via ANT+ concurrently like some other sensors on the market.  As such, it would not pair to a Garmin device (which only uses ANT+ for sensor data), nor to older Suunto devices prior to the Ambit3.
As for the measurement, since the device isn't doing optical HR, it's actually fully capable of transmitting accurate heart rate variability (HRV/RR) metrics to compatible devices.  This allows some of these apps and devices to sort out heart rate recovery related analysis pieces.
The whole package costs $150US at retail once available later this spring, but it's available on Indiegogo right now for $120US.  Best of all the unit includes a mind-boggling 30 stickers with it.  And, when you need more stickers – it's only $1 per sticker, with each one lasting 3-7 days.  Pretty sweet stuff!
Thanks for reading, and if you have any questions feel free to drop them below in the comments section.
–
Welcome to CES 2015! Don't forget to check out all my CES 2015 coverage, as well as my continual updates throughout the day on Twitter.  It's gonna be a crazy busy week!