Over the past few days Garmin has released a flurry of updates for a bunch of very different fitness devices.  I'm going to briefly go through each update below, since these updates are probably the most wanted updates folks have asked for from Garmin for the last 5-8 months.  In short they are:
1) Adding a cycling mode to the Garmin FR620 running GPS
2) Integration of the Vivofit and other devices with MyFitnessPal
3) Full android support for Garmin Fenix2/Fenix/Tactix
Also, for Edge 1000 people, they released a pretty significant update there as well, adding a few new things but starting to chip away on many bugs (but not all yet).  I won't dive into that in this update, but rather will just focus on the other three above. With that, let's get started.
New Cycling Mode and Activity Profiles on Garmin FR620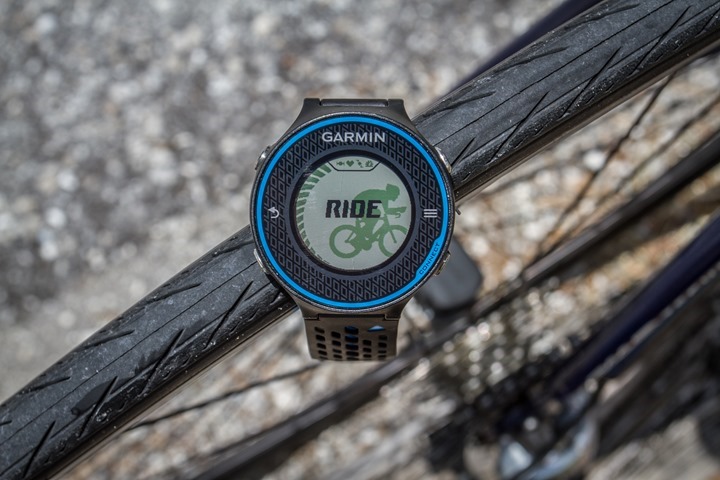 First up is the long awaited cycling mode for the Garmin FR620.  While previous iterations of the watch line (such as the FR610) have had a cycling mode, the FR620 launched last September without any bike-specific mode.   And even though it lacked a bike specific mode you could always change the display to speed (MPH/KPH), but that would impact a slew of other metrics like running PR's, since it wouldn't separate out cycling from running.
But as you'll see, adding in a cycling mode was only the beginning of the updated features.  First up though, you'll need to connect your phone via Bluetooth Smart, WiFi, or USB and get the update transferred over to the watch.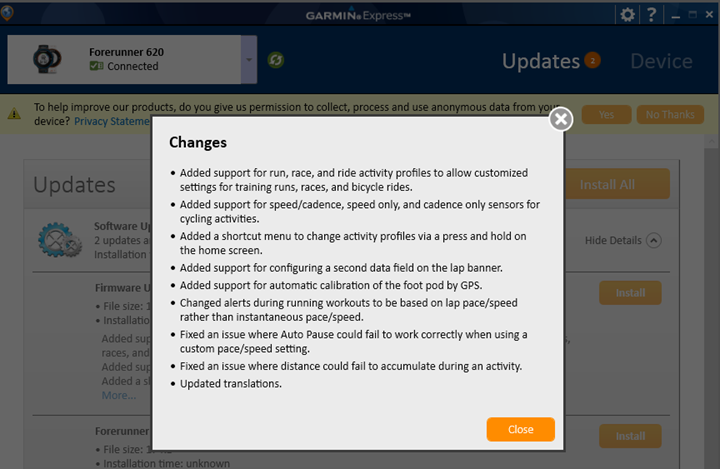 Once that's completed it takes only a minute or two to fully install: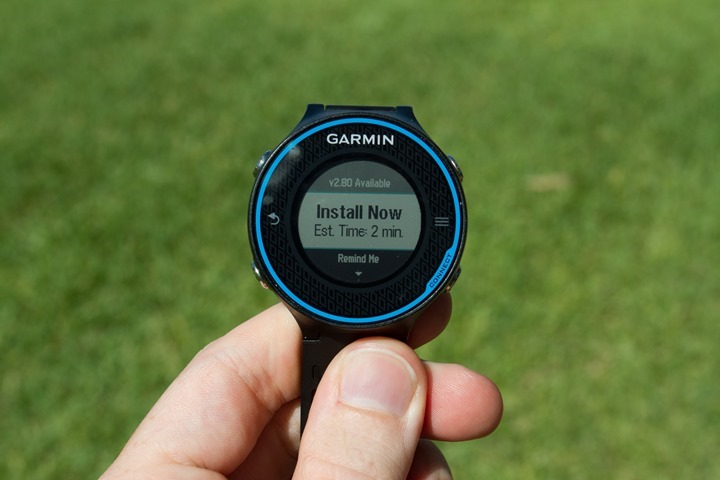 To start, Garmin has introduced a new 'Activity Profile' option, which allows you to select one of three activity profiles: Race, Run, or Bike.  This concept carries over from the Garmin Edge line where you can customize the display screens within each activity profile.  For example, if you wanted to have a reduced set of display fields while running a race, rather than training.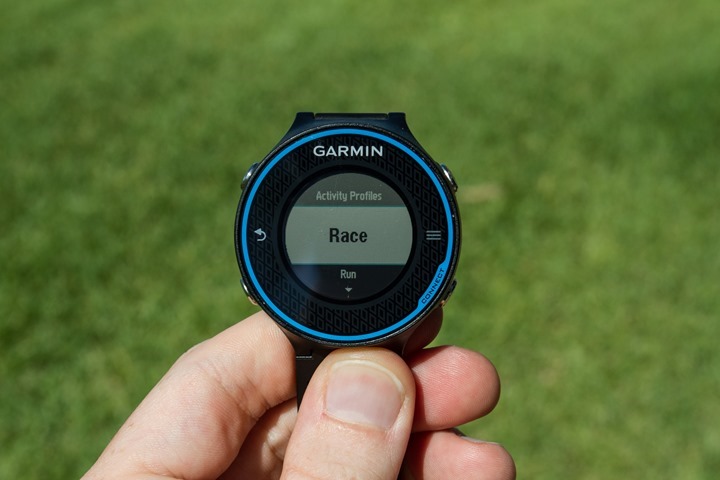 In practice, I suspect folks will simply use the second profile for other random activities (like going to the gym).  But, to each their own.  You can change the line edge colors for each mode, and that'll be reflected on the main start page as well: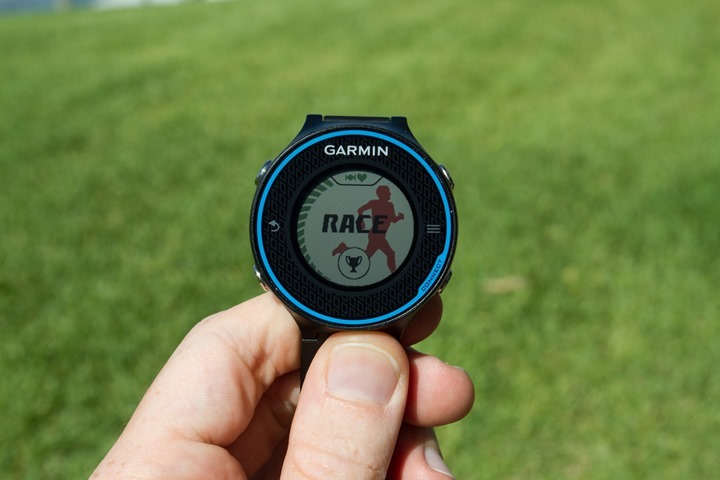 Within these modes you've now gained the 'Bike' mode.  The new cycling mode allows you to pair ANT+ speed and cadence sensors.  Or specifically: the ANT+ speed-only sensor, ANT+ cadence-only sensor, or the ANT+ Speed/Cadence Combo sensor.  For most people, you'll likely have a combo sensor, since that's the type that's primarily been sold for the past million years by Garmin (or rather, 10 or so years).  But if you have one of their new magnetless sensors – those will work too.
To start, we'll need to switch into the bike mode(officially called 'Ride'):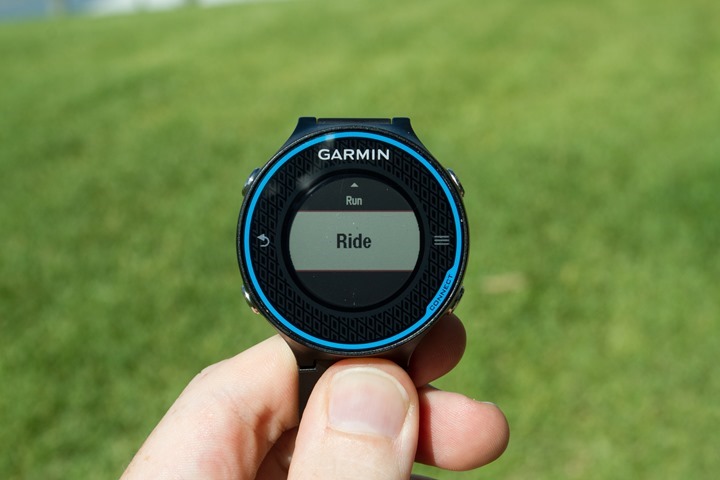 Now, we can go ahead and add a bike sensor just like you were pairing a heart rate strap: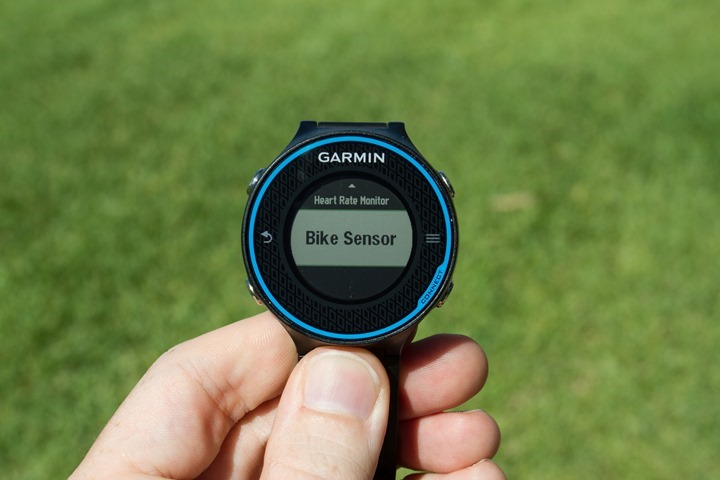 I should note that even if you add two sensors (such as a speed-only and a cadence-only sensor), it will confusingly only show one sensor added despite confirming that both were added.  You can simply double check that both are/were added by picking up your bike and spinning the crank arm.  That should then show cadence, and then at the same time the speed should show something as well (since the wheel is spinning).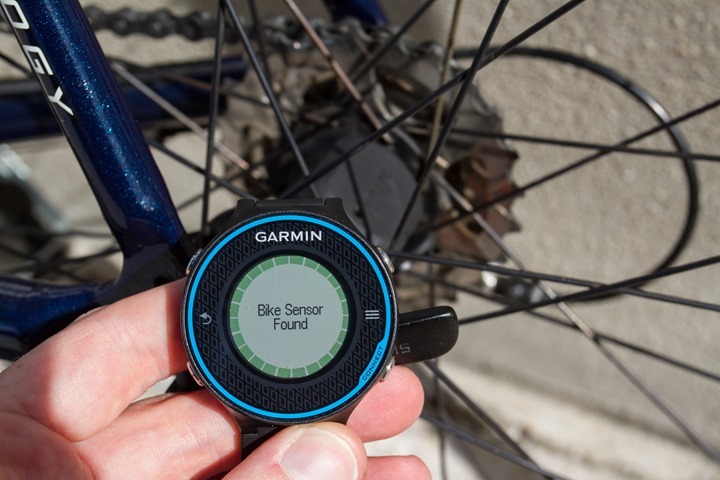 Once you've added a sensor you'll see an option for wheel size.  In trying it a few times it defaults to 'Custom 2096' or 'Auto 0mm', which will automatically compute it based on GPS.  In my case I got a 'Wheel Size Computed' message at the .60 mile marker of my ride outside with GPS – but, I'm pretty sure that it didn't give me an accurate wheel size since it listed the size as 2333mm.  In my case though it actually would have worked out better to just leave the default – 2096, since that's what it was.  Of course you can also just manually override it as well.  The wheel size is primarily used indoors if you were on a trainer.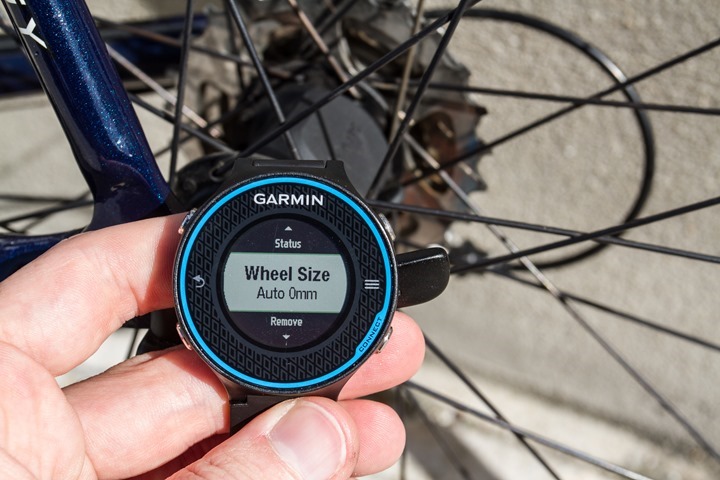 Once you've got that added, you'll likely want to add a cadence field to your display settings: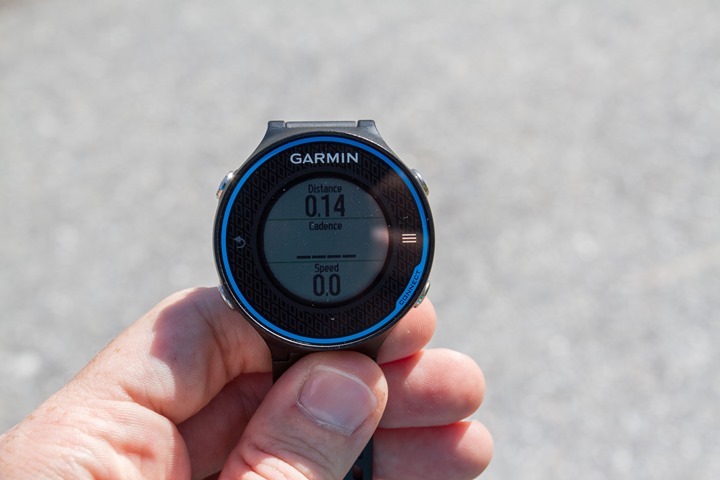 Speaking of display settings, you've now got the ability (across all modes bike or run) to configure the lap banner.  The lap banner is displayed when you press the lap button (or, when triggered via auto lap).  You can select up to two metrics here (plus, it'll show you lap number up top):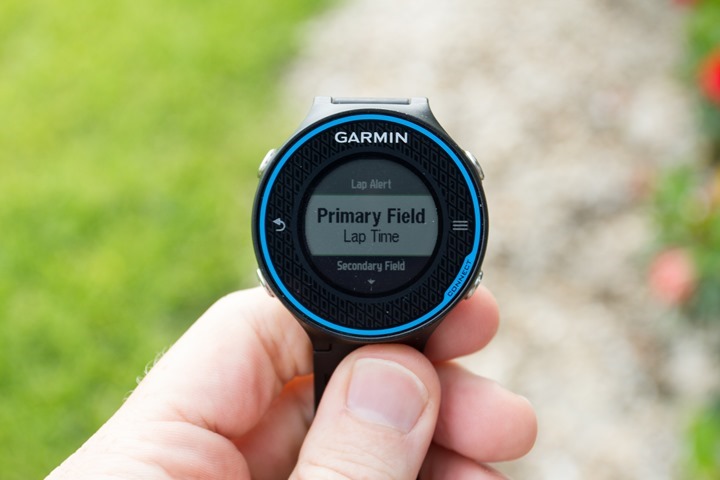 Back to the cycling-specific pieces, while riding you'll now get cadence information while riding on your watch as you'd expect: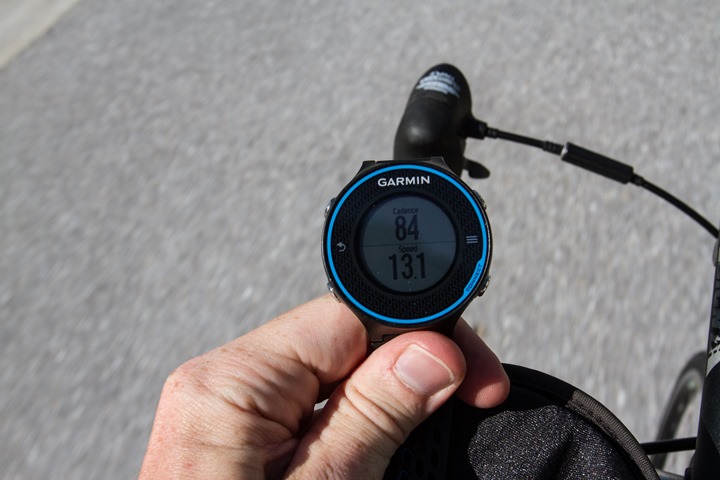 And indoors with the GPS off you'll get speed from the speed sensor (if you have that paired).
Finally, when you stop your activity and upload it to Garmin Connect, the activity will be marked as cycling by default as well as have the cadence information contained in the file (readable by any 3rd party programs as well):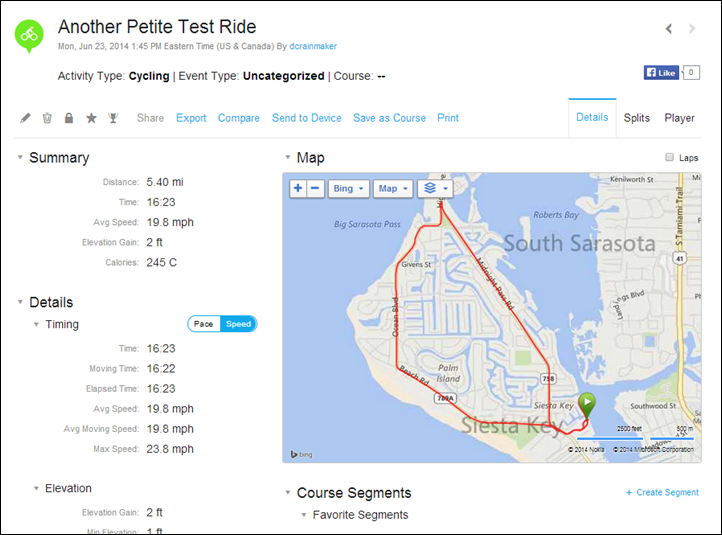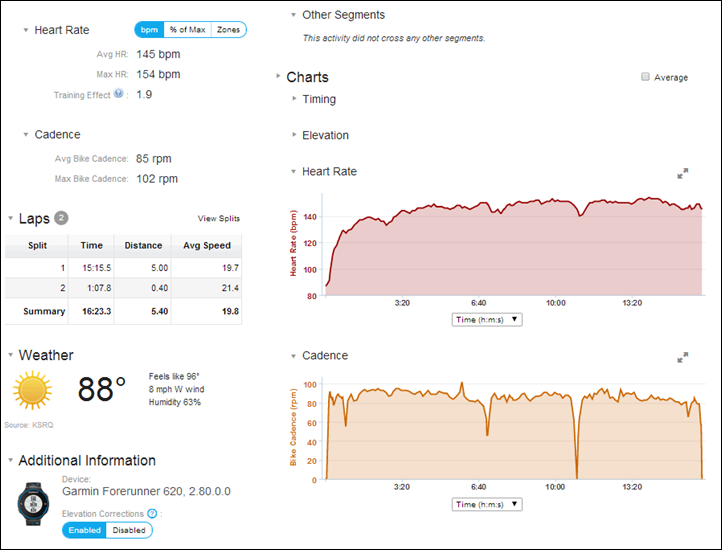 There have been a few other tweaks within this firmware update that are worthwhile noting:
1) The footpod will now automatically be calibrated via GPS, and you can now display the calibration value  (frustratingly though you still can't select the footpod as the pace source while outdoors)
2) The pace alerts will now trigger based on lap pace, rather than instant pace.  In some ways, I view this as sorta side-stepping the issue.  But, I know it'll also make some folks happy.
3) Finally, not so much a tweak, but an issue – if you have your backlight timeout set to 'Stays on' like I do, it seems to ignore that setting unless you change it to something else and then change it back.  Just a quick heads up, an easy fix, but still a minor one.
Overall it's a much needed update that many ought to be happy about, and one that Garmin managed to deliver within their promised timeframe from way back when ("Spring 2014" – albeit by just a few hours…).
Integration with MyFitnessPal: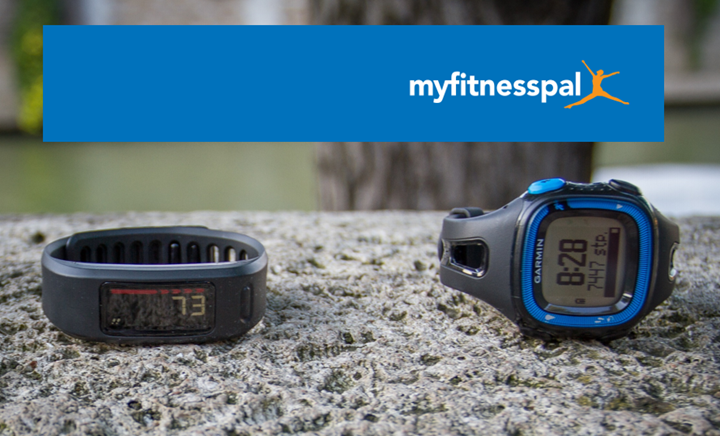 Following in the footsteps of Training Peaks a few days prior, MyFitnessPal has announced synchronization of calorie data from Garmin Connect to the MyFitnessPal platform for the Garmin Vivofit and Forerunner 15.  Inversely, calorie data from MyFitnessPal will show up in Garmin Connect.  Note that as of today, this is only for Vivofit/FR15 users.  Later this summer they'll roll it out for everyone else on the Garmin Connect platform (I suspect they're doing that to allow them to fix anything that pops up before adding the masses).
The integration has been long rumored since it initially showed up this past January as part of the Vivofit listings on REI's site (only to eventually be removed).  Adding to that was an extensively long thread on the Garmin Forums asking for integration with MyFitnessPal.  I'm pretty sure that's the most requests I've ever seen for a specific feature/piece of functionality.
To setup your account start from the the Garmin Connect side of things.  Specifically you'll click on the three-line button on the left, then Calories In/Out (which is new).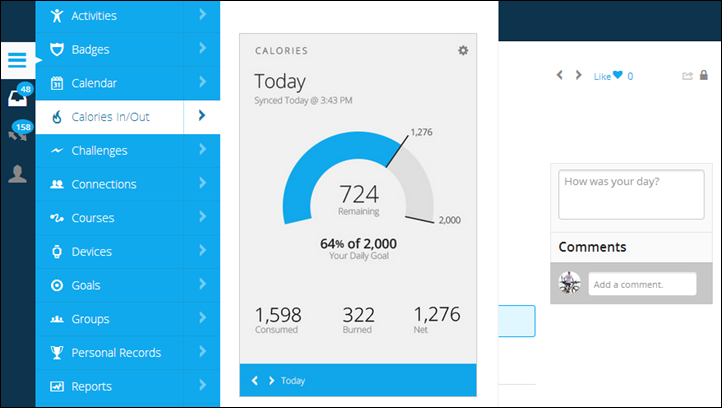 That'll take you to a page where at the bottom you can click the 'Connect to MyFitnessPal' option.  This would be the appropriate time to click said button.  Failure to do so will not result in happy.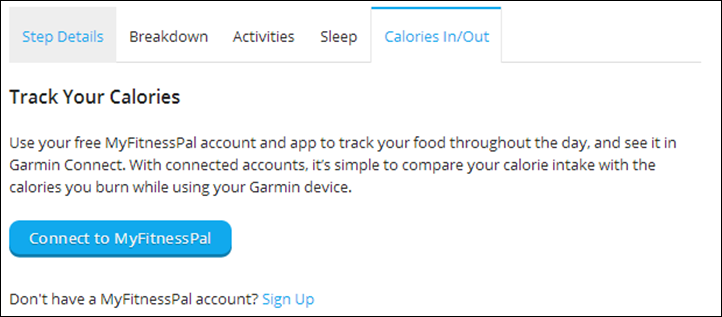 Once you do that it'll go ahead and pop-up a window from MyFitnessPal that asks you to authorize Garmin Connect.  Like above, clicking the colored button is your best chance for success.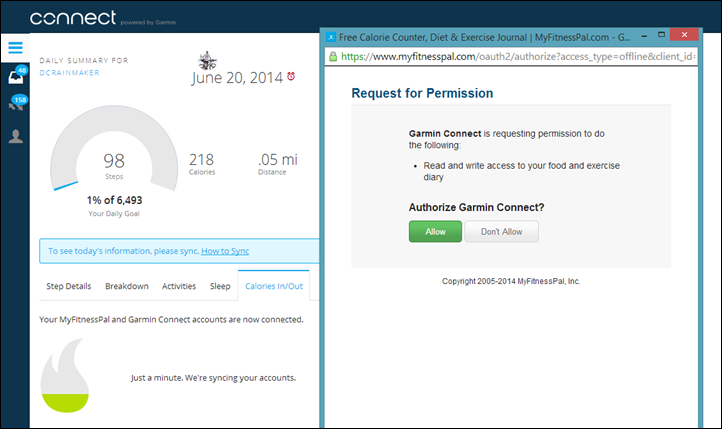 You'll then immediately see a new section at the bottom that shows you your calories in/out from MyFitnessPal.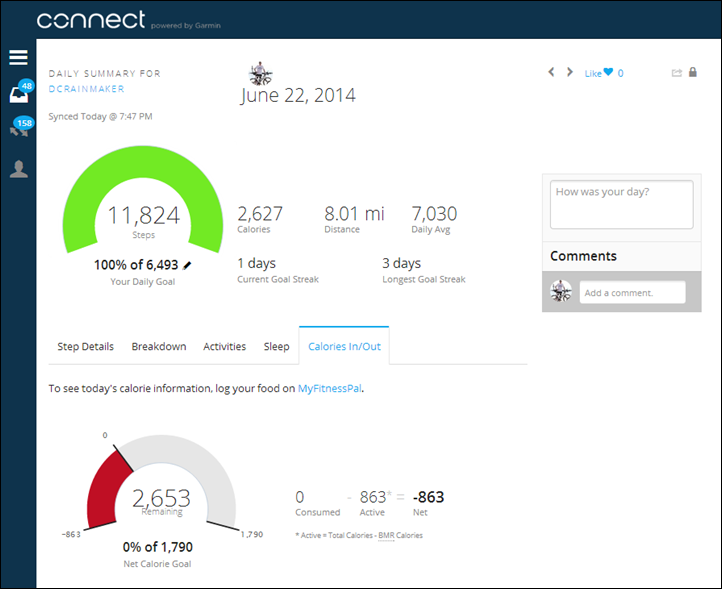 Now, this bottom part is the interesting piece.  To start, it's showing you calories burned from your Garmin device – that's the piece labeled 'Active', which is due to a run I did earlier in the morning that burned 863 calories.  The active calories in this case does NOT include my BMR (being alive) calories.
Next, since I just added my foods in for the day to date seconds prior, you won't yet see anything for 'Consumed' (it shows '0').  Finally, the calorie goal here is coming from MyFitnessPal – so whatever I set there shows up here (preemptive note to concerned readers, it's just a random number I set – don't fret).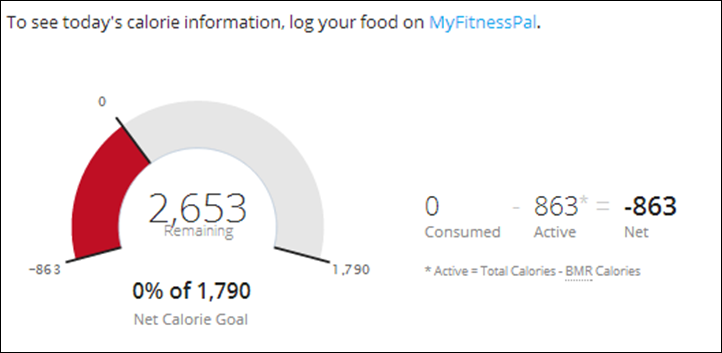 Next, I went ahead and let it sync. It took a few minutes to complete and then it showed up.  Now below you see that it shows I consumed 703 calories.  As a result, my total calories remaining decreases.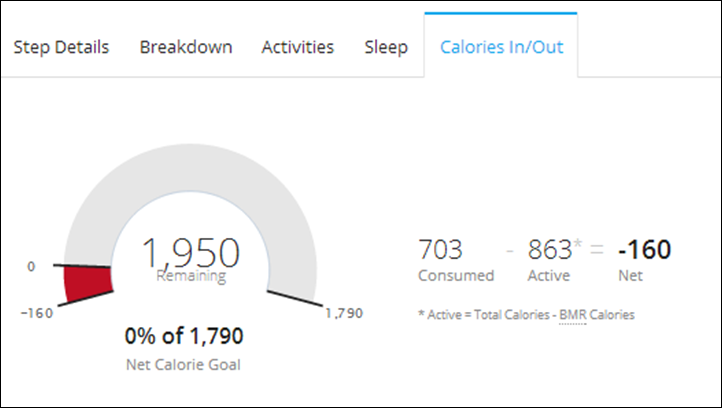 Meanwhile, on the MyFitnessPal side you'll see a calorie credit show up from Garmin Connect, which is visible in the dashboard and exercise sections (note, different day, thus the number is slightly different below vs above screenshots):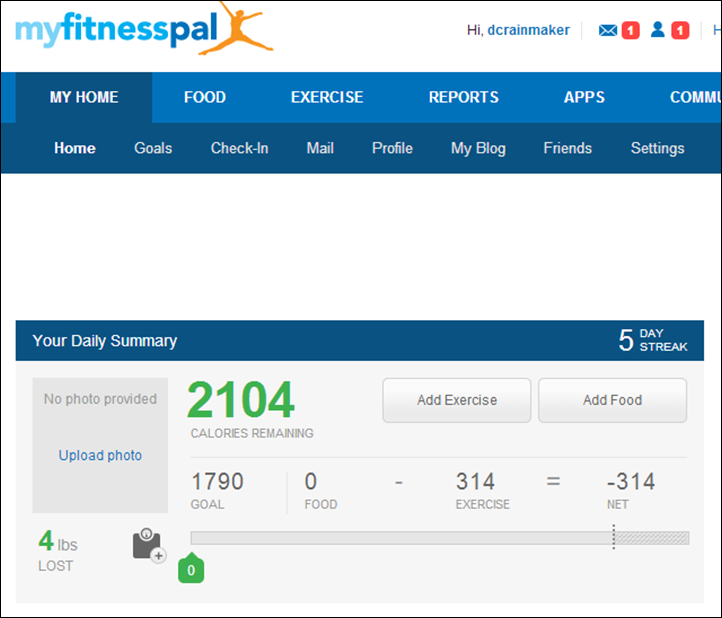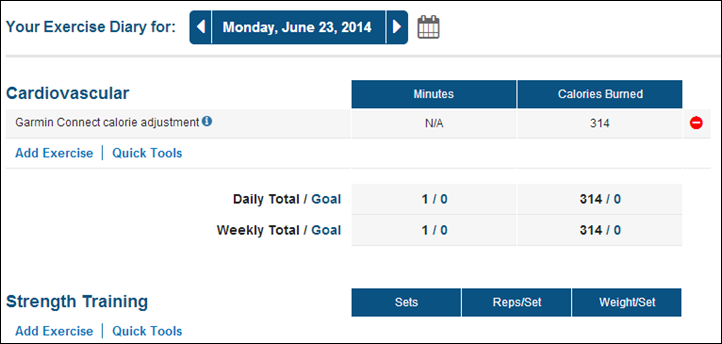 Note that initially the calorie adjustment on MyFitnessPal didn't work for me.  In doing some digging I realized I had to disable my other step-counters (including the iPhone one).  So be sure to do that as these two are not compatible and the corrections won't show up from the Garmin Connect side of the house.
Again remember that as of today the calorie integration with MyFitnessPal only works with the Vivofit and FR15.  Later this summer Garmin will add in support for all other Edge and Forerunner devices.
Finally, I certainly don't expect this to be the last of these such announcements.  None of these Garmin Connect integrations are 'exclusive', nor are they really partnerships in the sense that other companies in the industry would see them.  Most would just call them what they are: Two companies using an API to allow data transfer.  Of course, as I explained last week, this too does come at the cost of smaller 3rd party companies and/or hobbyist getting access to the data.  Which isn't to take away from MyFitnessPal, but simply to note that there is a tradeoff.
Full Android support on Fenix2/Fenix/Tactix:
Last but not least, full Android support has come to the Fenix2/Fenix1/Tactix and D2 watches.  Unfortunately, on my week long trip I didn't grab the Fenix2, so I can't quite run through all the features with ya.  Thus, you're on your own there.  The good news is that it simply brings many of the features to what's offered on iOS devices.  So that means that you'll be getting the following on Android via the Garmin Connect Mobile app:
Live Tracking, Download of satellite caching data (EPO data), automatic uploading of completed workouts, ability to download to the device courses and workouts.
Do note that you'll need both the updated Fenix firmware for your device, as well as the updated Garmin Connect Mobile Android app.  Also note that unlike iOS, there is not yet smart phone notifications to the Fenix on Android (i.e. text message notifications).
With that – thanks for reading!