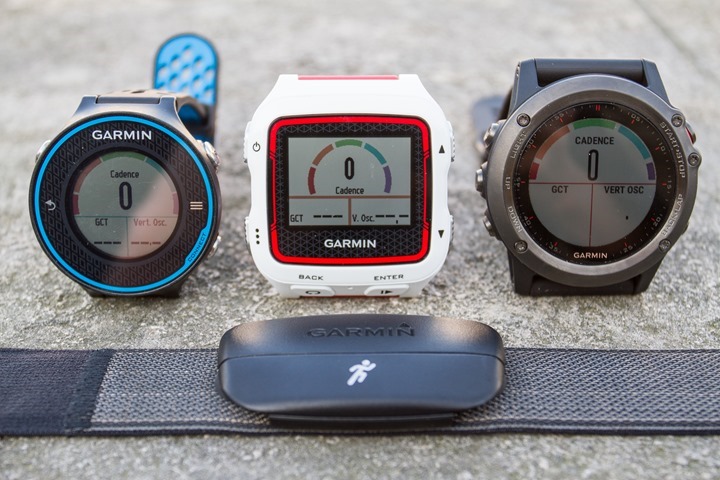 When the Garmin FR620 first came out about 18 months ago, it brought with it the Garmin HRM-RUN strap.  That strap added what Garmin called 'Running Dynamics' data, which consisted of a few different running related metrics.  At the time, things were fairly straight forward.  The only watch that supported said metrics was the FR620, thus, if you had anything else then it didn't really matter.
However, over the last year Garmin has released a number of other models that also support Running Dynamics.  And with that, the number of questions I've gotten on a daily basis on the subject has increased to the point where a standalone post is warranted.  Thus why I decided to write this up on the train ride last night.
The HRM-RUN Strap Hardware & Metrics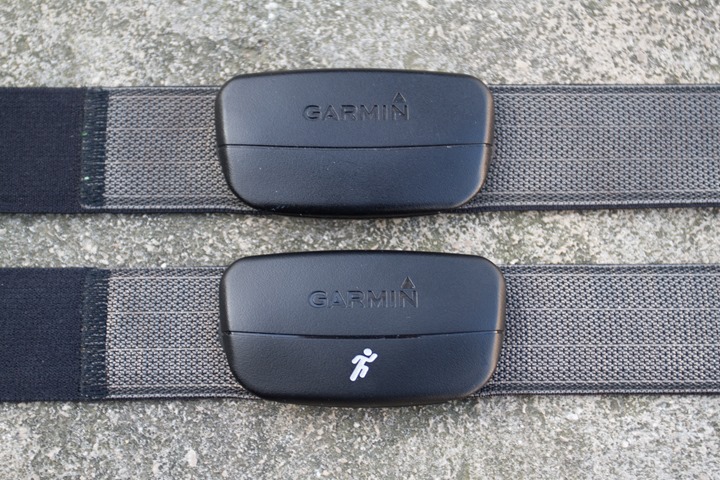 First up is the HRM-RUN strap itself.  This strap is fairly straight forward, and at first glance looks no different than the Garmin HRM3 straps of the last few years.  The only distinguishing feature is the little runner icon on the front of the unit.
Internally it's a different story.  Inside the HRM-RUN transmitter pod is an accelerometer which can measure movement.  These same accelerometers are also used within phones, footpods, activity trackers, and many other devices.  It's this sensor that ultimately enables you to get metrics such as Ground Contact Time and Vertical Oscillation.  The pod also provides a secondary source of cadence.
These metrics are collectively referred to by Garmin as 'Running Dynamics'.  In reality, it's really only the first two that are unique to Garmin though: Ground Contact Time (GCT) and Vertical Oscillation (VO).  Cadence had always been an option on most Garmin running devices, but as part of a marketing shift it got pulled into the Running Dynamics moniker.
First up, is Ground Contact Time.  GCT is the measurement of how long your foot spends on the ground each time you touch the ground.  It's measured in milliseconds.  You can see this on one of my recent interval runs, where at faster paces it's shorter, and slower paces it's longer.  In the below examples, I'm doing hill/incline repeat intervals on a treadmill.  You can see my ground contact time significantly increases during those short red/orange rest periods when I'm lightly jogging (and at the end in those four segments, walking).  And inversely, when I'm running quickly it's quite short.  You'll also notice as I warm-up it gets faster (in part, because I'm speeding up the treadmill).

Next, we've got Vertical Oscillation. VO is measuring the 'bounce' in a runner's torso within each step. This is vertical motion, measured in centimeters.  In the below chart you can see my Vertical Oscillation stays pretty consistent for much of it, except at the end when I'm doing some sort sprints and the purple section is where I'm walking with the green when I'm sprinting.

Finally, we've got cadence.  Cadence is simply how many steps per minute (SPM) I take.  It used to be that Garmin measured this as single-sided (i.e. one foot) and showed it that way on Garmin Connect.  When the FR620 came out in September 2013 however, they switched to double-sided metrics on Garmin Connect.  So it counts both feet.  For example, instead of 92SPM, it was now 184SPM.

Now, let's be very clear: You do NOT need the HRM-RUN to get cadence on your Garmin watch.  Virtually all new Garmin watches display and record cadence internally automatically from the wrist itself using accelerometers in the watch.  The HRM-RUN does however provide a secondary source of cadence.  Think of it like a second engine on an airplane.
In this case though you aren't really protecting against loss of cadence measurement from the wrist watch, but rather, against the fact that the wrist can be subject to brief moments that would cause cadence to drop out.  For example, if you take a drink from a water bottle.  Or, if on a treadmill you hold onto the side or go to change the speed/incline for more than a second or two.  With the HRM-RUN (or a footpod), these will be transparent.  Whereas with wrist detection you'll notice these little blips.  But really, it's just that – blips.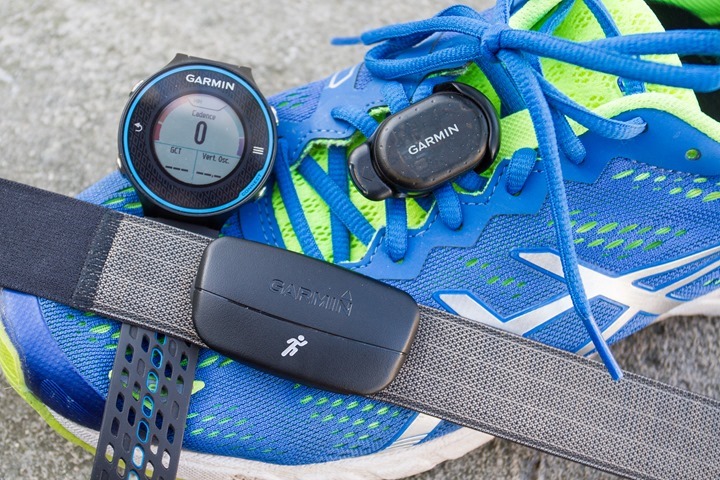 So what about the ANT+ footpod?  Well, that too measures cadence.  And pace (primarily indoors).  Thus yes, you have three different places you can get cadence on some Garmin watches.
Here's a simplified run-down of metrics provided by type:
HRM-RUN: Vertical Oscillation, Ground Contact Time, Cadence
Footpod: Cadence, Pace (and thus distance)
Wrist (Watch/WDR): Cadence, Pace (and thus distance)
What's the most accurate?  Well, from what I see on cadence, in 99% of situations it's a complete wash.  Accuracy is perfectly fine across all three sources.  I've measured all three separately and they're basically equal.
Where you will see some variation in wrist based cadence is the scenario I noted in terms of drinking from a water bottle while running, or in cases of a treadmill and adjusting pace.  But most of these are so minor that it's rarely worth noting for the one or two seconds.
Pace and distance is different however.  For that, the footpod reigns supreme.  It's what I use when I want accurate pace and distance on a treadmill or other situations where GPS is unavailable (i.e. a tunnel).  The watch at the wrist can provide pace/distance, and I find that at my 'normal/average' long run paces it's fairly accurate.  But when I get faster such as in intervals, it gets much further from the truth.
Finally, for vertical oscillation and ground contact time, only the HRM-RUN provides it.
VO2 Max, Calories & Recovery Metrics: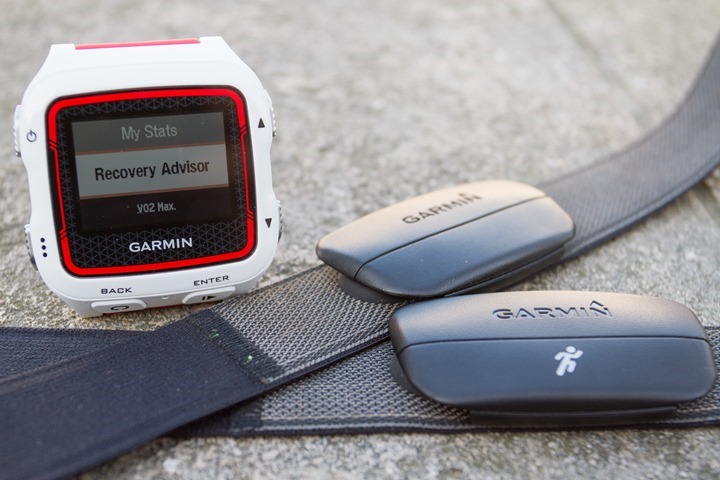 I briefly wanted to note in a section all unto itself that the HRM-RUN is NOT REQUIRED to get any VO2Max estimates, Recovery Advisor, Race Predictor, or Training Effect metrics.  Any ANT+ HR strap will gather these metrics (thus any Garmin HR strap).  That's because these metrics depends on heart rate variability (HRV), which is a required transmission attribute of any ANT+ heart rate strap.  They have no dependency on the HRM-RUN itself.  So you can use any older Garmin strap you might have in your collection and still get these metrics.
Note that in the event you're using a 3rd party optical heart rate sensor (i.e. the Mio sensors or Scosche straps), that optical sensors today largely 'estimate' this HRV/RR information.  For some, that may result in rather inaccurate recovery, calorie, or VO2Max estimates.  I've got an upcoming post in the next few weeks that discusses this a bit more.
Supported/Compatible Watches: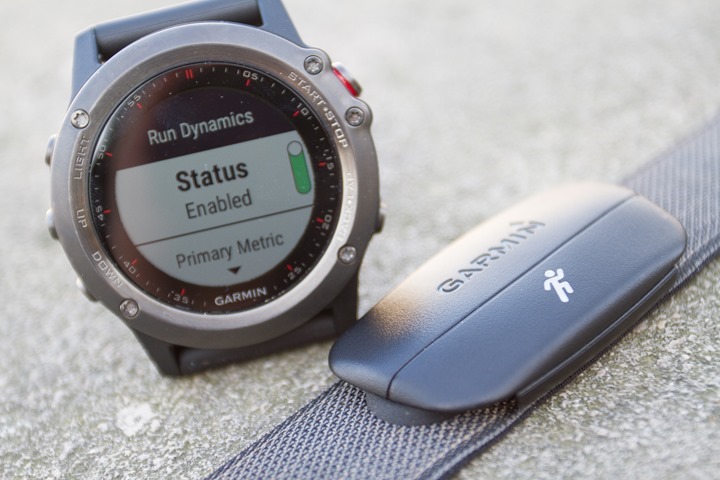 The HRM-RUN is supported in two ways.  First, is that at its core it's a standard heart rate strap.  It sends your HR data to virtually any compatible ANT+ head unit.  At present, I know of only a single device with issues with it: the Garmin Edge 705.  Everything else seems perfectly happy.
The second way the HRM-RUN is supported is the transmission of Running Dynamics metrics to the watch.  Specifically Vertical Oscillation, Ground Contact Time, and Cadence.  In this case, all three are grouped together.  Meaning that for a watch that doesn't support Running Dynamics (i.e. the FR310XT), you won't get cadence from the HRM-RUN, even though the FR310XT would support cadence from a footpod.
Here's a handy table of which devices support which functions.   If I haven't listed your device, the answer is no, it's not supported for Running Dynamics and likely falls under one of the last 2-3 lines in the table.
HRM-RUN Compatibility
| Device Name | HRM-RUN: VO, GTC, Cadence | HRM-RUN: Heart Rate Features | Watch: Cadence from wrist |
| --- | --- | --- | --- |
| Garmin FR920XT | Yes | Yes | Yes |
| Garmin Epix | Yes | Yes | Yes |
| Garmin Fenix3 | Yes | Yes | Yes |
| Garmin Fenix2/2SE | Yes | Yes | Yes |
| Garmin FR620 | Yes | Yes | Yes |
| Garmin FR220 | No | Yes | Yes |
| Garmin FR910XT | No | Yes | No |
| Garmin FR310XT | No | Yes | No |
| Garmin Vivoactive | No | Yes | Yes |
| Garmin Vivofit2 | No | Yes | Yes (Saved but not shown on device) |
| Garmin Vivofit | No | Yes | Yes (Saved but not shown on device) |
| Garmin Vivosmart | No | Yes | Yes (Saved but not shown on device) |
| Garmin FR15 | No | Yes | Yes (Saved but not shown on device) |
| Garmin Fenix1 | No | Yes | Yes |
| Garmin Tactix | No | Yes | Yes |
| All Forerunners not Shown | No | Yes | No |
| All Edge units not shown | No | Yes | No |
| All non-Garmin units | No | Yes | Depends on unit |
Again, as a general rule, if I haven't listed a device above – the answer is no, it's not supported to get any Running Dynamics information.  If the device supports ANT+ heart rate straps in general, then it will likely be able to get basic HR information from the strap however.  Whether or not the unit does cadence within the wrist varies based on the model.
Frequently Asked Questions: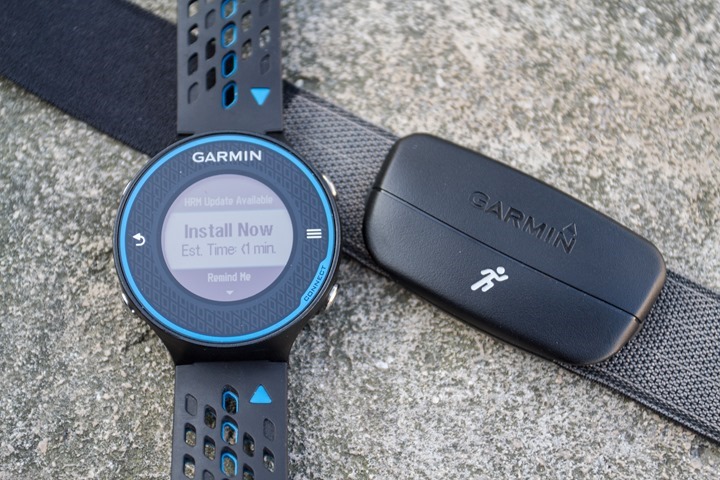 Here's a round-up of the most common questions and answers concerning the HRM-RUN strap and metrics.
Does the HRM-RUN provide pace and/or distance?
No, it does not.  It only provides cadence, ground contact time, and vertical oscillation.
Should I buy the HRM-RUN for Running Dynamics data?
Honestly, while the HRM-RUN strap provides the fun geek metrics of GCT and VO, at the end of the day those get sorta useless after a week or two of running with it.  There's virtually no training guidance that either Garmin or any other training organization or scientists have made available that specifies how precisely to change GCT or VO to better your race results.  It simply doesn't exist.  As such, right now these metrics aren't something you can really focus on to improve and have a tangible and specific path to running a faster race.  Interesting yes, but not something that Garmin has done a good job in really extrapolating on beyond a few marketing buzzwords.
Will my HRM-RUN strap work with an older Garmin unit?
In 99% of the cases, the answer is yes.  The single unit that I've heard issues with is the Edge 705.  For every other Garmin made in the last 5-7 years, I've heard no issues and tested the vast majority of them myself.
What data will the HRM-RUN strap send to older Garmin units?
It will send just your heart rate data. It will not display Running Dynamics information, nor will it record it.
Do I need the HRM-RUN strap to get VO2Max, Recovery Advisor, or Race Predictor, or Training Effect values?
No, any ANT+ heart rate strap is sufficient.  Even your older one you have lying around in the bottom of your sock drawer.  Note that not all Garmin watches display these metrics however.  Mostly just the newer watches like the FR620, FR920XT, Fenix2/3, and Epix.
Is the HRM-RUN strap firmware updatable?
Yes indeed!  In fact, it got one firmware update in the Fall of 2014, for users who bought it with the FR620 or Fenix2.  Users who got the FR920XT already had the updated firmware.  This update was done via your watch.
Do you think they'll update the firmware to transmit other metrics in the future?
I think anything is possible.  But I wouldn't hold my breath on it for now.
Does the HRM-RUN provide pedaling cadence while cycling?
No, it does not.  During cycling it just provides heart rate related metrics.
I see WDR mentioned a few times, what does that mean?
WDR is 'Wrist Dead Reckoning', which is the internal term Garmin uses for determining pace/distance without a footpod using the internal accelerometer data on the wrist.
The Wahoo TICKR RUN and TICKR X provides similar metrics, are they compatible with the Garmin Running Dynamics metrics?
No, Garmin has kept the Vertical Oscillation and Ground Contact Time metrics as 'private ANT', and thus other companies are unable to read these metrics (well, easily anyway).  As such, there is no compatibility between the Garmin metrics and metrics that other companies such as Wahoo have – no matter how similar they might be.
Note that Wahoo has stated on numerous occasions that if Garmin opens up the Running Dynamics standard to be open ANT+ (and not private ANT), that they would implement support within the TICKR Run & TICKR X series for those metrics using that protocol.
Can I use the TICKR Run/X to get Running Dynamics on my Garmin watch?
No.  See previous question/answer.  It will however show standard heart rate information.
What is the order of precedence if you have an HRM-RUN and a footpod?
Run cadence hierarchy: HRM-RUN, Footpod, WDR (Trail Running and Running modes only)
For running pace, it's very model-specific:
Fenix2 Run Pace: Footpod (if set to Always), WDR (Indoor Mode only), GPS, WDR (Outdoor Run mode)
FR920XT/FR620 Run Pace: Footpod (if no GPS found), GPS, WDR (Outdoor Run mode)
Note that with the FR920XT/FR620, it will not show footpod pace as long as GPS is found.  If however you go into a tunnel, then it will failover to the footpod or WDR pace/distance.  This is a departure from older watches like the FR610/910XT/310XT which allowed you to specify the 'Speed Source' and have that be used.  For footpod, see this post: Garmin ANT+ Foot Pods: Everything you ever wanted to know
Remember that WDR is 'Wrist Dead Reckoning', which is the internal term Garmin uses for determining pace/distance without a footpod using the internal accelerometer data on the wrist.
What is the battery type in the HRM-RUN?
It's the same as all Garmin sensors – a CR2032 coin cell battery.
Does the HRM-RUN also include the Kitchen Sink?
Only in certain markets, most notably the Isle of Man when purchased as part of the sink bundle.  Just seeing if anyone is actually reading…
Does the HRM-RUN get rid of HR spiking/dropout issues?
I find that both the HRM3 and HRM-RUN straps produced after July of 2013 are both about as good as you'll get in the industry today when it comes to reduction of false HR spikes/dropouts.  There are still situations, primarily in cold/dry air where the first couple minutes you might get some issues – but that's largely true of any HR strap that doesn't have moisture in certain scenarios.
Could Connect IQ display Vertical Oscillation and Ground Contact Time on non-Running Dynamics capable devices?
No, it's not currently available on those devices.  Said differently, no, you can't use the Vivoactive to get GCT/VO.
Can the HRM-RUN transmit heart rate values through water?
No, it cannot.  The signal only goes about 1-2" underwater.  Neither ANT+ or Bluetooth Smart can transmit underwater.  In the case of Polar units, they use an analog signal at a specific frequency which does transmit through water.  In the case of Suunto with the Ambit3, they 'store and forward'.  Meaning they save the data on the strap while you swim, and then synchronize after you stop swimming and the strap is brought close to the watch.
Is the HRM-RUN waterproof?
Yes, despite not transmitting through water – it's totally waterproof.  In fact most triathletes will wear it under their wet-suit during the swim portion, where it'll reconnect automatically to their watch/device afterwards upon exiting the water. This is true of all HR straps made by Garmin, Suunto, and Polar (and pretty much every other HR strap made today by every company I'm aware of).  All are fully waterproof.
—
Found this review useful? Or just want a good deal? Here's how:
Hopefully you found this review useful. At the end of the day, I'm an athlete just like you looking for the most detail possible on a new purchase – so my review is written from the standpoint of how I used the device. The reviews generally take a lot of hours to put together, so it's a fair bit of work (and labor of love). As you probably noticed by looking below, I also take time to answer all the questions posted in the comments – and there's quite a bit of detail in there as well.
I've partnered with Clever Training to offer all DC Rainmaker readers exclusive benefits on all products purchased.  By joining the Clever Training VIP Program, you will earn 10% points on this item and 10% off (instantly) on thousands of other fitness products and accessories.  Points can be used on your very next purchase at Clever Training for anything site-wide.  You can read more about the details here.  By joining, you not only support the site (and all the work I do here) – but you also get to enjoy the significant partnership benefits that are just for DC Rainmaker readers.  And, since this item is more than $49, you get free 3-day (or less) US shipping as well.
Garmin HRM Run Heart Rate Monitor (Clever Training)
For European/Australian/New Zealand readers, you can also pickup the unit via Wiggle at the links below, which helps support the site too! With Wiggle new customers get 10GBP (or equivalent in other currencies) off their first order for anything over 50GBP by using code [Currently Disabled] at check-out after clicking the links below.
Garmin HRM Run Heart Rate Monitor (EU/UK/AU/NZ – Wiggle)
And finally, here's a handy list of some of my favorite Garmin-specific accessories for the Garmin watches. Of course, being ANT+ & Bluetooth Smart compatible, you don't have to limit things to just Garmin.
Product

Amazon

Chain Reaction Cycles

Competitive Cyclist

Wiggle

Note

Garmin Cadence Sensor V2
Amazon
Awin1
Competitive Cyclist
Wiggle
This is a dual ANT+/Bluetooth Smart cycling cadence sensor that you strap to your crank arm, but also does dual Bluetooth Smart, so you can pair it both to Zwift and another Bluetooth Smart app at once if you want.
Garmin HRM-DUAL Chest Strap
Amazon
Awin1
Competitive Cyclist
Wiggle
This is one of the top straps I use daily for accuracy comparisons (the others being the Polar H9/H10). It's dual ANT+/Bluetooth Smart, and in fact dual-Bluetooth Smart too, in case you need multiple connectons.
Garmin HRM-PRO Plus
$129
Amazon
Awin1
Competitive Cyclist
Wiggle
The HRM-PRO Plus is Garmin's top-end chest strap. It transmits dual ANT+/Bluetooth Smart, but also transmits Running Dynamics & Running Pace/Distance metrics, stores HR data during a swim, and can be used without a watch for other sports. Also, it can transmit XC Skiing Dynamics as well.
Garmin Index S2 WiFi Scale
$149
Amazon
Awin1
Competitive Cyclist
Wiggle
This wifi-connected scale will track your weight and related metrics both on the scale display and in Garmin Connect (plus 3rd party apps like Training Peaks). It'll also then sync your weight to your watch/bike computer, to ensure accurate calorie data.
Garmin Puck Charger
Amazon
Awin1
Competitive Cyclist
Wiggle
Seriously, this will change your life. $9 for a two-pack of these puck Garmin chargers that stay put and stay connected. One for the office, one for your bedside, another for your bag, and one for your dog's house. Just in case.
Garmin Speed Sensor V2
Amazon
Awin1
Competitive Cyclist
Wiggle
This speed sensor is unique in that it can record offline (sans-watch), making it perfect for a commuter bike quietly recording your rides. But it's also a standard ANT+/BLE sensor that pairs to your device. It's become my go-to speed sensor.
Or, anything else you pick up on Amazon helps support the site as well (socks, laundry detergent, cowbells). If you're outside the US, I've got links to all of the major individual country Amazon stores on the sidebar towards the top.
Thanks for reading! And as always, feel free to post comments or questions in the comments section below, I'll be happy to try and answer them as quickly as possible.