A day or two ago, someone posted to Slowtwitch with an issue where they were getting chaffing issues with the Garmin soft strap, to the point of the skin being red and raw.  This was primarily in the area of the front transmitter pod (near the little plastic piece).
With the Garmin soft straps there are actually two editions of soft HR straps depending on what year you bought them.  In 2010 they started producing a slightly different variant that reduced issues with spiking/dropouts and made it such that the plastic no longer touched your chest – but rather was on top of the fabric.  You can see all the Garmin straps below: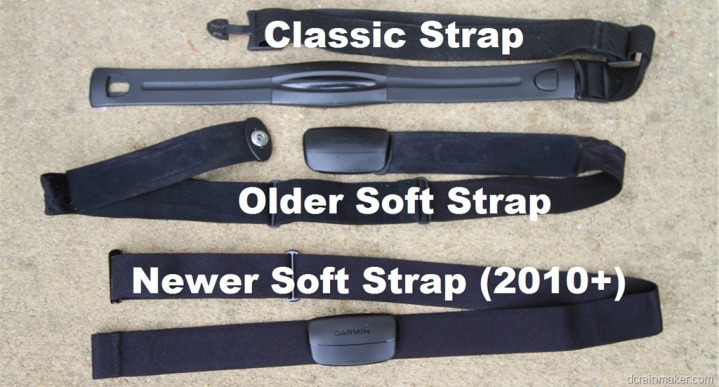 And while you may think this is a Garmin strap issue, it actually isn't.  In fact, it doesn't just affect one-Slowtwitcher (there were others on the thread with the same issue) – it also affects two rather important folks.  Me, and The Girl.
In my case, I'm not always wearing a Garmin strap – for example, the last few weeks I've been wearing a Polar Wearlink strap – but it's still been happening to me.  Now the oddity here is I can't actually figure out why it happens and doesn't happen.  Sometimes I'll go months without an issue, and then other times it'll take all of two runs to be rubbed the wrong way.  As you know, I've got literally dozens of HR straps to choose from – and no amount of swapping straps seems to fix it.  But yet, one day – it'll simply stop.
The Girl meanwhile has less tolerance for being rubbed the wrong way, and simply devised a brilliant solution that works for both of us.  And, since that puts our success percentage at 100% – I figured I'd share it with you.
But the best part?  It only costs a few cents and seconds to implement.
See, she simply applies a small Band-Aid.  Though not to her – but rather, to the strap.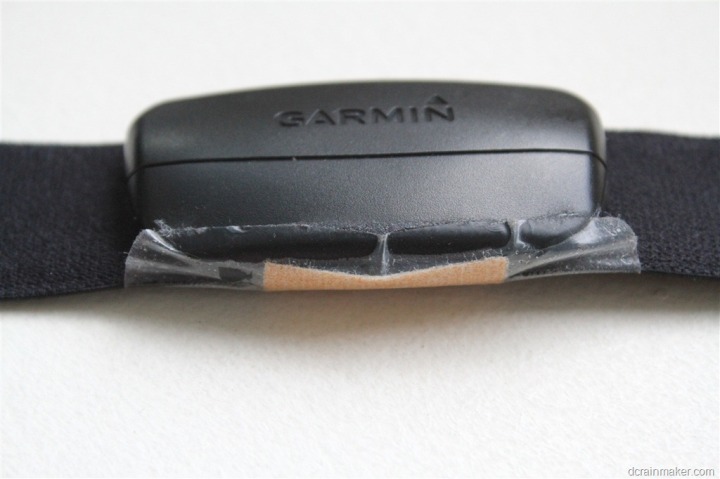 She places it longwise along the bottom – wrapping both over the top, and over the edge of the fabric.  After all, it's the fabric part that does the scratching/rubbing/chaffing – not the plastic piece.  You can see below how the plastic pod just ever so slightly pushes the fabric edge outwards – against your skin.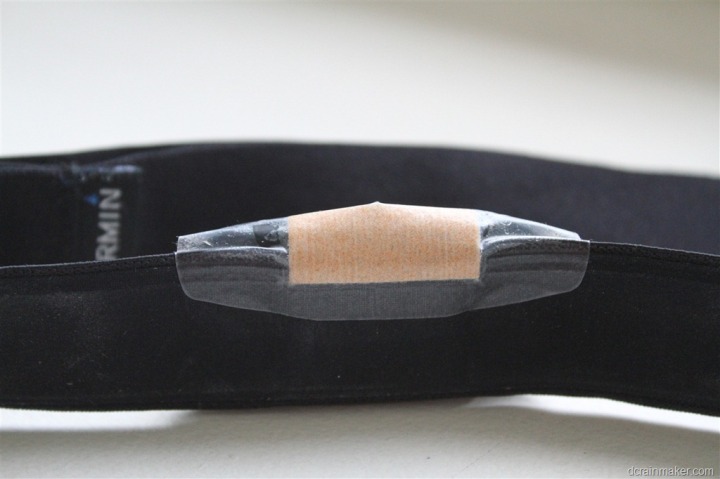 This Band-Aid will last a rather surprisingly long time.  Like really long – weeks, sometimes months.  Assuming you apply it while dry and let it sit for a short bit before first use.  After that, you can make all the sweaty mess you'd like and it seems to stay there just fine.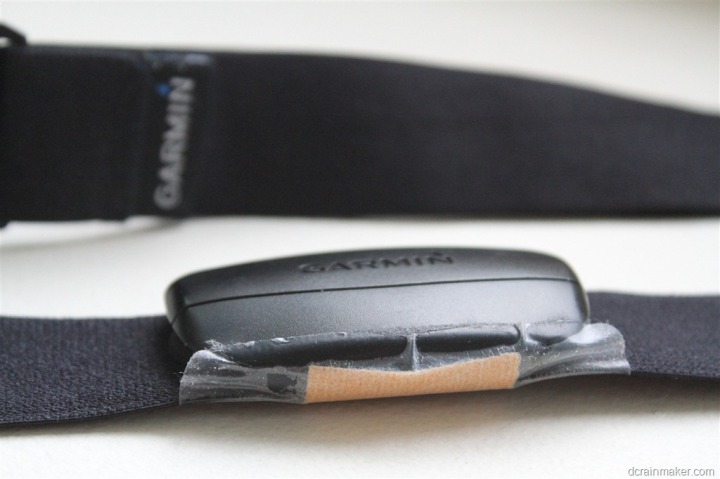 Note that you don't need to put Band-Aids around the entire strap – just the part with the transmitter pod.  I suspect it's because the pod slightly pushes down on the strap and into your chest.  And again, this applies to other ones as well.  In fact, The Girl actually uses a CycleOps strap/pod most of the time.  And over the past few weeks I've been using a Polar strap.
As for the exact type of Band-Aid used, they just came from one of those random travel packs of them.  We have one that says '40 items' in it.  However, upon super-close examination it looks like these are the specific Band-Aids we're using for this purpose.  They're a water-resistant one, and clear as you can see above.  I'm sure other brands of water-resistant ones work well too.  These are just the ones that happen to be in our cupboard.  I'm sure your local drug store has them cheaper and in smaller quantities than the 30 pack for $3.
Now there are other solutions as folks have suggested – including some various forms of lubricants, Body Glide, or even just washing the strap to get rid of the salts.  I've tried the Body Glide (which helps some), and washing (sorta helps).
But perhaps others have suggestions as well – feel free to drop them below, I'd love to hear them!
And of course, as a general public service announcement, if you've got heart rate strap spiking/dropping issues – check out these three past posts (especially the comments in the third one):
– Troubleshooting your HR strap issues Part I
– Troubleshooting your HR strap issues Part II
– An interim solution using the Polar strap with the Garmin transmitter
Thanks for reading all!