NOTE – Sept 27, 2012: My Full In-Depth Review is now available for the Polar RC3. You can view that here.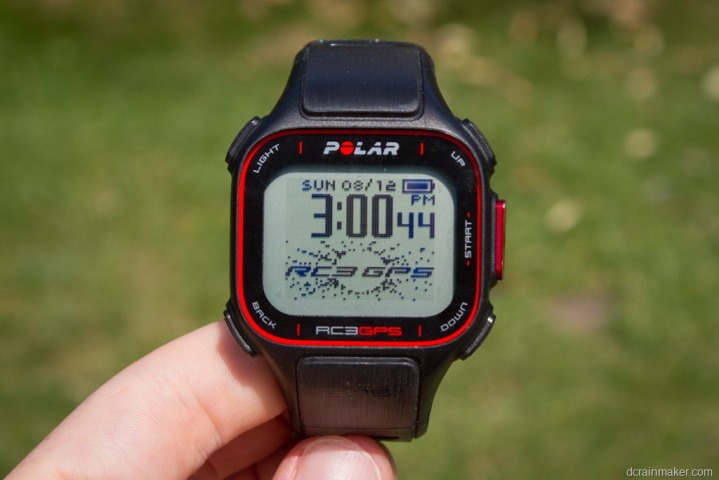 Today Polar announced their new RC3 integrated GPS watch – the first fully integrated GPS watch coming from Polar.  This unit primarily targets runners with a bit of cycling, though it can also be used in some multi-sport scenarios.
And for clarification, here's a quick refresher on similar sounding watches from Polar:
Polar RC3 = This watch, simplified running watch with integrated GPS
Polar RCX3 = Simplified running watch (not GPS integrated, but supports G5 GPS pod)
Polar RCX5 = Triathlon focused/advanced watch (not GPS integrated, but supports G5 GPS pod)
I've been testing the watch for a few weeks now, and thus far have been fairly happy with it.  The unit is in the same size range as most of the smaller GPS units from Garmin, and doesn't stand out at all on my wrist – it's pretty slim.  I've used it on and off as a day-watch (though, I've had to be somewhat careful of using it too much day to day prior to release, since it was under NDA).
Note that while in day watch mode you can either display the fancy Polar RC3 logo (like above), or choose to hide it – like below:
From a functionality standpoint the unit is very similar to the Polar RCX3 (note the difference of the 'x').  Those familiar with the RCX3 and RCX5 will find the menu system virtually identical (though data field pages differ, as well as features).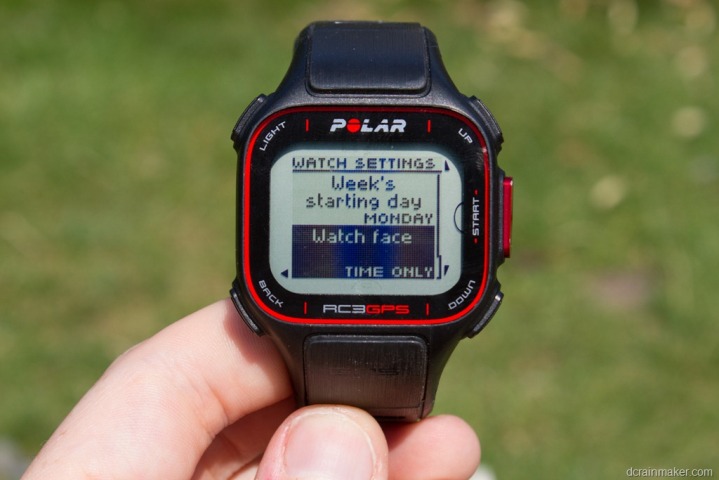 The RC3 supports existing Polar W.I.N.D. sensors, but does not contain any Bluetooth Low Energy hardware inside of it.  This is one of the few nits I have with the watch at this time, as I feel that it would have future proofed the unit rather well.  However, if you already have Polar WIND accessories, then you're in good shape (note the Bluetooth Smart H7 is not compatible, since it's not WIND-compatible).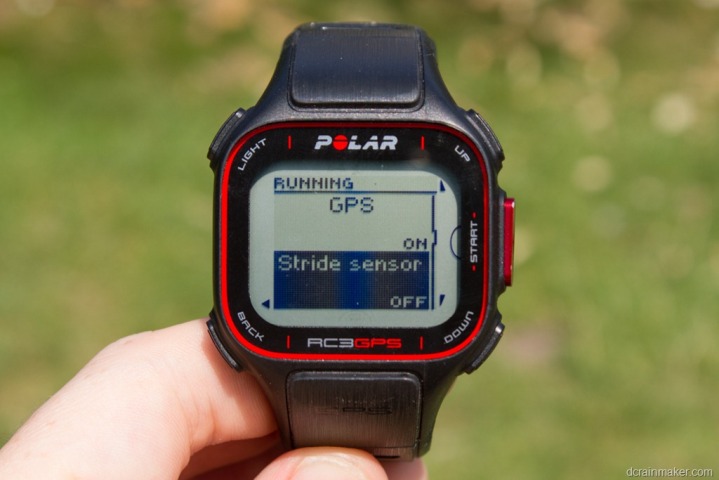 For all of my recent runs, I've been wearing both the new RC3 as well as another watch.  Sometimes that's been a Garmin, sometimes a Suunto Ambit, sometimes the Garmin Fenix, Magellan Switch.  Just sorta mixing it up.  In virtually all cases, the units have tracked super-close from a GPS distance and pace standpoint.  I've really been impressed with that.  Here's the mid-way through one run's numbers (4.42mi vs 4.40mi):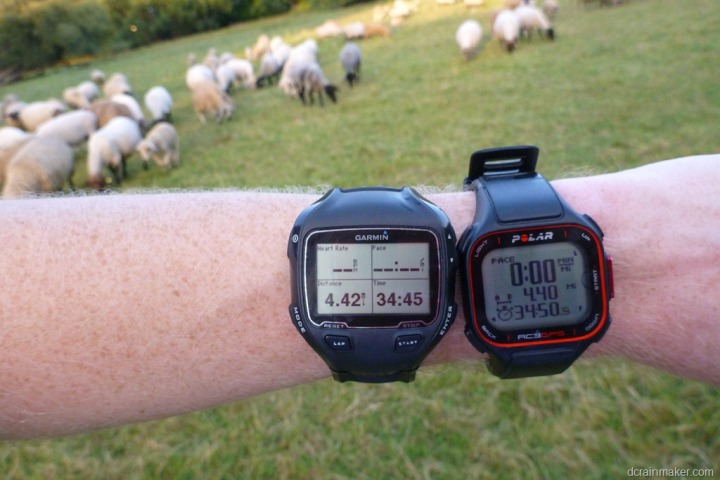 And here's the final numbers on one run from last week (8.29mi vs 8.28mi):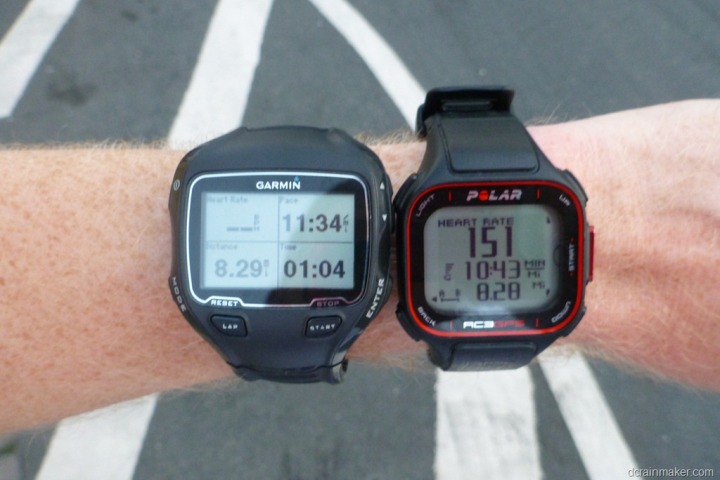 Additionally, they've got instant-pace nailed, with it very consistent but with another unit, as well as by itself (note 7:37/mile vs 7:36/mile).  Of course, you'll see fluctuations between the two watches +/- 10-15s/mile, but they're overall in the same ballpark – and certainly usable as far as instant pace goes (again, in the beta version – as we've seen with Garmin units, things can change from firmware to firmware version):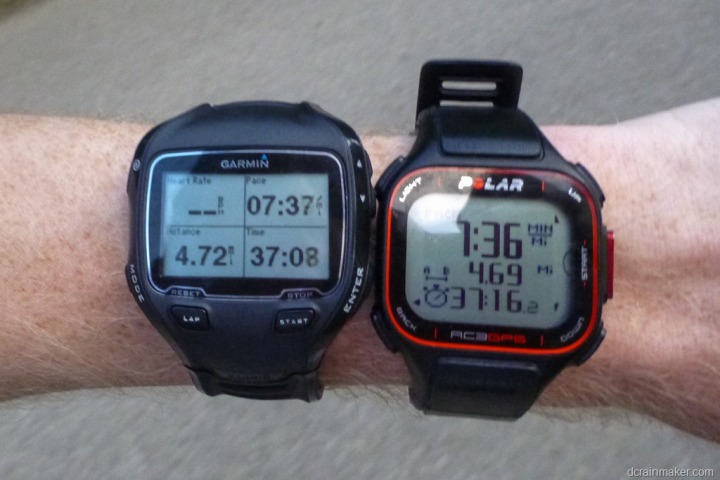 For example, here's a short video during my Nuremberg, Germany run last week – showing the instant-pace screen on the RC3 as I ran along the path.
Now I set it to use image stabilization after the fact – which makes the video a bit artifact filled. But the key thing you're looking for here is the middle line – note the lack of significant change in this.  This video is all about the technical stuff, not so much about the video quality.
Polar RC3 GPS Instant Pace while running
(As a random side note, I have no idea why I decided to try and hold my breath while taping the above – which means you can steadily watch my heart rate climb.  Perhaps I thought it'd make for a steadier video.)
Now the only downside to Polar re-using the existing menu system found within the RCX3 is that you have a lack of data field customization found in most other watches on the market today.  Meaning, today if I grab a Motoactv, Timex or just about any other watch, I can pick and choose the data fields I'd like.  Whereas with the RC3, I can change training view rows, but can't truly customize those data fields.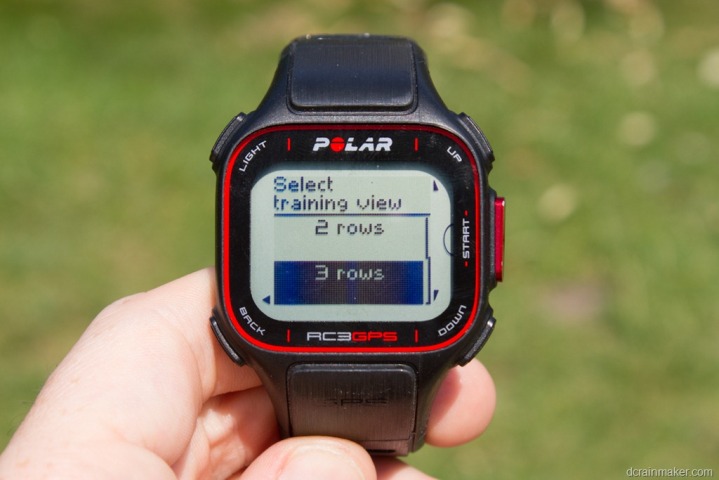 So the data fields I see are limited to the display order and configuration that Polar has selected across the seven pages of data fields: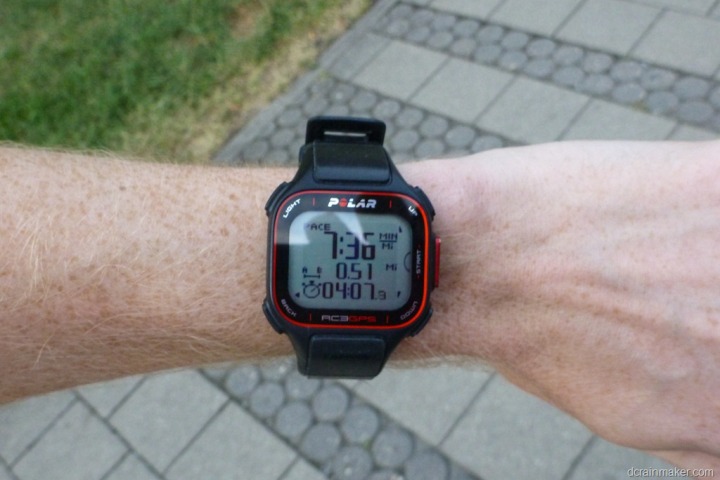 The unit does support auto-lap capabilities, which by default are set to 1KM, but you can change it to any value you'd like in either kilometers or miles.  It's located in roughly the same place you'd configure the speed view to be either minutes/mile or mph (or, the equivalent in metric).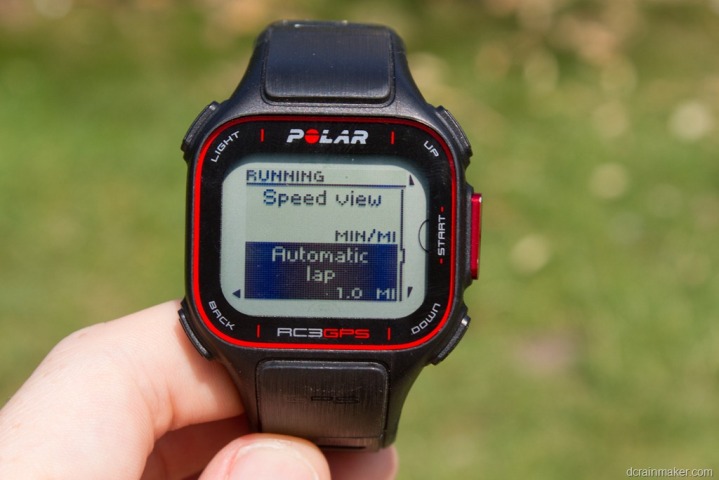 As noted above, the unit will connect to both Polar WIND footpods and WIND cycling accessories (speed & cadence), as well as WIND heart rate straps.  If you connect it to the cycling accessories, you can go ahead and kick it into the cycling sport mode and view the information as speed (either metric or statue) instead.
(With my primary bike in brokesville, I haven't had a chance to test out the cycling side yet – but it just got all fixed on Friday, so ready to start playing with that here Monday)
With the inclusion of the GPS comes the ability to provide geographic awareness of where you are, and where you were.  Specifically, the back to start feature.  While Garmin and other units have had similar functionality for years – I found the Polar RC3 implementation much cleaner and easier to use.  In fact, I used it last week as I wandered my way back through the city to my hotel.  Super-easy to see with the gigantic arrow and distance: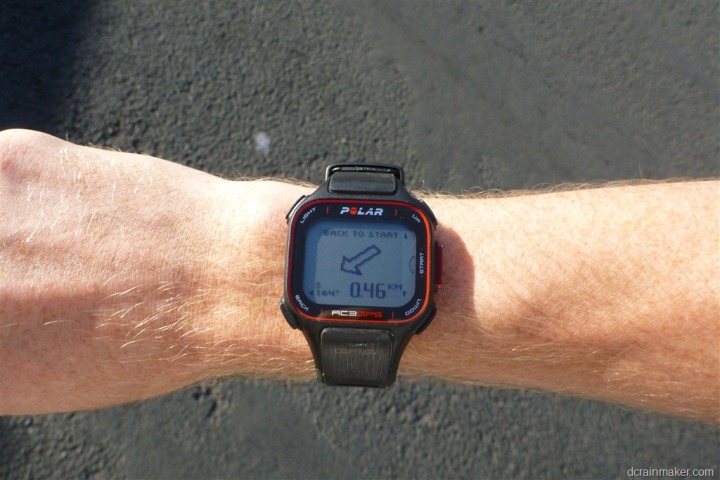 Note that the unit is waterproofed, however only to IPX7 standards – which is the not-so-great standard that many of the running-specific watches that Garmin has are also waterproofed to.  IPX7 defines waterproofing as up to 1 meter deep (3 ft.) for up to 30 minutes.  This means that while you can take a shower with it, run in the rain, and even spend some time floating in the pool – you shouldn't swim laps with it since the unit it'd designed to handle the constant whacking on the water (like all of the Garmin non-triathlon Forerunners).  Polar has confirmed with me that will not be recommending folks swim with the watch.  Running in the run/etc will be fine, but they won't recommending lap swimming.  For the life of me, I can't understand why  companies don't spend the extra few cents to waterproof these high end watches properly, especially given a cheap $15 watch from Walmart is properly waterproofed.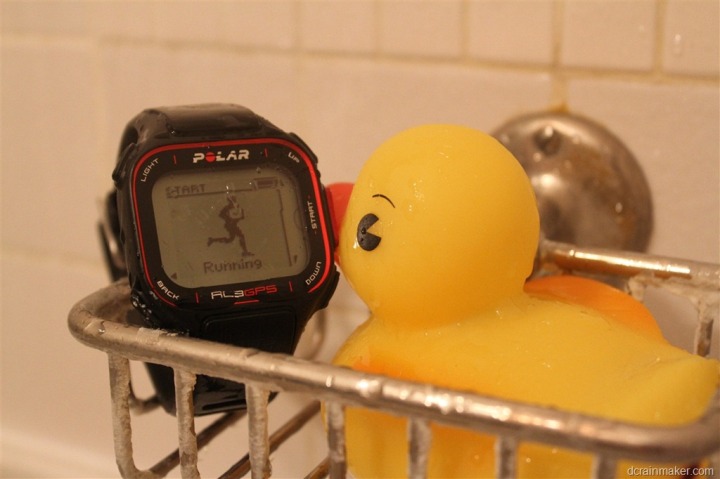 Looking at the battery life, the unit is noted to have 13 hours of active use between charges, or weeks of inactive use.  In my testing I haven't had any unexpected battery issues yet, and I've only had to re-charge it once thus far.  Charging and downloading of workouts is done via the standard micro-USB cable – the same one you likely use to charge your non-Apple phone with: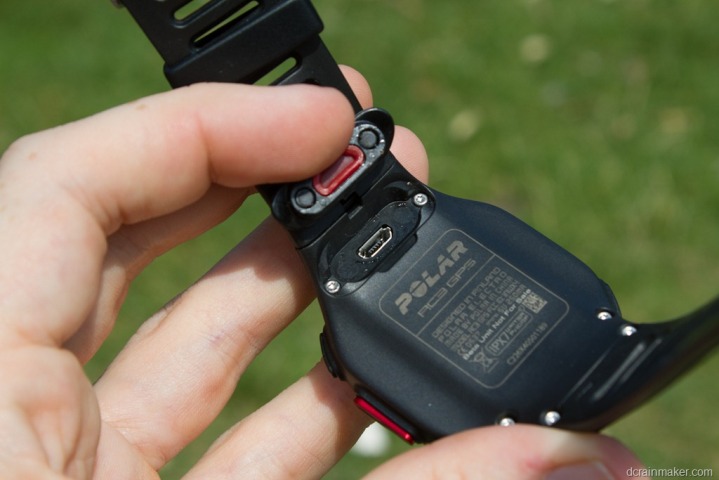 Speaking of downloading, the watch supports downloading of workouts.  However, as of this writing, I don't quite have the final software build to be able to do so.  I should have it sometime later this week.  Once implemented, it'll allow you to upload to Polar's online training log – PolarPersonalTrainer.com, as well as export the data out in standard Polar formats to one of the numerous 3rd party programs (or Polar's own ProTrainer desktop program).
I've never been a huge fan of PolarPresonalTrainer.com, as I've felt the user interface is fairly dated.  That said, I'm told a UI (user interface) change is coming next Monday (Aug 20th), with an additional update coming in early September tied to utilizing Google Maps GPS altitude service to provide altitude/elevation info for all GPS-enabled units (i.e. RC3, RCX3/RCX5+G5 GPS pod, etc…).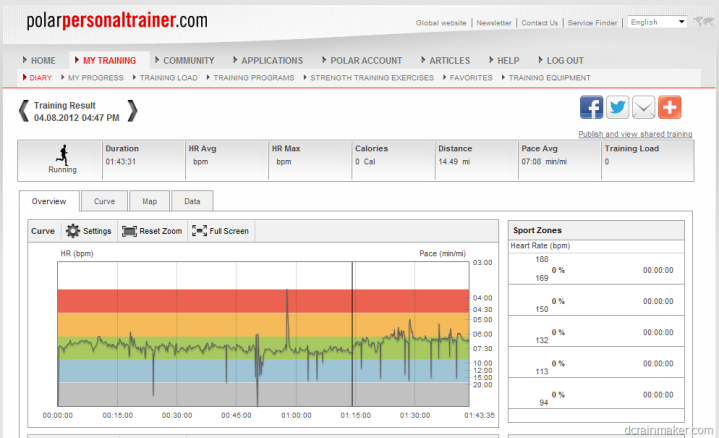 I'm certainly looking forward to seeing how the data looks once uploaded, as I've got lots of activities on there!  Though, I suspect it'll pretty much look identical to the RCX3 and RCX5 data (when I had the G5 GPS pod paired).  Of course, looking at the UI update – hopefully that'll bring some change as well.
In the meantime, the unit does support on-watch history viewing, making it pretty straight forward to retrieve my older runs:
Last but not least – here's a look at the size comparisons to other watches in the running market today.  I selected watches that most closely compete with the RC3, which were primarily running-focused watches that could also dabble in cycling.
From left to right: Garmin FR210, Garmin FR610, Polar RC3 (this watch), Polar RCX5, Timex Run Trainer.
In summary, I'm fairly happy with this watch.  I think for a first go Polar has come fairly close to delivering what folks have been requesting from them for years (integrated GPS), and did it in a way that's relatively competitive with other watches in the market (priced at $299, $349 with HR strap).  There's still room for improvement in some areas (noted below), but it's definitely a good first shot.
First look pros and cons:

Pros:
– Fully integrated GPS watch, no separate POD
– 13 hour battery life exceeds most units in this device/price class/market (usually 8-10hrs)
– Very slim watch, completely usable as day to day watch
– Very solid GPS accuracy, on par with other units I've tested
– No instant-pace issues (clean even pace display)
– Back to start functionality is clean and straight forward

Cons:
– Neither ANT+, nor Bluetooth/Bluetooth Low Energy compatible (no hardware inside for either)
– Limited configuration of data pages, I want more flexibility
– Waterproofing is poor (really poor)
– Online training site needs major overhaul
I'll be publishing a full review on/about September 3rd, which is the date Polar expects the watch to be released to the general public (and I'll have all the final software versions as well, as the unit currently has a beta version on it).  Of course, as always – feel free to drop any questions below in the comments and I'll do my best to answer them, or get the answers from those who can.
As always – thanks for reading!