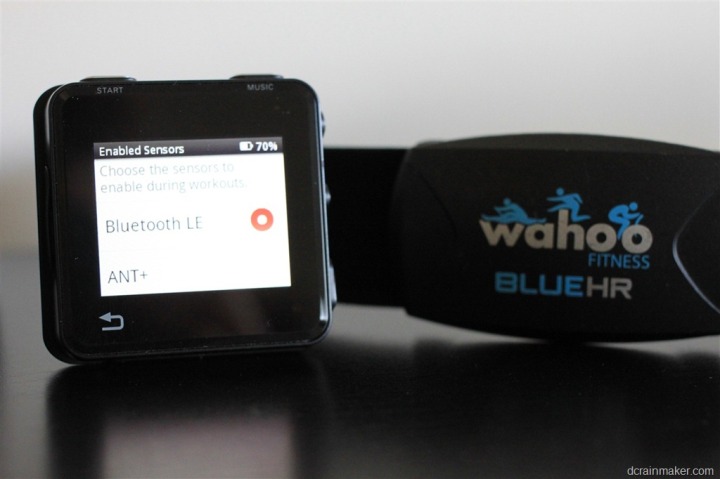 Over the weekend a question was in the Polar/Look Power meter review post on the state of Bluetooth Low Energy/Smart and some of Polar's long term plans for the space.  It seemed like this might be a good time to recap where we stand on the technology and its use in sports.
The brother of another mother: Bluetooth Low What?
But first – let's explain what this is and why you care.  Bluetooth Low Energy (BTLE/BLE) is not regular old Bluetooth that you've been walking around the grocery store jabbering on your headset for all these years.  Nope, it's different.  As the name implies – it's low energy (actually, the name has changed a bunch as you can see, but it's all the same thing – officially it's now called Bluetooth Smart).  Anyways, it means that instead of your Bluetooth device requiring recharging almost every day like your typical Jawbone earpiece might, these new sensor devices can go a year or more.  Note that most of the time BTLE refers to sensors, versus heavy-battery requirement devices.
In many ways, the sensor side of the technology is very similar to ANT+, which most of you are already familiar with, by way of Garmin heart rate straps and all the competitor companies that also use the technology.  Both last about the same timeframe on typical coin cell batteries, and both aren't compatible with full-on regular Bluetooth.
Speaking of which, how does BTLE differentiate itself from regular Bluetooth of the years past?  Well, in order for any Bluetooth device to talk to a BTLE device, it has to be Bluetooth 4.0.  BT4.0 is relatively new, with the first major phone supporting it only coming out last fall (iPhone 4s).  Since then it hsd become more commonplace on mobile phones, and virtually everyone expects it to be the defacto Bluetooth standard pretty quickly.
But that's still an important sticking point.  Those iPhone 4 or 3GS folks (or anything else) can't use it.  Meaning that if you have an older phone and go out and buy a fancy BTLE accessory, it's as good as a not-so-heavy paperweight.
Sports? I thought Bluetooth was for talking in the grocery store?
Up until this point, sports devices that needed to communicate digitally and have long battery were largely using ANT+ (except Polar devices, which used their own protocol – WIND).  In doing so virtually the entire industry (again, except Polar) standardized on ANT+ devices.  Today, you can take that older Garmin FR305 with the heart rate strap you got 3+ years ago, and use it with a new Timex Run Trainer you picked up this weekend, and then use it with the CycleOps Joule GPS you'd grab later in the fall.  Despite ANT+ (Dynastream) being a wholly Garmin owned subsidiary, it operates somewhat separately (in an entirely separate country in fact, up in the mountains of Alberta, Canada).  With that separation, the rest of the industry has largely gotten onboard ANT+ (300+ companies), which is why you see devices that are absolute competitors of Garmin, still using the Garmin owned technology (ANT+).
But the challenge with ANT+ has been mobile phone penetration.  Today, only a handful of handsets have ANT+ chips built-in.  These would be phones like the waterproof Sony Xperia Active that I reviewed last year, as well as the HTC Rhyme.  But beyond these, we don't see significant mainstream pickup of ANT+ in phones – making it difficult for most consumers to see the benefit of ANT+ on their mobile phones (it's like a Lotto ticket, you can't win if you don't play).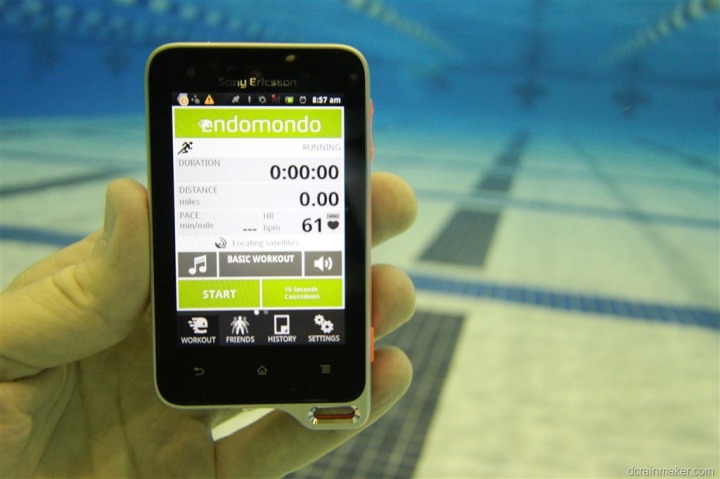 In order to solve that, we saw companies like Wahoo Fitness come out with their Wahoo Fitness iPhone adapter, which virtually the entire ANT+ industry uses now to develop apps for the iPhone/iPod/iPad platform, enabling you to access any ANT+ data stream on your phone (heart rate, speed, cadence, power, etc…).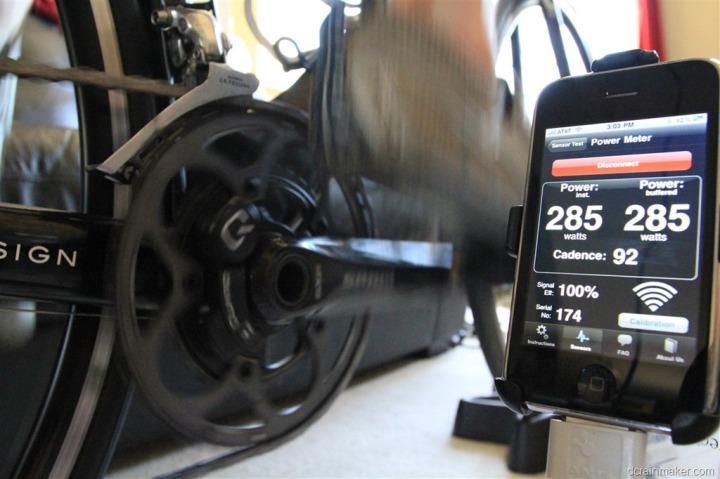 The challenge with this of course is having some doohicky sticking out the bottom of your phone.  Hence the larger industry push for integrated chipsets into the phone.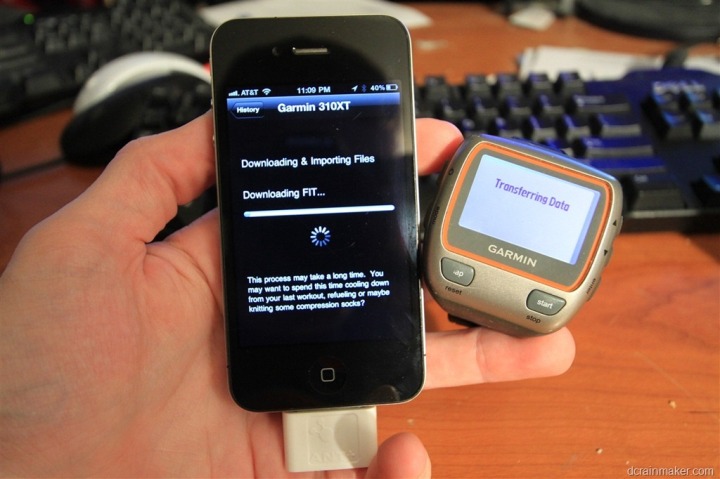 (P.S. – Yup, you can transfer your workouts off of most Garmin Forerunner devices, via the Wahoo Fitness Adapter)
Which, brings us back to BTLE.  With BTLE having their older sibling of regular Bluetooth already in virtually every phone on the planet – it's an easy jump to have companies simply upgrade to the next hardware version of Bluetooth in their newer devices, which now support the low-energy sensors that compete directly with ANT+.
At this point, one can see how and why sports companies would be interested in using BTLE over ANT+, since it means their market potential is anyone with a phone.  Versus before being anyone with a compatible running/cycling/sports device.
Playing nice in the sandbox…or not.
Now normally, you might think the story would end at the above, with new BTLE devices and your phones going off to do the romance dance.  But in reality, it's been far from a first good year in BTLE land as far as sports go.  Let's do a bit of a recap.
October 4th, 2011: iPhone 4s announced with BTLE support
October 18th, 2011: Motorola announced Motoactv with BTLE and ANT+ support
December 2011: Wahoo Fitness announces first BTLE heart rate strap: Blue HR
At this point, we'll take a brief break.  By December, I had all three Bluetooth Smart devices.  So naturally, I tried to get them to work together.  The Wahoo strap and the iPhone with apps specifically designed to work with the Blue HR strap worked great.  But the Motoactv and the Blue HR?  Not so much initially.  Didn't really work at all.
In fact, this is where things get really messy.  See, in the ANT+ world, there's a concept called a 'device profile', which basically states how devices interact with each other.  There's a 'heart rate' device profile, which dictates exactly how a heart rate strap should always work…always.  There's a 'power meter' device profile, a 'speed sensor' profile, a 'speed-cadence combo sensor' profile, and on and on – nearly 30 or so of these things ratified by ANT+ member companies.  All of them with specific instructions on how devices communicate.
But with Bluetooth Low Energy, it's a bit more of the wild wild west.  Now, that can be both a good thing and a bad thing.  It's good in that it allows anyone to do just about anything with it.  You can make a 'bread machine' profile if you wanted.  The trick is – how does anyone else know how to speak 'bread machine'?  And that's where things got ugly.
Initially, there were some standards defined in the world of BTLE with the heart rate devices (similar to device profiles) – but as it became clear shortly after playing with all the devices, not all companies implemented them the same way.  Thus, the timeline continues:
January 2012: Motoactv releases update to fix Blue HR incompatibilities
January 2012: Polar announced H7 Bluetooth Smart HR strap
Late Spring 2012: Polar H7 strap makes it to market, works with Motoactv
Later Spring 2012: Motoactv releases update that breaks Polar H7 strap functionality, but still allows Wahoo strap to work
May/June 2012: Wahoo Fitness releases Blue SC (BTLE Speed/Cadence sensor), currently not supported on Motoactv, only iPhone apps
Now you see the next challenge.  Wahoo Fitness innovated (innovation is good) and announced a new product (above, Blue SC), one that simply replaces the existing ANT+ speed/cadence sensor with that of a Bluetooth Smart one.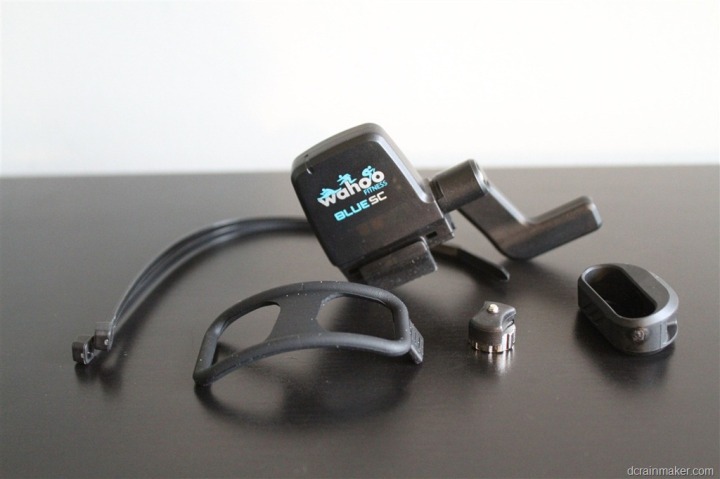 This works great with those apps on the phone platform that specifically are updated to support it (not all apps by default).  On the flip side, it doesn't work with the Motoactv, because the Motoactv doesn't know what to do with it.  As far as the Motoactv knows, it's a bread machine.
This is a solo (cup) conversation
One interesting scenario that is not yet possible with BTLE is the ability to pair a single Bluetooth Smart sensor with multiple devices.  Today for example, if you had an ANT+ heart rate strap you could pair it to your Garmin running watch, and your Timex cycling device at the same time.  This means that both those devices would get real-time heart rate info from the heart rate strap.  This is also how the Polar straps work as well.
However, with Bluetooth Smart, it's a one-to-one relationship.  This means that in order for your cycling computer to see your heart rate (or cadence or anything else) you're going to have to disconnect your running watch from it.  Now why does this matter?
Well, for a surprising number of folks, they use two devices – especially in triathlon.  I get tons of requests for people that have a cycling-specific computer on their bike, and then a running-specific watch on their wrist for the run.  With the current scenario, transition areas become difficult technological challenges as you'd have to actually disconnect/reset pairings in the middle of a race.  As opposed to ANT+ which simply picks up the sensors automatically and concurrently.
This is also of use for group training scenarios, team cars (think TdF) and other athlete-coach use cases where the athlete and another individual/service/platform/device is tracking them concurrently.
Of course, this likely only affects a small portion of the population – but it is an issue.  In fact, it's one that I've seen while trying to test Bluetooth Smart devices.  One connected device effectively locks out my ability concurrently test multiple devices at once – a very common scenario.  Again, it's hard to say what percentage of the market this matters to – likely very small, but for that small portion, it's a big deal.
What to do with all these bread machines
So with all of these independent non-talking sensors that think each other is something other than a sport sensor (aka a bread machine), how does BTLE move forward?  This is the heart of the challenge.  Many folks in the great wireless/Bluetooth/cell industry like to say that BTLE will replace everything immediately.  But the reality is – that's going to take a long long time.  We've seen nearly a year now of innovation, with some good advanced.  But for every single new BTLE sensor, it tends to either not work on 'Day 1', or requires more customization to be written for apps.  Developers in general, hate customization.  It takes time, resources, more testing, and more money.
As we look at all the new devices announcing Bluetooth 4.0 in them, one has to ask themselves – what devices will they support?  For example, the massively popular Kickstarter backed Pebble has BT4.0, so does Alpha, and even the recently announced Strata.  But how will these work with not just existing BTLE devices, but those yet to be made?  When/if Garmin announced a BTLE strap – will it work with all of the Blueooth Smart compatible devices on the market?  Or just half of them?  In other words, are each and every one of these going to be the Motoactv compatibility issues all over?
Now the Bluetooth SIG (Special Interest Group – the powers that be over the Bluetooth protocol) is working to try and iron these out and standardize device profiles.  But that is going to take time.  the fact that we're seeing updates to devices as recently as just last month still breaking the most basic profile (the heart rate strap) shows the road is not going to be smooth.
That's one of the primary reasons I believe that the best thing for everyone (consumers especially) is to do exactly what Motorola did with the Motoactv: Support both BTLE and ANT+.  Yup, that device includes the chipset to do both, allowing the consumer to device what makes sense for them.  Sure, there's some limitations in the implementation they have (it's either/or, not both concurrently turned on) – but it's the right direction.  This allows you to straddle the fence and be protocol-agnostic.
We see the same thing with the new Garmin Fenix unit – it too supports Bluetooth Smart as well as ANT+ devices (though, we don't yet know how Garmin will leverage that Bluetooth Smart support, beyond the stated phone communications).  You can see it right on the back of the label: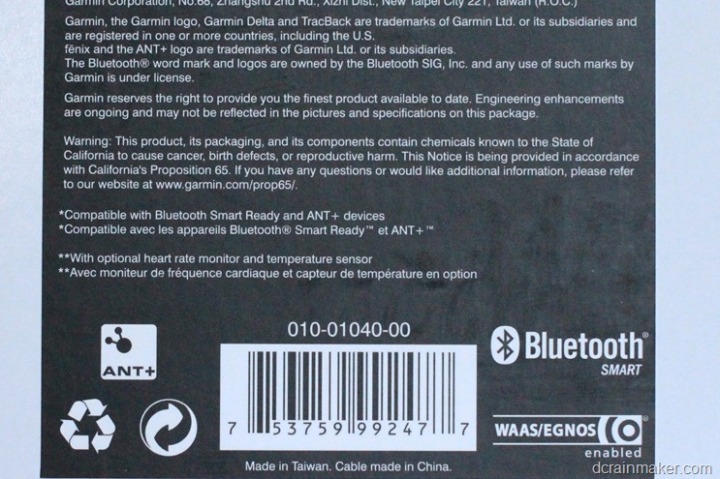 Yup, a big surprise to many in the industry that they would include BT4.0 on a fitness device – but it's also the right way forward.  Sports devices have a long lifecycle.  If you go out and plunk down $1,000-$2,000 for a cycling power meter, you certainly don't want it to be junked a year later.  All of these power meters today run on ANT+ (except the Polar/Look Keo, which runs on WIND, until eventually it'll get updated to BTLE in the short/medium term), and you want these devices to continue to work for years – even if you update a newer head unit.
So there ya have it – a primer to the Bluetooth Low Energy world and how it impacts sports technology.  Now, only if I could figure out which darned box I put my Polar H7 BTLE strap into last week…I got new products to test!