I got back to Paris late last week from my trip to Seattle, and found myself amidst even more boxes – despite the fact that the movers had finished arriving weeks ago.  Now granted, one of the boxes I had taken with me from Seattle – my new sub-$800 bike (remember this series?)!
But yet, I don't want to get ahead of myself on the bike front, so we'll save those unpacking details for later in the week.  Oh, and that other box?  Well, that's this bit of flying brilliance.  Yes, pure awesome.
Anyway, upon arriving home, I found quite a queue of boxes.  First, we had the Tacx Genius VR trainer from…well…Tacx.  This is similar to the Tacx Bushido trainer I reviewed last winter, but with more 'virtual reality' capabilities.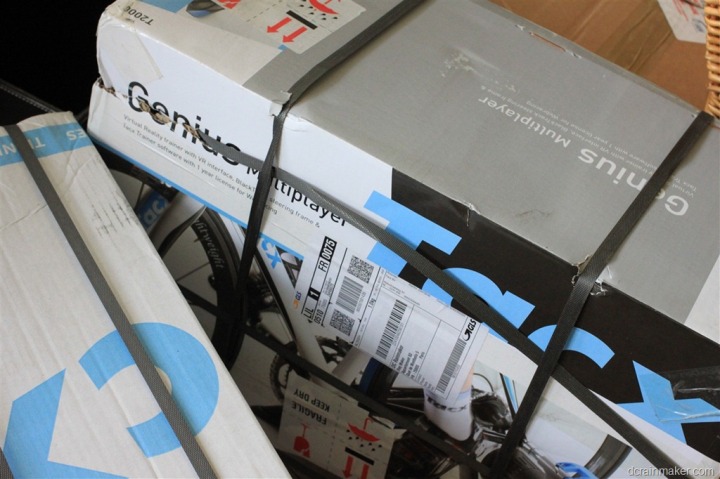 At the present, this trainer is in behind another trainer for reviews (the LeMond Revolution), which I aim to have done ahead of Eurobike.  My overall goal here is to get all the trainer reviews done by mid/late-September, so I can give you one bike comparison chart going into the winter cycling season. Plus I also have a few others, like the Kurt Kinetic Road Machine that I bought last winter, which I'll review in conjunction with TrainerRoad and their VirtualPower function (since they recommend that trainer specifically).
Next on the big bulky item list is the MyTriRack.  This is ideally designed for a small group (or a team) to be able to practice transition items.  You may remember when I made my own transition rack a while back.  This solution appears to be far more elegant, and probably a bit more stable than my rickety solution (which, I left behind in DC).  Now I haven't unpacked this quite yet since I want to do it in conjunction with actually setting it up somewhere.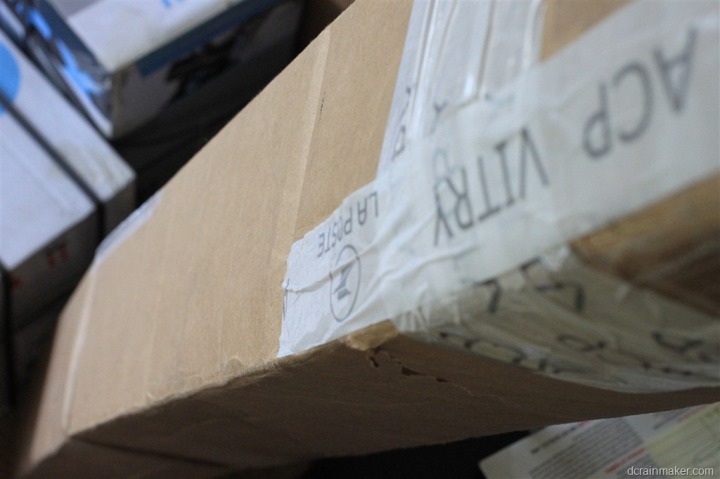 Ok, enough of the big bulky items (bikes/trainers/racks) – let's move onto something smaller.  Like, a heart rate strap that's also a power meter.  The CycleOps PowerCal.  This was announced over a year ago last June, and then I got a beta unit in September.  Well, the final version of these came out, and the folks at Clever Training sent me out a final unit to play with.
The PowerCal is an ANT+ heart rate strap that also generates an ANT+ power meter estimation, based on your heart rate data.  Previously in the beta, you calibrated the strap with what was essentially an FTP test (functional threshold power test).  The new version though requires no calibration – it just…works.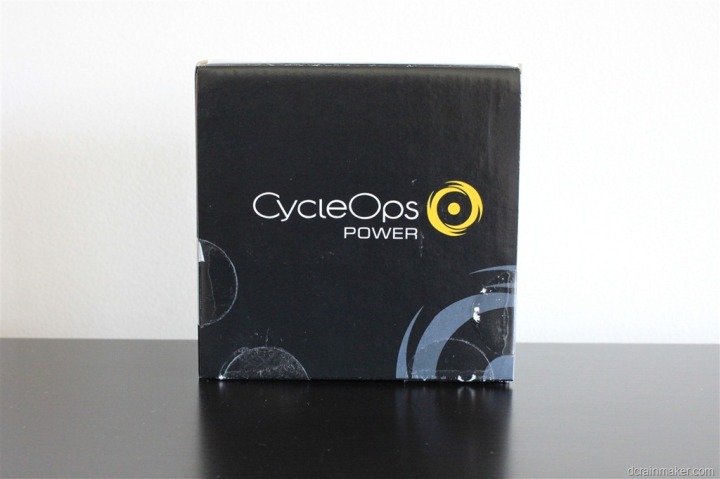 Previously in my testing, I found it surprisingly accurate in average, less so in instant peak/maxes on sprints.  But overall, pretty darn close.  For a product that's $99, it does a fairly impressive job for someone not willing/wanting/planning to invest in 8-20 times as much for a direct force power meter.  Now, there's certainly a segment of the power meter population that really doesn't like this product – despite one example after another to the Wattage forum of folks being generally surprised with how accurate at averages it tends to be (again, high max power peaks, not as quick to pick up).  In my opinion, this continues to be a great product for folks looking more for 'over the course of a ride' power averages.  Not great for measuring something like 30×30's, but fine for saying "I went out for a 2hr ride, and averaged 183w, and last week I averaged 160w."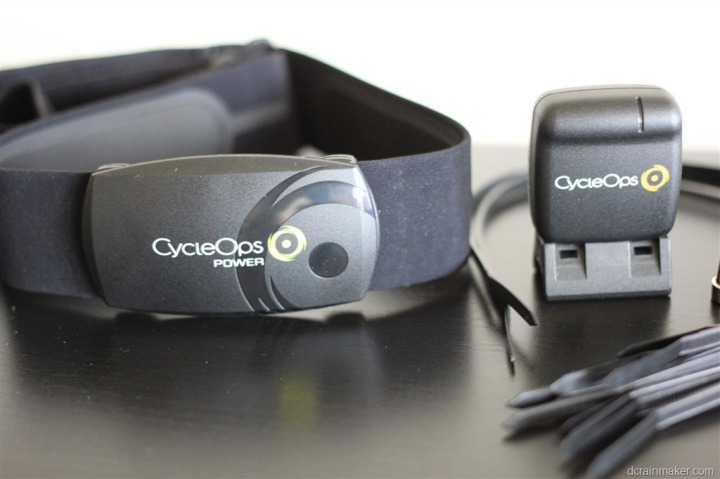 At any rate, I'll be testing out this final product going forward, and doing a whole bunch of direct data gathering and comparisons.  I'm really jazzed that with an Android developer putting together a quick multi-power-meter Android app for me, I'll be able to easily collect data cross tons of devices.  Sweet!
Next up, is my poke at the non-child version of the non-branded Chinese GPS tracking watch: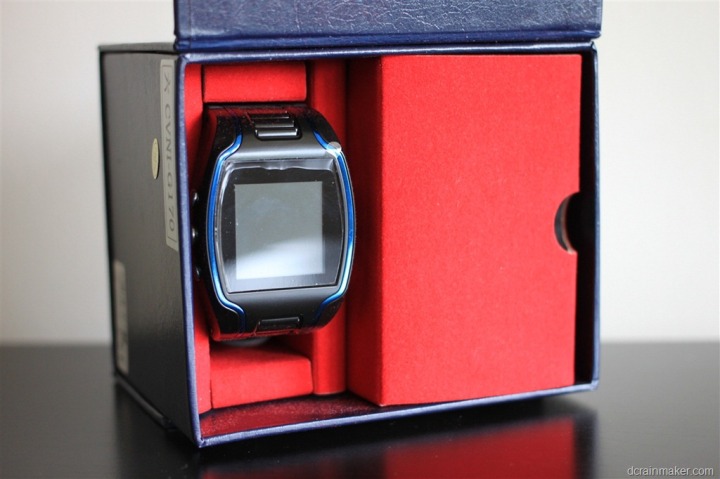 I got the children's version a few weeks back, but the adult version came in.  The children's version used GPS-A (basically cell phone triangulation), whereas this uses a legit GPS receiver.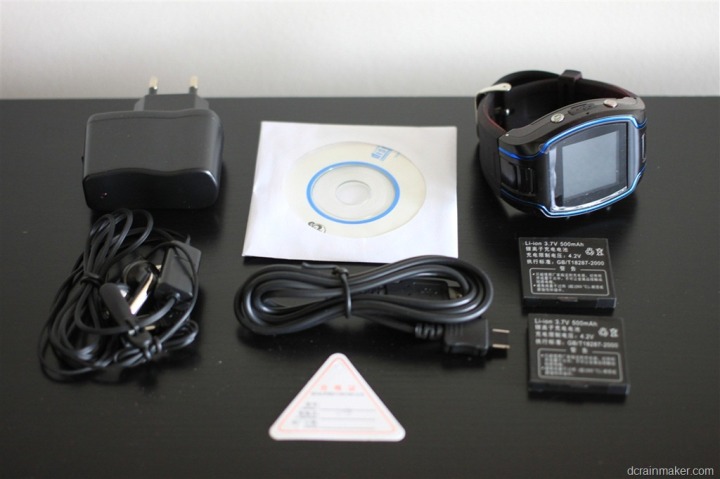 I've been playing with it but so far I haven't quite figured out how to get it to do much besides charge (which, looks kinda cute with a bicycle pump).  I've swapped the SIM card out, and it looks at me, and I look at it…and nothing magical happens.
Though, to be fair, I haven't cracked open the manual yet.  Look, it's a guy thing.
What is clear however is this unit probably takes the cake as the only watch to have worse waterproofing than the Motoactv.  It definitely wouldn't hold up in the pool, let alone a heavy rain.  But, perhaps I'll be proven wrong.
Ok, with the gadgets aside – the rest of the weekend was spent watching the Olympics.  In French of course.  So I have no idea what things meant – but, we got the general spirit of it. (P.S: Question for my France friends – what is my best option for watching the Olympics with the Freebox I have, just channel 2/3/4?)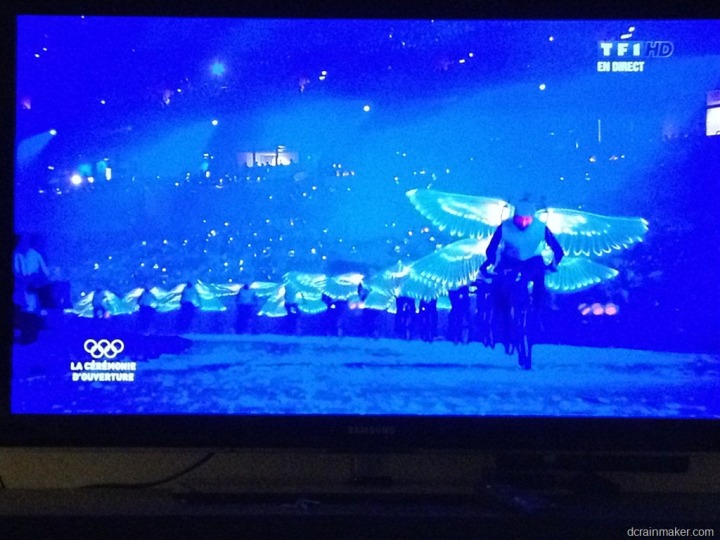 And finally, we took a short wander/walk around the Paris beaches.  They set these up from July 20th to Aug 19th, and they go quite a ways.  You can see the roadway that's normally underneath them.  I'll dive into this whole thing on the Paris Blog someday.  Though, that day will actually require it to get warm out.  Since, as you can see below, people aren't exactly in bikinis and speedos.  Rather, in jeans.  It's cold.  Really cold.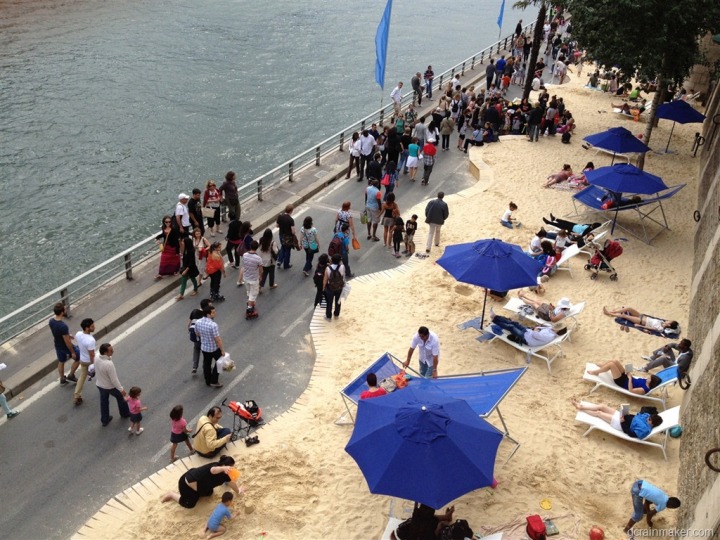 With that, hope everyone had a great weekend and has a great week ahead!  Thanks for reading!