Amidst the craziness of gutting out and fixing up our house, Ray and I both transited across the Atlantic twice to play what we self titled "House Hunters International". Granted we weren't actually on the hit reality show, but we sure felt like it.
The way it worked for us was that we had a local realtor that used some preferences we established and then went about lining up all the houses.  Here in Paris, there really isn't anything like the MLS system like in the US, where you can quickly and easily browse available apartments.  Instead, the realtors have to know and reach out to others, finding houses available for rent.  It's a very time consuming process.
Once that's done, then an 'appointment' is scheduled with each and every house.  At each house we usually had our realtor, their realtor, and sometimes even the owners.  At times, it was a bit much with everyone looking at you.  We visited over 15 houses in a day and a half and were left to make an on the spot decision.
So which apartment did we pick?  Well, we saved you from having to sift through all 15 places, and instead gave you our top three.  Though, in reality we would have likely had been happy with almost any of the 15 she found us.  She did an amazing job.
Here in no particular order are our favorites:
House # 1 – Eiffel Tower Home:
This was a beautiful French home located just off of the lawns of the Eiffel Tower. Complete with classic crown molding, four fire places, a large newly renovated kitchen space, 2 bedrooms, you name it this house had it! Even offers a stunning view of the Eiffel tower when exiting the building.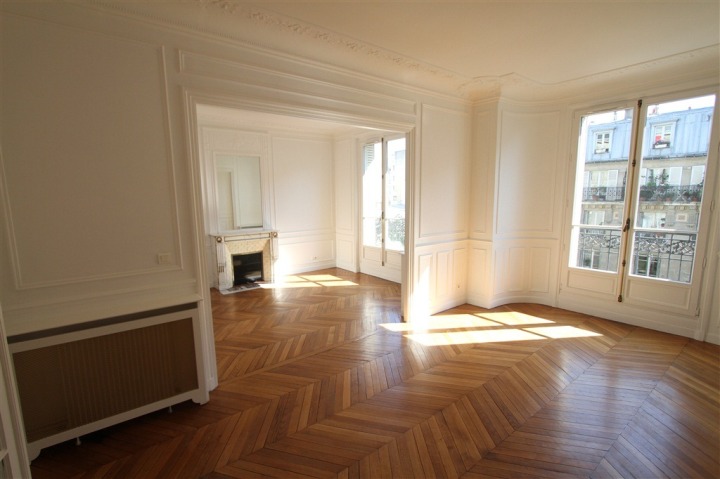 Living and Dining Rooms, seen as you enter the apartment.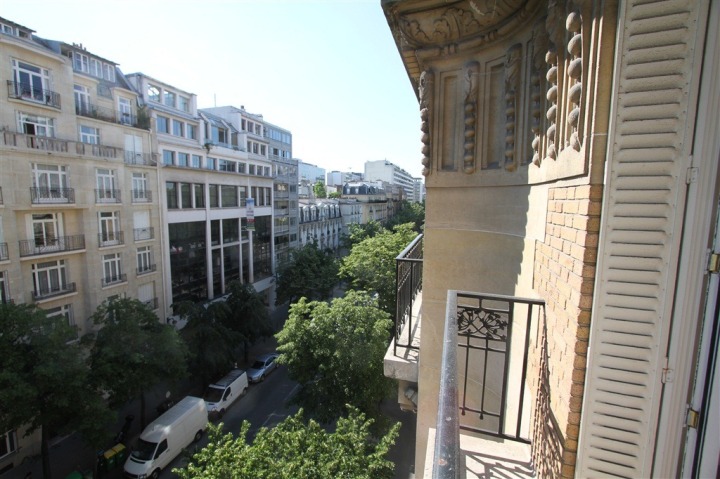 View from the living room window (it's funny, we found that numerous houses had tiny little decks, just enough to stand on, but a few inches too short for a small table).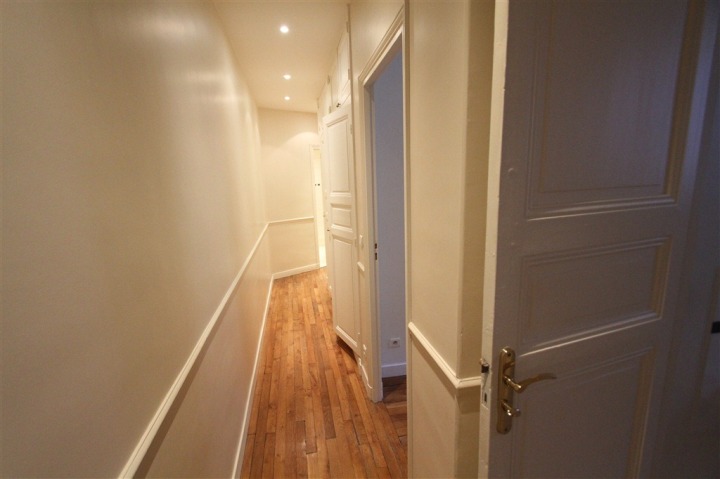 Hallway full of storage closets (and storage is super important as we're finding out!)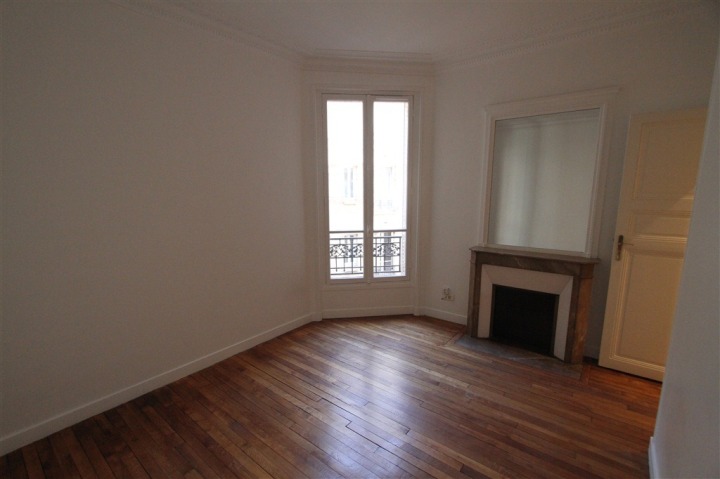 Master Bedroom, complete with fireplace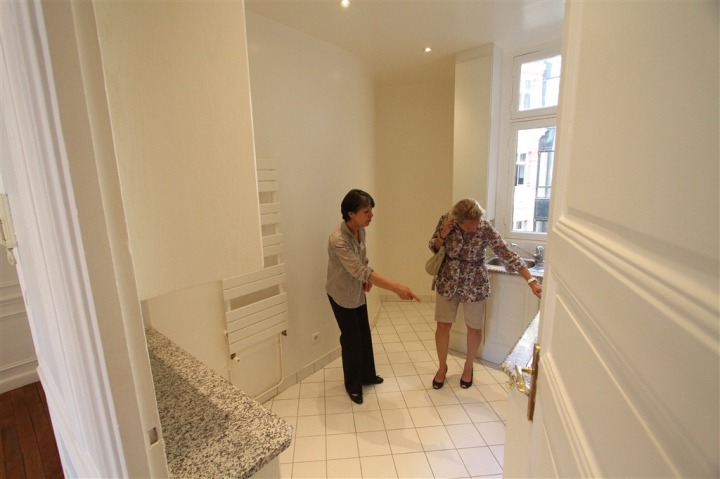 Newly renovated kitchen space (unfurnished)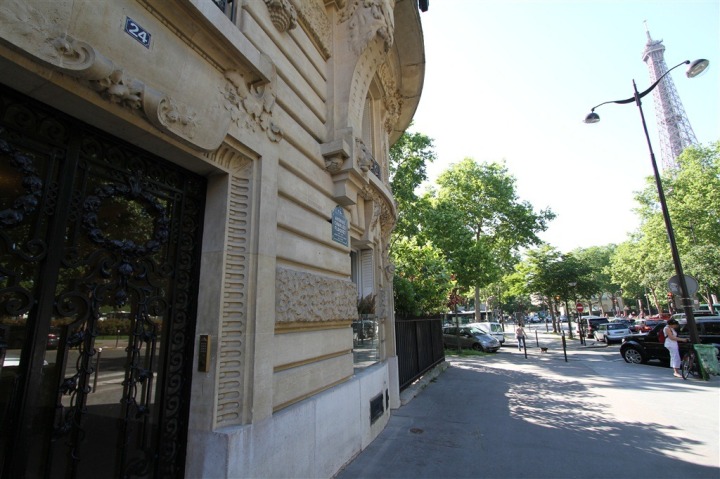 The view from the front door (note the Eiffel tower to the right!).
Pros: Some of the biggest positives to this apartment was the size, storage space (read: places for Ray to store all of his bike trainers), hardwood floors, two bedrooms, location, and proximity to immediate running trails.
Cons: There was really only one negative to consider for this apartment, and that was the bathroom situation. This apartment only afforded one "toilet room" and one "bathing room", and by the number of guests who have already signed up to come visit us, this will definitely be an inconvenience.
House # 2 – Notre Dame Home:
This apartment surprised us with a two story layout and a view. First floor had a large living room space with beautiful big windows, as well as a galley kitchen and half bath. On the second floor the apartment boasted two bedrooms with two full baths. No secret here, we were pretty excited about the possibility of guests having there own ensuite.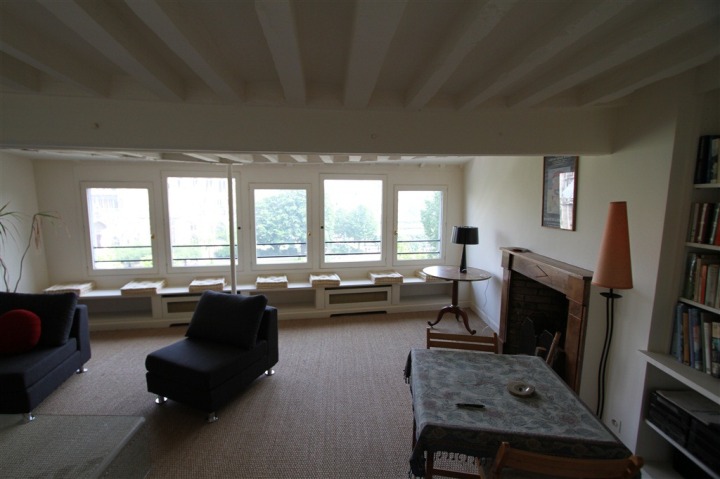 Living room upon entry. Lots of natural light (great for product review and cake shots)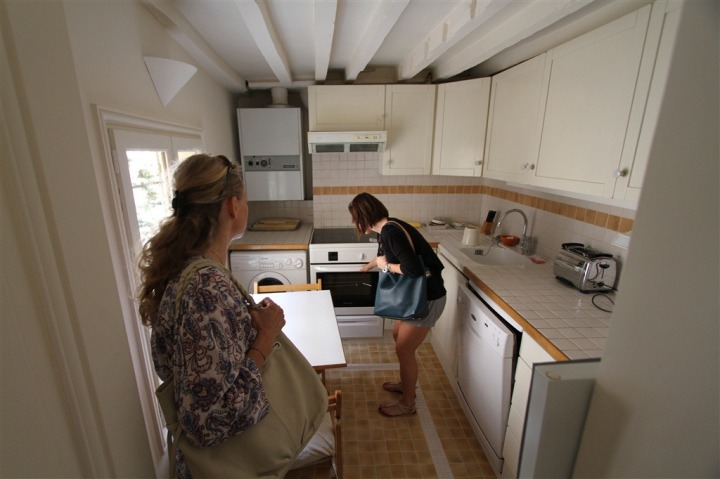 Galley kitchen. Tight squeeze for cupcake creations.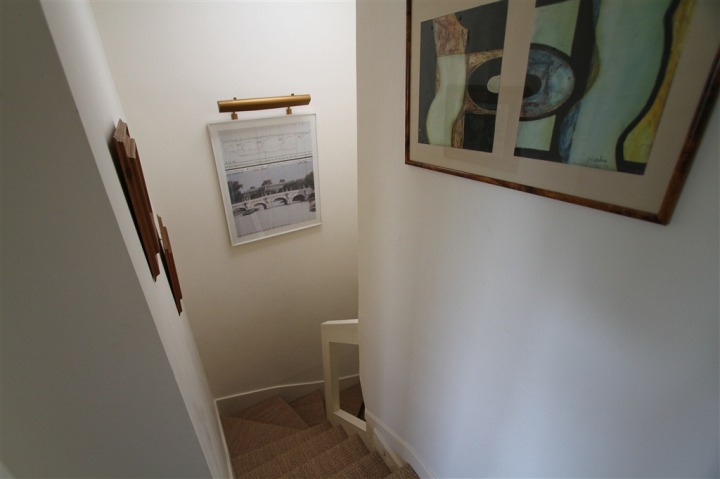 Stairs to the upper level bedrooms.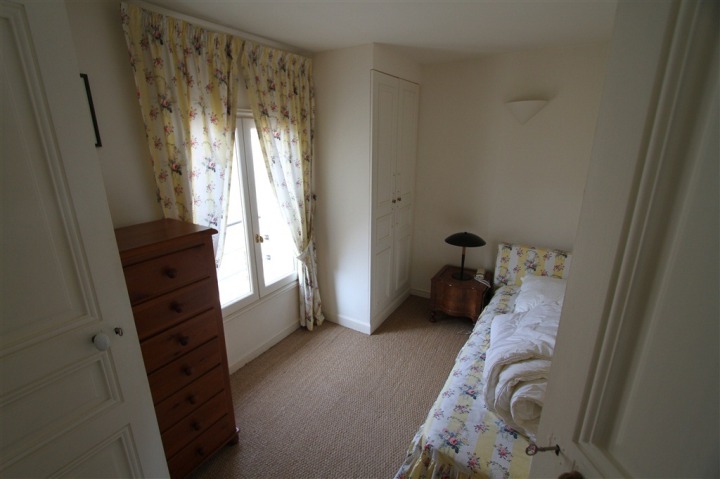 Guest bedroom and bath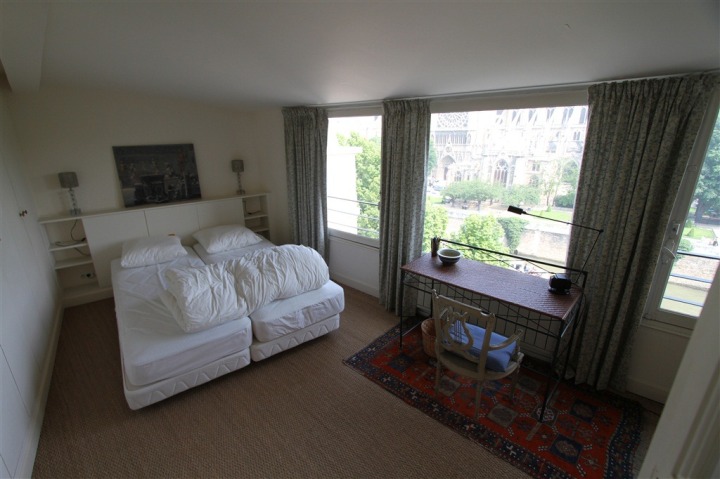 Master bedroom and bath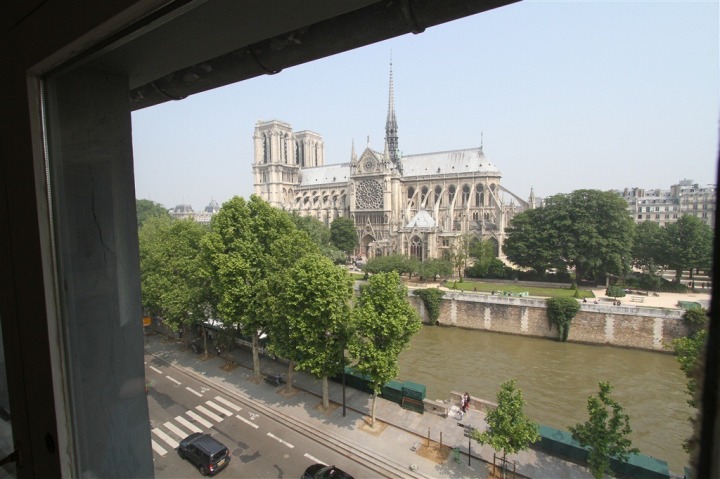 Oh yeah, and the "view" I mentioned in the beginning.
Pros: The view of Notre Dame. Multiple bathrooms. Two floors. Location. Proximity to the main metro line, abundance of restaurants, and running/biking paths along the Seine.
Cons: The apartment had this terrible "Basket weave carpet". Small kitchen. Furnished with very undesirable furniture/furnishings. The main road is very loud.
House # 3 – Renovated Duplex
This was another large duplex apartment which we were very excited to see. We never thought seeing apartments this large were going to be options here in Paris. This apartment was beautiful, and just newly totally renovated. The entire apartment had been gutted and upgraded. Another 2 bedroom, 2 full bath option.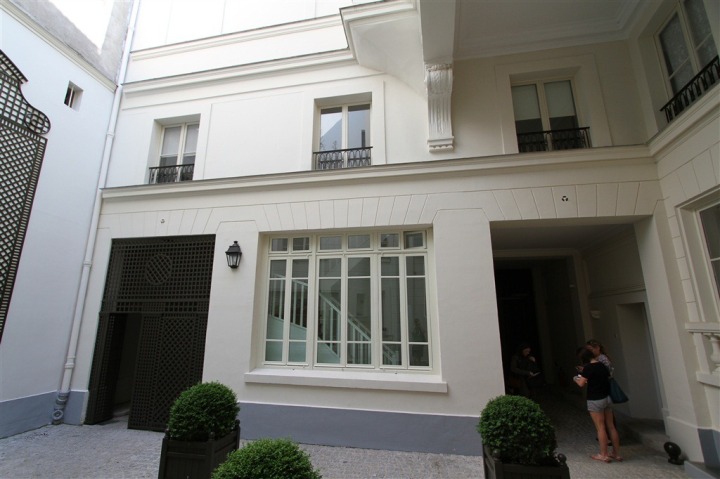 A very secure court yard entryway.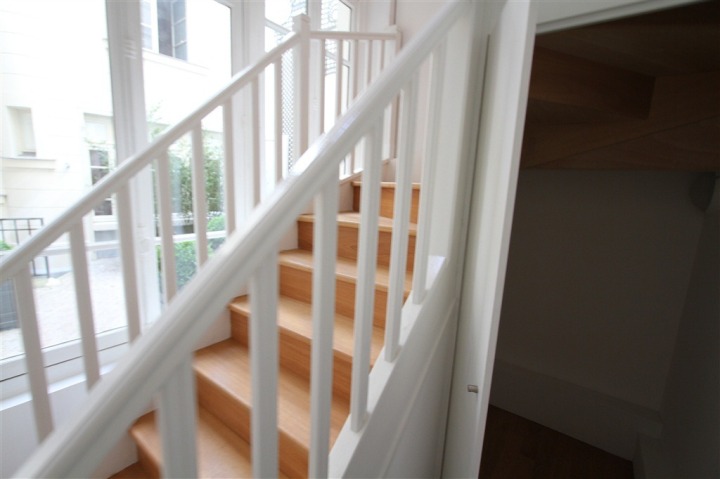 Immediately upon entering there are stairs and a enormous storage closet.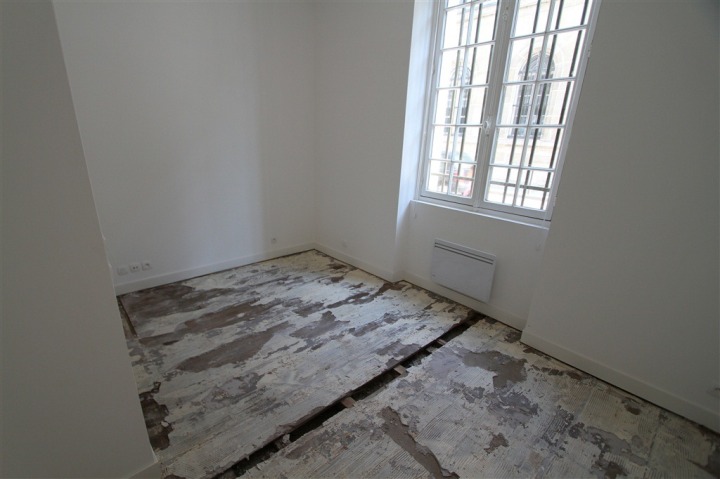 And to the right of the entry way is the guest room. Still under renovations (but it would be finished prior to us moving in if we selected it).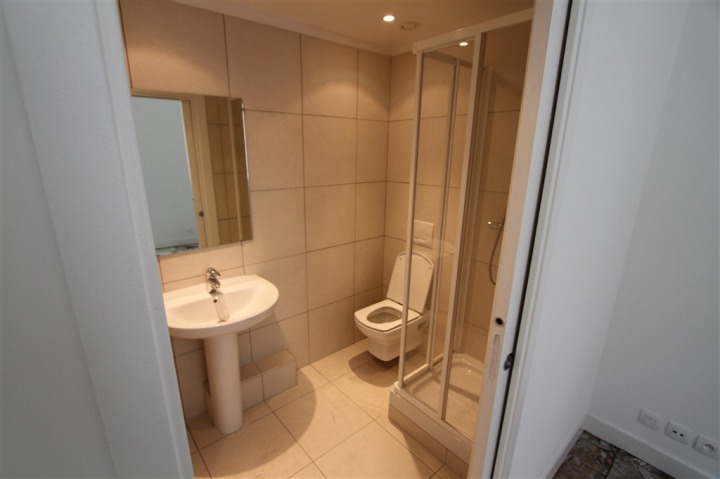 Have no fear, the guest bathroom was fully installed.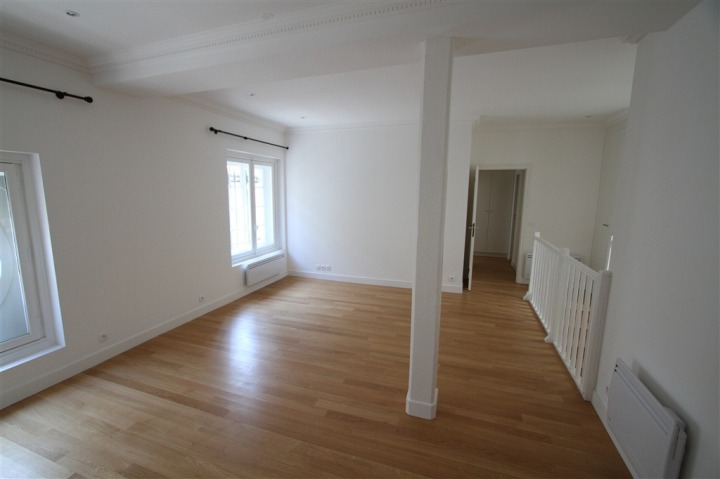 The 2nd floor main living area (look at all that trainer space!).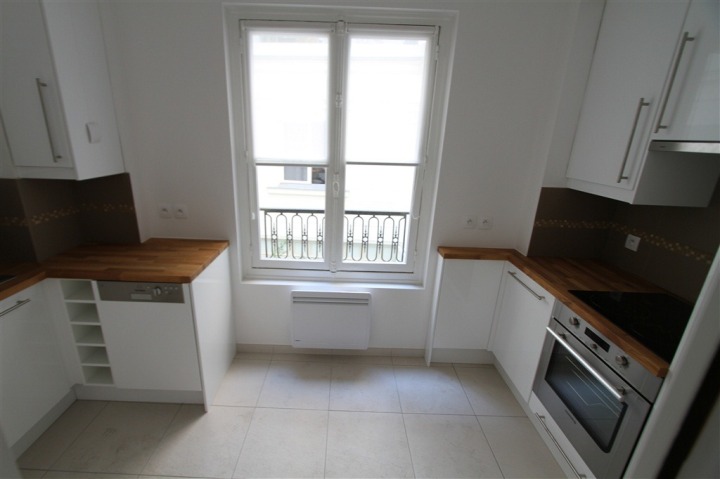 Large newly renovated kitchen.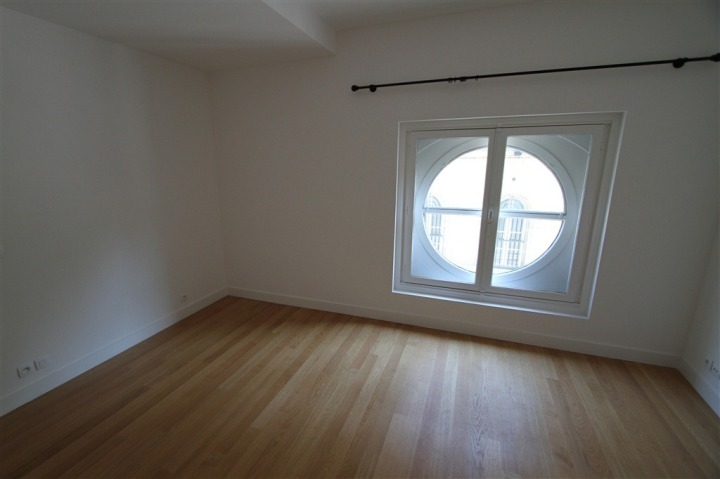 Master bedroom.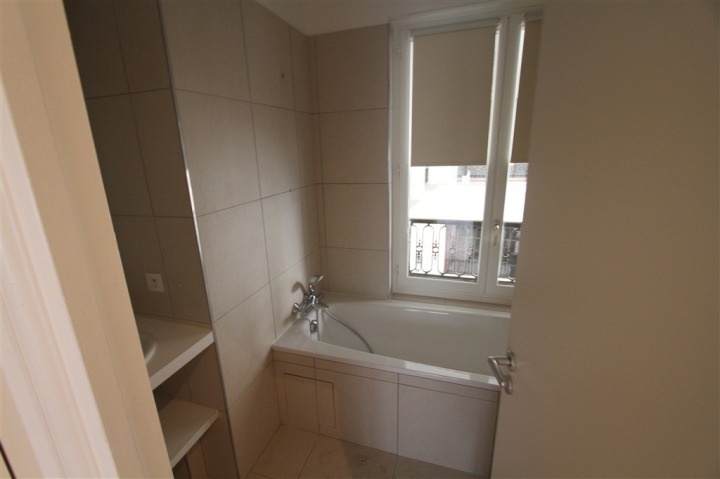 Master bath.
Pros: This apartment was brand new with upgraded appliances. Lots of living and storage space. Two full baths, and a large kitchen.  Really ideal for all of Ray's product testing stuffs.
Cons: While this apartment was still in the "City Center" of Paris, the neighborhood wasn't as active as the top two. No view. Off of a busy street.
—
At the end of each house we took notes as quickly as we could, and then consolidated all of them into a big list which we debated the pros and cons each night at dinner.  Note that apartments here are either rented furnished or unfurnished.  Unfurnished has different meanings – sometimes it's with nothing at all in the kitchen (no cabinets), and sometimes it means most things in there.  We in general wanted an unfurnished place (so we could bring some of our furniture), but we were open to making it work either way.
Yup, a small little French café was the perfect place to try and figure out where we're going to live for a number of years:
So, which one did we pick?  Well, give your guesses below in the comments – and stay tuned for the second post in this series where we unveil our selection!
Thanks for reading!
(Ready for Part 2? Read on here!)