Last week, we showed you our final apartment selection with the House Hunters style series.  However, getting all of our stuff into our apartment was probably even more fun.
This was for two reasons.  First, we quite honestly weren't sure it was all going to fit.  While we knew the raw contents would easily fit – we weren't so sure about the boxed variant.  The moving company that had been hired by the relocation team was rather…thorough…in their packing job.  Two shoes would somehow take up a box bigger than an old school sized big screen TV.  All in, we had 96 boxes per the inventory list.  Not small boxes either – these were grocery cart sized boxes.  Holy cow!
The second reason it was fun was because we knew they were going to setup an elevator outside.  Yup, seriously: Outside.  While we had an elevator inside – it only goes to the 4th floor, and we live on the 5th floor.  Further, with 96 boxes, that would take a long time.  Instead, they bring this with them: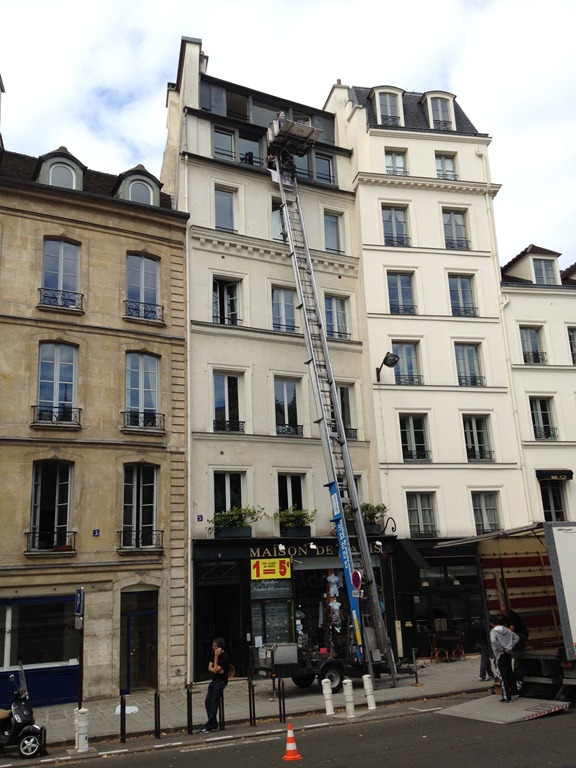 It literally lifts the boxes up to our apartment window.  Check out this quick video I shot of it in action:
Paris external elevator in action!
With the movers going in full speed, our job was merely to sort boxes into a few core piles based on final resting place.  And notably – to ensure that boxes going upstairs (to the 6th floor) were carried up there by them.  We didn't have them unpacking things (even though it was included), because quite frankly it just would have turned into a game of them asking every 10 seconds where to put something – and we really had no idea in most cases.  So we did that ourselves (well, are still doing it).
But, what exactly does 4 hours of move-in look like when all compressed together?  Well, here ya go – a sweet time-lapse I shot using a GoProHD2 with an external battery pack.  Enjoy!
Moving in under 40 seconds
But what about that box falling off that I mentioned?  Did you catch it in the video?
Now you have to understand that we greatly appreciate the external elevator thingy, but they weren't too keen on always using the side-panel protectors/doors – leaving our loot to easily fall off.  And that's exactly what happened.  But first, here's what it should look like up (except there is no back protector at all):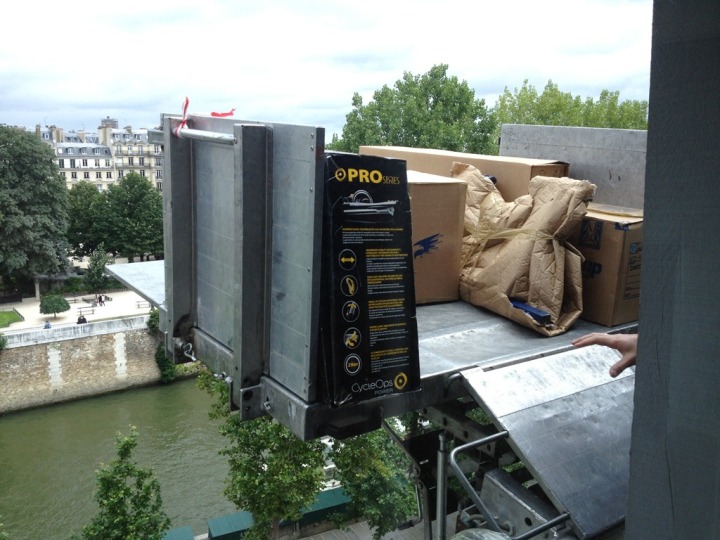 The Girl and I were standing at the window watching for our wedding bike parts to come up to the apartment (as that was headed to a different storage location, back on the truck), we noticed one box a wee bit closer to the edge.  We then watched as the mover man prepared to remove our TV he in turn dislodging the other box, sending it over the side.  You can see The Girl's reaction shortly thereafter (as well as mine):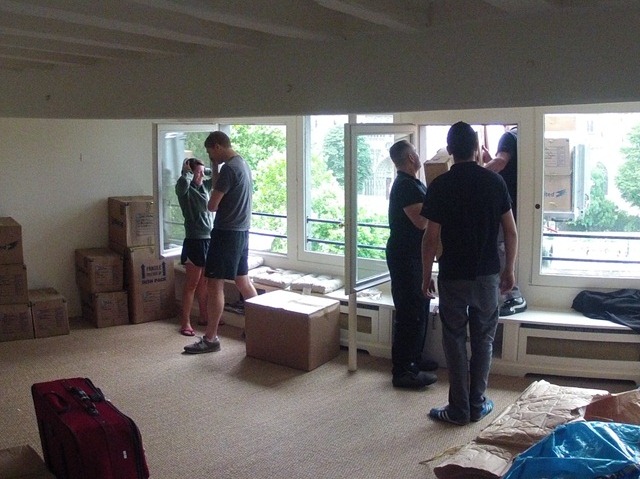 However, the saving grace here was the tiny railing bar we have below the windows, which caught one corner, and then the second corner caught our gutter – magically getting caught there.  Thus preventing it from falling five stories below into a rack of Paris souvenir t-shirts below (or a souvenir shopper).
We decided from there on out, we weren't watching the boxes anymore.  Plausible deniability seemed the best plan here.
Thankfully, the rest of the move went without any gravity-related incidents – and the only issue we ended up with was where exactly to put all those trainers…
Until next time – thanks for reading!  We're going to start swinging into more of our day to day Paris life stuff now that our move pieces are out of the way.  Enjoy!