Yesterday was a busy day for CycleOps…and me, as I spent the day in and around lovely Golden, Colorado with the team getting some hands on time with quite a bit of their new and unannounced product line.  There's so much to share, that I'm going to simply go chunk by chunk…so hold onto your seats!
New Joule and Joule GPS ANT+ Head Units
CycleOps is introducing two new bike computers to replace the existing Joule 2.0 and Joule 3.0 units.  These new units will simply be dubbed 'Joule' and 'Joule GPS'.  First up is the Joule without GPS, which kicks the blocky design of Joule 2.0 to the curb and goes with a sleek industrial design instead.
(Left: Joule GPS, Right: Joule)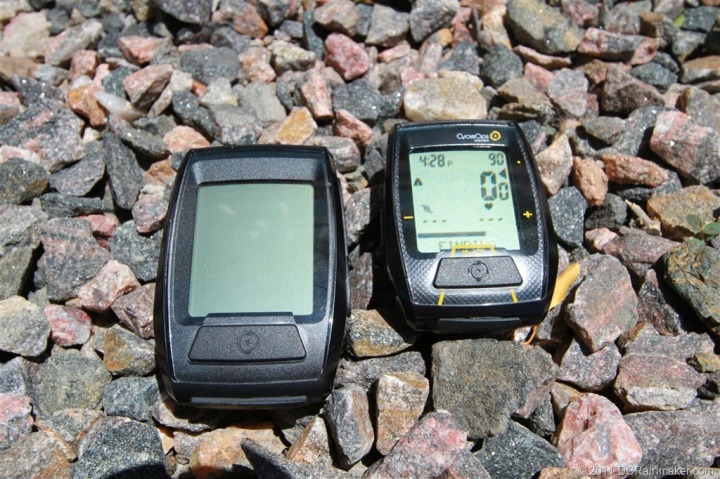 The Joule unit (non-GPS) runs on a coin cell battery, that lasts about 300-400 hours and is akin to the existing Joule 2.0 units from a functionality standpoint.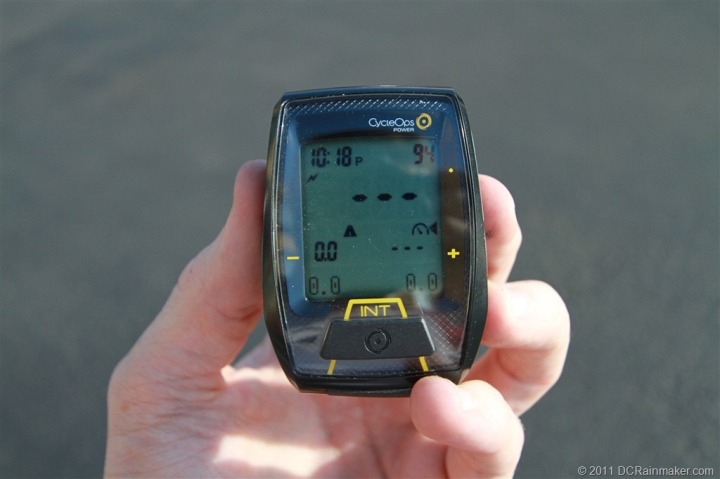 The unit mounts using a quick release system rather similar to the Garmin quarter-turn quick release mount kits – though not quite the same, so the two are not interoperable.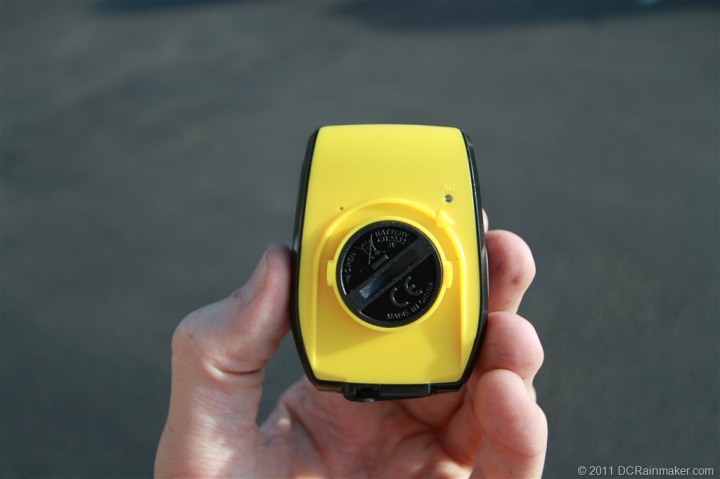 (Joule above, Joule GPS below)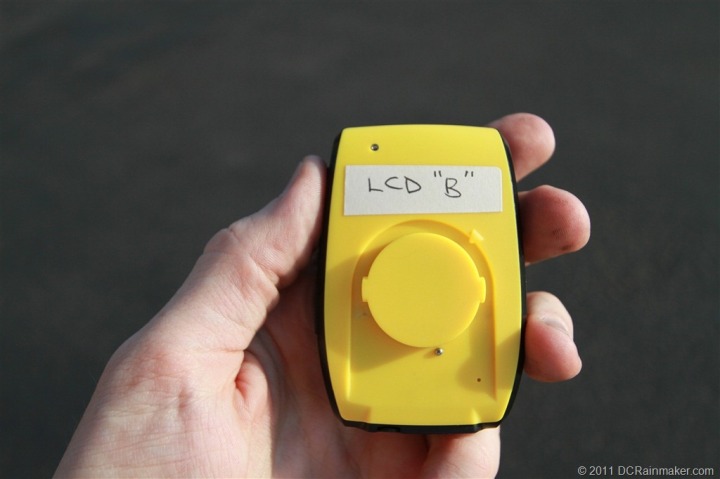 They'll be releasing a few different mount styles, including your standard handlebar mount as well as a stem mount:
In addition to the Joule, they'll be adding GPS with the Joule GPS unit (below).  This unit is slightly larger than the standard Joule. The unit contains all of the functionality of the base Joule unit, but adds GPS support.  The primary driver here was to allow folks to see tracks of their rides afterwards.  As a user you can select to use either GPS or other ANT+ sensors to determine speed/distance (for example, an external ANT+ speed sensor, or simply letting the speed data come from the PowerTap hub).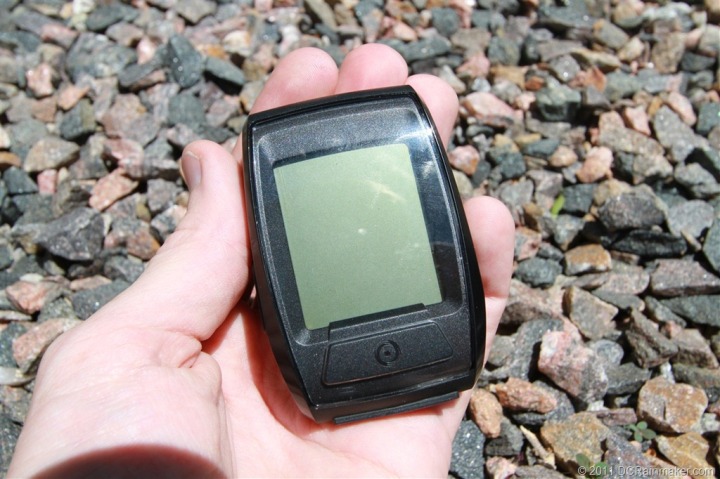 (Unfortunately, the unit available to us to see was non-powered)
Size wise you'll find the Joule is nearly identical to the Garmin Edge 500 – while the Joule GPS is just a hair bit bigger: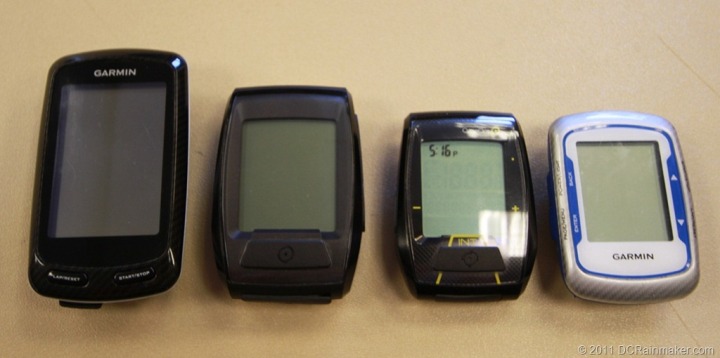 From a mapping standpoint they've partnered with MapMyRide to offer mapping services on the CycleOps Training Camp site.  The desktop application (PowerAgent) will not be updated to provide mapping functionality.  Additionally, users will be able to display breadcrumb style routes on the device itself while riding, which can be uploaded/downloaded to/from the unit.
The unit runs on a rechargeable battery that plugs in via standard micro-USB cable (they went micro-USB in an effort to align with industry standards on mobile devices).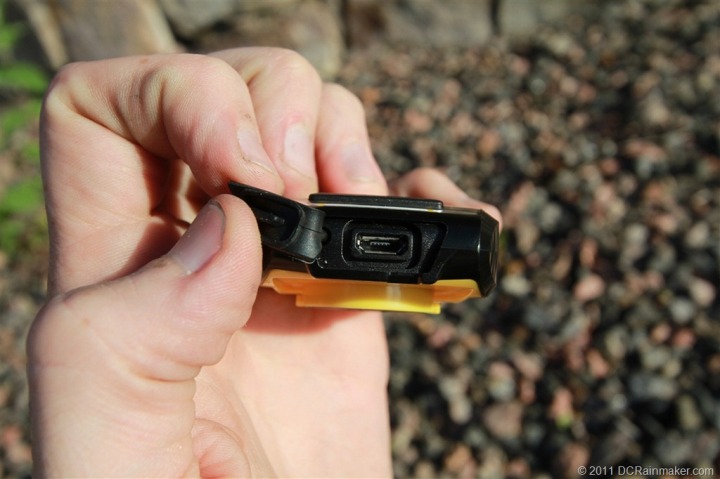 You'll note that both the Joule and Joule GPS did away with the joystick of the Joule 2.0 units.  Instead, it's all using buttons instead.  They found that from a support, development, and customer satisfaction perspective – the joystick wasn't quite working out as well as they wanted.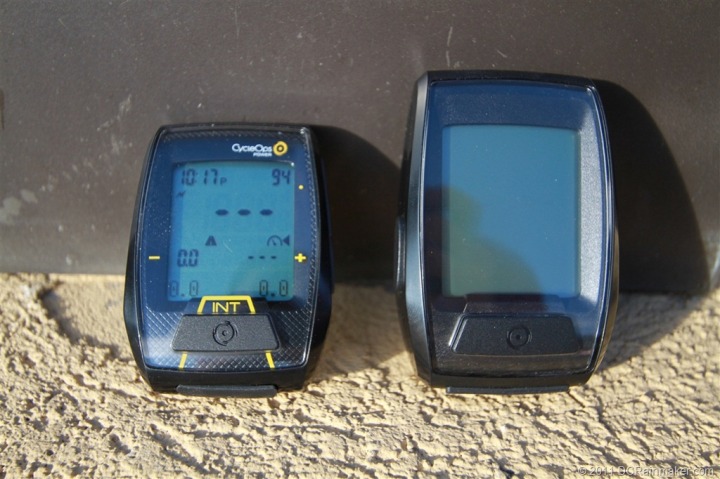 (Left: Joule, Right: Joule GPS)
While I did get some hands on time with the units on Tuesday, they didn't have enough to go around for the ride – so actual hands on time while cycling will be forthcoming in the near future when they send out everything in this post for me to test out.  In the meantime, here's two quick shots taken during the ride that The Girl got with the new Joule mounted on CycleOps product manager Jesse's bike:
The Joule standard will retail for $169, while the Joule GPS will retail for $269.  For those that are familiar with the existing Joule prices, this is a drop of over $200 from the previous Joule 2.0.  It's also in line with the Garmin Edge 500 pricing (which is not a coincidence).
The Joule GPS does best align functionality wise with that of the Garmin Edge 500.  Like the previous Joule 2.0, the Joule and Joule GPS are fully ANT+ compatible, which means you don't need to have a PowerTap to use it, and any ANT+ cycling device (be it speed/HR/cadence/power, etc…) is compatible.  At this point it's too soon to say how exactly the Joule GPS stacks up spec-for-spec against the Edge 500 since I just haven't had any appreciable hands on time with it from a feature standpoint – but you can bet that as soon as I get some ride time with it, I'll be letting you know.
The Joule and Joule GPS units are scheduled to be available in November 2011.
New and Updated PowerTap Hubs & Wheelsets
A new PowerTap hub has been introduced – the PowerTap G3, which they're claiming is the worlds  lightest power meter at 325g.  The new unit is primarily targeted at the weight conscious cyclist.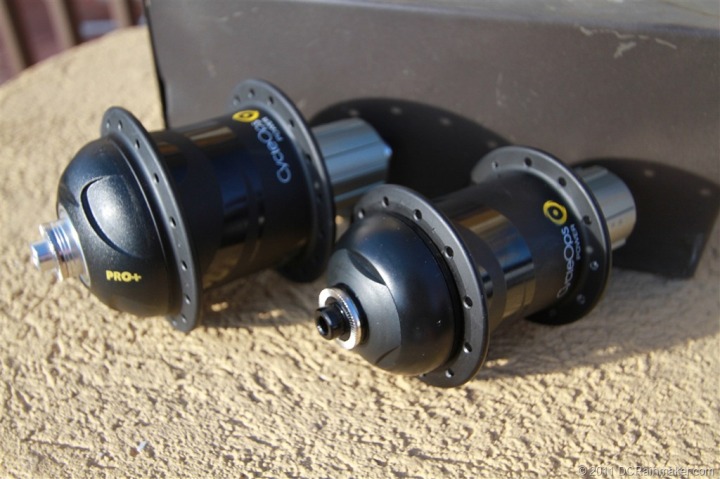 One of the cool features of the G3 is the overhaul of the electronics pod to be customer serviceable.  Previously, many of the tasks associated with repair of the antenna and/or battery required sending the hub/wheel back to CylceOps.  Now, this has been separated out into a small pod that can be easily swapped out.  Here's the separated pod below.  You can see the battery on the right side, as well as the USB port on the bottom.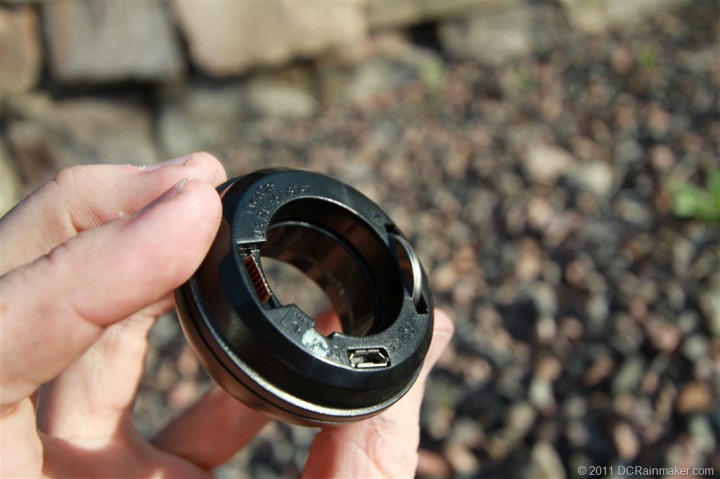 And just to give a bit of perspective, you can see where it comes from in the hub in the below shot: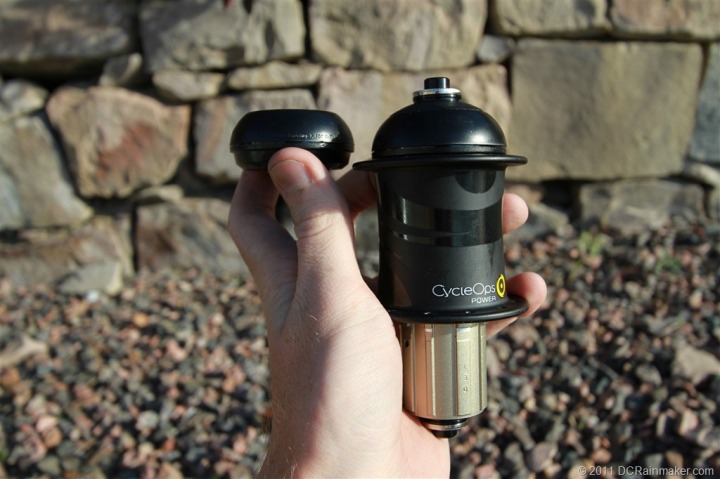 In addition to the titanium bearing based G3, they're also introducing the G3C, which is identical except it uses ceramic bearings.  The G3 will run $1,299, while the G3C will run $1,799.
The existing wired PowerTap SL+ will go away, but the wireless PowerTap Pro model will be updated with a 20g drop in weight, some fancy new graphics…and a new $799 price tag – or roughly $500 lower than current price. 
Make no mistake here, I believe this is a preemptive move at pricing aggressively to counter whatever Garmin ends up charging for their Vector power meter this fall – especially given Garmin's previous comments around trying to dramatically increase power meter market adoption (and the only way to do that is to make them more affordable).
Complimenting the new hubs, are three new wheelset options with PowerTap's built in.  The wheels are divided into the following:
PowerTap G3 Carbon Wheelset – $2,999
PowerTap G3 Training Wheelset -$1,499
PowerTap Pro Training Wheelset – $999
They'll be offering both a 65mm and 45mm wheelsets made by ENVE for the G3 carbon packages (in both clincher and tubular).  And then an alloy training wheel for the Pro and G3 training packages.  The carbon wheel spokes are bladed DT Aerolights.  ENVE was selected as the OEM partner of choice primarily because of the weight targets that CycleOps was trying to hit.  CycleOps thought it was somewhat of a waste to make such savings in the hub only to lose it on a heavier wheel, thus the selection they made.
Here's a quick picture of me on the new ENVE Carbon wheels with the PowerTap G3 built in: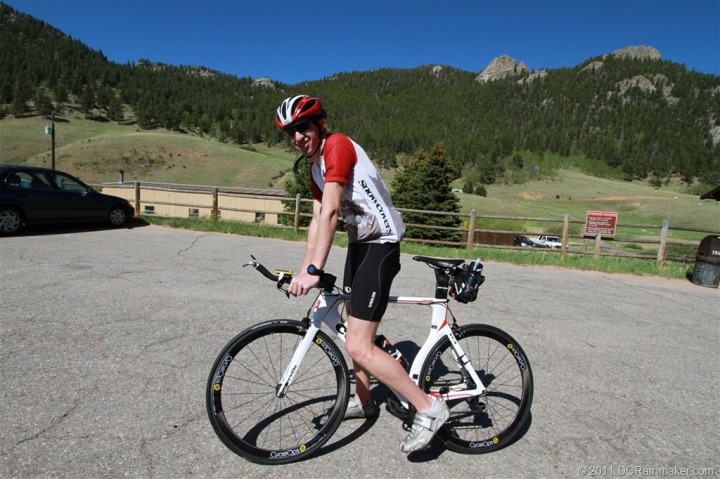 The PowerTap G3 and Pro hubs, along with the new wheelsets will be available in August 2011.  They'll be fulfilling the wheelset orders first, and then the individual PowerTap hubs.
PowerCal – Heart Rate based power meter estimation
CycleOps is introducing a ton of products aimed at the fairly serious cyclist.  But one gap they see is a power meter option aimed at the more casual cyclist – or simply perhaps someone unwilling to depart with $800+.
After years of research (actually, we got a rather fascinating look at much of the research they've been doing on many different technological fronts) they'll be introducing an ANT+ heart rate strap that will estimate your power output and then re-transmit the estimated power to any ANT+ head unit. 
In order for the strap to work however, you must first complete a power test.  While the final testing methodology is yet to be released, it's likely going to be either trainer based or power file based – probably very similar to an FTP test.  Their goal at this time is to get within 5% accuracy on power.  They showed a few slides which allowed us to see the differences between the estimated power and the actual power profile.
In those slides you could see that while the estimated power profile lacked any of the big spikes/drops (such as a surge), it tracked almost spot on through the middle.  In other words, it looks more like a 30-second or 60-second average than a 1-second sample rate.  In the slides shown to us, the end results (ride average) were within 1 watt (examples in the mid-180w).  Though, they said that 5% differential is more realistic.
Currently they're having the University of Colorado at Boulder doing validation of the methods to ensure accuracy.  I'm definitely looking forward to tossing the PowerCal strap on and seeing how it performs.  The really cool thing about it simply pretending to be an ANT+ power meter is that it's super easily to pair it to any ANT+ head unit and then compare those results to a direct force power meter – thus, there's no mystery from a testing standpoint.  Either it works…or it doesn't.
There will undoubtedly be many in the power community who question the methodology of using heart rate to determine power – and CycleOps doesn't discount that.  They were pretty clear that if you want accuracy at the 1.5% level, than a direct force power meter is the way to go.  But, if you're looking to see power at a more macro level, than this may be an valid option.
On the spec side, the strap is fully waterproofed to IPX7 standards, and will of course also transmit ANT+ heart rate as well.
VR Software Suite for Powerbeam and 400 Pro trainers
In addition to all of the new hardware, they'll also be putting together a new software suite that allows you to ride any course you have a GPX file for, as well as add your own video to the ride.  In other words, you can now take your GoProHD video from your handlebar mount and then match it up with the GPX file – and re-ride it all winter long.  The PowerBeam and 400 Pro trainers will automatically change the wattage in accordance with the terrain.
They showed some screenshots of the software, which I hope to have here shortly for you (will update this section) – just trying to grab the high res versions.
They'll be allowing you to upload your own videos/creations to a central repository that others can download.  This means that when I go crazy places like cycling in the deserts of Jordan – you can someday re-enact the ride – complete with eggplant trucks and overexcited guard dogs.
The software package will be free for new buyers for those trainers, but will otherwise run $200 for existing folks.  This is inline price-wise with the to-be-released CompuTrainer RacerMate One Suite – which will offer some overlapping areas of functionality (though no ability to create your own courses with video).
Summary:
I hear ya…it's a lot of information I just threw at you.  Here's the quick and dirty condensed version:
1) New Joule bike computer, far more compact, ANT+ compatible, at $169 – November 2011
2) New Joule GPS bike computer, adds GPS, still compact, ANT+, and at $269 – November 2011
3) Two new PowerTap hubs (G3 and G3C), at 325g each, for $1299 and $1,799 – August 2011.
4) Updated PowerTap Pro Hub (that's the wireless one), dropping 20g, and down to $799 – August 2011
5) New race and training wheelsets, lowest package including a PowerTap hub starts at $999 – August 2011
6) New PowerCal HR & Power strap, aimed to estimate power with 5% using HR after power test – $199 – October 2011
7) New VR software suite (like CompuTrainer RealCourse) for PowerBeam and 400 Pro trainers – $199 for existing customers, free for new units – October 2011
8) New CycleOps iPhone app using Wahoo Fitness dongle, created by MapMyRide but integrated with CycleOps Training Camp.  Will record power, HR, speed, distance, routes, etc.. – July 2011 (I don't have much more info beyond that on this one).
Got it all?  Good.
Tomorrow I'll tell you about the rest of my day…you know…the part where I spent over four hours wandering around in the mountains at 9,000 feet in Colorado with a bunch of ex-pro cyclists and industry who's who.  There was a lot of pain involved.  A lot.
As always, if you have any questions – feel free to drop them in the comments below.  Additionally, except that over the course of the summer/fall you'll see the typical In Depth Reviews of all of these products – as they get into my hands in Washington DC.  Right now on my flight back to DC – the only thing I've got in my hands is a CycleOps branded sunscreen bottle that I most definitely should have put on for yesterday's ride…