Yesterday I walked through the boatload of new products that CycleOps announced on Tuesday, but today I figured it'd be fun to talk about the rest of the day.  You know, the part after the presentation and Q&A on products.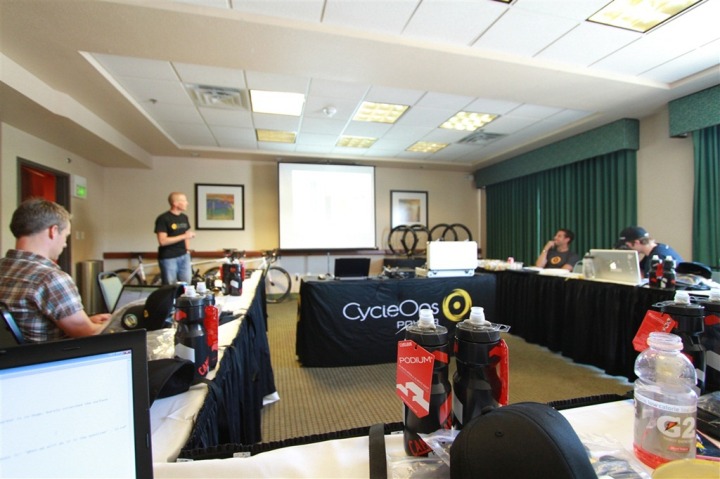 The second half of the day was spent out in the mountains near Denver trying out product and just generally having a good ride.  But first up was getting the massive pile of new wheelsets and power meters hooked up to everyone's bikes.  The group was split with half of us having our own rides, and the other half using demo bikes.  Below are the new electronic pods (left side with paper rolled up in them) for the new PowerTap G3 units, with the caps to the right.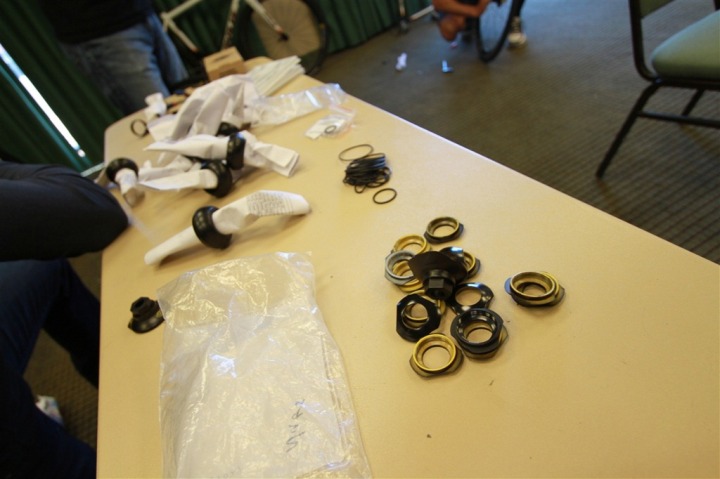 After everyone kitted up, we met outside in the Hampton Inn's parking lot.  It became clear rather quickly that I need a DCRainmaker kit of some sort.  Or really any sort of DCRainmaker apparel.  You know, like stick on tattoos or something.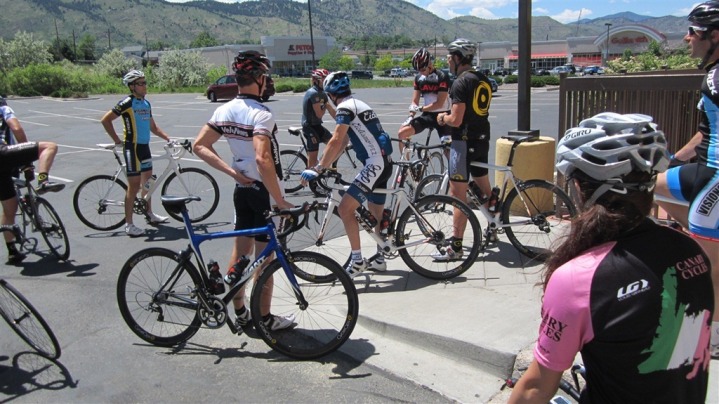 The group was full of all sorts of really fast people.  Folks like Robbie Ventura from Versus (and the US Postal Cycling Team), Gordo Bryn, and many others that could easily beat me on a bike with two flats, four reflectors, and one pedal.  There were more Boulder residents than not, with the remainder of the 'field' made up with guys from Velonews, Lava Magazine, Pez Cycling, Road, and more.  Collectively these folks had been to more Tour de France's than I could count on all their combined fingers and toes.  Meanwhile, there's me.  The gadget geek.  Oh, and The Girl – she was enjoying it too.
From there we left on a few local streets and bike trails that led to the entrance of the canyon roads that we'd be starting off on.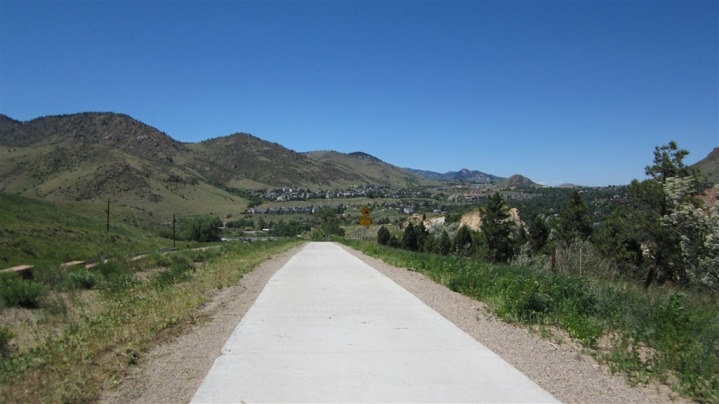 It should be pointed out that at this point I was still a bit 'sore' from the weekends half-iron race.  The hip flexor issue had gone away (just like it had done previously when it occurred), but the rest of my legs were still in 'WTF' mode. 
Oh…and our starting altitude was 5,500 feet.
From there we got into the canyon and up we went.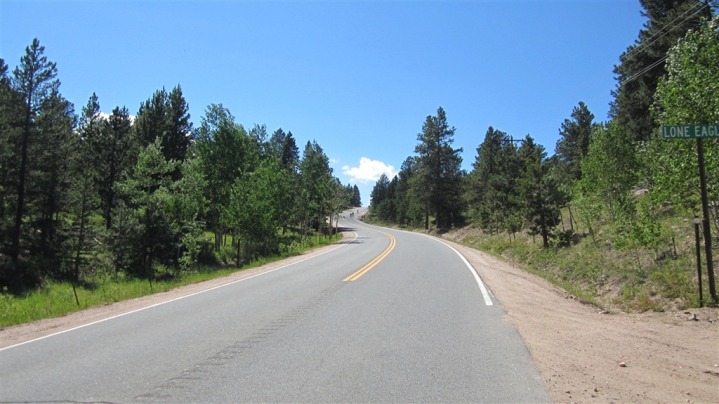 We did lots of up…in fact, that's about all we did.  Up.  With the exception of two brief couple minute descents, we essentially climbed for 25 miles straight – totaling 5,000 feet in ascents and ending up just above 9,000 feet.  Up should be a four letter word, it would fit better.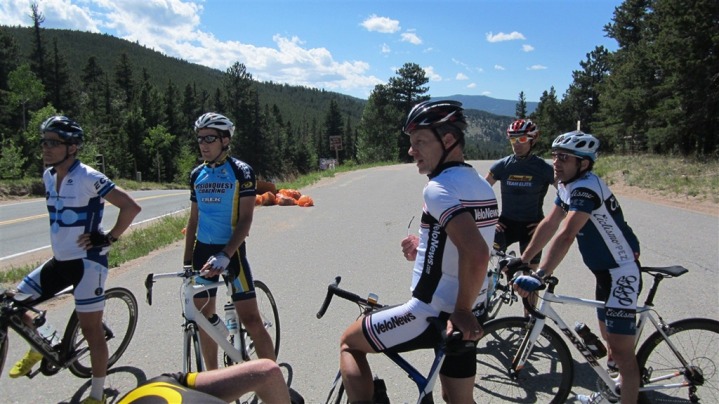 The ride was full of firsts for me.  Given I have no cycling background, but rather stumbled onto the bike thing as part of doing triathlons – I've never actually been on a SAG supported group ride.  Or any combination thereof.  So it was entertaining getting to take advantage of all sorts of non-triathlon things – like riding in groups: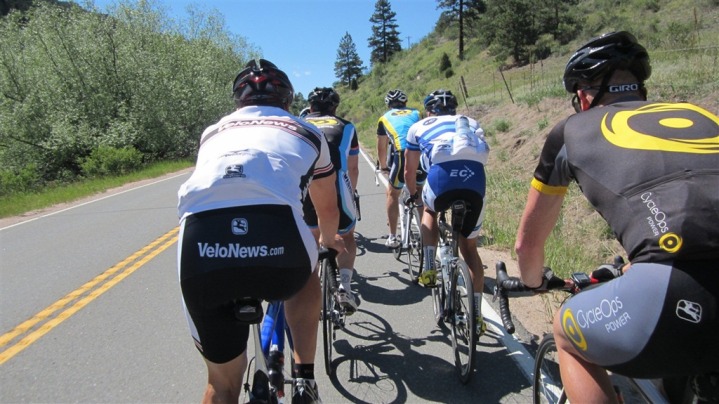 And taking turns on the front: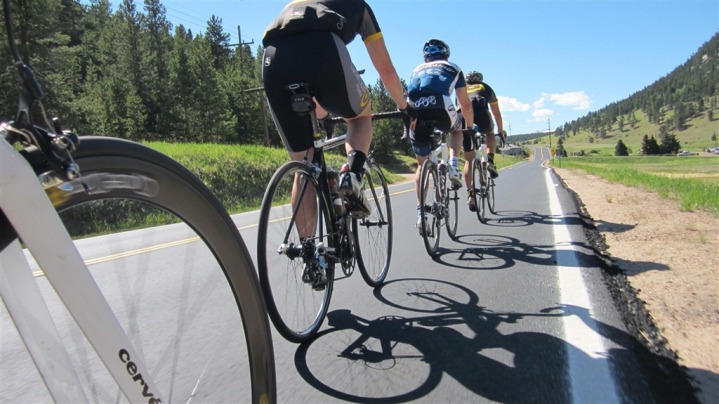 (Yes, I slid out slightly to the right, it made the picture better…and it's all about the picture)
And then there was the occasional catch-up game behind the SAG vehicle to bridge to a different group (we ended up splintering into 3-4 groups):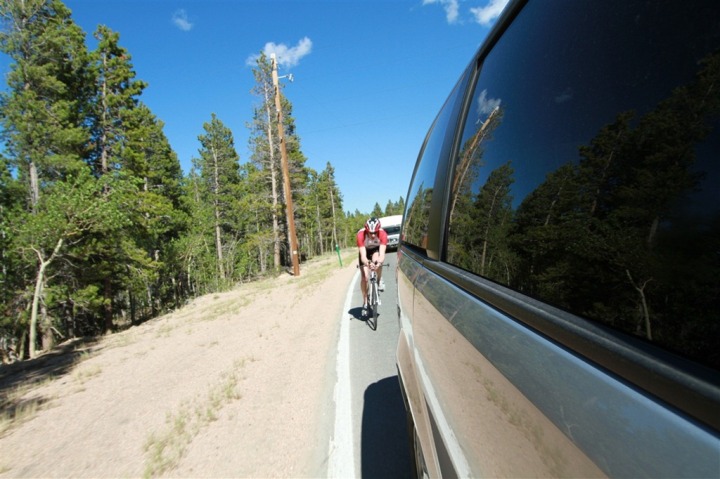 Though, my favorite would clearly be the SAG vehicle pull to swap bottles/gear/etc… without question – this should absolutely be adopted immediately in triathlon.  I see the entirety of the 112 mile bike leg as a good starting point.  I don't have any pictures of me doing it – but this will suffice: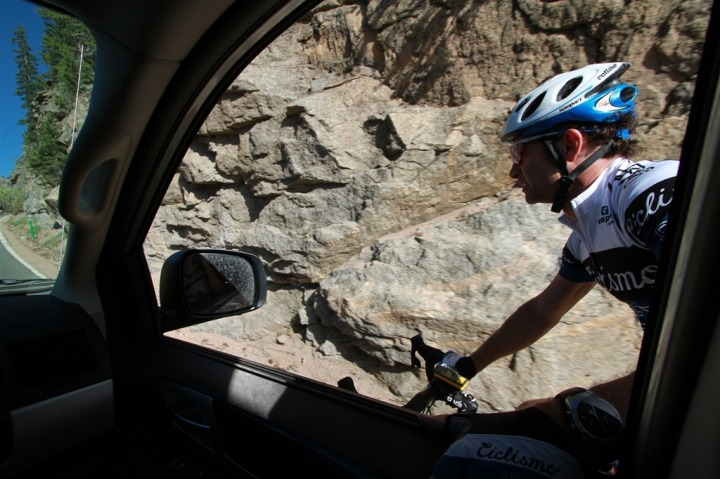 Speaking of that SAG vehicle – let's talk about how awesome that concept is.  It's like a giant aide station that moves.  Again, something triathlon should adopt.  Why limit ourselves to food stuck in place?  Or just Gatorade and Water.  This thing had chips, sodas, music and everything else.  It's also perfect when you've gone over 3 hours for a 'recovery ride' and even descending becomes tiring.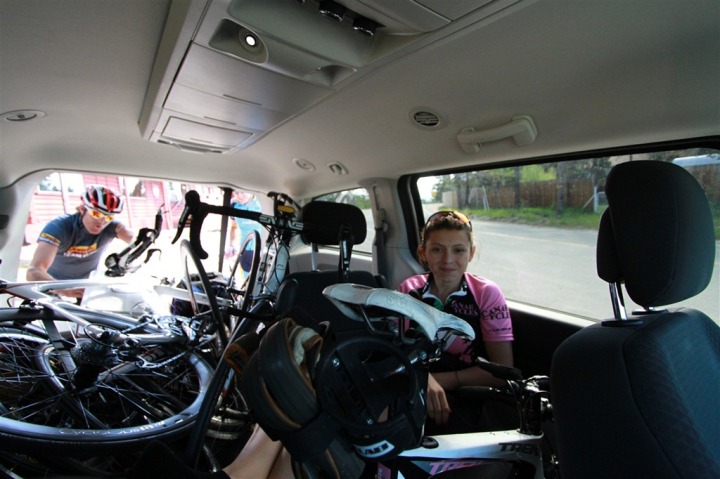 I managed to break virtually every single one of my power records on the ride (defined by different time lengths from 5 minutes to 2 hours).  I was giving it all my already exhausted legs had.  And my burning lungs.  Oh lordy do your lungs burn at 8,000-9,000 feet.  It would have been fun to see what my numbers would have looked like on a fresh set of legs…or a fresh set of lungs.

But, the scenery made it worthwhile.  If I could train out there every week I would – just really incredible to watch the world go by.
It's funny, cycling group rides are just so vastly different than triathlon training – really an entirely different world.  From a long distance triathlon standpoint it's all about picking an intensity and sticking with it.  Whereas this was all about holding on for dear life, be it going up or down.  Well, that and hoping your lungs don't implode.  It was also impressive watching the surges some of the faster guys could throw down.  They could just about disappear instantly on you.  Like Caspar the ghost, except not as cute and fluffy.
Now I just need to find another excuse to head back out and ride out there again…