Prior to the race, many folks asked how I thought the race might go – and my only answer was to sum it up simply as a 'Hail Mary' of sorts.
The last week has been far from ideal as a lead-up to any race. Last weekend I had Boise 70.3.  Then on Sunday I flew across the country back to DC.  Monday I flew back across the country to Denver.  Tuesday I got my butt whipped up and down the mountains of Colorado on a bike by a bunch of former pro cyclists, immediately followed by a redeye flight home where I didn't sleep at all.  And Thursday and Friday were equally as messy.  All in all I probably averaged 4ish hours of sleep per night.
So really, the only thing I had planned was to simply go out, have fun, and throw it all out on the line…and that I did.  After all, that's why I decided for the shorter sprint (albeit a sprint with a 4.6 mile run).
Pre-Race
I arrived around 4:20AM – a wee bit earlier than I normally would.  But with the parking options typically tight down by the start area, I wanted to ensure I got a spot.  Luckily, there weren't any problems there.
My bike had been racked on Saturday, as required with the mandatory day before racking – so really all I had to do was make my way about half a mile by foot over to transition area and finish my setup.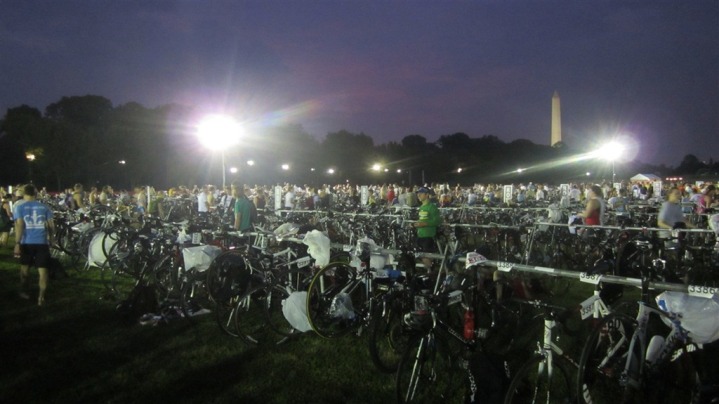 (That's the Washington Monument in the background there)
Once I arrived I swung by the chip pickup place to grab my timing chip.  Like most races these days, they do chip pickup the morning of to reduce issues with folks forgetting chips.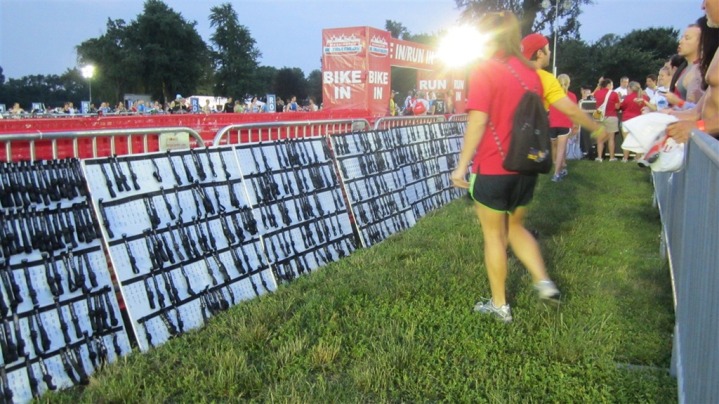 From there I ensured my bike was all setup and I was soon ready to go.  As is mostly the case, a very clean transition area – just running shoes/bib/Garmin FR610 on the ground, and everything else on the bike.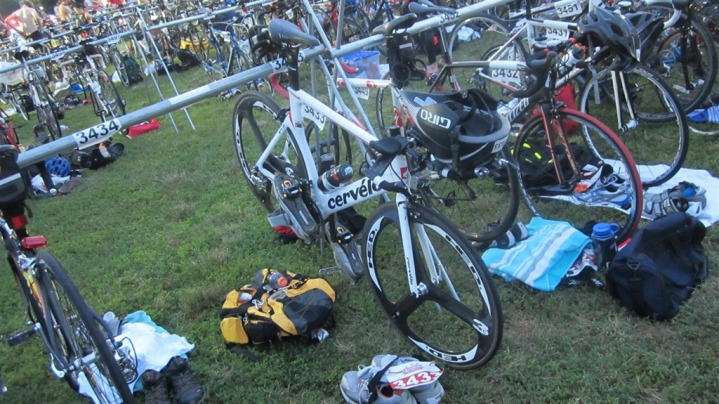 From there it was time to go…and by that I mean 'go':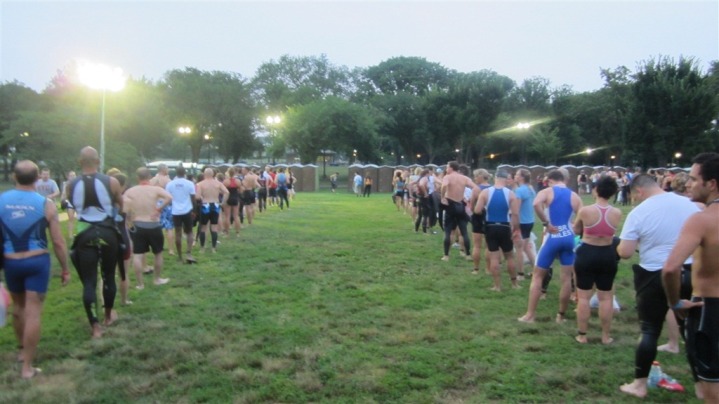 Unfortunately, as seems to be the annual pattern at both of the races put on by this organizer, they short-order the port-a-potties.  I ended up waiting until some time later to finally head on over and make another pass.
Swim:
The sprint course was inset into the Olympic distance course –and it was pretty sweet to see how short it was in comparison to the Olympic course (or the half-Iron from last weekend):

The swim for this race was changed this year to a time trial style start – which meant that while you were grouped by age groups from an ordering standpoint, you went into the water in groups of 8-10, or individually one right after another.
Now when they first started the time trial system they were doing it in bunches of 8-10 people, and as you crossed a timing mat locked on the floating boom it would trigger your start (though I think there must have been a 10 second delay of some sort built in).  However, after a while, they ended up just streaming folks out non-stop…like a bunch of lemmings.  I grabbed this quick video of the earlier method to give you an idea of how it worked:
DC Tri 2011 Swim Time Trial Start
Once all of the Olympic athletes started at 6AM to 6:45AM, then the sprint folks went at 7AM.  It turned out my wave was next to last, so I didn't go for a while.  And, somehow I ended up at the back of the line – so I was pretty much one of the last guys in my age bunch to head out.  This worked to my favor though, as it meant it was super-easy to know that any guy I passed was definitively behind me.
With that said – off into the water I went.
It's a bit funny just jumping in and swimming – sorta like the NYC Triathlon last year in the Elite AG Wave with the dive start.
The nice part was that the 800m long swim course blew by compared to the longer swims I'm used to.  While there was tons of folks on on the course, I found that the majority of the folks were swimming a particularly long route (way wide) – oddly a trait I've seen before at both the Potomac races (Nation's and DCTri).  So I was able to hold a very tight buoy line directly between each one and avoid virtually all of the folks and had my own clean water.
The only thing I didn't avoid was the swim platform.  The ramp was floating a bit high and when I came up to it I whacked the living crap out of my shin.  So much so that I actually cut through the wetsuit and into my shin (my wetsuit has a gash in it now).  It's like someone took a pairing knife to it…and me (I gots myself some blood!).
Nonetheless, my swim time was pretty descent at 10:43 – so I was happy with that.
Bike:
Because I was doing this race just for fun, I decided to take along the GoPro HD for a bit of a ride.  I used the seatpost mount and inverted the camera under the aerobars (it includes a handy software setting on the camera to flip the image back rightside up).  Here's what it looked like mounted on the front of the bike: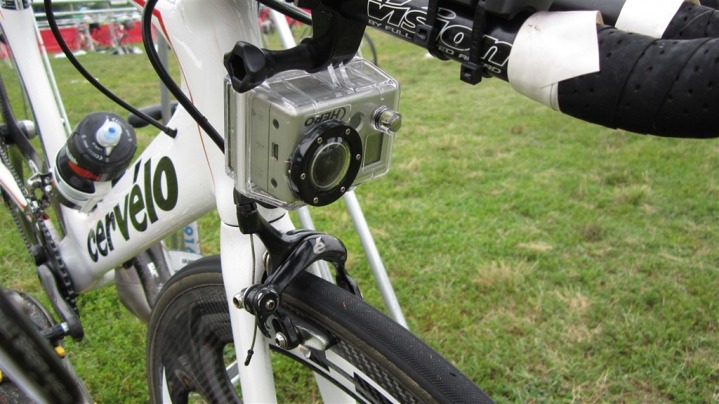 I had practiced turning it on in about 3-4 seconds while I got other stuff set in transition – hopefully costing me minimal time.
The bike itself could be best summarized as very very quick.  Not impressive from a wattage standpoint, or from a heart rate standpoint (in fact, both were hilarious) – but rather, just cycling more or less as hard as I could where I figured I could still finish the race.
Nobody that passed me on the bike stayed past me (and only one person managed to briefly pass me).
So I compressed the whole 32 minutes down into 4 minutes.  If uploading the full length version was quicker, I'd do that – but at the moment I just did the abbreviated one (though the full length is chock full of plenty of entertaining moments). So here ya go:
DC Triathlon Bike Loop in 4 minutes
Of course, it definitely wasn't my fastest bike split, nor my highest wattages – but it was definitely one of my hardest efforts…and probably one of the most fun.  As I noted earlier, I knew the bike was going to be ugly (especially after a short brick I did on Saturday was looking pretty grim) – so I just ignored pretty much everything the Garmin/Power/Speed/HR said and simply focused on biking hard.  Clearly for a longer event you'd want to apply a bit more 'thought' to the race plan, but for this I was hoping luck would pan out.  Well, that and all the training that Coach had us doing at higher intensity efforts for longer durations.
Now, perhaps the coolest little segment on the bike was actually my departure from it.  Going into T2 my flying dismount is so smooth that you can't even tell where I got off the bike exactly, check out that little clip:
DC Triathlon T2 Flying Dismount from bike view
(PS: Here's my previous posts on transition training)
Overall I had the third fastest bike of the day.  Not too shabby.
Run:
Now, for some reason the race organizers thought it would be 'neat' to run an extra 1.5 miles.  I'm not entirely clear on why.  See in my mind a sprint is – and always should be – a 5K run.  3.1 miles of awesomeness.
And in the case of the Olympic – a 10K run.  But here, the sprint included a bunch of unnecessary runnage (primarily to include running back and forth in front of the Capitol Building).  Here's the unnecessary runnage highlighted: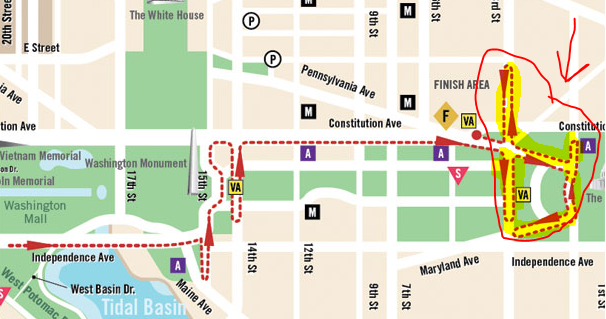 Without this extra section, it would have been a perfect 5K.
That said, off on the run I went.
The run for me was mostly a ticking timebomb scenario.  I simply hoped I'd be able to find the end of the run before I imploded from exhaustion…hence why the extra 1.5 miles wasn't helping my case.
Like my bike, this wasn't exactly the pinnacle of my athletic running career.  It was simply running as hard as my body would put out.  Thus, you can see the slow decline in splits, and the steady incline in heart rates:

Note that from a heart rate standpoint I only manage to hit 190bpm about once or twice per year.  Hitting the mid-180's for me takes serious hill repeats – and a really steep hill at that – to get me up there.  So the fact that I basically hung out there the entire race is pretty hilarious (and a clear indicator of my exhaustion level).
Had this been a different lead-up week, I would have expected these paces to be closer to 6-flat for this distance…and my HR's much lower.
That said, I certainly can't complain.  I gave it everything I had and ran as hard as my body would allow me to based on what I perceived necessary to still complete the race.
Soon, I found myself wandering towards the finish line…happy to be done!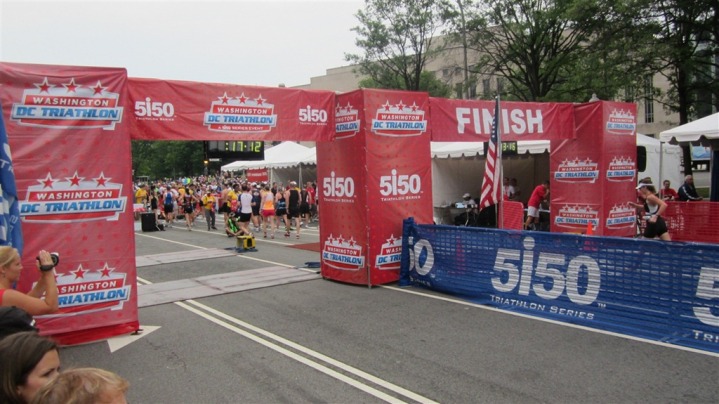 The finish area is actually pretty cool in that as you finish the Capitol is to your back, thus making for ideal photos…aka…the money shot.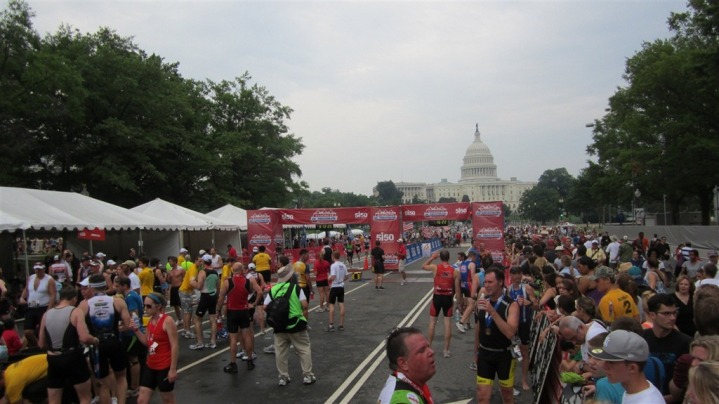 After finishing I wandered around the finish area a bit, and mostly cheered folks on from the DC Tri Club tent area (though I was an equal opportunity cheerer, I cheered most everyone I saw).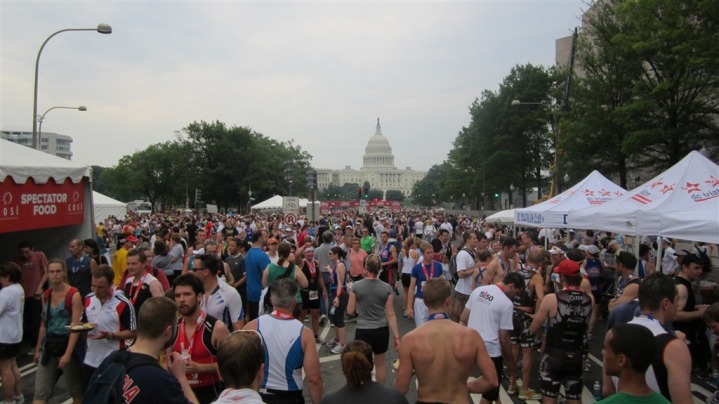 One of the nice things this race does is offer you a timing slip.  Just like getting a receipt with your splits.  So I headed over to the long line to see how I did (there wasn't anything otherwise posted).  Once it printed out, I was pretty excited to see the following:
But unfortunately it didn't list overall rankings.  Nonetheless – I was ecstatic to take the age group win!
However, I got a bit freaked out when they announced the M25-29 later on and I was notably missing.  Not only missing, but I had beat the announced M25-29 winner by a few minutes.  After a bunch of questions asked of the timing folks, nobody could really come up with an explanation.  I was pretty bummed.
But then, at the very end while we were trying to sort out why I was missing, they started announcing the overall winner and I heard my name being announced.  Holy cow…I didn't expect that!  So I tossed my camera to a random bystander and he got these quick shots:
Above is the top three sprint finishers, with the guy on the left being the winner.  All three of us being DCTri members based on my understanding.  Thus 1-2-3, out of 1,312 in the Sprint.
Below is the sweet awards they gave out.  Quite nice!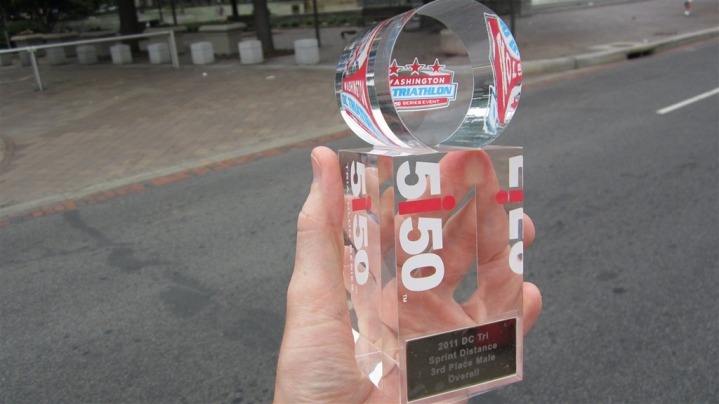 Oh, and let's not forget the finishers medals either…a giant (and heavy) penny!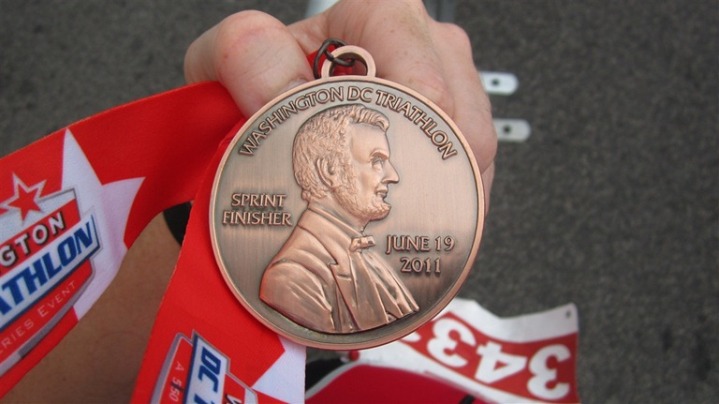 With that I made the long trek back to my bike on the other side of town and headed over to celebrate at IHOP. Woohoo!
Thanks to everyone that I met/saw out there today that cheered me on, and all of you who said 'Hi'.  Glad to meet everyone, and it was great hearing that everyone had really great races out there!
Thanks for reading!