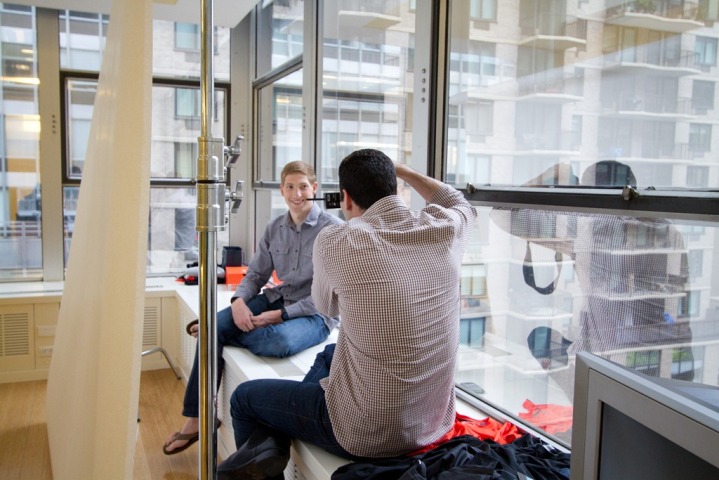 About 45 days ago you may have remembered my post about my rather photographic day up at  Men's Health in NYC.  Well, I'm finally all set to tell you what it's all about!
Back a number of months ago I was approached by Men's Health Magazine regarding their Urbanathlon series.  Some of you may be familiar with it.  In short, they take a 10ish mile running race, and add a bunch of crazy obstacles in it.  You know, stuff like scaling school busses and going up and down stadium staircases.  Perfectly normal running race scenarios.  The races are held annually in Chicago, New York City and now San Francisco – attracting about 3-4K participants per race.
This year, they wanted to partner with two 'well known bloggers' (I believe that's a pseudo-term for 'Rockstar Celebrities')…but regrettably, those folks weren't available…so they got me instead. 
The idea being to host an insider blog focused around the race, in conjunction with other media formats to draw attention to both it as well as a few of their sponsors.
This past weekend that blog went live, allowing you to start to get a glimpse of what's to come.  Over the next 4-5 months you'll be getting a unique blend of posts from me over there.  I'll be writing about everything from the ins and outs of mastering some of the obstacles that will be on the course come race day this year, to going out to some of the course venues and giving you a preview of what's coming, to meeting up with some pretty cool sports fitness folks.  The goal being to give you a unique perspectives from both inside the race, and inside some of the sponsors.
For example, today – Tuesday – I'm actually up in NYC getting VO2 tested at Peak Performance, as well as getting a BOD POD test.  Many of you have asked me to put together a comparison of how the Withings and Tanita BC-1000 scales compare to systems like the BodPod Body Composition analysis.  And since both scales successfully made it through TSA in my carry-on luggage, I'm looking forward to seeing how they perform.  Some of that content will be up over on the Urbanathlon blog, and some of it will end up here.  In general, the posts over there will be shorter and more digestible – whereas the stuff over here will stay about the same (long and probably painfully detailed).  Fear not, that's not changing.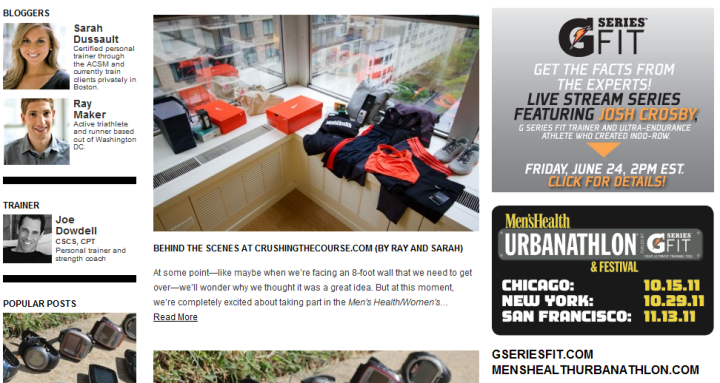 In addition to all the Men's Health goodness (PS…you'll want to check out the upcoming print issue…), we're also working with Gatorade and their new G-Series FIT line of products.  These products are essentially designed to bridge the gap between the higher calorie products they you know and love, and the desire to get something in your body that doesn't wipe out the benefits of shorter workouts (I talk a bit about how I balance this with endurance efforts in one of the posts below).
A bit of a funny story from Monday about the Gatorade piece actually.  While we originally got to try out the new products way back when in early spring – we didn't get much more than a preview pack in a small FedEx box.  Fast forward to yesterday when a call comes in from a mysterious number.  When I answer it, it's the FedEx man saying he's got something for me and wants to know if I'll be around tomorrow.  Given I get probably 2-3 boxes a day at my place and I've never received a call from the FedEx man, I figured I might as well ask what's up.  After all, I know from regular work that only really big things get phone calls (like when I shipped 16 pallets of computer stuff cross-country…that was fun!).  So I asked:
Rainmaker: "What's in the shipment?"
FedEx Man: "A lot of granola bars".
Rainmaker: "Oh. Umm…who are they from?"
FedEx Man: "Gatorade Corporation."
Rainmaker: "Ohhh, ok.  Are we talking a lot of granola bars?"
FedEx Man: "Yeah, I see probably about 16 cartons." (Note: I didn't clarify exactly how big a carton was/is.)
Rainmaker: "Cool, anything else?"
FedEx Man: "Yeah, another 16 or so cartons of some drink stuff."
Rainmaker: "OK…sure, I'll be around tomorrow – drop-off then sounds good."
(In reality, I won't be home, but The Girl will be…and she'll love me even more when that arrives onto the already crowded entry with wedding stuff ready to go out for next weekend.)
Of course, the important news for you guys is that nothing's changing around these parts.  All the stuff you've come to know and love (and perhaps hate) – still remains the same.  But, in addition to all the goodness I sprinkle here (and on Slowtwitch), you can now find even more goodness weekly over on the Men's Health Urbanathlon blog.
To start you off, here's three posts that I've got over there…ready for your easily digestible enjoyment:
In this post I illustrate the finer art to consuming beverages at high speeds in a running race.  This came about after a bit of a funny story with The Girl.  She helps out in this post as I re-create an aide station in a local park and get busy.  High speed video re-enactment included free of charge.

While many of you folks might be old hat to my sports technology side, I recognize that perhaps it's time for a bit of a starter course for everyone else.  Fear not, I'll make converts out of everyone else soon…

In addition to myself, there's also Sarah – who focuses more on the diet and fitness angle.  In this post we explain a bit more of the backstory, as well as answer a bunch of questions related to the partnership.
So with that, I'm excited to offer you another avenue of DCR posts, and hope that you enjoy what will be a pretty interesting and totally different journey.  Thanks for reading!