A bit ago I stumbled upon a really cool tool that allows you to determine your Garmin ANT+ footpod calibration factor based on existing run data that you might have already run with your footpod.  For example, if you're like me – you've probably got a few pairs of shoes you probably rotate your footpod around on each shoe depending on a variety of factors. The problem with this is that each time you adjust the footpod location on the shoe – it affects the footpod calibration.  In most cases for outdoor running it's not a huge issue, as the GPS on the Garmin Forerunner units is used by default, with the footpod merely providing cadence or in the event of GPS loss – data for that missing segment. But if you do quite a bit of treadmill running, or if you just happen to use the footpod over GPS, it's important to ensure the two are aligned. Now for me going to the treadmill and/or the track to perform another calibration test is a bit of a PITA…so I tend not to do it as often as I probably should after I change footpod shoe positions.  Thus, in the semi-rare cases where I do end up on a treadmill, the speed may not be correct unless I first re-calibrate it for the new position.  And I usually only do that if I'm going to be doing multiple treadmill runs (i.e. – travelling overseas in certain problematic cities where running outside would be heavily frowned upon). Thus, I introduce you to the Garmin Footpod Calibration Tool – which looks at your existing Garmin TCX files that contain both GPS and footpod data, and calculates what you should set your calibration factor to manually.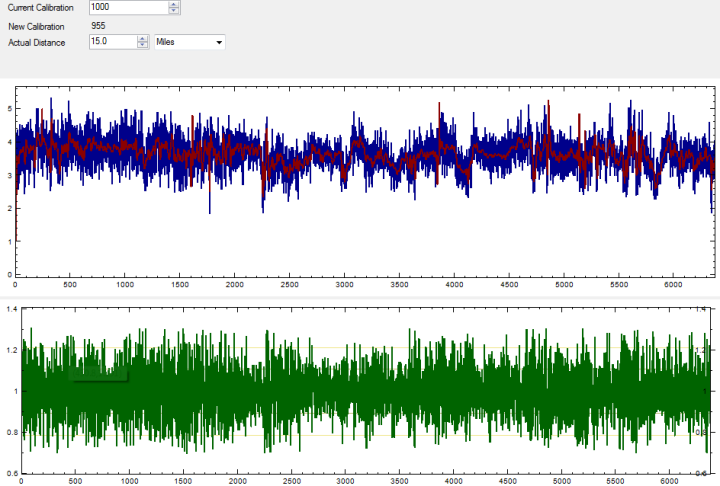 The tool is super easy to use.  When you open it up, it'll automatically read in all of your running files from all of your watches.  In my case…that's a lot of watches…and a lot of files.  In my case because I'm often swapping shoes/watches/footpods for reviews (and not re-calibrating), the data is a bit more mixed up.  For most of you, you probably have a bit more steady data with just one watch and one footpod that's likely correctly calibrated.  Nonetheless, check out the massive list of files for just the past year that it pulled in: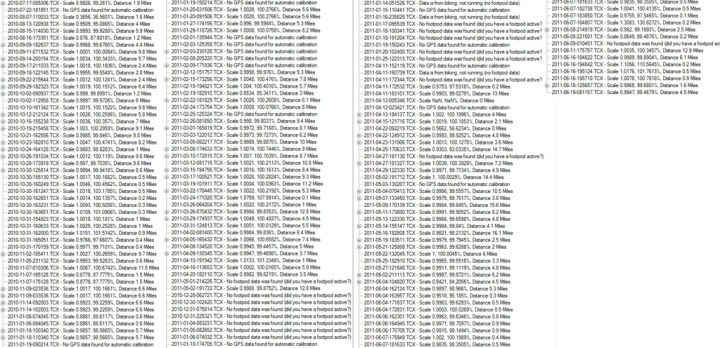 This list of files shows up in the application on the left side in a column, sorted by date – but also displaying distance as well.  When you click on a given activity, it displays more information about that run on the right hand side.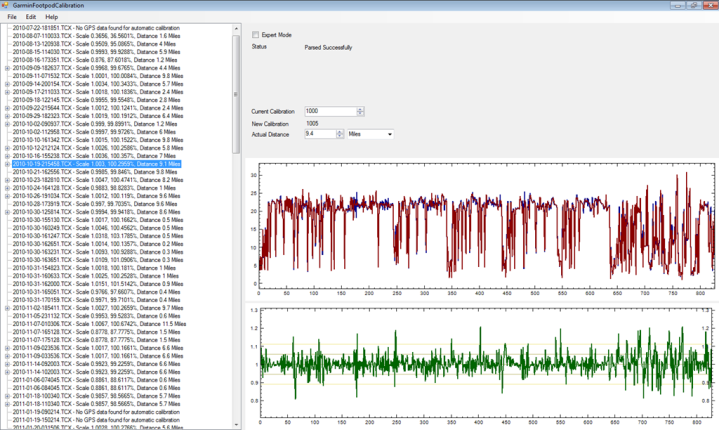 For those activities that have lap markers in them, you can then expand it to see how the accuracy varies per lap.  For example, if you're doing intervals you may find that on some laps where you're 'walking' you may have higher/lower accuracy that those at faster paces.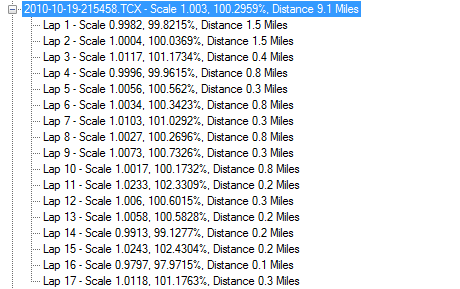 In the above examples where the mileage is .3 – these are lower intensity 'rest' periods done at a jog pace – thus you see slight differences in accuracy compared to other paces.  That said, I'm 99% sure the unit wasn't calibrated at the time, hence the larger accuracy shift than I would have preferred. On the right hand side of the application you'll see two graphs that plot GPS accuracy over footpod accuracy (top chart), and then plot scale factor based on the GPS distance (bottom chart).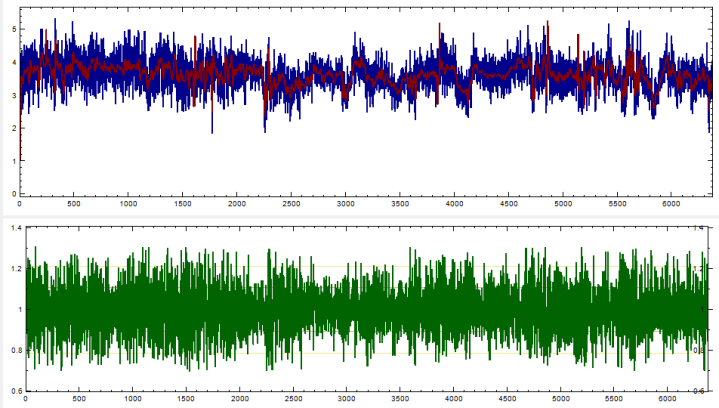 Perhaps more important though is the calibration suggestion/correction portion.  This data area displays the new suggested calibration factor should be based on the data from that particular run.  In this case, it sees a default factor of 1000 (but you can change that based on your watch) and then the actual distance based on the data in the file.

If you're super geeky, you can go into expert mode, which lets you look file by file and section by section at the deviations for each run and the differences between them.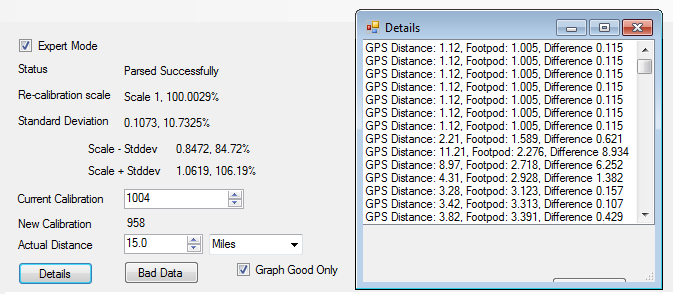 Pretty cool stuff, huh? To adjust your manual calibration factor on your watch based on the tool you'll simply go into the footpod settings area on the watch and then to manual calibration.  Each one of the Garmin Forerunners has this in a slightly different place – but for most of them its in the unit settings section. The best part here is that the little app is free – developed by Jonathan Savage, and downloadable here.  Note that the app is not made by Garmin, but rather just an enthusiastic runner in the community.  But technically speaking it's giving you the exact same data that you would manually insert into the 'manual calibration factor'. A key item to remember here is that the calibration tool is using GPS data to provide the footpod calibration factor, which is never going to be as accurate as an absolute distance such as 400m/800m on a track.  And while GPS accuracy in a track environment can be quite close (as my recent tests have shown), it's just something to keep in mind if you choose to use the calibrate tool over a track test.  For most of us (or maybe just me), I'll gladly take the time savings over having to run to the track to re-test.  Especially given how close the accuracy factor is. Also keep in mind that in some of the screenshots above that I created you see vast difference in accuracy from footpod to GPS.  Remember again that I rarely calibrate the footpod myself since I'm changing it so often.  But in the past when I do remember to calibrate I've shown how astoundingly accurate it can be – especially on the newer units with the newer footpods.  This goes for both Garmin and Polar.  I've gone out and had long interval runs literally exactly the same (GPS vs footpod) – despite being in crazy conditions like snow.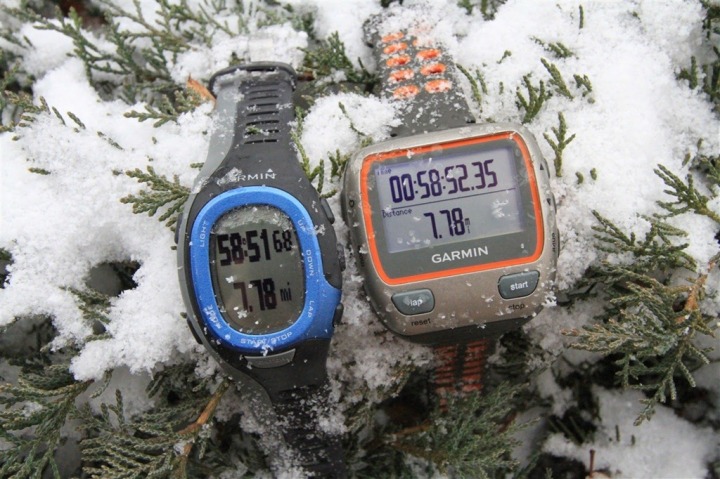 With that, go download and enjoy the tool, and thanks for reading! – Other resources I've put together that may be of interest for those footpod fancy: Garmin ANT+ Foot Pods- Everything you ever wanted to know If you're looking for literally over 40+ questions and answers on the footpod, I put together this post earlier this year that goes super in depth on the topic.  I'm pretty sure there's no footpod left unturned. 2011 Sport Device GPS Accuracy In Depth- Part I / 2011 Sport Device GPS Accuracy In Depth- Part II These recently published tests I put together talk to the GPS accuracy side of the house, allowing you to consider what types of scenarios terrain-wise you may want to use GPS data from to calibrate your footpod.